Case IH Rotor Service Doors Parts
Case / IH Rotor Service Doors
In the days before technologically advanced farming equipment was introduced, a great deal of farming had to be done by hand or by traditional tractors. This made for very time-consuming and laborious work. Fortunately, there have been many advancements in the farming industry, and now there are machines with AI intelligence that dramatically improve the entire process of farming, from watering to harvesting, and more. The Case IH Cotton Picking machine is one of those machines that makes harvesting cotton easy. Not only does this machine make harvesting easy, but it simplifies the entire process, which improves speed and so much more.
Normal Parts Degrade
Due to the high amount of time that Case IH Cotton pickers are used, it is smart to recognize that parts will eventually wear out, as parts do on any other machine. One part that many farmers need to replace on their cotton pickers is the rotor service doors. The rotor service doors are part of the picking unit cabinet, which is comprised of a number of important components that work together to keep your unit working optimally. If one component fails, then the entire machine will fail to work as expected, this could cause an interruption in a farmer's entire harvesting process.
Rotor Service Doors Replacement
The rotor service doors must be fully functional in order for the harvester to operate fully. The rotor service doors are used frequently, as they must be opened in order to access certain parts of the machine when preparing it for harvesting. It is a good idea to have rotor service doors and hinges, in addition to other replacement parts for your Case IH cotton picker already at your farm. That way, whenever a part fails, you can quickly and easily replace it without stressful interruptions or waiting for important parts to arrive.
Certi-Pik USA: The best parts at the best prices
Certi-Pik USA is a company that carries all the important parts for your Case IH cotton-picking machine. We not only carry many of the parts that you need to keep your harvester functioning at all times, but we can ship them out quickly. We also price our components fairly, so you're not overpaying. In some cases, we are even able to ship out an order on the same day, if the order is received early enough in the day. We offer easy and convenient ways to order and pay, and some customers appreciate the ability to order by phone, email, or fax. Customers also appreciate the ability to pay in non-traditional ways, such as with money orders, checking account wire transfers, and even cash on delivery, COD. We also accept regular Visa and Master card credit and debit cards, as well, so whichever way is most convenient for you to pay, you can use that payment method.
Our skilled team of employees at Certi-Pik USA works hard to ensure that every customer receives the excellent customer service that they deserve, in addition to cotton-picking machine parts that are in excellent condition. We stand behind our products, which are carefully inspected for any defects prior to shipment. However, if you were to, by chance, receive parts from us that aren't in exceptional condition, please notify us for the potential of returning them, replacing the parts at our own cost. We may even be able to reship the products on the same day, depending on certain factors. Fortunately, shipping out defective parts doesn't happen often, because we strive to ship out parts that are as close to perfect as possible.
contact us
Don't allow your farm to run out of essential parts without having replacements, which could negatively impact production. It is inevitable for parts of your Case IH cotton-picking machine to wear out, and the more often the machine is used, the sooner the parts will wear out. Order your replacement parts today and you will be pleased with our high-quality aftermarket parts that will ensure your harvester continues to work optimally on a long-term basis. Should you have any questions or concerns, simply contact us by phone or by email, and we will provide you with a response as soon as possible.
Case / IH Rotor Service Doors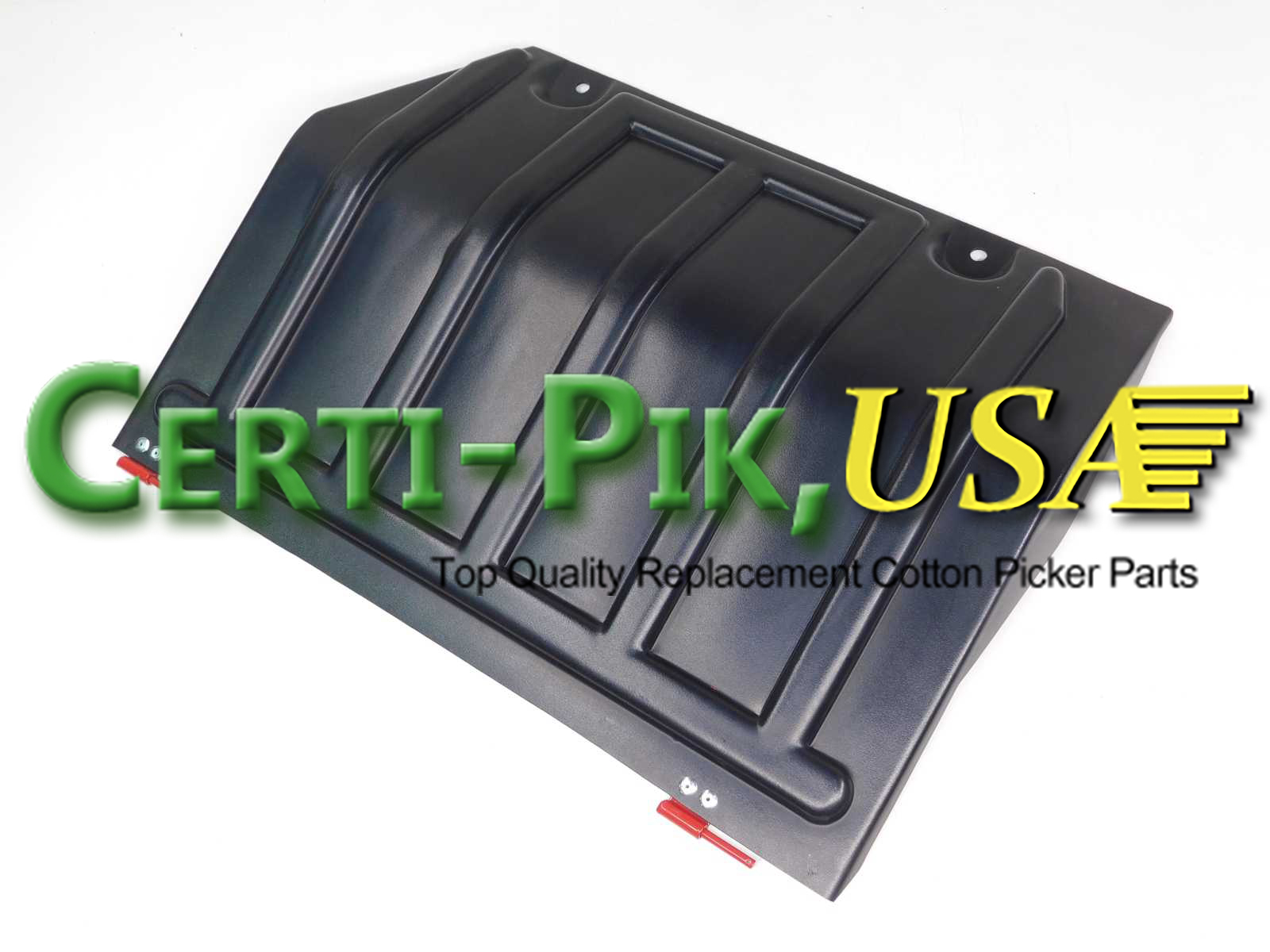 Description: ROTOR SERVICE DOOR, PLASTIC, FRONT (2555, CPX610, CPX420, CPX620, 625, 635) ( INCLUDES ITEMS 2 & 3 )

OEM Part: 282110A4

Section: Picking Unit Cabinet

Case / IH Rotor Service Doors