Case IH Plant Guide Assembly Parts
Case /IH Plant Guide Assembly
Farming has come a long way over the years, and the addition of advanced machinery with AI ability has enabled farmers to dramatically increase production. Increased production equals increased earnings, which is what most farmers strive for, even if it means making a major investment in a piece of equipment. One important piece of machinery that many farmers invest in, and therefore, rely on, is the Case IH cotton-picking machine. This harvesting machine helps to streamline the entire process, enabling farmers to harvest cotton in record time when compared to the process before the machine's introduction. What used to take days or longer now takes only hours with the Case IH cotton harvester.
Keeping the plant
guides in optimal condition
Like any other machine, parts must be regularly replaced on the Case IH cotton picking machine in order to keep it in tip-top working condition. One component that is especially important when it comes to operating the Case IH cotton-picking machine is the plant guide. The plant guides are part of the picking unit cabinet, of which all included parts must be in full working order for the unit to work properly. The function of the plant guides is to provide adequate pressure to compact the plant, and gently guide it through the picking zone so the spindles can efficiently extract the cotton from the boll for optimal harvesting. Without fully functional plant guides, your harvester may still operate, but it will not form the neat piles of cotton as expected. There may also be some other malfunctions that might occur as well, which is why the plant guides are so essential.
Instead of waiting for a component on your cotton-picking machine to fail, it's a good idea to keep various parts on hand so they can be easily replaced. This will minimize, and possibly even eliminate, downtime, which means that you don't have to worry about any loss in production. We at Certi-Pik USA carry an extensive inventory of Case IH cotton-picking machine parts, so you can purchase all the components that you need at affordable prices. Our aftermarket replacement parts are high-quality and dependable, and we will ship your order out as quickly as possible. We are even able to ship out orders on the same day if placed before noon.
We provide the absolute best customer
We pride ourselves on our ability to provide the absolute best customer service to all our customers, and we make it easy for our customers to not only place an order but also to pay. If customers prefer, they may place their order by fax, email, or even by phone. We are also available to answer any questions or concerns, either by email or phone, so customers can contact us at their convenience. We felt that it would be very convenient for our customers, for us to increase the types of payments we accept. Not only do we accept traditional Visa and MasterCard credit and debit cards, but we also accept Discover and American Express cards as well. In addition, we accept bank wire transfers, money orders, and even cash on delivery (COD).
Case /IH Plant Guide Assembly
We carry the latest plant guides, known as Deep Dish, Extend-Doors, or CTX-Doors. These will fit all 2000 series through the newest Express Case IH cotton harvesters. For more information about our Case CTX doors view our Case IH Extended Deep Dish Doors page.  All these components, as well as all our other parts for cotton harvesting machines are certified to function correctly by our team at Certi-Pik USA. Should you order our products and they somehow reach you in less than optimal working order; we will quickly replace your order with a product that exceeds your expectations. However, with our team of fully-trained warehouse workers, we hardly ever allow a part to get past us that hasn't been thoroughly inspected, so it isn't often that defective parts are shipped out to customers.
No farmer can predict perfectly when a component on their cotton picker machine will require replacement, so, don't allow yourself to be without the essential replacement parts for your harvester. Have them on-hand, so you can quickly and easily get your harvester back functioning properly. Place your order today, and we will do our best to make certain that you're so satisfied that you're likely to become a loyal customer like so many others have.
Case /IH Plant Guide Assembly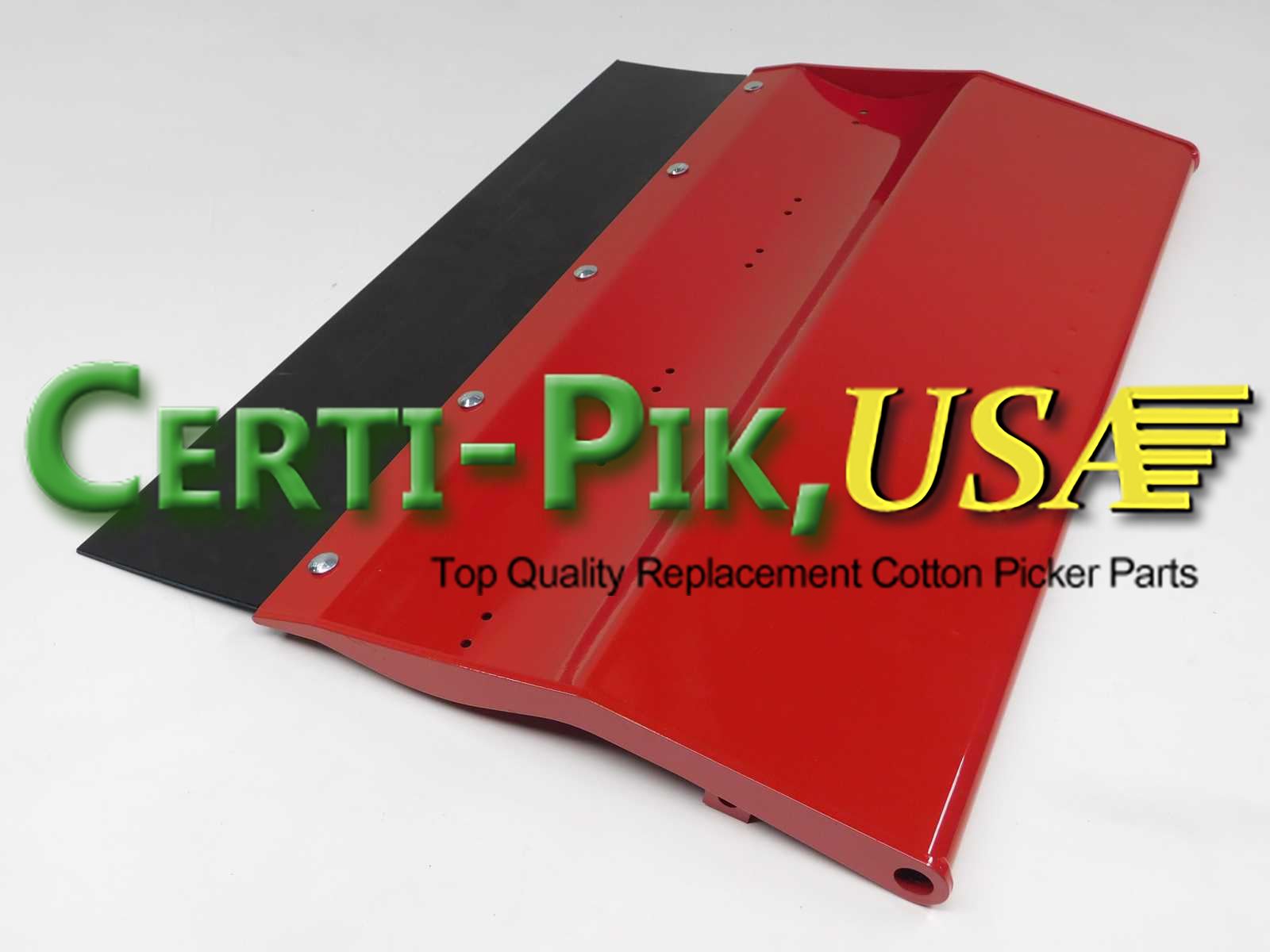 Description: Single Pik – CTX ExtenDoor – CASE/IH – R.H. REAR GUIDE (SOLD WITH: CTX20CL, CTX20RE & HARDWARE: 5x 01540P & 5x 10213P) REP. ALL 2000 SER. THRU 635 M.E. OEM GUIDES (USES 3x #69576R2 S.P.) (ILLUSTRATED)

OEM Part: 87669794

Section: Picking Unit Cabinet

Case /IH Plant Guide Assembly- 1822-635 Mod Exp