Case/IH 2555 Rear Fan Assembly (S.N.500) – 635
When the cotton picking season begins, the machines must run at their top performance. Anything less will not suffice as the machine will malfunction, especially within the Case/IH 2555 Rear Fan Assembly. As every farmer knows, they must get the job done when the machine is desperately needed due to the time frame. If not properly maintained, that is when something breaks or stalls out in the fields.
Along with the front fan assembly, the rear fan assembly is just as vital as the rest of the components within the air system. Without it, the harvesting machine will choke as the fans will not move the cotton, causing a blockage buildup that will shut the operation altogether. When this happens or is left for extensive time limits, the repairs will become costly, and the downtime will hurt the harvest and farmer's pocketbook. Aftermarket parts save the farmers time and money. They are made to fit and attach to the OEM components on the harvesting machine.
Farmers and dealers know they have the option available to get back up and running with these aftermarket parts because they are ready to replace within 24 to 48 hours if the part is not in stock at the local dealer. The dealer usually knows what the farmer is prone to purchase, so they keep it in stock. The good news is they are sold in kits, assembled, or individually; however the farmer needs. This means they do not have to spend more money on parts they don't need. Instead, they only buy or order whatever needs replacement. If the entire component is needed, they can get it too.
Maintenance and The Air System
To keep the machines in operation, farmers can provide regular routine maintenance for the air system while checking out other parts in their inspections. These are some ideas to keep things in motion.
All parts must be clean and free from debris.
All worn-out or damaged parts must be replaced without delay.
Do not allow any obstructions to get in the way of the air system, fans, or any moving parts.
Take notice of vibrating parts and change them before they break entirely.
All parts are shown here in the diagram, with all 38 pieces and three kits.
The Parts of the Case IH Rear Fan Assembly 2555
Side Support (1/ Front Fan 2/ Rear Fan) 4 Bolt Rear

Bearing

– 1.75 Dia Shaft

New Style Fan Side Panel 45-degree Larger Transition Notch

Plastic Baffle or Orifice

Wrap Around Housing Cover

Housing Cover Tension Bracket

Under Shroud Tension Bracket

Under Shroud Housing Cover

1/4 X 2-1/2″ Cotter Pin

Cable Clip Clasp

Housing Spacer Pipe

Stud
1-3/4″ Bearing Assembly

Rear Fan Shaft 1.75″ Diameter

3/8″ Square Key/ 2-3/8″ Length

New Style Fan Blade 1.75″ ID

1.75″ ID Fan Shaft Spacer

5/16 x 2-1/8 Woodruff Key

Fan Pulley

(3 Band) Fan Rotor Belt 76.5″

Rear Fan Kit (All Parts Not Assembled) Includes Bolt Kit #09040 and Parts 1-37 (Not In Kit – Drive Pulley)

All Parts Assembled Rear Fan Kit/ Includes Parts 1-37 (Not In Kit – Drive Pulley)

Complete Bolt Kit for Rear CNH Front Fan Kit 2555-635 Includes 1.75″ Shaft
Nuts, Bolts, and Washers for Case IH Rear Fan Assembly 2555
1/4 Serr Hex Flange Nut

1/4 x 1/2″ Carriage Bolt

1/4 x 3/4″ Carriage Bolt

8-18 x 3/8″ Self Tap Screw

5/16 x 3/4″ Carriage Bolt

3/8 x 3″ Carriage Bolt

5/16 Serr Hex Flange Nut

3/8 Nylon Lock Nut

5/16 x 1-3/4″ Hex Head Bolt

5/16 Center Lock Nut
1/2-13 x 1-3/4″ Carriage Bolt

1/2 Serr Hex Flange Nut

2.50 X 1.78 X .12″ Washer

2.50 X 1.31 X .13″

HDN

Washer

1.75 x .937 x .13 HDN Washer

1-1/4-12 Castle Nut

2.50 X 1.78 X .06 Washer

7/8-14 GC Top Flanged Top Lock Nut

7/8-14 GC Top Lock Nut (Used In Fan And Bolt Assembly)
Orders From Certi-Pik, USA
The website for Certi-Pik, USA has all that farmers and dealers need to get their parts for the cotton harvesting season. If you can't find it give us a call and we will see if there is anything we can to do help. Send your order on-line or call in to order the Case IH Rear Fan Assembly 2555 parts or any aftermarket parts required to complete the task of cotton harvesting.
If you call early enough, we can assist you and have the parts shipped on the same day. However, please keep in mind if it is a later call, we will have to ship it out the next day. We strive to have all our parts available, and will do our best to have the parts out to you within 24–48 hours.
Case / IH Rear Fan Assembly, 2555 (S.N.500) – 635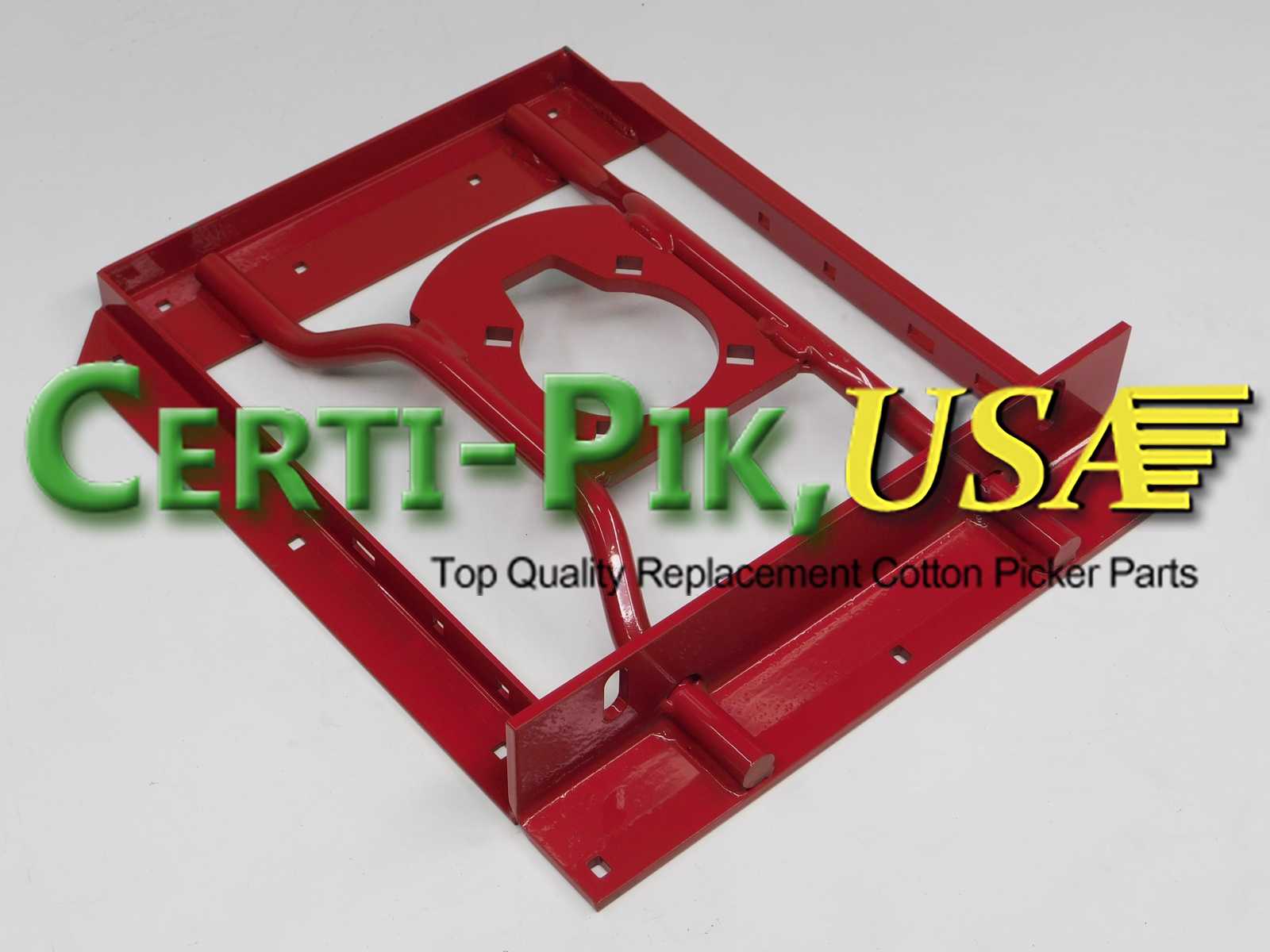 Description: SIDE SUPPORT 4-BOLT REAR – 1.75 DIA SHAFT – 1 ON FRONT FAN – 2 ON REAR FAN

OEM Part: 243038A2

Section: Air System

Case / IH Rear Fan Assembly, 2555(S.N.500)-635 Mod Exp