John Deere Stalk Lifter
JOHN DEERE STALK LIFTER
We are a major supplier of John Deere Stalk Lifters and other cotton picker parts and accessories. Our high-quality, cutting-edge components include extended deep dish doors, picking unit cabinets, picking unit systems, water, air systems, belts, and other miscellaneous components. Whether you're a dealer in John Deere or Case/IH Cotton Picking Machinery or one of our farming customers, we are committed to working hard to guarantee that you receive the best replacement parts for your harvesting equipment.
Learn More
Time is Money
With cotton pickers operating at very fine tolerances, proper maintenance must be carried out in a timely fashion. This avoids more costly repairs should something go wrong. Every minute wasted costs you money out of your pocket. No one knows better than you how expensive it can be when breakages or damage to critical components delay harvesting. That's where we come in… Whether it's regular maintenance, fixing, or repairing a broken part, there's no time to waste. We are perfectly placed to ensure that you receive whatever parts or assemblies you need in the shortest time possible.
Comprehensive Inventory in Stock
Our stock control system ensures that we don't run out of those mission-critical spares and components that we know you are going to need. As nothing can be more frustrating than placing your order, only to discover that it's going to be delayed because there's no stock, we strive to carry adequate stock on hand. We ensure our warehouse is filled with replacement parts, ready to ship to you at a moment's notice.
Contact Us
Comprehensive John Deere Stalk Lifter Replacement Parts Available
Maintaining your stalk lifters requires that you pay attention to the wear on your stalk guides which are positioned inside of the lifters. These in addition to the front and rear shields help to guide the plant into the picking unit. With the abrasive nature of a cotton plant, wear and tear on these items as well as the shoes and points is unavoidable and needs to be checked regularly. Long-term wear and tear as well as collisions, damage these components as they are vulnerable due to their position close to the ground. We can help you order UV-resistant plastic shields and wear-resistant steel lifter parts as well.
Avoid Frustration
Nothing is more frustrating than receiving the wrong parts when you're in the middle of a job or when you're right in the middle of harvesting. That's why we've made the ordering process quick and simple.
Ordering the Right Parts is Quick and Easy
Our job is to make it as easy as possible for you to order and receive the exact part or assembly you need to get your machinery fixed or serviced and back out where it belongs, making you money. To avoid mistakes and any chance of error, please provide us with the following information when ordering:
Certi-Pik part number or OEM part number
A description of the item
The model number of the machinery you're fixing
Contact Us
For urgent orders, rather than searching through our very extensive list of parts, give us a call at Certi-Pick USA on our toll-free number, 1-888-CERTIPIK (237-8474), and one of our staff will help you out right away. On the other hand, if you know exactly what you're looking for, then click the links on this page to access detailed assembly drawings that will show you exactly what you may need. Selecting the right John Deere stalk lifter to rebuild your cotton picker or to replace any worn-out items will be quick and easy.
Our Promise
As soon as we get your order, we'll confirm it with you and process it the same afternoon. Our streamlined ordering process helps you place your order quickly and easily and will have your order shipped out to you as soon as we possibly can. Contact us today for your replacement, John Deere Stalk Lifters or other cotton harvester parts.
John Deere Stalk Lifter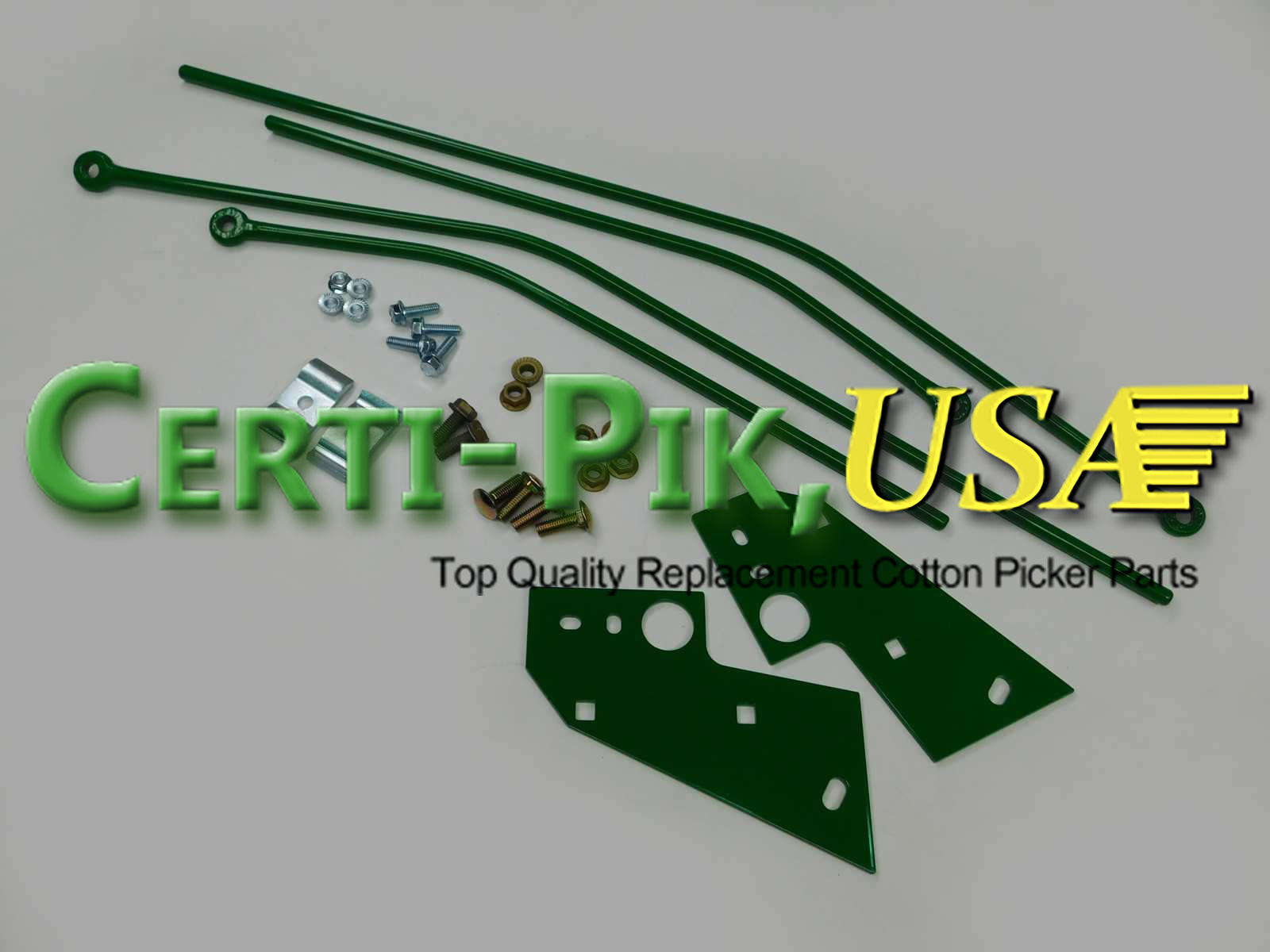 Description: STALK LIFTER BUNDLE – (IN-LINE & PRO THRU CP690) INCLUDES: 2x 78882,2x 17561,1x 92708,1x 92709,1x 92710,1x 92711,4x 63525P,4x 08063P, 6x 63526P, 2x 75625P, 4x 07192P (1 KIT PER ROW)

OEM Part: BN272534

Section: Picking Unit Cabinet

John Deere Stalk Lifter