John Deere Conventional Cabinet Parts
John Deere Conventional Cabinet Parts
If you're in the market for John Deere Conventional Cabinet Parts, then you're on the right page. Whether you're a dealer in John Deere Cotton Picking Machinery or one of our farming customers, we supply aftermarket replacement parts for your harvesting equipment.
Contact Us Now
Rather than searching through our very extensive list of parts, you are welcome to give us a call at Certi-Pik USA on our toll-free number, 1-888-CERTIPIK (237-8474), and one of our staff will get you the help you need, right away.
Unless, of course, you know exactly what you need right now, then click the links on this page for detailed assembly drawings to select the parts for rebuilding your picking unit cabinets or to replace any worn-out items. To avoid any chance of mistakes when ordering, we have the following ways you can reach us:
Shopping Cart: You can place your order through the links on our website and we will confirm your order via email or get in contact with you to discuss any details that may be unclear.
Email: [email protected]
Fax: 1-712-752-8472
For your convenience, you can order your parts any time of the day or night.
We've made the ordering process as easy, secure, complete, and comprehensive as we can.
Time is Money
Time is money, and no one knows that better than you do when harvesting is delayed due to breakage or damage to critical components. Every minute wasted is money out of your pocket. Which is where we come in… Whether it's a maintenance issue, operator error, or just plain bad luck, there's no time to waste and we are perfectly placed to ensure that you receive what you need in the shortest time possible.
Fastest Delivery Time
We take great pride in providing the fastest and most effective shipment options for all of our clients. We understand the urgency when a major component or assembly breaks down, leaving your cotton harvester standing still. Let us know how urgent your order is and we'll take the appropriate action to ensure we get your order to you as soon as you need it.
Avoid Frustration
As you know, it's incredibly frustrating when opening a parts package, only to discover that you've been sent the wrong part. That's guaranteed to ruin your day.
At that moment, it doesn't matter who's at fault – you just need the problem solved.
Ordering the Right Parts is Quick and Easy
Our job is to make it as easy as possible for you to order and receive the exact part or assembly you need to get your machinery fixed or serviced and back out where it belongs, making you money.
So, to avoid any chance of error, please provide us with the following information when ordering:
Certi-Pik part number or OEM part number
A description of the item
The model number of the machinery you're fixing
Comprehensive Inventory in Stock
There is nothing worse than placing your order, only to discover that it's going to be delayed because there's no stock. Over many years, we've developed a pretty good system to ensure that we don't run out of those mission-critical spares and components that we know you are going to need. Our warehouse is filled with replacement parts, ready to ship to you at a moment's notice.
Comprehensive Picking Unit Replacement Parts Available
We fabricate replacement components for the top pickers in the industry as well as stocking a full range of specialty items and sheet metal components for use in rebuilding cotton-harvesting equipment. We can supply you with the inspection covers, front- and rear-grid bars, left- and right-side posts, clamps, hex bolts, nuts, flanges, frames, wear-plates and shields, and posts that you may need to get your harvesters back out in the field.
Our Certi-Pik Promise
As soon as we get your order, we'll confirm it with you and have it sent out the same afternoon. Simple as that! When you have cotton to bring in, you don't need delays. We understand that. We've streamlined our processes to help you place your order quickly and easily and have it shipped out as soon as we possibly can. All the while, keeping you in the loop so you know when to expect your package. Contact us today for your John Deere Picking Unit Cabinet replacement parts.
John Deere Conventional Cabinet Parts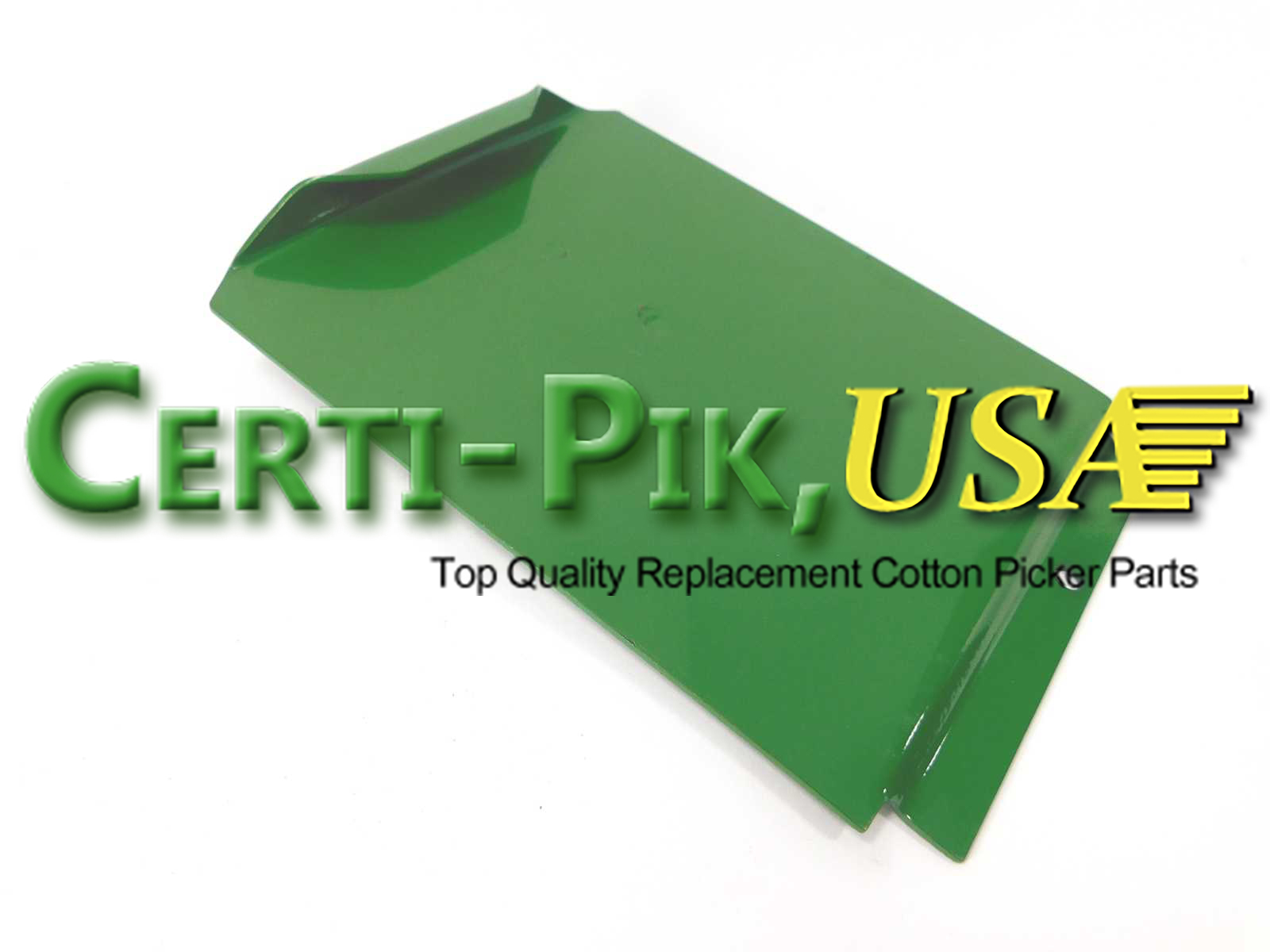 Description: COVER – SIDE INSPECTION

OEM Part: AN115027

Section: Picking Unit Cabinet

John Deere Conventional, Cabinet Parts