John Deere Replacement Cotton Picker Belts
John Deere Replacement Belts – 9900 Thru CP690
Noticing that your John Deere cotton harvesting machine needs belt replacement in the middle of a harvest is frustrating. Farmers should conduct routine check-ups and maintenance to prevent frustration from knowing whether their cotton picker belt needs replacement.
Considerations when buying replacement Belts for your John Deere Cotton Harvester include:
The size of the belt: This is an important aspect to consider when getting a replacement as the John Deere belts differ in size. Ensure you purchase the belt that is a perfect fit for your cotton harvester.
The function of the belt: This will determine the kind of belt you will purchase. For the belt to function correctly, check the number of teeth, thickness, pitch length, and top width. A perfect fit belt will get your cotton harvester performing correctly.
The OEM manufacturer's part number is vital as it will help you identify the exact belt or belt part you are looking to replace. Farmers need to watch all the belts present in a John Deere cotton harvesting machine by conducting regular check-ups and maintenance. Unfortunately, even the best quality belts tend to wear out after a while due to unavoidable wear and tear. However, the replacement belts at Certi-Pik USA are durable and easy to maintain as they possess high resistance to oil, heat, and the elements they are exposed to.
Why Choose Certi-Pik USA
for your Belt Replacement Parts
When purchasing the belt, get them from a trustable source like Certi-Pik USA, as you will be confident in the item's quality. John Deere replacement belts from Certi-Pik USA are of high-quality rubber material to withstand wear and tear. In addition, they provide a high fatigue resistance making them durable.
The belts are of high tensile strength, allowing them to withstand shock loads constantly present on cotton harvesting machines. At Certi-Pik USA, we understand that a worn-out belt will halt your operations while you wait for a new part to arrive. We are known for our fast shipping as in most cases we ship your replacement parts out on the same day as you place your order.
we also provide accessory parts
In addition to supplying replacement belts for your John Deere cotton harvesting machine, we also provide accessory parts that interact with the belts. Some system belts and other replacement parts you can order from us are:
Serpentine belts | Fan rotor | Hydraulic pump | Lube pump | Rotary screen drive | Unit drive | Round module builder | Moistener column water pump | A/C compressor | Engine fan or fan/alternator.
We are fully stocked with the specific belts you might need for your John Deere cotton-picking machines and other necessary parts. Ordering from us is as easy as directly contacting us and asking for the replacement belt you need. We will have the replacement belt sent to your doorstep quicker than you thought because we understand a worn-out belt will cripple your harvesting process.
Why Order From Us?
Our shipping methods will ensure the replacement part will reach you on your doorstep with no delays. We understand time is money, and the longer the cotton stays on the fields, the more loss a farmer is likely to incur. Certi-Pik USA has a reputation for delivering quality aftermarket John Deere parts for your cotton harvesting machines. We have built trust with our esteemed customers since 1988 by supplying high-quality replacement belts and accessories to farmers for their cotton harvesting machines.The available replacement belts for John Deere fit the 9900 through the newest models. The reason why we stand out from our competitors is because of our superior services and quality products.
Call us Today
When it comes to John Deere replacement belts, our products are high quality and available at a friendly cost. The replacement parts are made to John Deere specifications to ensure the best possible quality of the items. We are honored by our customers' trust and confidence in providing them with quality parts for their John Deere cotton harvesting machines. If you require replacement belts for your cotton harvesting machine, do not hesitate to contact us. We are open from Monday to Friday, 8 am to 5 pm, and are ready to ship your order as soon as you want it.
John Deere Replacement Belts – 9900 Thru CP690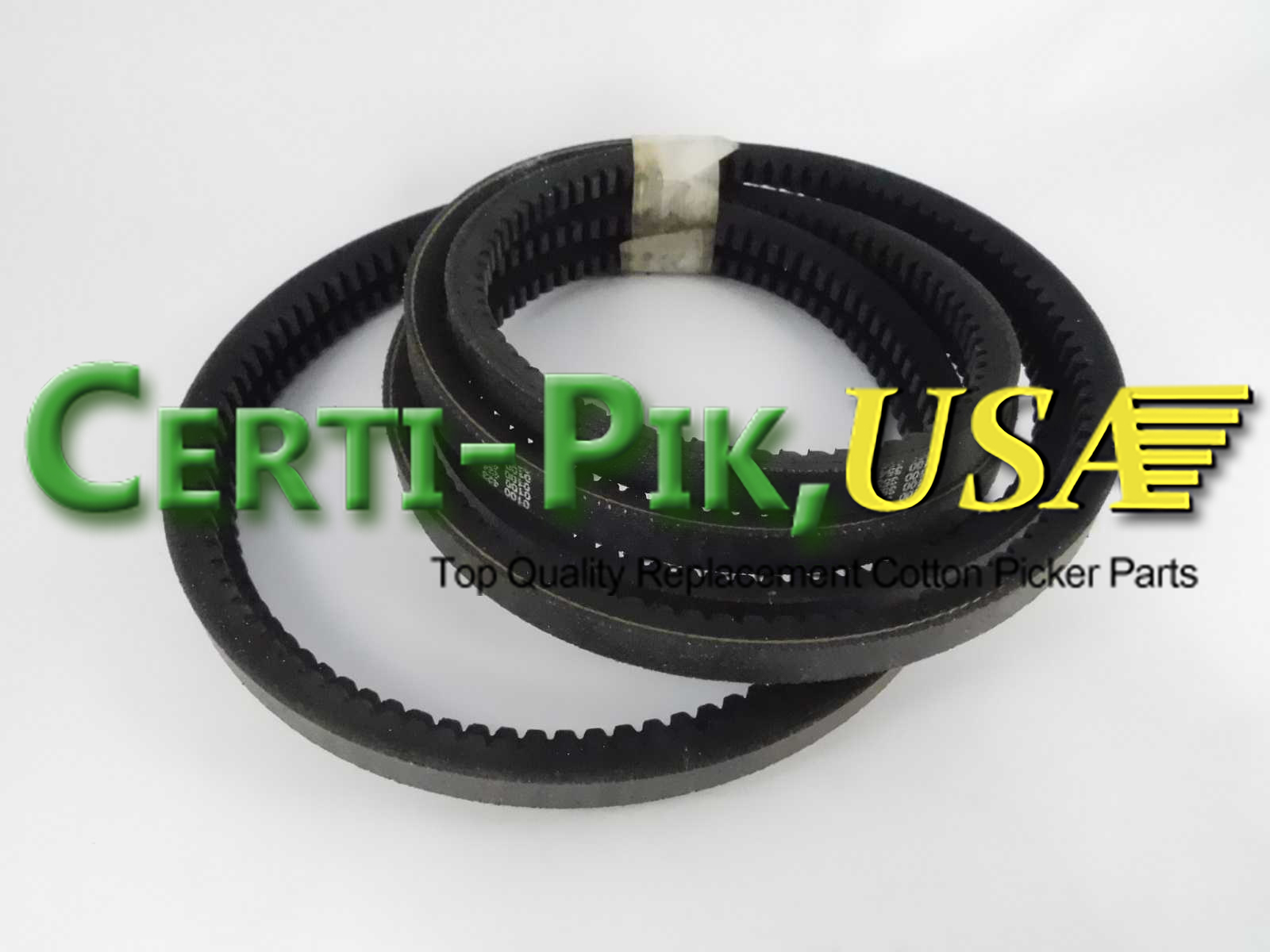 Description: FAN/ALT./EWP – 9900 – 2 V-Belts – L57.250 IN – W.380 IN – T.312 IN

OEM Part: AT23317

Section: Belts

John Deere Replacement Belts – 9900 Thru CP690