Picking Unit System – John Deere Idler Gear Assembly
Picking Unit System – John Deere Idler Gear Assembly
The picking unit is a vital part of harvesting cotton. One part that is vital to the cotton-picking machine is the picking unit idler gear. It is required that cotton-picking devices operate at the highest quality level, so the parts chosen must remain intact to get the job done.
Our afand termarket parts work and fit the same as the OEM parts. In some cases we find a need to improve on the OEM design. The PRO idler gear in this case is one such example. We replaced the 2 piece gear-shaft design with a one pieces welded design, at the same time still offering the OEM style replacement shaft if that's what's needed. Also offered are the lower idler housings made from steel instead of aluminum for increased durability. We strive to reduce the possibility of backorders by constantly monitoring our inventory. Inevitably something happens to upset the consistency of inventory, but generally farmers dealers do not have a problem with backorders because of our attention to keeping parts in stock in our warehouse. The parts are ordered and shipped out the same day if they are placed in the system early enough in the day.
The Parts of the Picking Unit Idler Gear Assembly
Maintenance should be at the forefront of every machine. Whether the farmer repairs or replaces the parts or has someone in their business handle the mechanical work, they know they can complete the harvest quickly because the parts are reliable and made available. The diagram shown here shoalways ws a list of pieces that are used in conjunction with the picking unit's idler gear. Also, listed below are the parts we offer that make up the picking unit idler gear assembly.
Upper Idler Steel Housing

Pro Upper Idler Ball Bearing

Hex Idler Gear Drive Shaft

Pro 12 Bar Idler Gear Replacing OEM Parts #N274017, #N276291, & #N274013, Includes one #75033P Bottom Nut

16 Bar Idler Gear Replacing OEM Parts #N274016, #N276291, & #N274013, Includes one #75033P Bottom Nut

Upper Doffer Bearing / Pro Lower Idler

Pro Lower Idler O-Ring

Pro Lower Idler Steel Housing

Compression Spring .50 Wire 4 Coil Lower Gear Case Hub

Conv. In-Line, Pro, Unit Drive JD Slip Clutch / Lower Gear Case Sold in Pairs Only
Upper Idler B

earing

O-Ring

1/8″ Lube Fitting

Top Idler Gear Ball Bearing

.244 Wire 5 Coil Spring

23T Idler Ground Drive Spur Gear with #01713P Bushing

R.H. Slip Clutch – 9900-CP770 Idler Gear Application (Only Sold in Pairs)

L.H. Slip Clutch – 9910-9965 Conv. Idler Gear Application (Only Sold in Pairs)

Idler Gear (Conv.)

In-Line Idler Gear

Bottom Idler Gear Ball Bearing

In-Line Lower Idler Gear

Steel

Housing, Subs OEM Aluminum Style, Machined from Steel,

Includes

O-Ring

#40708P

Conv. Lower Idler Housing Gear, Machined from Steel

In-Line Lower Housing O-Ring / Pro Upper Housing
Washers, Nuts, and Bolts
Idler Gear Spring Washer | M20 Nylon Lock Nut | Pro Idler Gear Spring Washer | M10 X 20 Serr Hex Flange Bolt M10 X 25 Smooth Hex Flange Bolt | M10 Serr Hex Flange Nut
Keeping Everything in Stock
The parts and accessories listed for the picking unit idler gear are in the Certi-Pik, USA inventory and remain in stock at all times. Detailed attention is made to the engineering and manufacturing of our parts so all the parts will line up like the OEM parts. Parts can be ordered on an individual basis so you can order exactly how many you require.
In a perfect world every aspect of your equipment would be tested before the harvesting season begins. As it is, a machine can break at any moment and shut down the farming process. It doesn't take much to stop the components from working correctly. One tiny piece can fail and stop the component from working or break it completely. Certi-Pik, USA keeps even the most minor pieces around and can have them ready for immediate shipment. Many parts ship the same day, so the farmer or the mechanic can fix the machinery, and the operator can bring in the harvest as soon as possible.
Ordering from Certi-Pik, USA
Contact Certi-Pik, USA to order what you need. All you need is the part number and the personal information used for shipping it to where you need it. Each part is vital to the farming operation, and when it is needed, you can count on it being there and ready to ship out. The parts you may need for this area of the picking unit system are listed here. If you wish to order from our website using our shopping cart that is available also, otherwise we are only a phone call away.
Picking Unit System – John Deere Idler Gear Assembly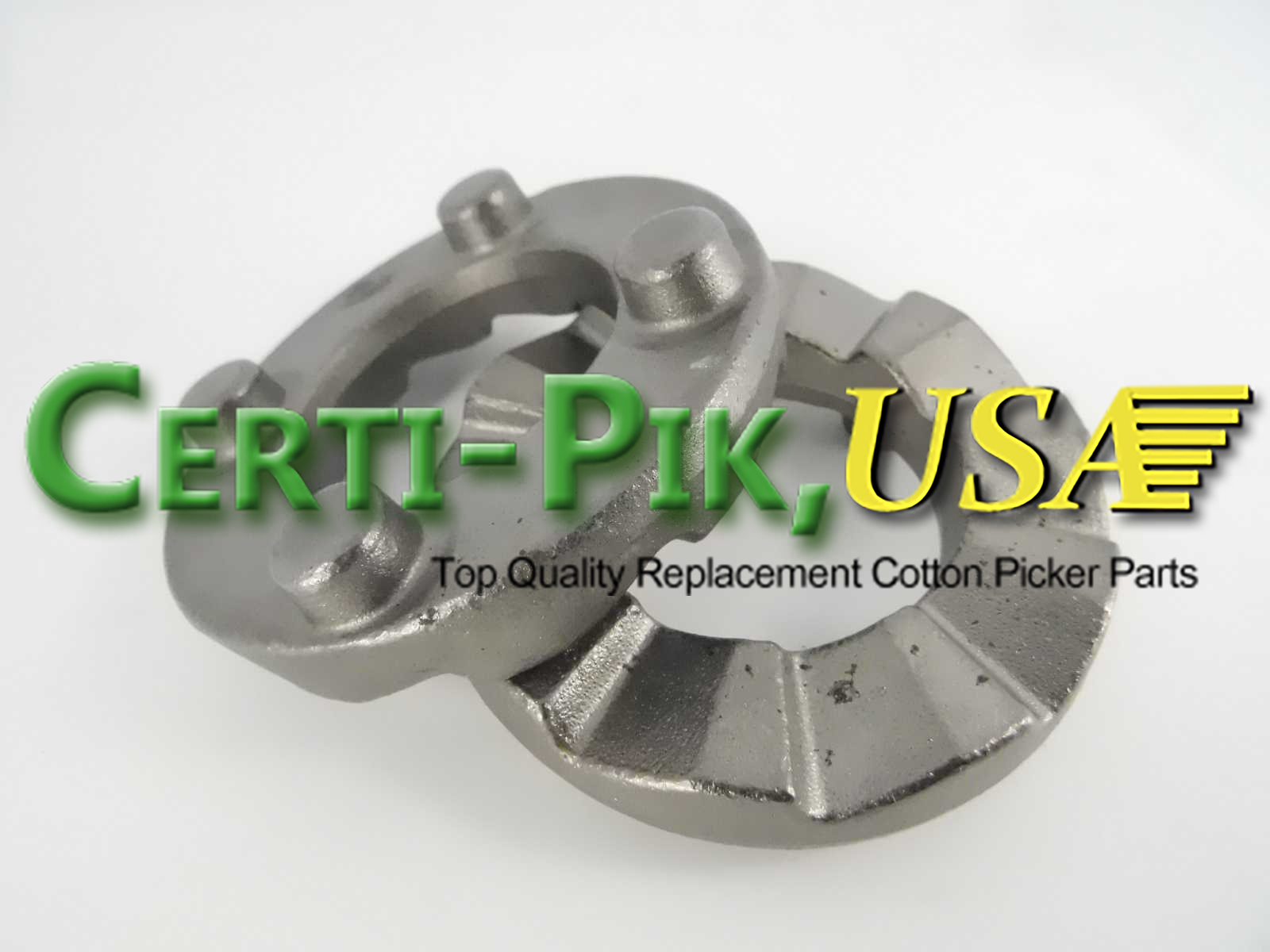 Description: JD – SLIP CLUTCH (SOLD IN PAIRS ONLY) LOWER GEAR CASE = ALL 9935, 9960 – CP770: CONV, IN-LINE & PRO UNITS, UNIT DRIVE = 9910 – 9950 , ( 2x 99180 = 1x AN274314 )

OEM Part: N199180

Section: Picking Unit System

John Deere Idler Gear Assembly