John Deere Cotton Picker Water System Parts
John Deere Moistener Column
You do not need to panic if the water system in your John Deere cotton picker breaks down. Most likely, you will need to replace worn-out parts or even damaged ones. At Certi-Pik, USA, we provide the best quality cotton picker components on the market, ranging from manufactured replacement parts to a broad range of specialized parts for machine restoration. Our experience and expertise is evident in our products, and we will ensure that you only get the best parts every time you purchase from us.
John Deere Moistener System
The John Deere Moistener system helps the person behind the wheel get the most out of their harvest, by continuously supplying a cleaning solution to the spindles, eliminating resins and foreign substances that would otherwise accumulate over the course of a harvest.
This in turn keeps the spindles rotating at maximum efficiency, and allows the doffers to do their work.
Why choose Certi-Pik, USA for
your Cotton picker Water System Parts?
As with many of the products we offer: here at Certi-Pik, USA we value our customers' concerns, and continually try to improve the products used in the industry. In 2005 we strengthened John Deere's Pro moistener column, which ultimately resolved the problem of moistener column failure due to the column bending. Acute consideration was taken with the top section to ensure the column maintained flexibility while installing the distributor plate. The arm on the column was also strengthened to decrease bending. Another improvement was Certi-Pik's proprietary moistener pad lube distribution star pattern, which is located on the top inside of the moistener pad. This will more evenly distribute the spindle cleaning solution, allowing for better cleaning and picking. If you remember the narrow latch rod clips, know that we again heard your concerns, and designed the wider clip which is now also supplied by John Deere.
Certi-Pik USA is the place to purchase your cotton picker water system components. By ordering your aftermarket parts through us, you will have access to:
Contact Certi-Pik, USA Today!
Timely Shipments
We are able to provide same day shipping on orders placed before noon, and next day on most other orders, getting the replacement parts to you as quickly as possible, so you can minimize the downtime of your cotton picker. Whether it's moistener pads, columns, replacement arms, channels, hardware, bushings, supports, doors, clips, angles, bushings, distributor plates, caps, nozzles, or the lube hoses for Pro machines we strive to have it on hand in our inventory, so it can be quickly shipped to you.
Quality Guarantee
We proudly stand behind the products that we carry, and as such provide a 90-day warranty against defects. If in the rare event you do need to make a return, we will inspect the defective parts and ship replacements free of charge.
Pay Your Way
We have flexible payment options for your convenience, to help you manage your budget. You can pay us through bank transfer, Visa, Discover, MasterCard, American Express, Money Orders, or Cash on Delivery.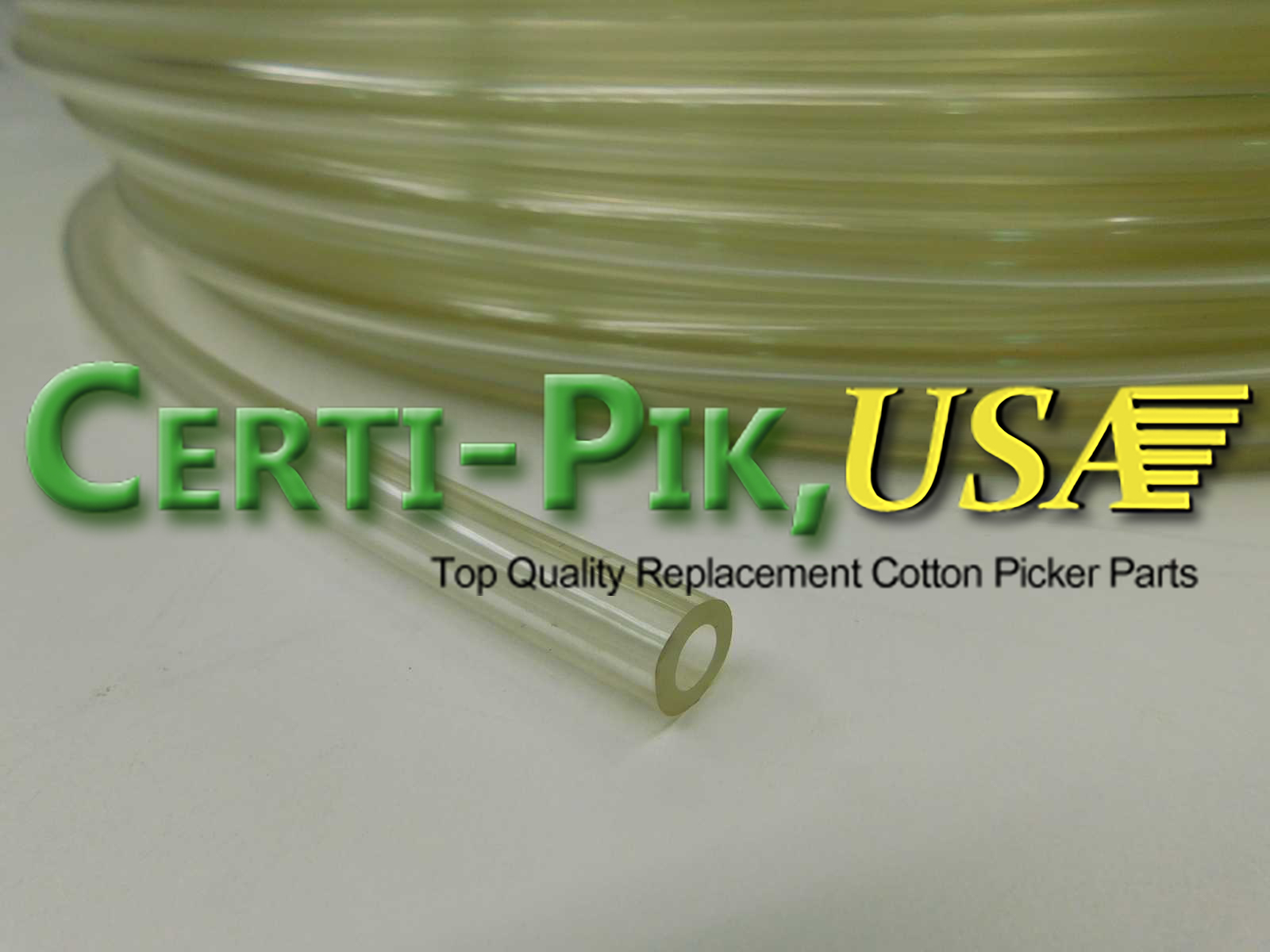 Description: TUBING – 7/16″ CLEAR – 1/4″ ID – MOISTENER COLUMN PRESSURE LINES (BULK HOSE – SOLD PER FOOT IN 25, 50, OR 100 FT LENGTHS – NOT PRE-FORMED)

OEM Part: N194902

Section: Water System

John Deere Moistener Column