Case IH Cotton Picker Vintage Belts
Vintage Case / IH Replacement Belts – 414 Thru 782
Is harvesting season around the corner? Or are you in the middle of cotton harvesting and notice that your cotton picker needs a Case IH vintage belt replacement? Machines can break down when you least expect. Don't let your worn-out belt hold you from making a timely harvest. As a farmer, we encourage you to perform regular checkups and maintenance and know the state of your cotton picker belt and whether it needs replacement.
Reasons your Cotton Picker Belt Fails
Lack of maintenance:
Make sure that your cotton picker belt gets proper maintenance. Ensure regular cleaning and lubrication are done for the belt to work and run smoothly. Avoid costly expenses that could be avoidable if the belt is serviced correctly.
Getting the belt from the wrong dealer:
getting your cotton picker belt from an unreliable dealer or manufacturer can lead to buying a low-quality belt. Choose a manufacturer and dealer who has an excellent reputation and has a customized service.
Improper use:
Your cotton picker belt can fail if it's not used according to the manufacturer's recommendations or if it's being used for other purposes rather than the one it's designed for. Also, if the belt is not a proper fit, it can lead to it being damaged.
Factors to Consider when Buying Replacement Belts for Your Cotton Picker
Even with the original, best quality, and proper maintenance of your cotton picker belt, it's bound to wear and tear after using it for some time. With regular inspections, a farmer can know the right time to replace the Case IH vintage belts. At Cert-Pik, USA, we deal with belt replacement.
Belt size: Ensure the length and width of the belt fits appropriately because the Case IH vintage belts come in different sizes. With the wrong size, your cotton picker will not function effectively.
Original Equipment Manufacturer (OEM) Number: The OEM of the belt helps you get a genuine part. You can get it either from the old belt or with the dealer who sold you the previous one.
Belt quality: Aim at buying the best quality from good reputable manufacturers or dealers. Please don't buy a belt because its price is low; check for its quality too. Low-quality parts can be expensive to maintain and might not last long.
The CIH Vintage Belts We Offer?
At Certi-Pik, USA, we offer modern, genuine, top-quality, and durable replacement components for Case IH belts and other parts related to the proper functioning of your cotton picker belt. Our belts provide high performance, are reliable, and have a high resistance to harsh conditions. We have been working with our customers for over 30 years, giving them the best-fabricated replacement parts for their cotton picker. Understanding the farmer's needs and working towards fulfilling what they need have been a great success.
We also provide aftermarket belts for the following CIH Vintage Belts applications:
Fan rotor countershaft | Fan rotor | Engine fan | Water pump systems | A/c compressor belt | Generator and Alternator (47″, 49.5″ and 54" versions) | Propulsion variable speed drives | Drum and Main drives
Why Choose Certi-Pik, USA?
At Certi-Pik, USA, we pride ourselves on providing superior services and know that our products will withstand the heat of the cotton harvesting season. We emphasize giving our farmers high-quality parts that will not cause any delays during harvesting time. We also have a 90-day warranty in case of any defect to any of our components. Our payment method is flexible since we offer different payment options. Our shipment is also fast, so as a farmer, you get your components with no delays.
We have a wide variety of vintage belts for Case IH cotton pickers, ranging between 414 through 782. In addition, we're committed to supplying you with the best replacement belts for Case IH cotton pickers like Case IH Module Express™ 635, Case IH Module Express™ 625, among others.
Get Your Parts Today!
As a farmer, you need to ensure that your cotton is harvested on time to save time and curb losses. To place an order for Case IH vintage belts that are genuine and made from high-quality material, contact Certi-Pik, USA now, on our website, or call us at (712) 752-8460. You can also reach out online if you need more information regarding our products.
Vintage Case / IH Replacement Belts – 414 Thru 782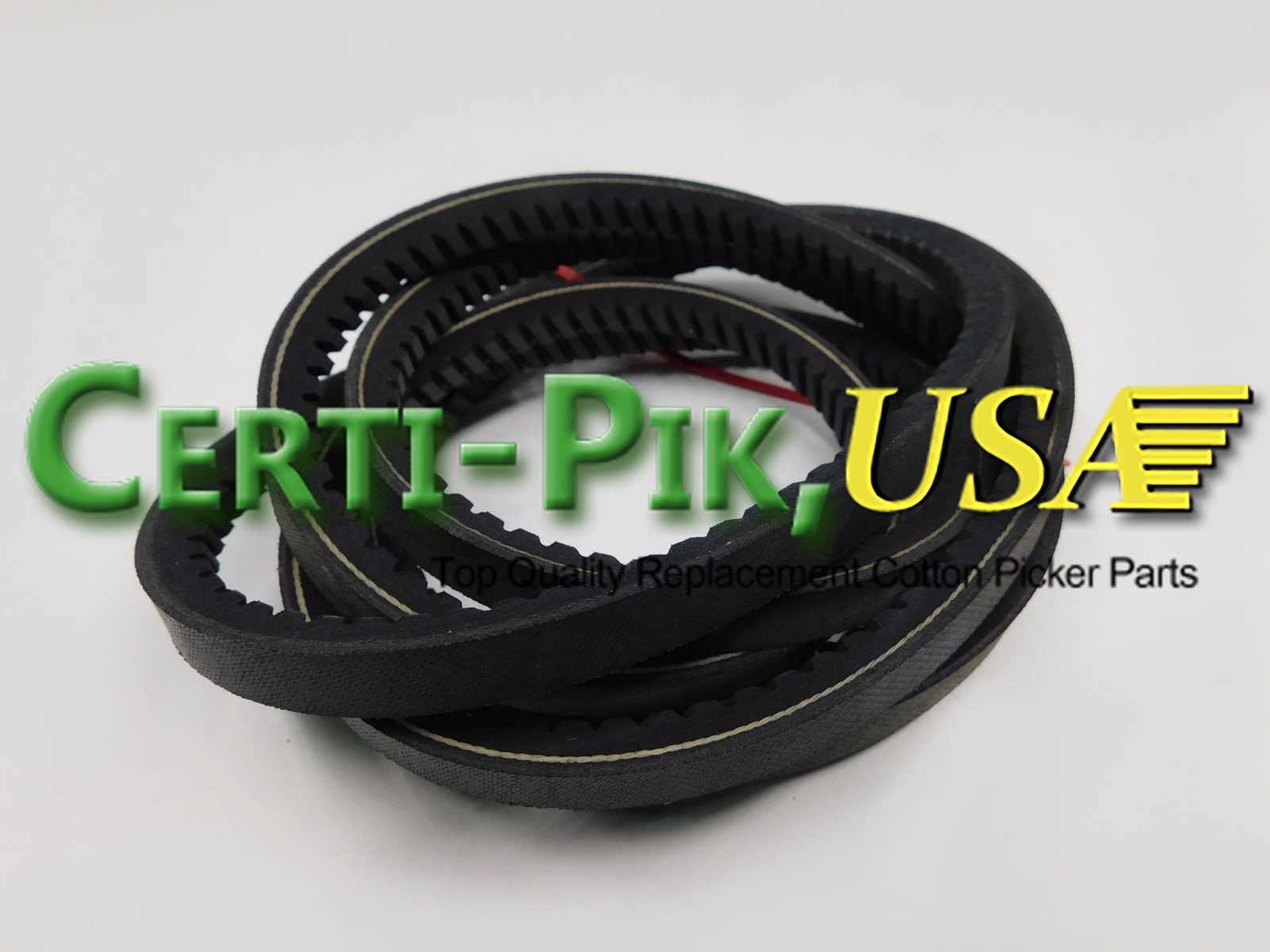 Description: A/C COMP. – 782

OEM Part: 280210C2

Section: Belts

Vintage Case / IH Replacement Belts – 414 Thru 782