John Deere CTX Extended Deep Dish Doors
Why Buy From Certi-Pik, USA?
Here are some of the reasons why you should buy John Deere Extend Deep Dish Doors parts from us:
Flexible payment methods: We offer our clients various payment options from Mastercard, Visa, Cash on Delivery, American Express, Discover, and Money Orders.
Quick Shipping: We have partnered with the best shippers globally to deliver products to our clients. Offering next-day, second-day, and various other shipping options to suit your needs.
Unmatched- Quality: We offer a 90-day warranty for all our products for any manufacturing defects
Ordering Made Easy: We make things simple as a phone call to our sales team to place your order. Our staff is professional and dedicated to caring customer service, and should be able to answer any questions regarding the parts you require for your John Deere Cotton Picker Extended Deep Dish Door.
John Deere Cotton Picker CTX
Extended Deep Dish Door Parts
The Extended Deep Dish Door is vital in helping to harvest more cotton and putting it in the basket because of the pronounced and extended picking area, as well as the rigidity of the door. Due to these factors more barbs on the spindles engage the cotton producing a higher yield. For this fact, invest in the best parts in the world to avoid frequent visits to your mechanic. Take note of the two types of scrapping plates for the Extended Deep Dish Door; the Top 2 Spindle CTX Scrapping Plate, which is used on the top of the 20 spindle door, and the 5 Spindle CTX Scrapping Plate, three of which are used on each the 20 spindle and 18 spindle doors.
We also offer a variation of our CTX door with welded in steel fins. These offer an alternative to the standard aluminum scrapping plates. If you are concerned about the weight, do not worry; they only weigh about 36 pounds each which is similar to a door with the aluminum scrapping plates installed. One benefit is they have shown some improvement when picking in adverse conditions due to less friction. They will also make it so you do not have to routinely purchase replacement aluminum scrapping plates.
Contact Certi-Pik, USA Today!
Certi-Pik, USA, provides a convenient, robust, one-stop-shop for all your Extended Deep Dish Door Parts. We offer the most convenient way to procure the highest quality aftermarket parts for your John Deere cotton picker, and we offer a wide range of other specialized parts and accessories to help keep your harvest running smoothly. If you need any parts for your cotton picker, we're here to help. Our team of professionals is just a call away to answer all your needs and concerns and process that order!
Feel free to reach us at 712-752-8460. You can also fill our online form, and we will get back to you as soon as possible.
Certi-Pik, Usa Single Pik –
Extended Deep-Dish Pressure Doors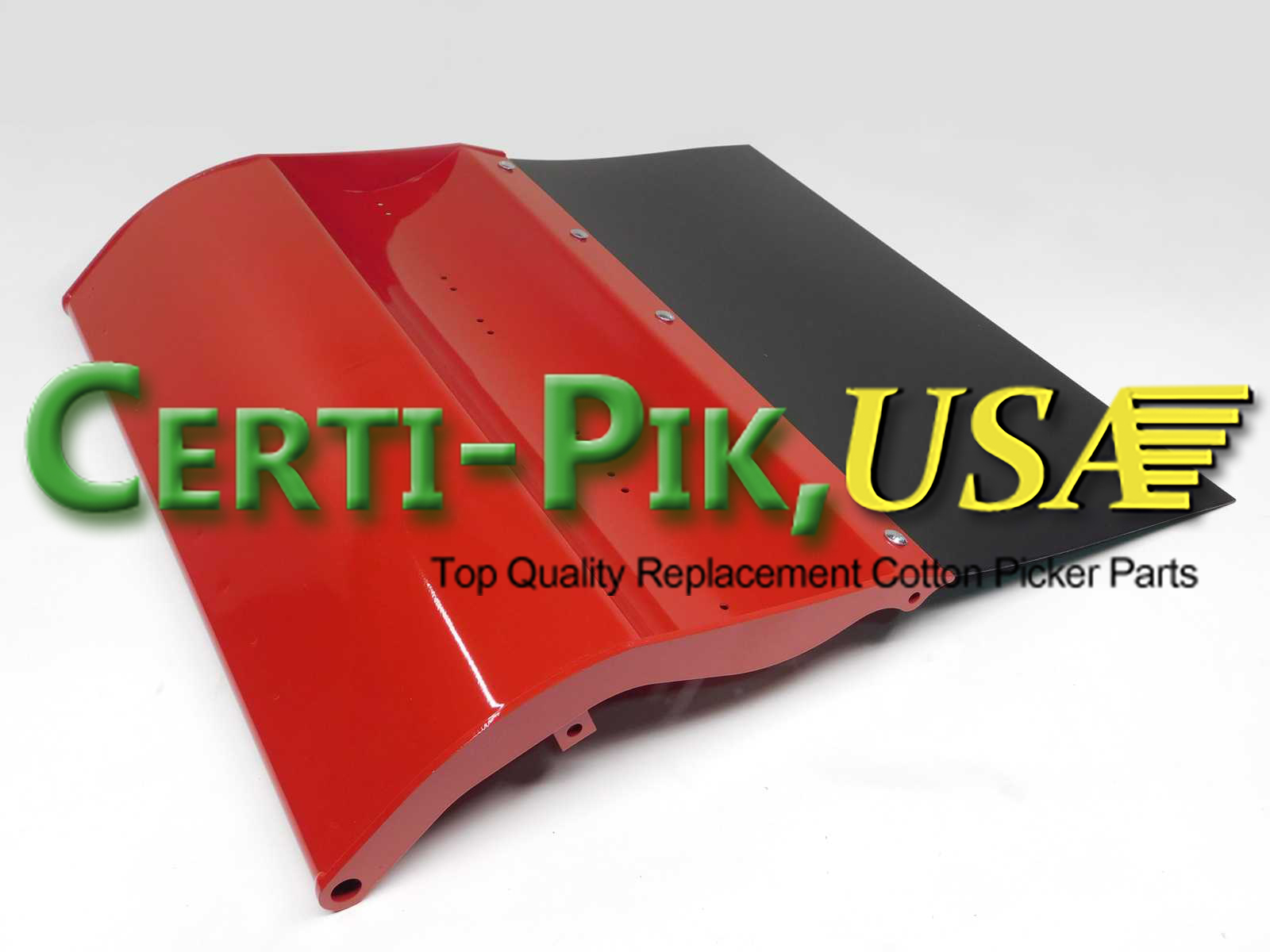 Description: Single Pik – CTX ExtenDoor – CASE/IH- R.H. FRONT GUIDE (SOLD WITH: CTX20CL, CTX20FE & HARDWARE: 5x 01540P & 5x 10213P) REP. ALL 2000 SER. THRU 635 M.E. OEM GUIDES (USES 3x #669970 S.P.) (ILLUSTRATED)

OEM Part: 87669791

Section: Picking Unit Cabinet

Certi-Pik, Usa Single Pik- Extended Deep-Dish Pressure Doors




Why Choose Certi-Pik, USA?
At Certi-Pik USA, quality and customer convenience are our priorities:
Easy ordering: To make ordering simple for you, you can get in touch with our team and send your order via email or fax. Feel free to place your CIH parts order at any time, around the clock, using our convenient and secure process. If you need guidance or have parts questions, call us for answers and we can also take your order on the call if you like.
Quality guarantee: We stand behind our products with a 90-day warranty against defects in manufacturing or materials. If on an extremely rare occasion you have a need to return a component, we inspect it and ship your replacement components free of charge, same day if humanly possible.
Fast shipment: When you order before noon, we ship products the same day if possible, and afternoon orders are shipped the next business day. We use UPS, choosing the service level needed to get the components to you on time (Ground, Next Day Air, 2nd Day Air, etc.)
Pay any way: Our flexible payment options help you manage your company budget with ease. Choose from bank wire transfer, Visa, MasterCard, Discover, American Express or COD (cash on delivery). Money orders are fine, too.
Get the CIH Water System Parts You Need! Our Experts Are Ready to Help
In order to provide convenient, one-stop ordering for all your cotton harvesting and aftermarket CIH water system needs, Certi-Pik, USA also sells a wide variety of specialized accessories and sheet metal parts for cotton-harvesting equipment rebuilds. Let the market leader in cotton harvester components provide every OEM-quality aftermarket component you need for your Case IH harvester.
Contact Certi-Pik
, USA online, or call
(712) 752-8460
today.