John Deere Grid Bar
and Cabinet Supports Parts
John Deere 9976-CP690 Grid Bar and Cabinet Supports
You will find complete details on the Pro John Deere Grid Bars and Cabinet Supports right here. If you're a farmer or John Deere Cotton Picking Machinery dealer, then we can supply you with replacement parts for your cotton harvesting equipment. Your machinery will last longer if you adhere to the recommended maintenance schedule for your cotton picker. This reduces wear and tear and extends the life of all components.
Contact Us for Help
Finding the correct part number can be difficult, so if you are uncertain of which type of grid bar or part in the cabinet support section you need for your specific type of cotton harvester, you can check the assembly diagrams above or contact us and we'll walk you through the process to select the right part for your machine.
For urgent orders, rather than searching through our very extensive list of parts, give us a call at Certi-Pick USA on our toll-free number, 1-888-CERTIPIK (237-8474), and one of our staff will help you out right away. Selecting the right John Deere grid bars and cabinet support parts to rebuild your cotton picker or to replace any worn-out items will be quick and easy. Contact us using the following methods and avoid costly delays:
Fax: 1-712-752-8472
Email:

[email protected]

Shopping Cart: You can place your order through the links on our website and we will confirm your order via email or get in contact with you to discuss any details that may be unclear.
Comprehensive Inventory in Stock
Our stock control system helps us to ensure that we don't run out of those mission-critical spares and components that we know you are going to need. As nothing can be more frustrating than placing your order, only to discover that it's going to be delayed because there's no stock, we strive to carry adequate stock on hand. We ensure our warehouse is filled with replacement parts, ready to ship to you at a moment's notice.
Avoid Frustration
Nothing is more frustrating than receiving the wrong parts when you're in the middle of a job or when you're right in the middle of harvesting. That's why we've made the ordering process quick and simple.
Ordering the Right Parts is Quick and Easy
Our job is to make it as easy as possible for you to order and receive the exact part or assembly you need to get your machinery fixed or serviced and back out where it belongs, making you money.
To avoid mistakes or any chance of error, please provide us with the following information when placing your order:
Certi-Pik part number or OEM part number
A description of the item
The model number of the machinery you're fixing
Our Promise
Our streamlined ordering process helps you place your order easily, and should have your order shipped out to you as soon as we possibly can.
Contact us today for your replacement John Deere Grid Bars.
Selecting the Right Grid Bar Can be Tricky
Grid bars are components that form part of the John Deere harvester cabinet assemblies. Grid bars are used on all models ranging from the conventional 9900 through the Pro Baler picking units. There are two styles of front grid bars available, and there are four different types of rear grid bars.
The newest varieties of Grid Bars fit the Pro picking units and they are suited to the older 9935 Pro machines through the newer Balers. Some confusion has been minimized as all Pro Picking units use the same front and rear Aluminum Grid bars except the VRS series which have their own unique profiles.
John Deere 9976-CP690 Grid Bar and Cabinet Supports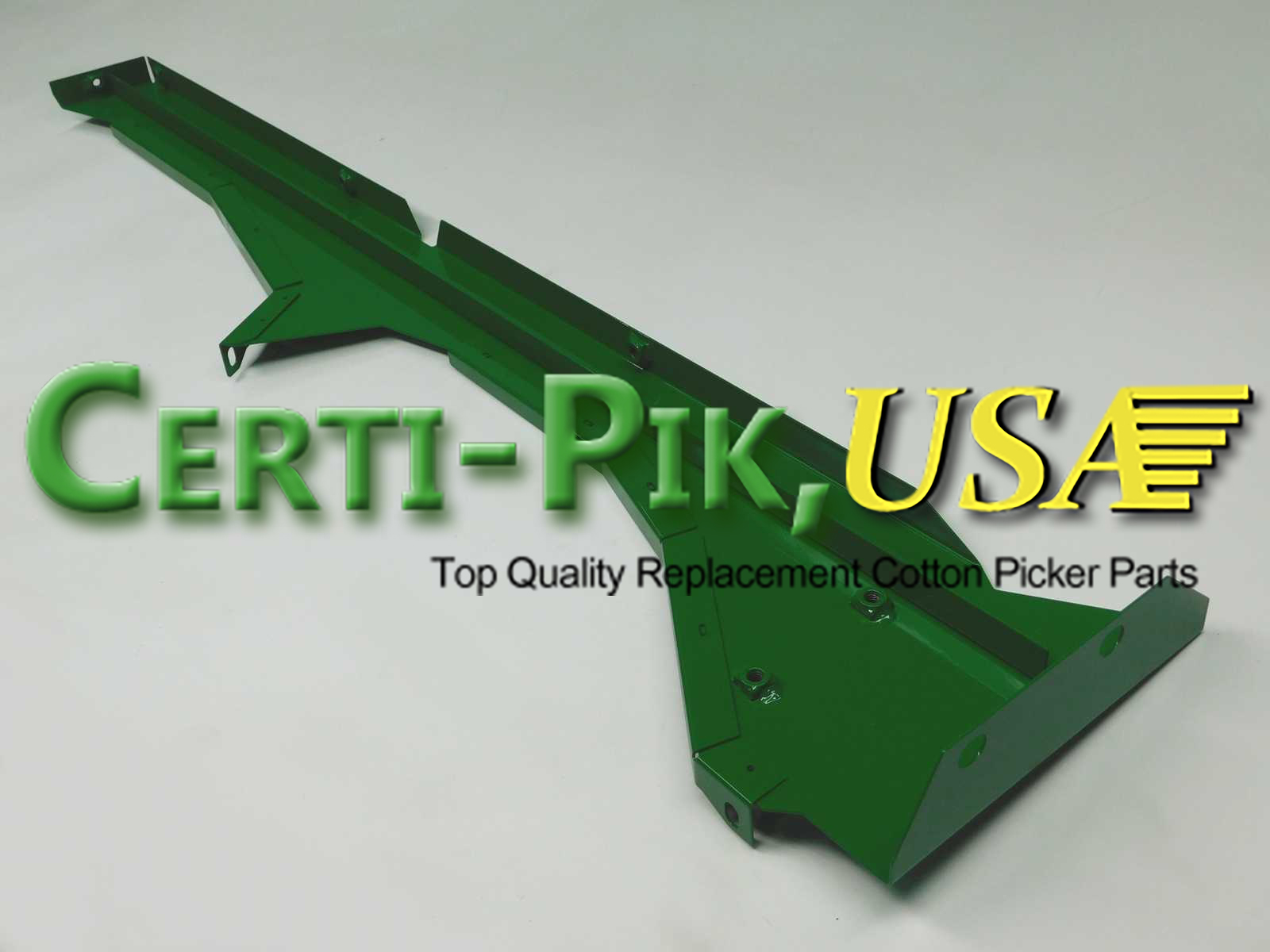 Description: SHEET – THROAT (9976-9996)

OEM Part: AN273507

Section: Picking Unit Cabinet

John Deere 9976-CP690 Grid Bar and Cabinet Supports