John Deere Picking Unit System
Let's look at some essential John Deere picking unit system replacements parts you can buy:
John Deere Picking Unit System Parts for Sale
John Deere harvesting machine is a household name among Americans working in the Cotton industry. However, to operate efficiently to increase productivity, you have to get the right replacement parts and conduct proper maintenance. At Certi-Pik, USA, we supply the best parts for John Deere picking systems to ensure that your harvesting machine works proficiently to meet your expectations. We are a company certified by the better business bureau's Federation of Independent Business.
Ordering Parts for the Picker Unit System
The Picking Unit System
The picking unit system separates cotton from the spindles as they rotate during harvesting. The spindles extract all the cotton lint from the plant bowl while harvesting, working in conjunction with the other system components such as cam tracks, idler gears, and doffers to transfer the cotton to the basket or baling chamber. Always inspect the picking unit system for any potential damage and plan for replacement before the harvesting season. Maintaining the unit system will save you time and money.
The Picker Spindle
Most cotton harvesters prefer quality picker spindles because they are the most vital cotton picker harvesting component. The picker spindles rotate at high speeds to remove cotton from the bowl. The spindles tend to wear out inevitably with time as contact with the abrasive plant stalks occur, or other foreign matter enters the picking zone.
The damages occur at different heights on the bars. You'll notice that one-half to two-thirds of the bottom spindles wear out faster than the top. You need to know the condition of the spindles during harvesting season before you begin harvesting. Moistener pads keep sap and debris from building up on the spindles. You also need to check the adjustment of the moistener pads and the doffers since they should run closely to the spindles to function optimally. Replace all snapped, rusted, and dull spindles to improve their efficiency. You can also replace doffers, which we supply with the highest quality urethane, clips, screws, moistener pads, bolts, and spacers. The parts should run efficiently to meet your goals.
You can always purchase the parts
at Certi-Pik, USA, at any time.
The Picking Unit Bars
The picking unit bars keep the spindles separated to maintain their rapid operation while the picker ribs clear the dried twigs, leaves, and other matter picked up with the cotton plants to ensure the cotton remains clean. Separating the Cotton from the plant material via the rapidly turning spindles is critical because if the materials are left mixed up with cotton, you could get docked at the gin for a dirty crop that will perform a secondary separation process that would be more expensive and time-consuming.
The Picker Ribs
Apart from clearing the unwanted materials, the picker ribs also prevent the moistening systems from clogging up with accumulated debris. The cleaning is crucial because if the harvesting parts become clogged up with twigs, leaves, and cockleburs, it will derail their efficiency and reduce profitability. Note that damaged, poorly spaced, or loose ribs can contact bars and spindles, leading to a strange breakdown and causing a fire in the row unit.
So it would be best if you were keen to replace the ribs and ensure that they do not contact the spindles and bars as they rotate. Also, inspect the mountings and fasteners at the end of ribs and replace all the damaged fasteners to improve efficiency. Finally, ensure all covers are in good condition which will increase the life of your fasteners.
Source Your Replacement Parts From Us Today
At Certi-Pik, USA, we are the top supplier of quality John Deere aftermarket picking unit system parts. When getting in touch with us, provide our part number for the item to ensure you purchase the correct components for your John Deere machinery. This usually starts with a number, but you may also provide us with the OEM component number, which usually starts with a letter of the alphabet.
The component number is engraved into the surface of certain products, but if you don't know it, you should be able to find it in the paperwork for your harvesting equipment, whether it's the owner's handbook for your picker or our catalog.
Whether you need a cam roller, O-ring seals, cam arms, upper or lower seals, plugs, sleeves, bars, doffers, or any other essential parts for your picking unit system, we have them all. Call us at (712) 752-8460 or go online and make your order today. Our clients have reported positive progress after buying our picker parts.
PICKING UNIT SYSTEM PARTS
How do you know that you have your pre-season spindle adjustments right?
Your spindle assembly should have a play of 0.003- to 0.017-inch before you insert it into the bar. Once you have it inside the bar, you should feel some slack between the spindle gear and the drive gear in the back when you are rotating the spindle back and forth between your forefinger and your thumb. If there is no slack between the gears, you add shims, and retighten it until you can feel the slack. If you have vertical movement of more than 0.006 inch, you need to replace spindle bushings. Excessive end play may be a sign of wear and tear on the flange bushing on the base of the nut for the spindle.
If you have a John Deere machine, this kind of precision work can be attained by purchasing certified parts from Certi-Pik, USA. Everything about John Deere spindle components is designed for ease of repair.
Why choose John Deere Replacement Parts from Certi-Pik, USA?
Replacement parts made by Certi-Pik, USA for John Deere pickers are designed with tight engineering specs. They are manufactured to precise tolerances. They are rigorously tested, and they are made with only the best materials available. Each row unit on a John Deere cotton picker has over 3,000 unique parts, manufactured for a perfect fit on a reliable machine.
To protect your investment, optimize your performance, and avoid breakdowns in the field, you want the best parts you can buy for your money. At Certi-Pik, USA, we sell aftermarket parts which are on par or better than the OEM standards.
John Deere Spindles and Assemblies
Everything about your cotton picker makes it a close-tolerance, incredibly complex machine. The complexity of modern spindle pickers requires operators to be skilled professionals. Maintaining spindle pickers requires you to have precision equipment in your shop for adjustments and repair, especially when you are getting row units ready for the picking season. You have to get the tilt of the row unit right for the kind of bed the farmer used to plant the cotton. Minimal tilt may be needed to pick cotton planted in a no-till field, but greater tilt is needed to get all the cotton off heavy-fruiting plants.
The reason to do your pre-season work is simple: Spindles get a work out during harvest season. Hardened spindles with sharpened barbs must rotate at high speed synchronized with harvesting speed.
What makes Certi-Pik, USA spindles the superior choice for repairs to your John Deere cotton picker or cotton stripper?
Our quality control checks them for correct fit and function. As with any of our parts, we will not sell a part that knowingly does not work.
These spindles have hardened cases that ensure they break instead of bending when they hit hard objects, minimizing damage to adjacent parts.
They are double chrome plated to fight rust, corrosion, and wear.
Spindle assemblies come all-in-one for quick repair in the shop or even in the field. Spindle nuts are given an organic-friendly coating. Double chrome PRO spindles were made for a 50 percent longer life over 1st generation spindles and are suitable for the harshest harvest and weather conditions.
John Deere Spindle Components
Spindle components are engineered and manufactured to the same high standard as every other part of the machine. The spindle nut assembly comes ready to go. There is no need to push the bushing into the nut before it is installed. The coating on the nut is durable to resist rust and corrosion. The dust collar fits tight to keep grease from leaking. It has no burrs that can cause wrapping around the spindle. When you use Certi-Pik, USA parts, you can be sure that you have the right fit to keep the spindle turning.
Bushings are designed to stringent specifications to ensure consistent, tight fit. They are engineered to eliminate seizing and to reduce the possibility of dead spikes. Our bushings are made from an alloy of iron and bronze that reduces friction and ensures good penetration of grease. As the left-hand cam arms have all but become a thing of the past due to newer In-Line Row units, we supply right-hand cam arms that are not painted similar to how you might find them elsewhere in the marketplace. They are checked for accuracy and hardness to provide the best option available.
The cam roller is made from a high alloy material that reduces cam track wear. It increases reliability and decreases replacement costs by reducing wear on mating parts. It is precision-engineered to exact tolerances to provide smooth operation of the bar around the cam track. The picker bars are flexible, so they bend instead of breaking, made from seamless, lightweight aluminum.
The top bar spur gear is made from billet steel which is stronger than sintered powdered metal. It is heat treated and manufactured with a precision-drilled cross-hole perpendicular to the main bore. We also manufacture our drive shafts with exact-fit cross drilled holes to ensure the highest picking time possible out of your gears, and pins. This makes it easier to assemble with a tighter fit. Reducing wear to mating parts extends tooth life. The spindle driveshaft kit comes complete with gears. Picker bar assembly kits are also available. They include cam arm, driveshaft, gears, pins, sleeve, PRO-XL spindles, and all you need for your assembly.
Don't forget the moistener system and accessory parts
No system on the cotton picker is more often overlooked than the moistener system. This system serves a dual purpose. It keeps the spindles clean and slick, so the doffers operate efficiently. Even experienced operators sometimes blame chunked doffers or wrapped spindles for problems that are actually caused by failure to maintain the moistener system. Certi-Pik, USA's custom 'Star' lube hole pattern distributes the solution more evenly across the spindles than John Deere's moistener pads' X design. The pad can be rotated 90 degrees for maximum efficiency. The pad has full, thick fins and clean holes. They are easy to install, and they stay in place.
Urethane doffers stand up to sticks, stone, and field debris. They are precision blanked to be balanced and concentric. They are easy to install and last dependably in all field operations. Our moistener column has been re-engineered to be stronger and last longer than the OEM design. Certi-Pik, USA can supply you with vine cutters, scrapping, stalk lifter rods, mud scrapers, and much more. With over 1200 parts available, we are constantly on the lookout to provide new products to help streamline your operation.
Where to Get Your Replacement Parts
You might be used to genuine OEM parts for your cotton harvester, but they aren't your only choice. You can rely on Certi-Pik, USA for high-quality remanufactured parts, and when parts are in short supply, the best alternatives from other manufacturers.
Certi-Pik, USA has been working with clients around the world to provide the best selection of cotton picker parts since 1988. We fabricate parts for new and older machines that we have in stock for rebuilding cotton pickers. We bring all of our expertise to all of our work, and we take pride in giving out customers only the best.
Contact us at (712) 752-8460 or use our online form to place an order or receive more information. Ask for one of our qualified personnel when you need information about support or sales. We look forward to helping you!
John Deere 9900-9920, 9940 Picker Bar and Spindle Assembly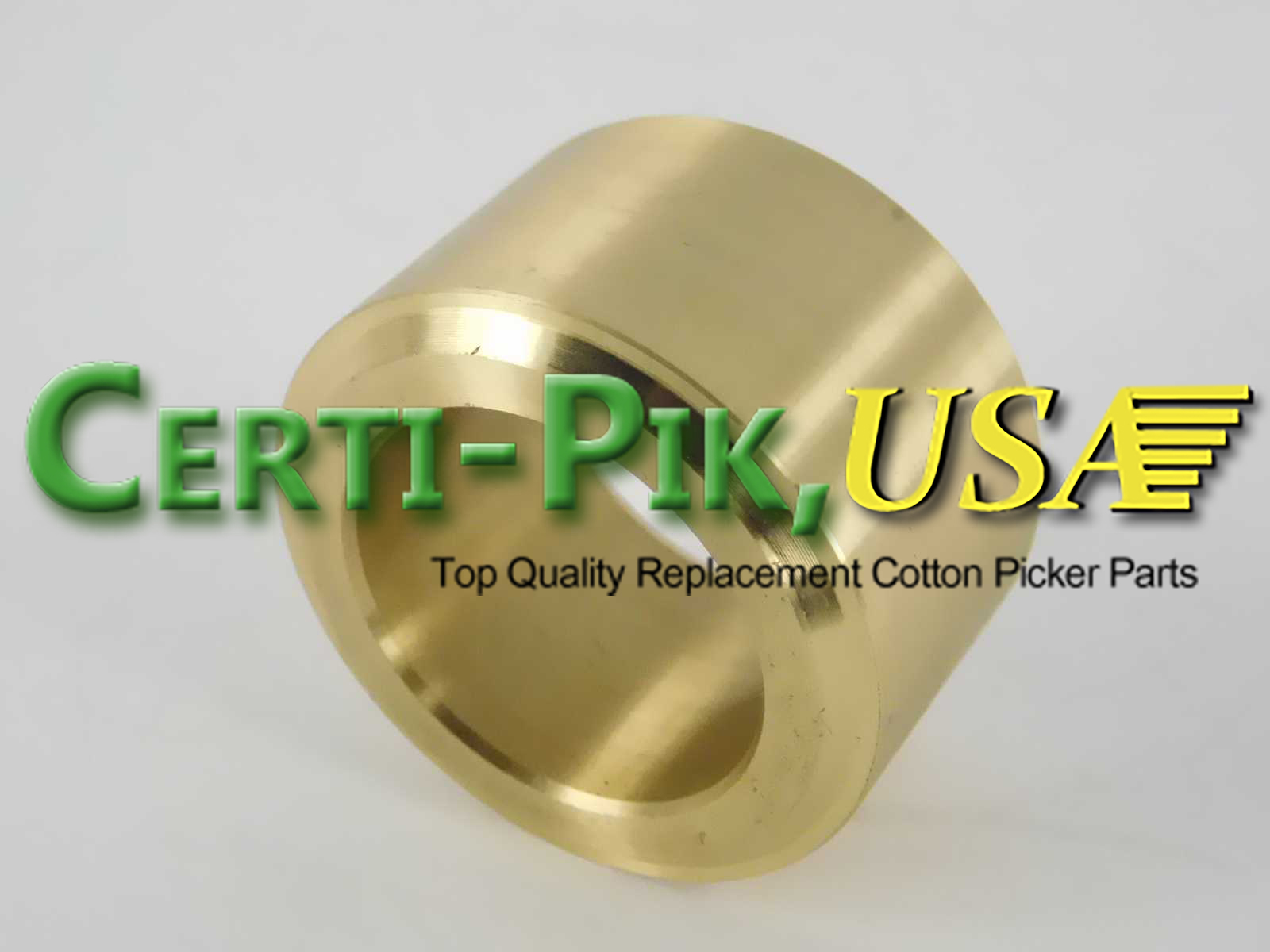 Description: CAM ROLLER

OEM Part: N193500

Section: Picking Unit System

John Deere 9900-9920, 9940 Picker Bar and Spindle Assembly



---
John Deere 9930-9935, 9950-CP690 Picker Bar and Spindle Assembly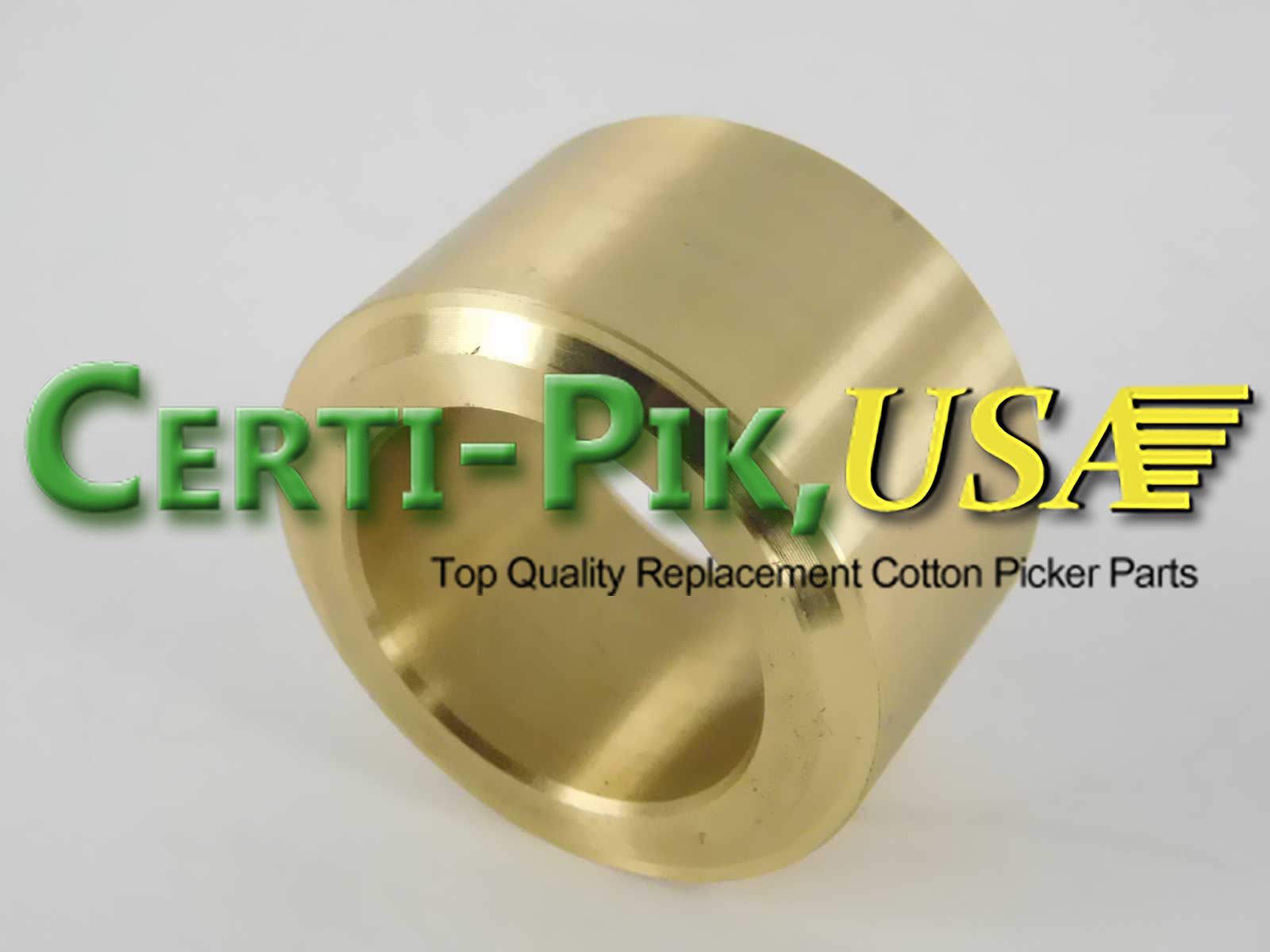 Description: CAM ROLLER

OEM Part: N193500

Section: Picking Unit System

John Deere 9930-9935, 9950-CP770 Picker Bar and Spindle Assembly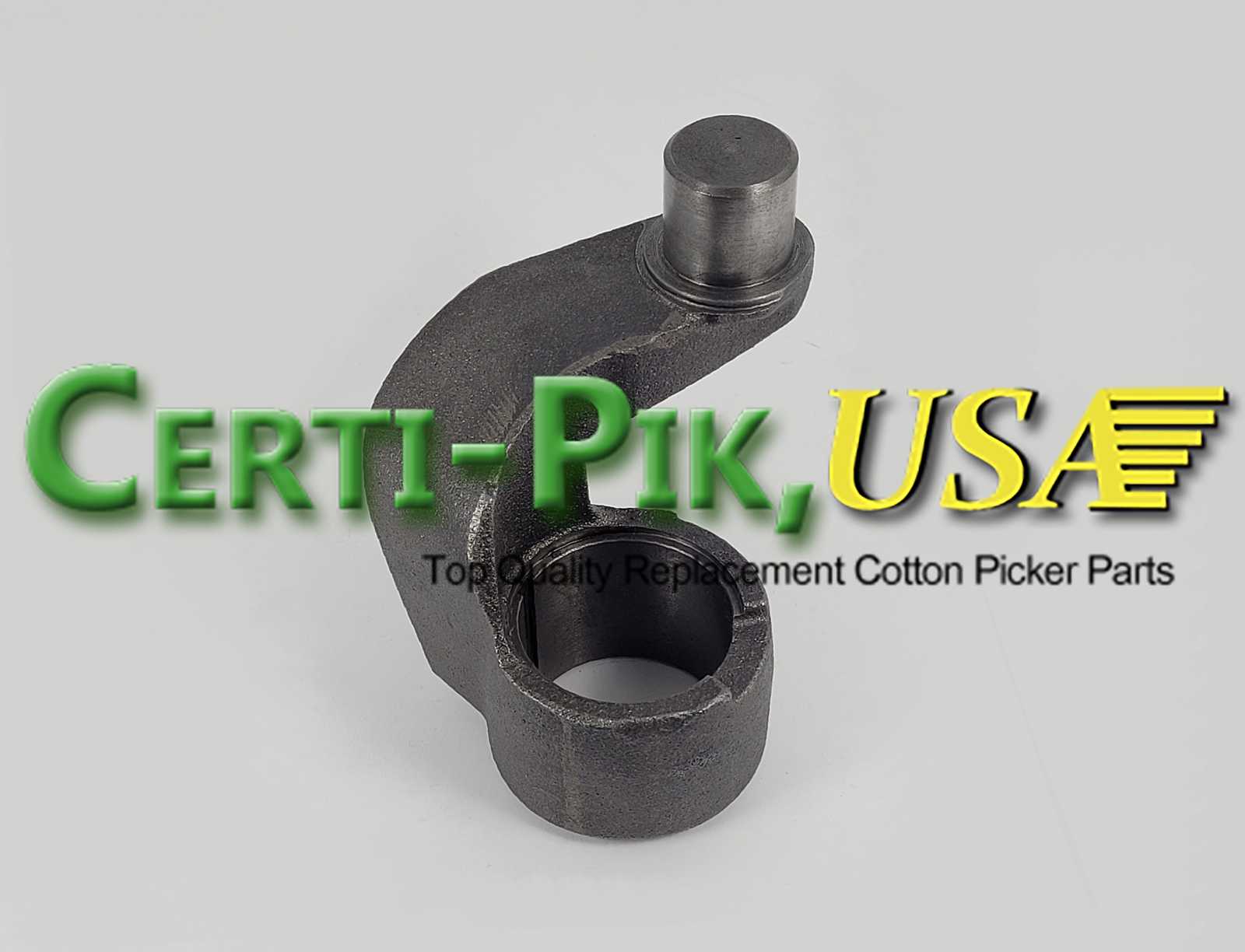 Description: ARM – R.H. CAM FOLLOWER ARM (9930,9950-CP690)

OEM Part: N198724

Section: Picking Unit System

John Deere 9930-9935, 9950-CP770 Picker Bar and Spindle Assembly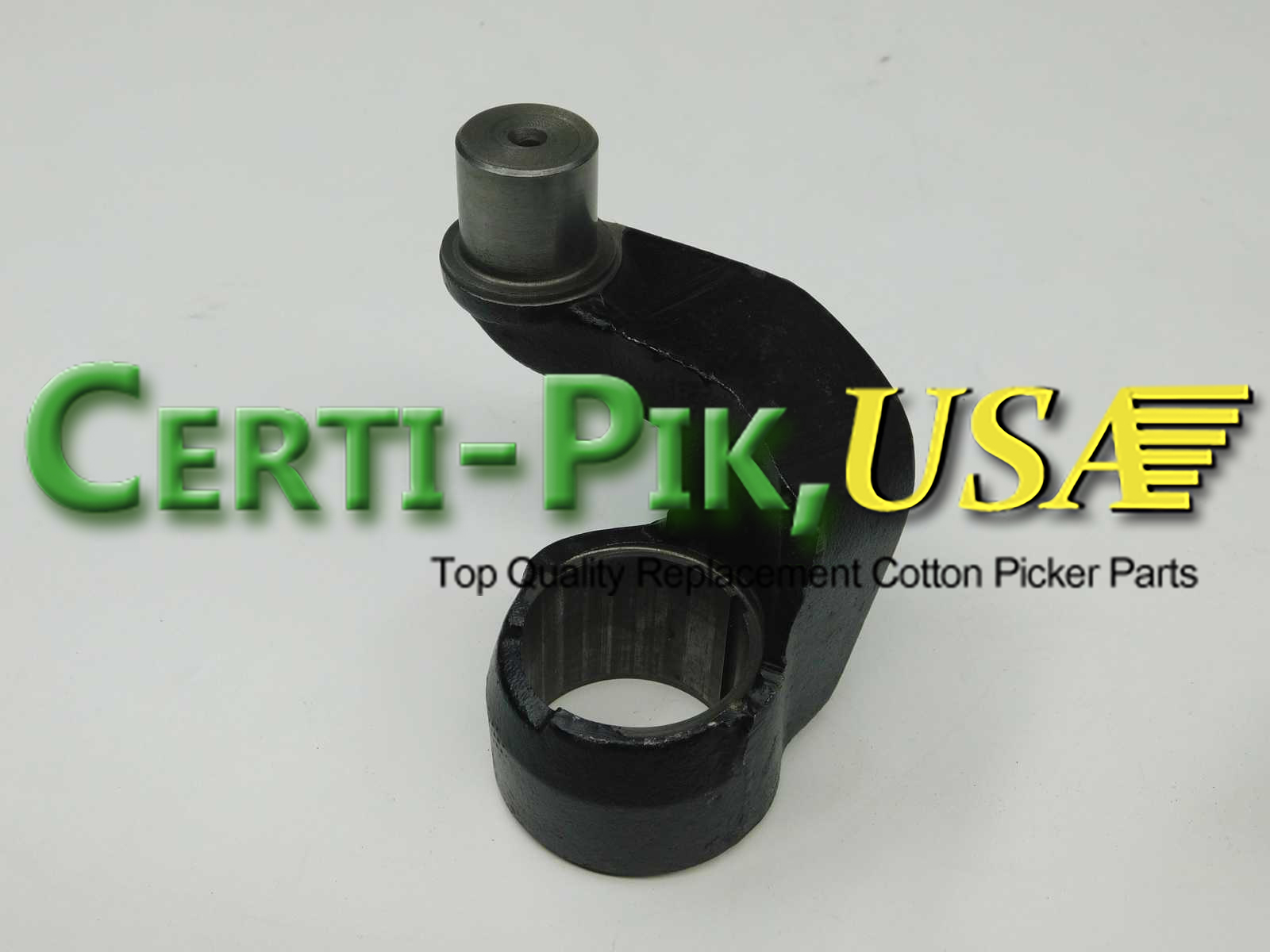 Description: ARM – L.H. CAM FOLLOWER ARM, CONV. UNITS ONLY (ILL.)

OEM Part: N198725

Section: Picking Unit System

John Deere 9930-9935, 9950-CP770 Picker Bar and Spindle Assembly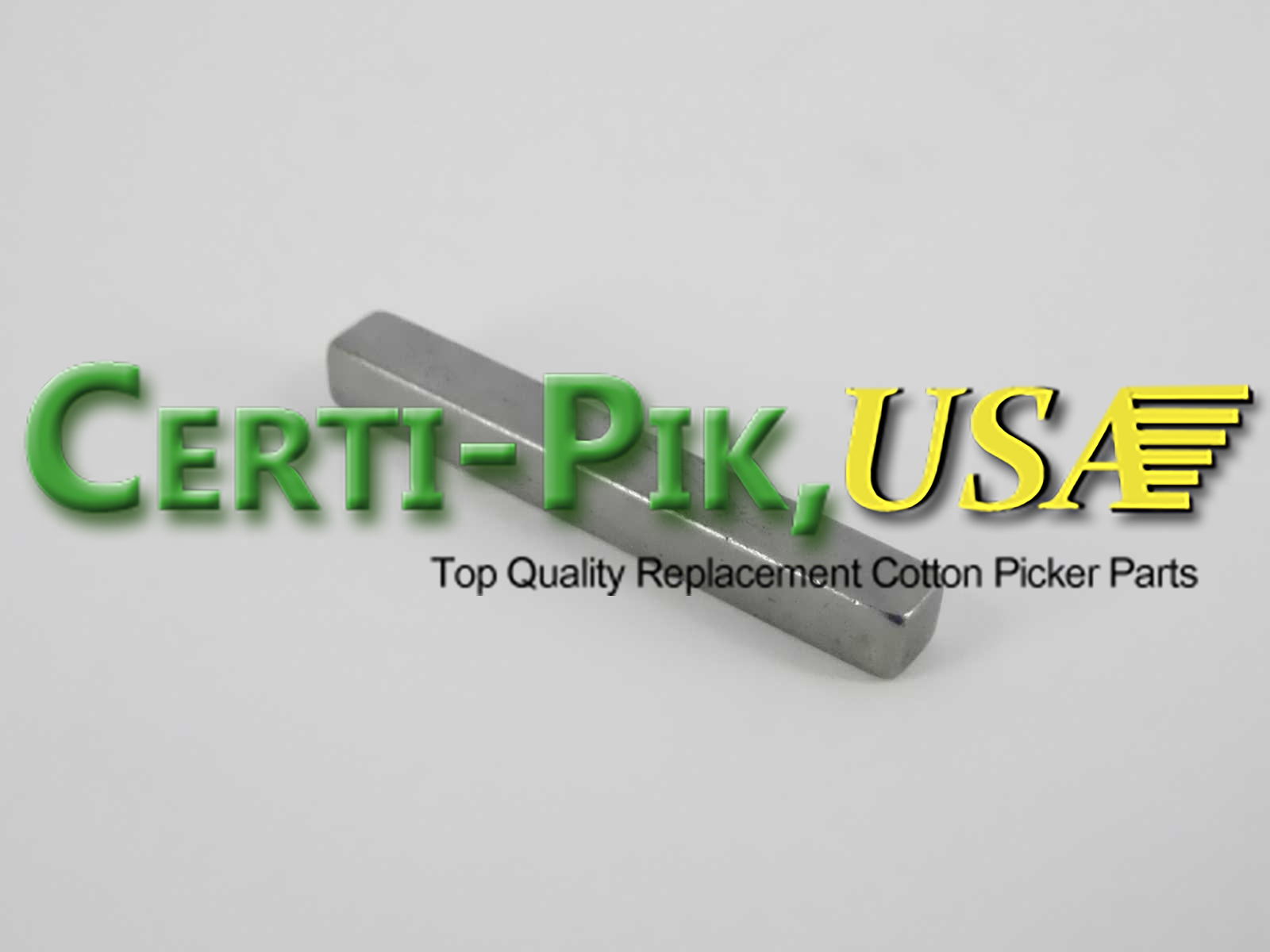 Description: SQUARE KEY

OEM Part: H64373

Section: Picking Unit System

John Deere 9930-9935, 9950-CP770 Picker Bar and Spindle Assembly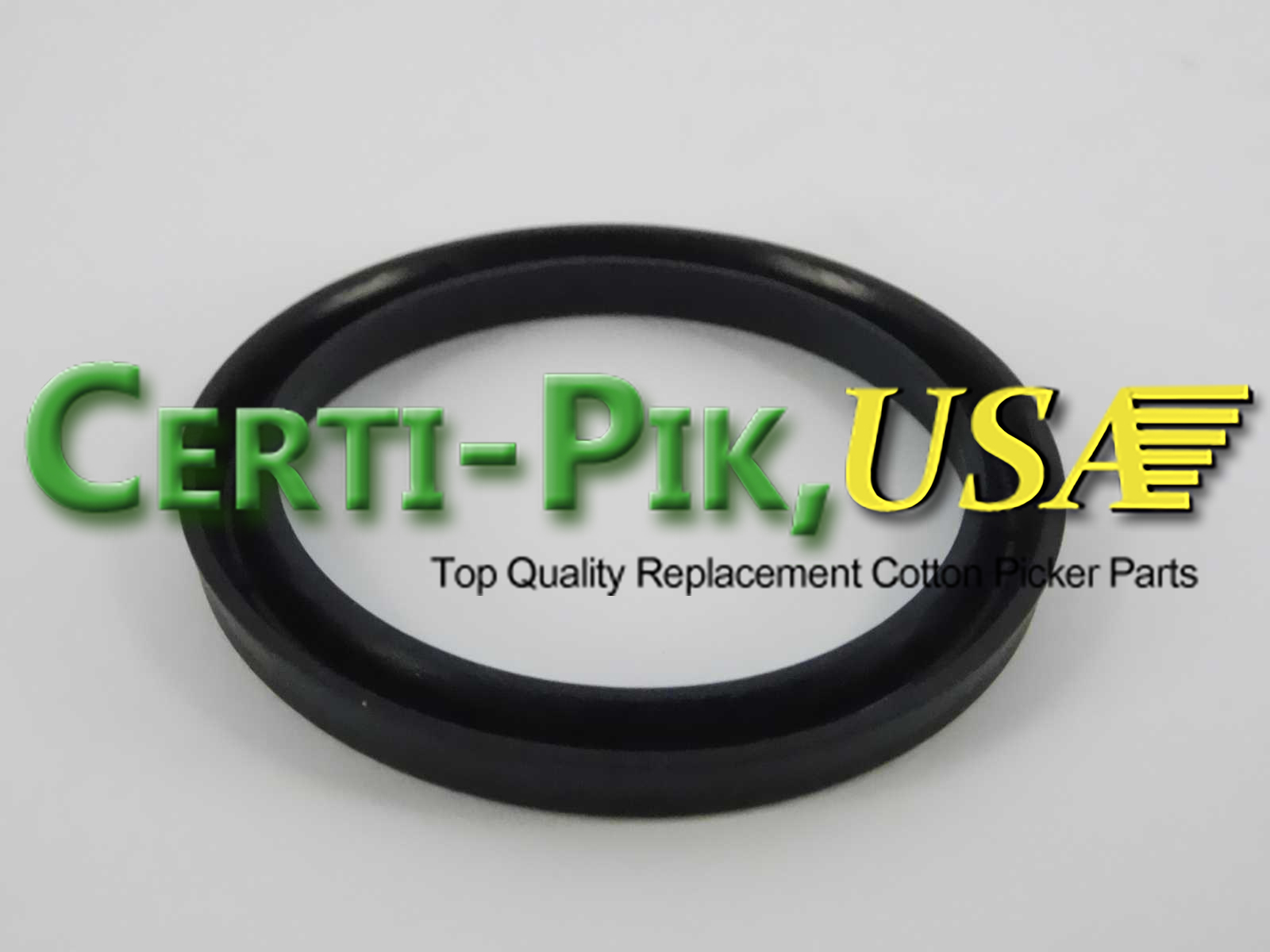 Description: SEAL – UPPER CUP (NOT USED ON PRO BARS)

OEM Part: N119589

Section: Picking Unit System

John Deere 9930-9935, 9950-CP770 Picker Bar and Spindle Assembly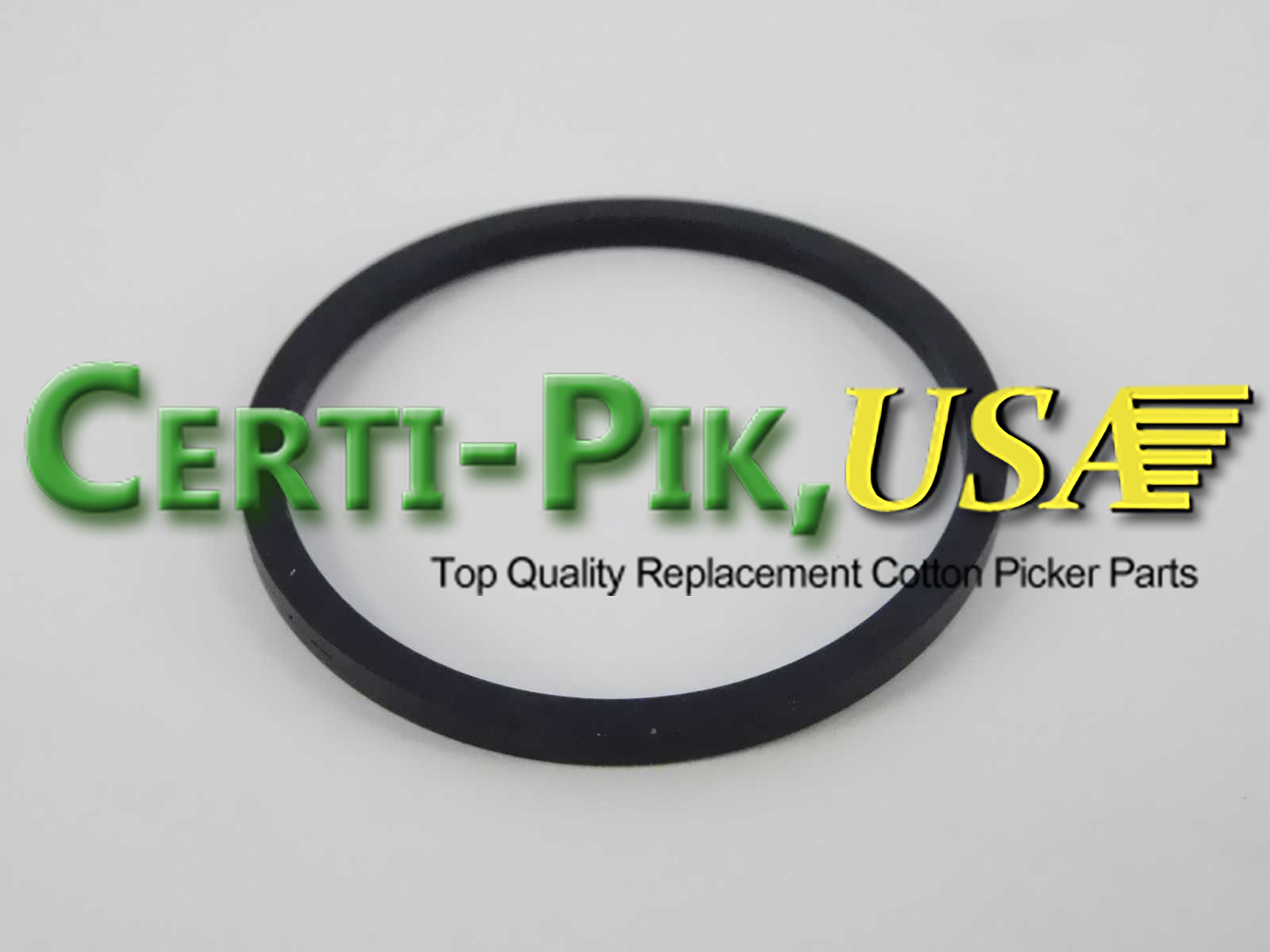 Description: SEAL – LOWER SQUARE (NOT USED ON PRO BARS)

OEM Part: N119581

Section: Picking Unit System

John Deere 9930-9935, 9950-CP770 Picker Bar and Spindle Assembly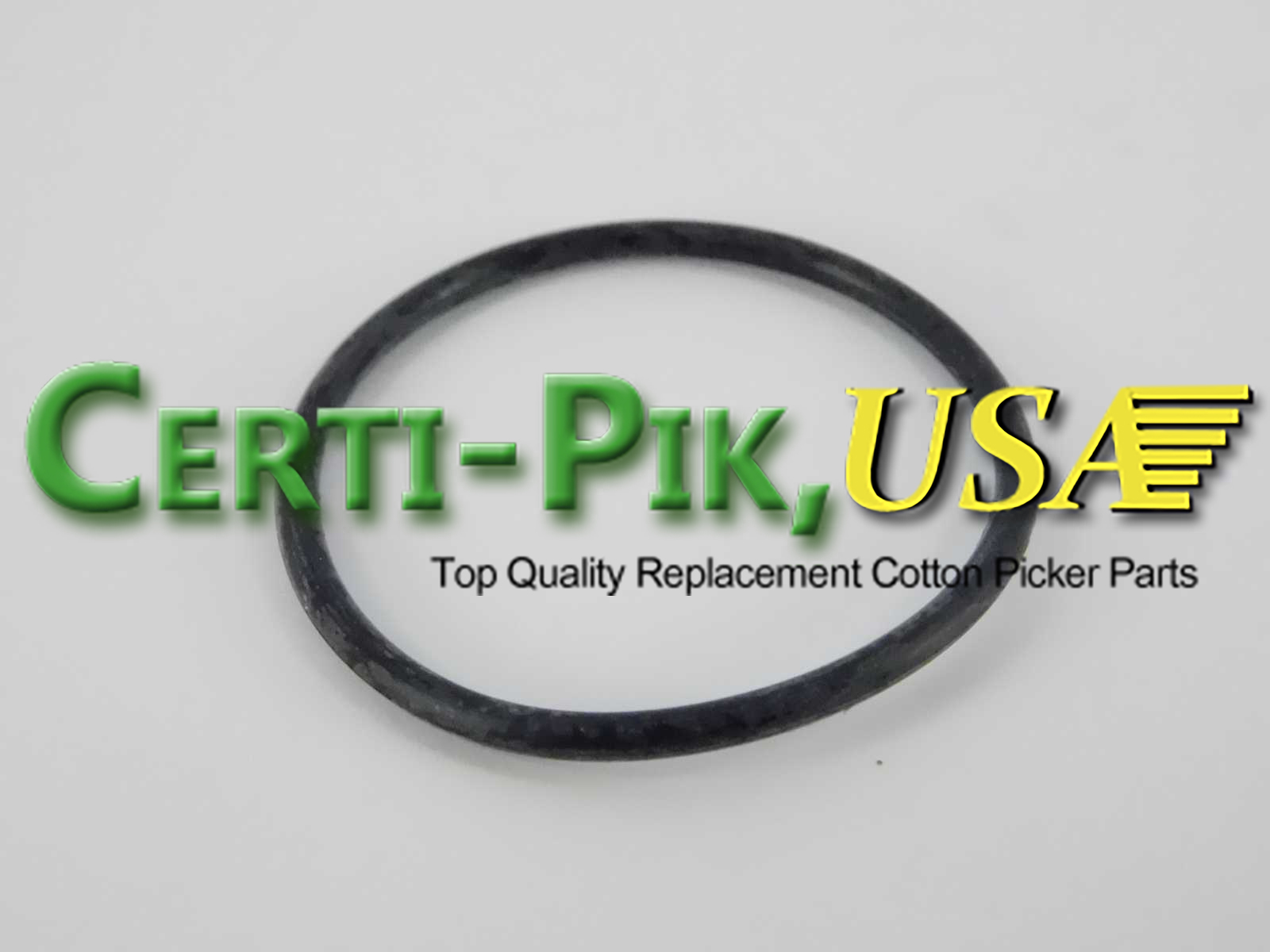 Description: O-RING SEAL – (9900-CP770) (2 USED ON PRO BARS)

OEM Part: T19854

Section: Picking Unit System

John Deere 9930-9935, 9950-CP770 Picker Bar and Spindle Assembly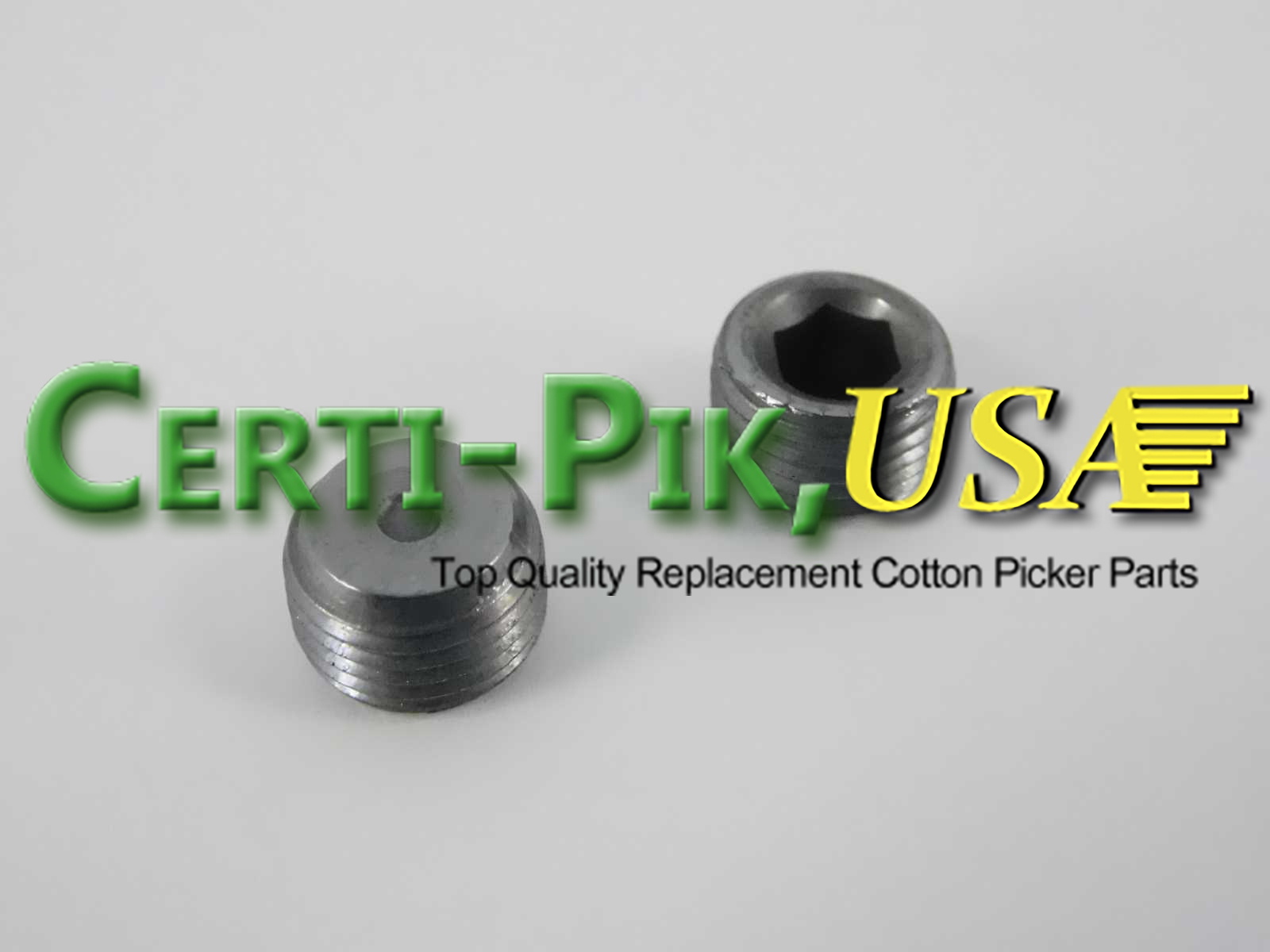 Description: PLUG – 1/8 PIPE PLUG

OEM Part: 15H558

Section: Picking Unit System

John Deere 9930-9935, 9950-CP770 Picker Bar and Spindle Assembly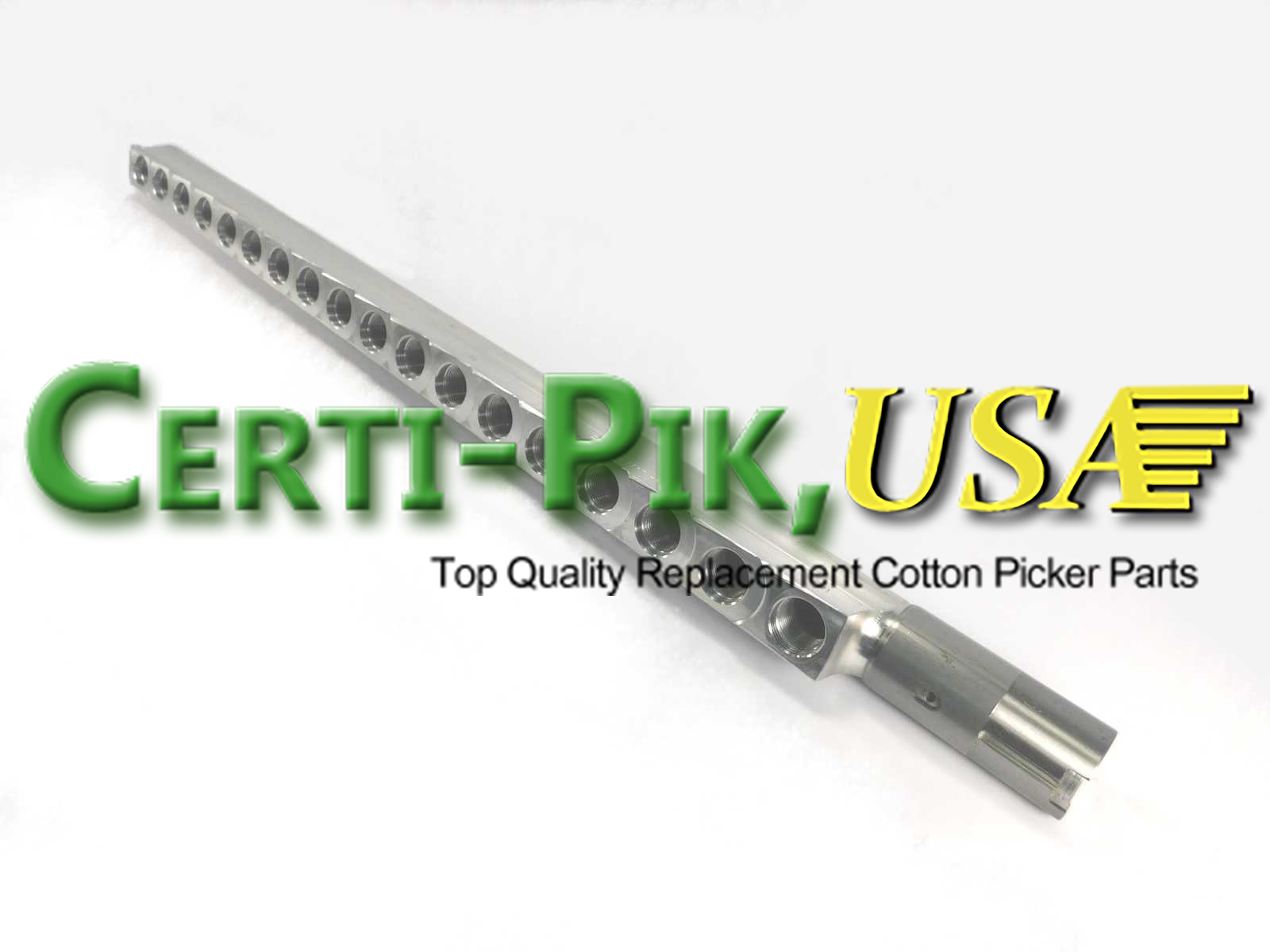 Description: BAR – 18 SPINDLE R.H. WITH PRESSED ON SLEEVE

OEM Part: AN193320

Section: Picking Unit System

John Deere 9930-9935, 9950-CP770 Picker Bar and Spindle Assembly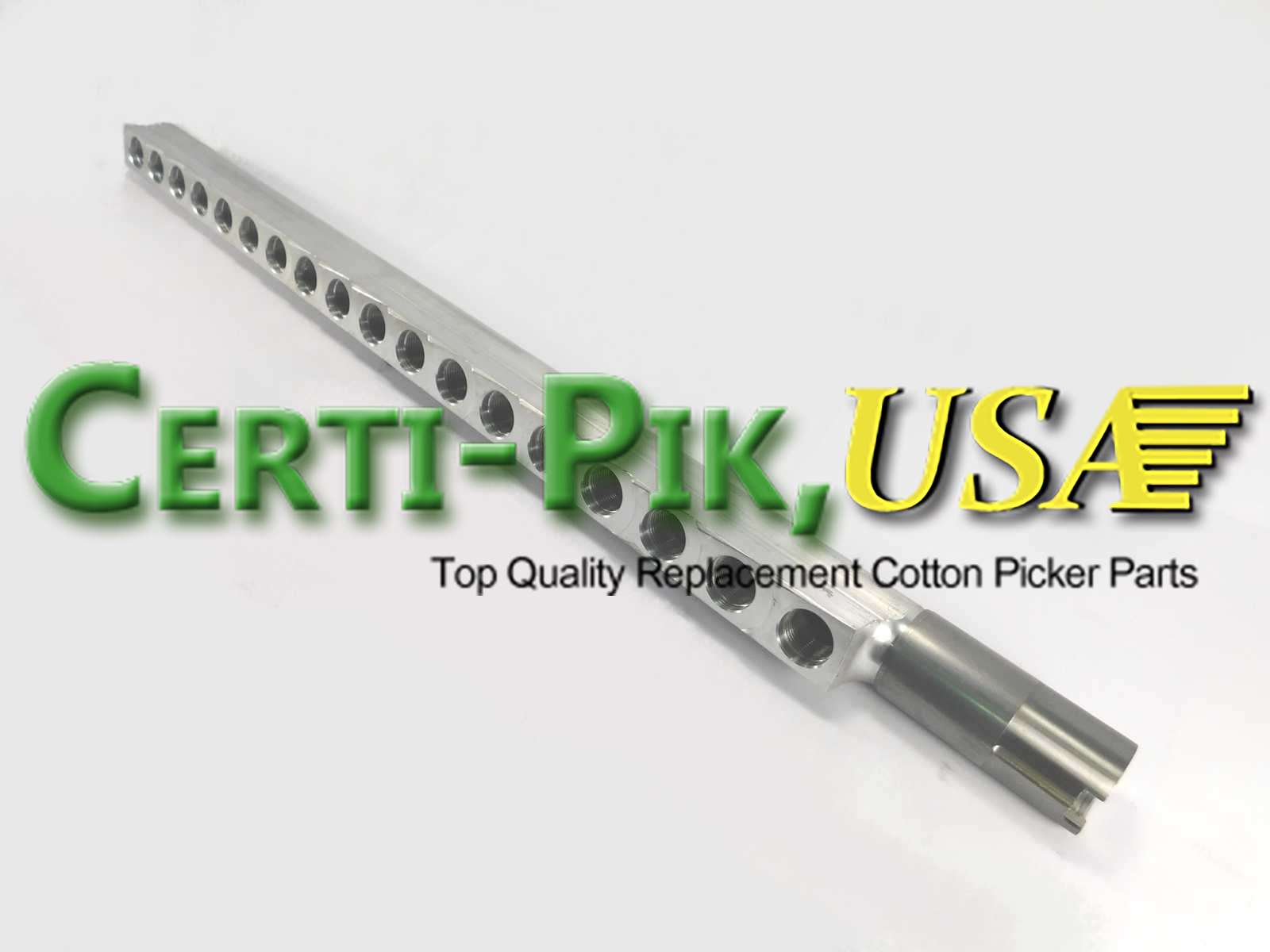 Description: BAR – PRO-12, 18 SPINDLE PRO-12 SERIES WITH SLEEVE

OEM Part: AN274501

Section: Picking Unit System

John Deere 9930-9935, 9950-CP770 Picker Bar and Spindle Assembly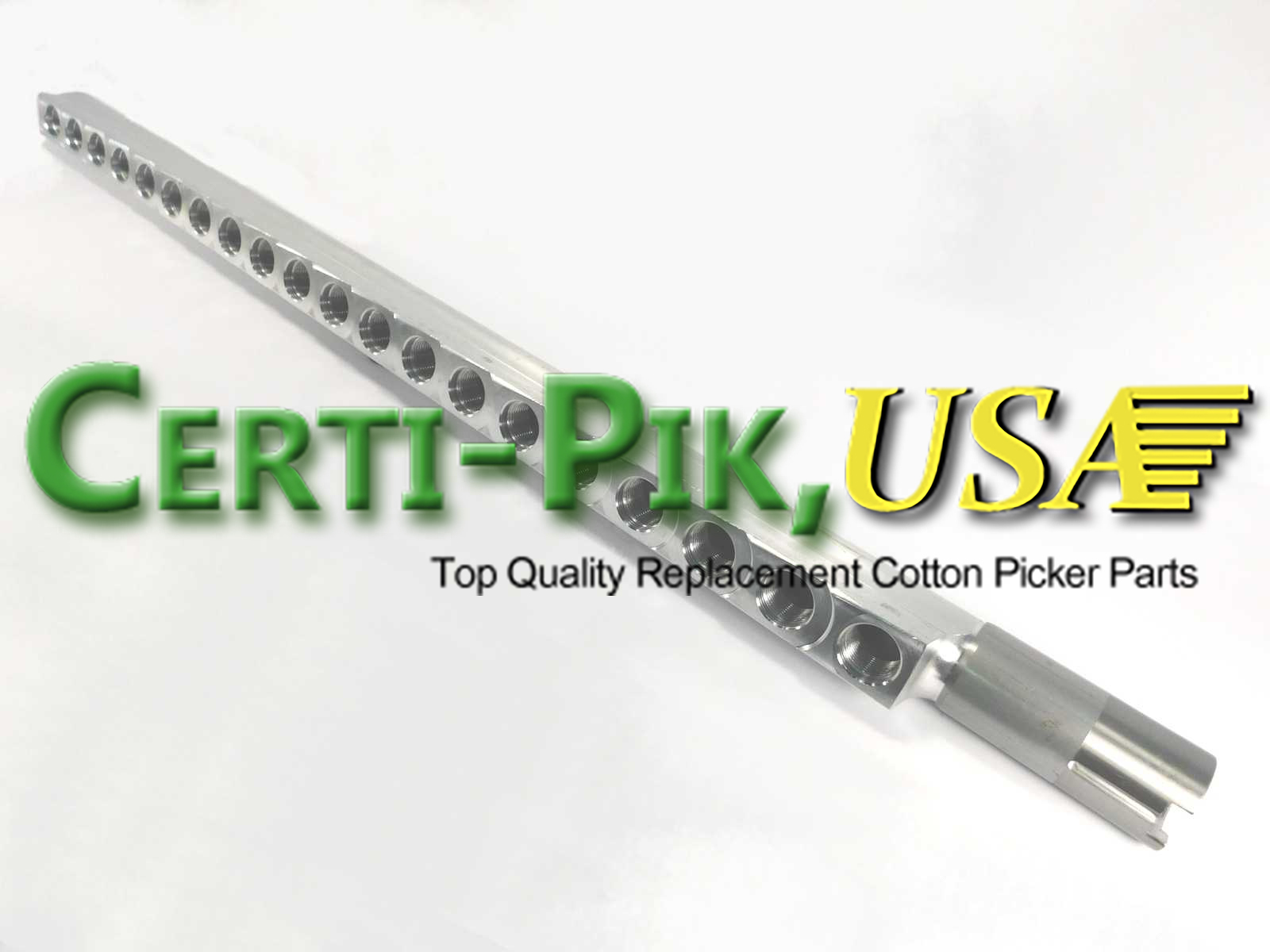 Description: BAR – PRO-16, 20 SPINDLE PRO-16 SERIES WITH SLEEVE

OEM Part: AN273434

Section: Picking Unit System

John Deere 9930-9935, 9950-CP770 Picker Bar and Spindle Assembly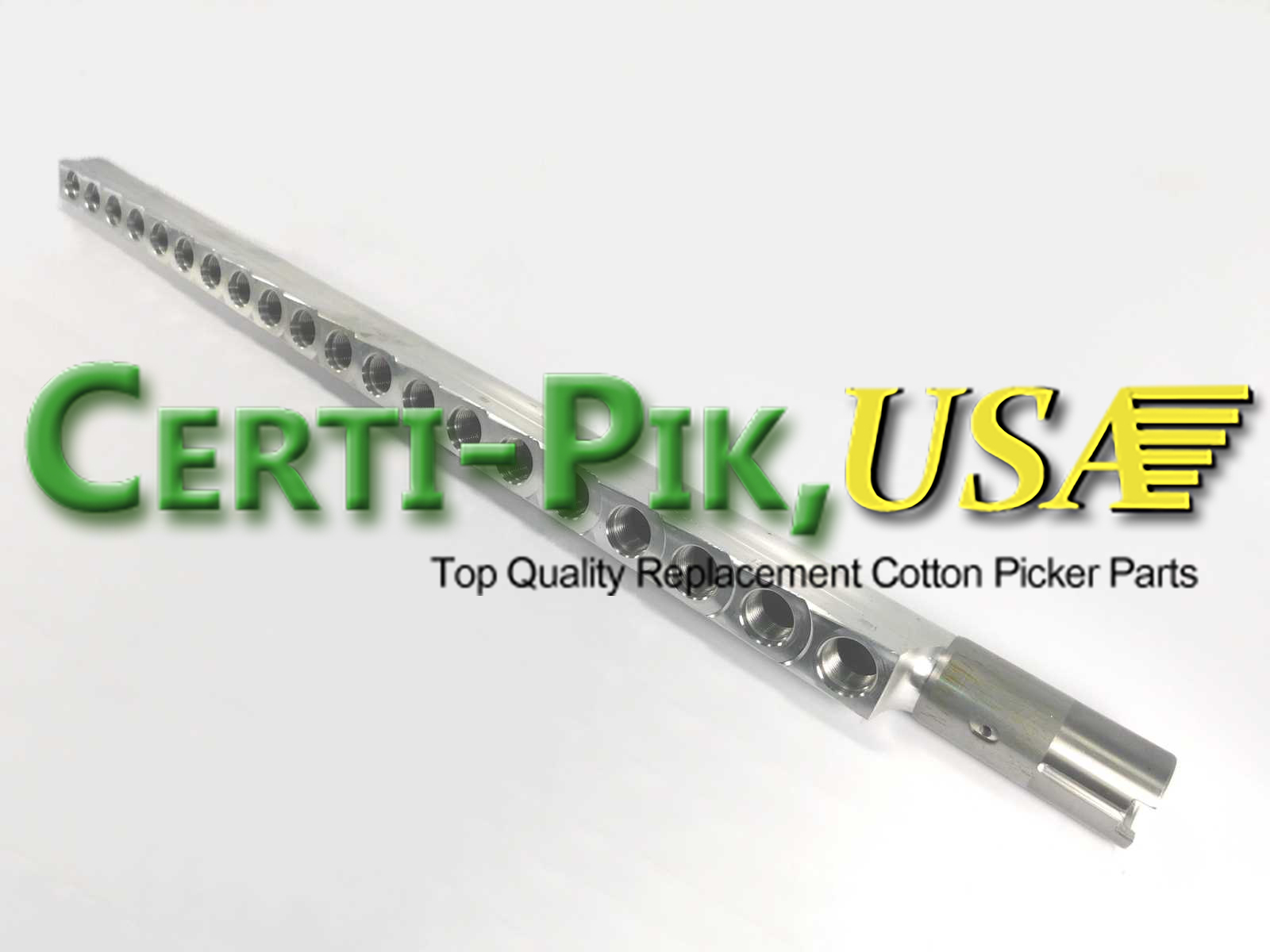 Description: BAR – 20 SPINDLE R.H. WITH PRESSED ON SLEEVE

OEM Part: AN192810

Section: Picking Unit System

John Deere 9930-9935, 9950-CP770 Picker Bar and Spindle Assembly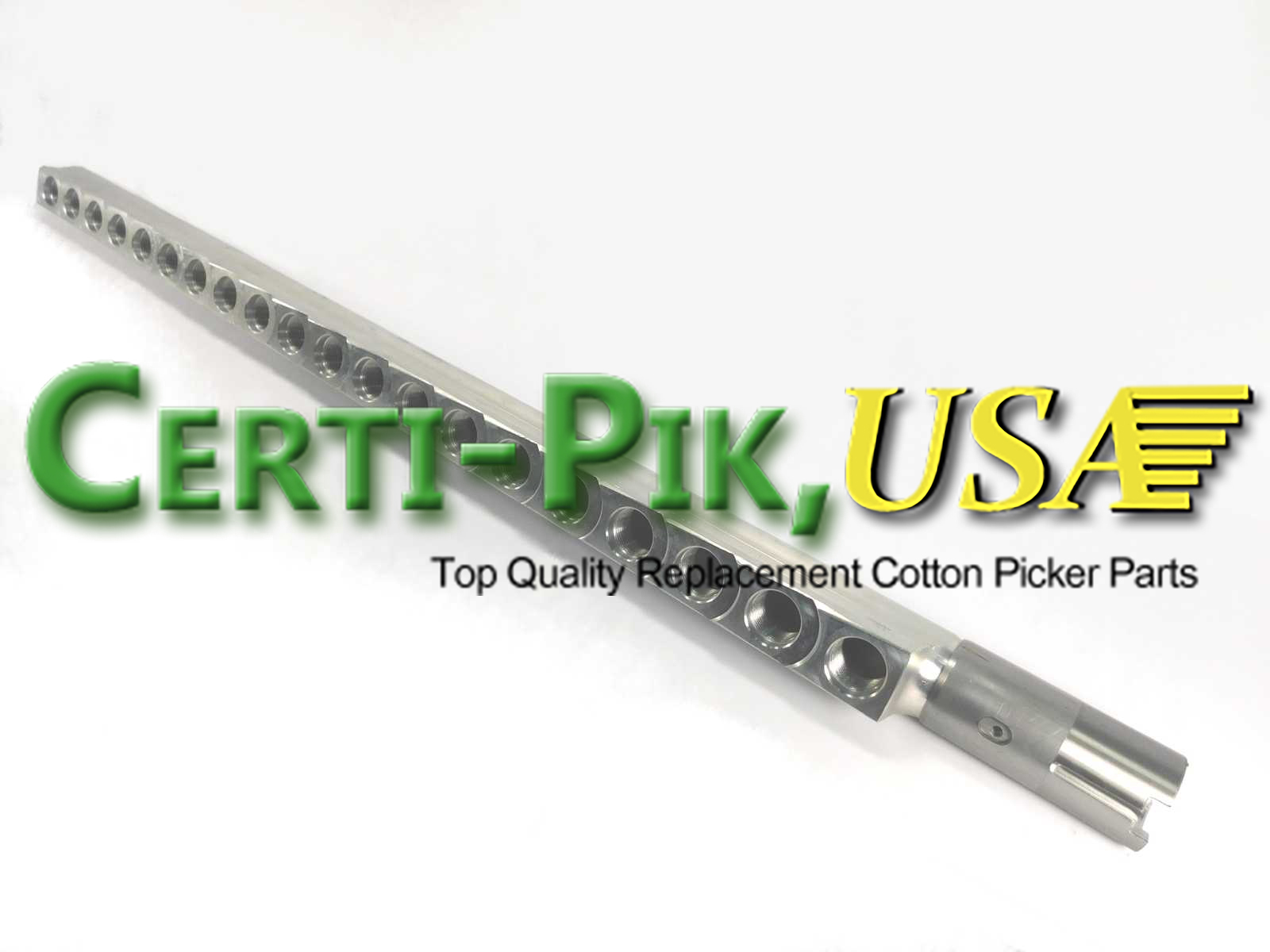 Description: BAR – 20 SPINDLE L.H. WITH PRESSED ON SLEEVE

OEM Part: AN192809

Section: Picking Unit System

John Deere 9930-9935, 9950-CP770 Picker Bar and Spindle Assembly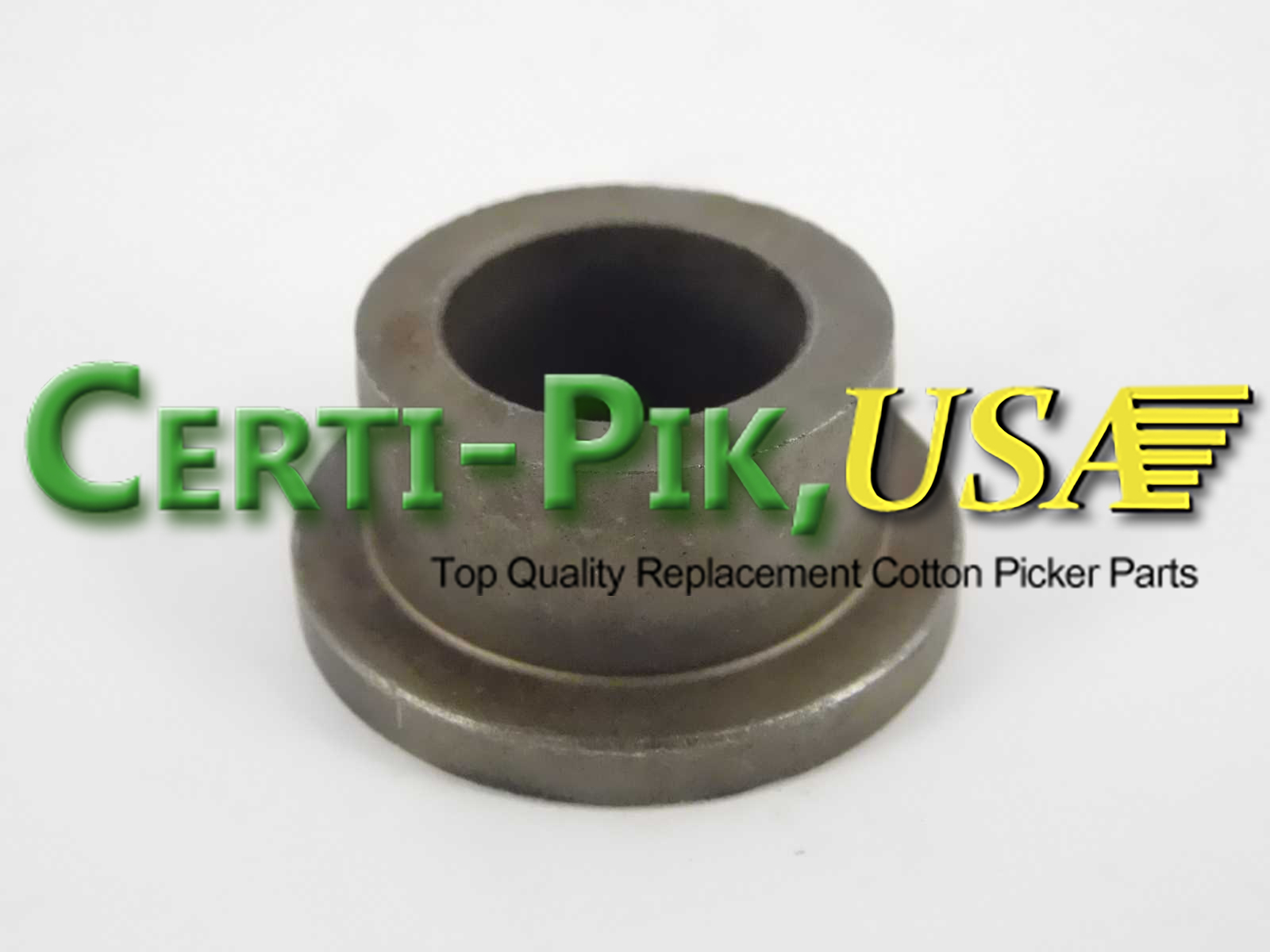 Description: JD BAR BUSHING ( NEW STYLE SHORTER )

OEM Part: N374832

Section: Picking Unit System

John Deere 9930-9935, 9950-CP770 Picker Bar and Spindle Assembly
Description: BAR STOOL PIVOT (9900-CP770)

OEM Part: N112291

Section: Picking Unit System

John Deere 9930-9935, 9950-CP770 Picker Bar and Spindle Assembly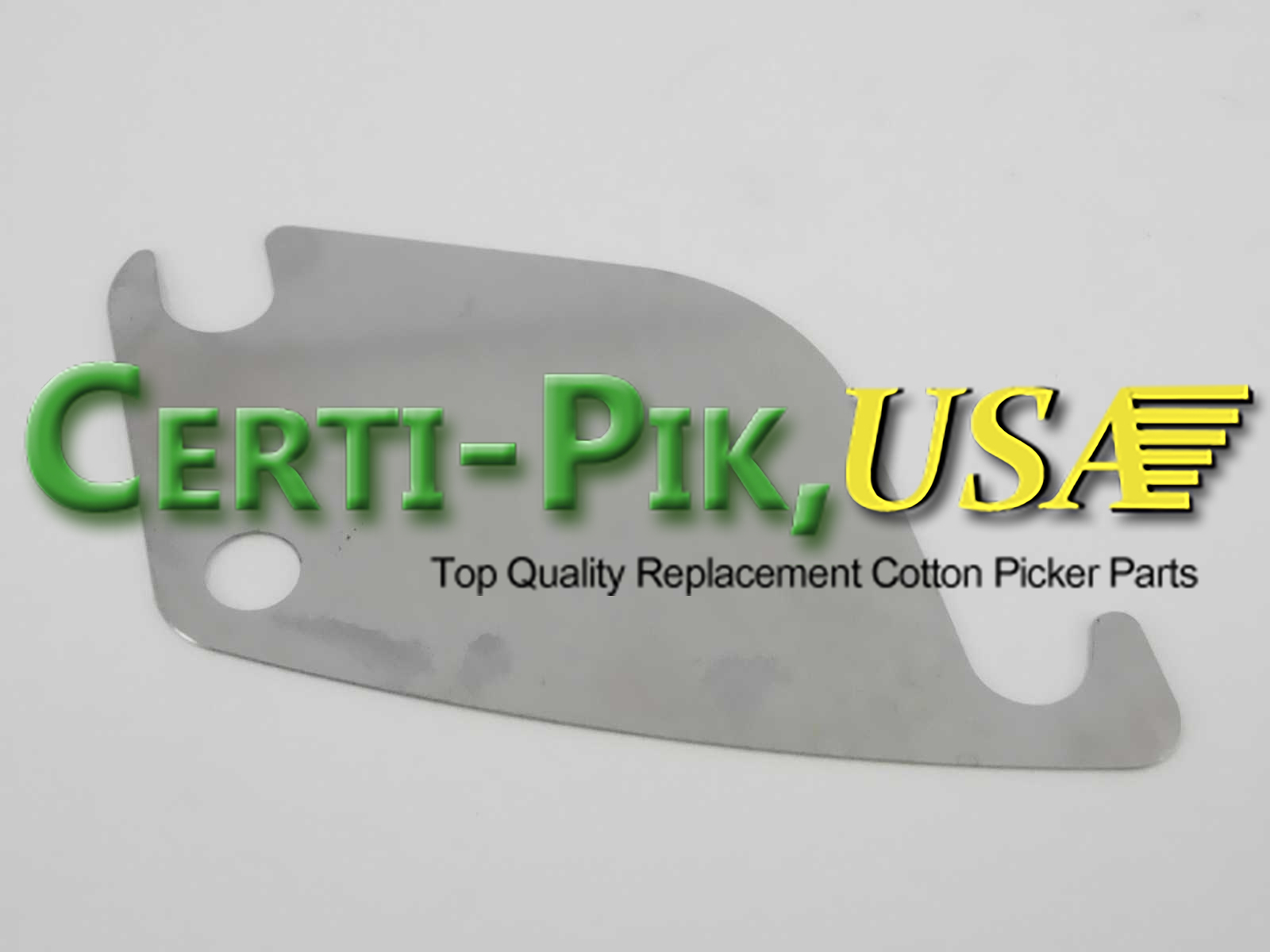 Description: SHIM – .003″ BAR STOOL SHIM

OEM Part: N193694

Section: Picking Unit System

John Deere 9930-9935, 9950-CP770 Picker Bar and Spindle Assembly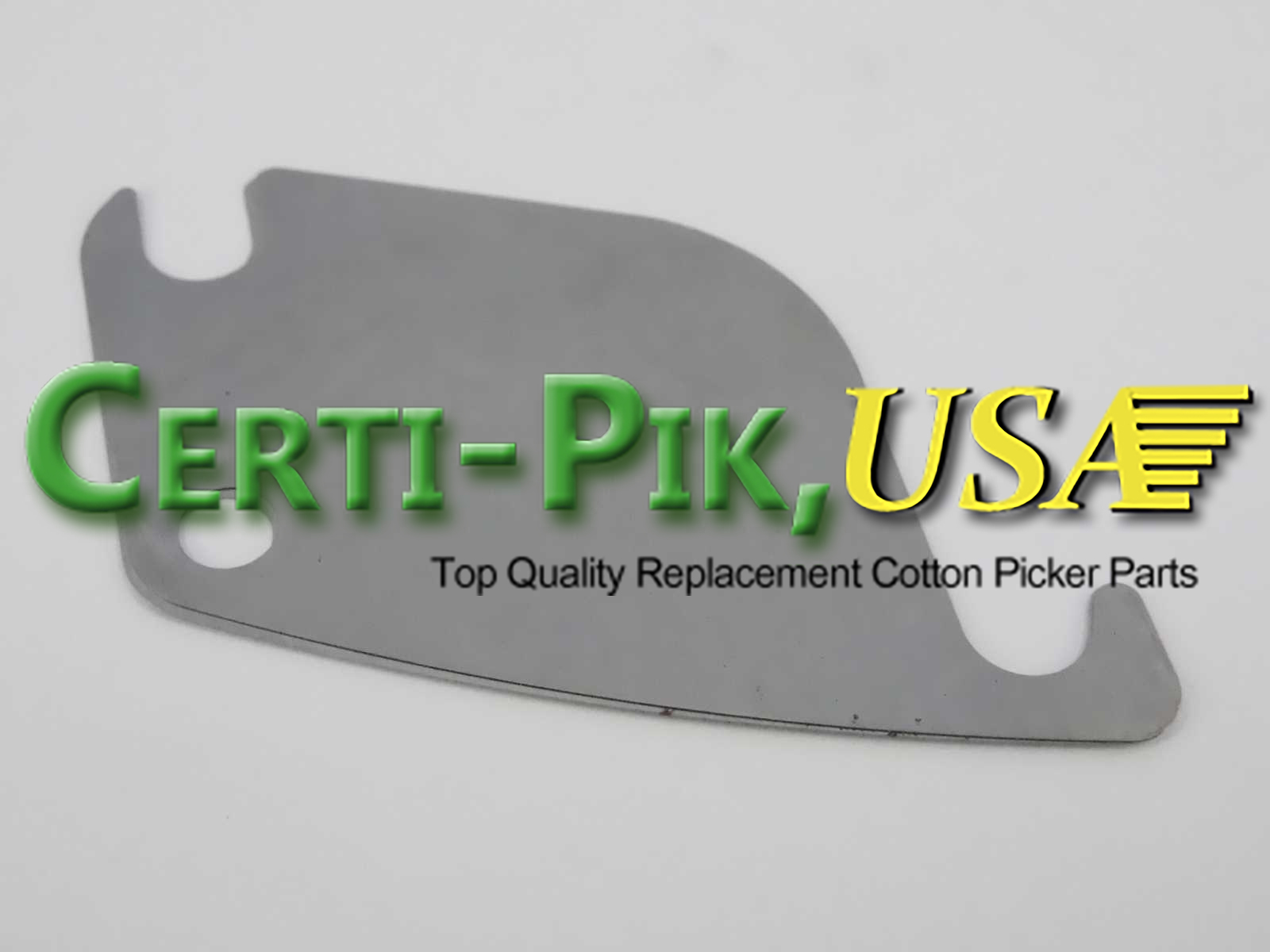 Description: SHIM – .005″ BAR STOOL SHIM

OEM Part: N190952

Section: Picking Unit System

John Deere 9930-9935, 9950-CP770 Picker Bar and Spindle Assembly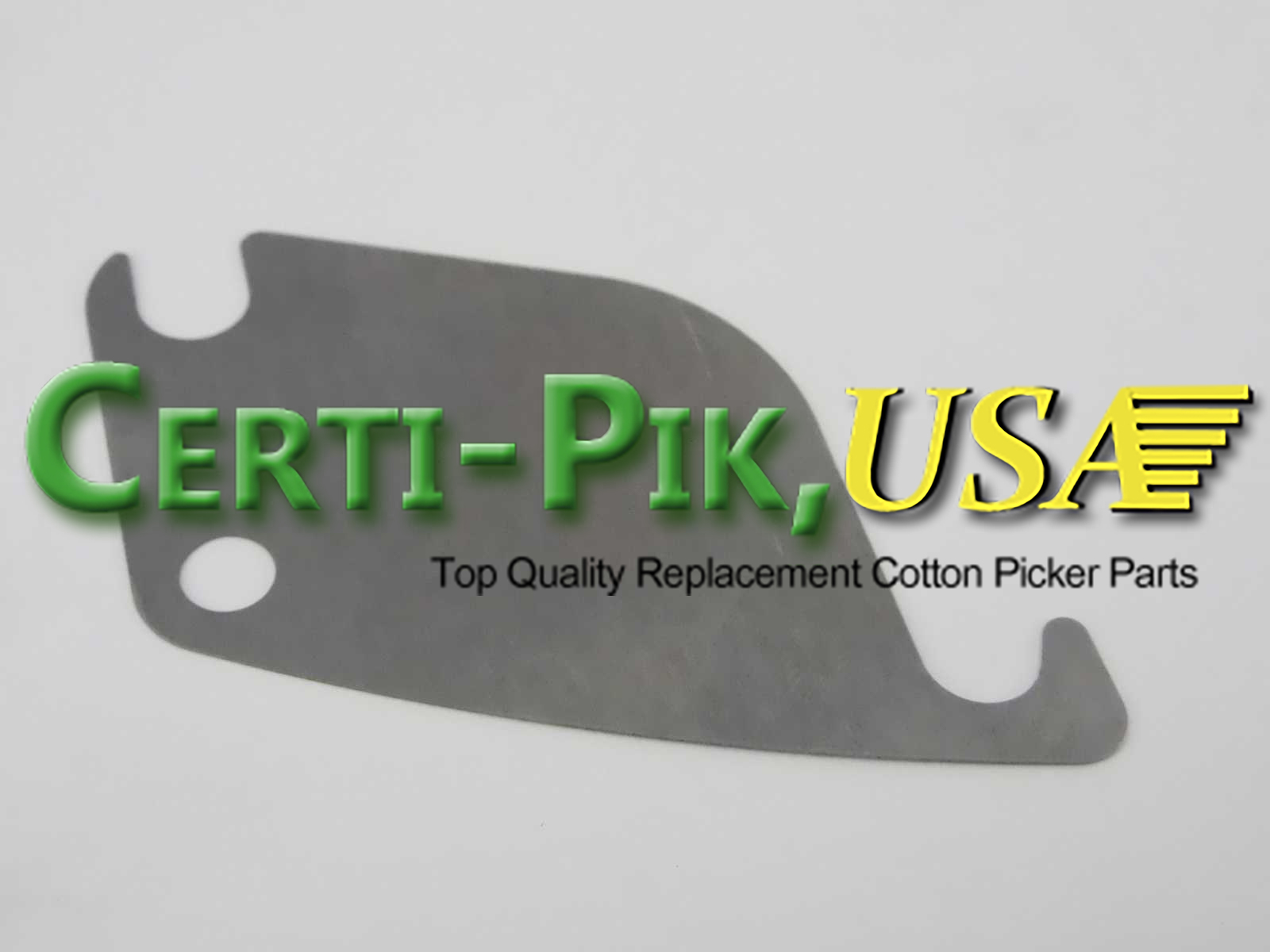 Description: SHIM – .010″ BAR STOOL SHIM

OEM Part: N190953

Section: Picking Unit System

John Deere 9930-9935, 9950-CP770 Picker Bar and Spindle Assembly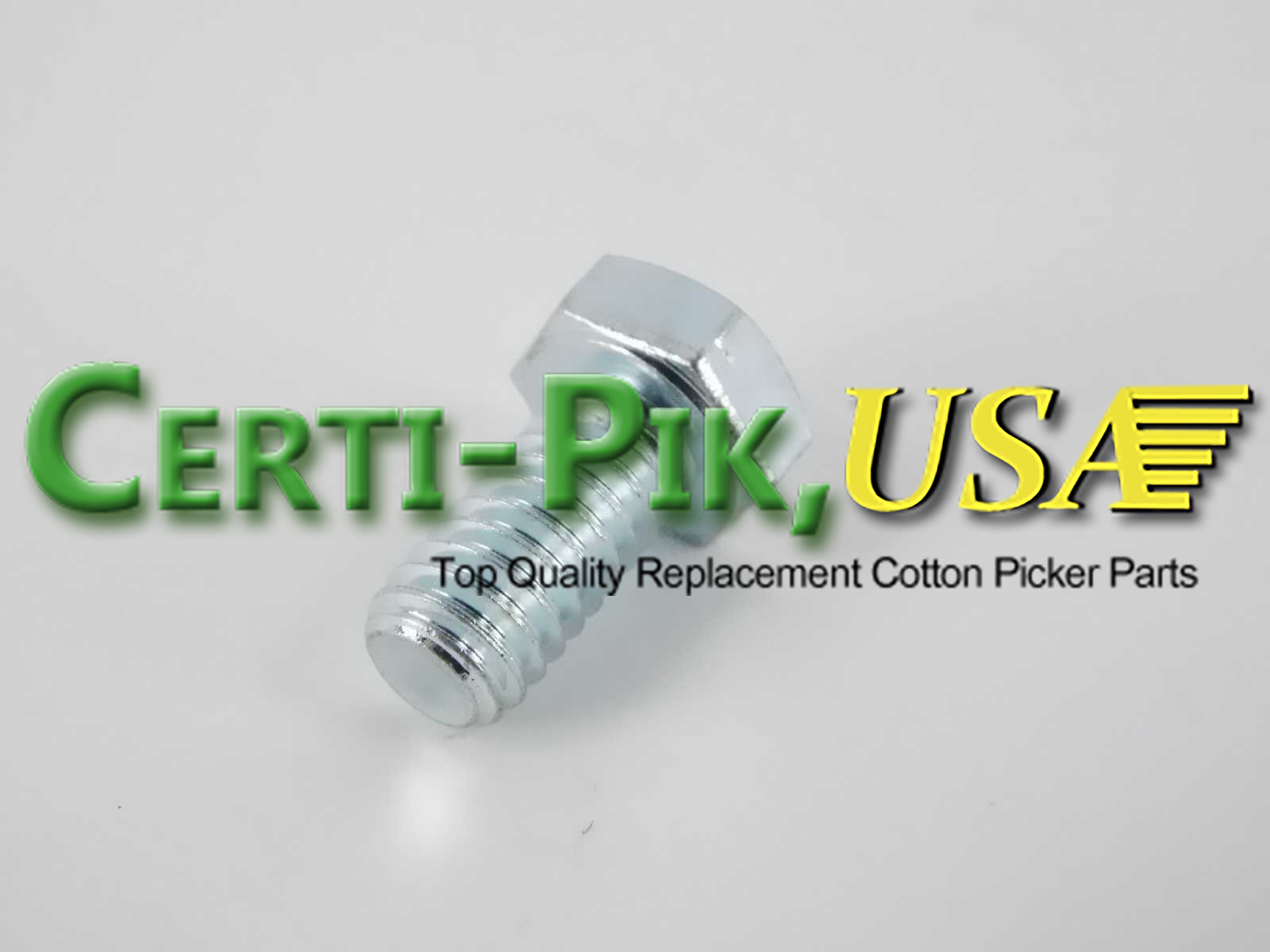 Description: BOLT – 5/16 X 5/8″ HEX HEAD GD5

OEM Part: 19H1813

Section: Picking Unit System

John Deere 9930-9935, 9950-CP770 Picker Bar and Spindle Assembly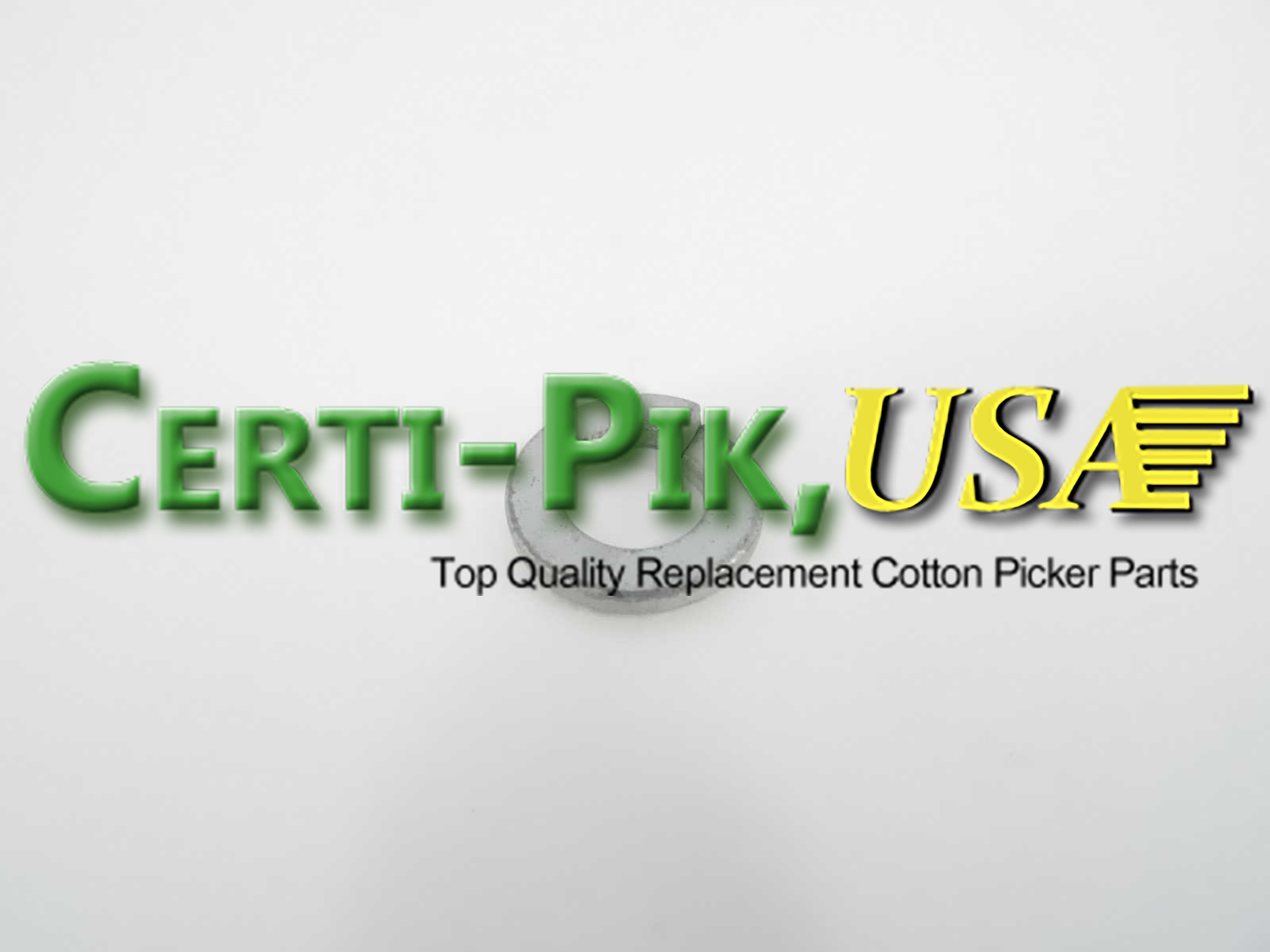 Description: WASHER – 8mm LOCK (REPLACES 5/16″)

OEM Part: 12M7065

Section: Picking Unit System

John Deere 9930-9935, 9950-CP770 Picker Bar and Spindle Assembly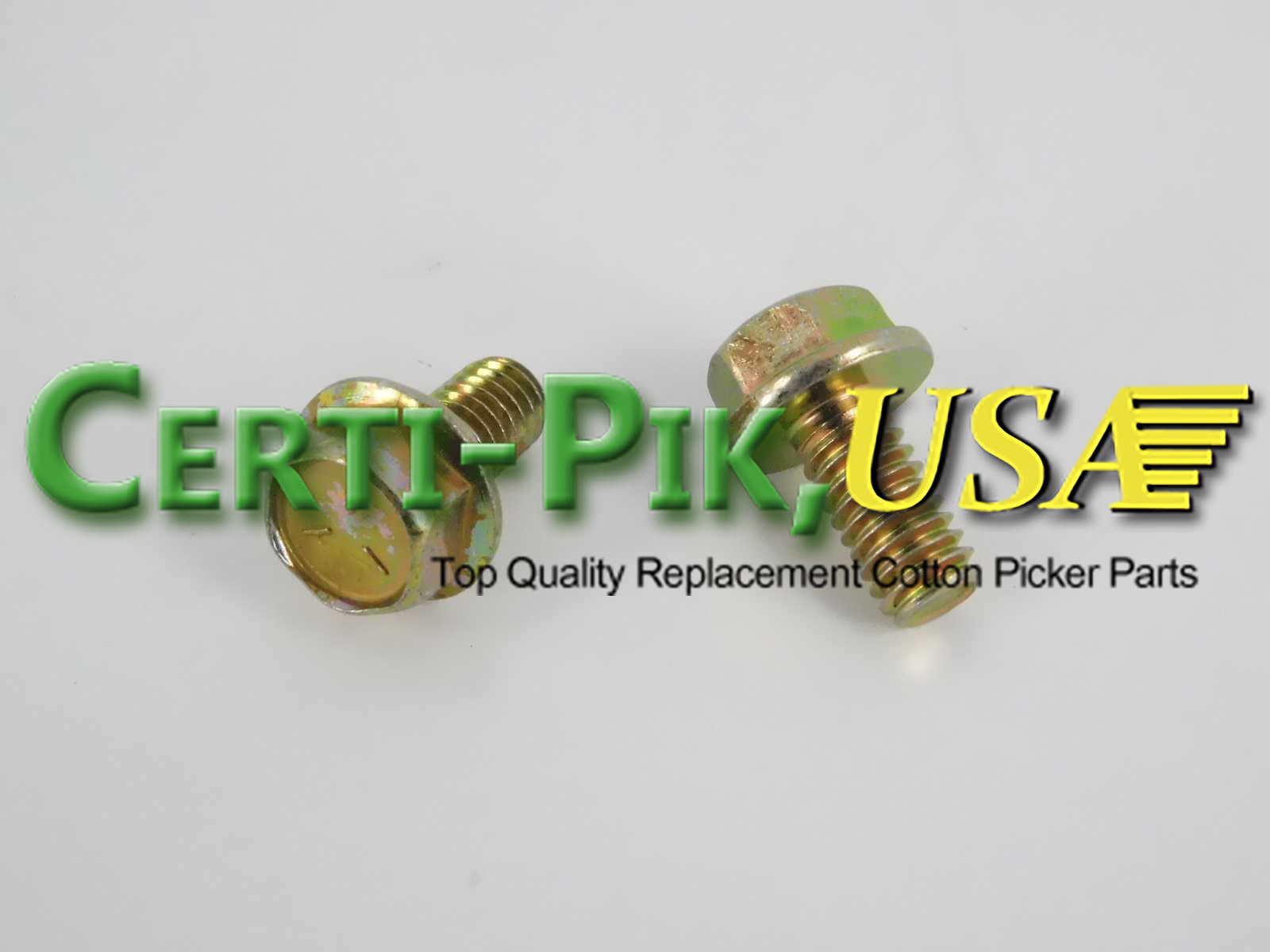 Description: BOLT – 5/16 X 5/8″ – SMOOTH HEX FLANGE GD5

OEM Part: 19H3695

Section: Picking Unit System

John Deere 9930-9935, 9950-CP770 Picker Bar and Spindle Assembly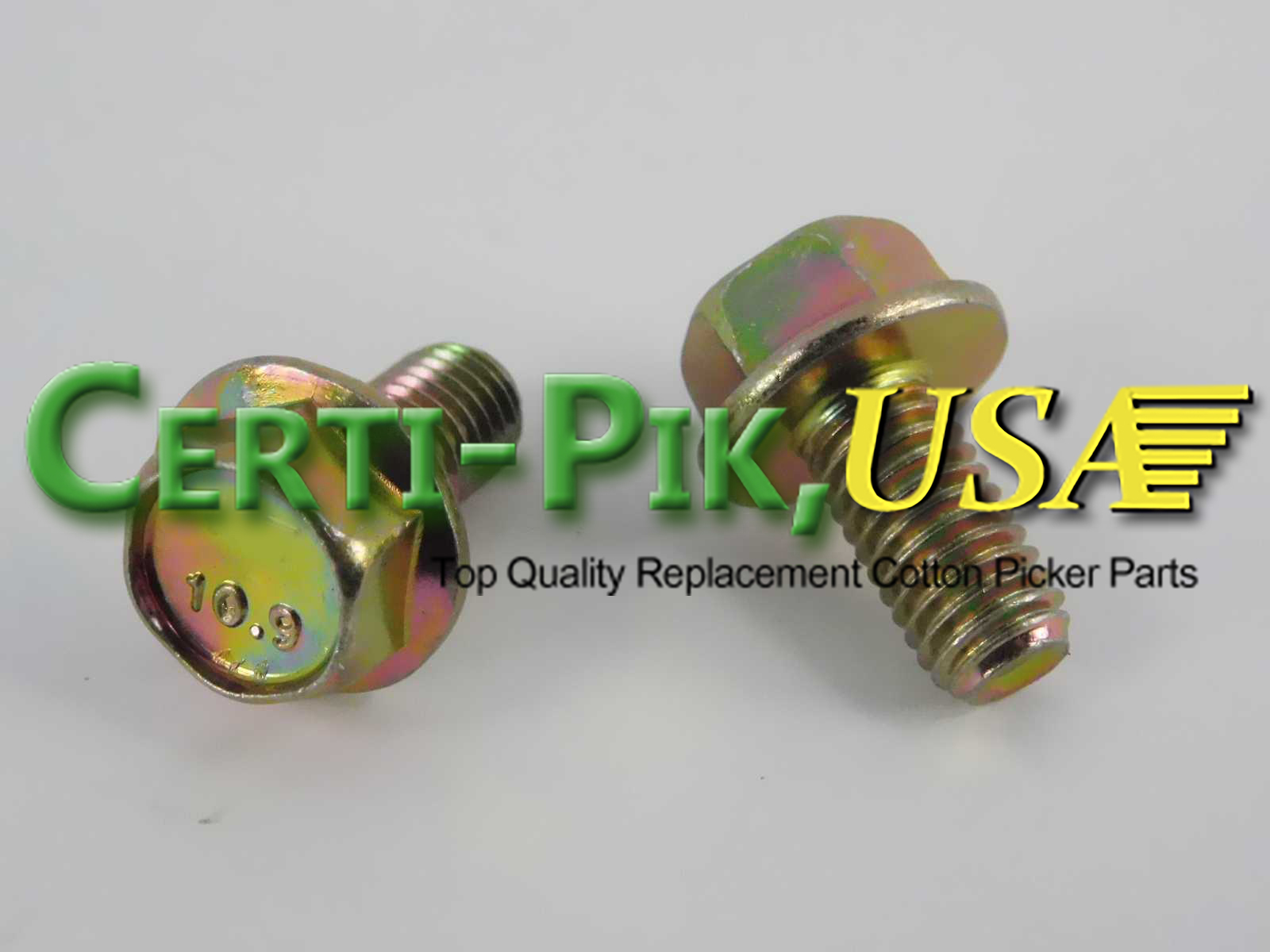 Description: BOLT – M8 X 16 – SMOOTH HEX FLANGE

OEM Part: 19M7865

Section: Picking Unit System

John Deere 9930-9935, 9950-CP770 Picker Bar and Spindle Assembly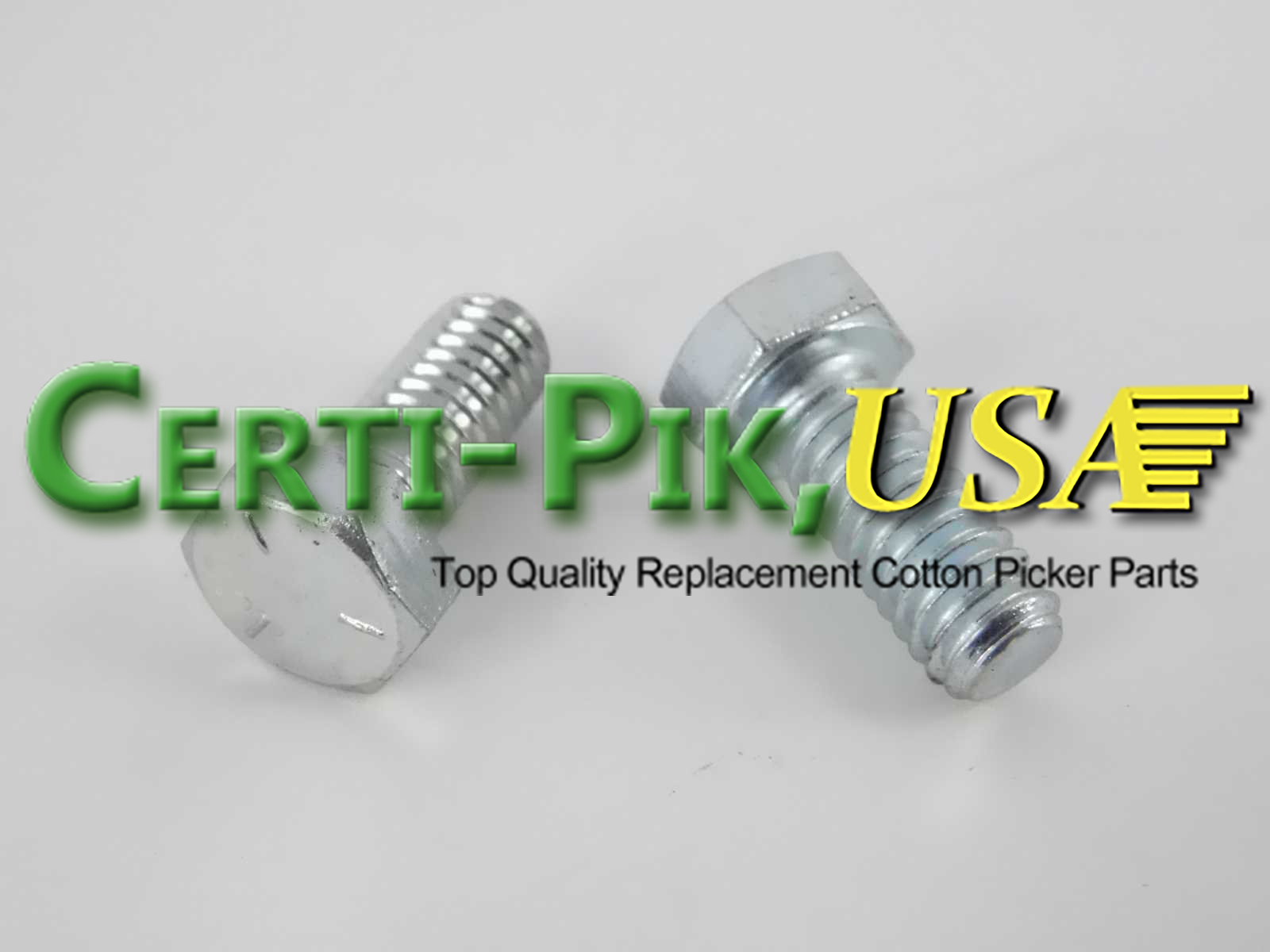 Description: BOLT – 5/16 X 3/4″ HEX HEAD (USED W/ #CPE683 DIRT SCRAPER)

OEM Part: 19H1900

Section: Picking Unit System

John Deere 9930-9935, 9950-CP770 Picker Bar and Spindle Assembly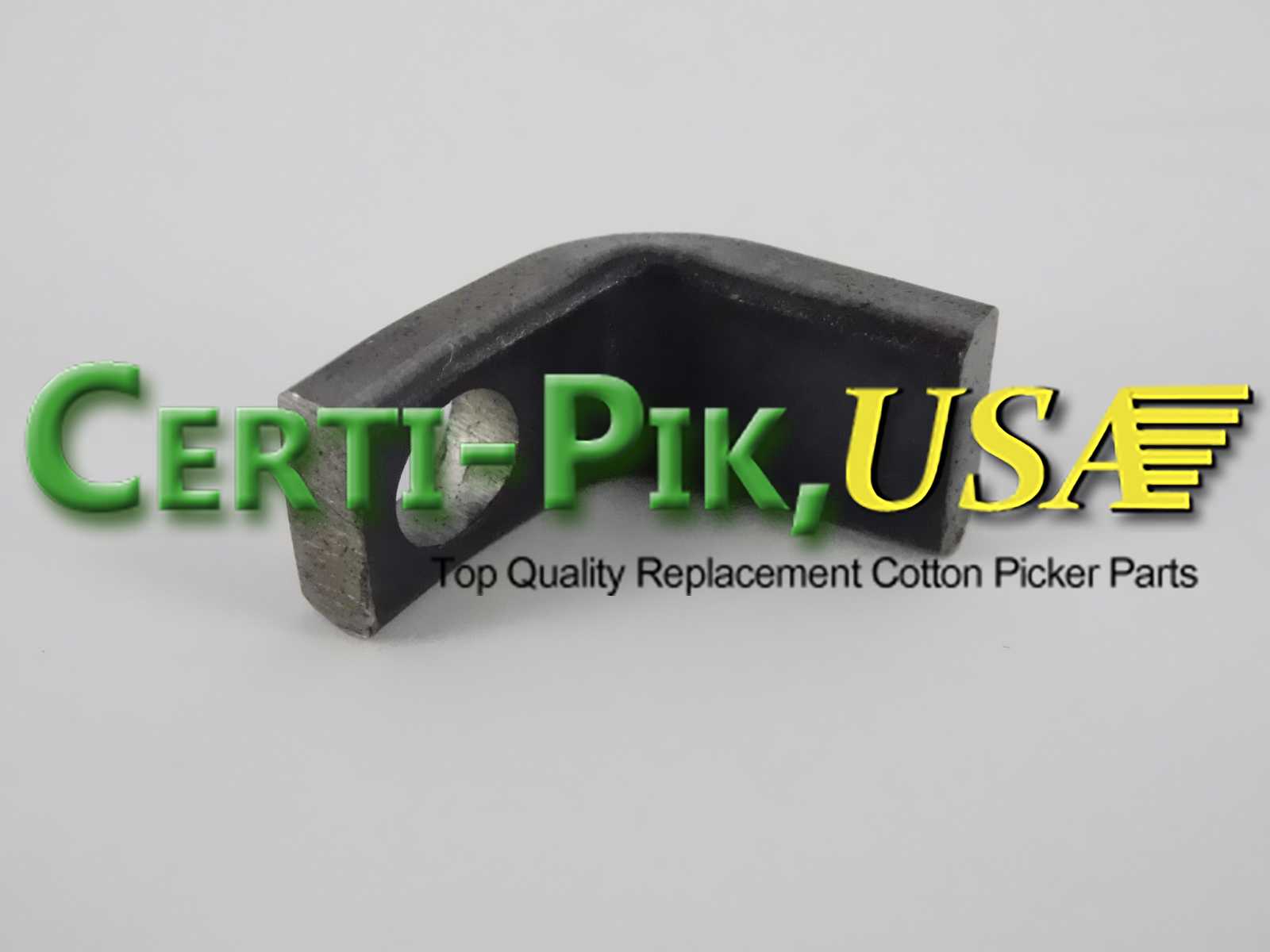 Description: DIRT SCRAPER ( CAN BE ATTACHED POINTING UP OR DOWN )

OEM Part: CPE683

Section: Picking Unit System

John Deere 9930-9935, 9950-CP770 Picker Bar and Spindle Assembly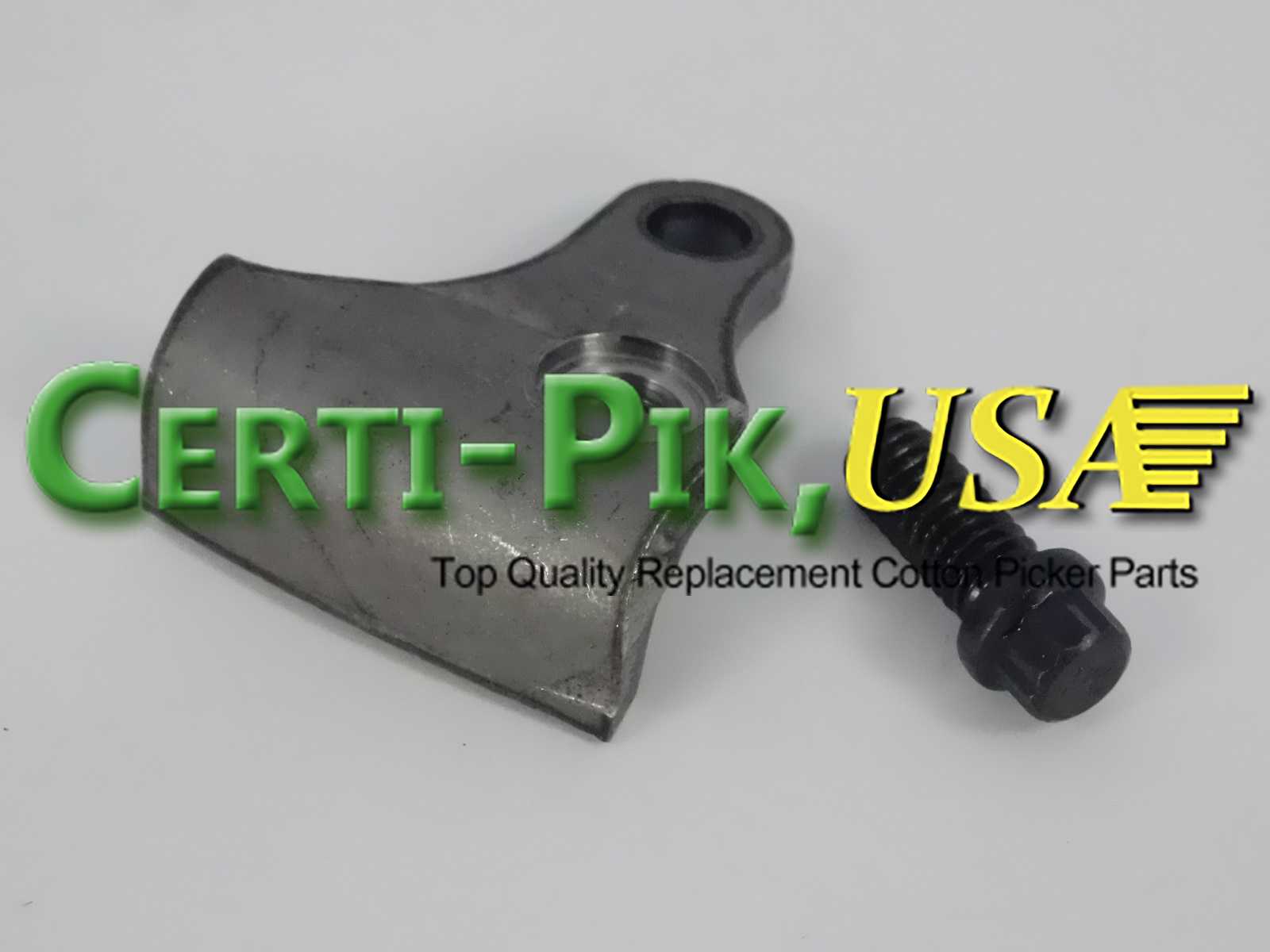 Description: DIRT SCRAPER – CCW ROTATION, IN-LINE, INCLUDES 1x ATTACHING SCREW # CPE686P (ILL.)

OEM Part: CPE684CCW

Section: Picking Unit System

John Deere 9930-9935, 9950-CP770 Picker Bar and Spindle Assembly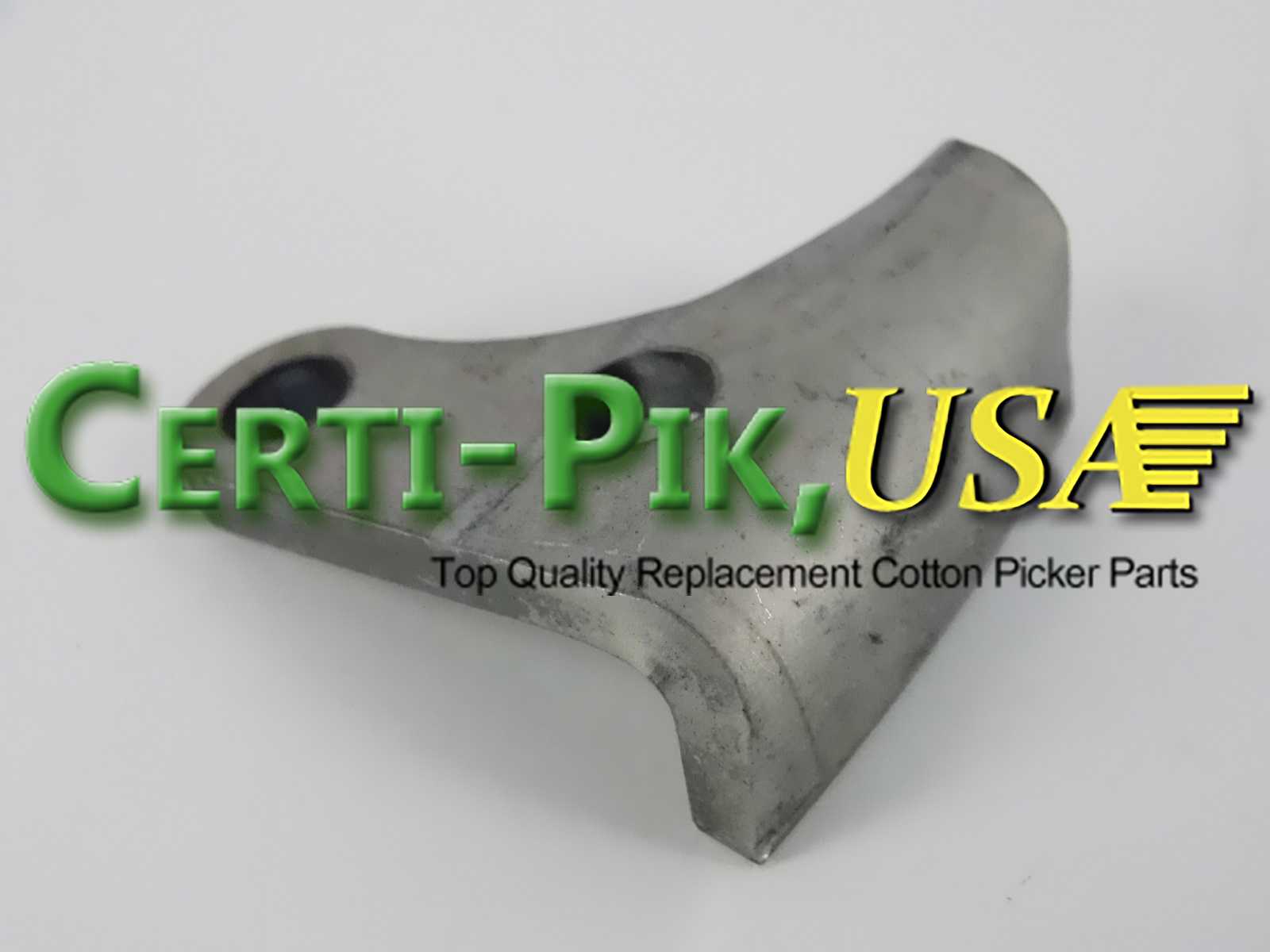 Description: DIRT SCRAPER – CW ROTATION

OEM Part: CPE685CW

Section: Picking Unit System

John Deere 9930-9935, 9950-CP770 Picker Bar and Spindle Assembly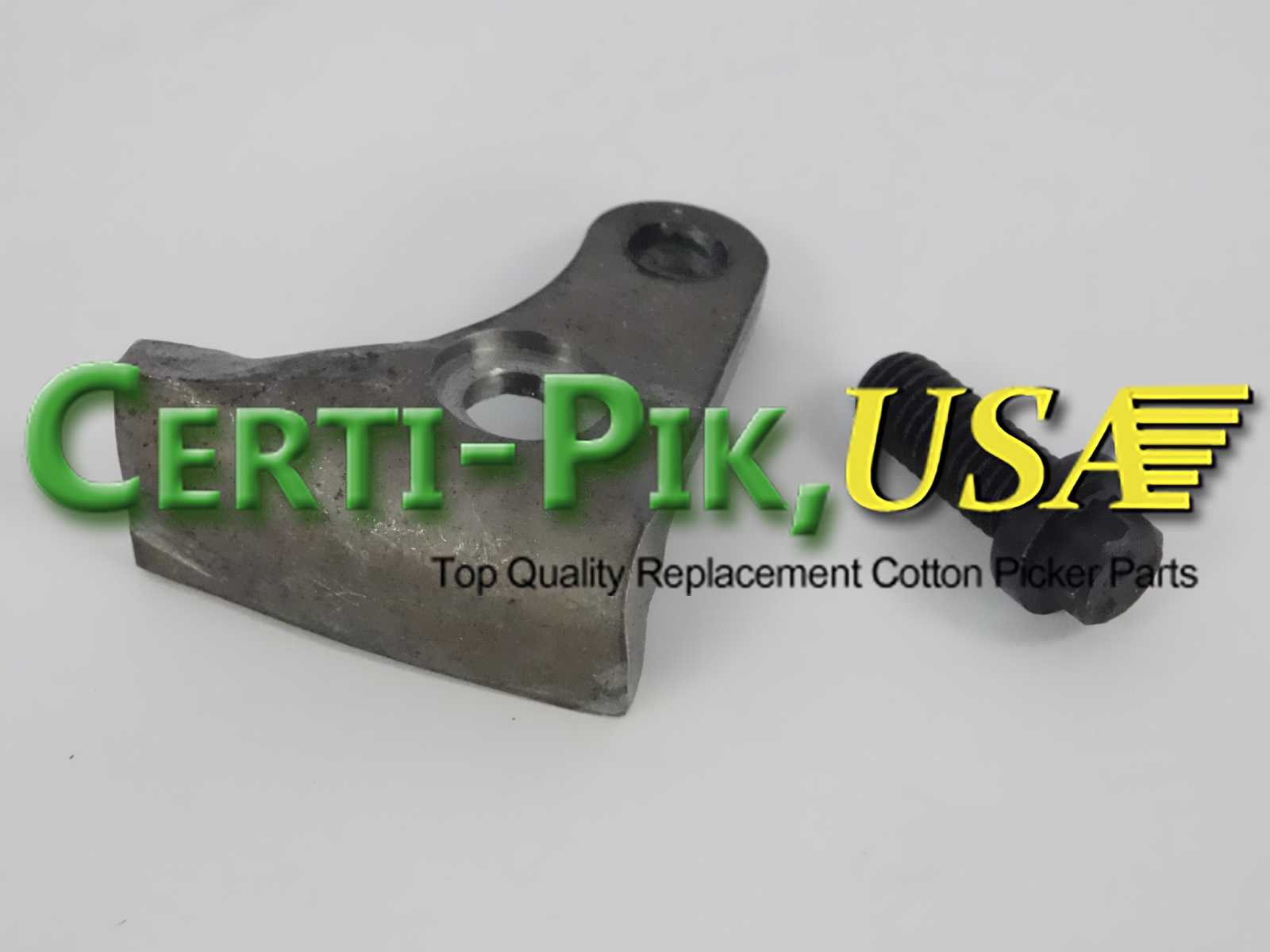 Description: PRO – DIRT SCRAPER ON BAR STOOL – CCW ROTATION – 9970-7760 – REQUIRES 1x CPE688P BOLT EACH ATTACHING HARDWARE (M8 X 20)

OEM Part: CPE687CCW

Section: Picking Unit System

John Deere 9930-9935, 9950-CP770 Picker Bar and Spindle Assembly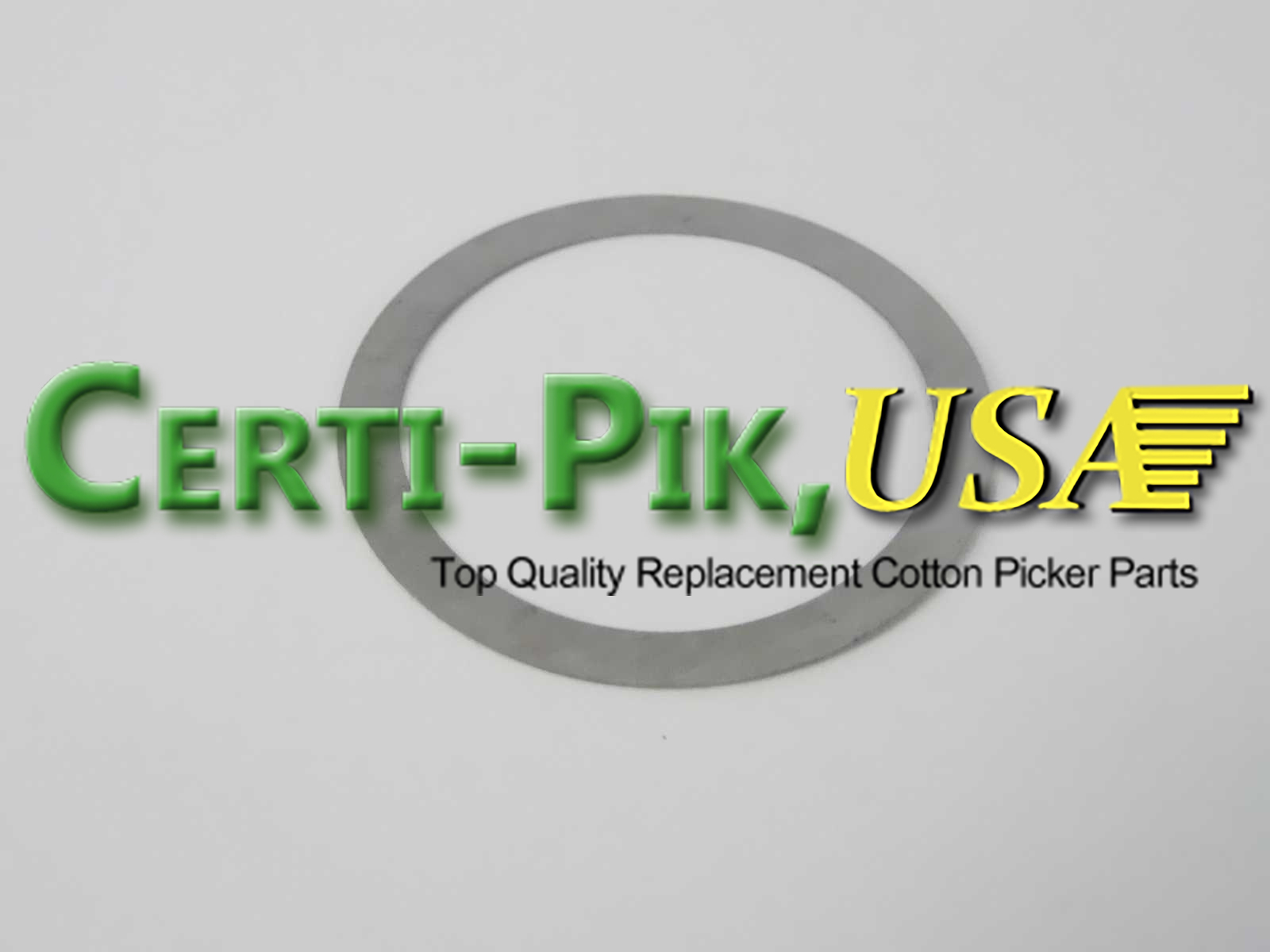 Description: SHIM – .005″ SPINDLE NUT SHIM

OEM Part: L2889N

Section: Picking Unit System

John Deere 9930-9935, 9950-CP770 Picker Bar and Spindle Assembly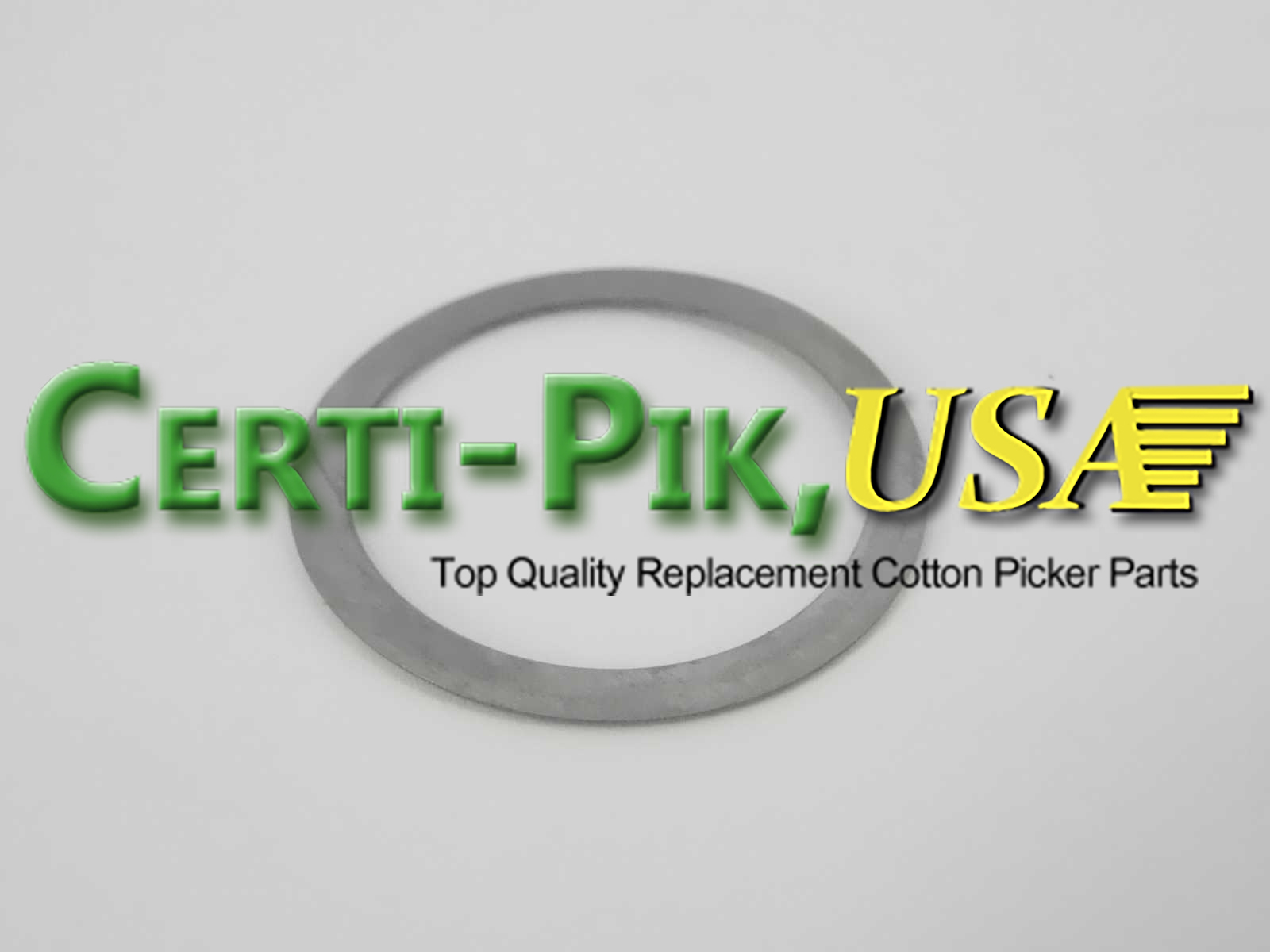 Description: SHIM – .010″ SPINDLE NUT – (REPLACES CASE/IH #674980R2)

OEM Part: N110223

Section: Picking Unit System

John Deere 9930-9935, 9950-CP770 Picker Bar and Spindle Assembly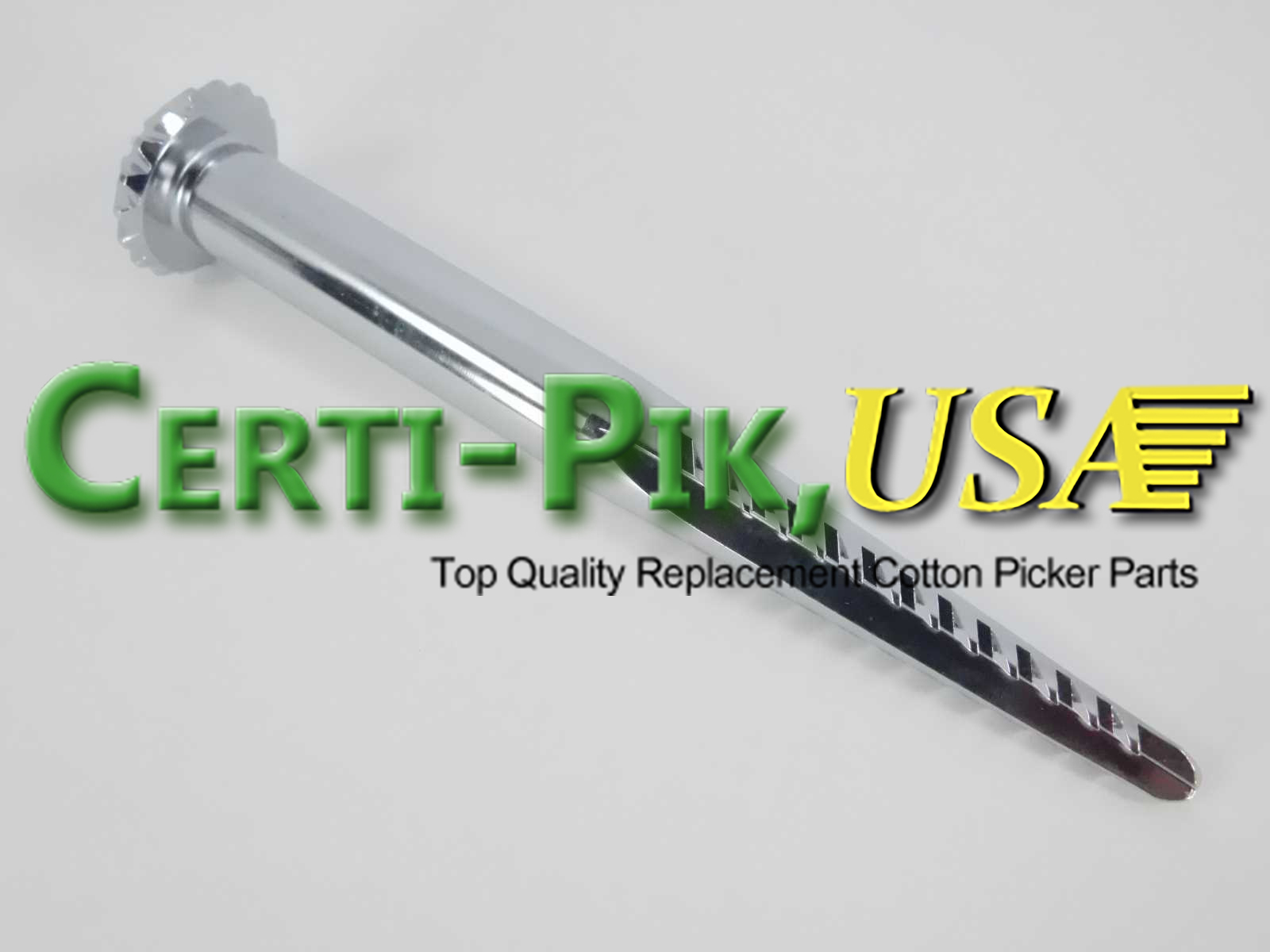 Description: SPINDLE – PRO-XL PICKER SPINDLE RIGHT HAND

OEM Part: KK28390

Section: Picking Unit System

John Deere 9930-9935, 9950-CP770 Picker Bar and Spindle Assembly – Replaces #N277078 & N190332R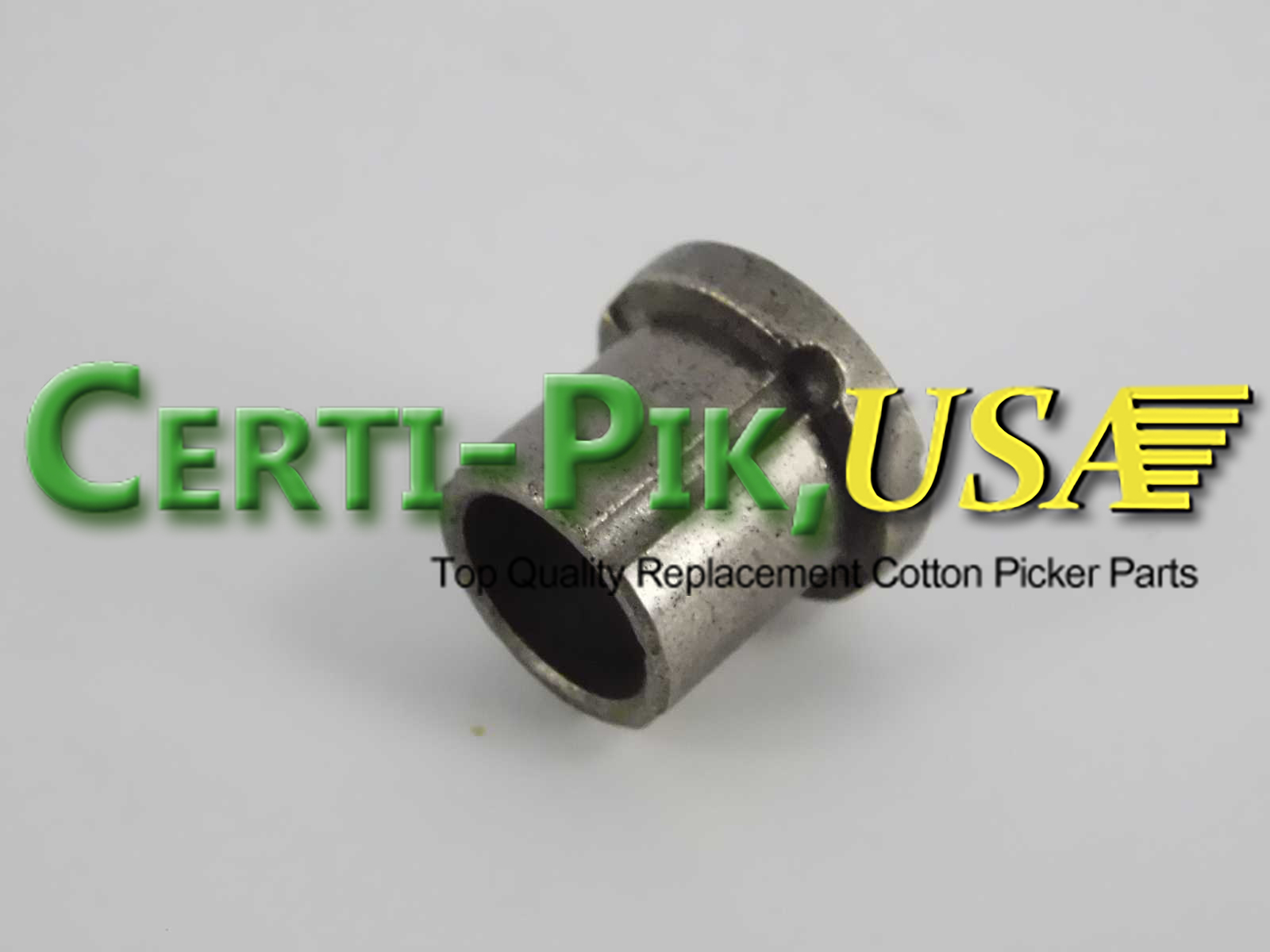 Description: BUSHING – SPIN. BUSH. FLANGED

OEM Part: N113307

Section: Picking Unit System

John Deere 9930-9935, 9950-CP770 Picker Bar and Spindle Assembly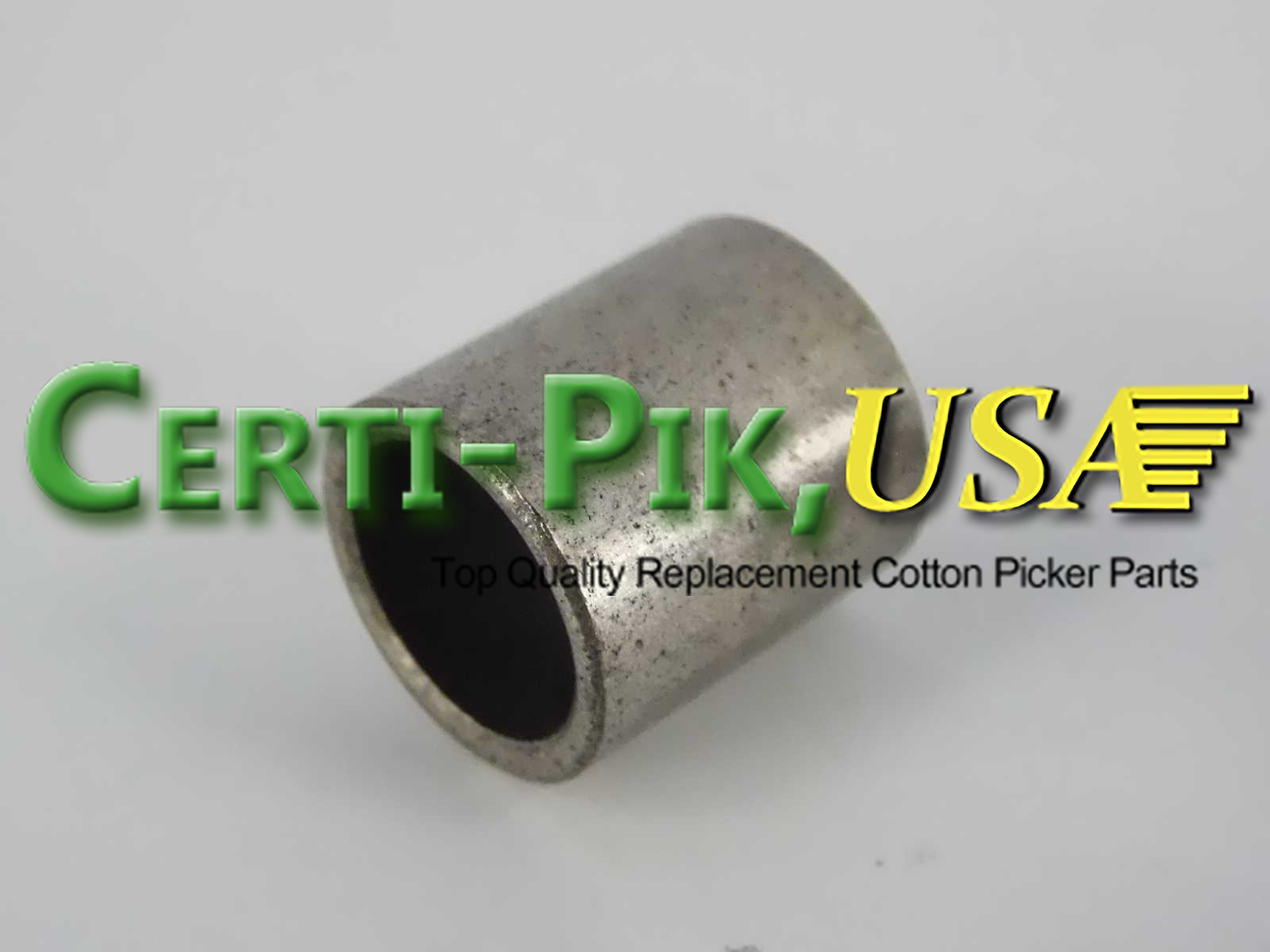 Description: BUSHING – SPIN. BUSH. STRAIGHT

OEM Part: N112394

Section: Picking Unit System

John Deere 9930-9935, 9950-CP770 Picker Bar and Spindle Assembly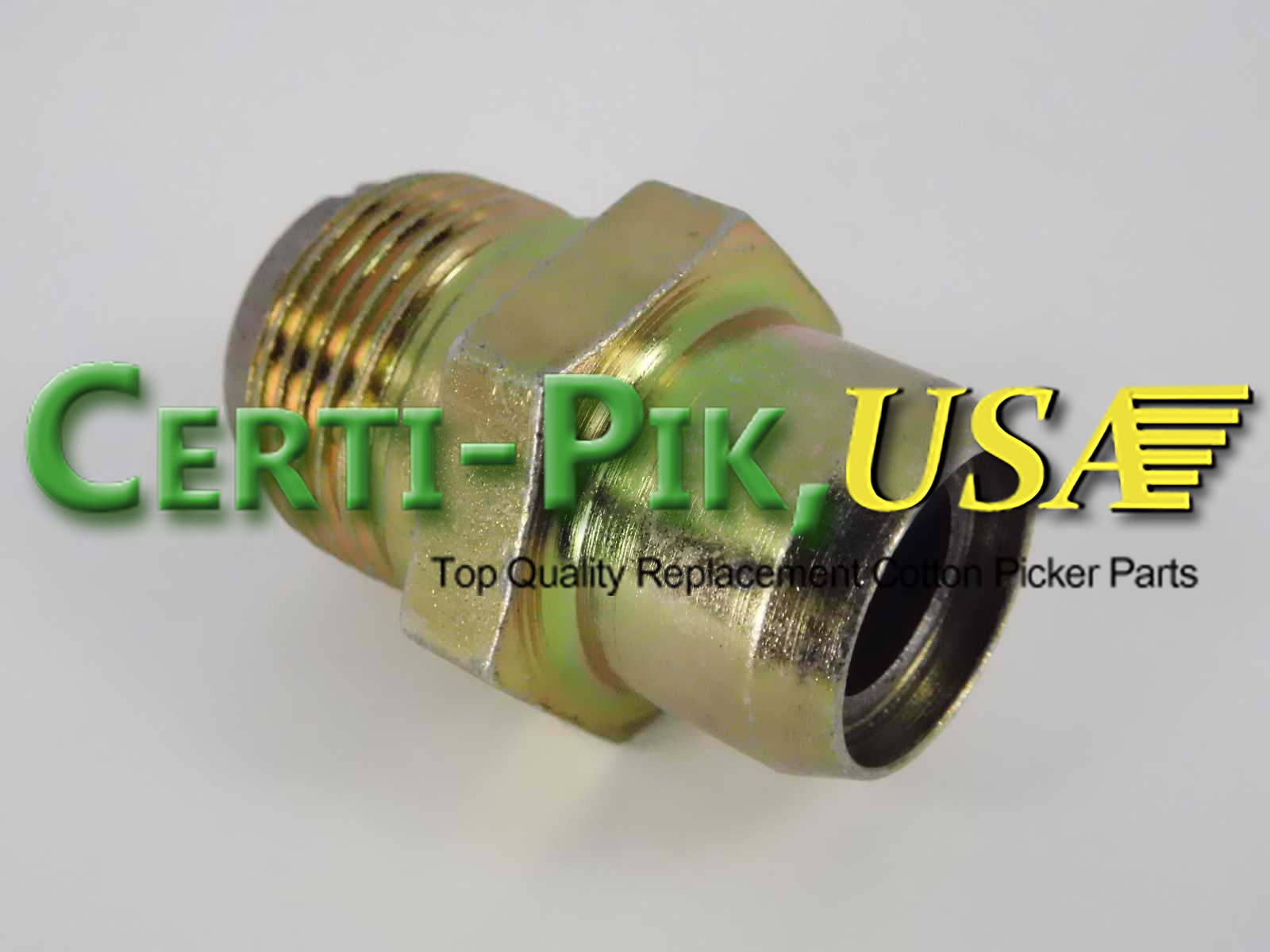 Description: ASSEMBLY – R.H. SPINDLE NUT WITH PRESSED BUSHINGS

OEM Part: AN111948

Section: Picking Unit System

John Deere 9930-9935, 9950-CP770 Picker Bar and Spindle Assembly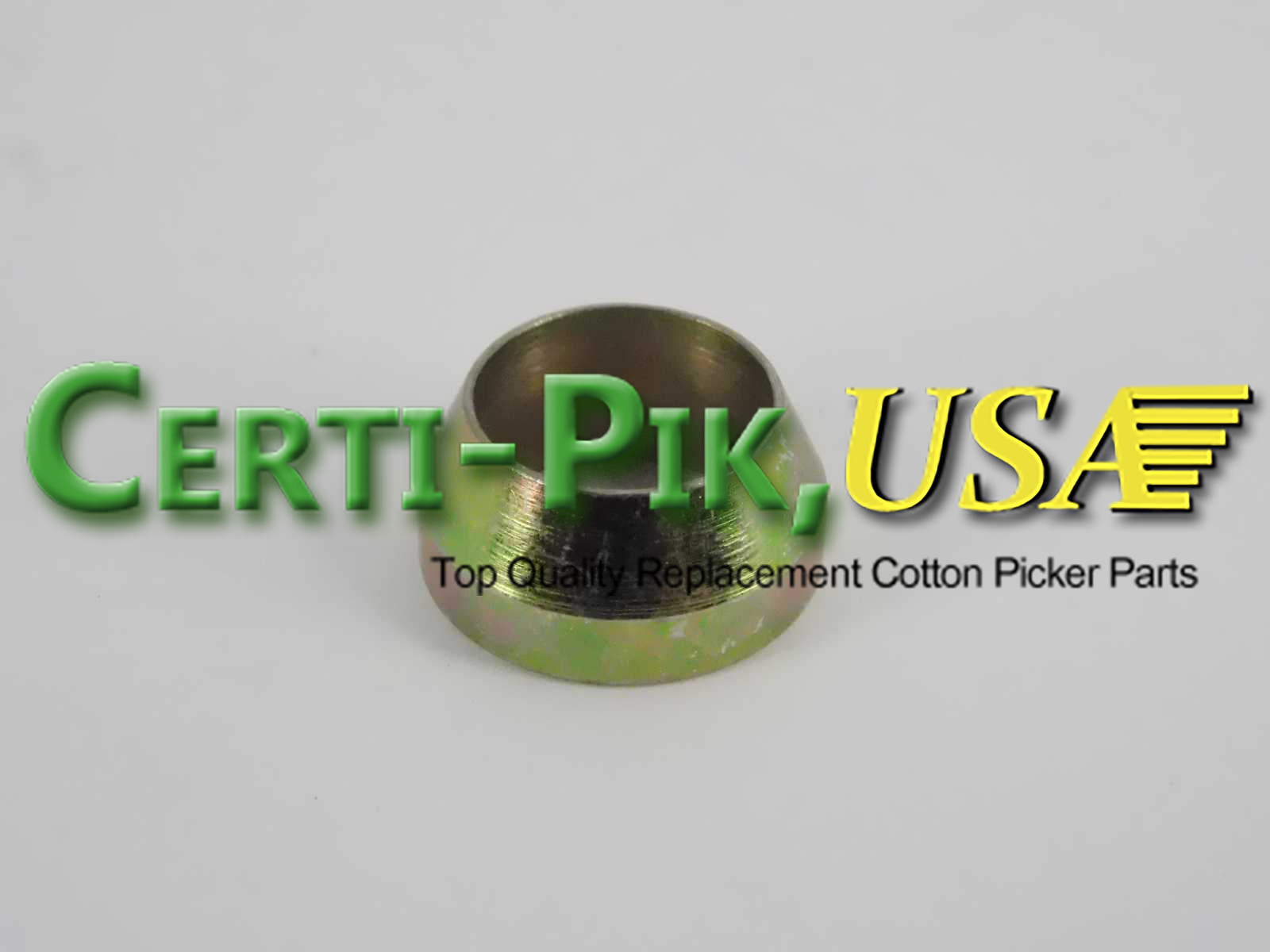 Description: DUST CAP – SPINDLE (9900-CP770)

OEM Part: N279986

Section: Picking Unit System

John Deere 9930-9935, 9950-CP770 Picker Bar and Spindle Assembly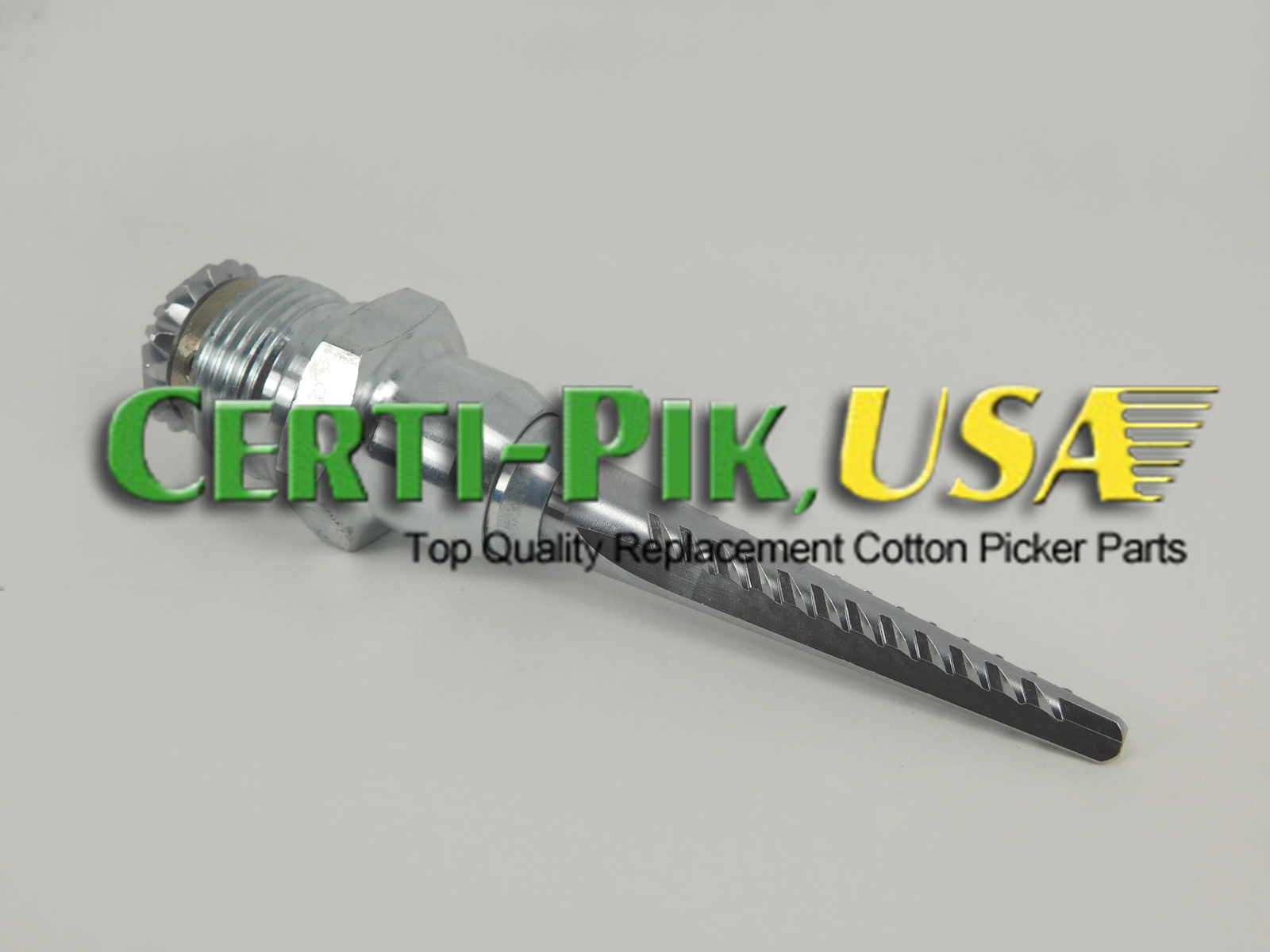 Description: JD – PRO R.H. SPINDLE ASSEMBLY – Replaces #AN274216 & AN195082

OEM Part: AKK18840

Section: Picking Unit Cabinet

John Deere 9930-9935, 9950-CP770 Picker Bar and Spindle Assembly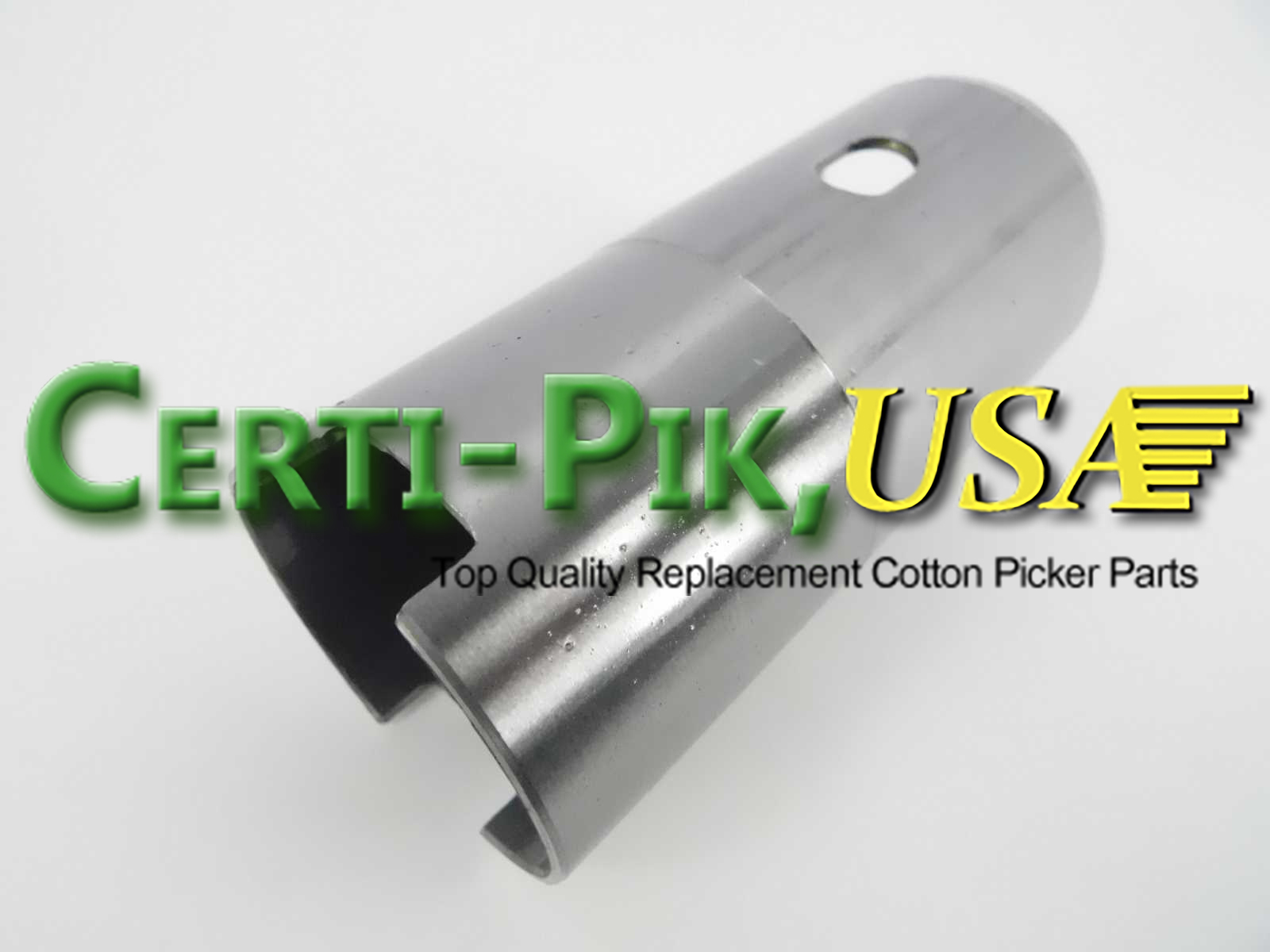 Description: SLEEVE – FULL LENGTH SERVICE SLEEVE, REPLACES DEERE N195657 & N279372

OEM Part: N276373

Section: Picking Unit System

John Deere 9930-9935, 9950-CP770 Picker Bar and Spindle Assembly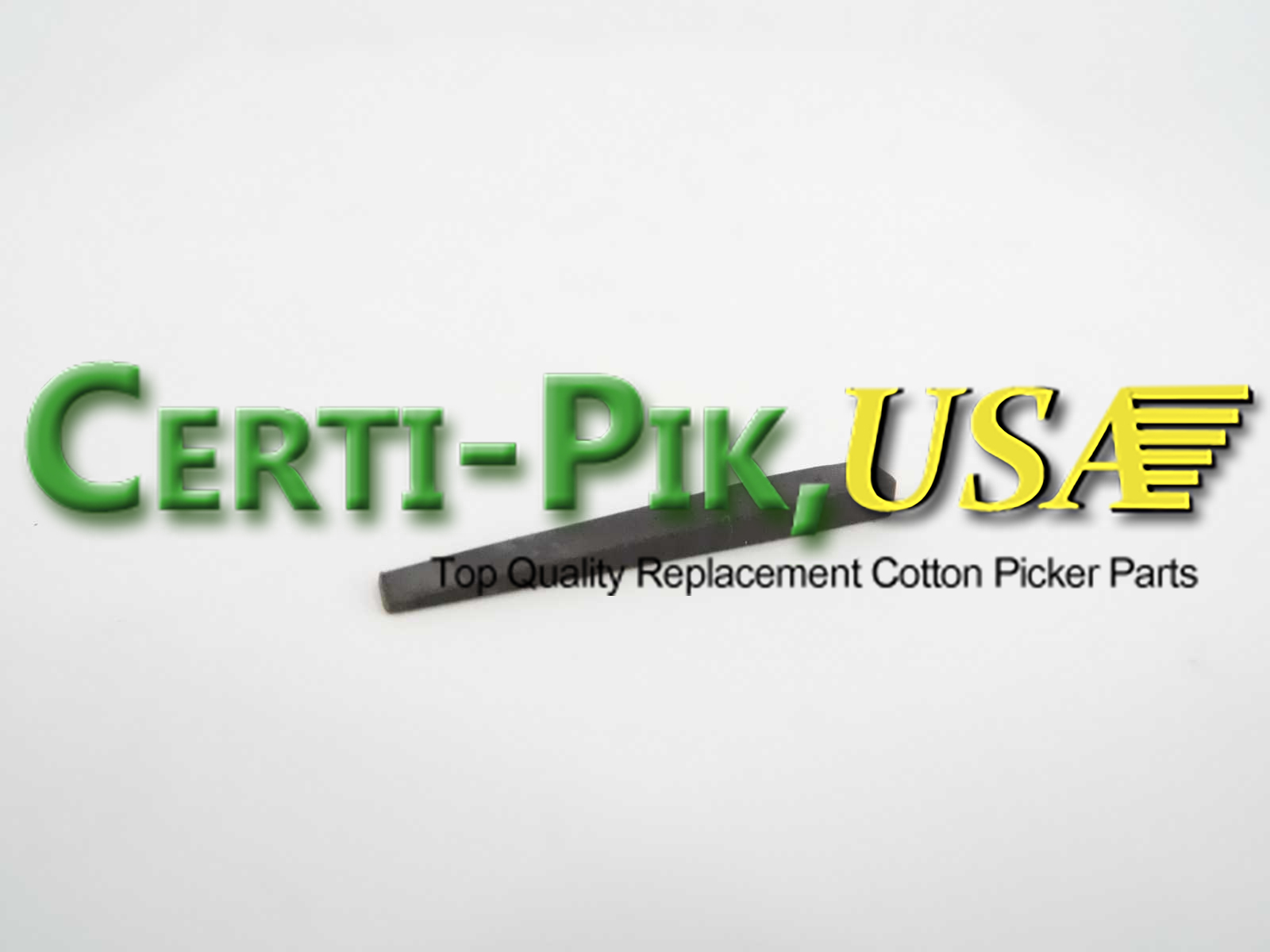 Description: KEY – TAPERED SERVICE

OEM Part: N195970

Section: Picking Unit System

John Deere 9930-9935, 9950-CP770 Picker Bar and Spindle Assembly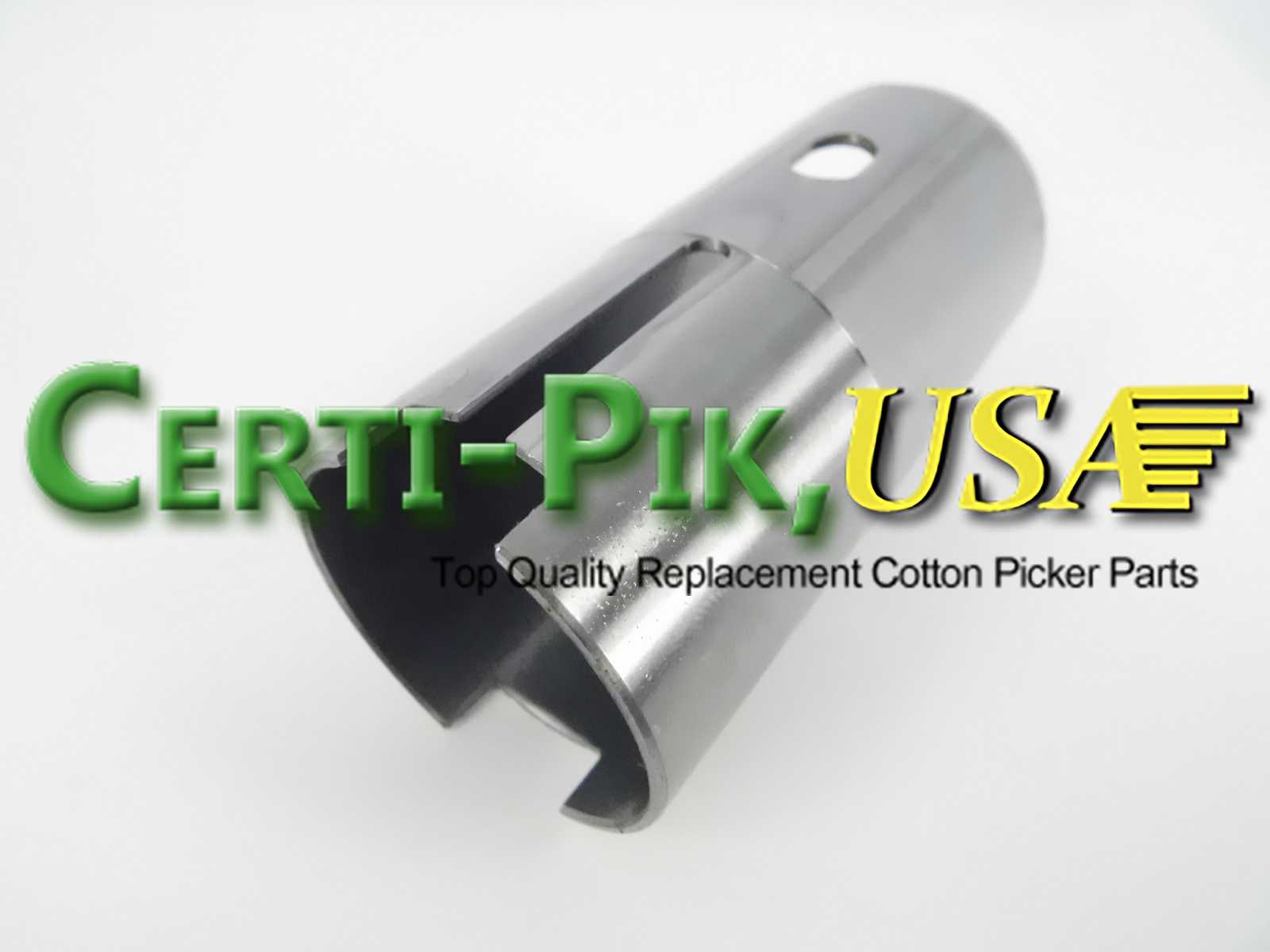 Description: SLEEVE – KEYED SERVICE SLEEVE – CONV. & IN-LINE (NOT PRO)

OEM Part: 95657K

Section: Picking Unit System

John Deere 9930-9935, 9950-CP770 Picker Bar and Spindle Assembly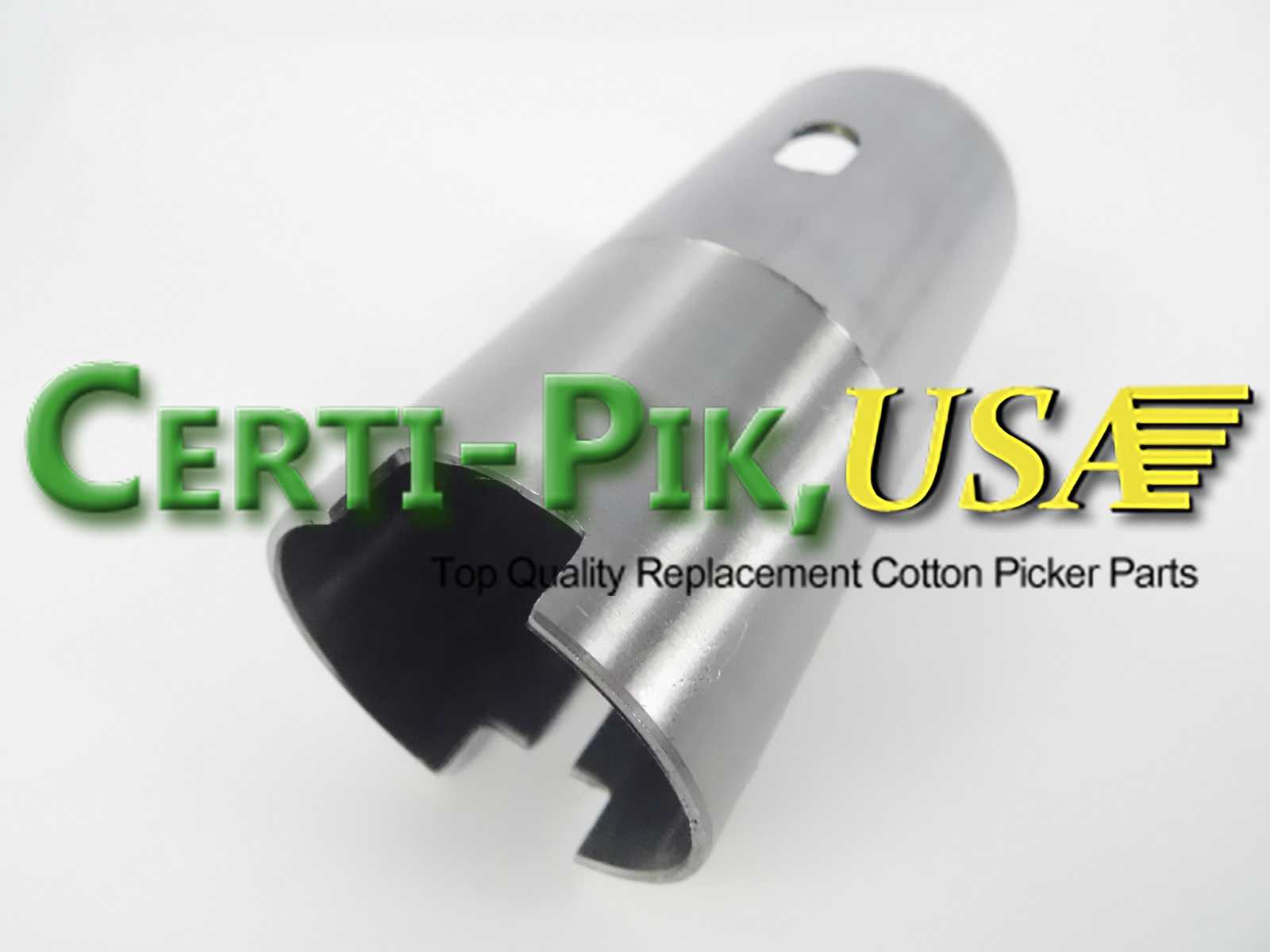 Description: SLEEVE – KEYED SERVICE SLEEVE – PRO ONLY

OEM Part: 76373K

Section: Picking Unit System

John Deere 9930-9935, 9950-CP770 Picker Bar and Spindle Assembly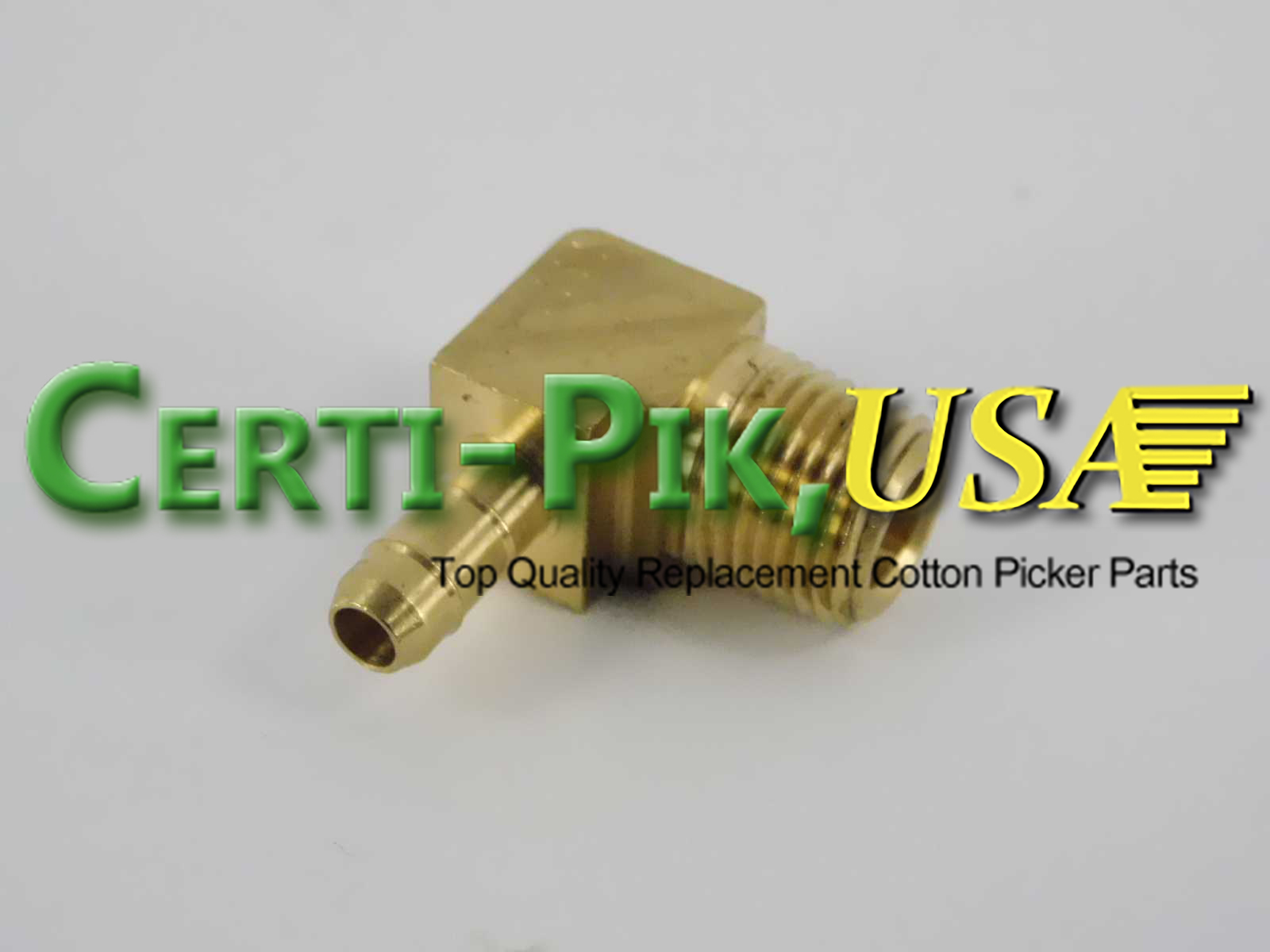 Description: UNION FITTING – 90 DEG LUBE LINE ELBOW

OEM Part: N115724

Section: Picking Unit System

John Deere 9930-9935, 9950-CP770 Picker Bar and Spindle Assembly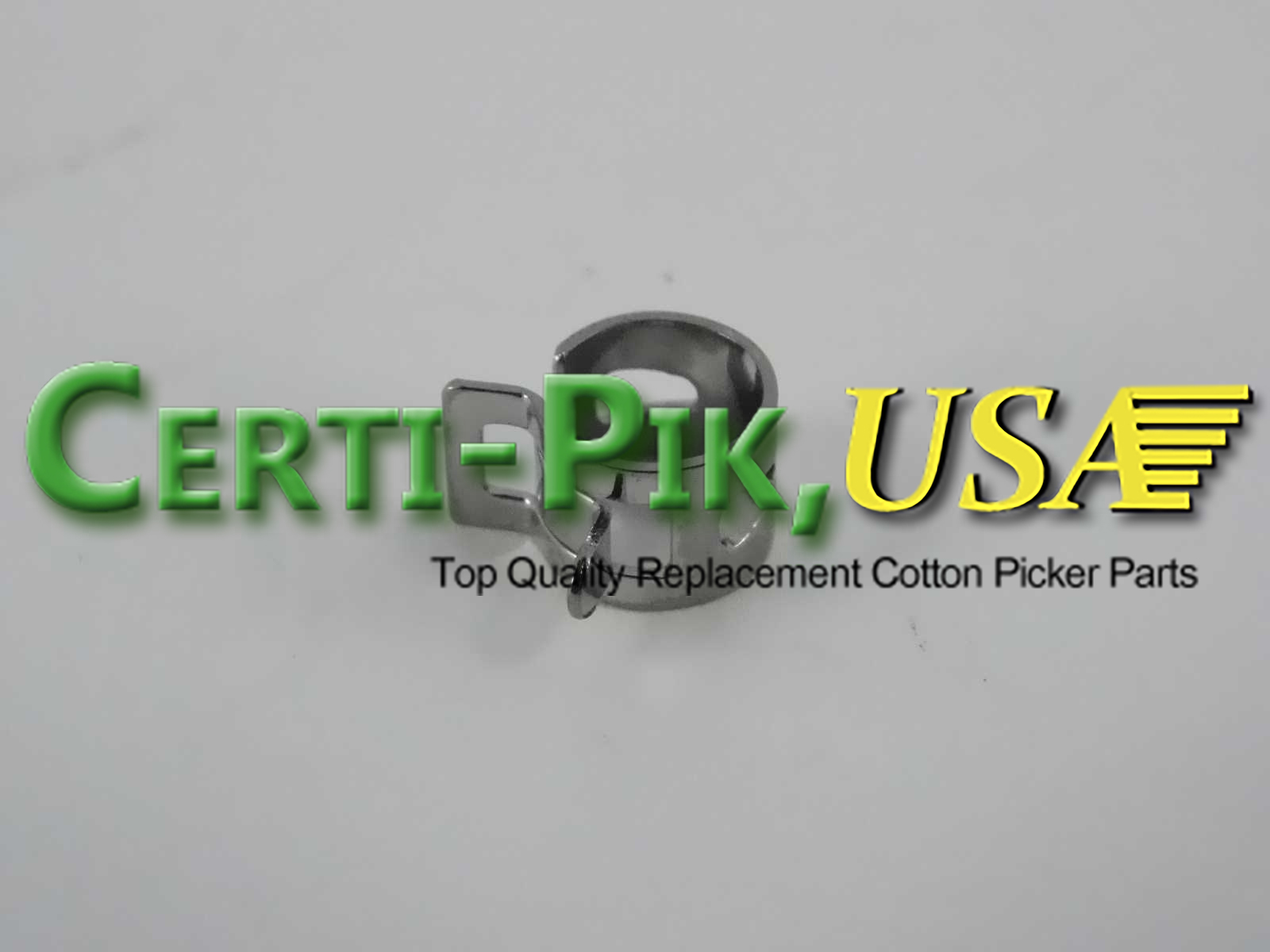 Description: HOSE CLAMP – (HOSE OD .280)

OEM Part: N117044

Section: Picking Unit System

John Deere 9930-9935, 9950-CP770 Picker Bar and Spindle Assembly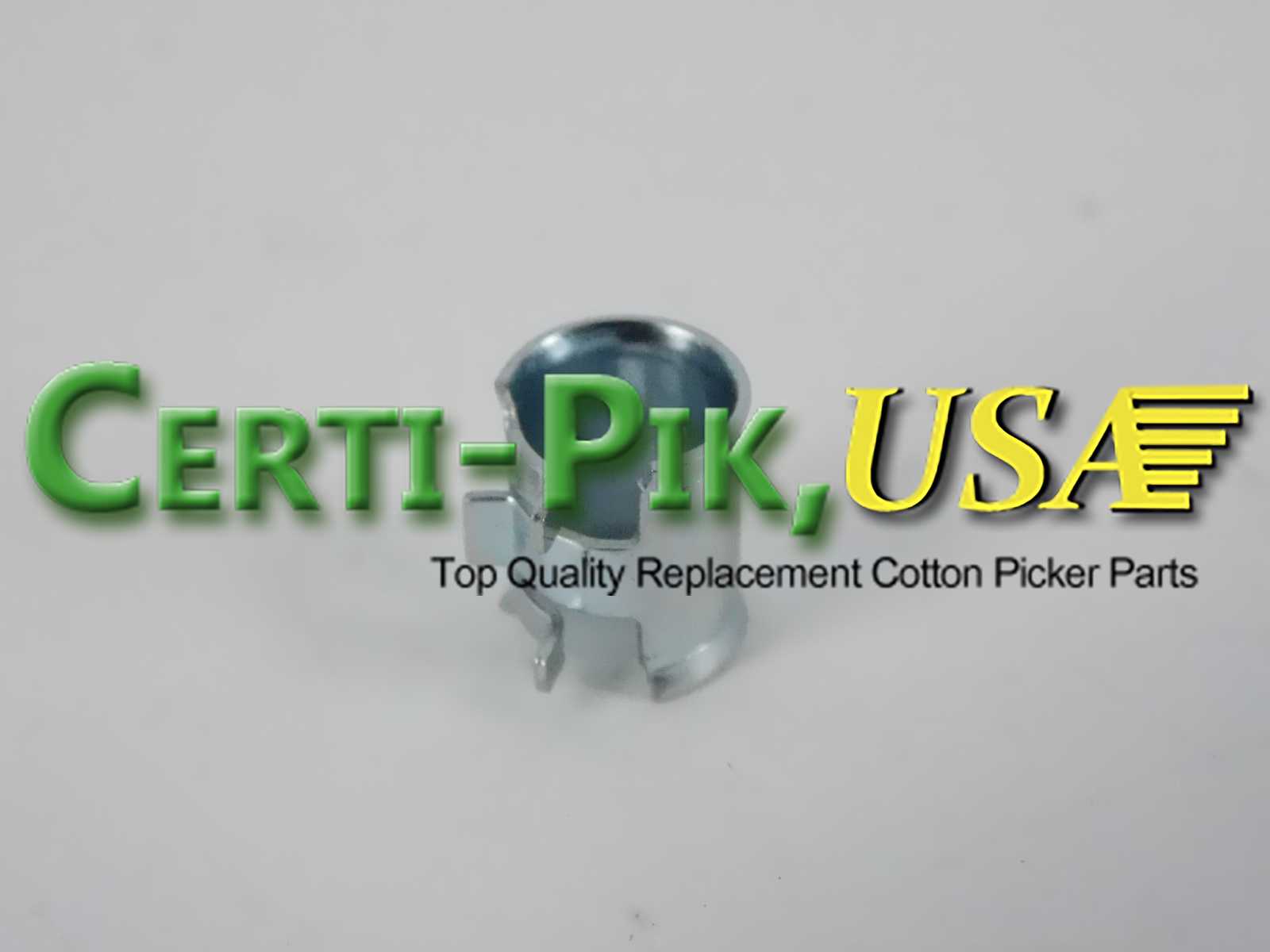 Description: HOSE CLAMP – 3/8″ LONG FLARED ENDS (HOSE OD .280)

OEM Part: 17044FP

Section: Picking Unit System

John Deere 9930-9935, 9950-CP770 Picker Bar and Spindle Assembly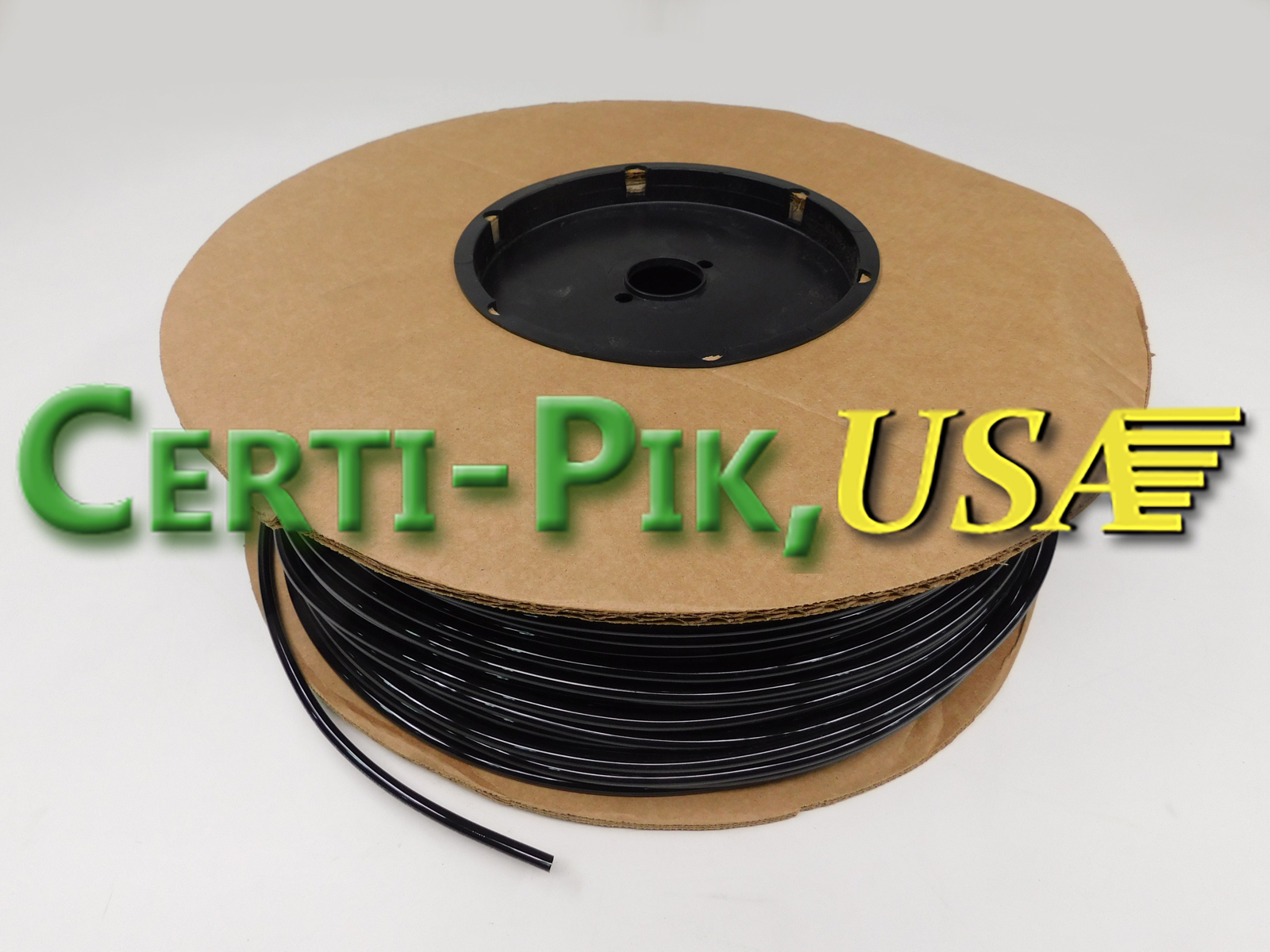 Description: HOSE – PICKER BAR LUBE (1000 FT)

OEM Part: N274964

Section: Picking Unit System

John Deere 9930-9935, 9950-CP770 Picker Bar and Spindle Assembly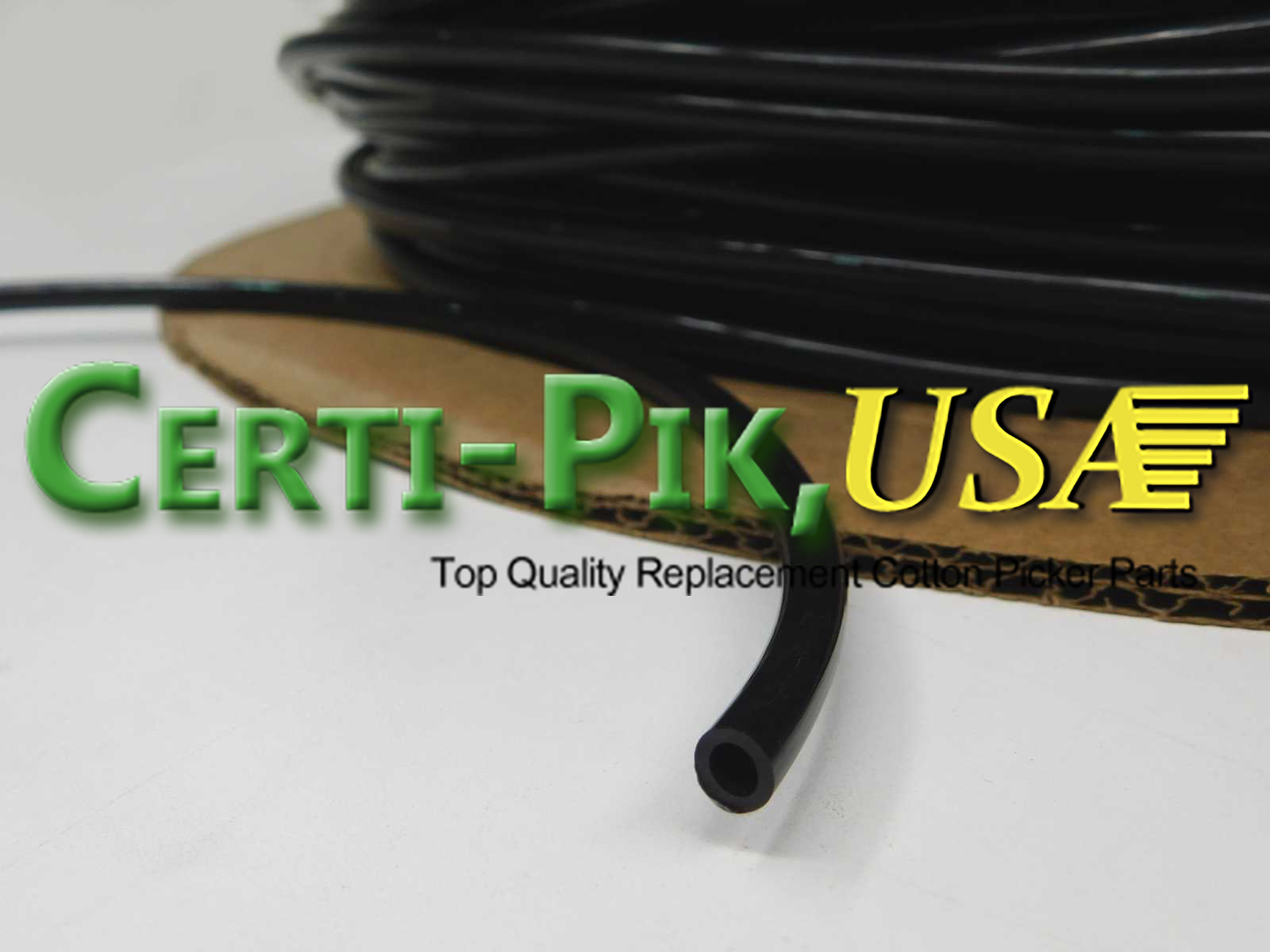 Description: HOSE – PICKER BAR LUBE (100 FT MIN. RANDOM CUT)

OEM Part: N274964

Section: Picking Unit System

John Deere 9930-9935, 9950-CP770 Picker Bar and Spindle Assembly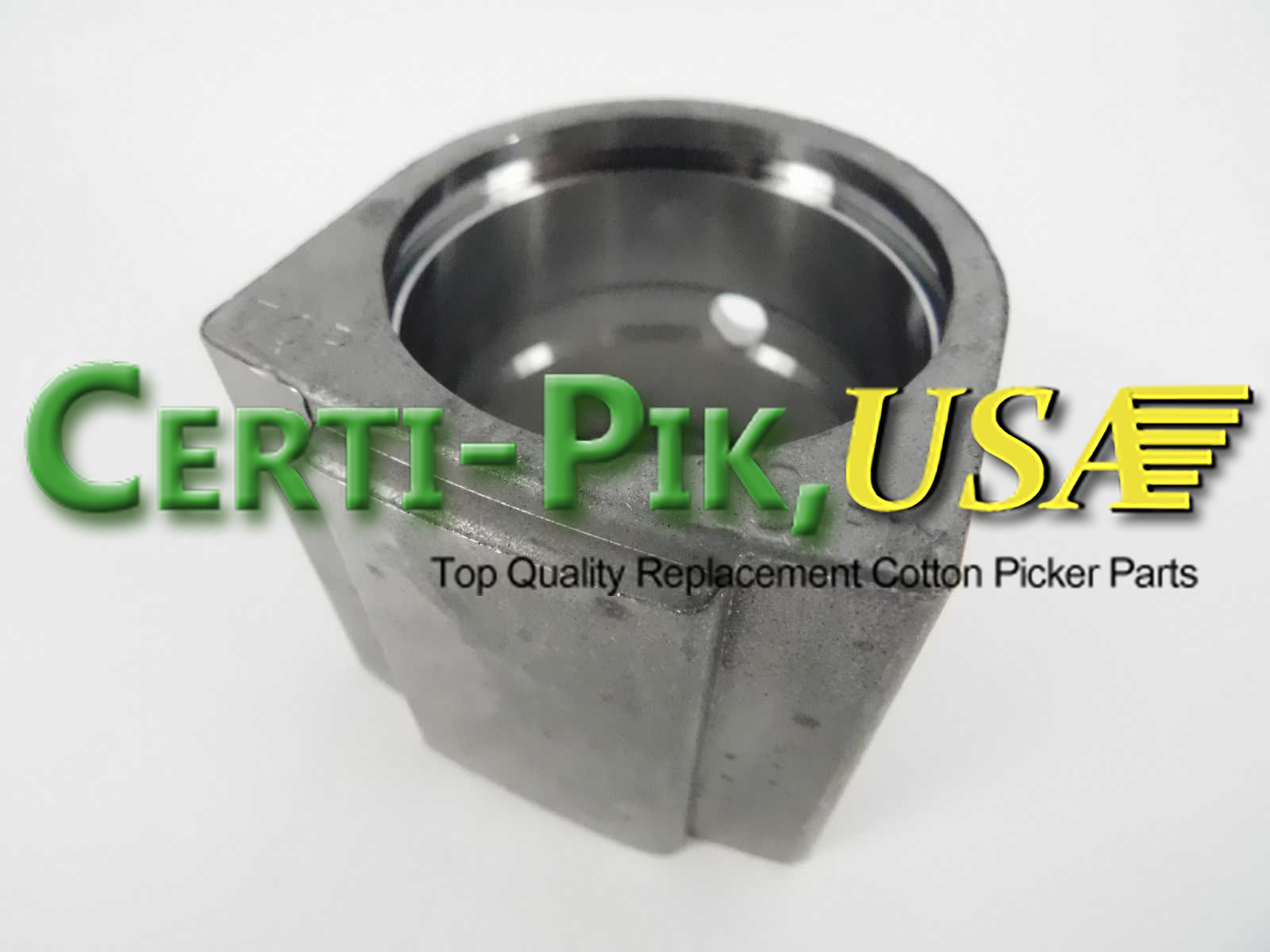 Description: PRO BEARING – BAR JOURNAL ( C-PIK ) (9935-CP770)

OEM Part: N370976

Section: Picking Unit System

John Deere 9930-9935, 9950-CP770 Picker Bar and Spindle Assembly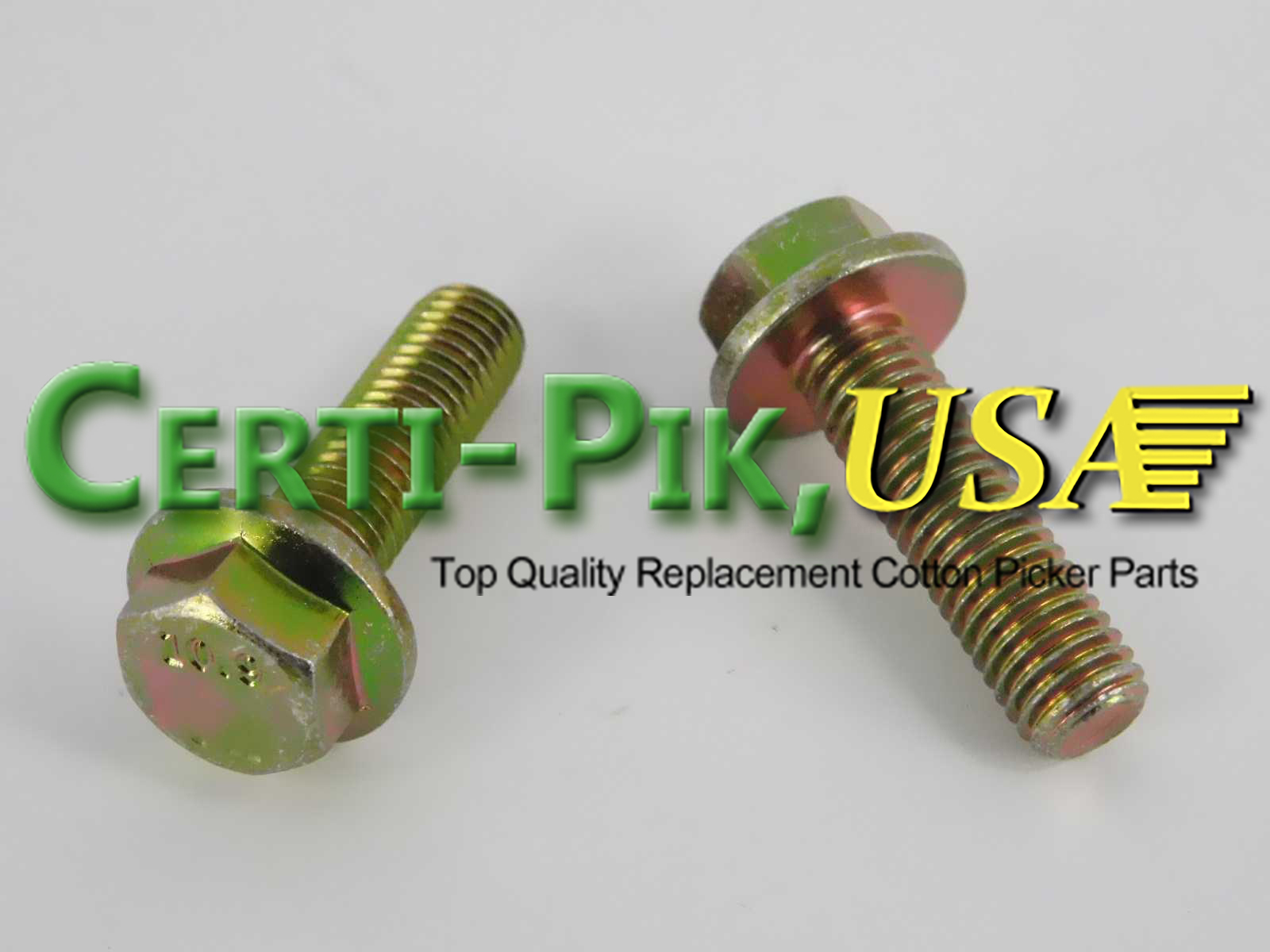 Description: BOLT – M10 X 35 – SMOOTH HEX FLANGE – PRO BEARING RETAINER

OEM Part: 19M7835

Section: Picking Unit System

John Deere 9930-9935, 9950-CP770 Picker Bar and Spindle Assembly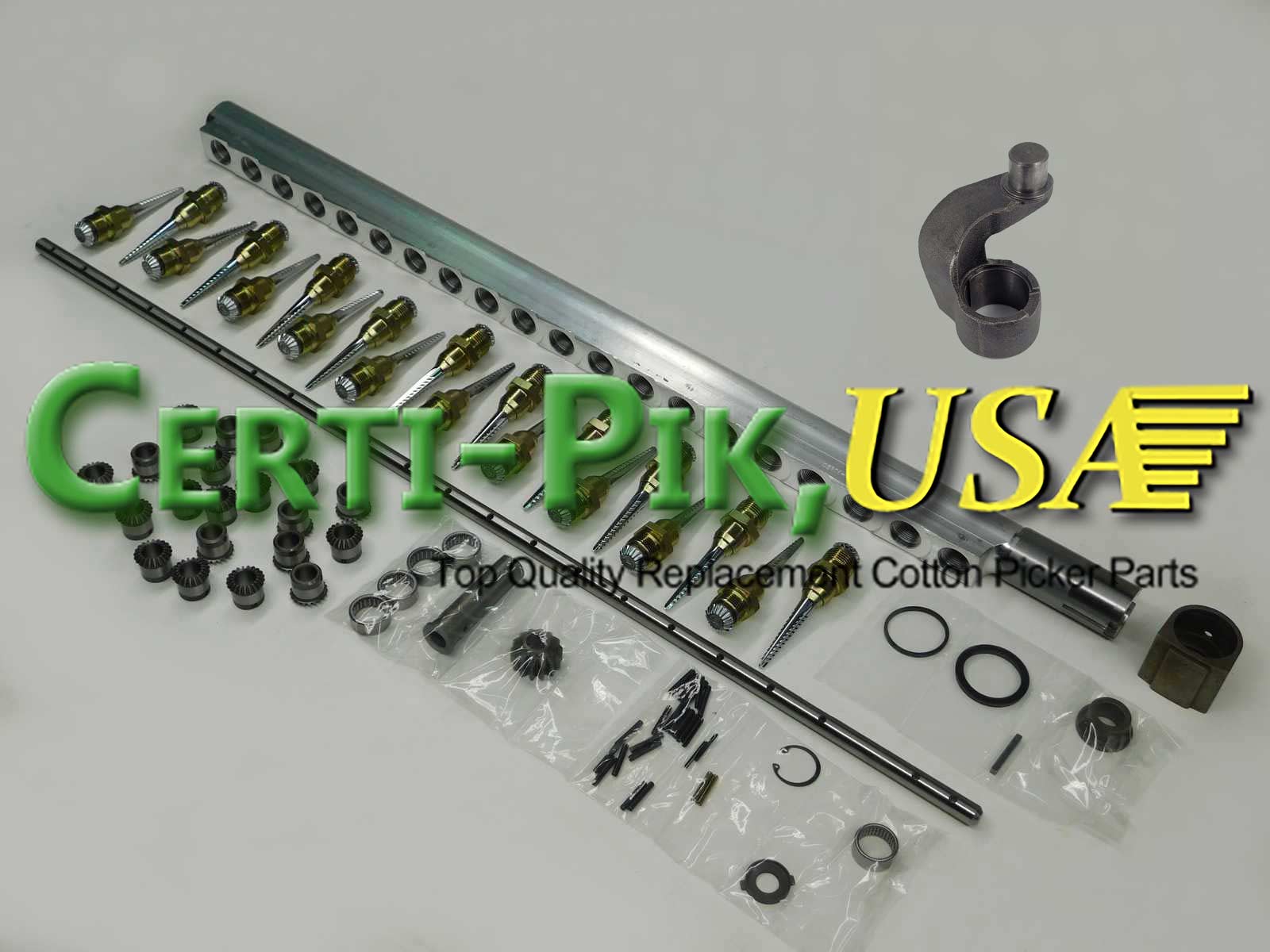 Description: ** KIT ** 20 SPINDLE (PRO) PICKER BAR ( NOT ASSEMBLED ) – DOES NOT INCLUDE SHIMS #02889P – INCLUDES PARTS IN DRIVE SHAFT KIT #76737-K & ARM #98724R

OEM Part: AN276734

Section: Picking Unit System

John Deere 9930-9935, 9950-CP770 Picker Bar and Spindle Assembly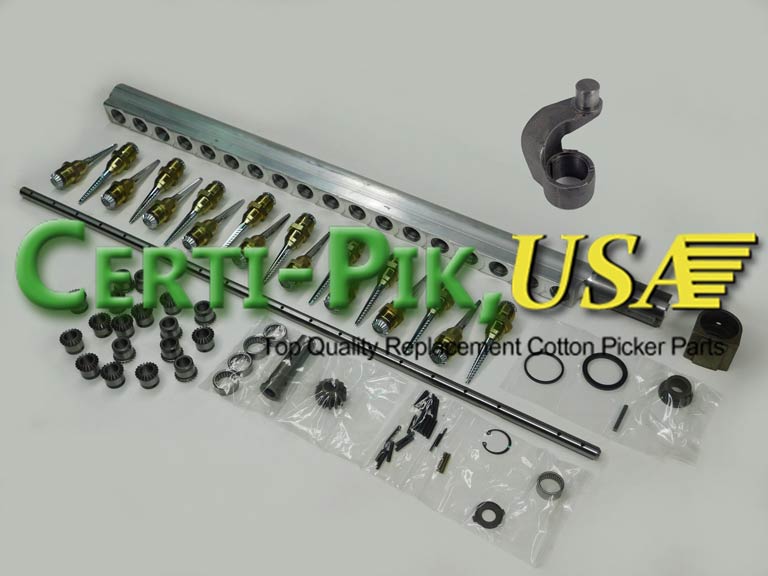 Description: ** KIT ** 18 SPINDLE (PRO) PICKER BAR ( NOT ASSEMBLED ) – DOES NOT INCLUDE SHIMS #02889P – INCLUDES PARTS IN DRIVE SHAFT KIT #76743-K & ARM #98724R

OEM Part: AN274502

Section: Picking Unit System

John Deere 9930-9935, 9950-CP770 Picker Bar and Spindle Assembly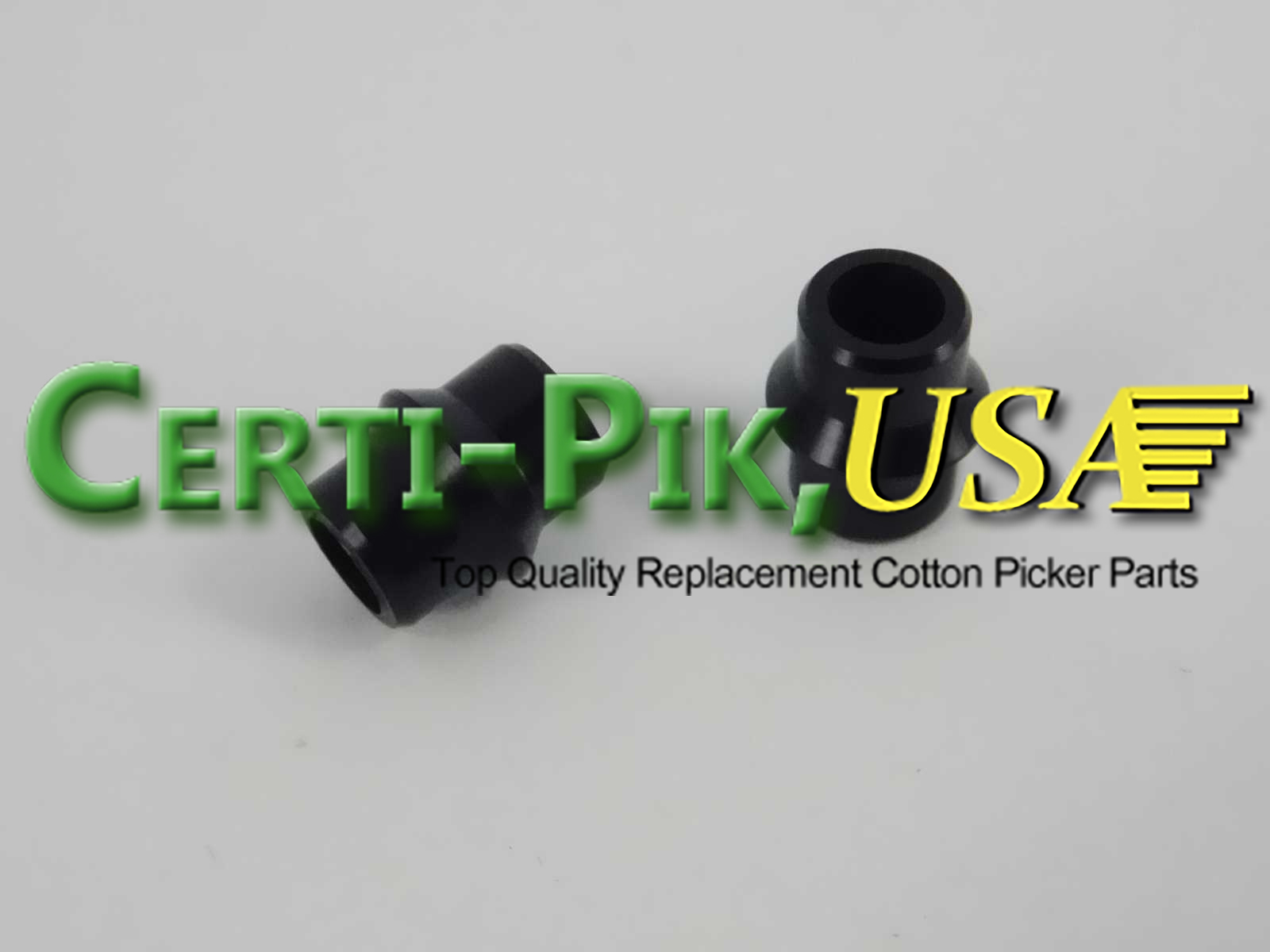 Description: BUSHING – INSERT , BAR SEAL – PRO DRUM HEAD

OEM Part: N279871

Section: Picking Unit System

John Deere 9930-9935, 9950-CP770 Picker Bar and Spindle Assembly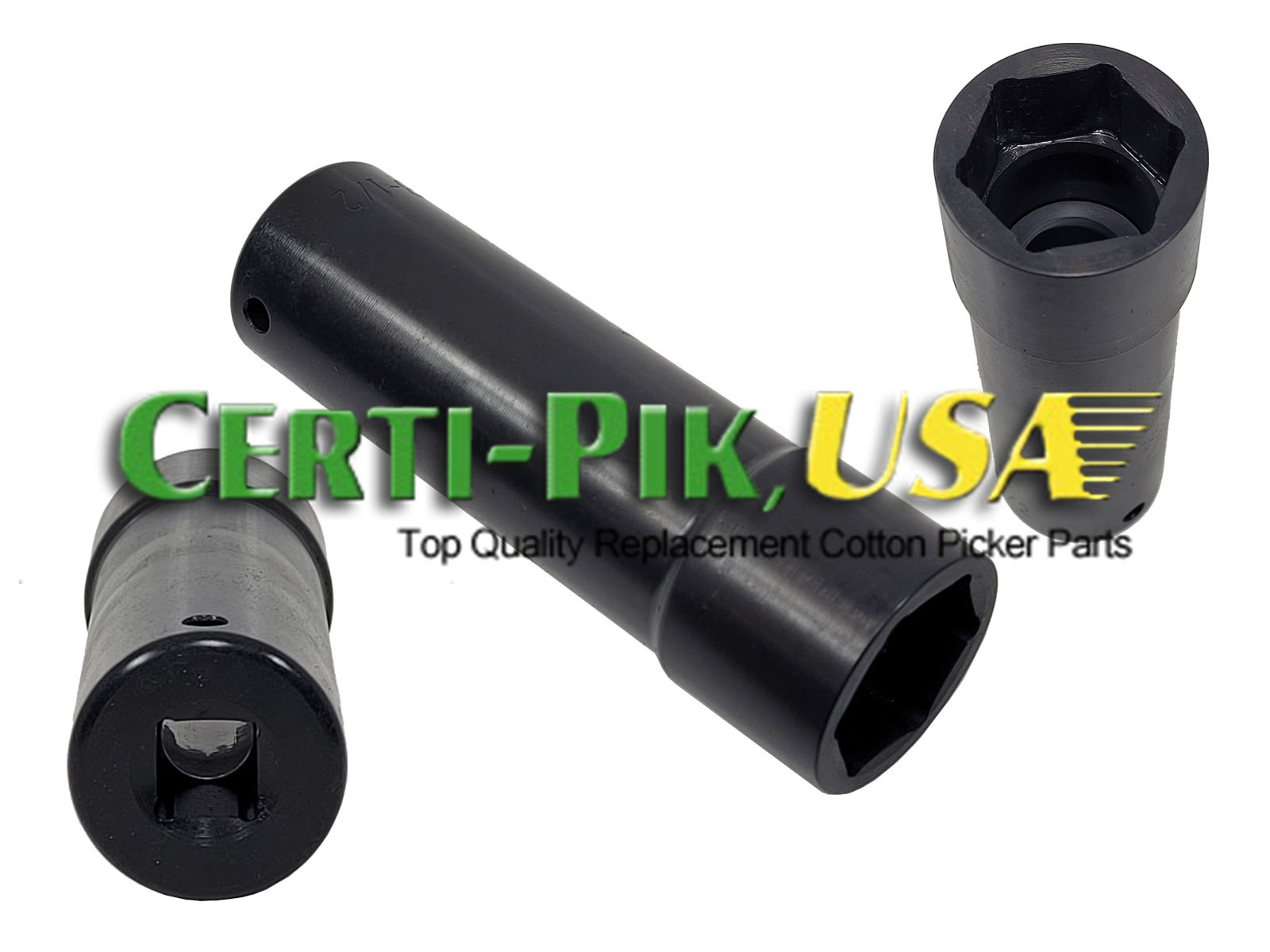 Description: PICKER SPINDLE 1-1/8″ IMPACT SOCKET 1/2″ DRIVE, HARDENED, REDUCED WEIGHT, LINED WITH PLASTIC TO PROTECT BARBS

OEM Part: N275063

Section: Picking Unit System

John Deere 9930-9935, 9950-CP770 Picker Bar and Spindle Assembly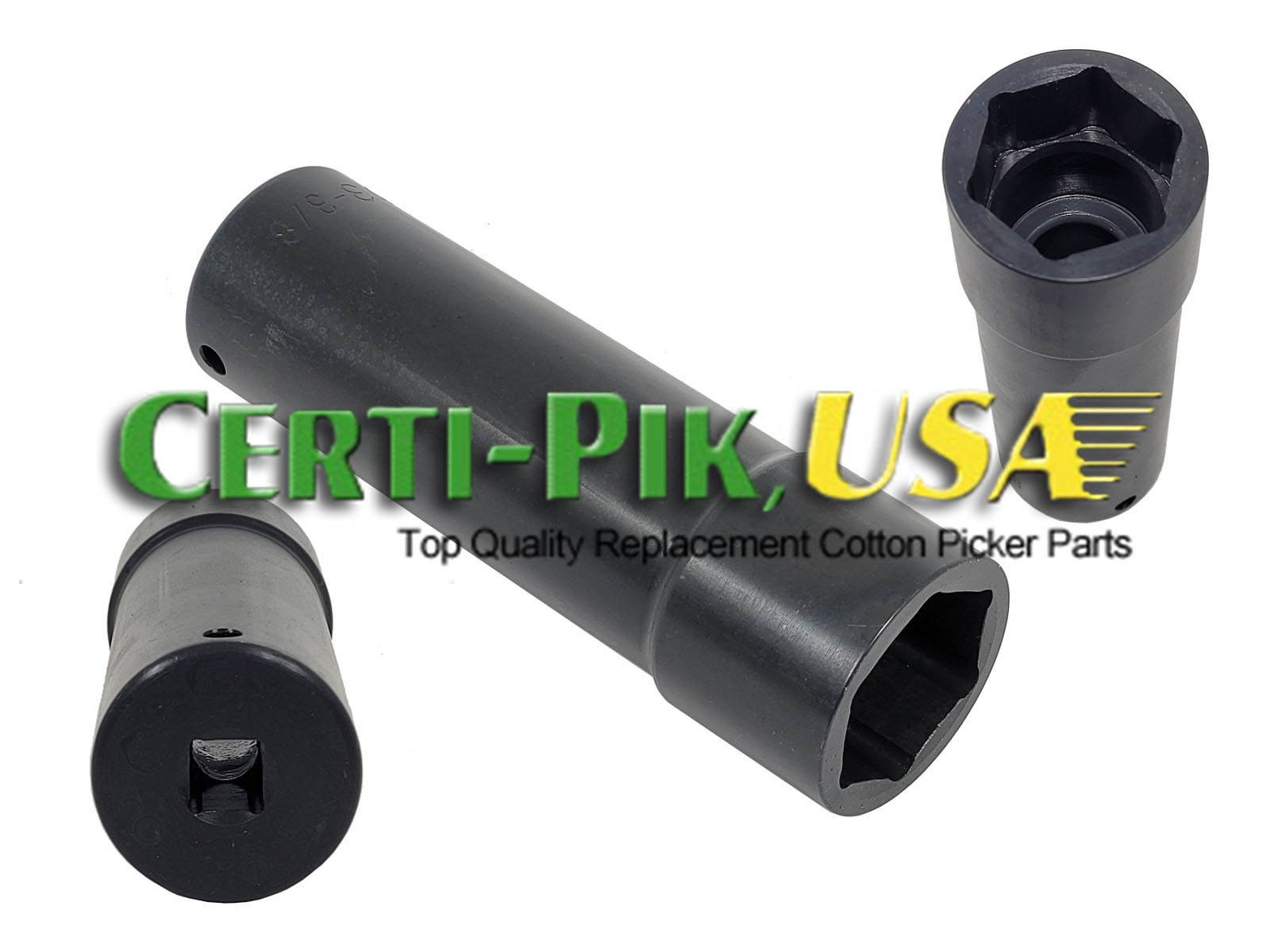 Description: PICKER SPINDLE 1-1/8″ IMPACT SOCKET 3/8″ DRIVE, HARDENED, REDUCED WEIGHT, LINED WITH PLASTIC TO PROTECT BARBS

OEM Part: N275063

Section: Picking Unit System

John Deere 9930-9935, 9950-CP770 Picker Bar and Spindle Assembly



---
John Deere Spindle Drive Shaft Assembly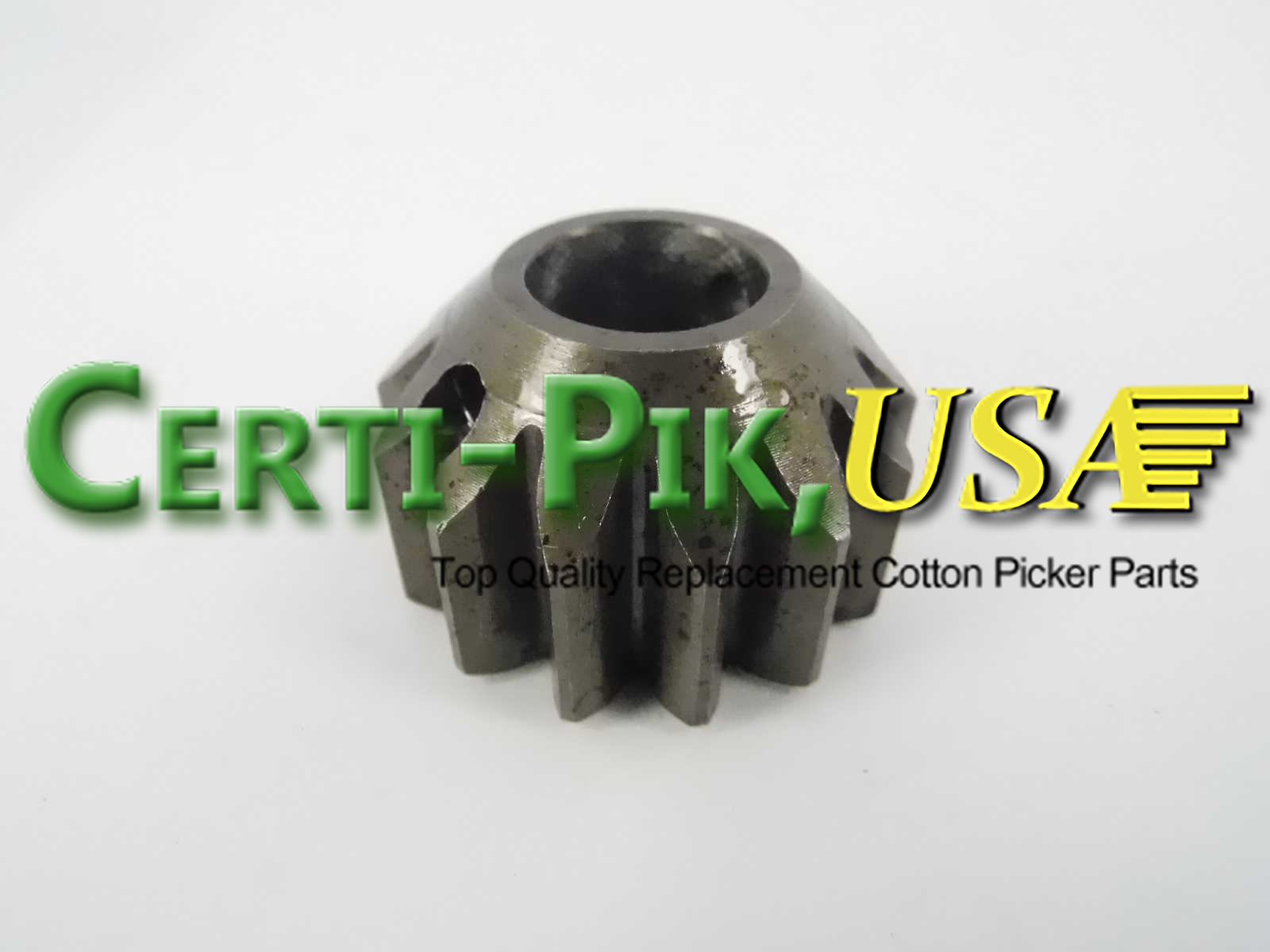 Description: DRIVE GEAR (9900-CP770)

OEM Part: N118289

Section: Picking Unit System

John Deere Spindle Drive Shaft Assembly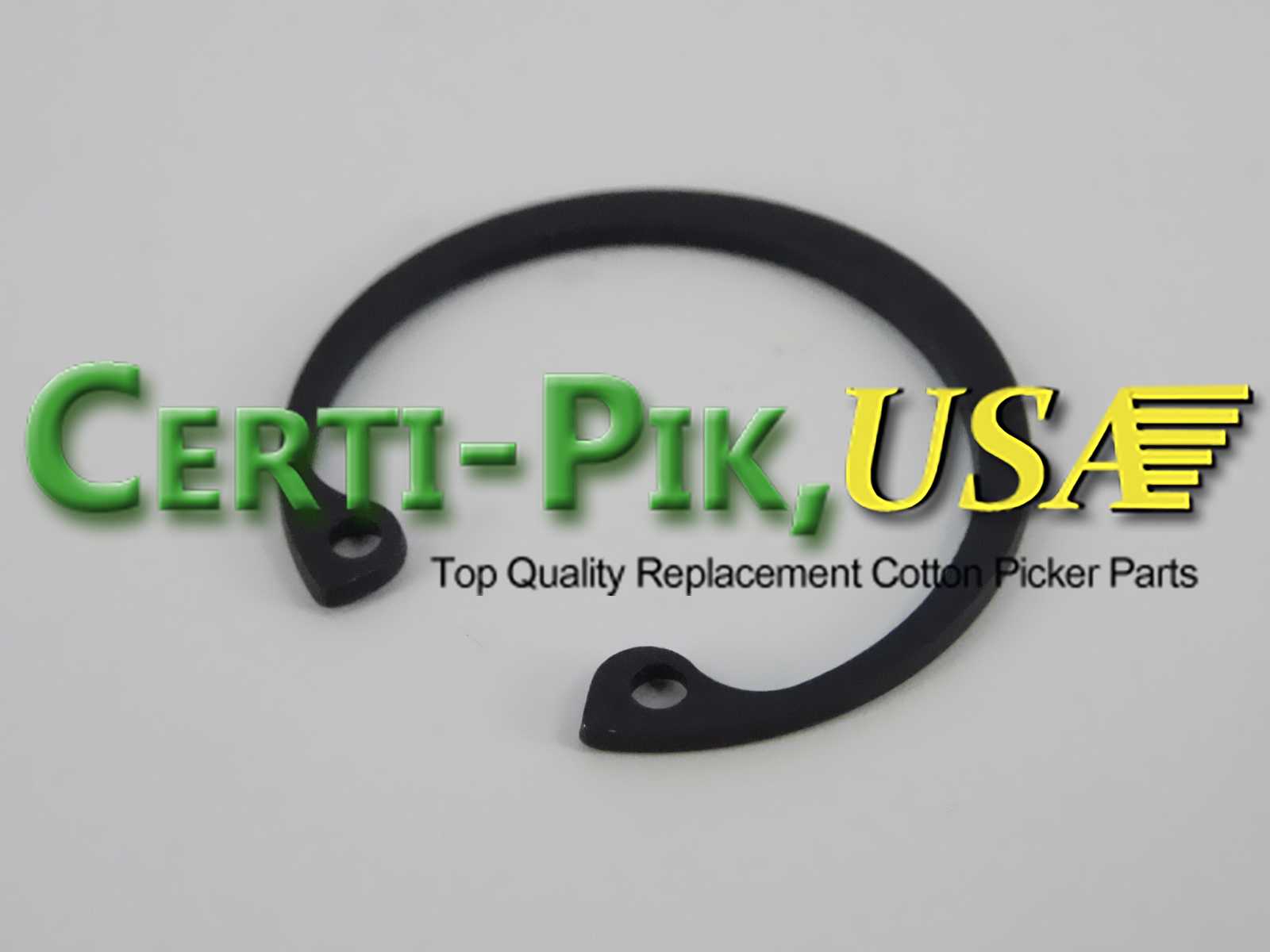 Description: SNAP RING (9900-CP770)

OEM Part: T23694

Section: Picking Unit System

John Deere Spindle Drive Shaft Assembly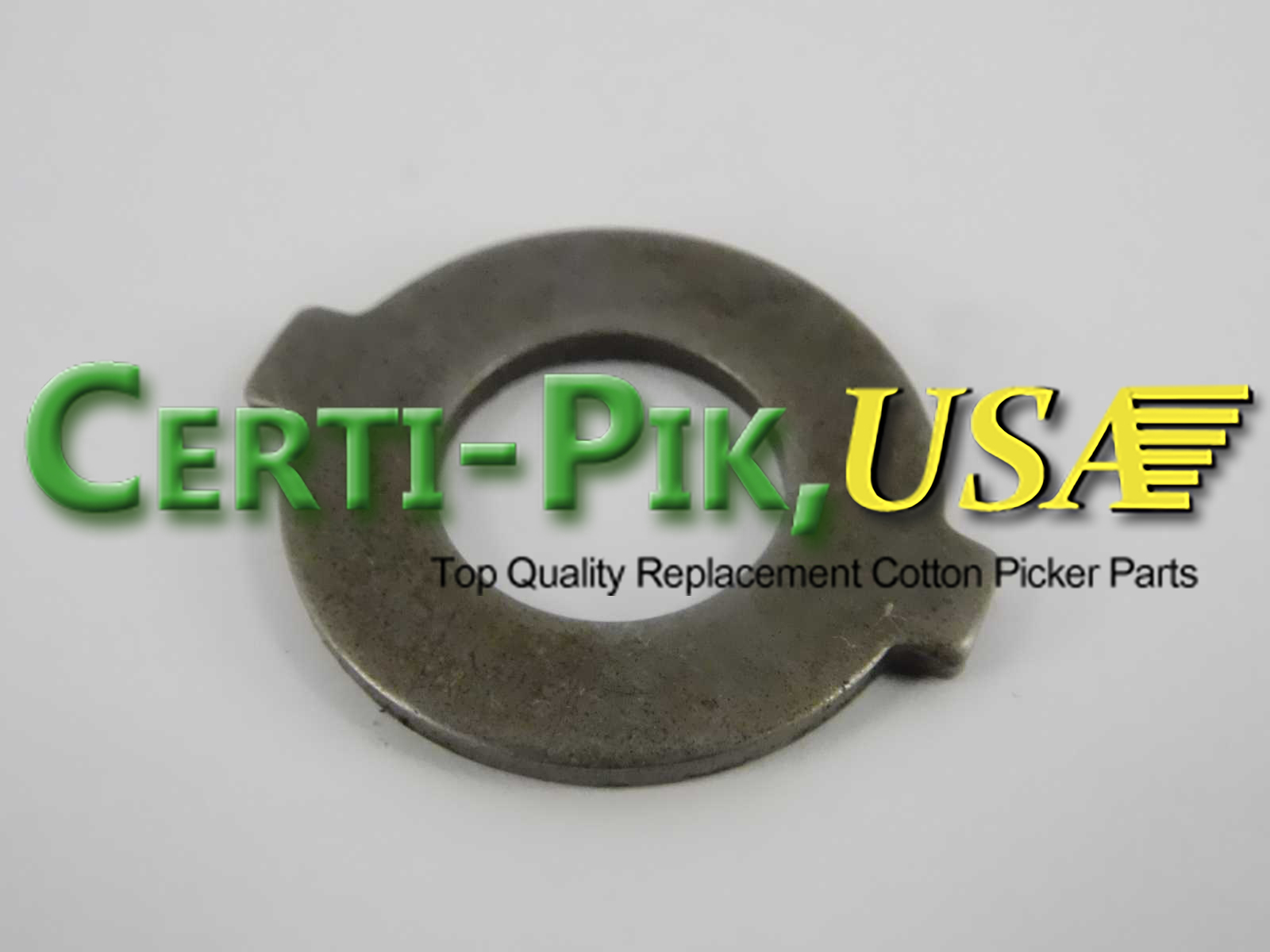 Description: THRUST WASHER (ILL.)

OEM Part: N190988

Section: Picking Unit System

John Deere Spindle Drive Shaft Assembly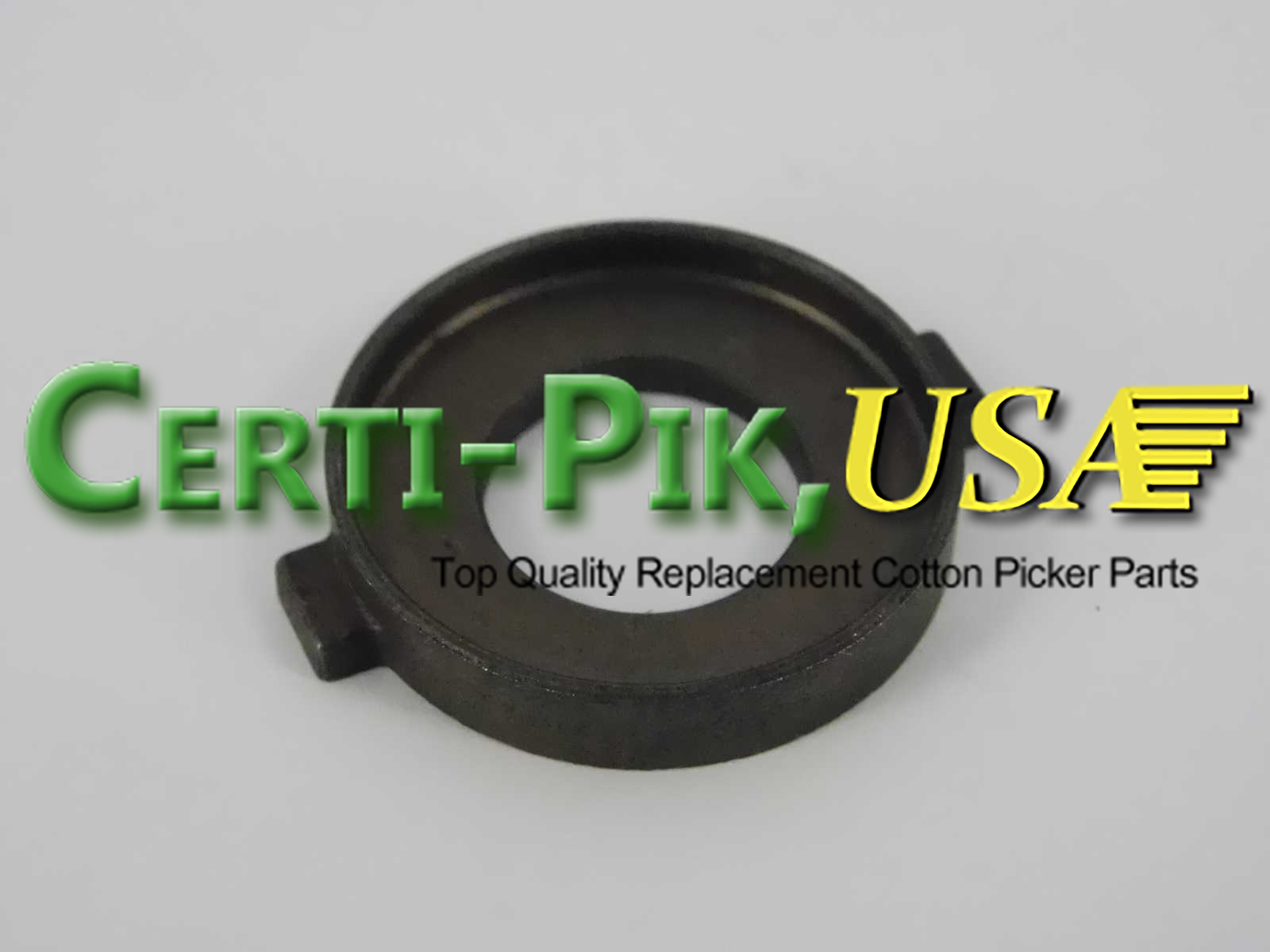 Description: PRO THRUST WASHER – WILL FIT ALL MODELS USING #78782 SLEEVE

OEM Part: N278781

Section: Picking Unit System

John Deere Spindle Drive Shaft Assembly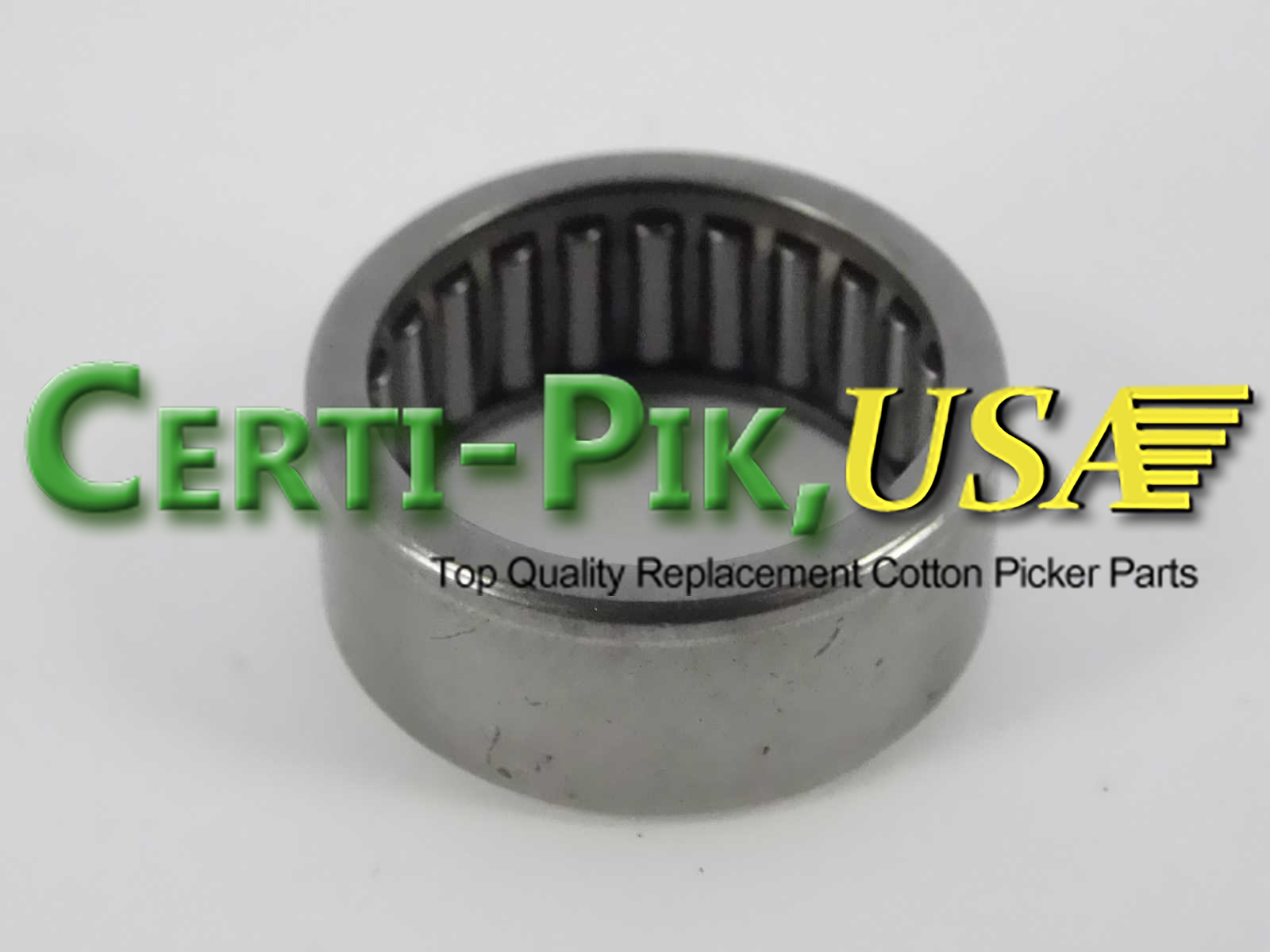 Description: BEARING – 23 NEEDLES

OEM Part: JD8804

Section: Picking Unit System

John Deere Spindle Drive Shaft Assembly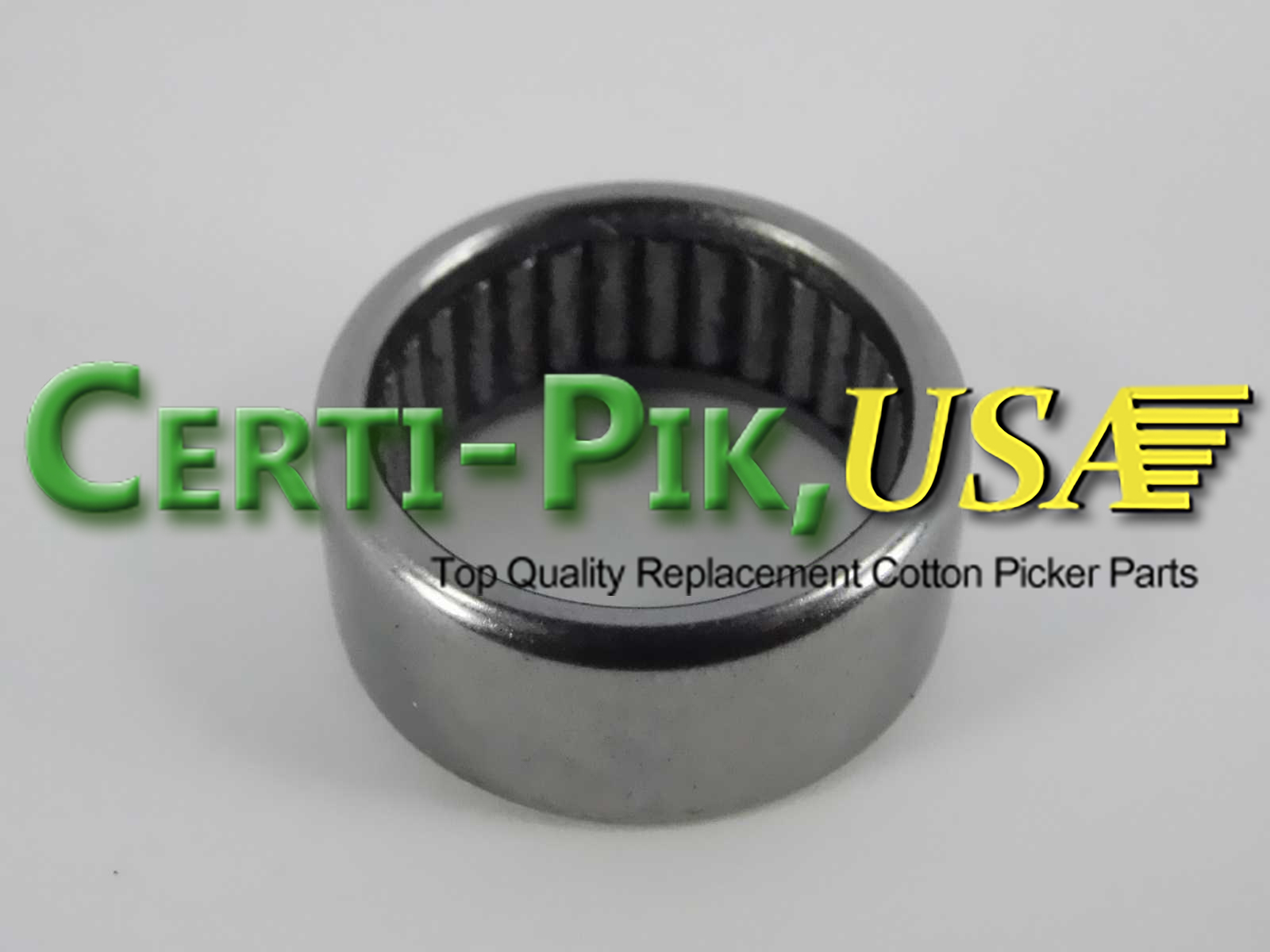 Description: NEEDLE BEARING – FULL COMPLIMENT, USED ON BEARING SLEEVE #78782

OEM Part: JD8804B

Section: Picking Unit System

John Deere Spindle Drive Shaft Assembly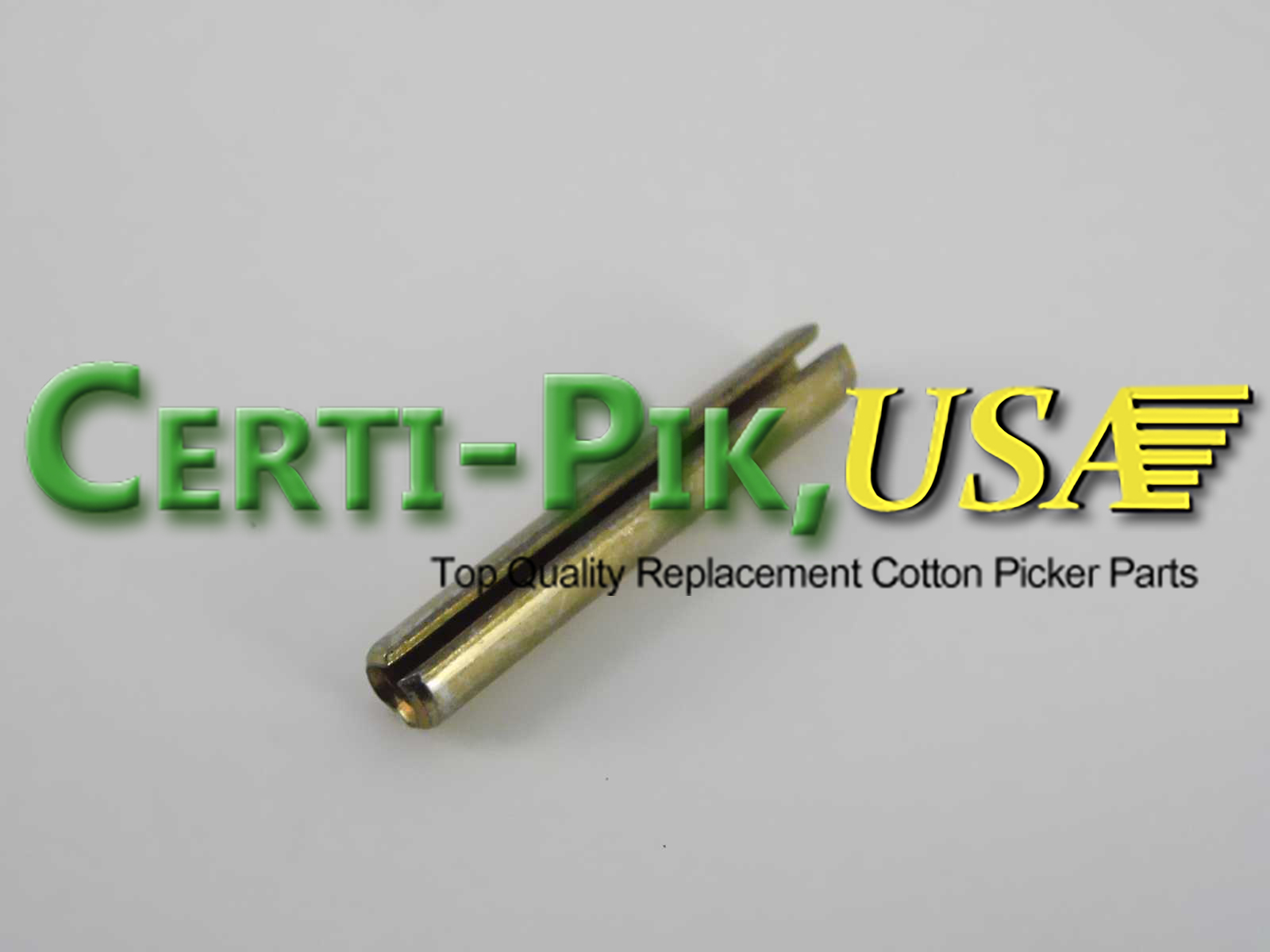 Description: SPRING PIN – 5/32 X 1″ – YELLOW FINISH – USED ON TOP OF SPINDLE DRIVE SHAFT ONLY. IN HOLES IN TOP GEAR AND BEARING SLEEVE.

OEM Part: 34H266

Section: Picking Unit System

John Deere Spindle Drive Shaft Assembly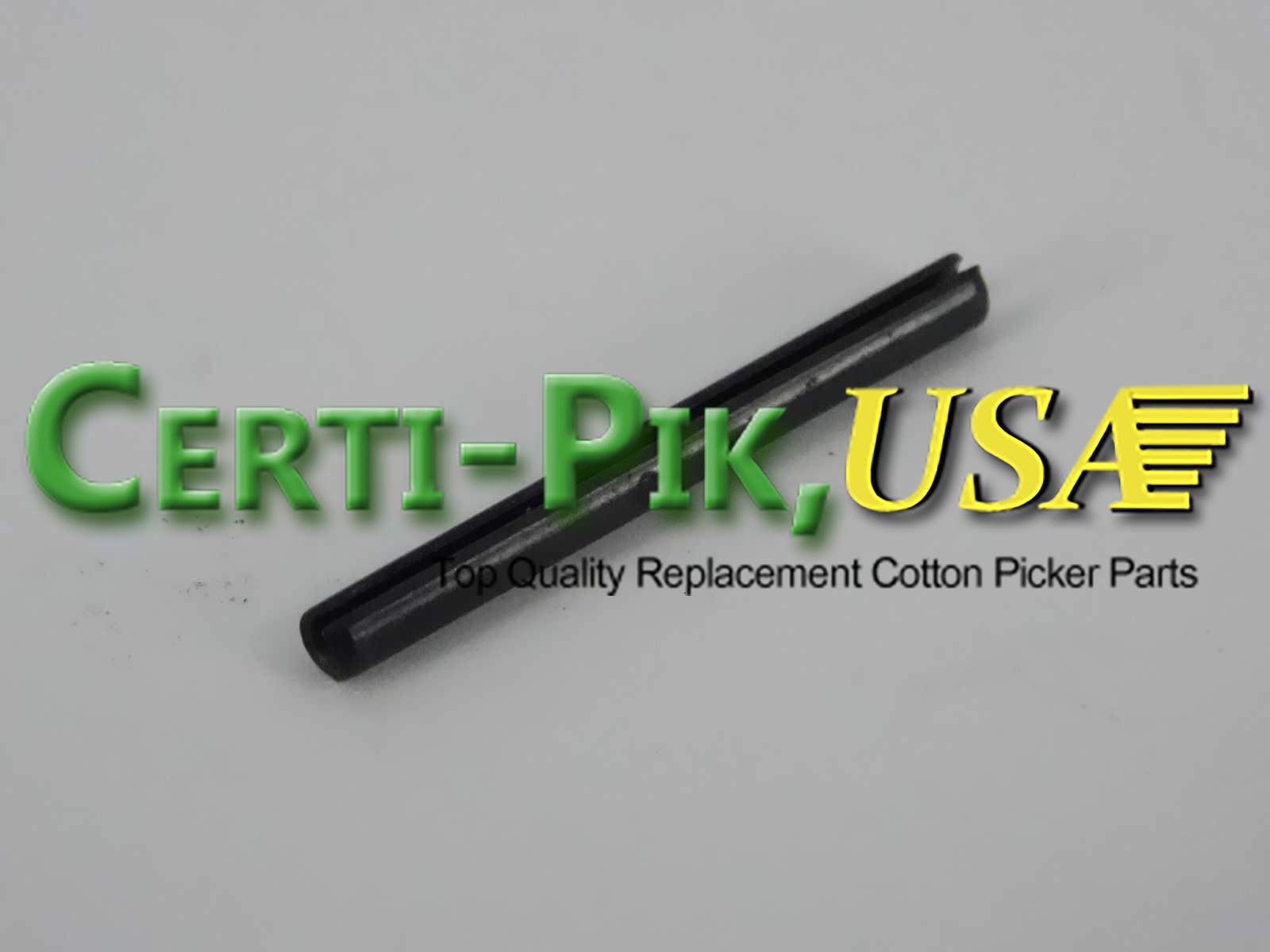 Description: SPRING PIN – 3/32 X 1″

OEM Part: 34H235

Section: Picking Unit System

John Deere Spindle Drive Shaft Assembly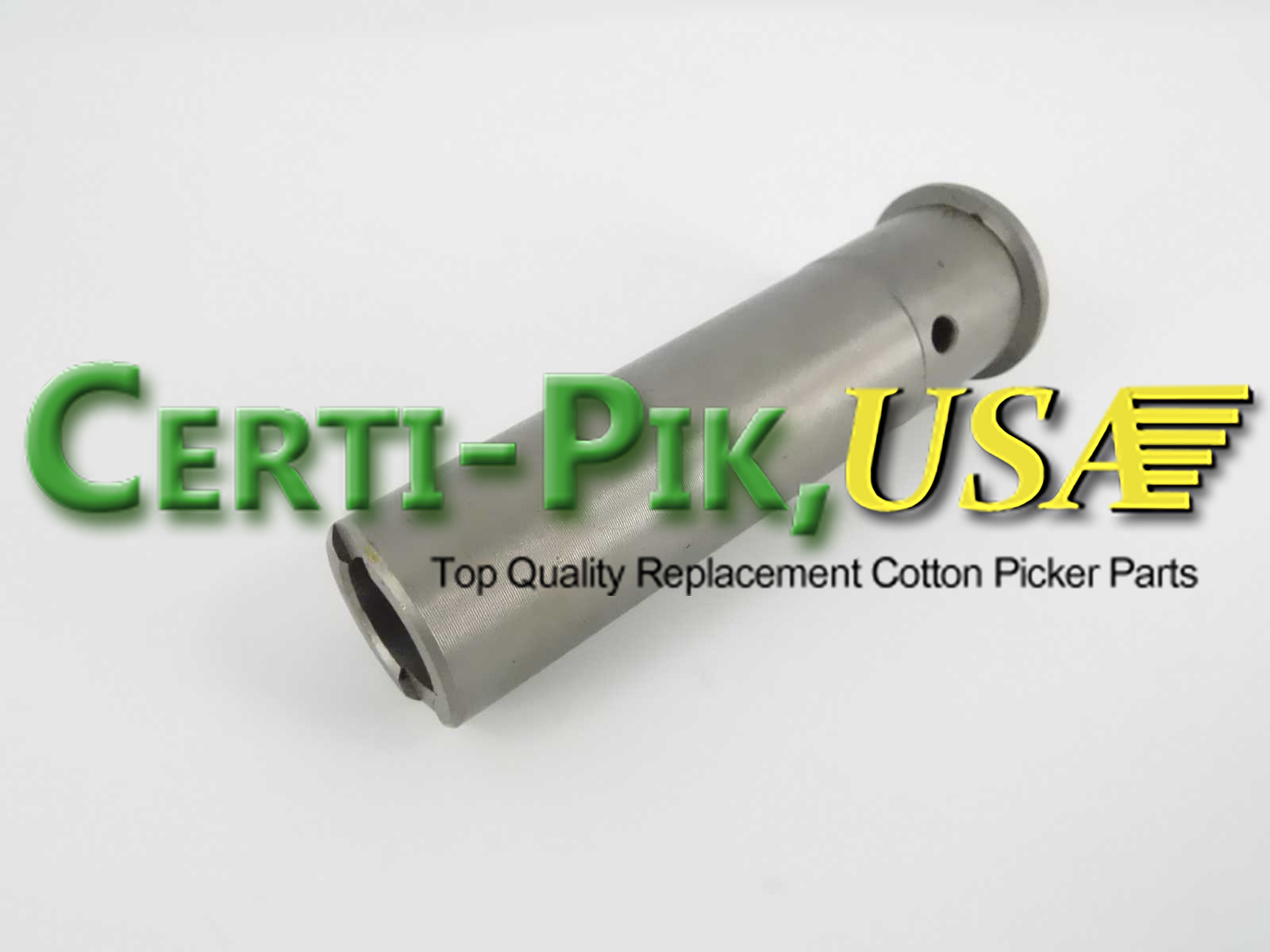 Description: BEARING SLEEVE – WILL FIT ALL MODELS USING #78781 THRUST-WASHER

OEM Part: N278782

Section: Picking Unit System

John Deere Spindle Drive Shaft Assembly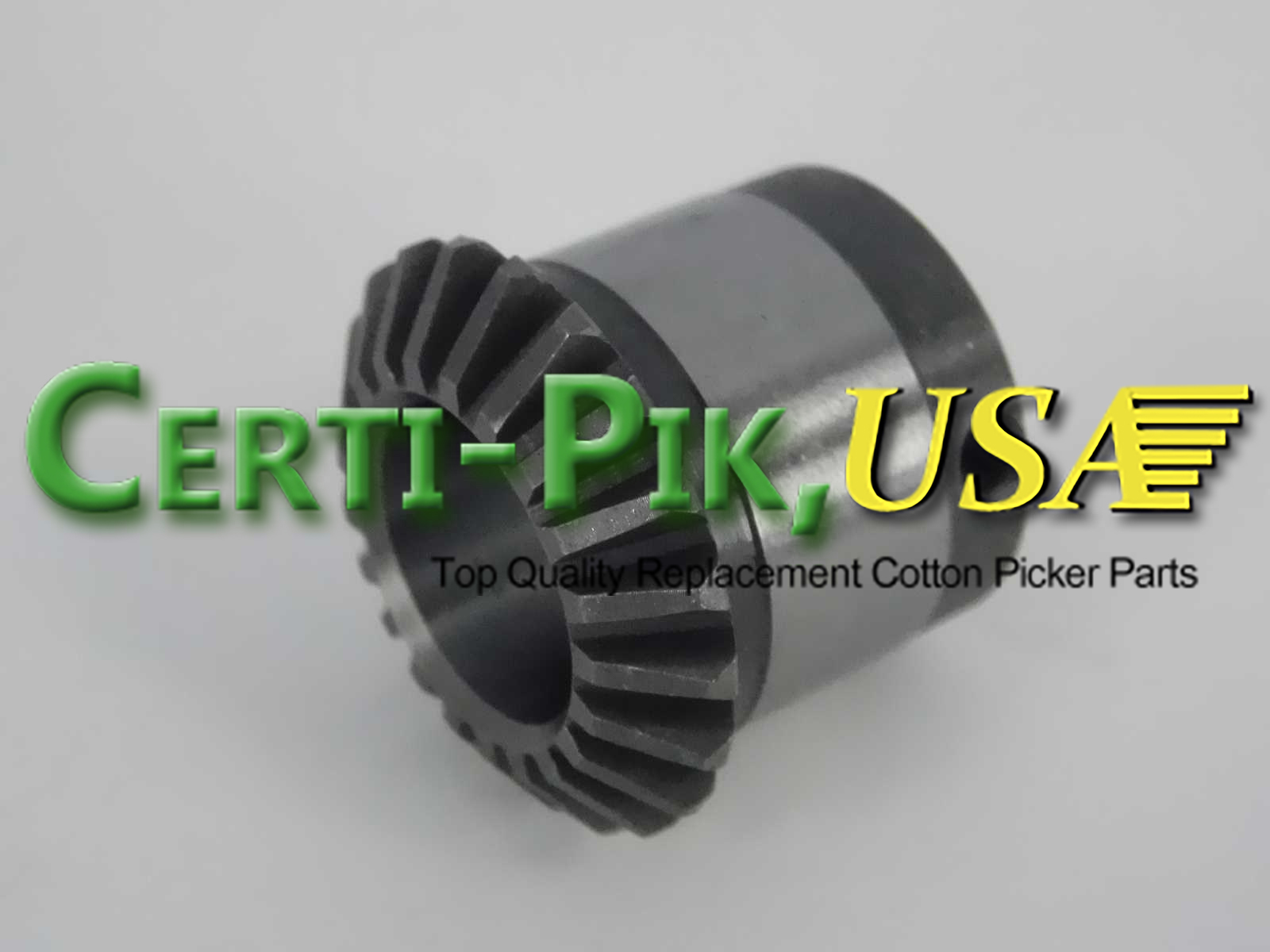 Description: SPINDLE GEAR – 1/8″ PIN HOLE

OEM Part: L2456N

Section: Picking Unit System

John Deere Spindle Drive Shaft Assembly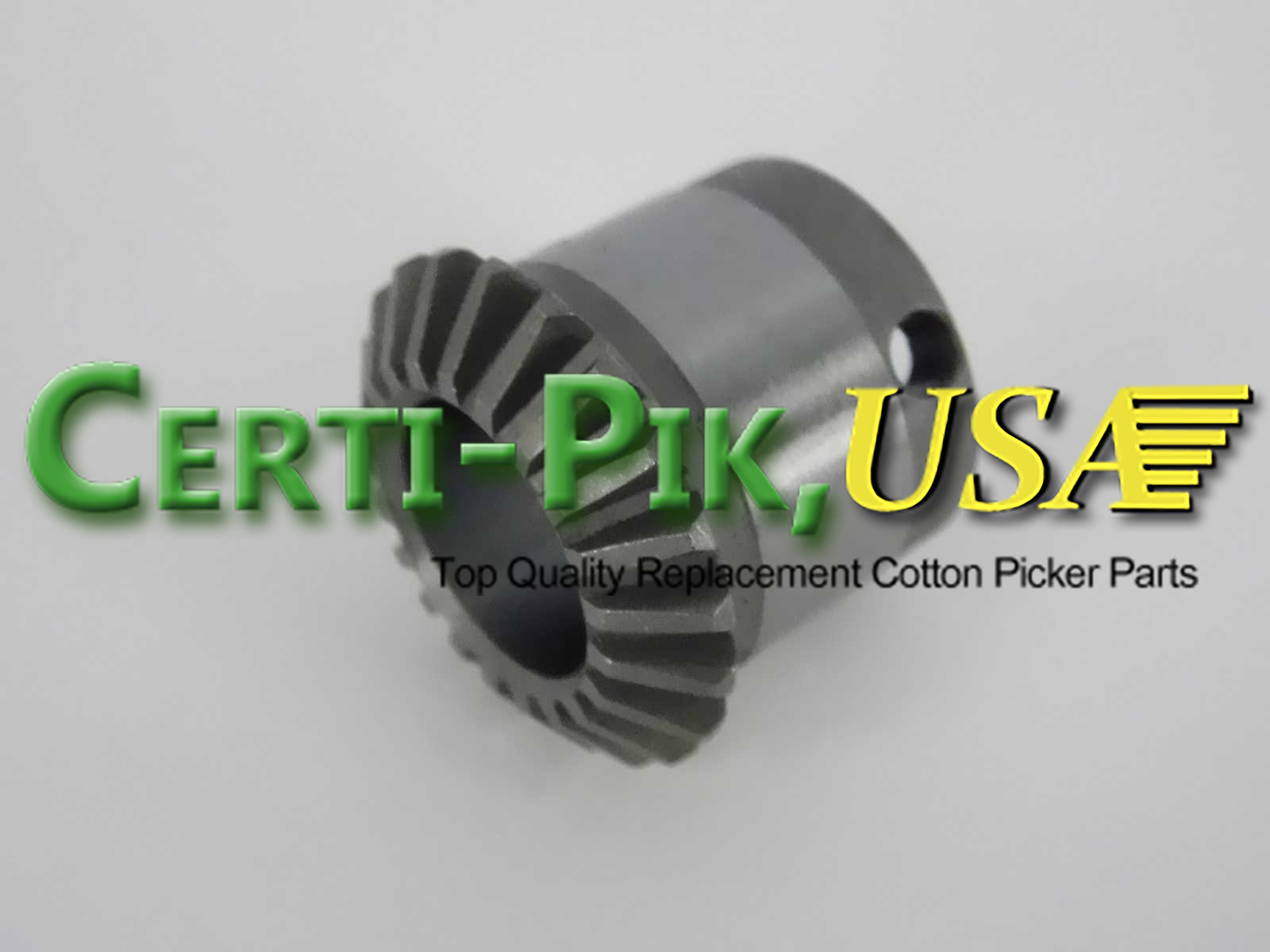 Description: SPINDLE GEAR – 5/32″ PIN HOLE

OEM Part: N371626

Section: Picking Unit System

John Deere Spindle Drive Shaft Assembly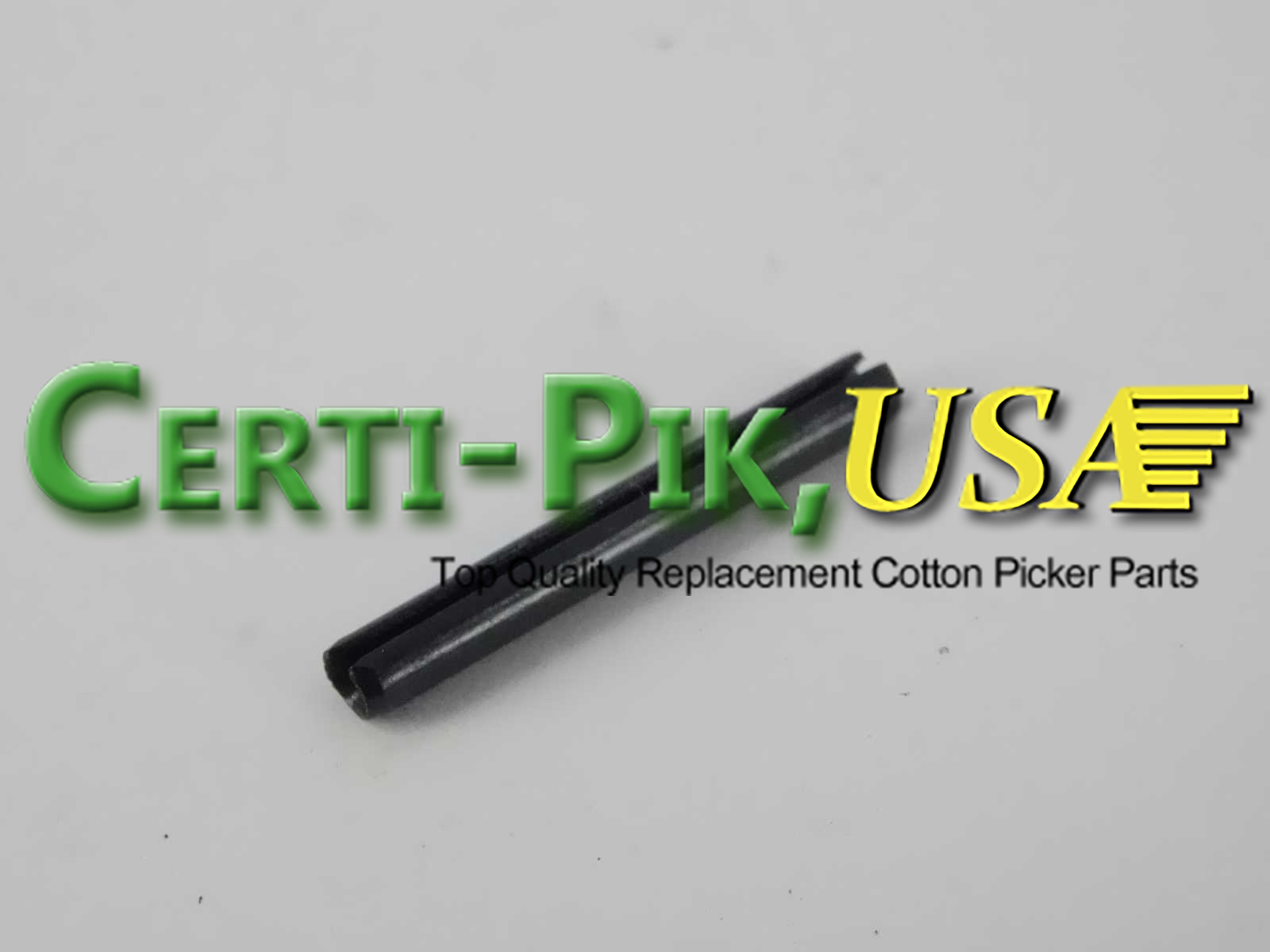 Description: SPRING PIN – 1/8 X 1″

OEM Part: 34H45

Section: Picking Unit System

John Deere Spindle Drive Shaft Assembly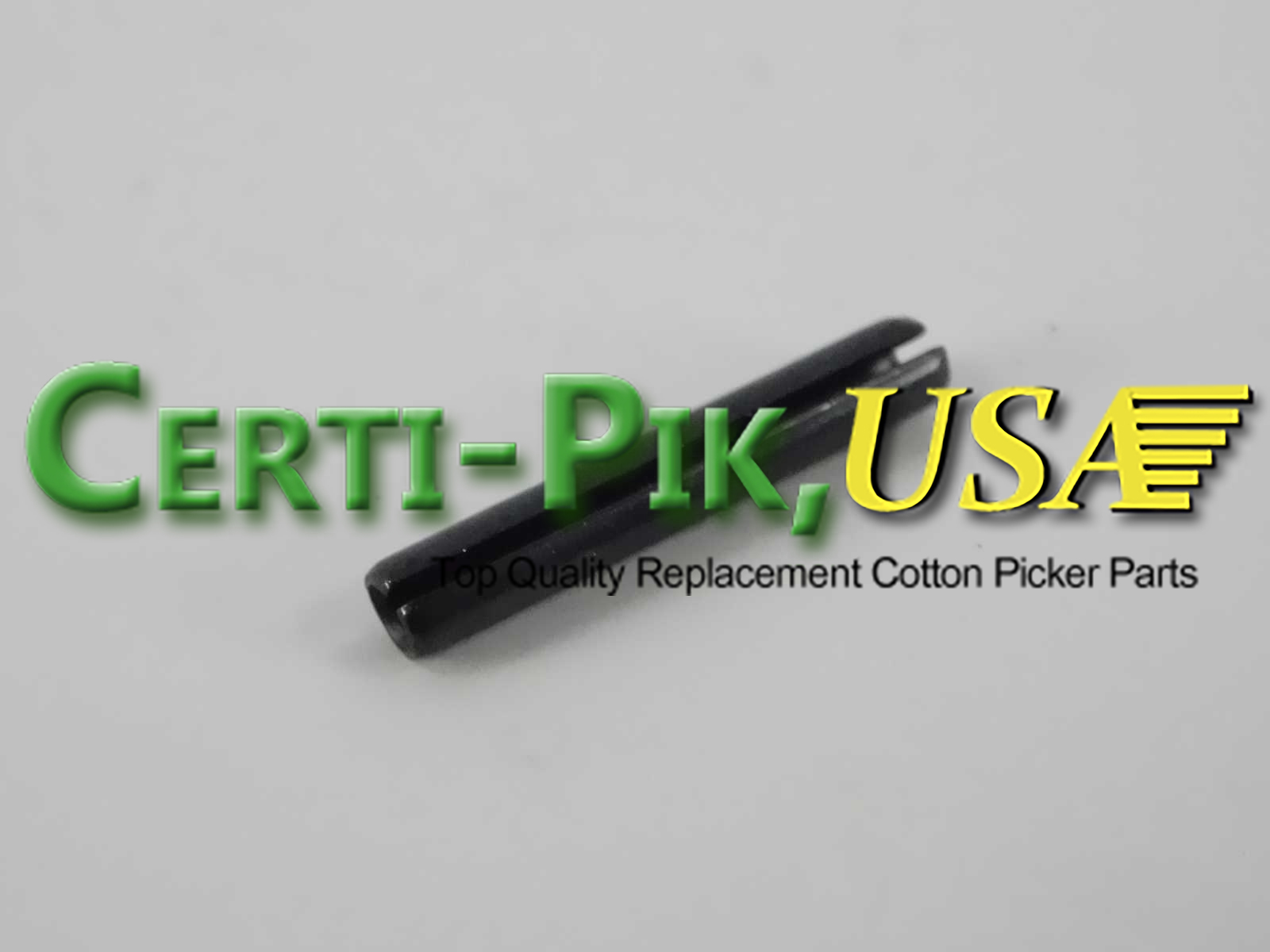 Description: SPRING PIN – 5/32 X 1″ – BLACK FINISH – USED ON SPINDLE DRIVE SHAFT.

OEM Part: 34H60

Section: Picking Unit System

John Deere Spindle Drive Shaft Assembly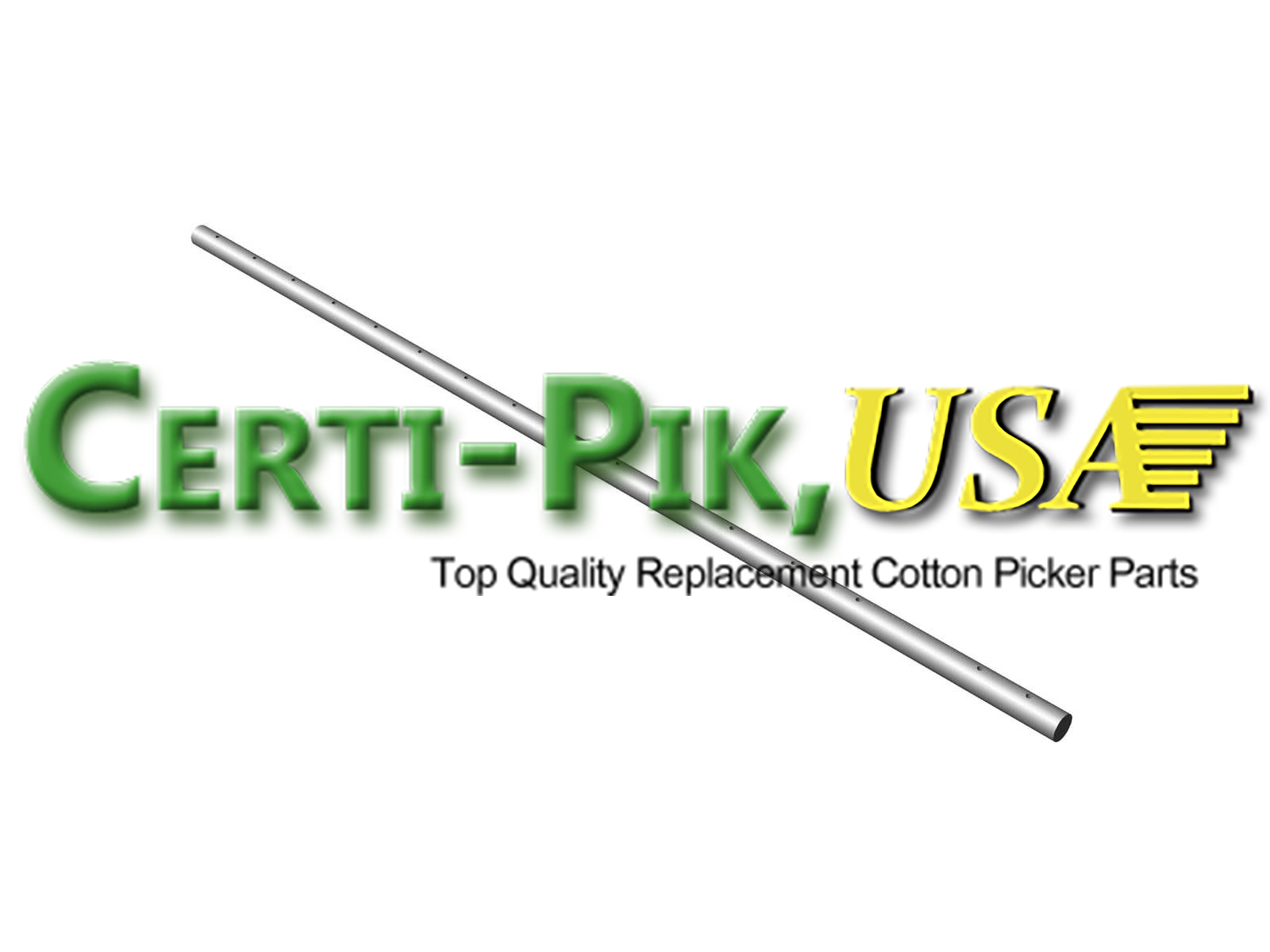 Description: DRIVE SHAFT – 14 SPINDLE – 1/8″ PIN HOLES IN GEARS

OEM Part: N114199

Section: Picking Unit System

John Deere Spindle Drive Shaft Assembly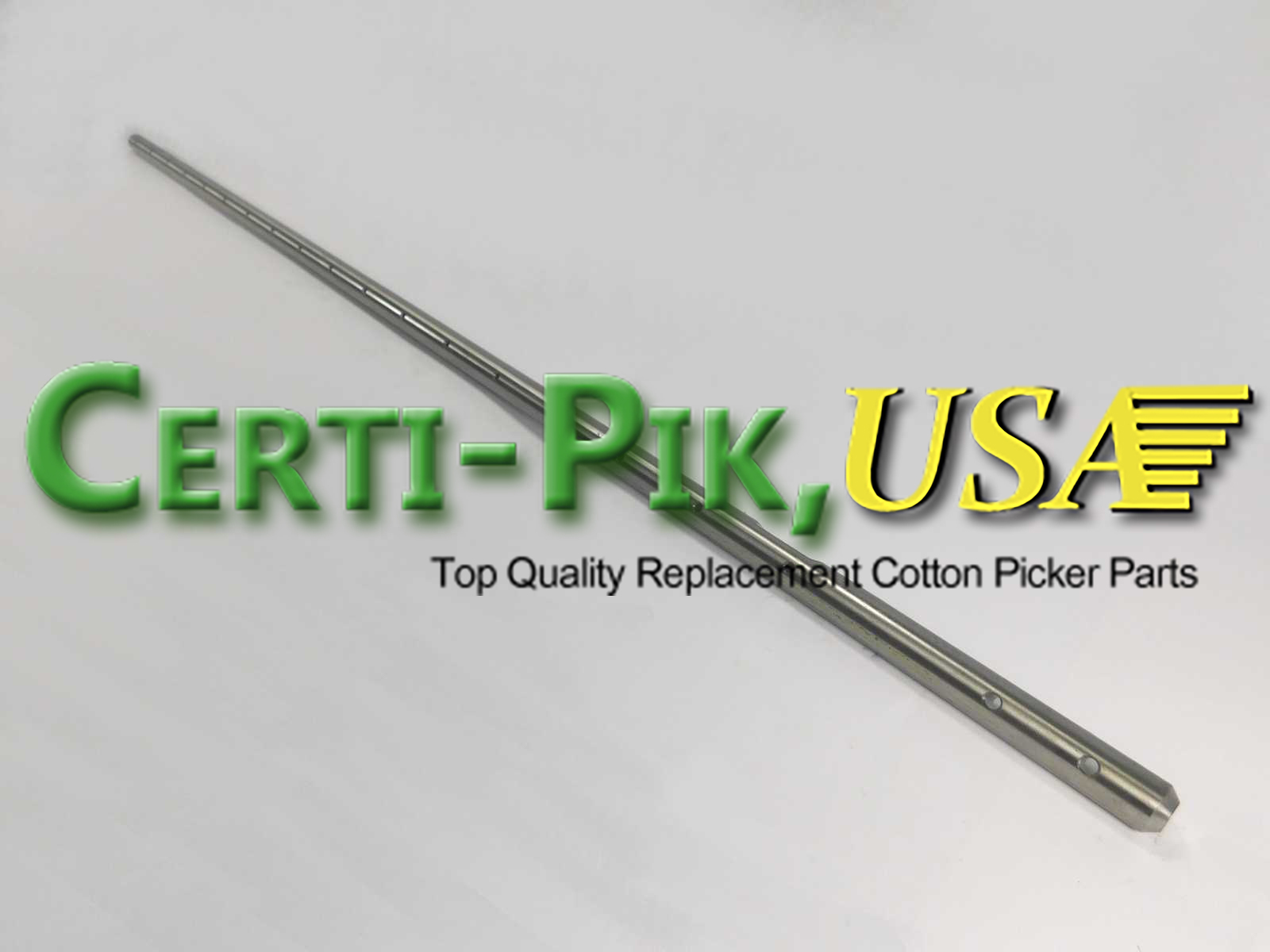 Description: DRIVE SHAFT – 18 SPINDLE – 1/8″ PIN HOLES IN GEARS (9900-9976)

OEM Part: N278037

Section: Picking Unit System

John Deere Spindle Drive Shaft Assembly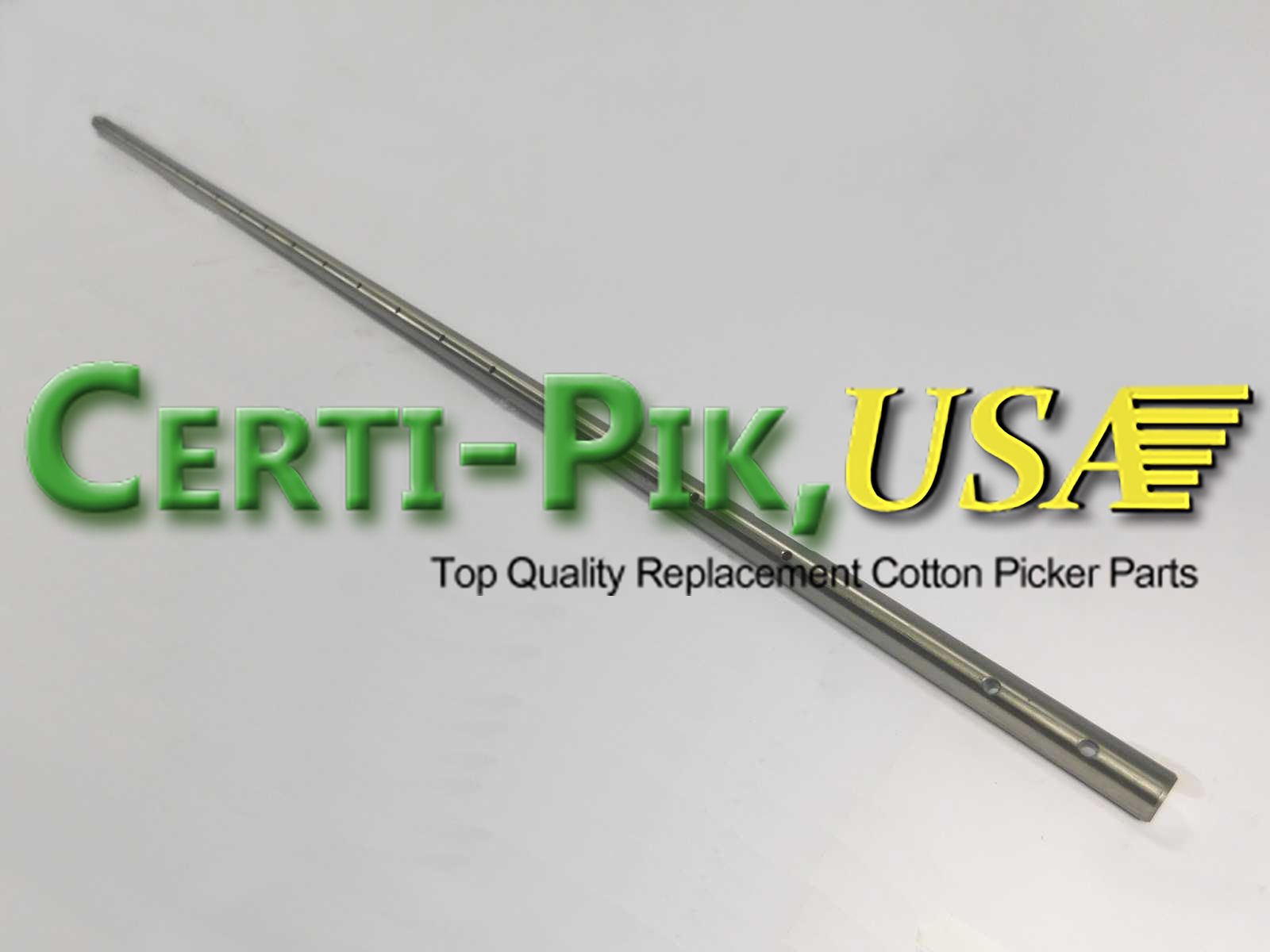 Description: DRIVE SHAFT – 20 SPINDLE – 1/8″ PIN HOLES IN GEARS (9900-9976)

OEM Part: N275212

Section: Picking Unit System

John Deere Spindle Drive Shaft Assembly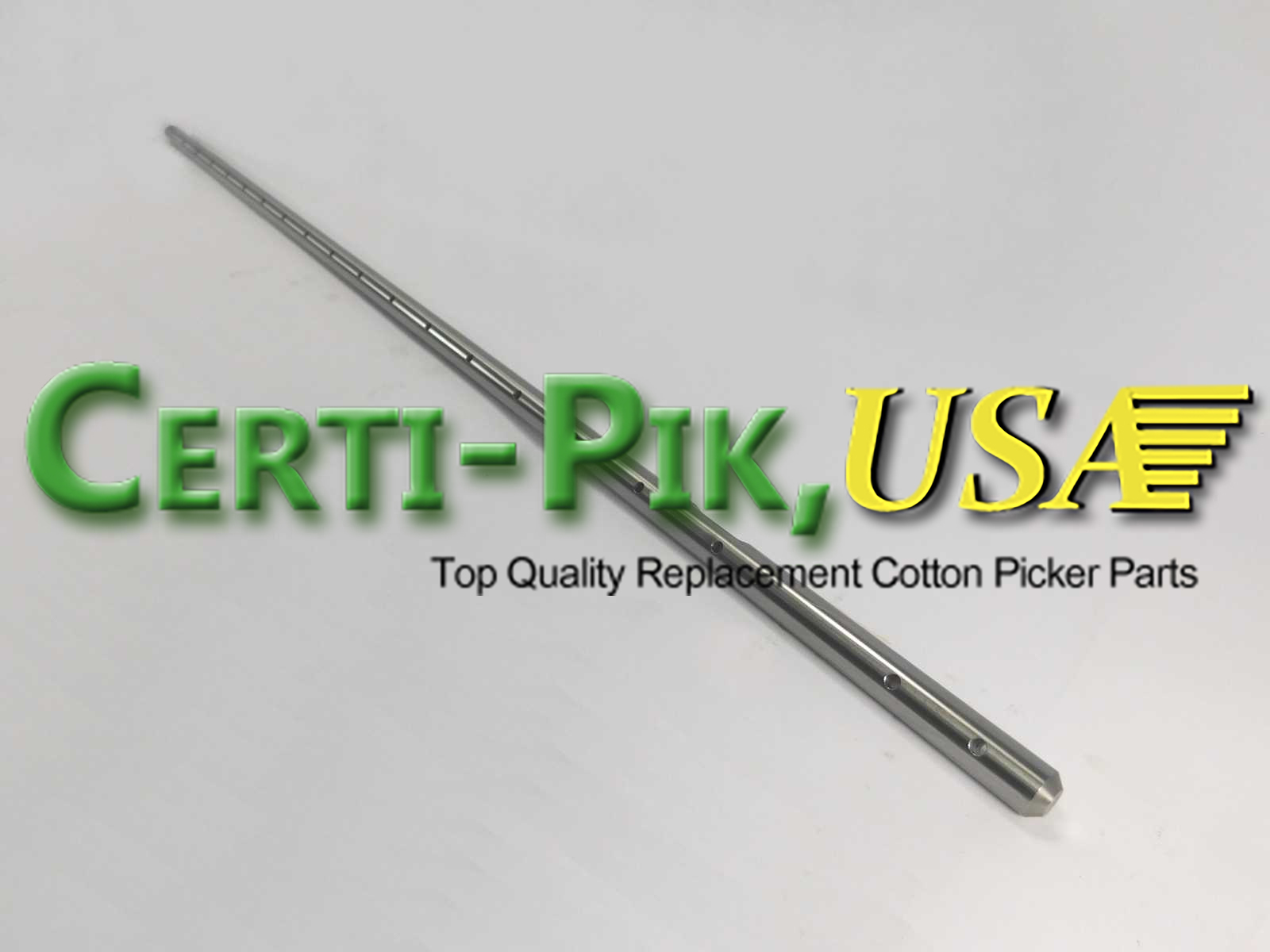 Description: DRIVE SHAFT – PRO 12 – 18 SPINDLE – 5/32″ PIN HOLES IN GEAR (9970-CP690)

OEM Part: N371720

Section: Picking Unit System

John Deere Spindle Drive Shaft Assembly
Description: DRIVE SHAFT – PRO 16 – 20 SPINDLE – 5/32″ PIN HOLES IN GEAR (9976-CP770)

OEM Part: N371572

Section: Picking Unit System

John Deere Spindle Drive Shaft Assembly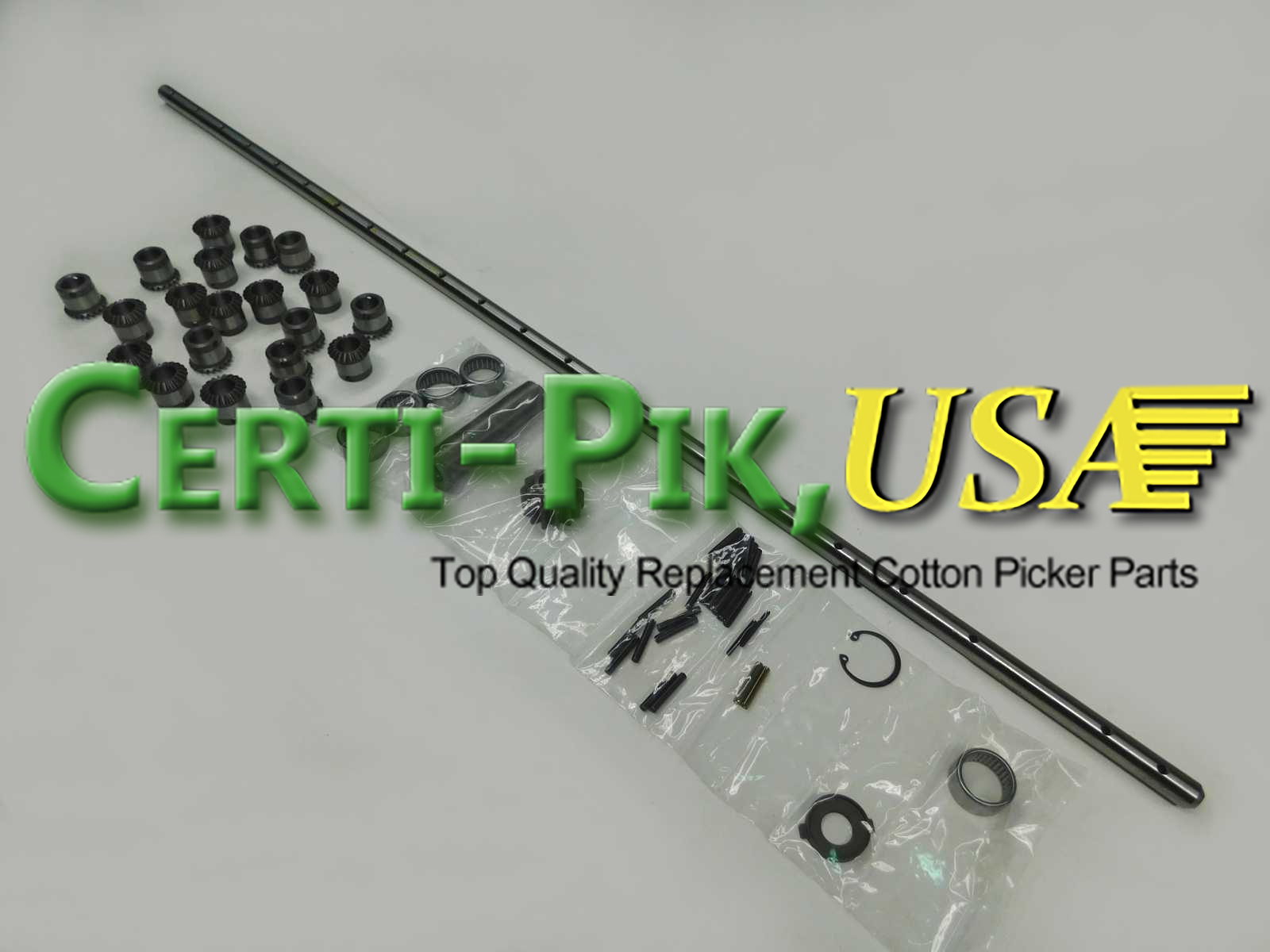 Description: ** KIT ** 20 SPINDLE (PRO) DRIVE SHAFT ( NOT ASSEMBLED ) – 5/32 GEAR & SHAFT HOLES

OEM Part: AN276737

Section: Picking Unit System

John Deere Spindle Drive Shaft Assembly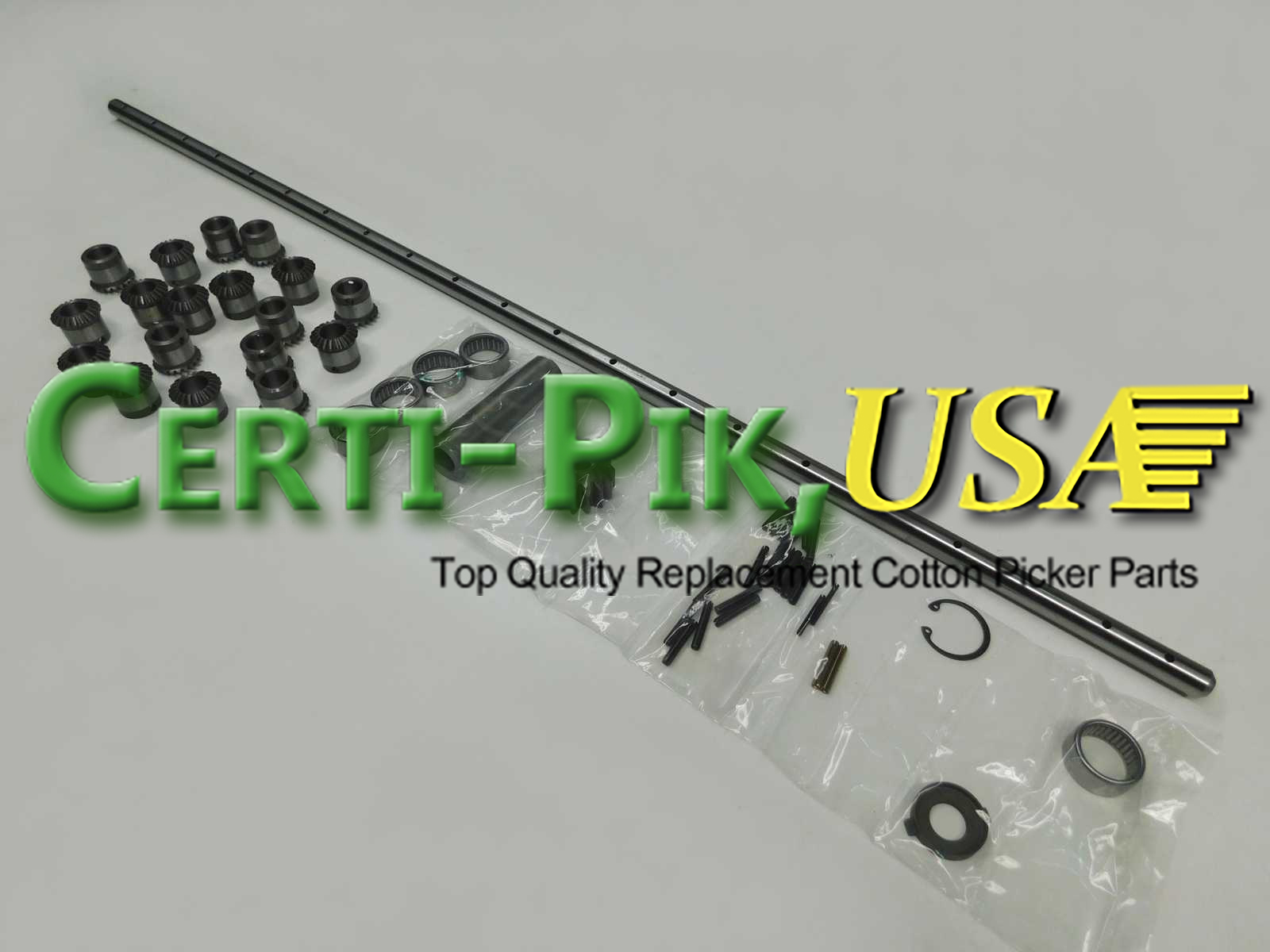 Description: ** KIT ** 18 SPINDLE (PRO) DRIVE SHAFT ( NOT ASSEMBLED ) – 5/32 GEAR & SHAFT HOLES

OEM Part: AN276743

Section: Picking Unit System

John Deere Spindle Drive Shaft Assembly



---
John Deere 9900-CP690 Cam Tracks and Drum Head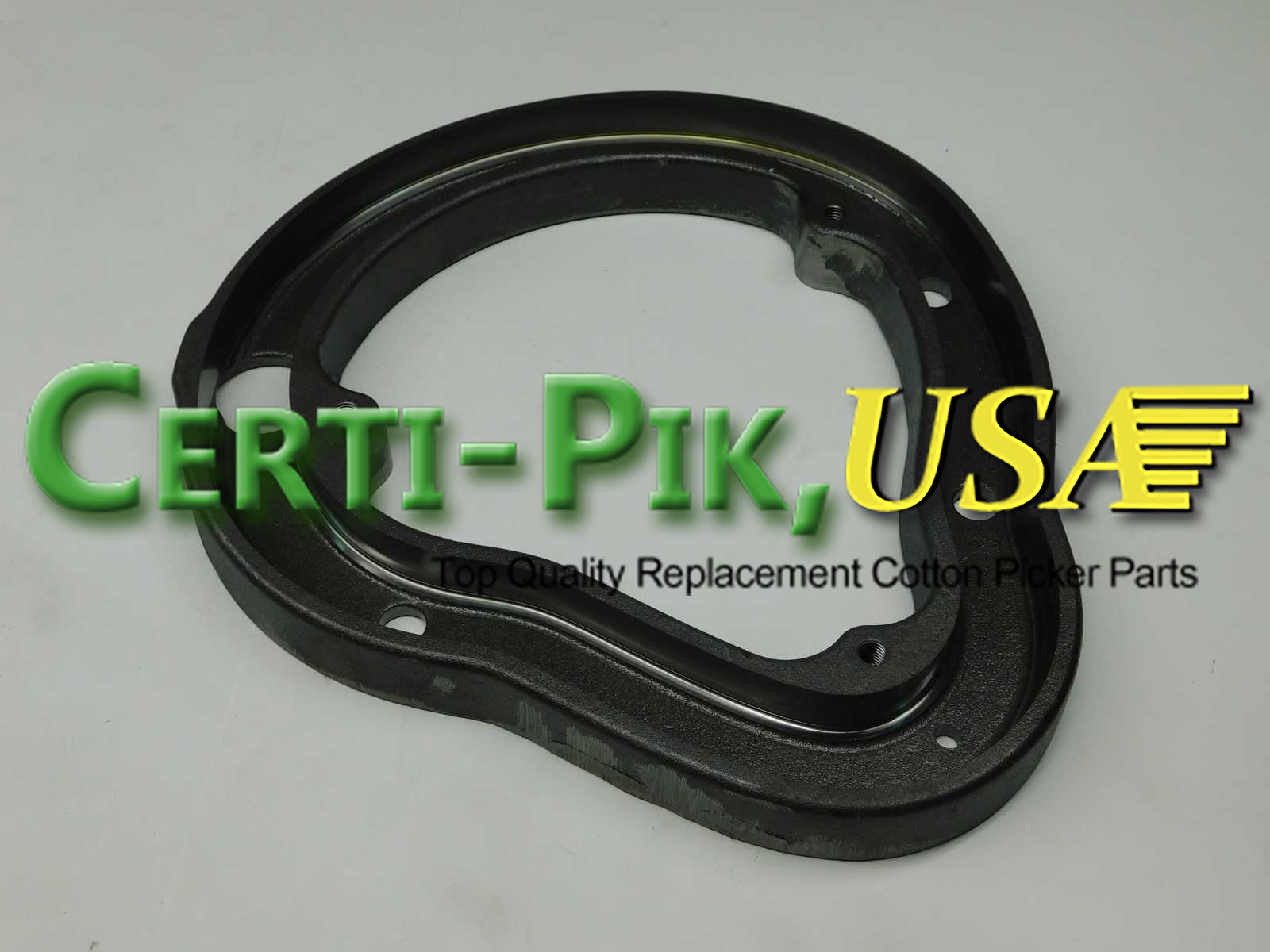 Description: CAM TRACK – PRO-16 FRONT – BALER (7760-CP770)

OEM Part: N378790

Section: Picking Unit System

John Deere 9900-CP770 Cam Tracks and Drum Head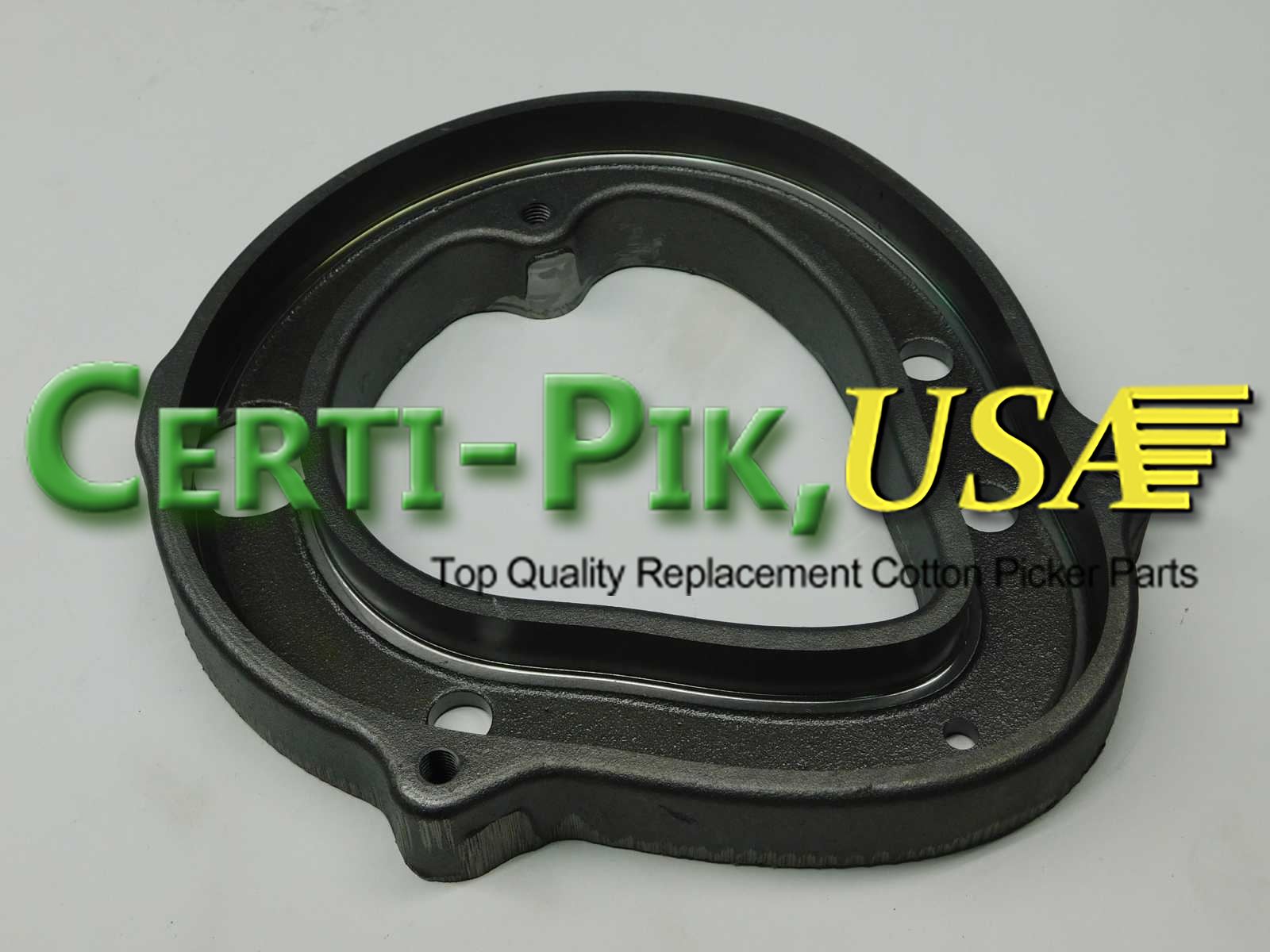 Description: CAM TRACK – PRO-12, & PRO-16 REAR – BALER (7760-CP770)

OEM Part: N378789

Section: Picking Unit System

John Deere 9900-CP770 Cam Tracks and Drum Head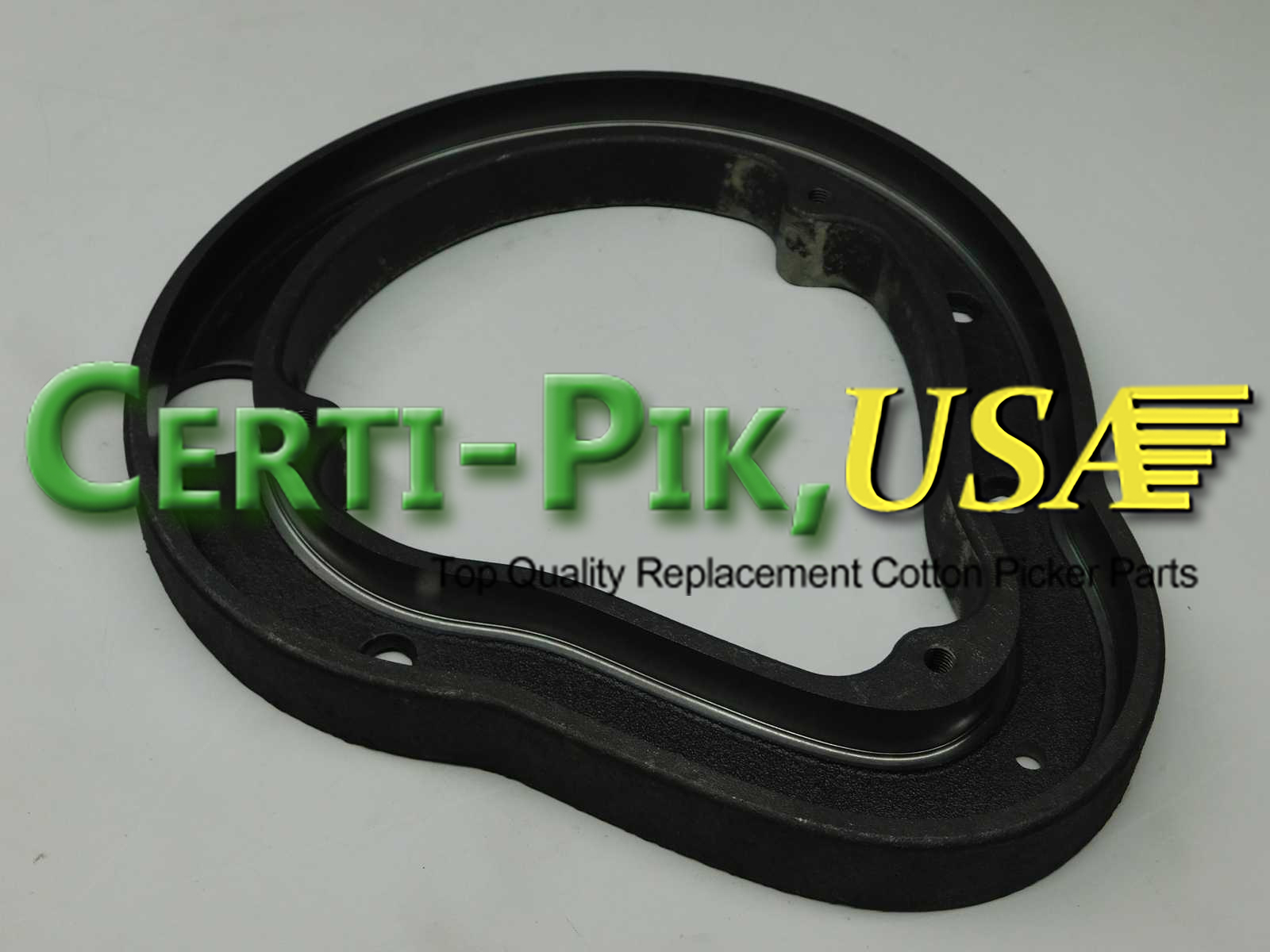 Description: CAM TRACK – PRO-16 FRONT (9935-9996)

OEM Part: N273016

Section: Picking Unit System

John Deere 9900-CP690 Cam Tracks and Drum Head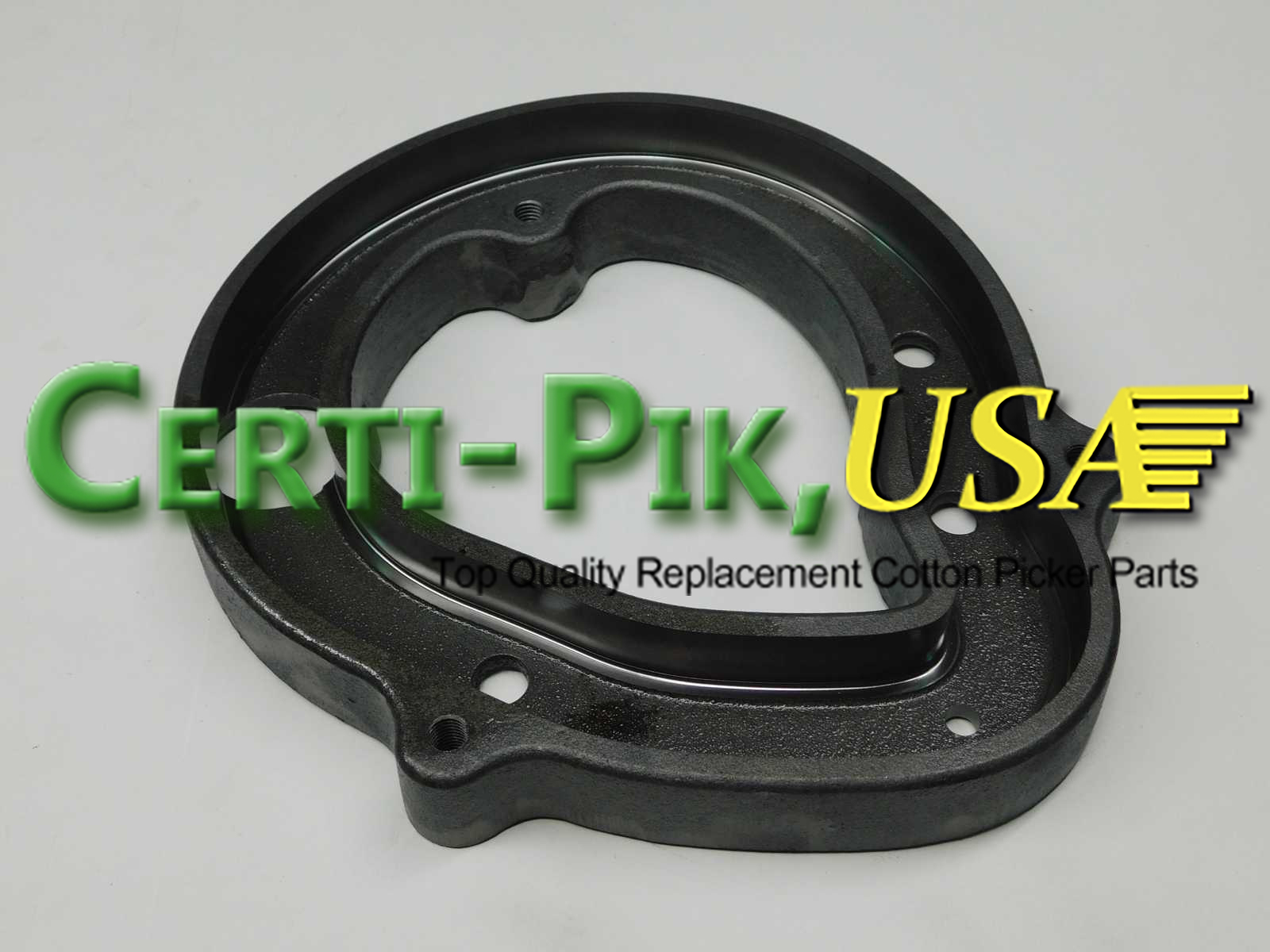 Description: CAM TRACK – PRO-12, & PRO-16 REAR (9935-9996)

OEM Part: N273012

Section: Picking Unit System

John Deere 9900-CP690 Cam Tracks and Drum Head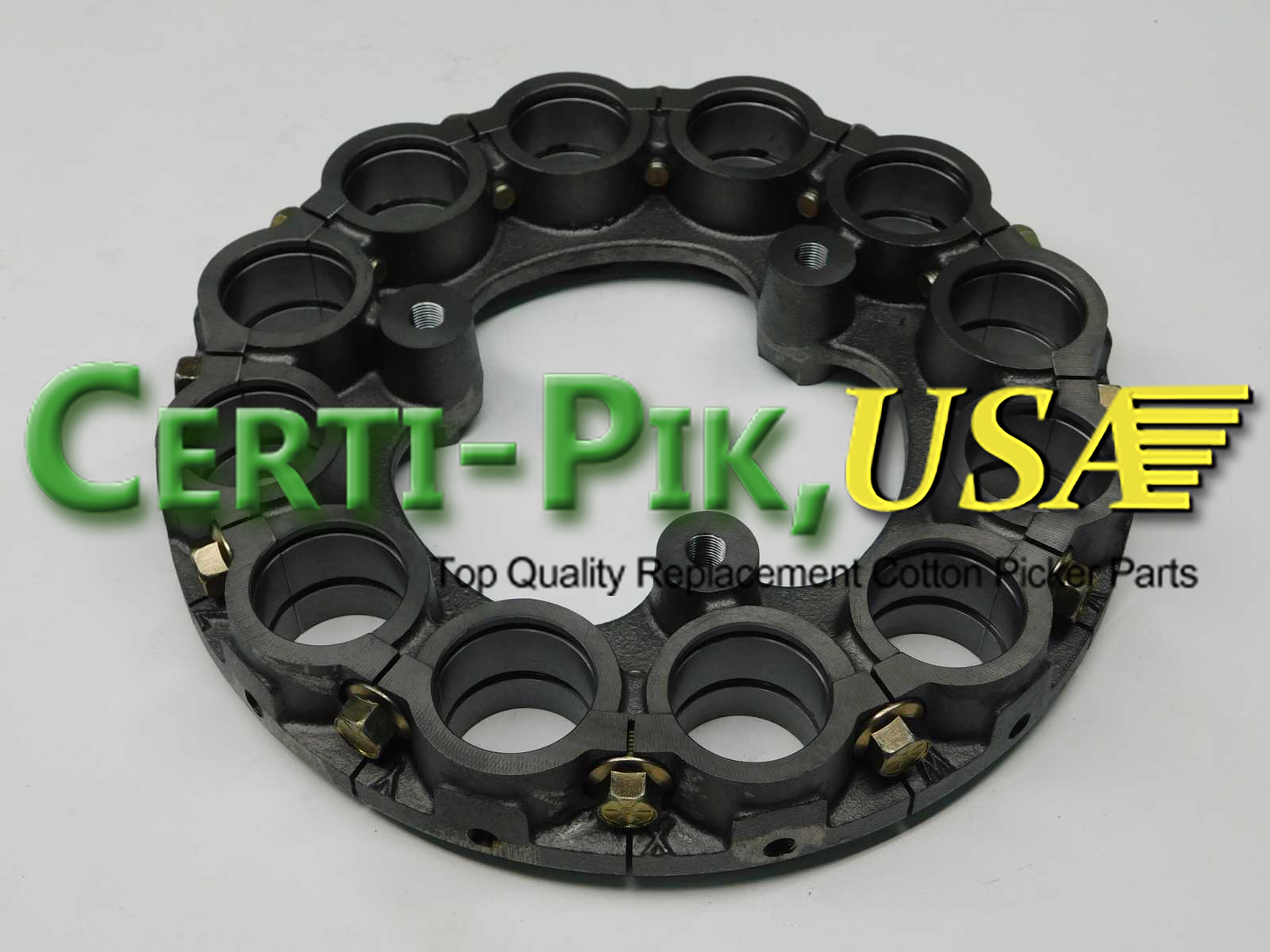 Description: DRUM HEAD – 12-BAR, WITH LUBE HOLES IN CAPS (9900-9910)

OEM Part: AN115235

Section: Picking Unit System

John Deere 9900-CP690 Cam Tracks and Drum Head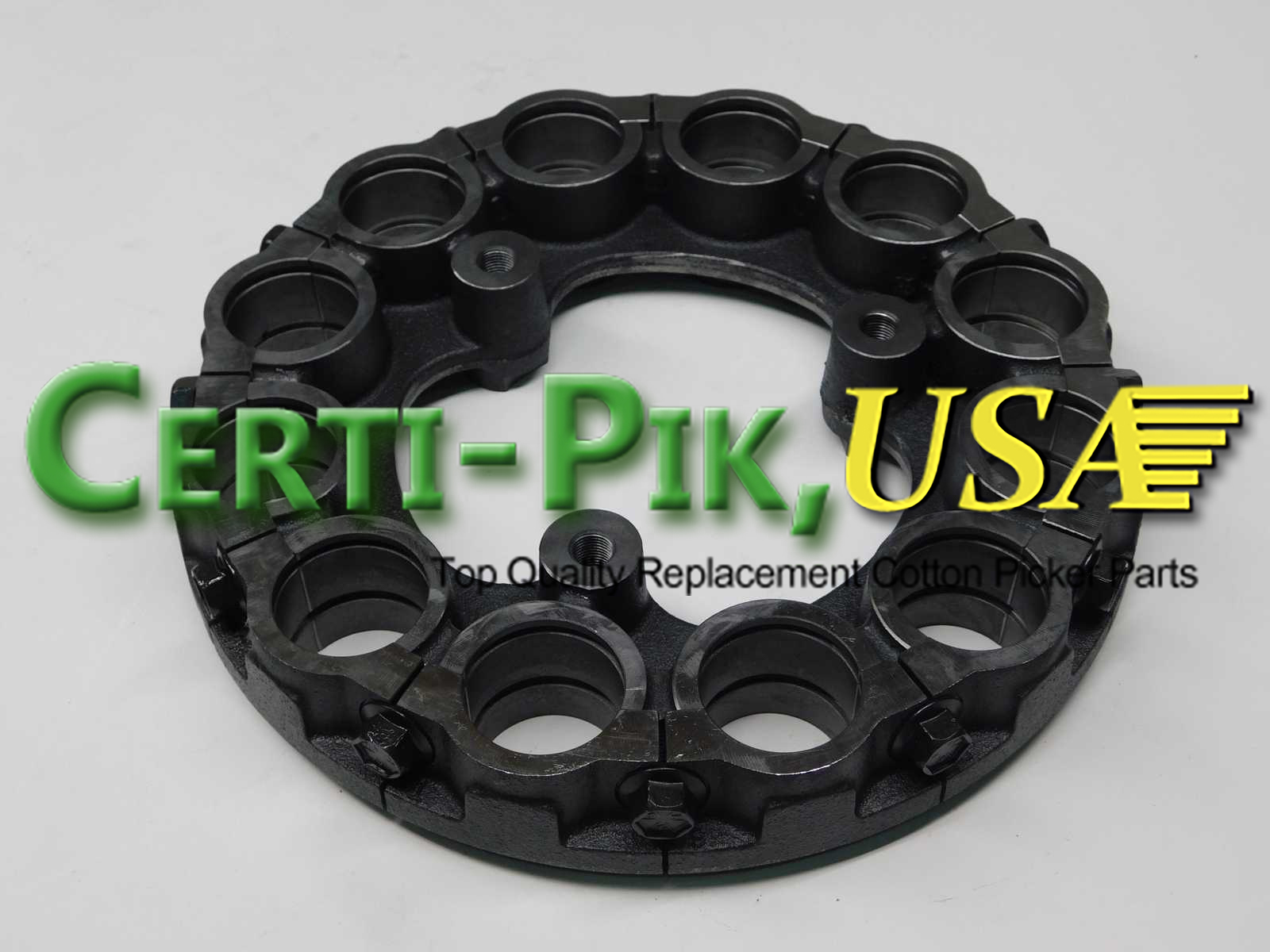 Description: DRUM HEAD – 12-BAR, 9900-9965 (SUBS AN191022 & AN115235)

OEM Part: AN272570

Section: Picking Unit System

John Deere 9900-CP690 Cam Tracks and Drum Head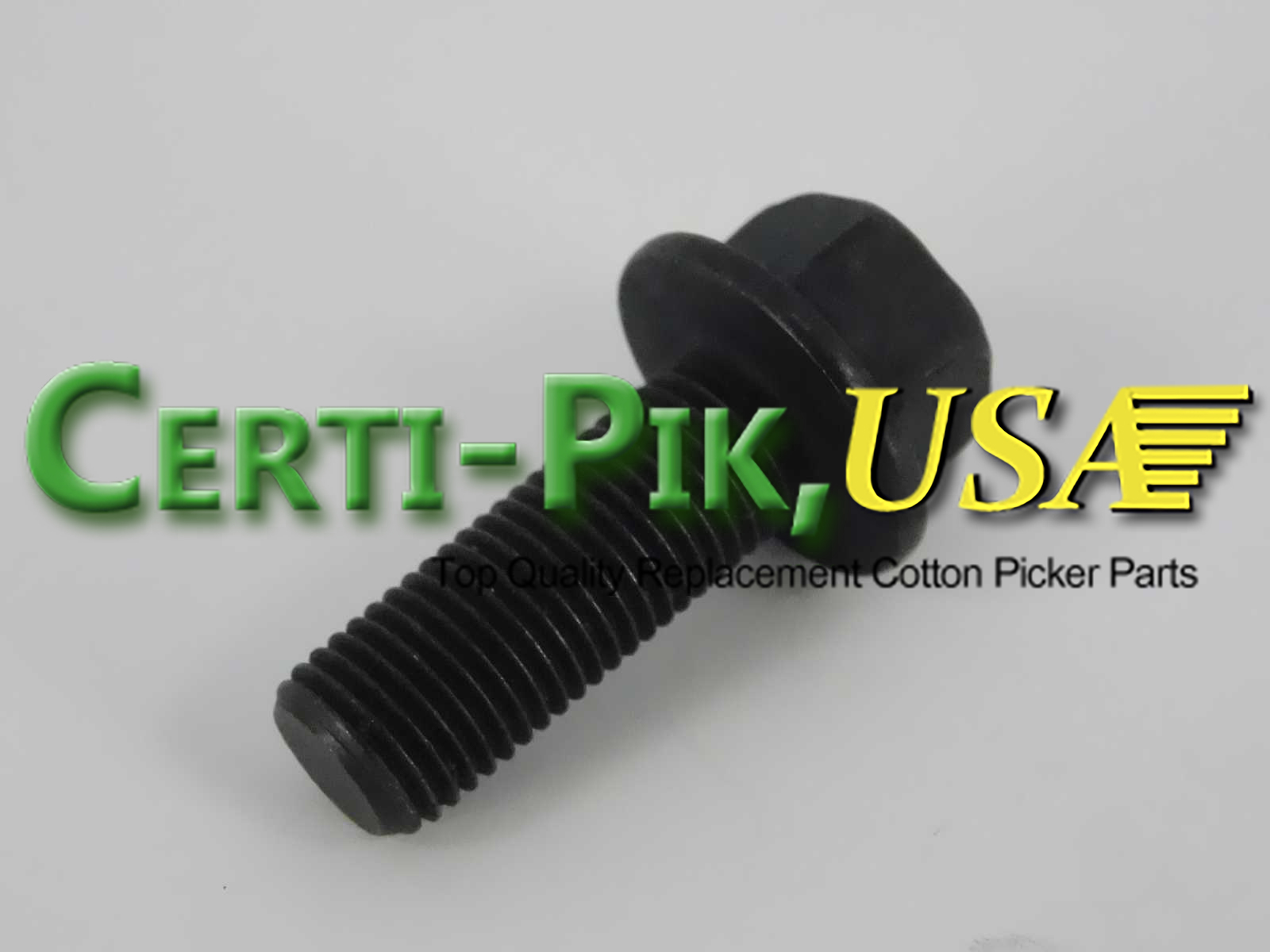 Description: BOLT – 7/16″ X 1-1/4″ UNF GD8 – SMOOTH HEX FLANGE

OEM Part: 19H3699

Section: Picking Unit System

John Deere 9900-CP690 Cam Tracks and Drum Head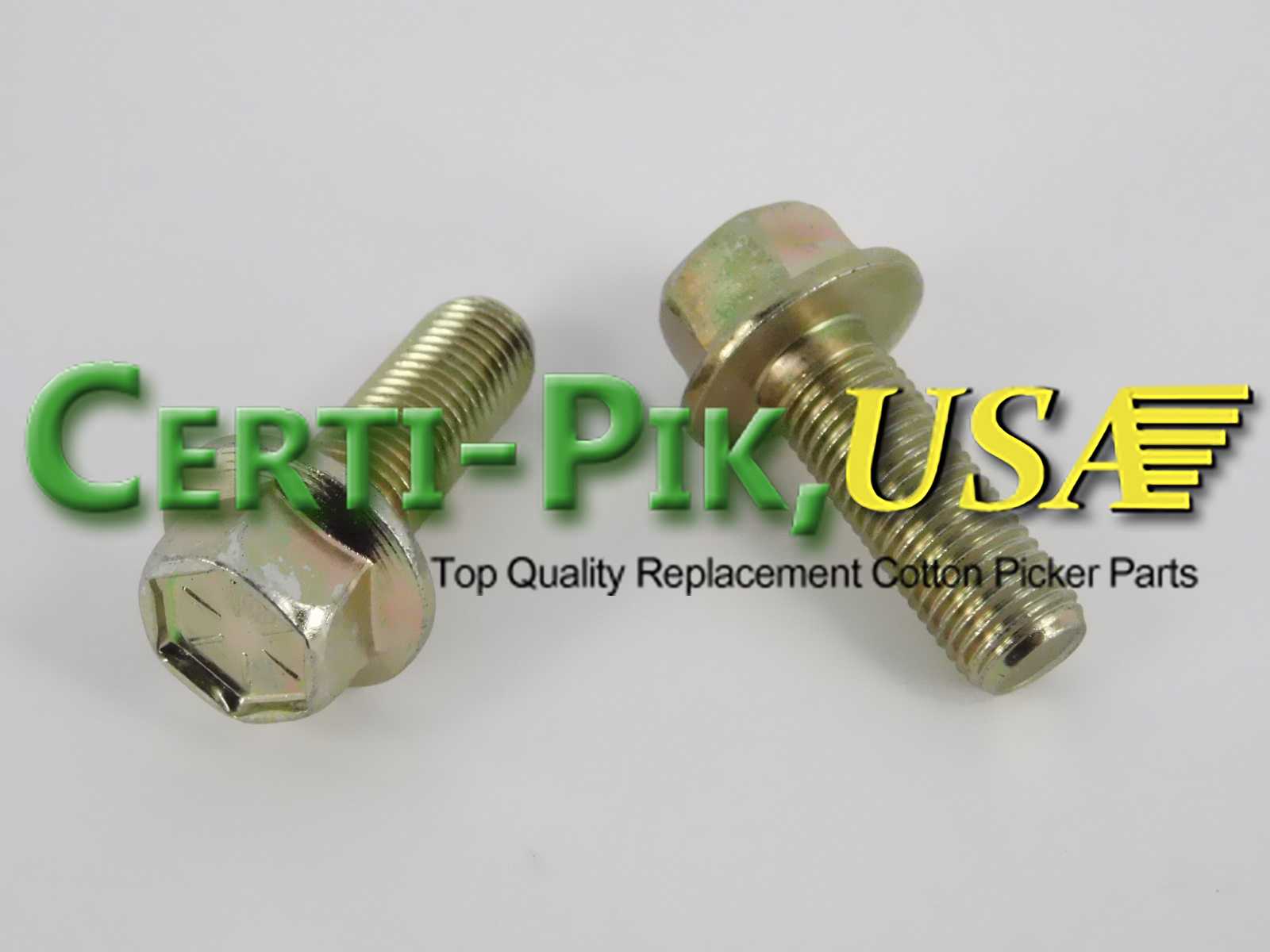 Description: BOLT – 7/16″ X 1-1/4″ UNF GD8 – SMOOTH HEX FLANGE – YELLOW PLATING

OEM Part: 03699PP

Section: Picking Unit System

John Deere 9900-CP690 Cam Tracks and Drum Head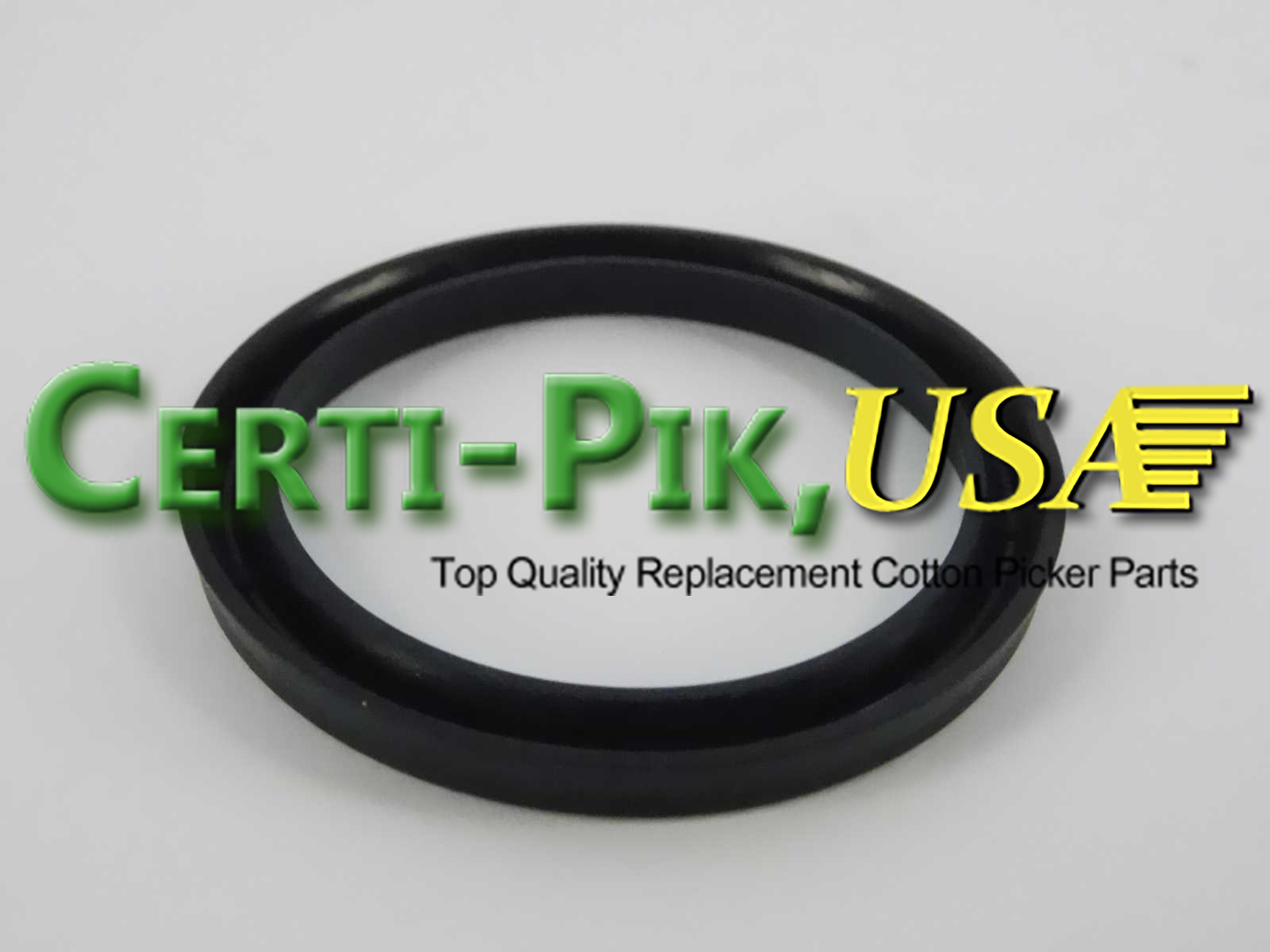 Description: SEAL – UPPER CUP (NOT USED ON PRO BARS)

OEM Part: N119589

Section: Picking Unit System

John Deere 9900-CP690 Cam Tracks and Drum Head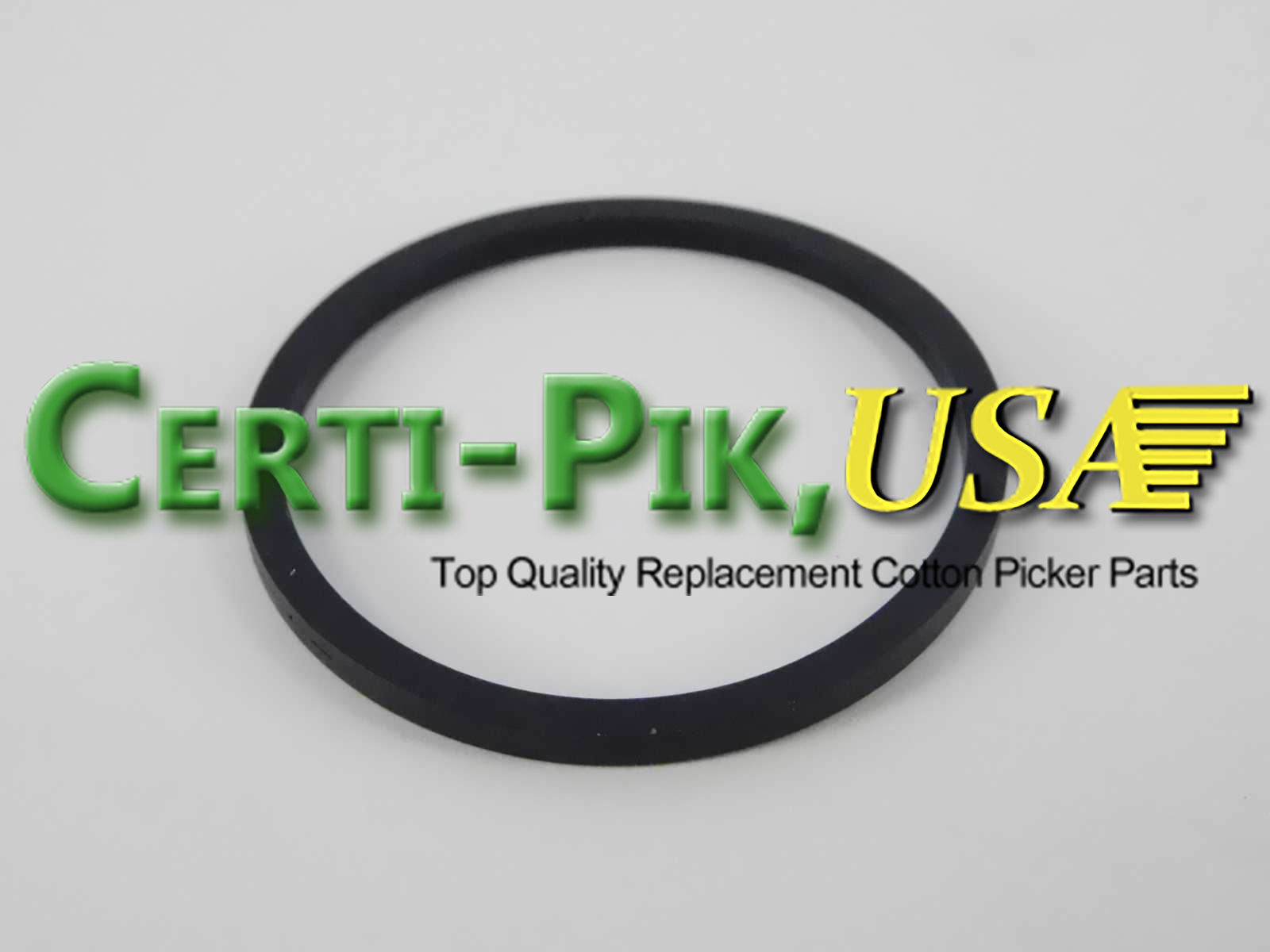 Description: SEAL – LOWER SQUARE (NOT USED ON PRO BARS)

OEM Part: N119581

Section: Picking Unit System

John Deere 9900-CP690 Cam Tracks and Drum Head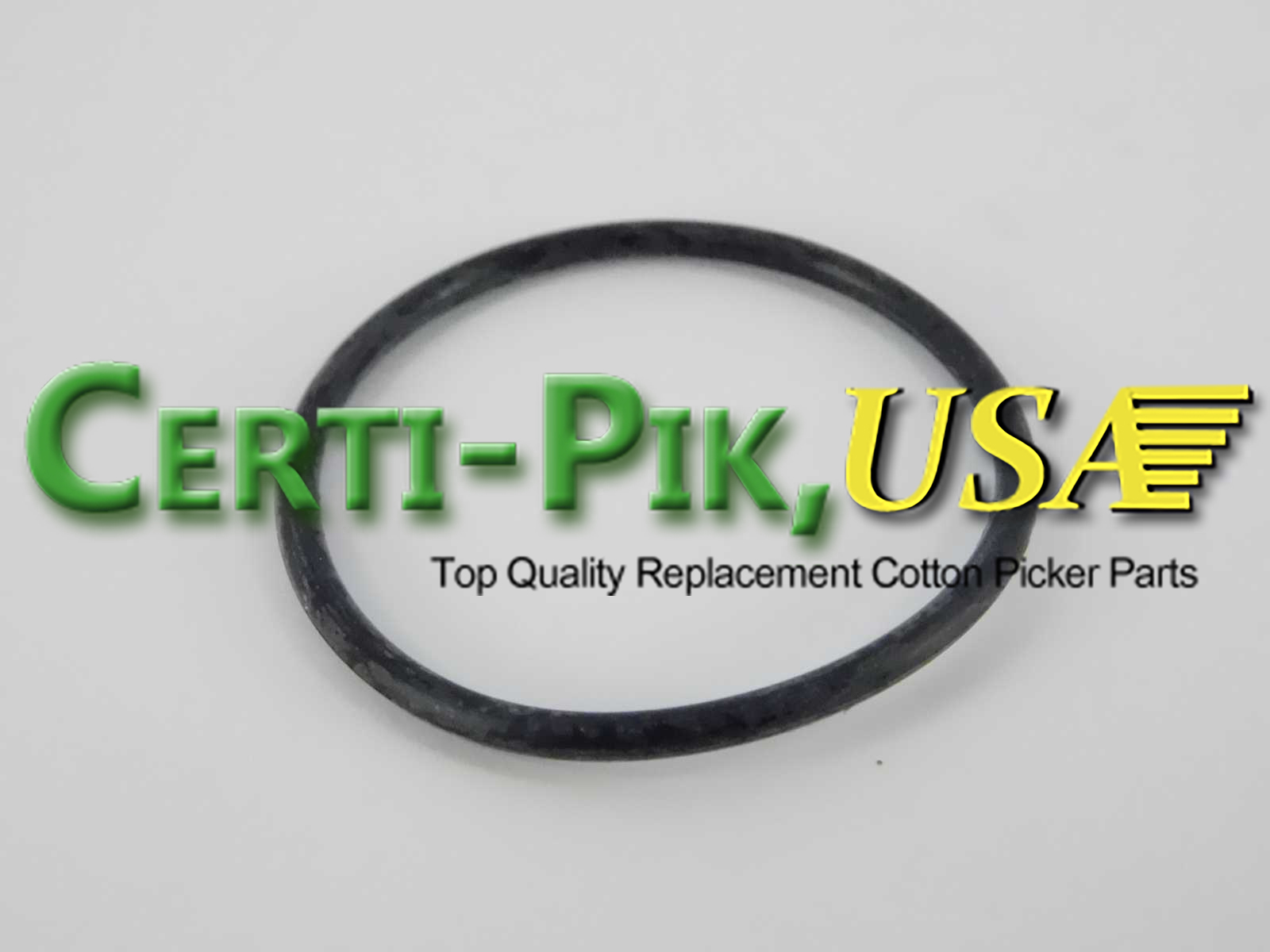 Description: O-RING SEAL – (9900-CP690) (2 USED ON PRO BARS)

OEM Part: T19854

Section: Picking Unit System

John Deere 9900-CP690 Cam Tracks and Drum Head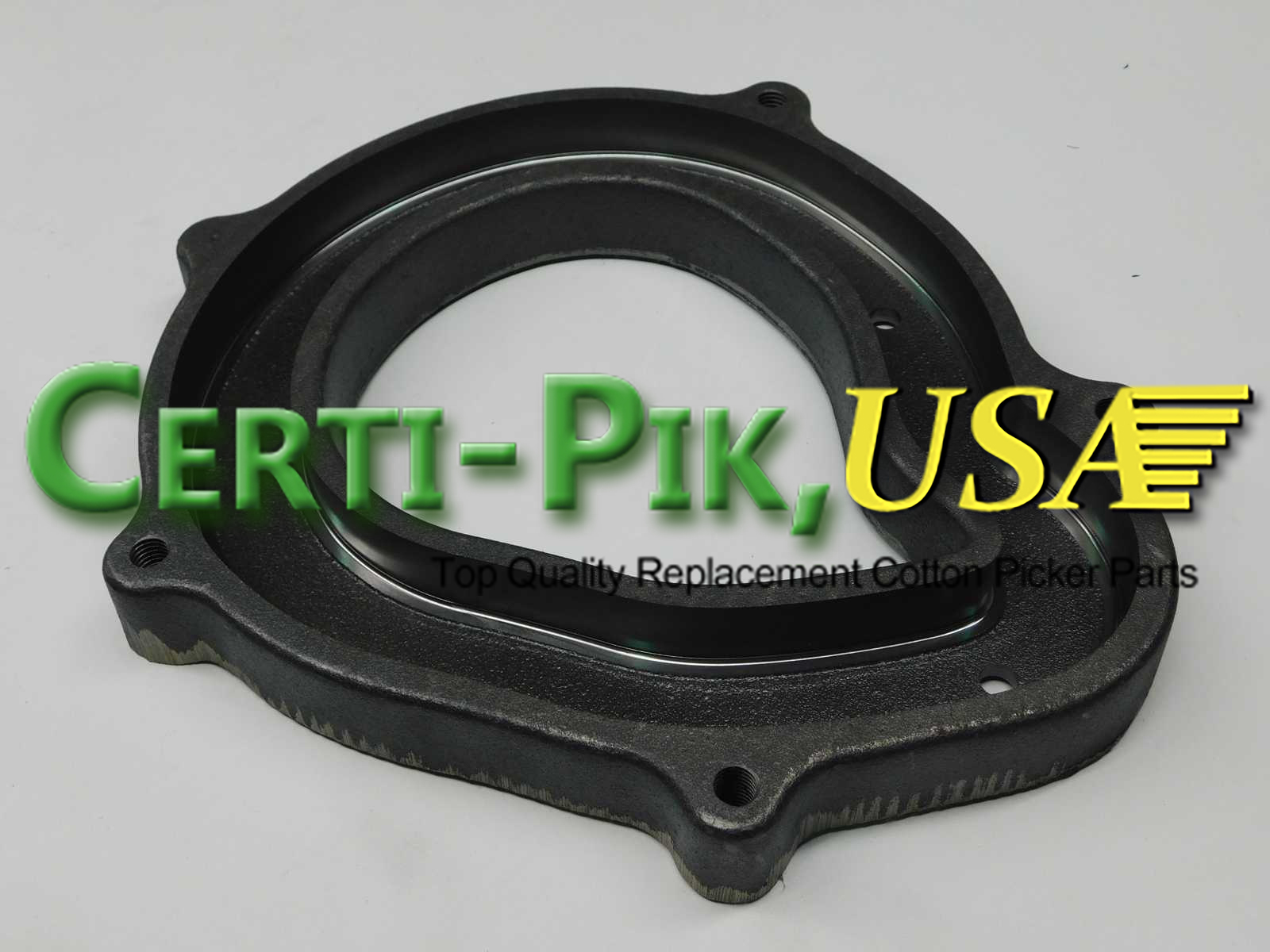 Description: CAM TRACK – 12-BAR IN-LINE UNITS (9935, 9960-9965)

OEM Part: N197910

Section: Picking Unit System

John Deere 9900-CP690 Cam Tracks and Drum Head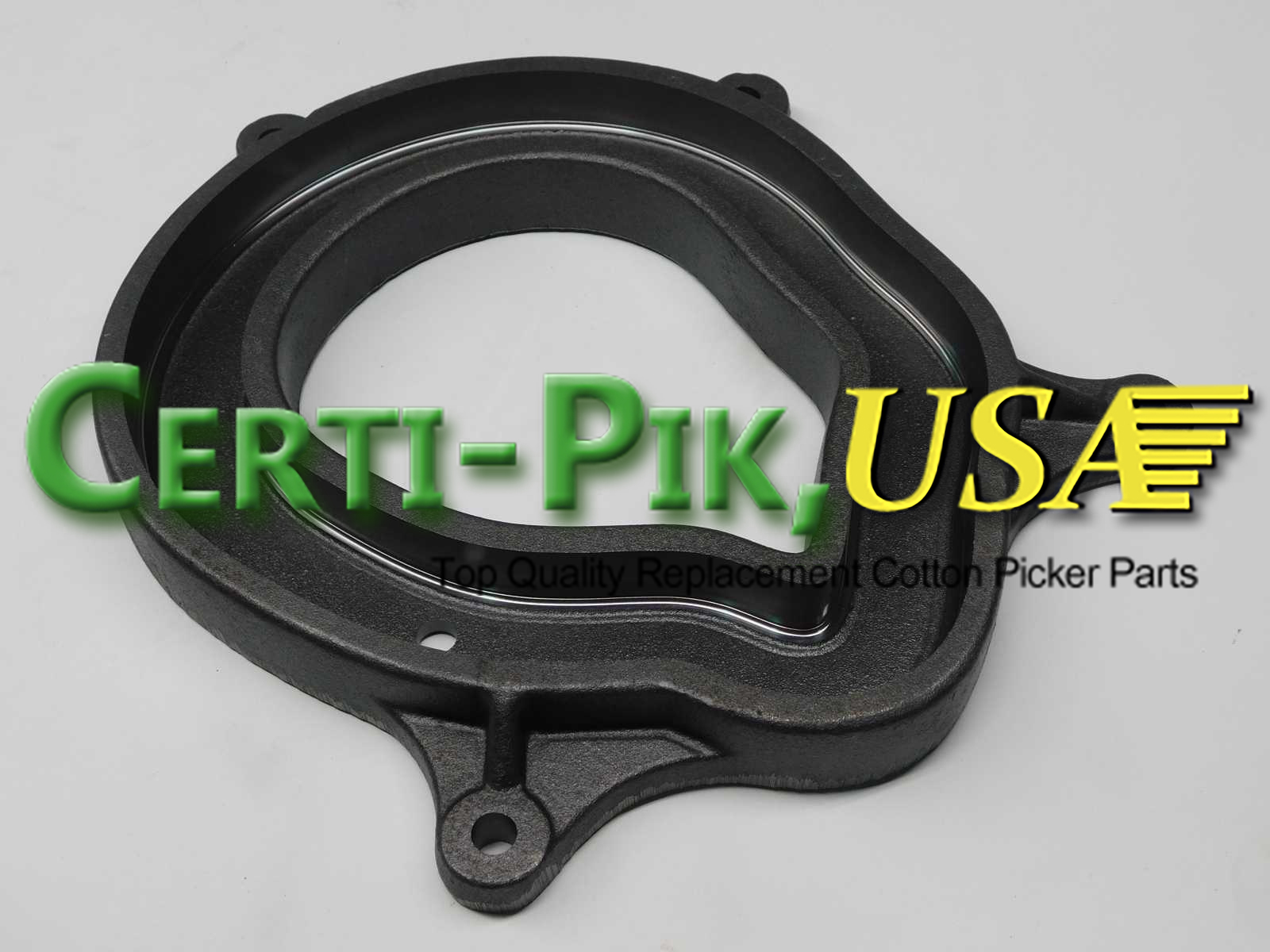 Description: CAM TRACK – R.H. 12-BAR (9900-9950 CONV.)

OEM Part: N190600

Section: Picking Unit System

John Deere 9900-CP690 Cam Tracks and Drum Head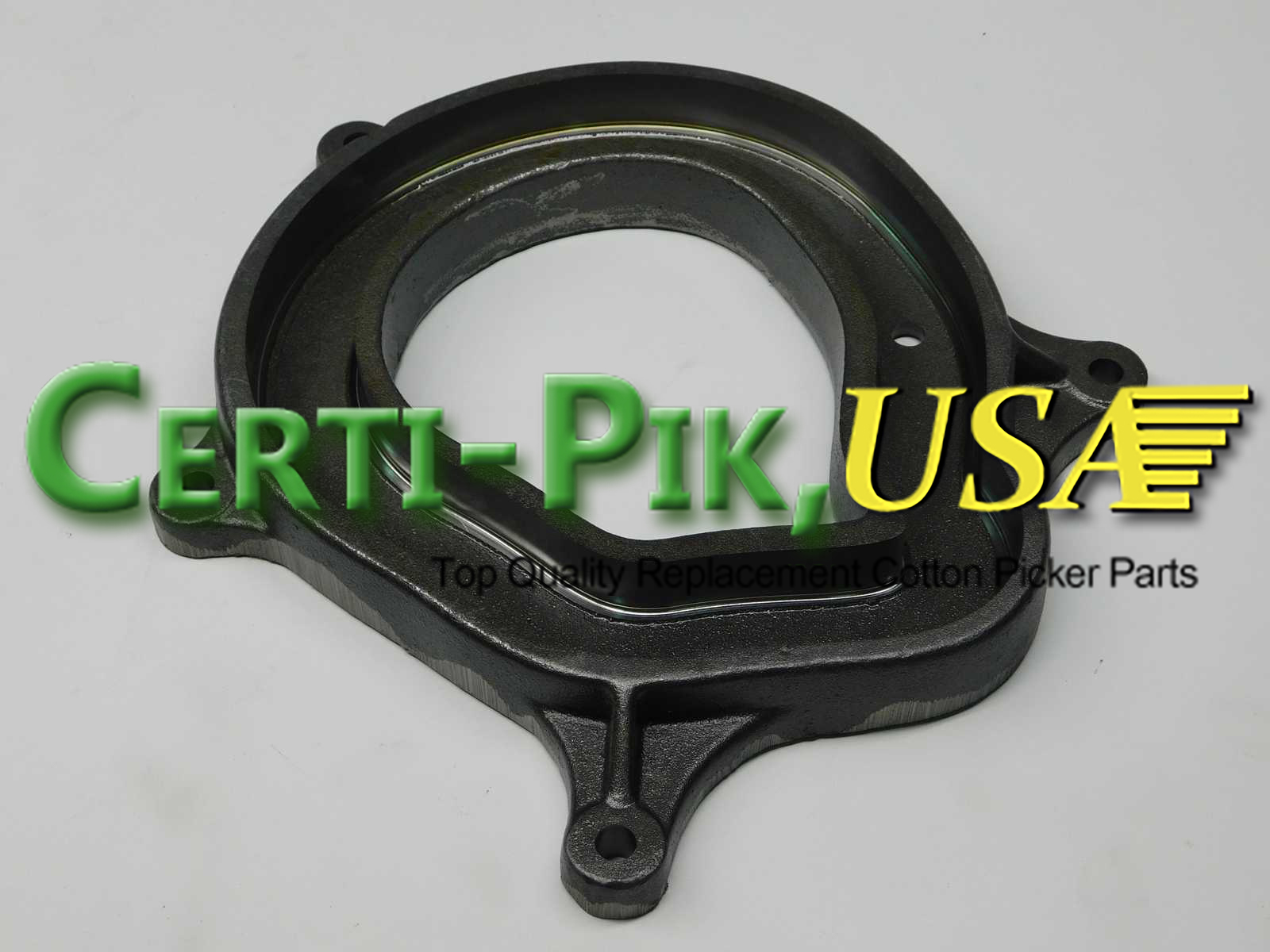 Description: CAM TRACK – L.H. 12-BAR (9900-9950 CONV.)

OEM Part: N190601

Section: Picking Unit System

John Deere 9900-CP690 Cam Tracks and Drum Head



---
John Deere Upper Doffer Adjustment Housing and Sprockets Assembly
Description: NUT – 7/8 – HEX (9900-9965)

OEM Part: 14H852

Section: Picking Unit System

John Deere Upper Doffer Adjustment Housing and Sprockets Assembly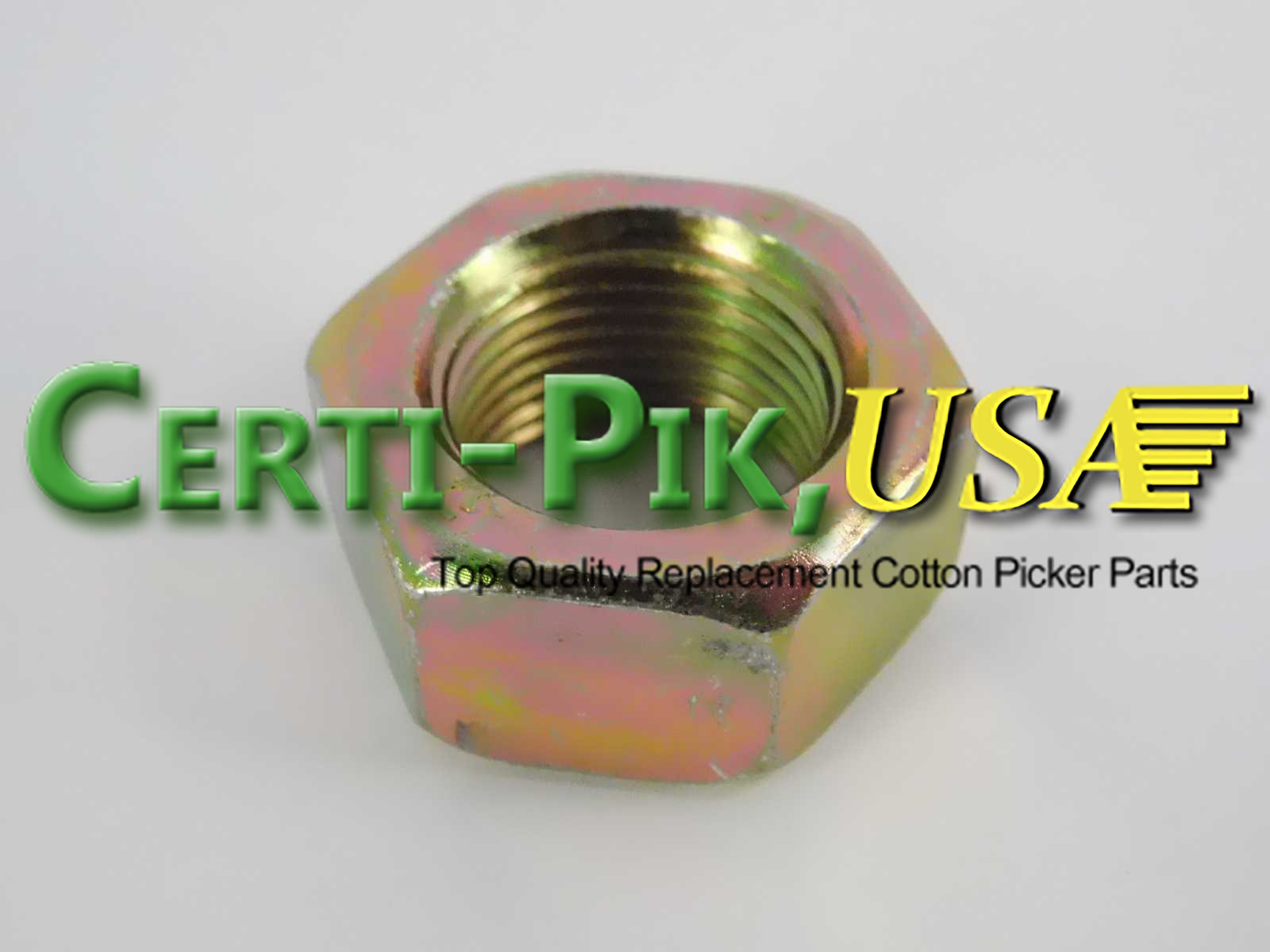 Description: PRO UPPER DOFFER ADJUSTMENT NUT – M24 (9970-7760)

OEM Part: N277146

Section: Picking Unit System

John Deere Upper Doffer Adjustment Housing and Sprockets Assembly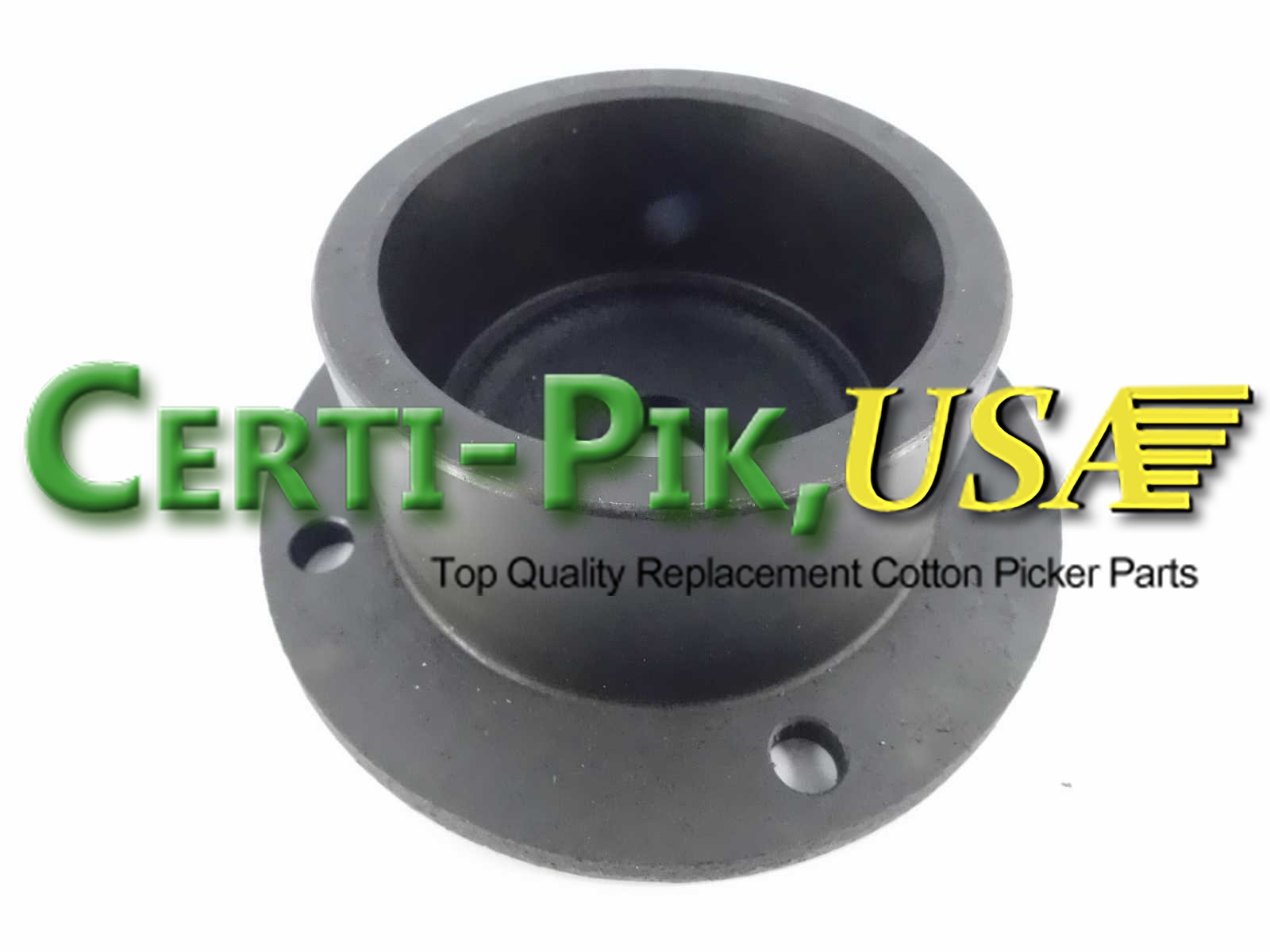 Description: HOUSING – UPPER DOFFER ADJUSTMENT (9900-9965) (ILL.)

OEM Part: N114205

Section: Picking Unit System

John Deere Upper Doffer Adjustment Housing and Sprockets Assembly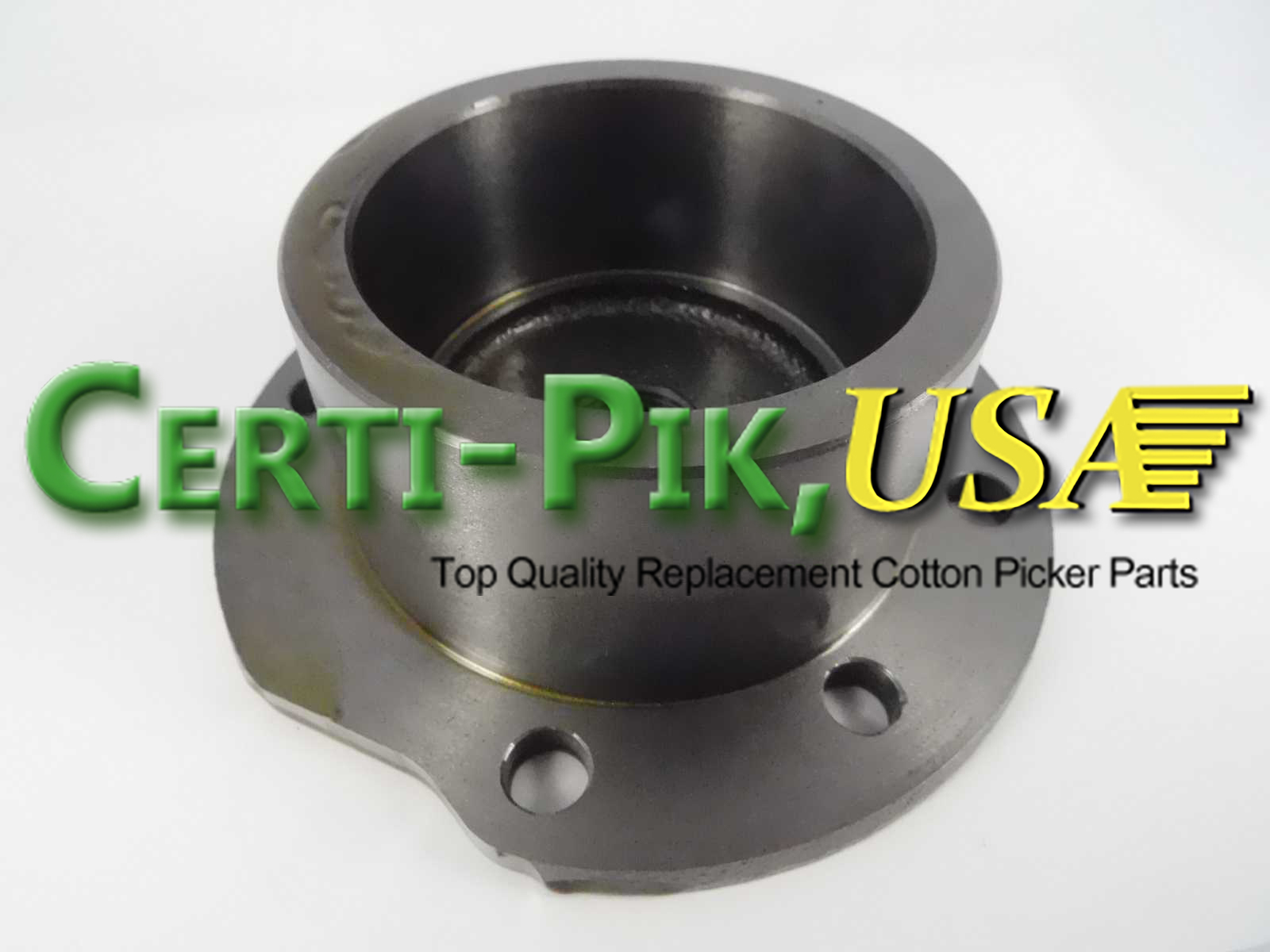 Description: PRO UPPER DOFFER ADJUSTMENT HOUSING (9970-7760)

OEM Part: N275853

Section: Picking Unit System

John Deere Upper Doffer Adjustment Housing and Sprockets Assembly
Description: SHIM – HOUSING – REPLACES # N34164 & N275931

OEM Part: N275931

Section: Picking Unit System

John Deere Upper Doffer Adjustment Housing and Sprockets Assembly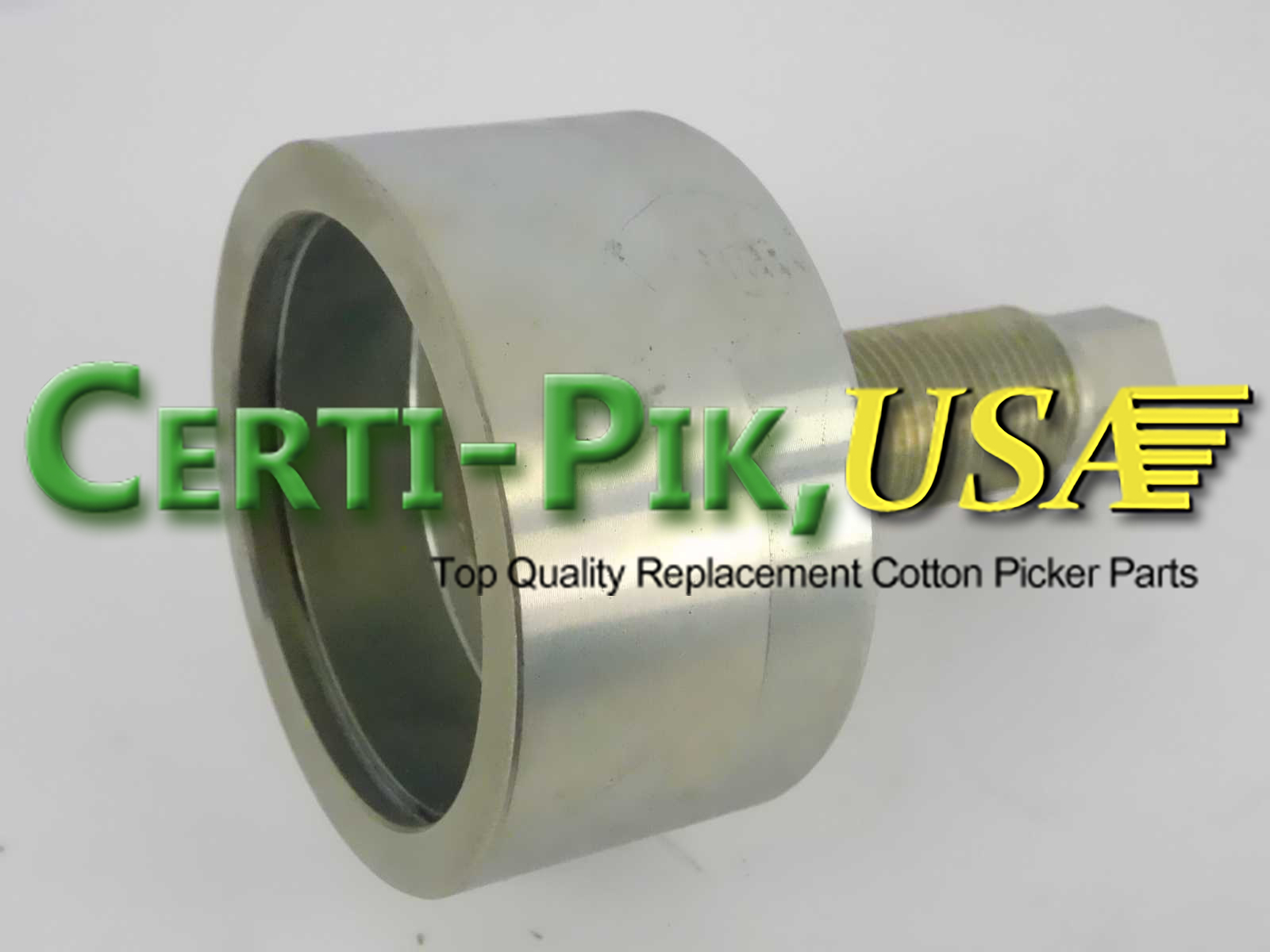 Description: ADJUSTER (9900-9965) (ILL.)

OEM Part: N195284

Section: Picking Unit System

John Deere Upper Doffer Adjustment Housing and Sprockets Assembly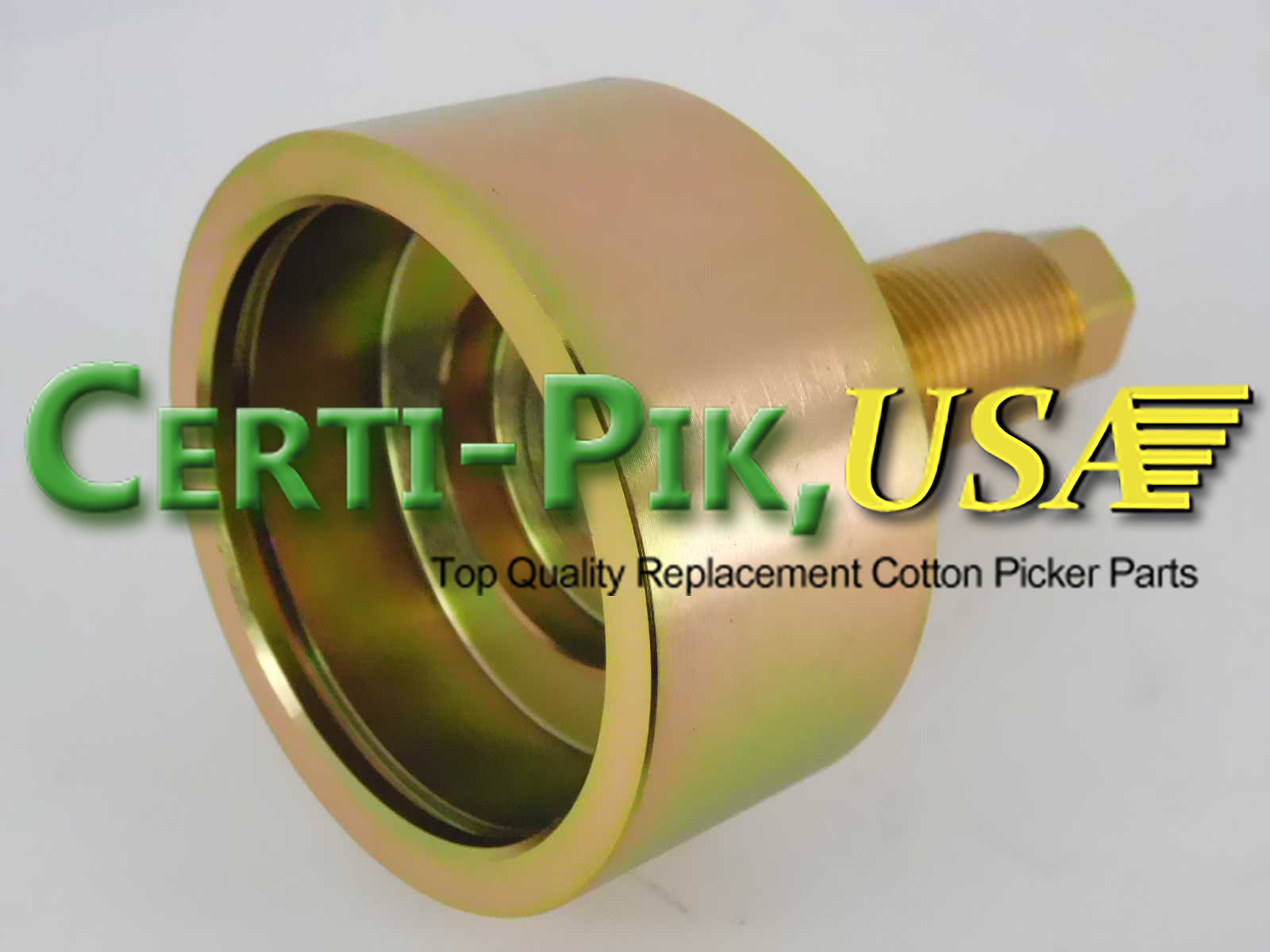 Description: PRO DOFFER ADJUSTER (9970-7760)

OEM Part: N375743

Section: Picking Unit System

John Deere Upper Doffer Adjustment Housing and Sprockets Assembly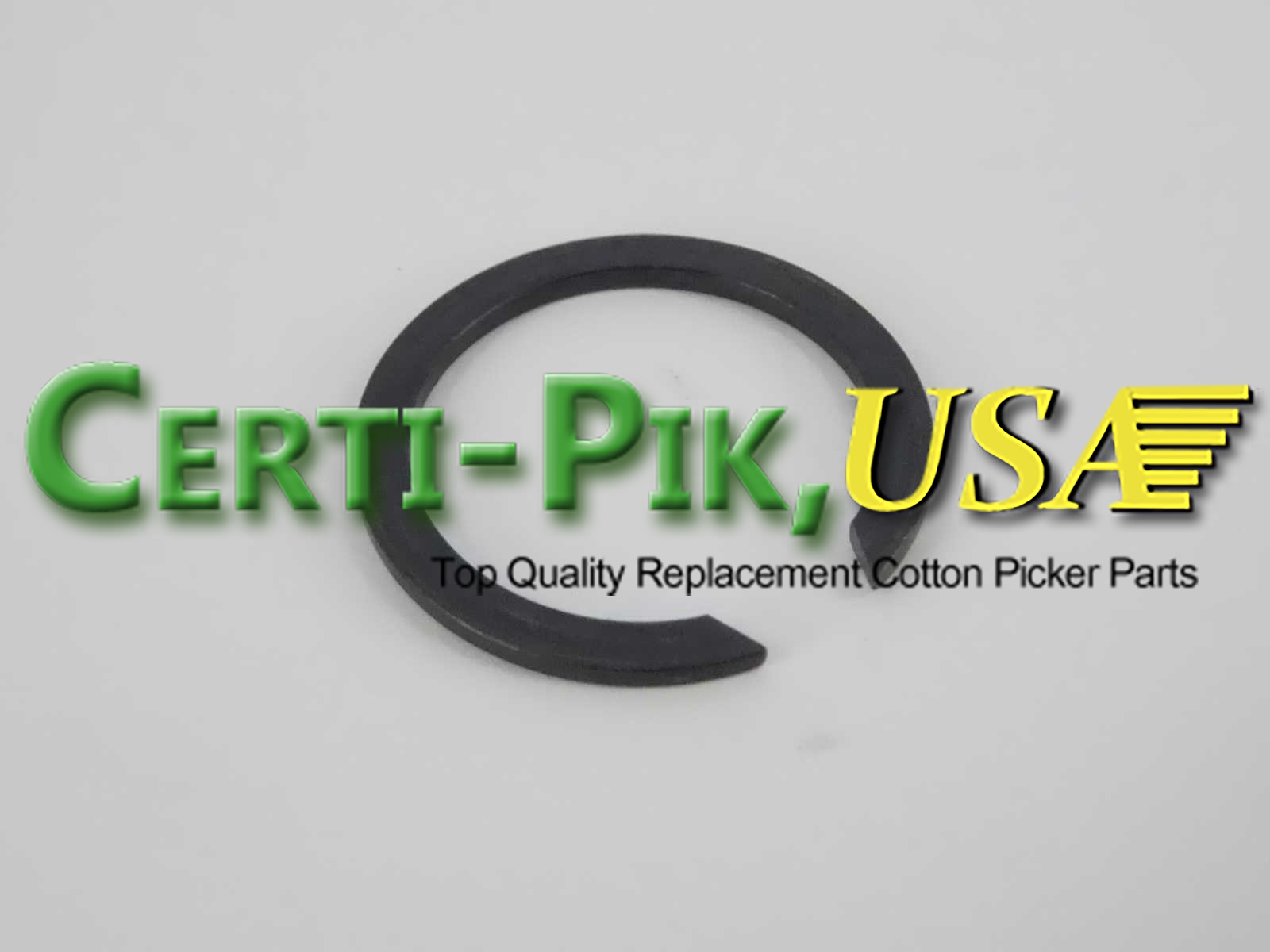 Description: SNAP RING (9900-7760)

OEM Part: P43026

Section: Picking Unit System

John Deere Upper Doffer Adjustment Housing and Sprockets Assembly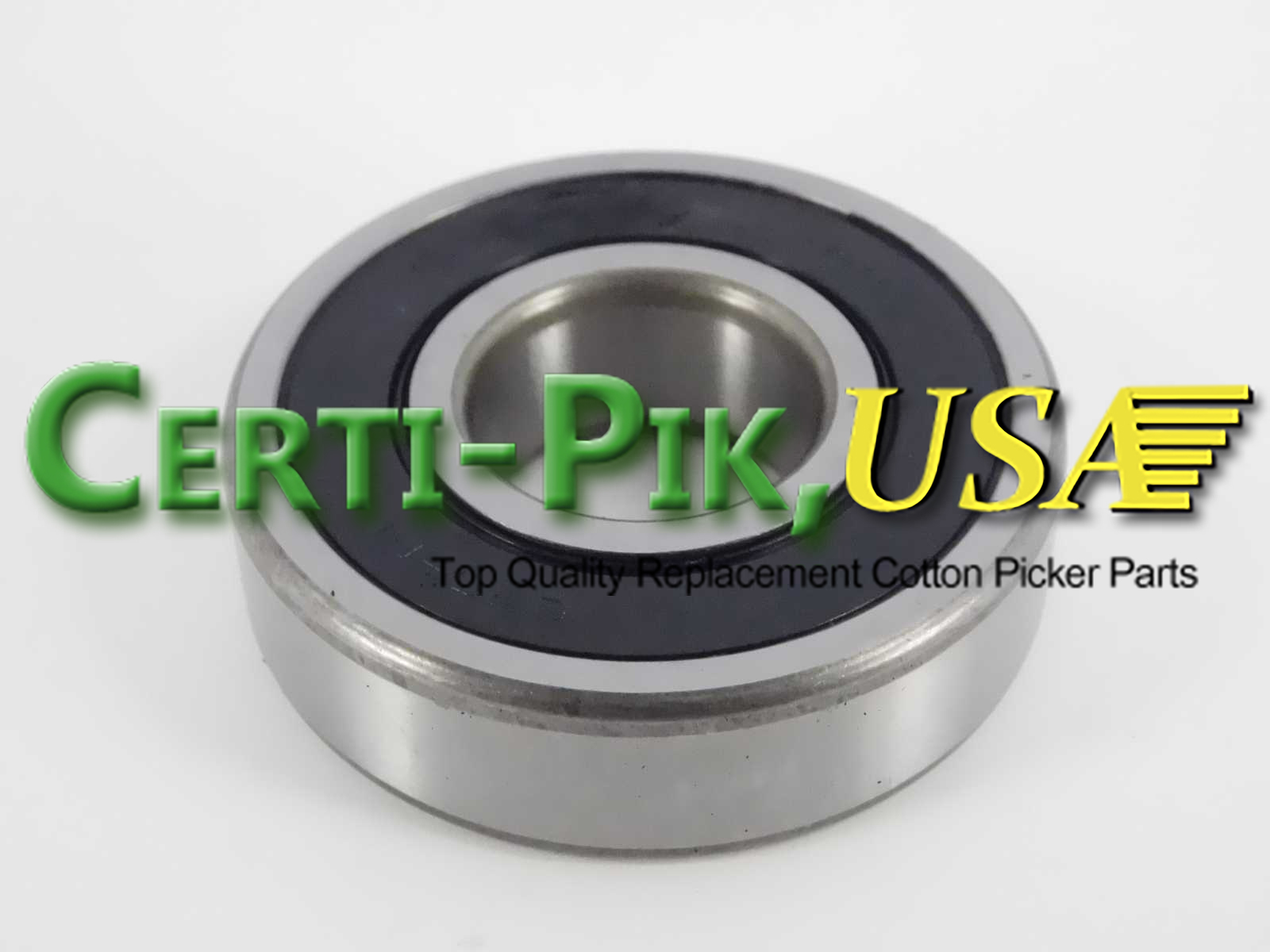 Description: BEARING – UPPER DOFFER (9900-7760) / PRO LOWER IDLER

OEM Part: JD9467

Section: Picking Unit System

John Deere Upper Doffer Adjustment Housing and Sprockets Assembly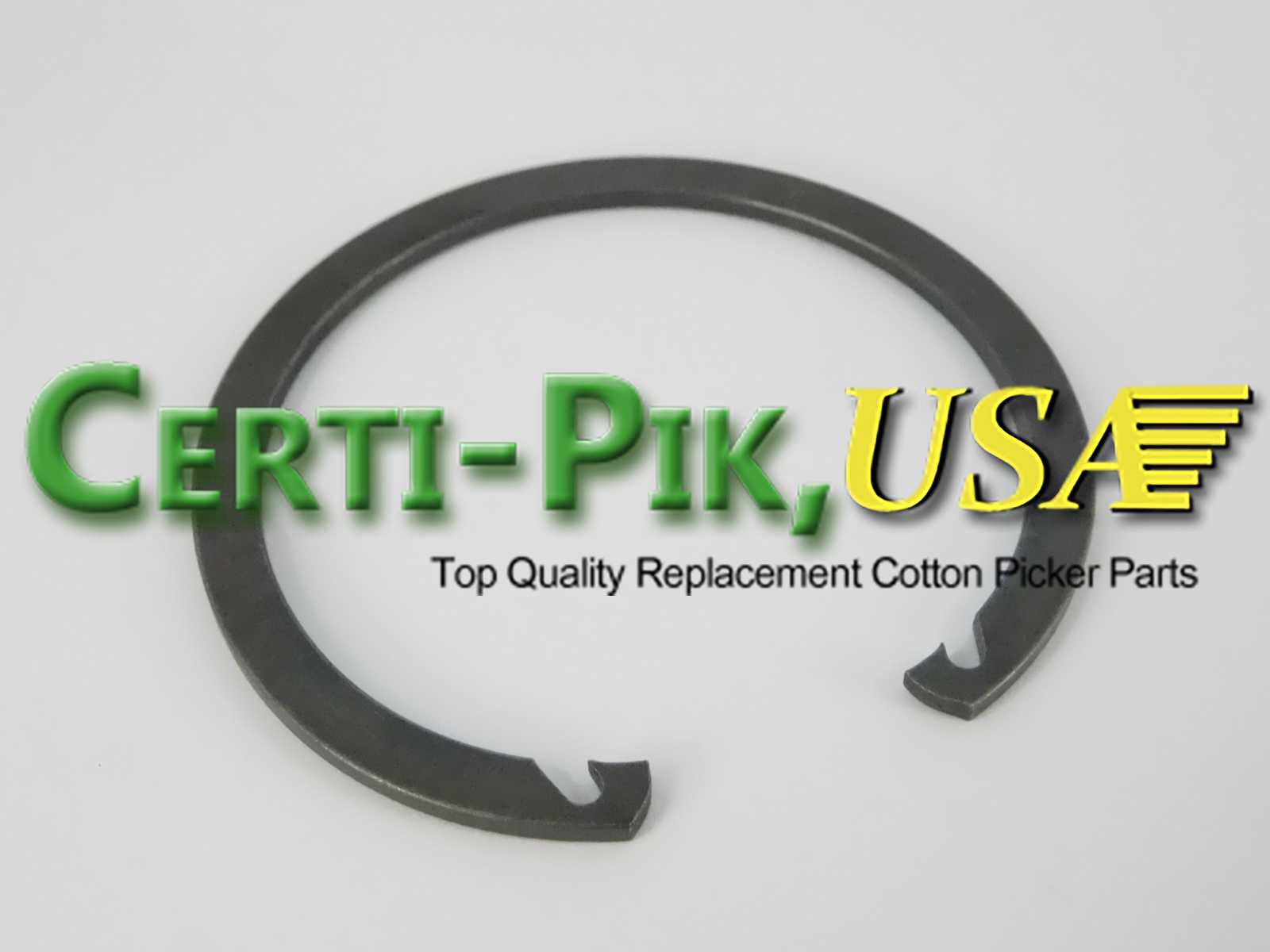 Description: SNAP RING (9900-7760)

OEM Part: N123156

Section: Picking Unit System

John Deere Upper Doffer Adjustment Housing and Sprockets Assembly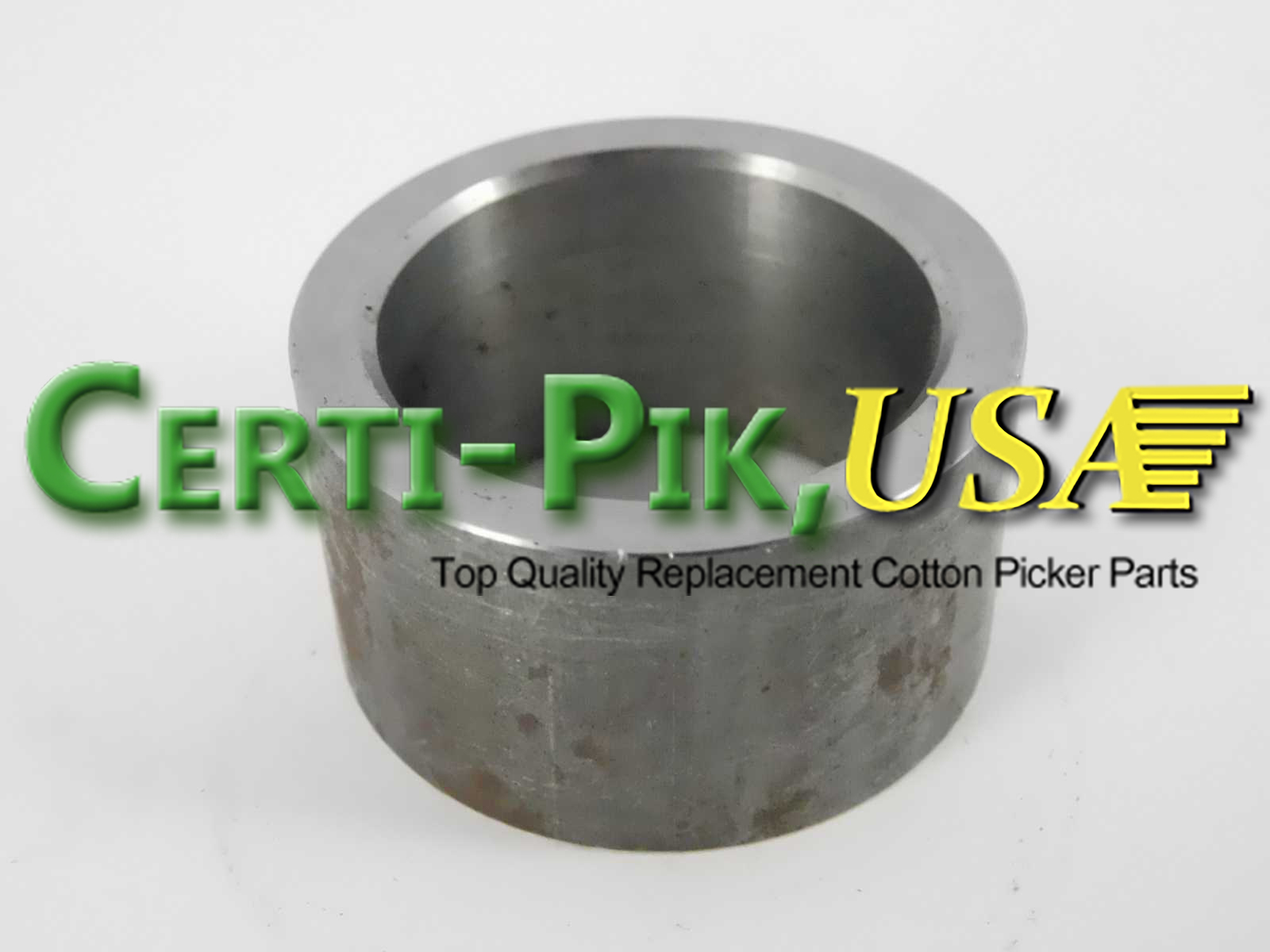 Description: SPACER – (9935-9965 IN-LINE ONLY)

OEM Part: N195726

Section: Picking Unit System

John Deere Upper Doffer Adjustment Housing and Sprockets Assembly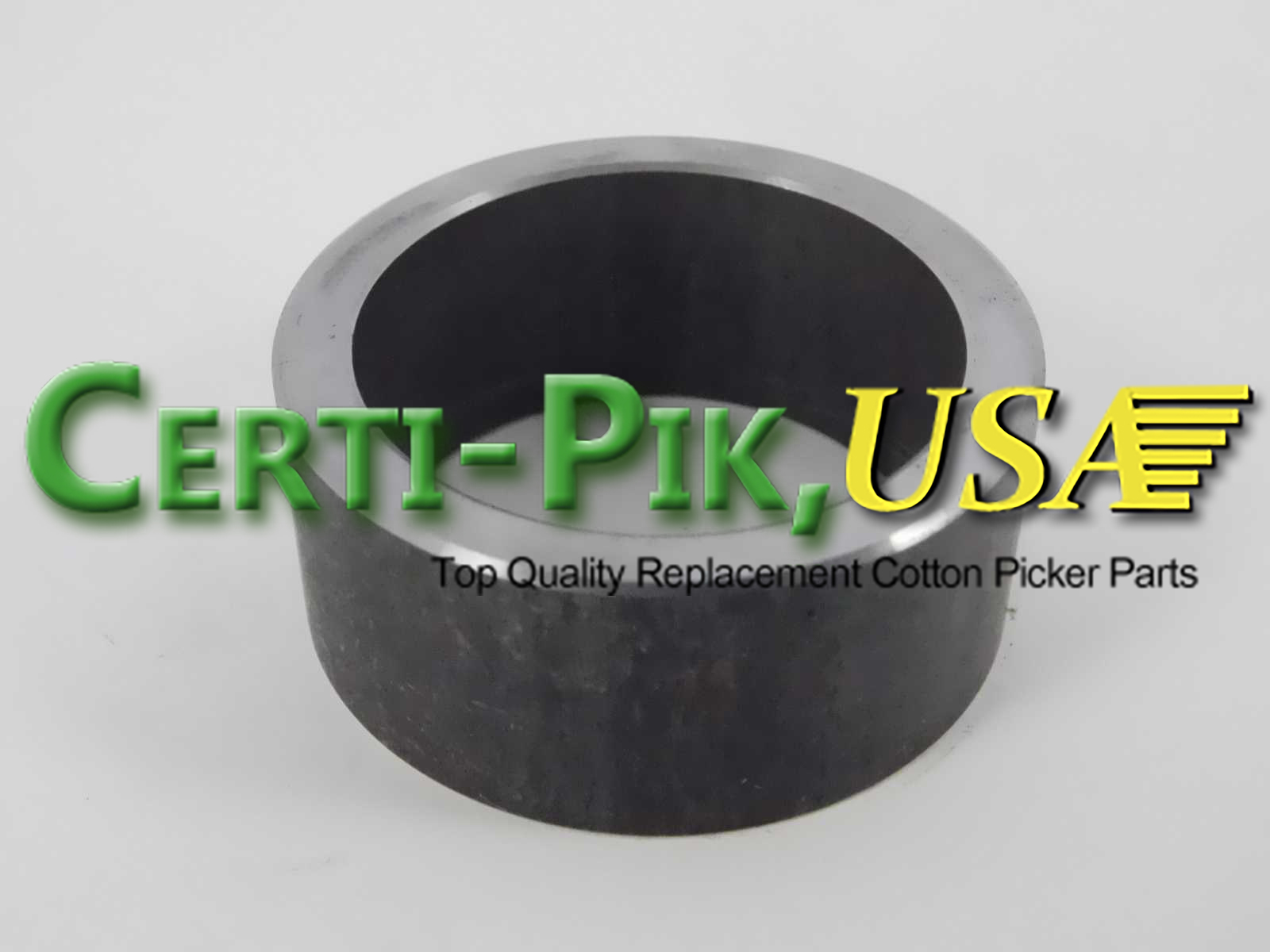 Description: PRO UPPER DOFFER SPACER (9970-7760)

OEM Part: N277150

Section: Picking Unit System

John Deere Upper Doffer Adjustment Housing and Sprockets Assembly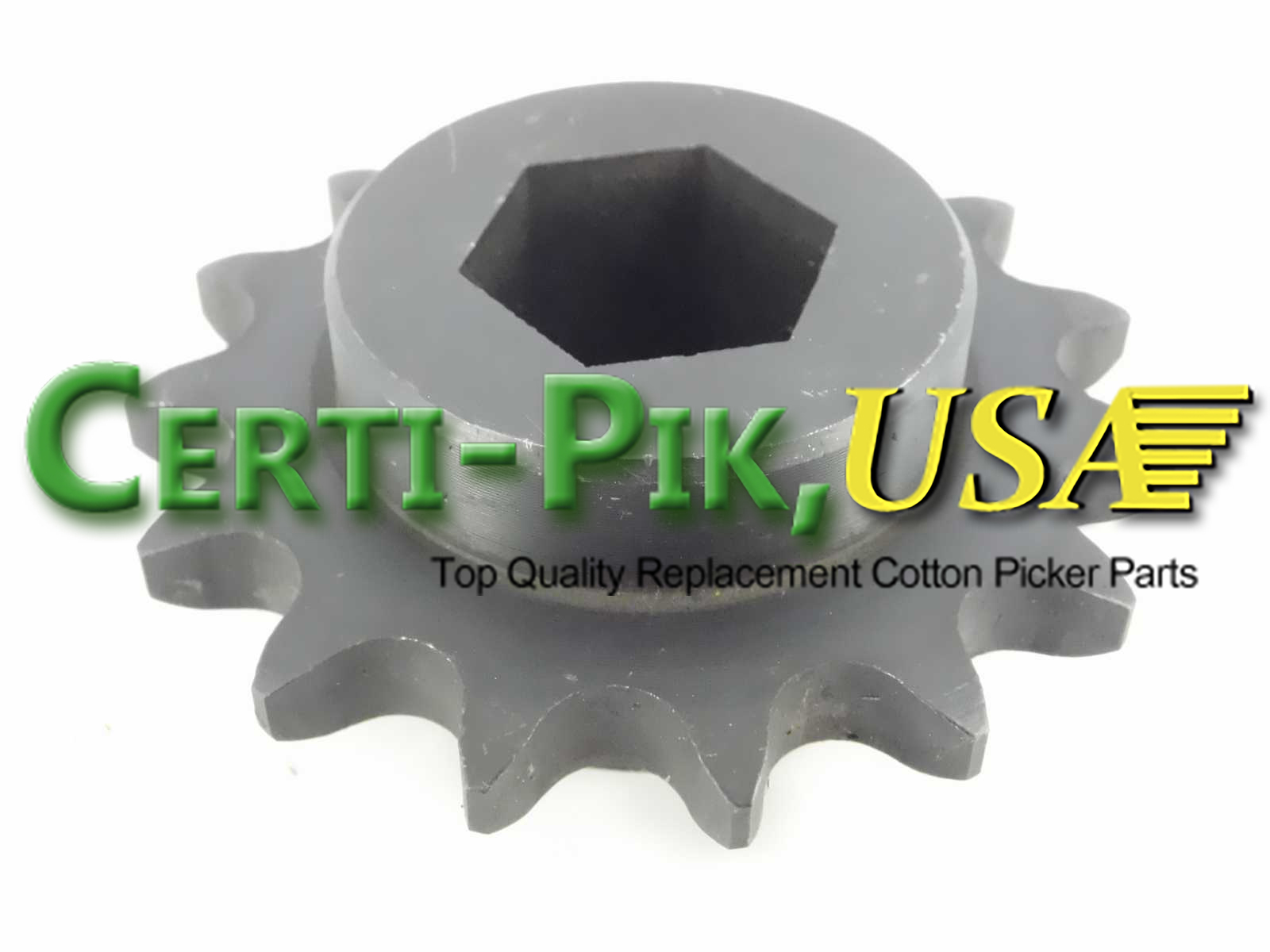 Description: SPROCKET – CHAIN SPROCKET (9910-9965 CONV. ONLY)

OEM Part: N190918

Section: Picking Unit System

John Deere Upper Doffer Adjustment Housing and Sprockets Assembly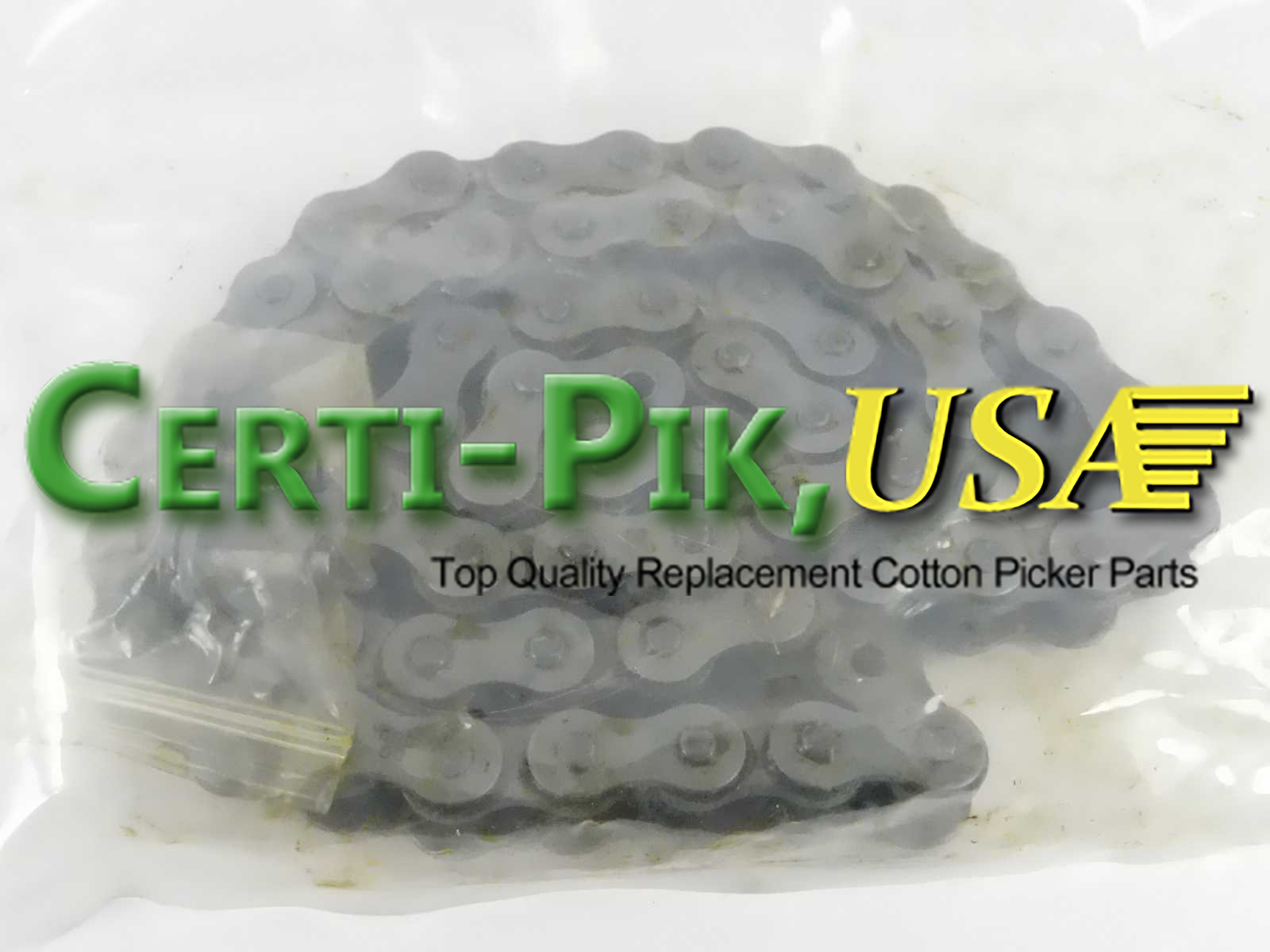 Description: LINK CHAIN – DOFFER DRIVE, 62 LINKS, 12-BAR (9900-9965)

OEM Part: AN113170

Section: Picking Unit System

John Deere Upper Doffer Adjustment Housing and Sprockets Assembly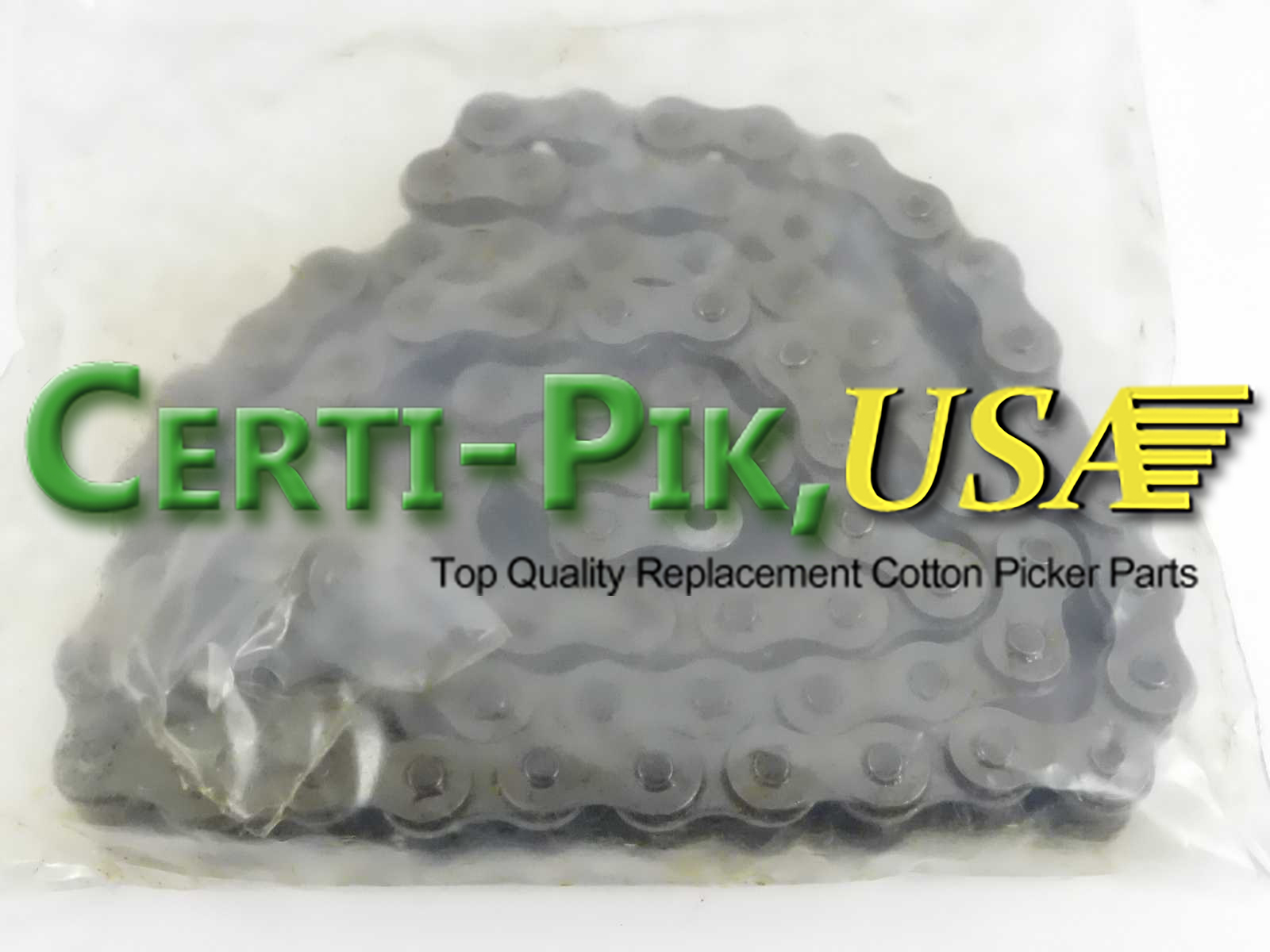 Description: LINK CHAIN – DOFFER DRIVE, 75 LINKS, 16-BAR (9900-9910)

OEM Part: AN113171

Section: Picking Unit System

John Deere Upper Doffer Adjustment Housing and Sprockets Assembly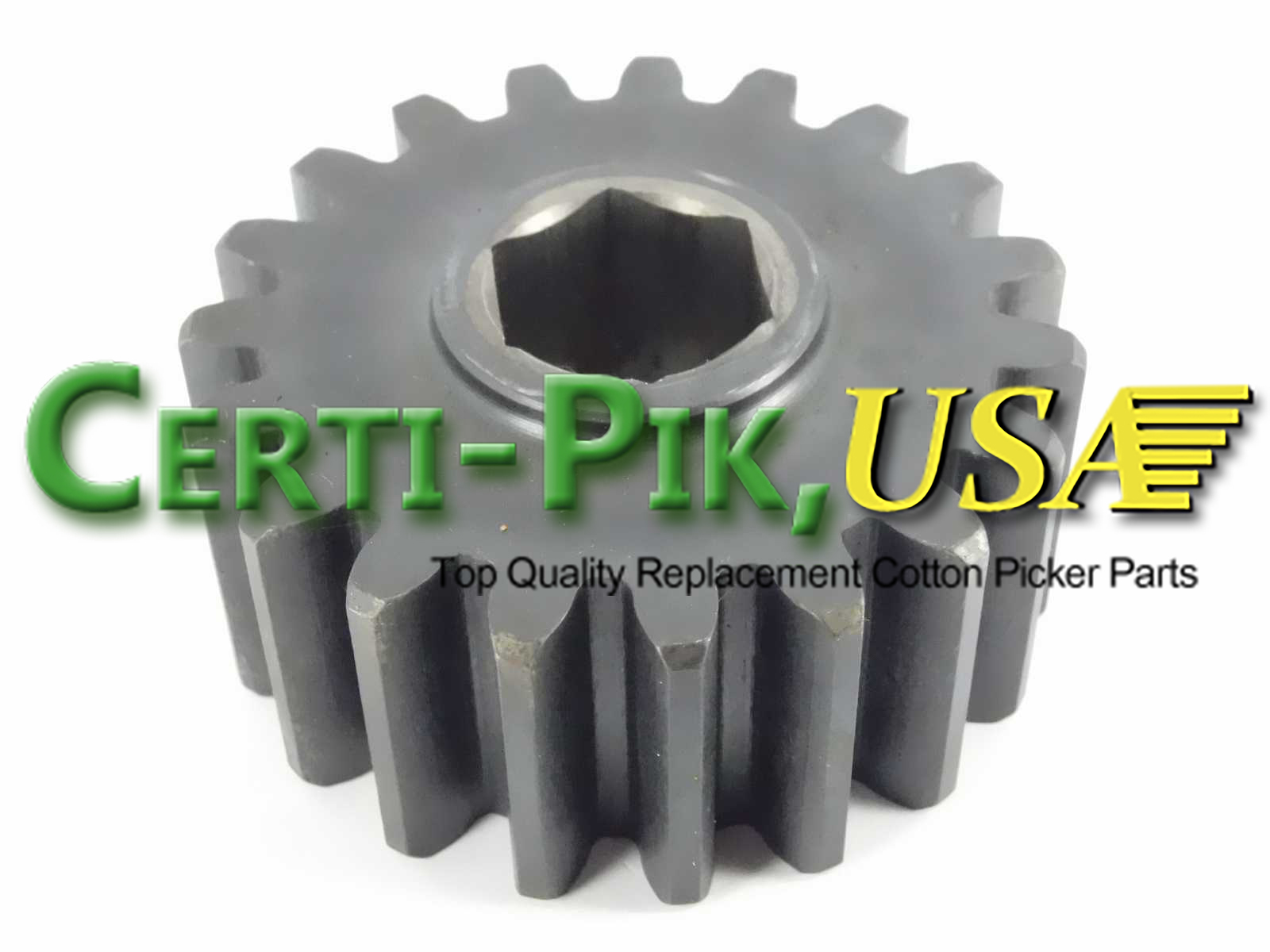 Description: GEAR – SPUR (9935-9965 IN-LINE ONLY) 19 TOOTH

OEM Part: N197456

Section: Picking Unit System

John Deere Upper Doffer Adjustment Housing and Sprockets Assembly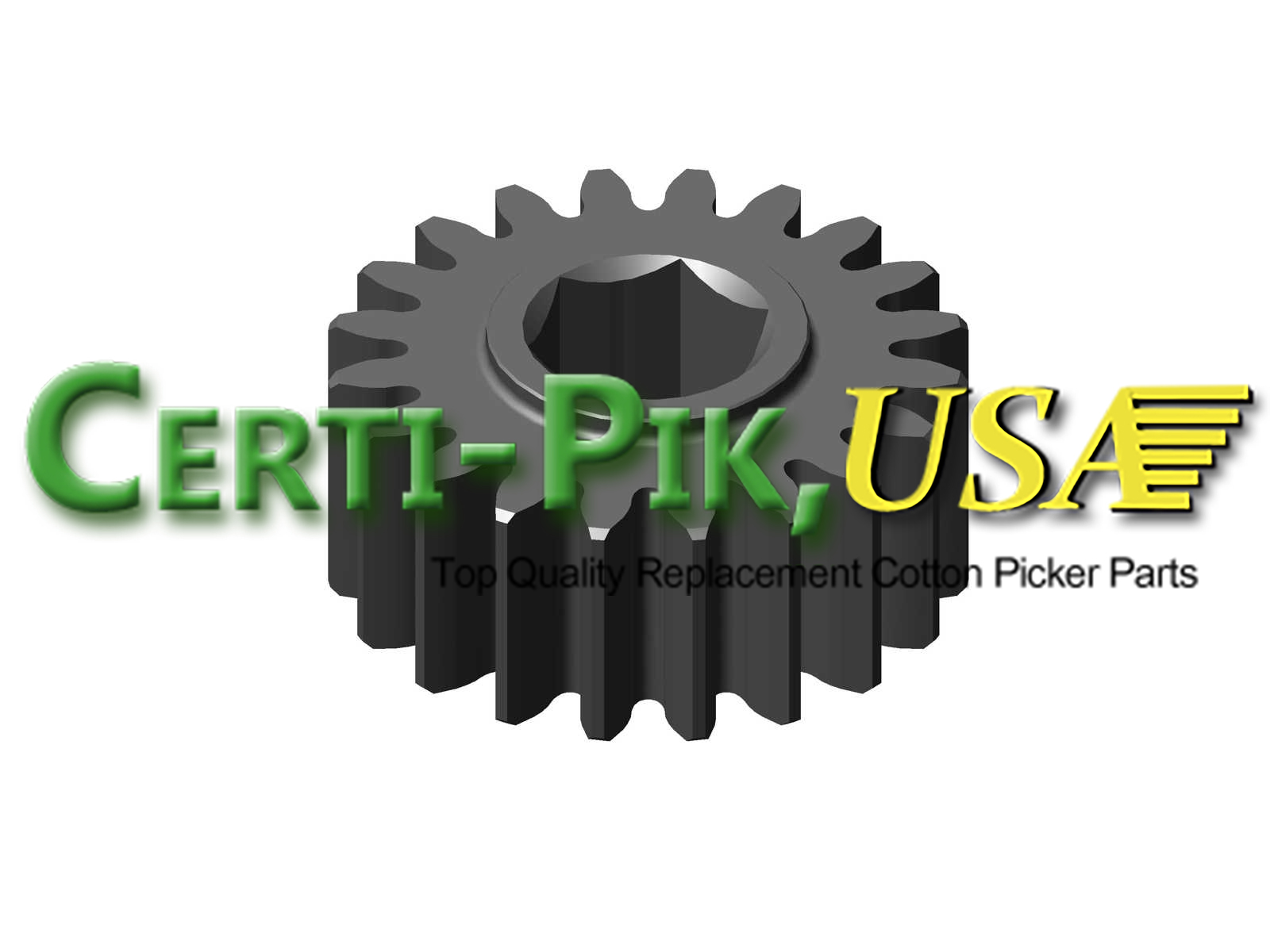 Description: PRO UPPER DOFFER SPUR GEAR – 20 TOOTH (9970-7760)

OEM Part: N273954

Section: Picking Unit System

John Deere Upper Doffer Adjustment Housing and Sprockets Assembly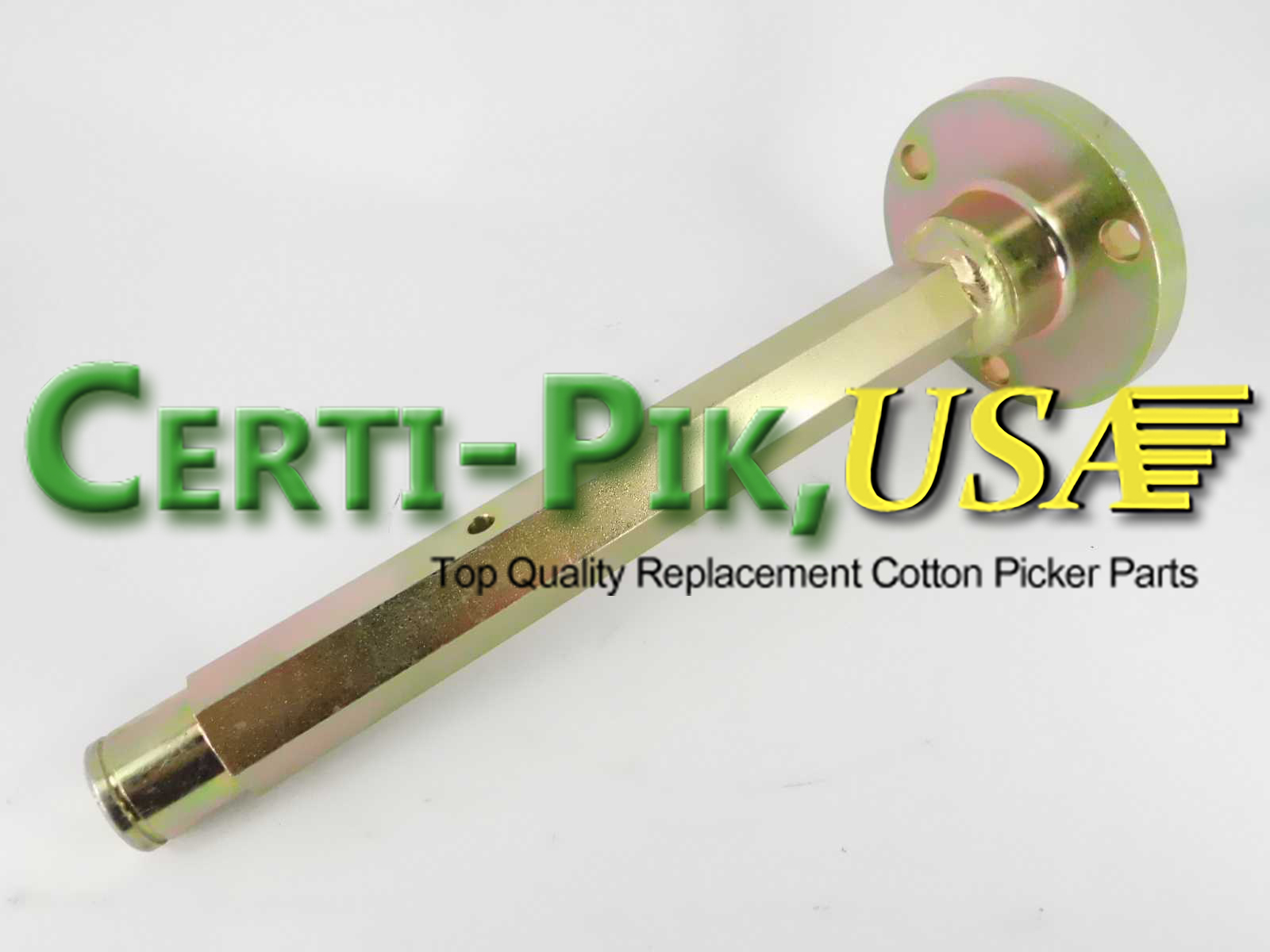 Description: SHAFT – HEX DOFFER DRIVE (9900-9965) (ILL.)

OEM Part: AN190169

Section: Picking Unit System

John Deere Upper Doffer Adjustment Housing and Sprockets Assembly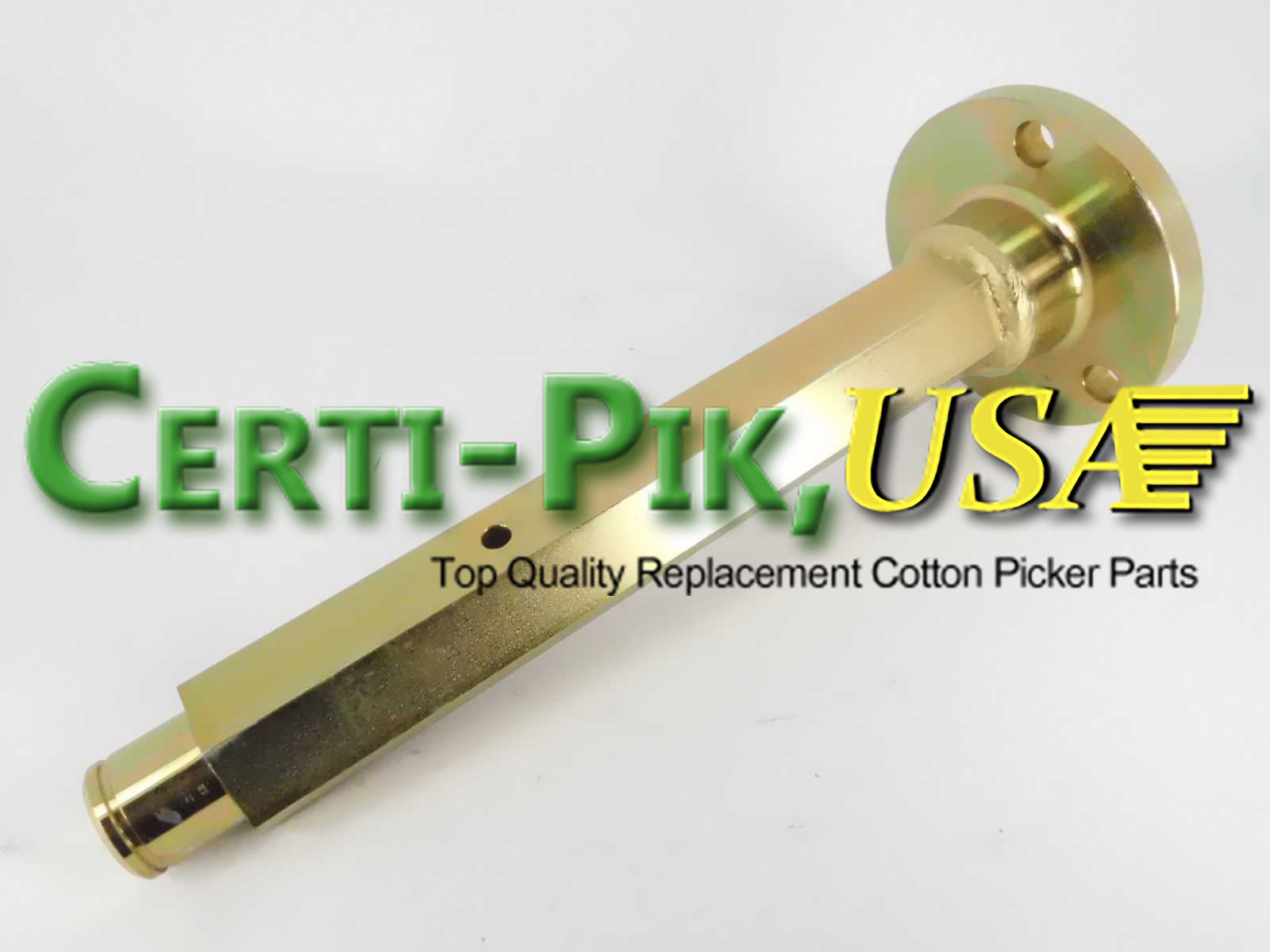 Description: PRO HEX DOFFER DRIVE (9970-7760)

OEM Part: AN273484

Section: Picking Unit System

John Deere Upper Doffer Adjustment Housing and Sprockets Assembly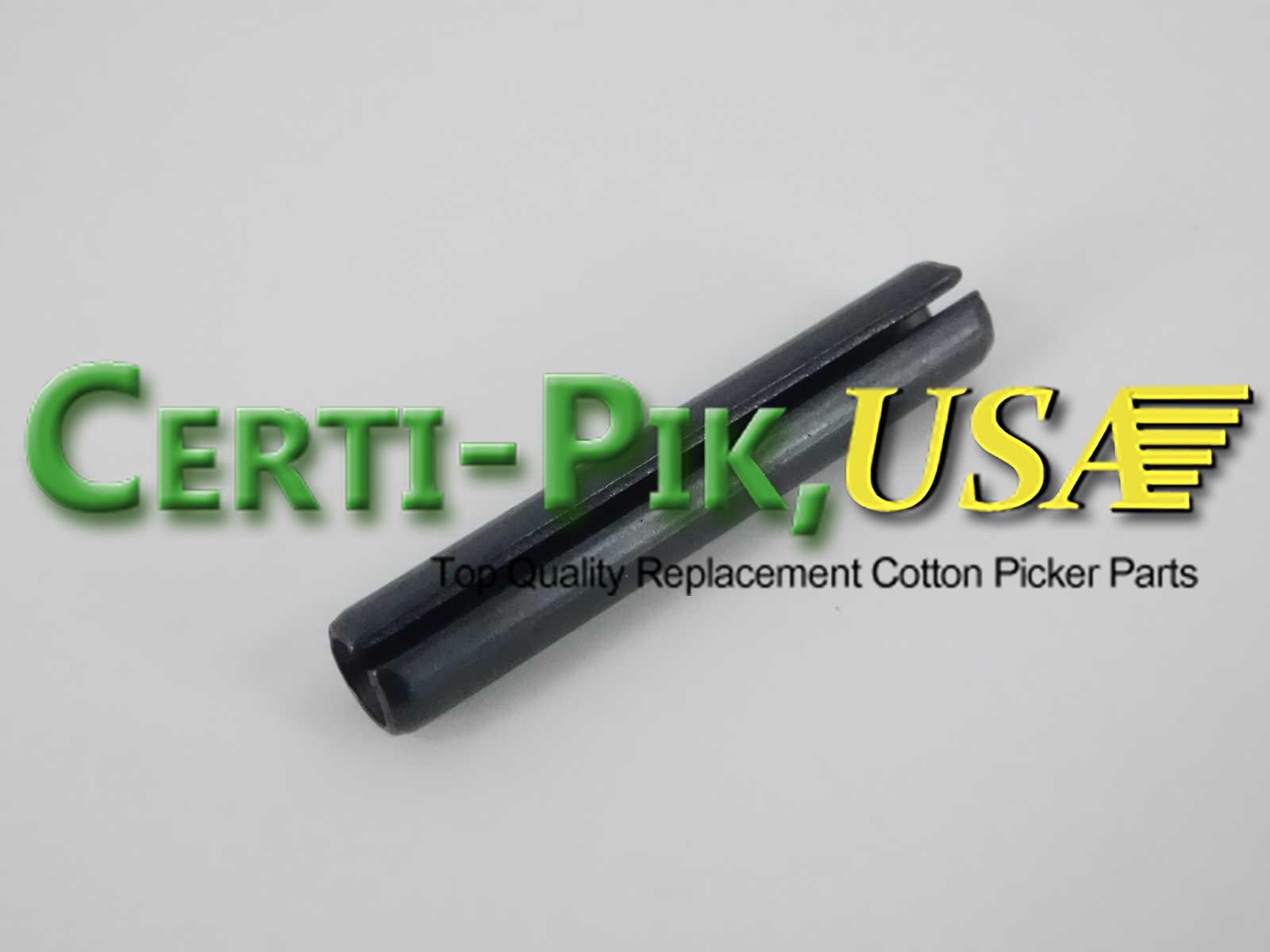 Description: PIN – 1/4 X 1-1/2 SPRING PIN (9900-9965)

OEM Part: 34H316

Section: Picking Unit System

John Deere Upper Doffer Adjustment Housing and Sprockets Assembly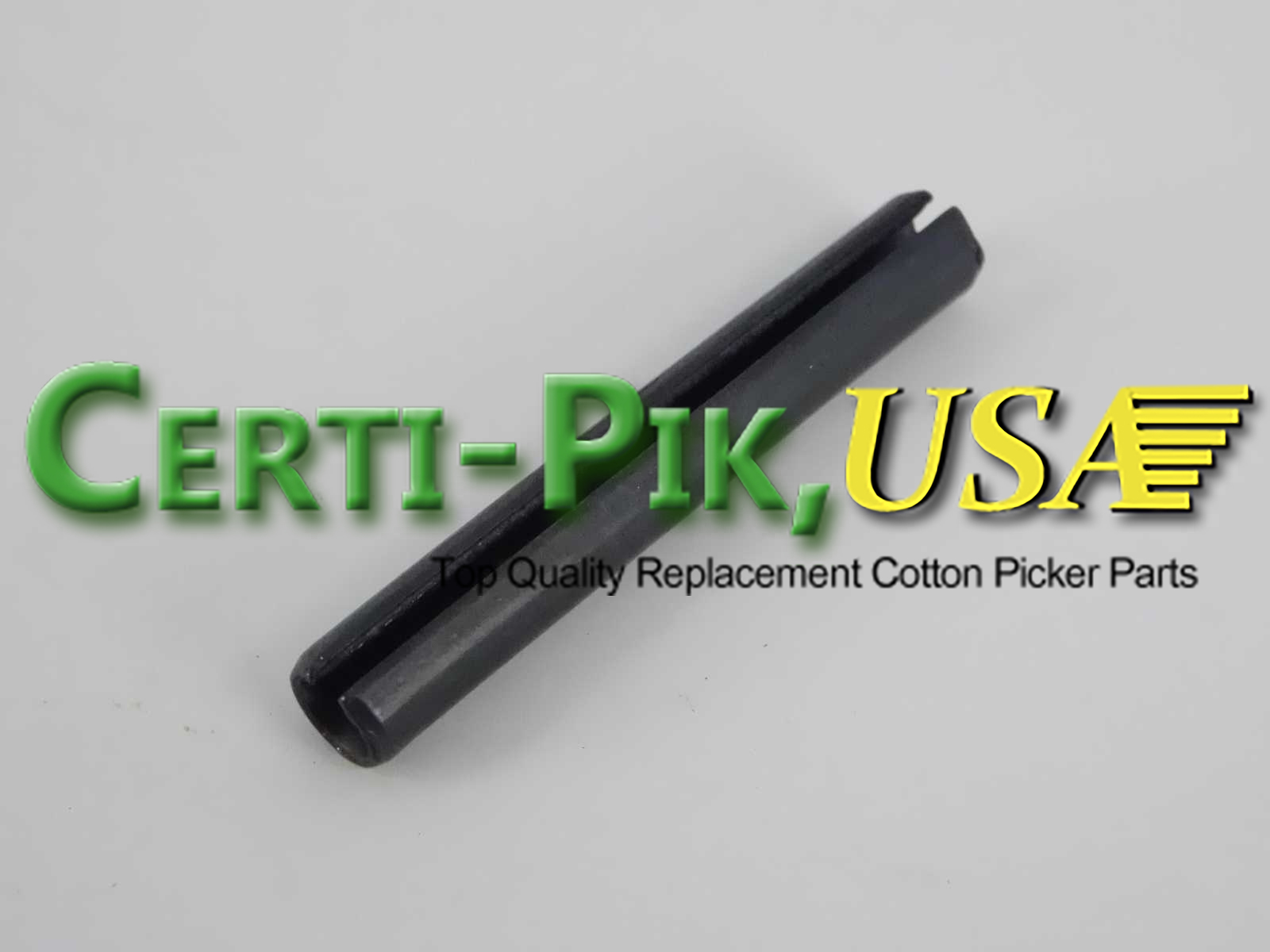 Description: PIN – 1/4 X 1-3/4 SPRING PIN (PRO)

OEM Part: 34H385

Section: Picking Unit System

John Deere Upper Doffer Adjustment Housing and Sprockets Assembly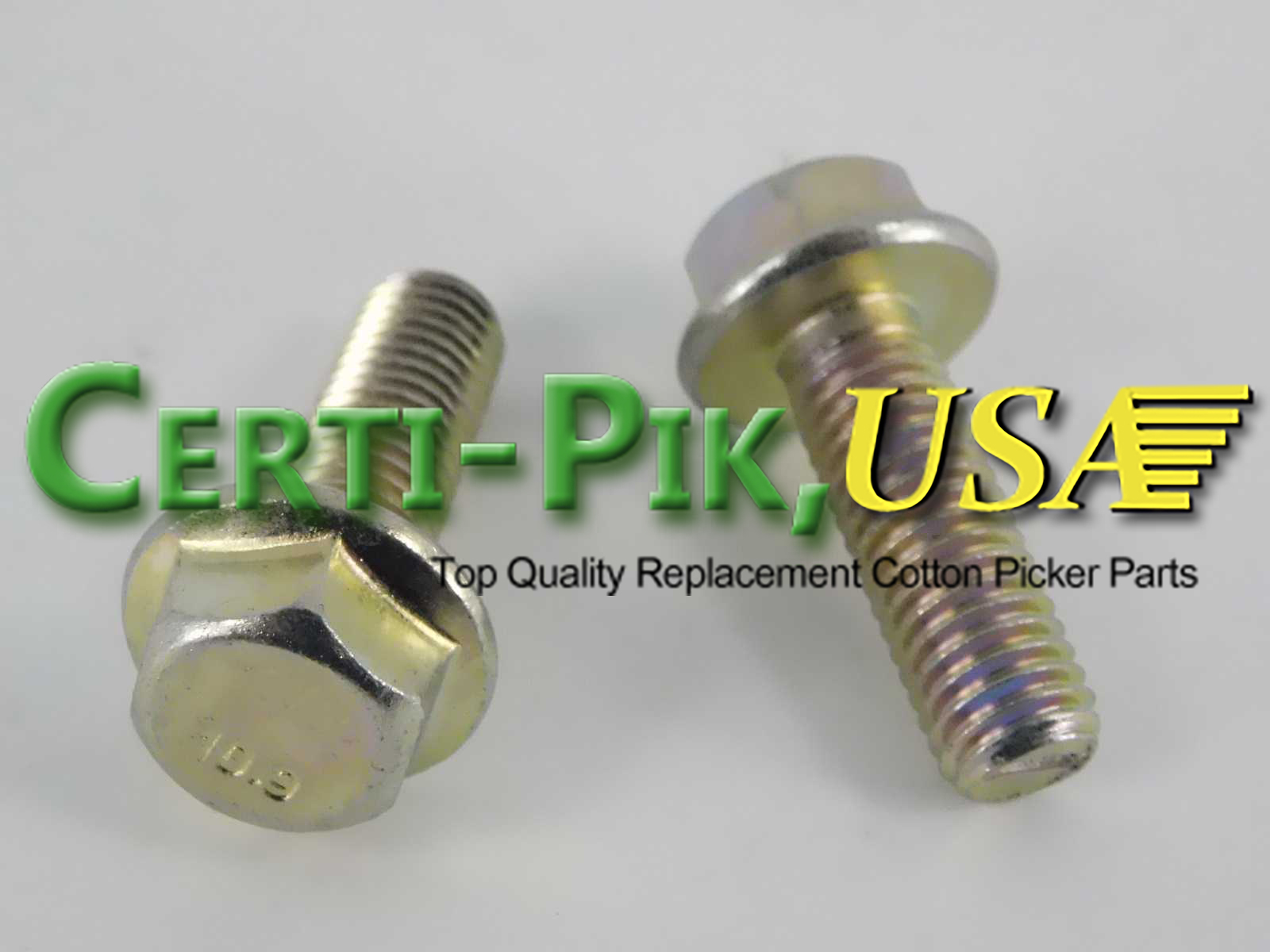 Description:BOLT – M10 X 30 – SMOOTH HEX FLANGE

OEM Part:19M7786

Section: Picking Unit System

John Deere Upper Doffer Adjustment Housing and Sprockets Assembly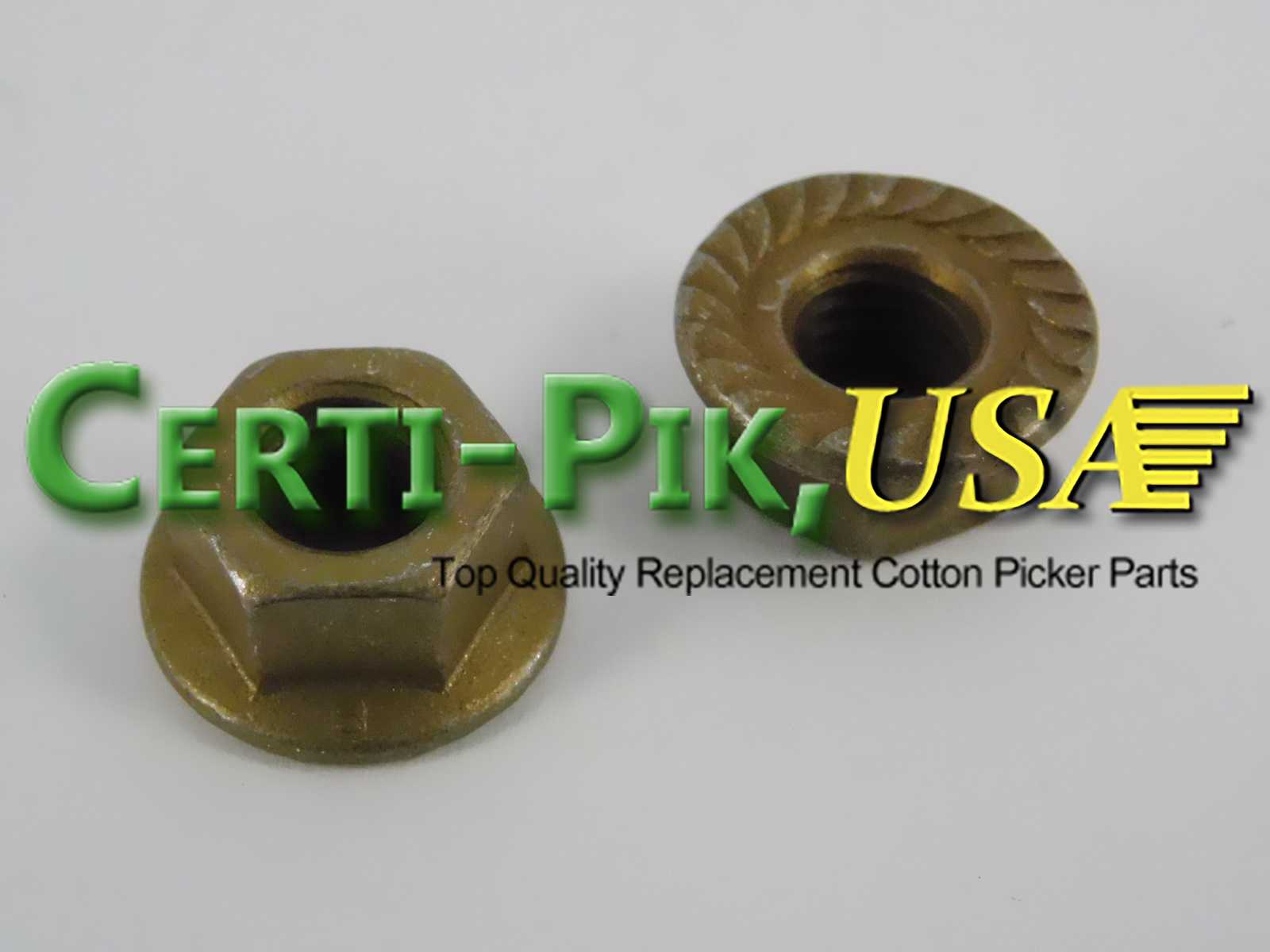 Description: NUT – M10 – SERR HEX FLANGE

OEM Part:E63526

Section: Picking Unit System

John Deere Upper Doffer Adjustment Housing and Sprockets Assembly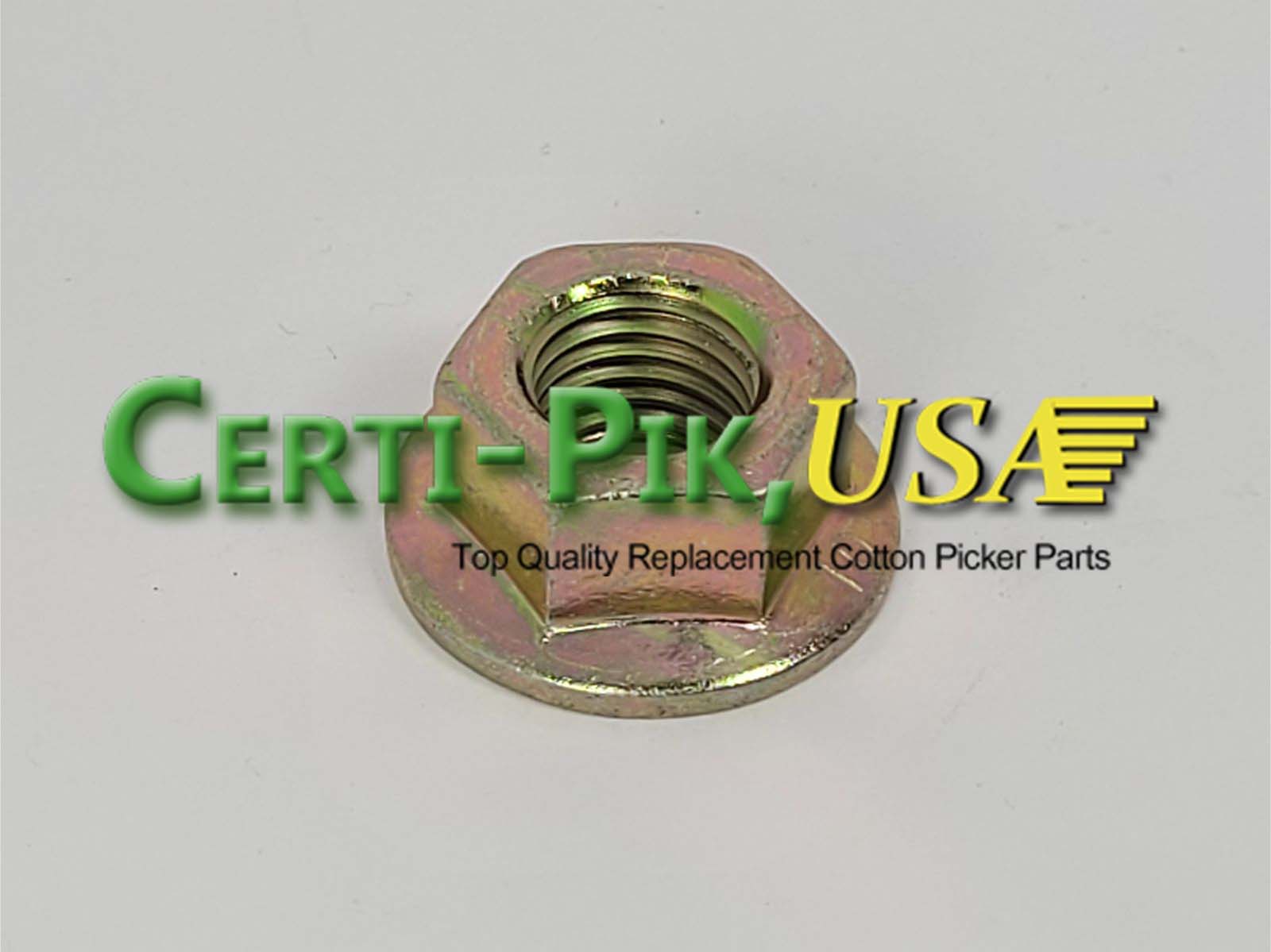 Description: FLANGE NUT : M16

OEM Part: 14M7291

Section: Picking Unit System

John Deere Upper Doffer Adjustment Housing and Sprockets Assembly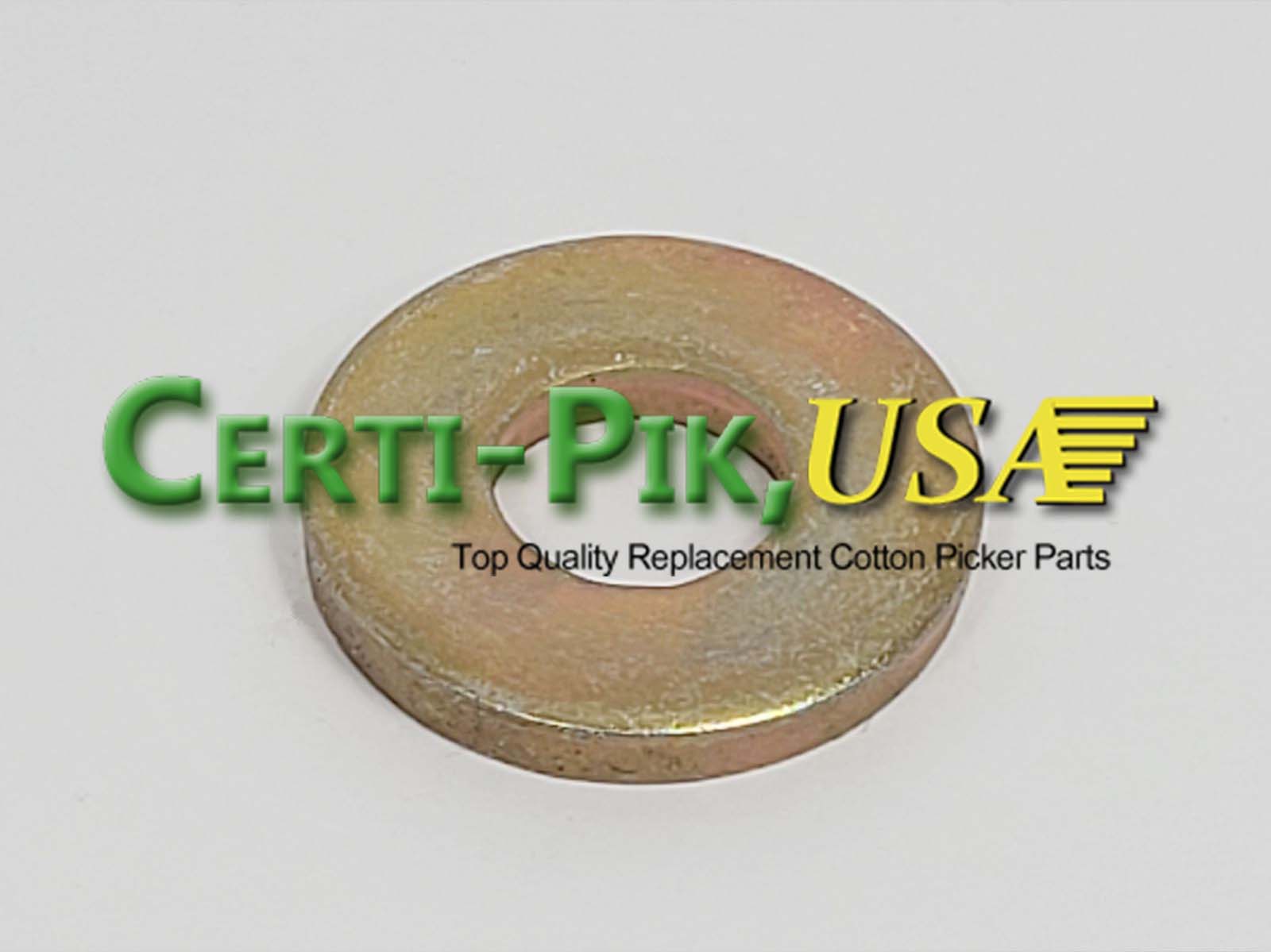 Description:WASHER – 21/32″ X 1-9/16″ X 0.180″

OEM Part: 24H1373

Section: Picking Unit System

John Deere Upper Doffer Adjustment Housing and Sprockets Assembly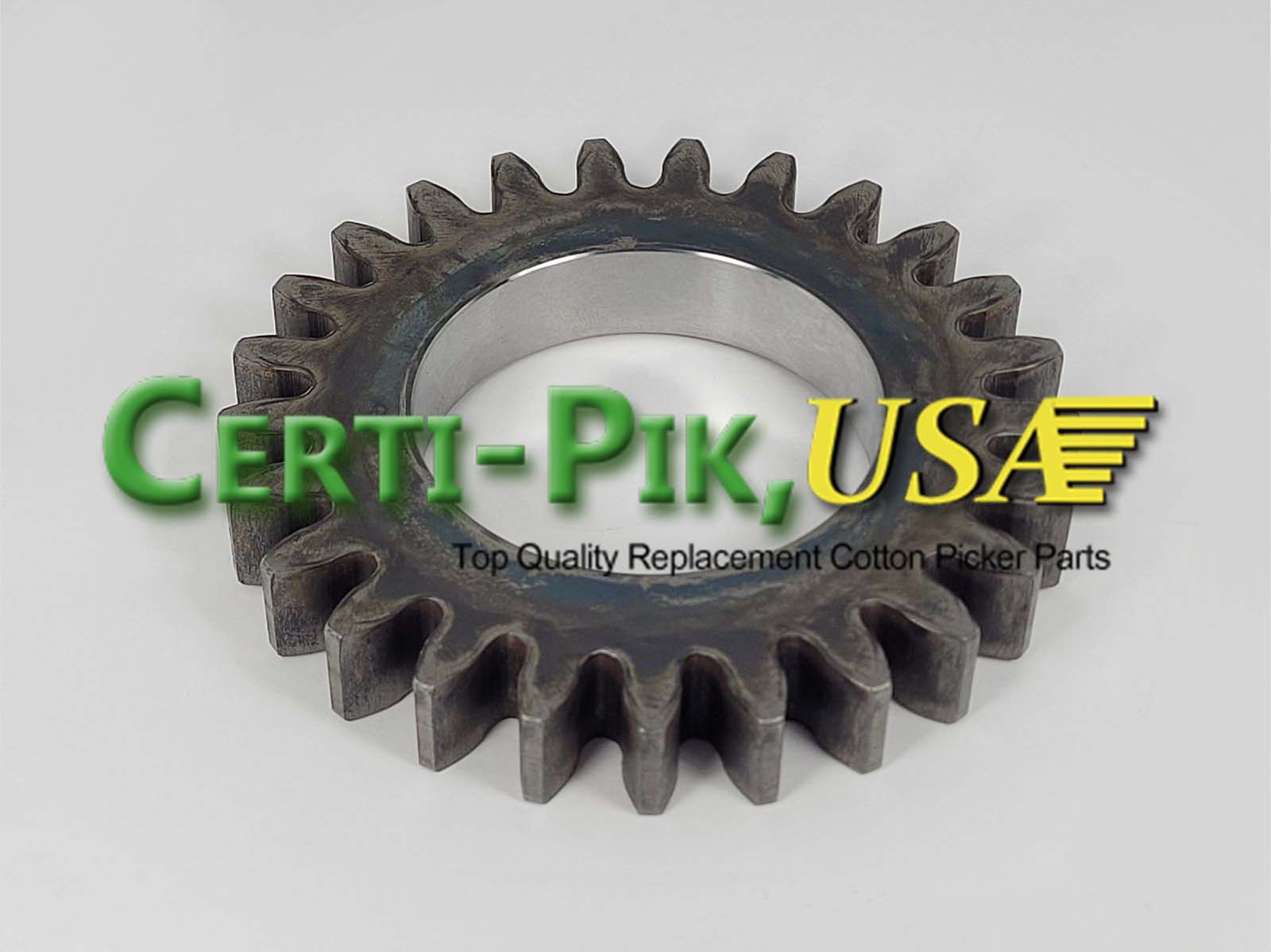 Description: SPUR GEAR – 25 TOOTH – DOFFER IDLER (F&R)

OEM Part:N273955

Section: Picking Unit System

John Deere Upper Doffer Adjustment Housing and Sprockets Assembly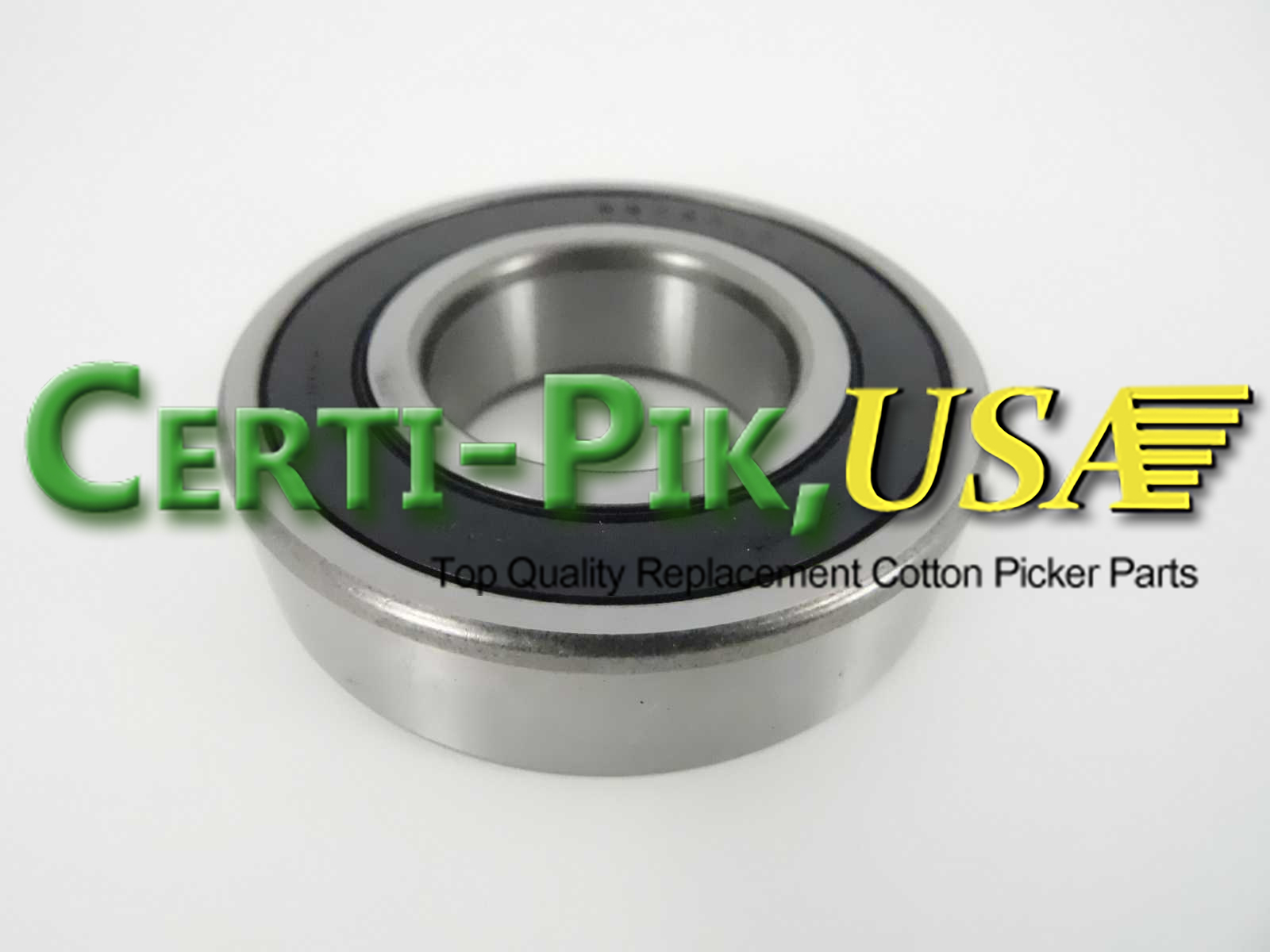 Description: BEARING PRO – BOTTOM DRUM BEARING / DOFFER IDLER

OEM Part:AN272787

Section: Picking Unit System

John Deere Upper Doffer Adjustment Housing and Sprockets Assembly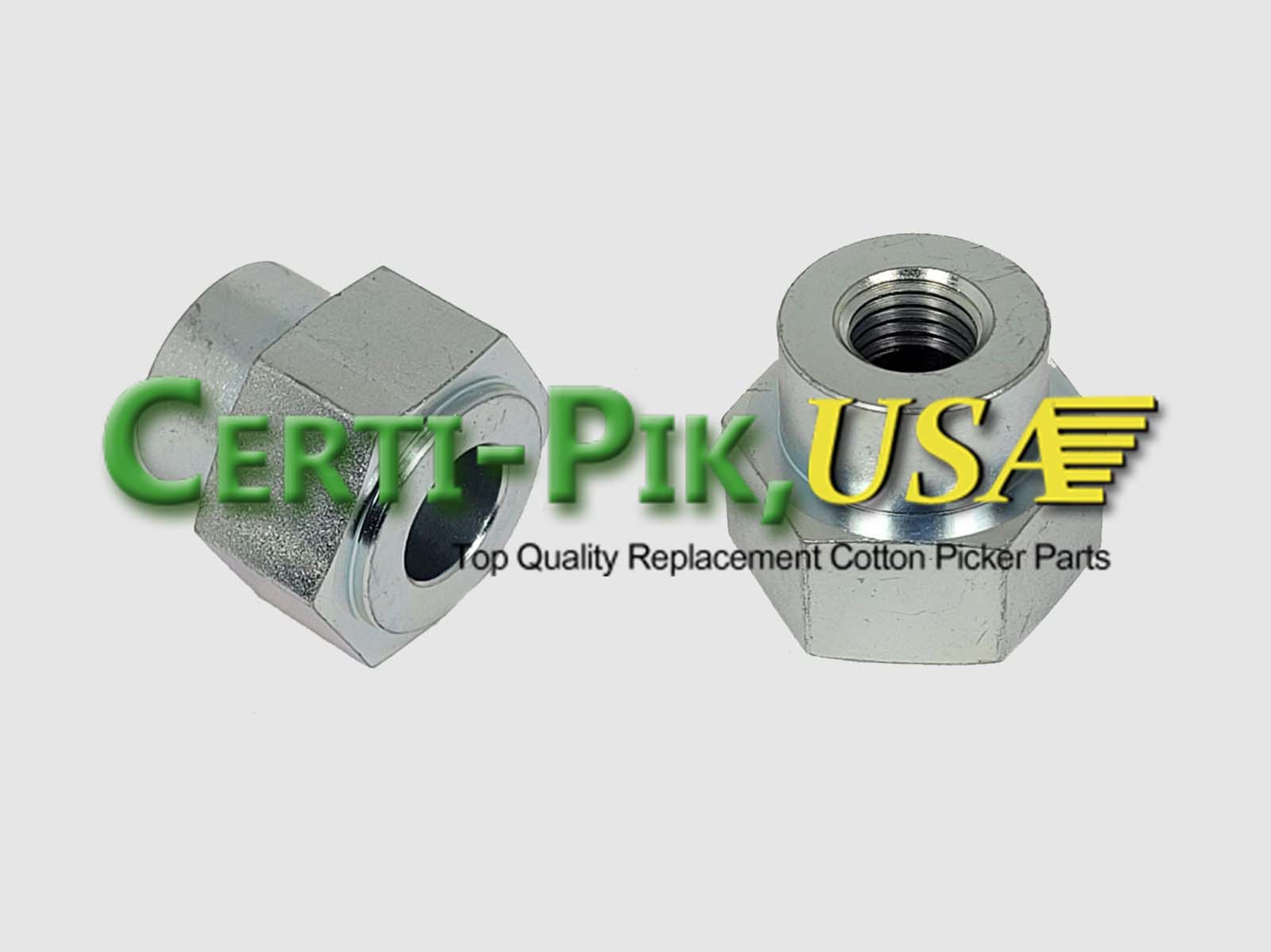 Description:SPACER – HEX – DOFFER IDLER – REPACES #N278451 (F&R)

OEM Part: KK20381

Section: Picking Unit System

John Deere Upper Doffer Adjustment Housing and Sprockets Assembly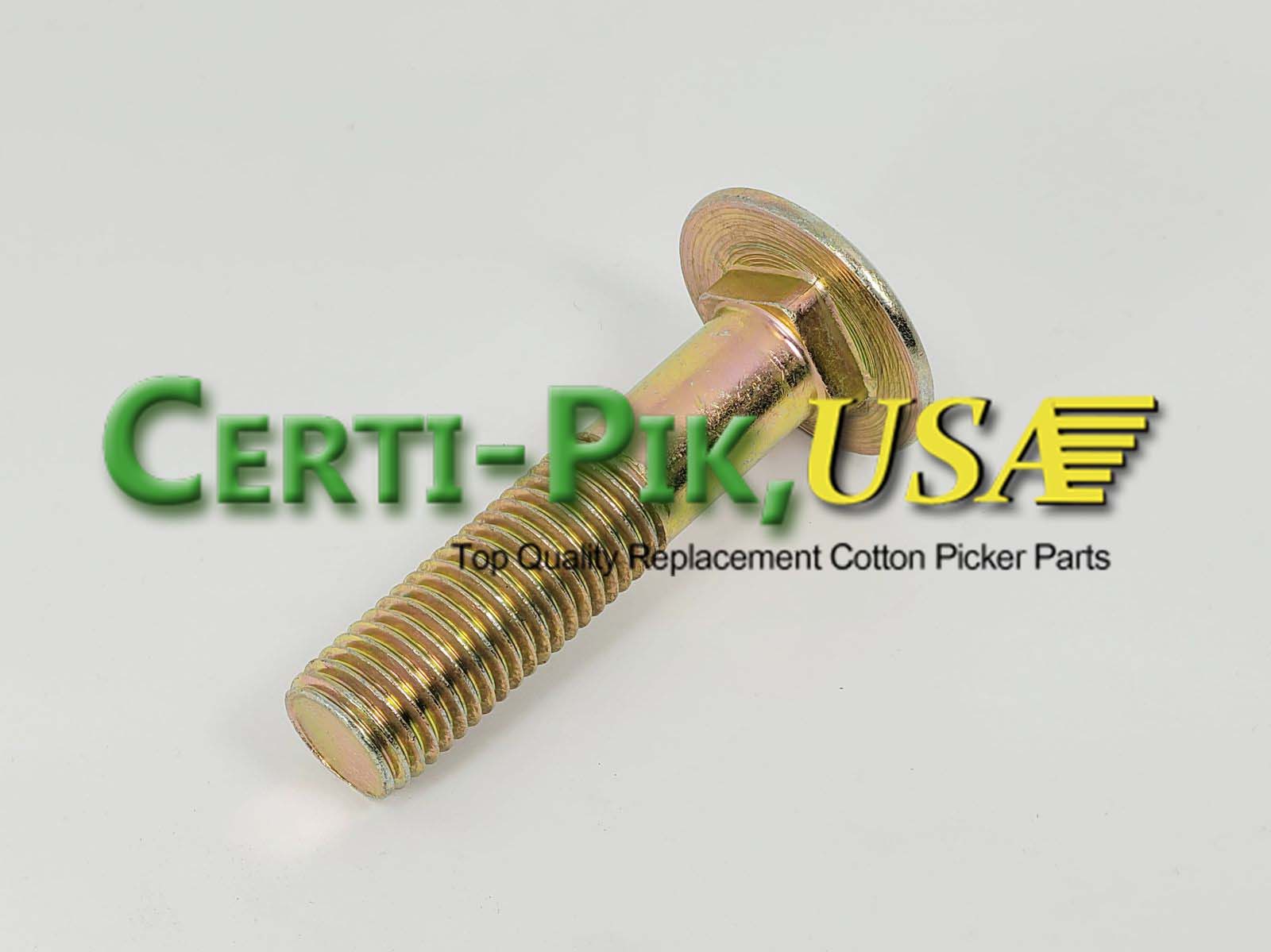 Description: BOLT – M16 X 70 – DOFFER IDLER

OEM Part: 03M7211

Section: Picking Unit System

John Deere Upper Doffer Adjustment Housing and Sprockets Assembly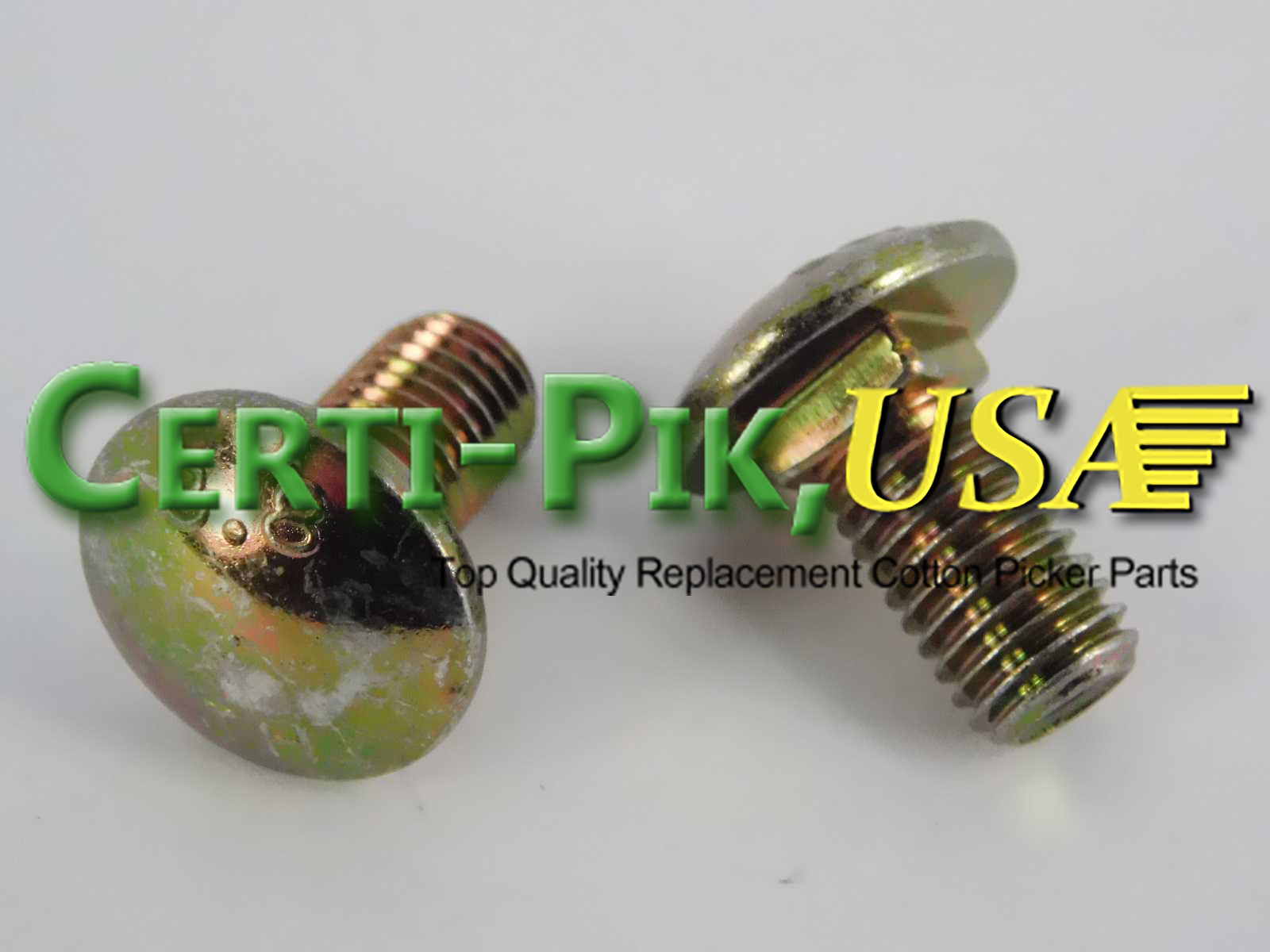 Description: BOLT – M10 X 20 ROUND HEAD – SQR NECK

OEM Part: 03M7190

Section: Picking Unit System

John Deere Upper Doffer Adjustment Housing and Sprockets Assembly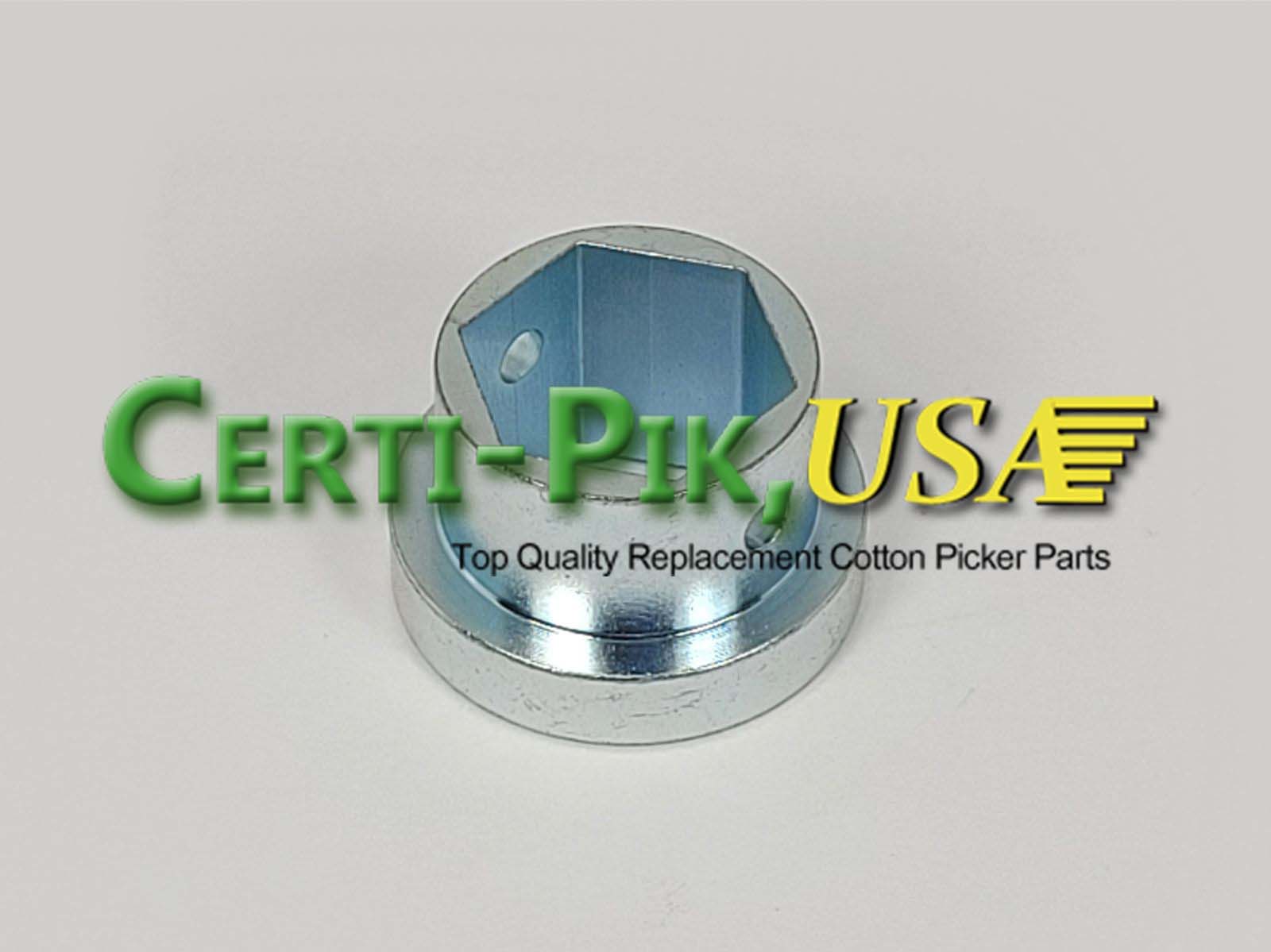 Description: BUSHING – TOP HEX – FINE DOFFER ADJUSTMENT (F&R)

OEM Part: KK14761

Section: Picking Unit System

John Deere Upper Doffer Adjustment Housing and Sprockets Assembly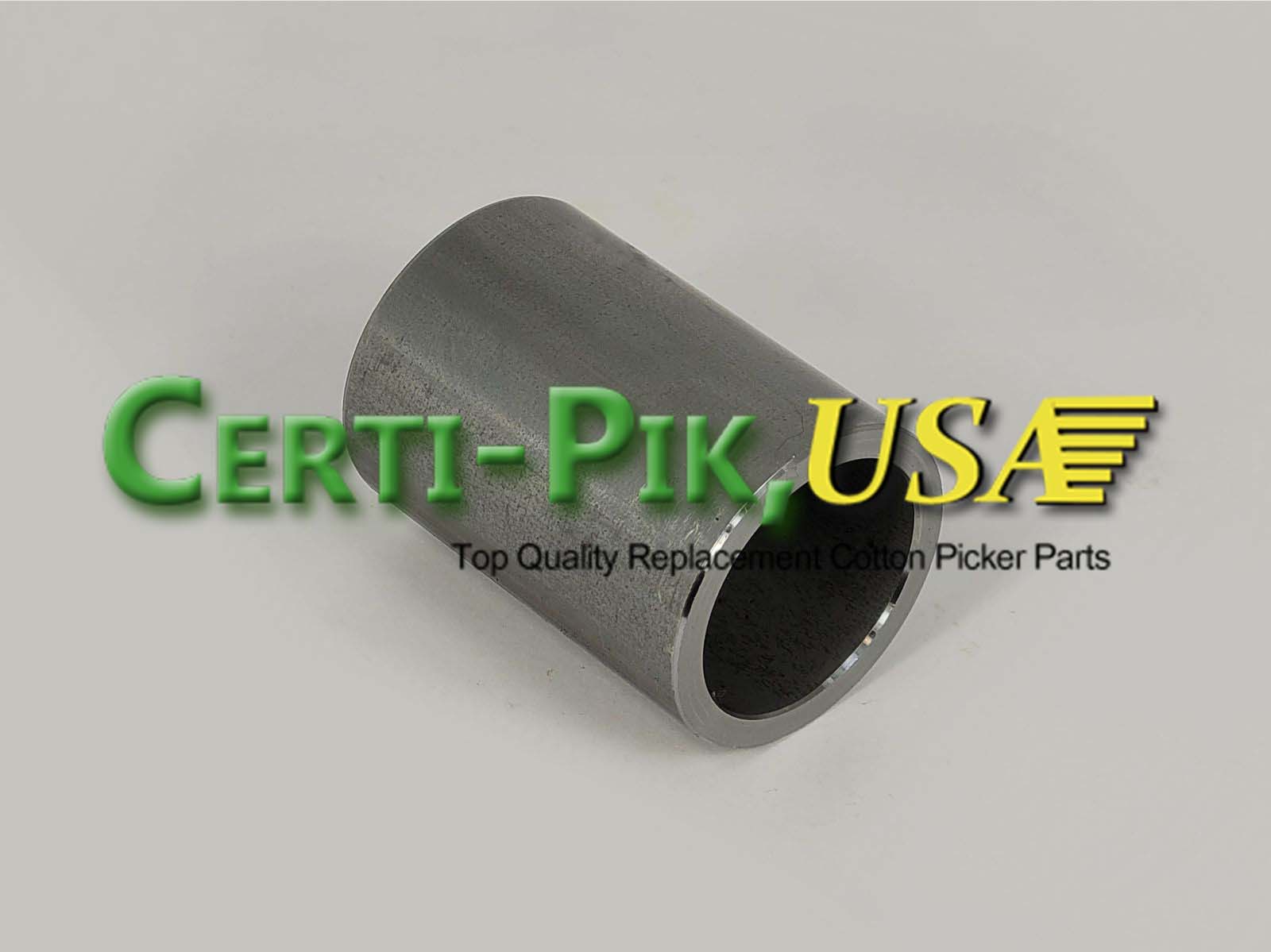 Description: SPACER – HEAVY WALL TUBE – FINE DOFFER ADJUSTMENT (F&R)

OEM Part: KK20459

Section: Picking Unit System

John Deere Upper Doffer Adjustment Housing and Sprockets Assembly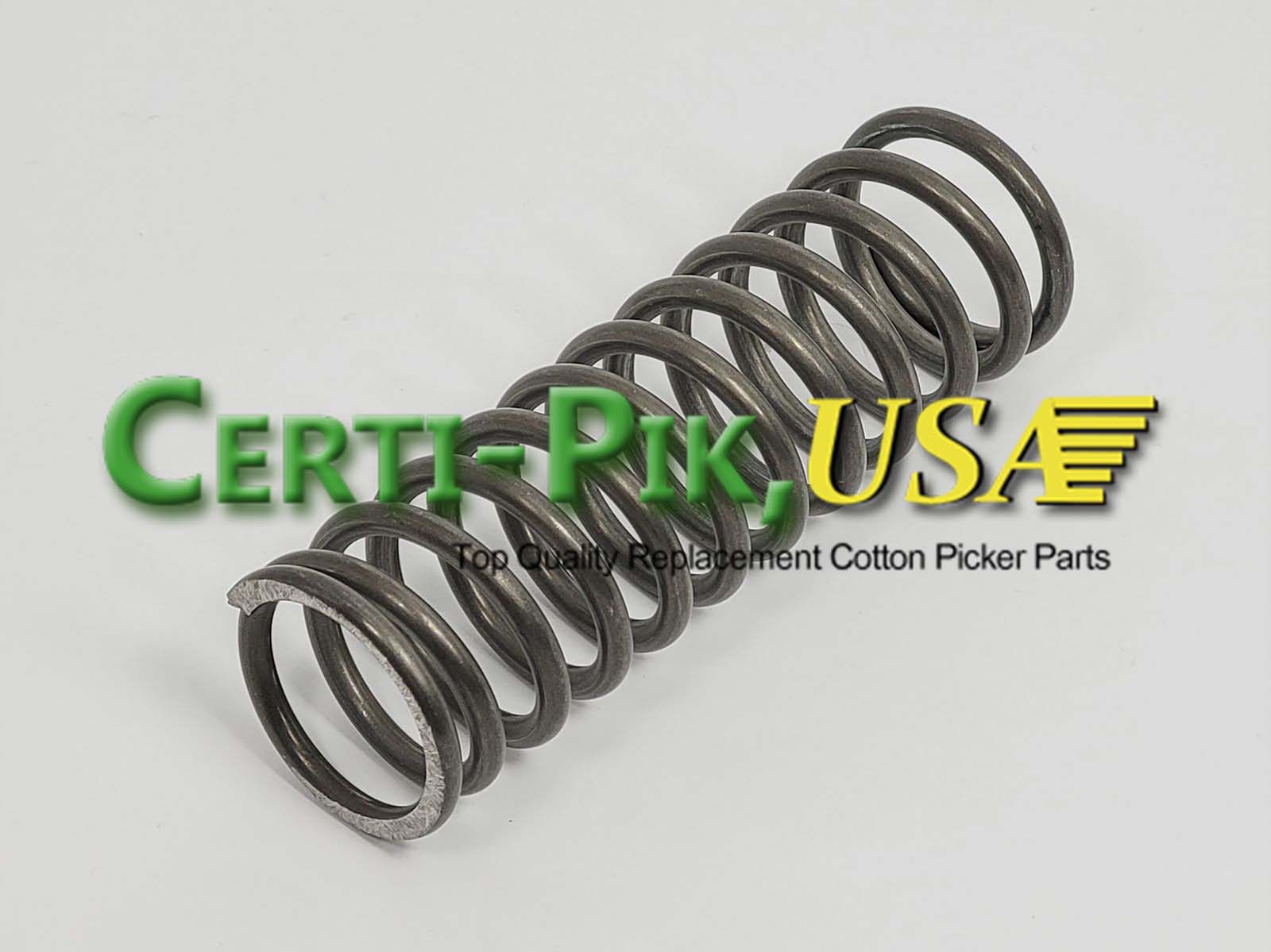 Description: SPRING – FINE DOFFER ADJUSTMENT (F&R)

OEM Part: A3106R

Section: Picking Unit System

John Deere Upper Doffer Adjustment Housing and Sprockets Assembly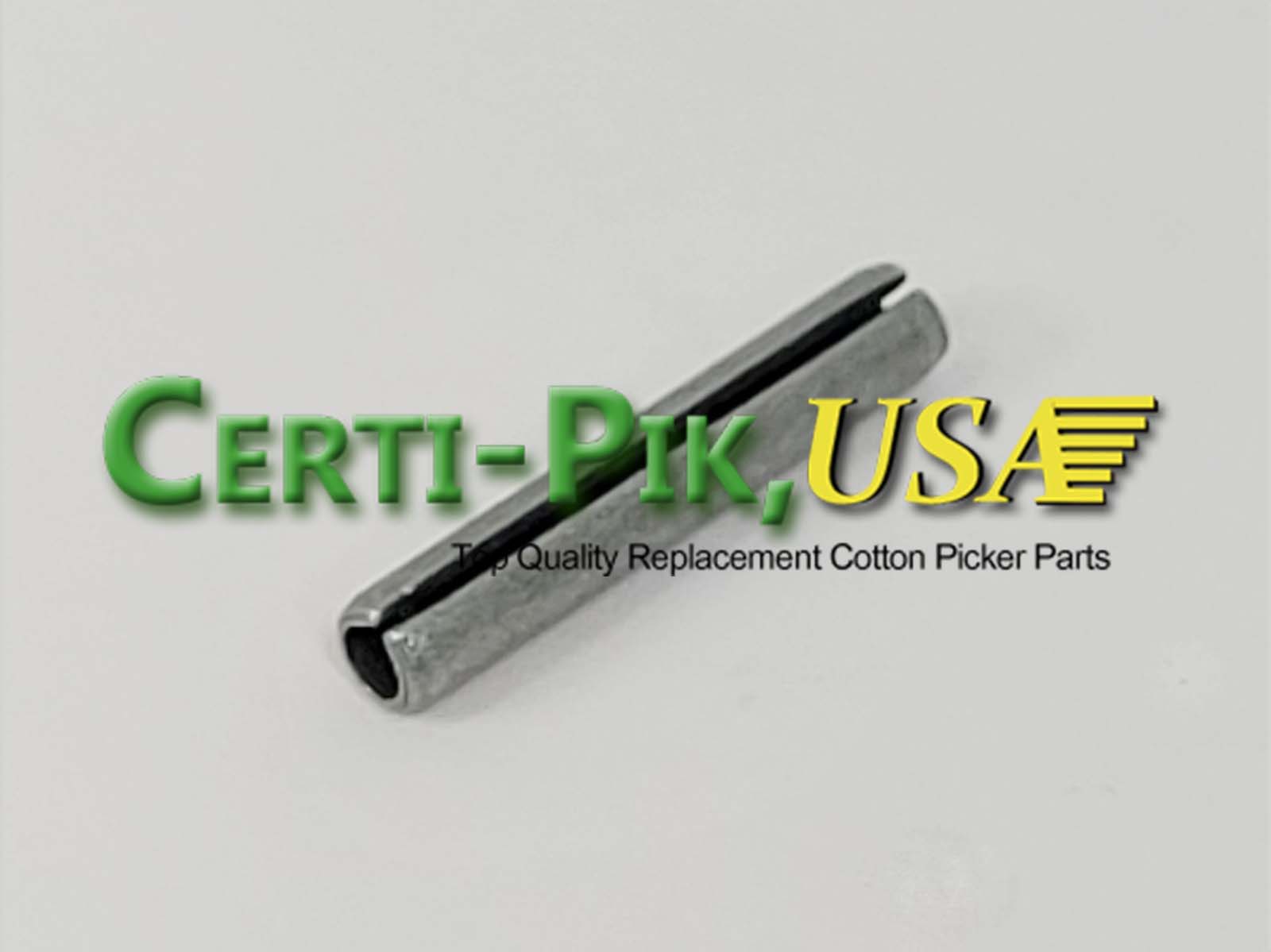 Description: SPRING PIN – 5/32″ X 15/16″

OEM Part: 34H265

Section: Picking Unit System

John Deere Upper Doffer Adjustment Housing and Sprockets Assembly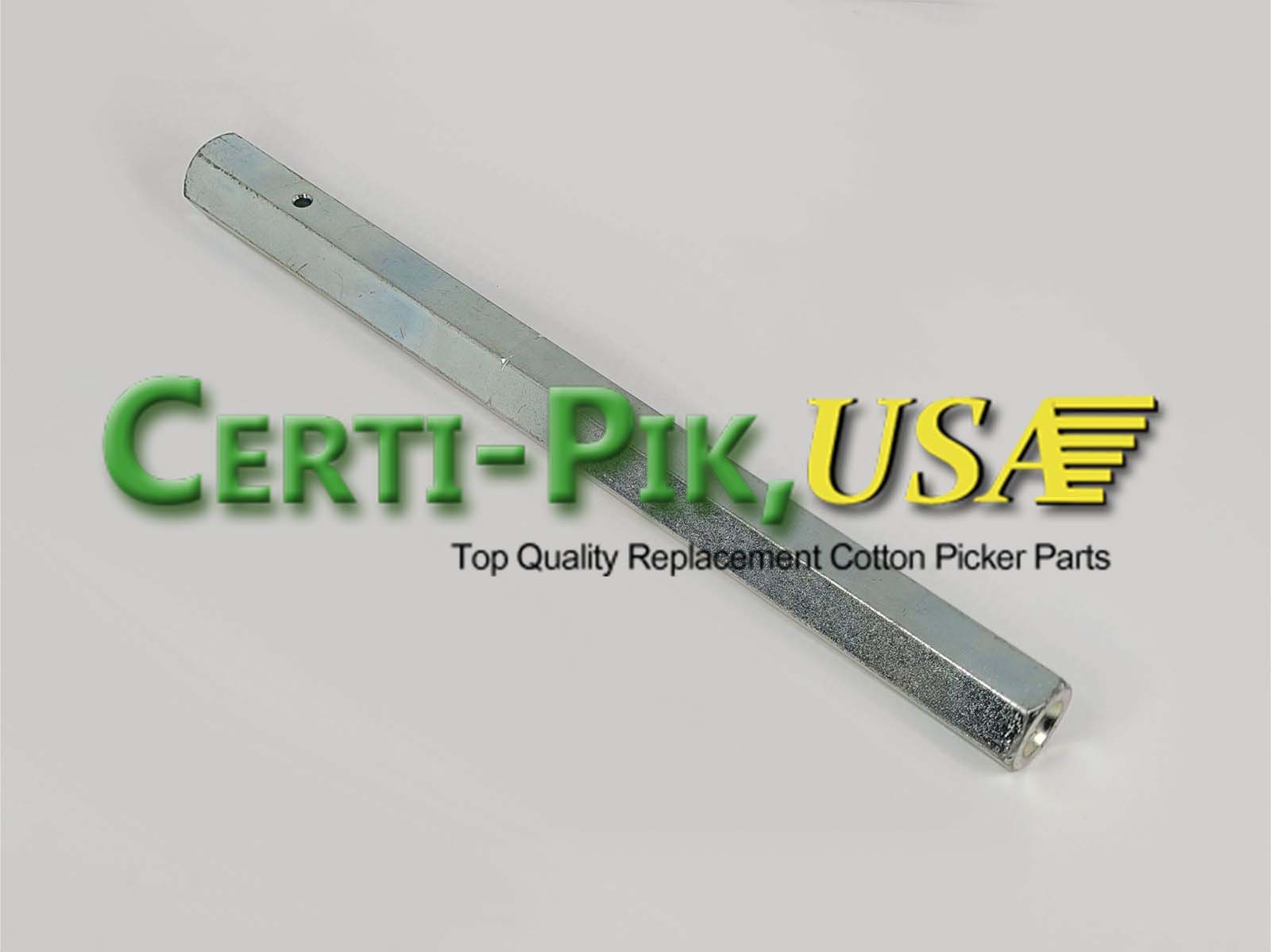 Description: HEX SHAFT – HEAT TREATED – FINE DOFFER ADJUSTMENT (F&R)

OEM Part: KK61197

Section: Picking Unit System

John Deere Upper Doffer Adjustment Housing and Sprockets Assembly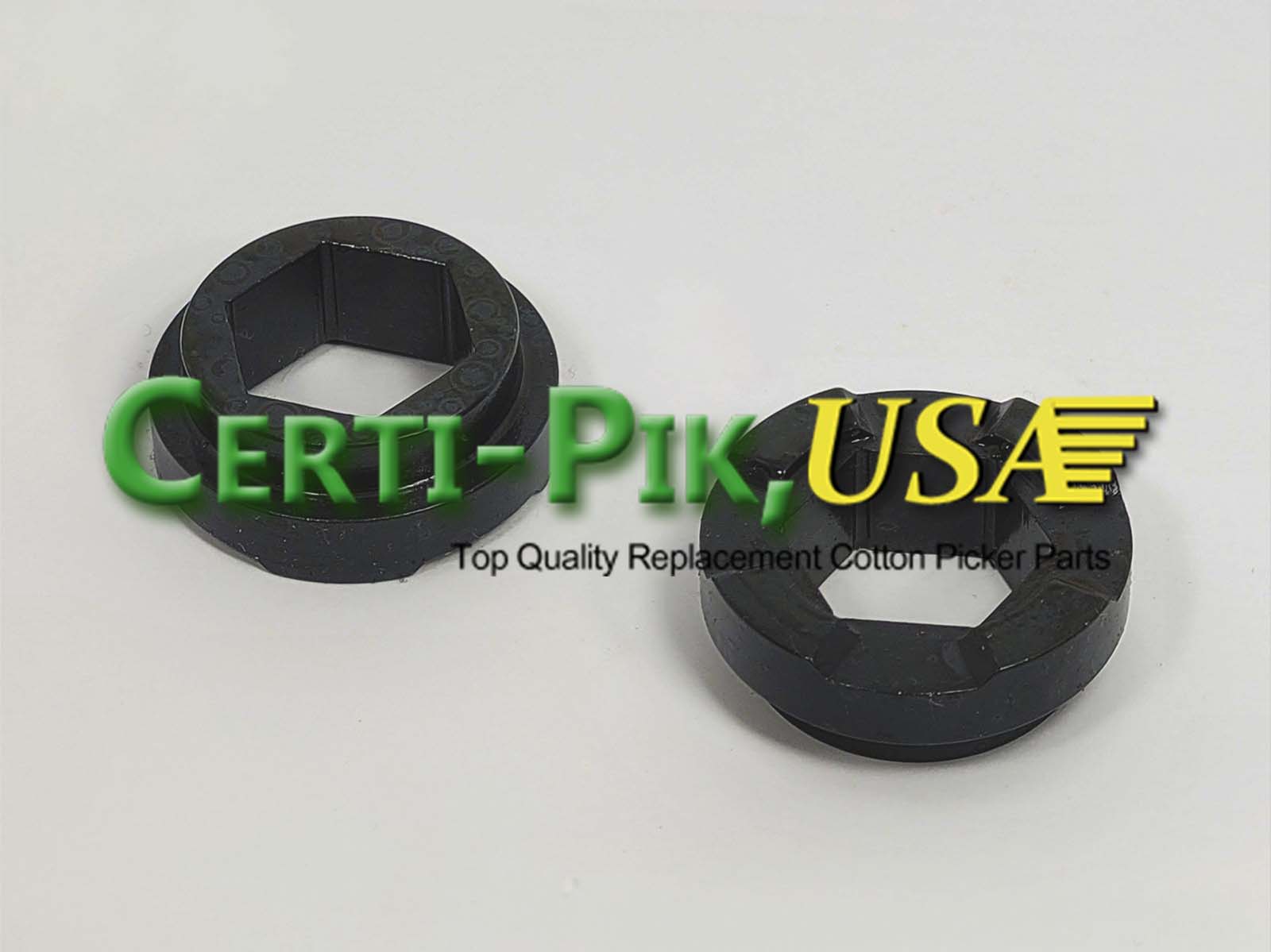 Description: HUB – TOP CLUTCH – HEX BORE – FINE DOFFER ADJUSTMENT – HEAT TREATED STEEL FOR INCREASED DURRABILITY : NOT POWDERED METAL (F&R)

OEM Part: KK13518

Section: Picking Unit System

John Deere Upper Doffer Adjustment Housing and Sprockets Assembly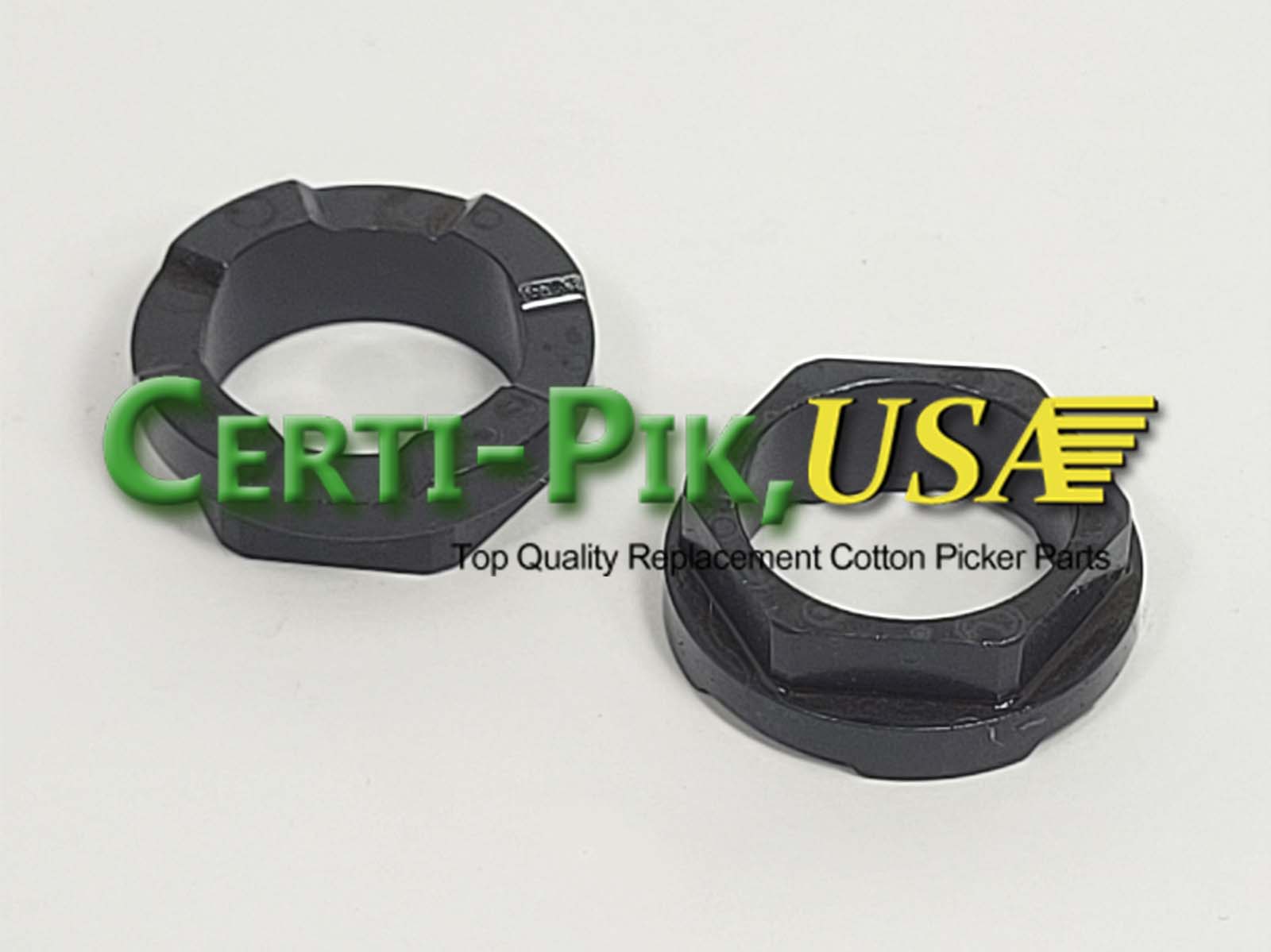 Description: RETAINER – BOTTOM CLUTCH – ROUND BORE – FINE DOFFER ADJUSTMENT -LONGER HEX FOR FULL PLATE ENGAGMENT – HEAT TREATED STEEL FOR INCREASED DURRABILITY: NOT POWDERED METAL (F&R)

OEM Part: KK20391

Section: Picking Unit System

John Deere Upper Doffer Adjustment Housing and Sprockets Assembly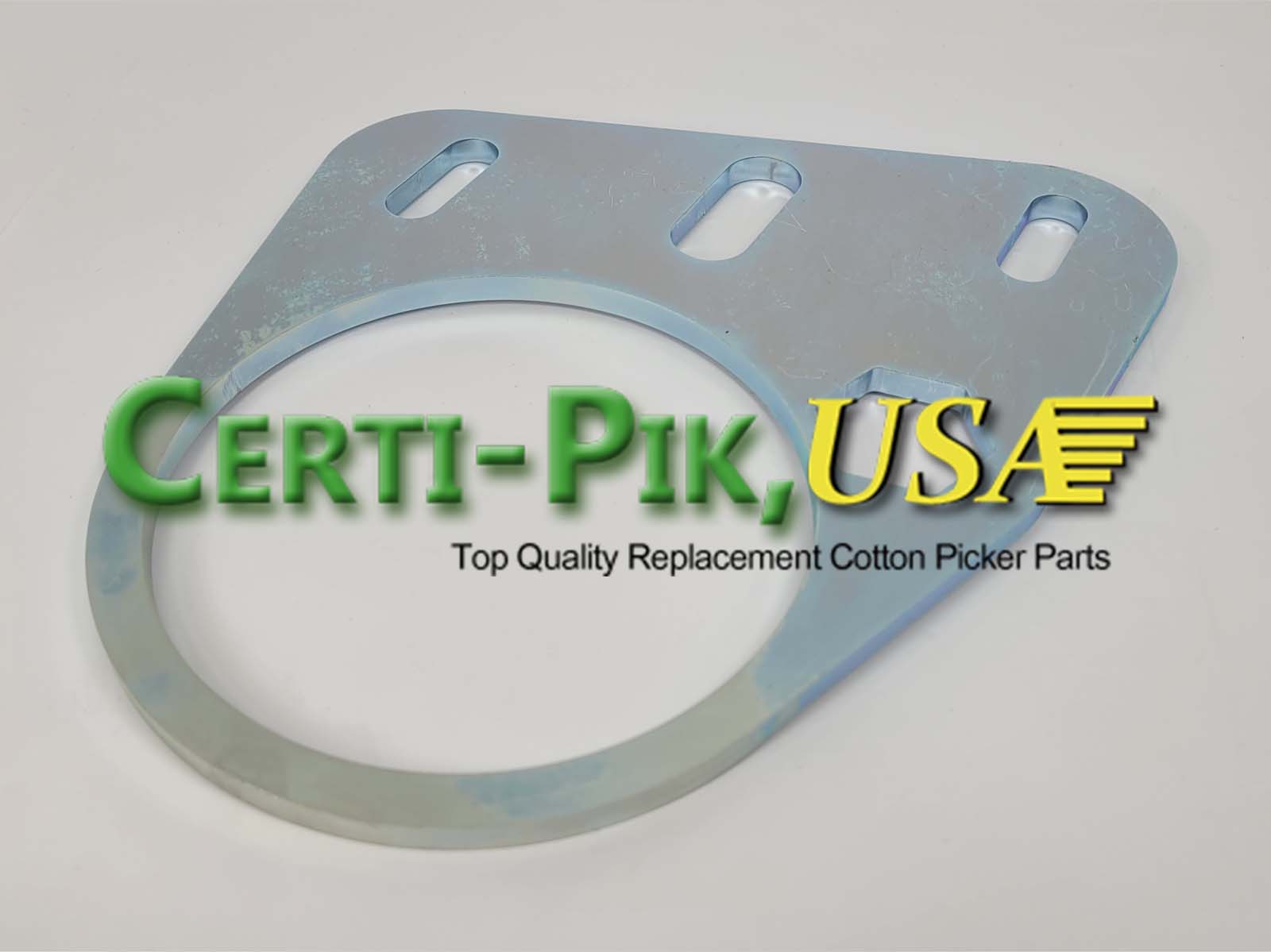 Description: PLATE – FRONT – FINE DOFFER ADJUSTMENT

OEM Part: KK20346

Section: Picking Unit System

John Deere Upper Doffer Adjustment Housing and Sprockets Assembly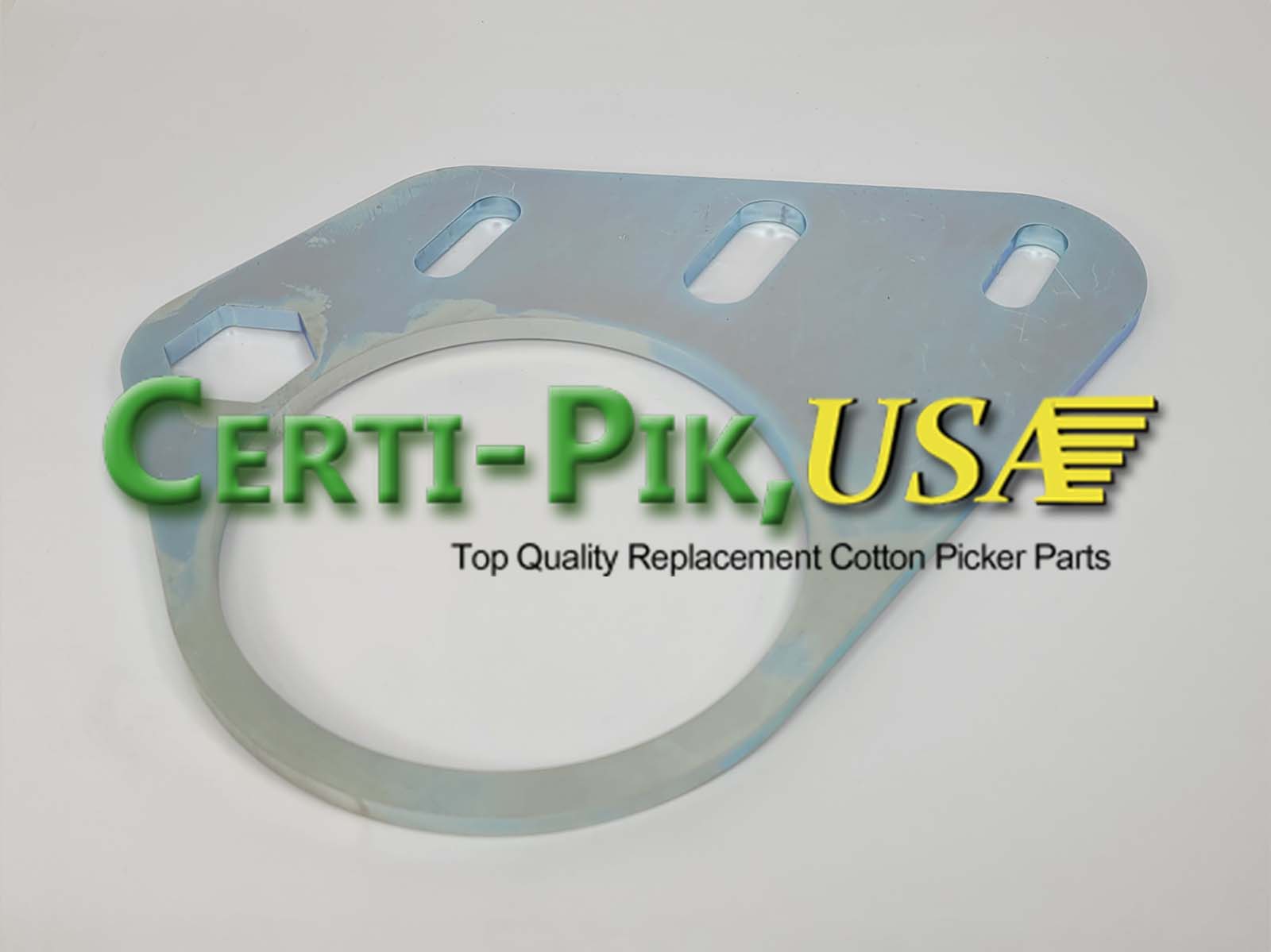 Description: PLATE – REAR – FINE DOFFER ADJUSTMENT

OEM Part: KK20347

Section: Picking Unit System

John Deere Upper Doffer Adjustment Housing and Sprockets Assembly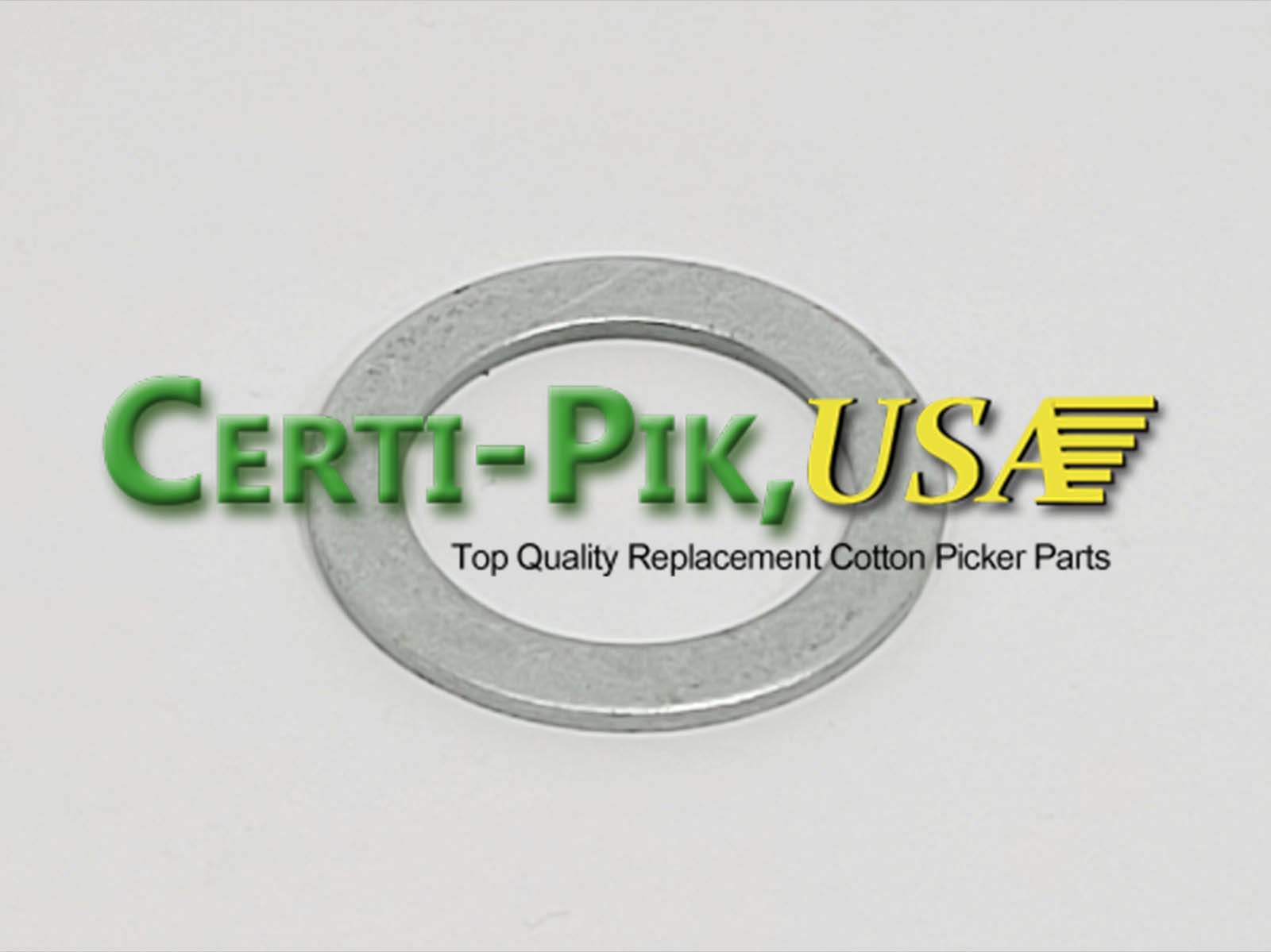 Description: WASHER – 25 X 36 X 2mm

OEM Part: 24M7375

Section: Picking Unit System

John Deere Upper Doffer Adjustment Housing and Sprockets Assembly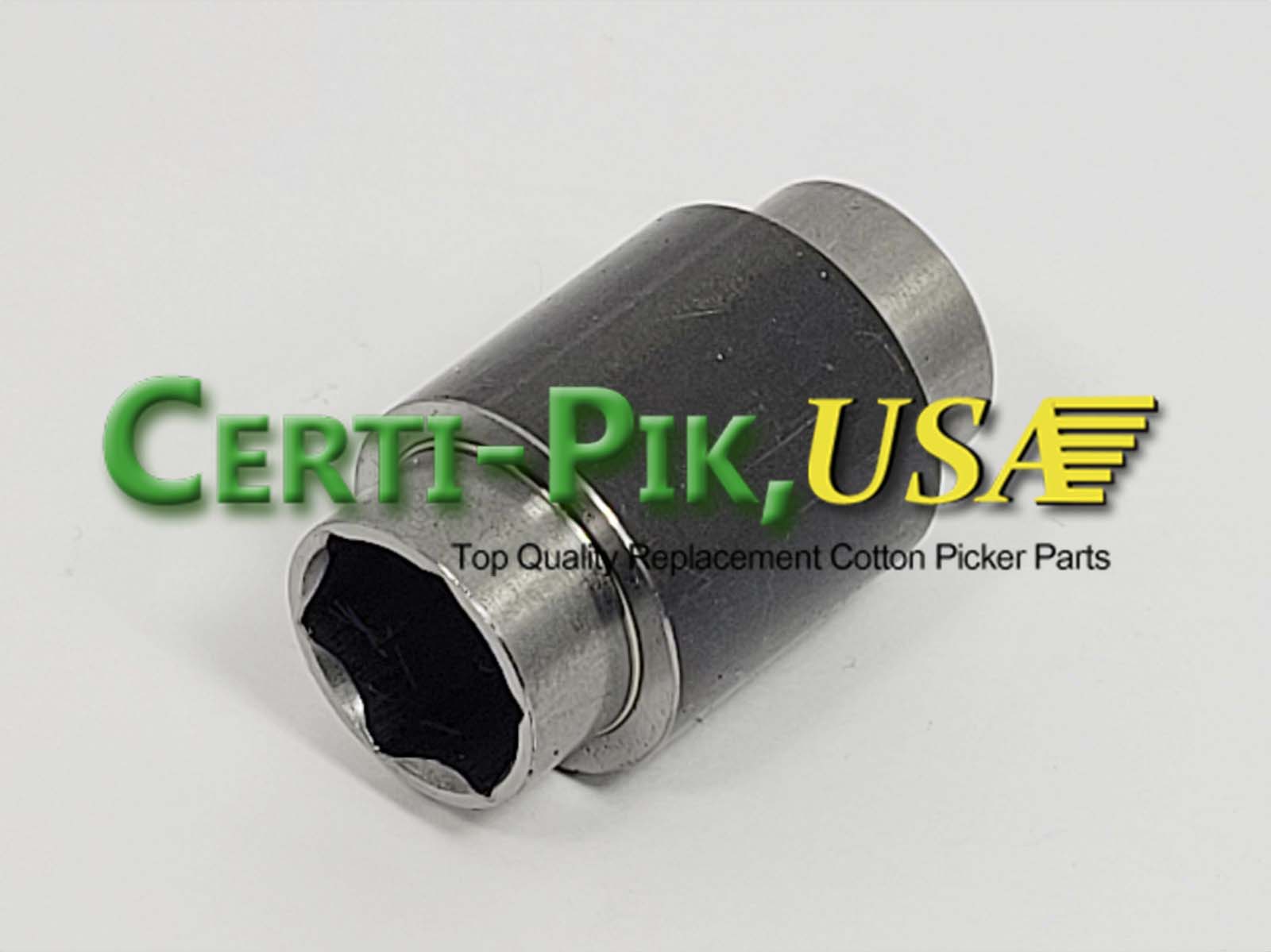 Description: BUSHING – STRONGER STEEL HEX SPACER – FINE DOFFER ADJUSTMENT (F&R)

OEM Part: KK49513

Section: Picking Unit System

John Deere Upper Doffer Adjustment Housing and Sprockets Assembly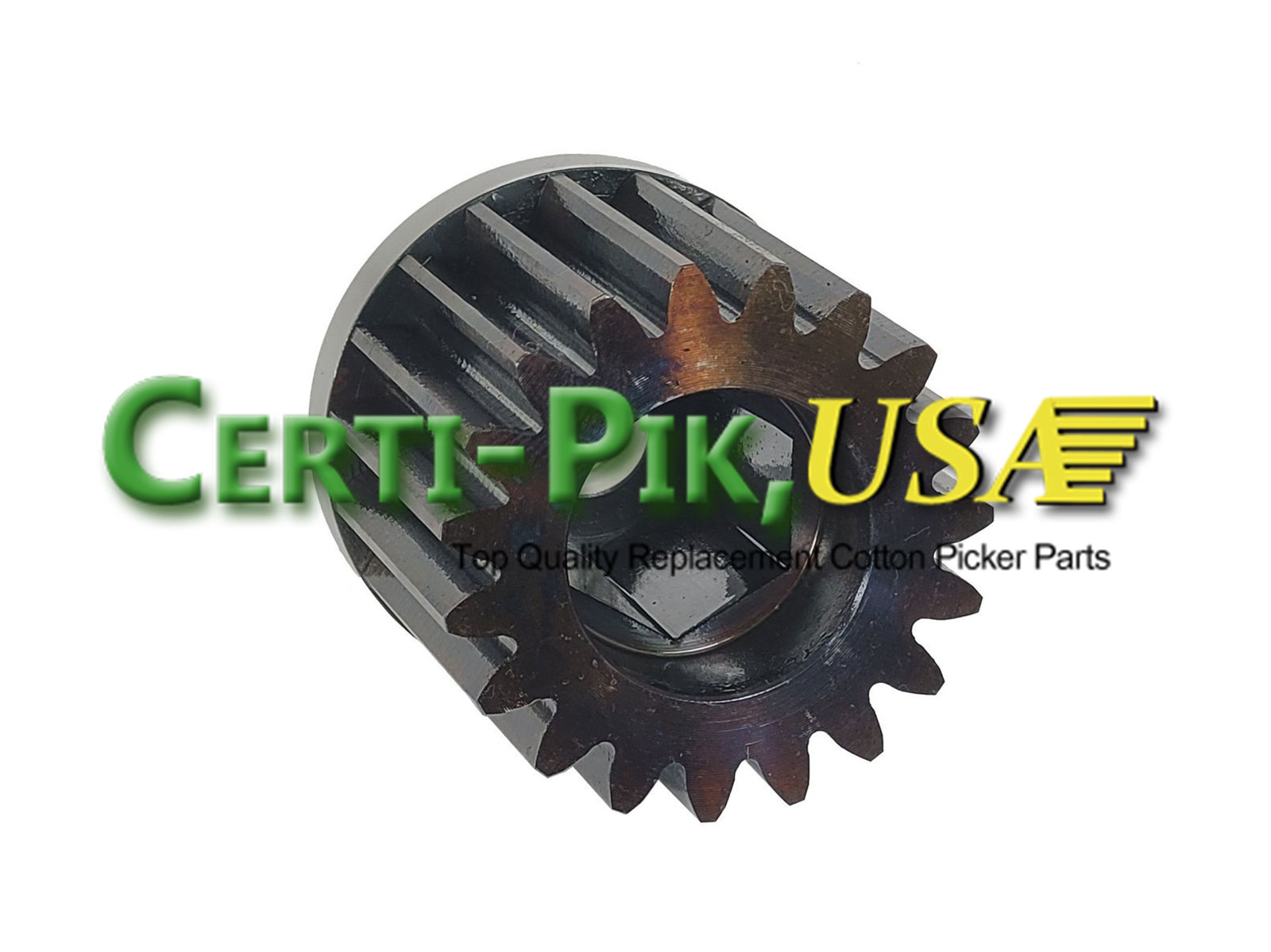 Description: SPUR GEAR – 25 TOOTH – DOFFER IDLER – STEEL FOR INCREASED DURRABILITY : NOT POWDERED METAL (F&R)

OEM Part: KK20450

Section: Picking Unit System

John Deere Upper Doffer Adjustment Housing and Sprockets Assembly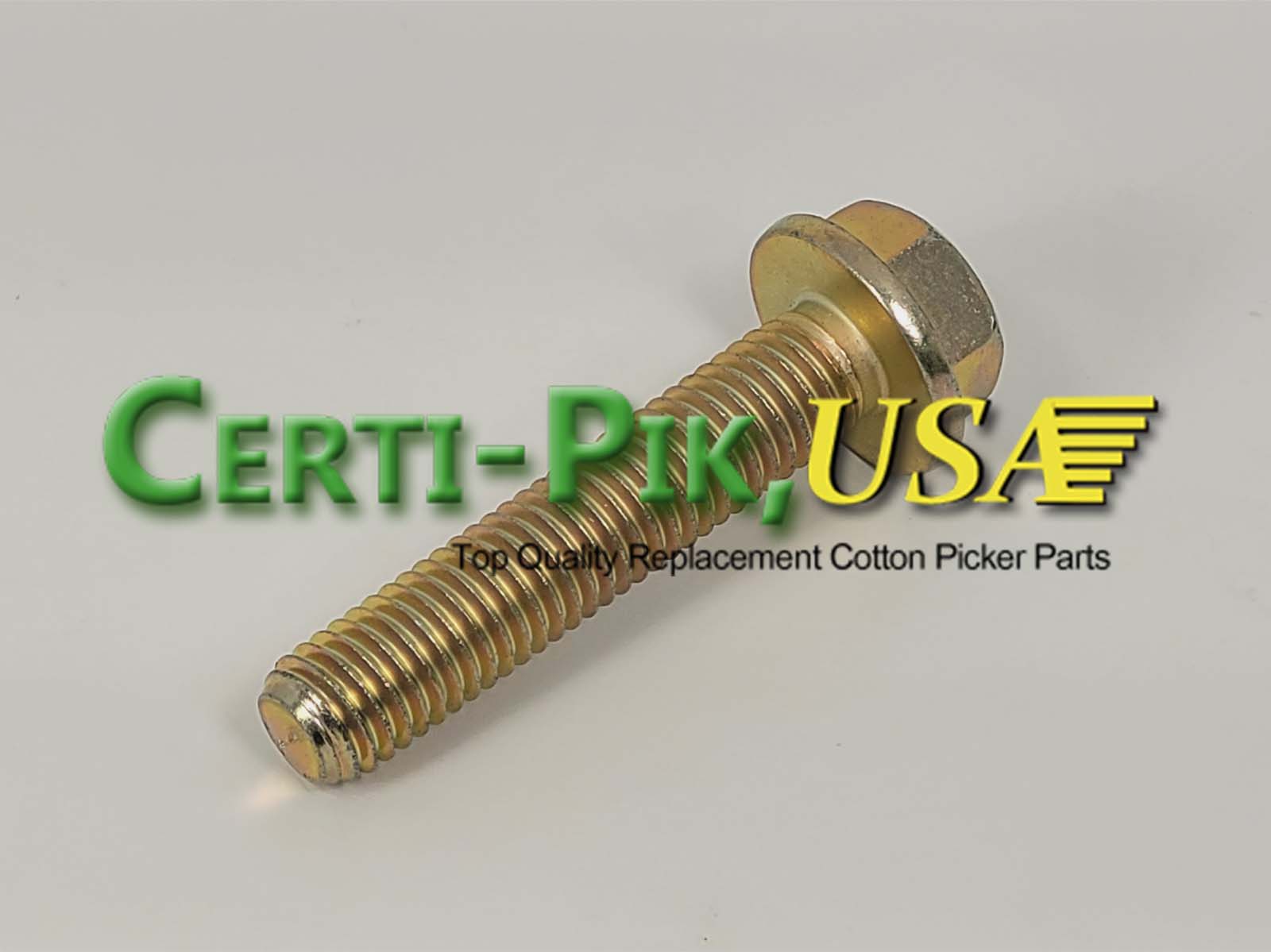 Description: SCREW – M10 X 50 – FINE DOFFER ADJUSTMENT

OEM Part: 19M7806

Section: Picking Unit System

John Deere Upper Doffer Adjustment Housing and Sprockets Assembly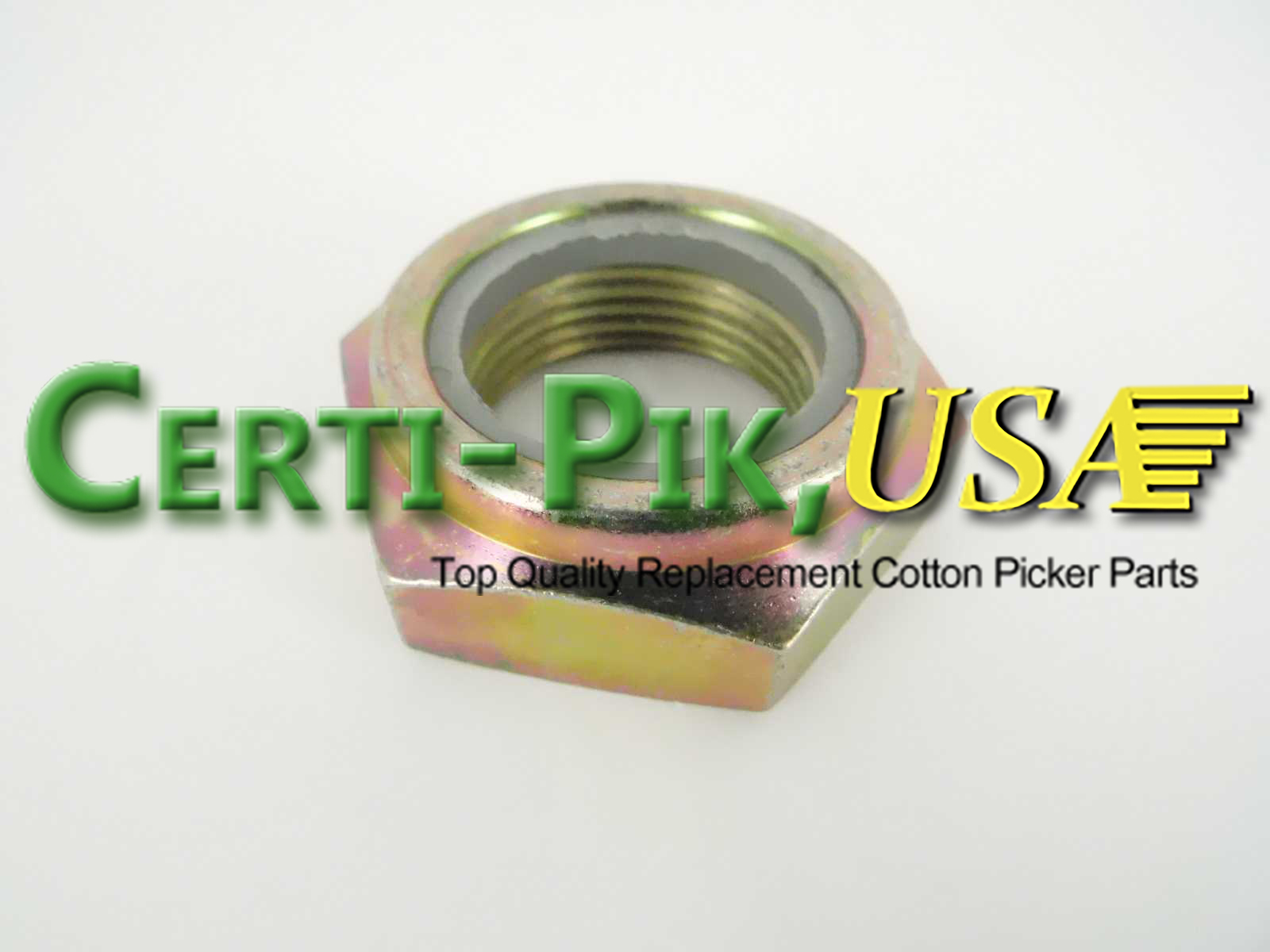 Description: NUT – PRO – M30 NYLON LOCK NUT

OEM Part: N275038

Section: Picking Unit System

John Deere Upper Doffer Adjustment Housing and Sprockets Assembly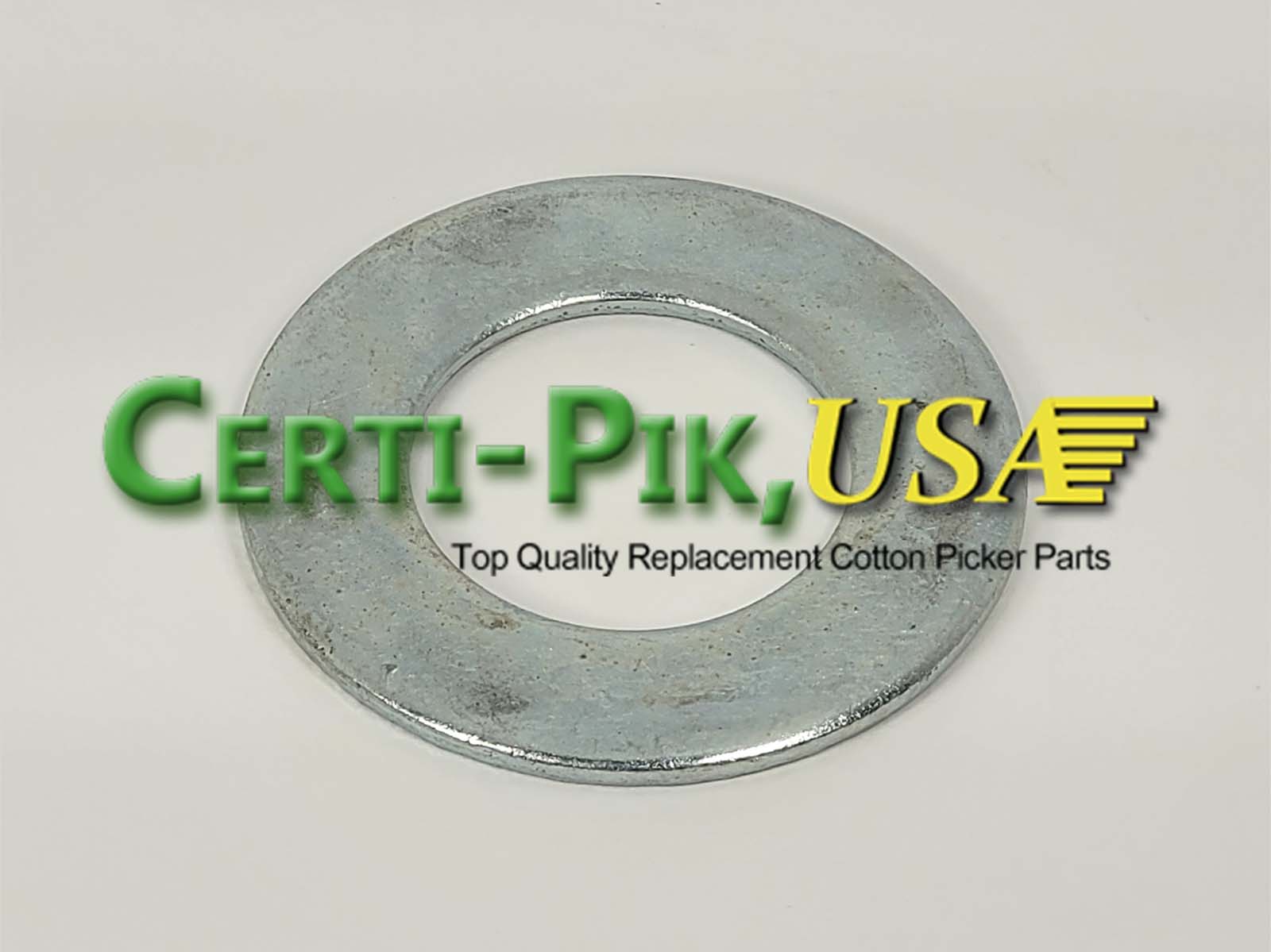 Description: WASHER – 1-3/16″ X 2.25″ X 0.120″

OEM Part: 24H1262

Section: Picking Unit System

John Deere Upper Doffer Adjustment Housing and Sprockets Assembly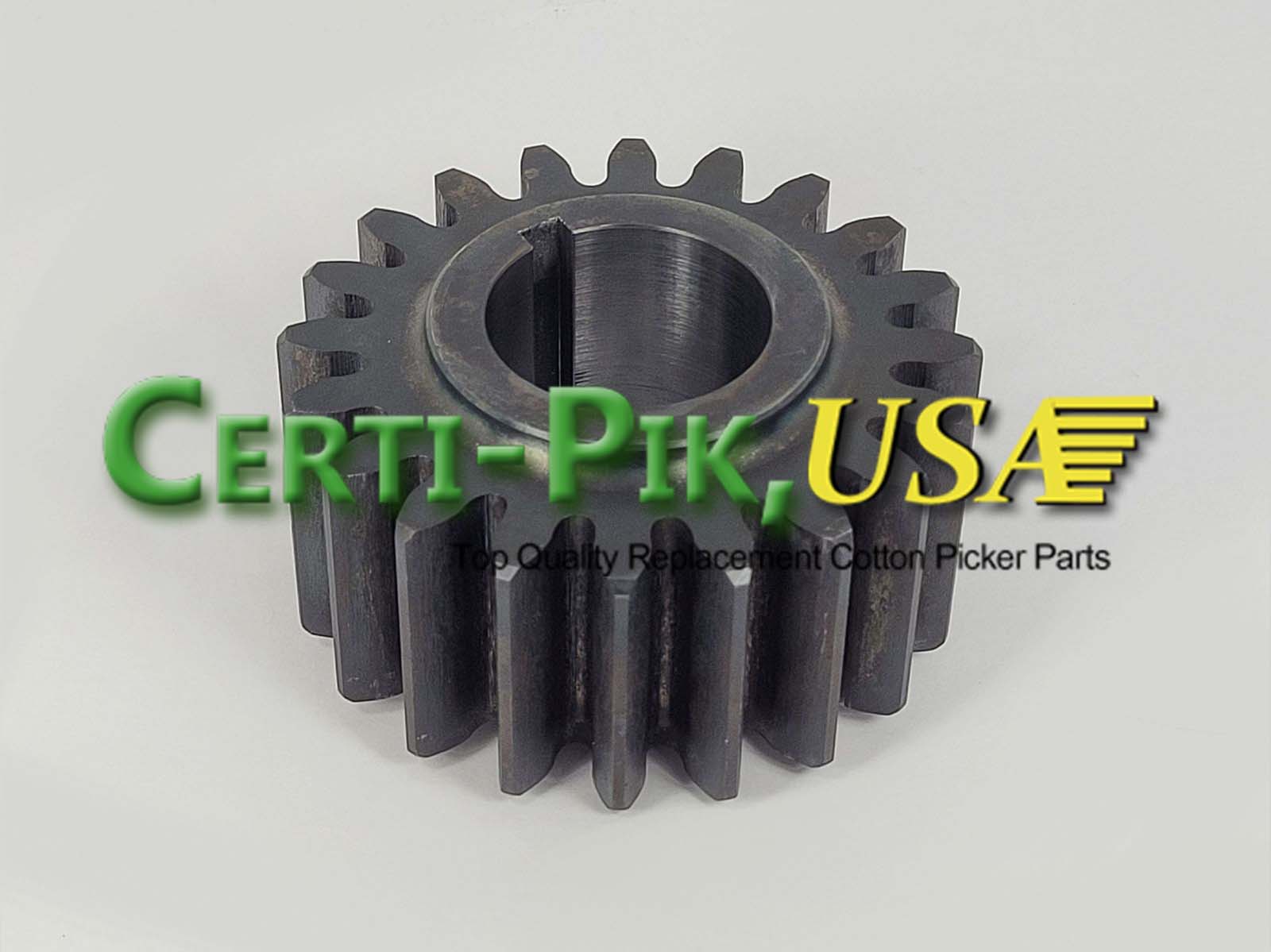 Description: SPUR GEAR – 20 TOOTH – DOFFER DRIVE – FINE DOFFER ADJUSTMENT (F&R)

OEM Part: KK12107

Section: Picking Unit System

John Deere Upper Doffer Adjustment Housing and Sprockets Assembly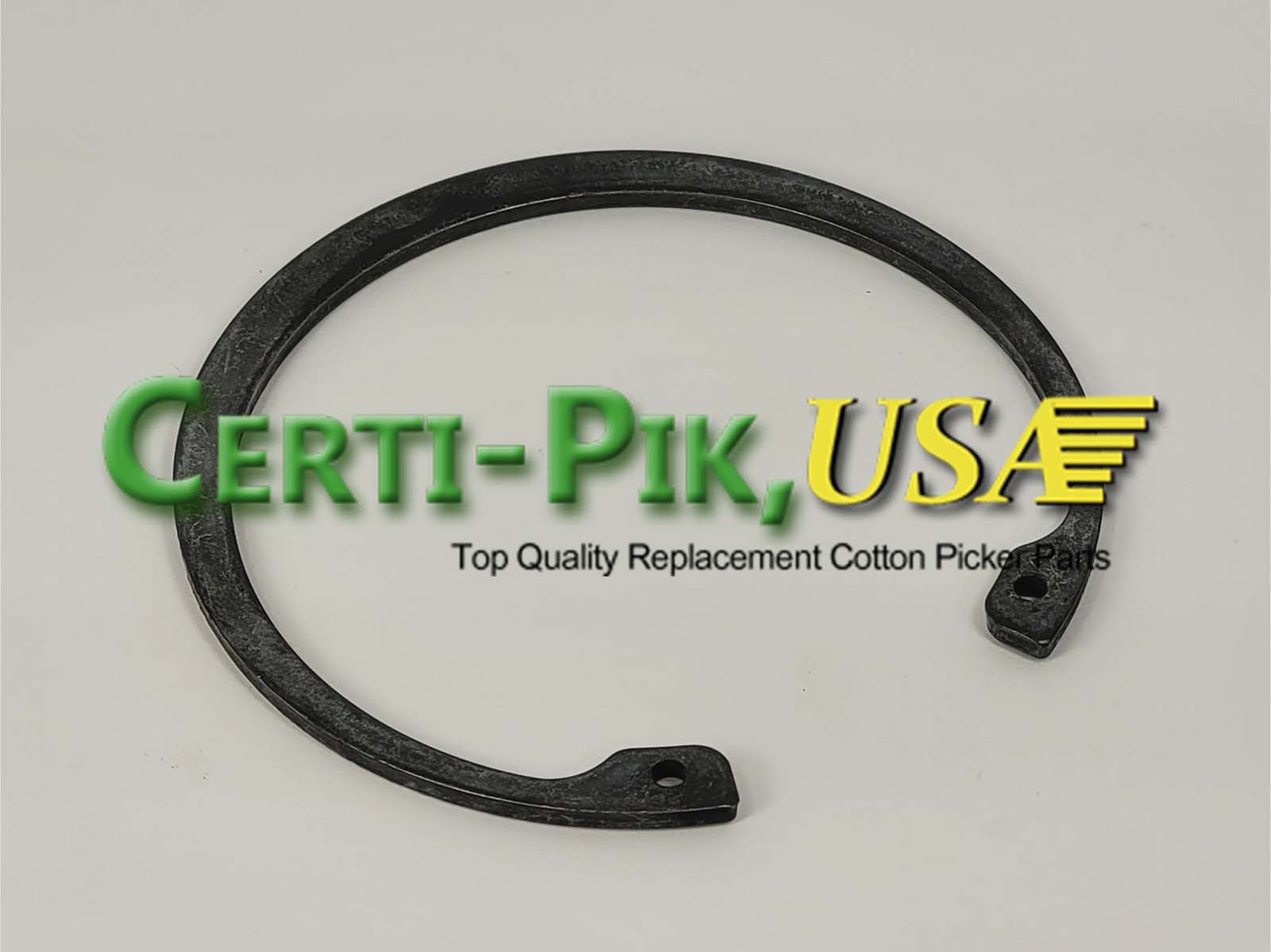 Description: SNAP RING – FINE DOFFER ADJUSTMENT (F&R)

OEM Part: N71921

Section: Picking Unit System

John Deere Upper Doffer Adjustment Housing and Sprockets Assembly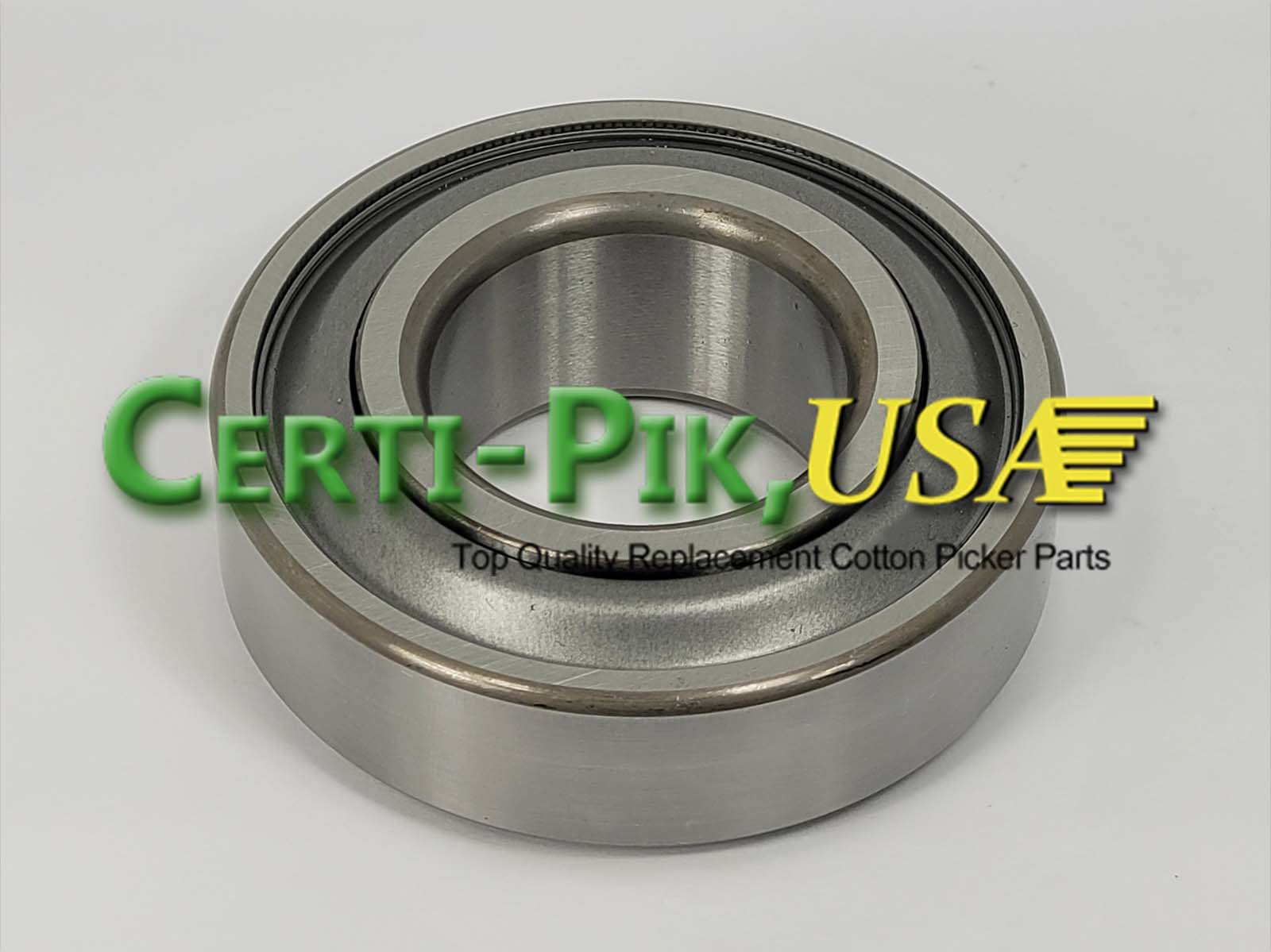 Description: BEARING – ADJUSTER – FINE DOFFER AJUSTMENT (F&R)

OEM Part: JD8524

Section: Picking Unit System

John Deere Upper Doffer Adjustment Housing and Sprockets Assembly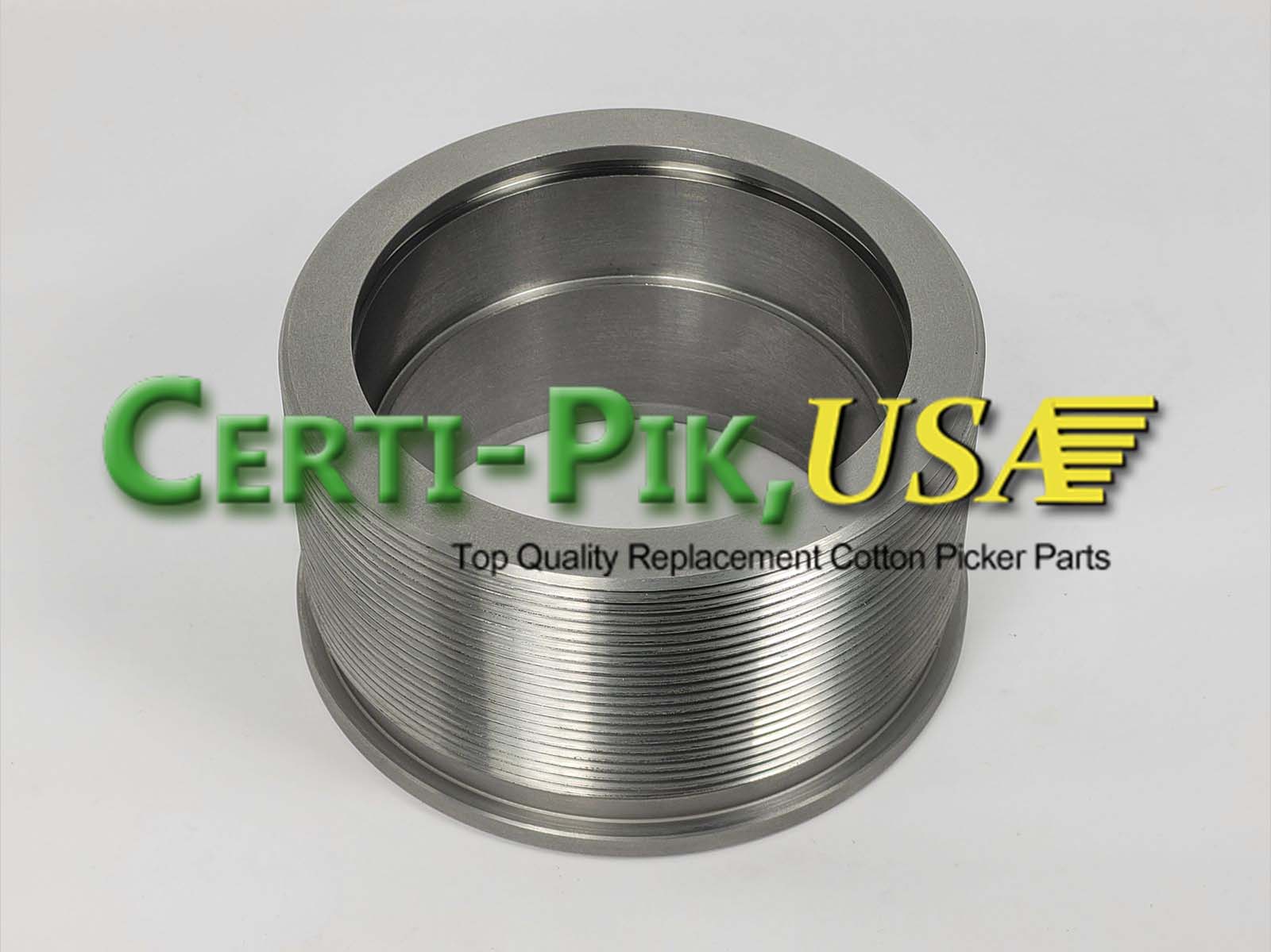 Description: ADJUSTER BEARING HOUSING – FINE DOFFER AJUSTMENT – REPLACES #KK14726 & KK25634 & KK63795 (F&R)

OEM Part: KK81096

Section: Picking Unit System

John Deere Upper Doffer Adjustment Housing and Sprockets Assembly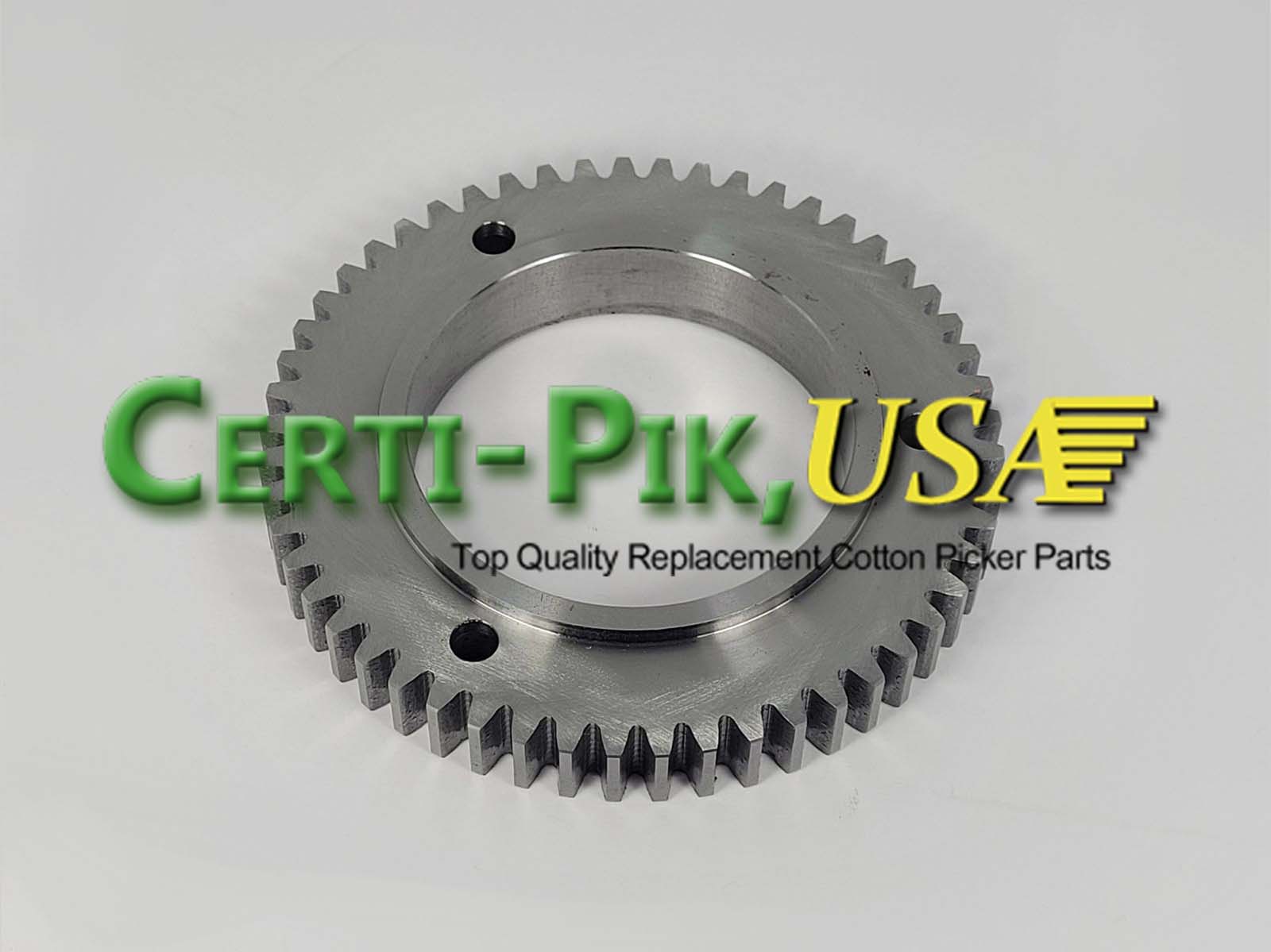 Description: SPUR GEAR – 53 TOOTH – FINE DOFFER ADJUSTMENT – STEEL FOR INCREASED DURRABILITY : NOT POWDERED METAL (F&R)

OEM Part: KK17491

Section: Picking Unit System

John Deere Upper Doffer Adjustment Housing and Sprockets Assembly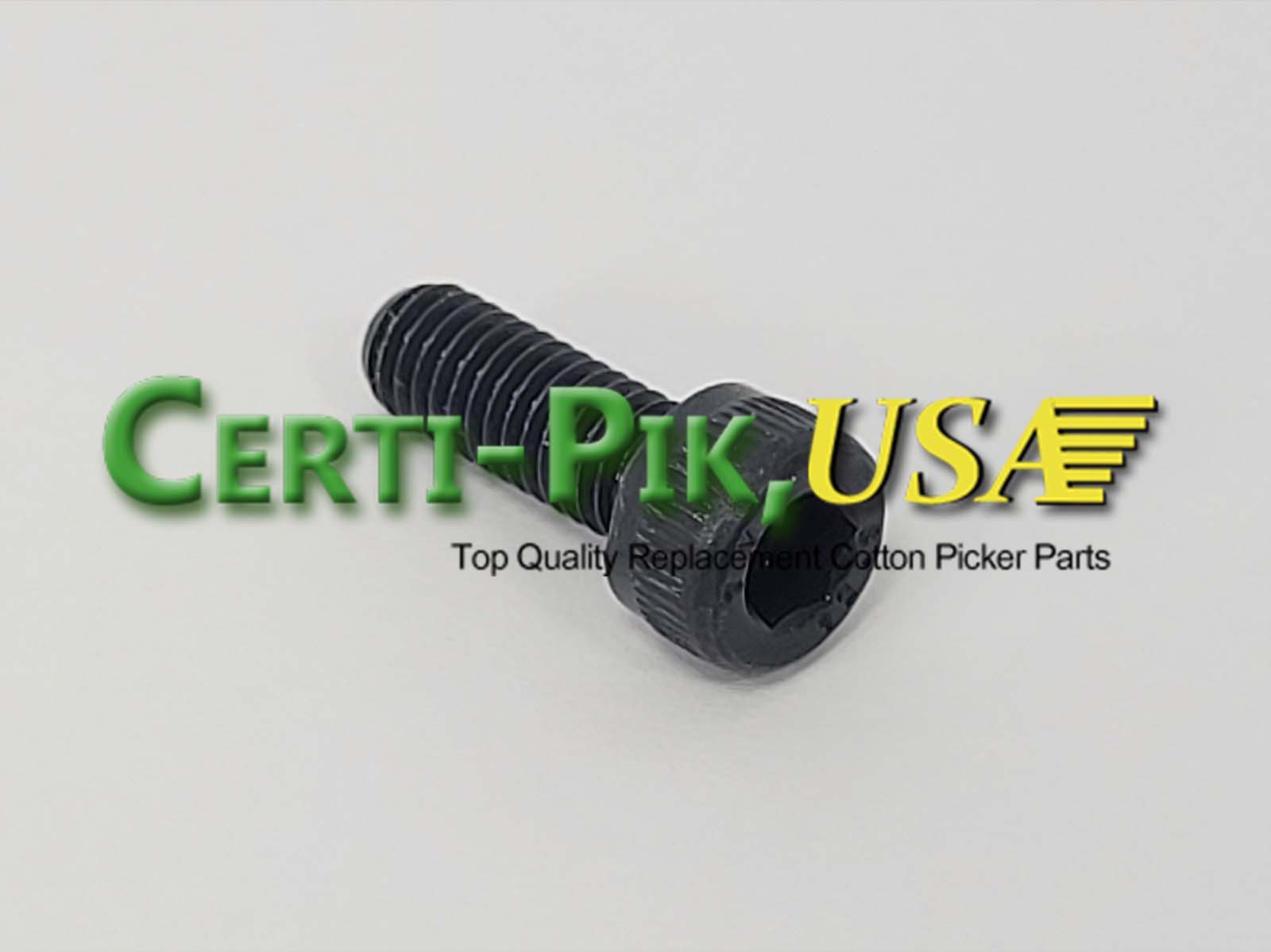 Description: SCREW – M6 X 16

OEM Part: 19M8553

Section: Picking Unit System

John Deere Upper Doffer Adjustment Housing and Sprockets Assembly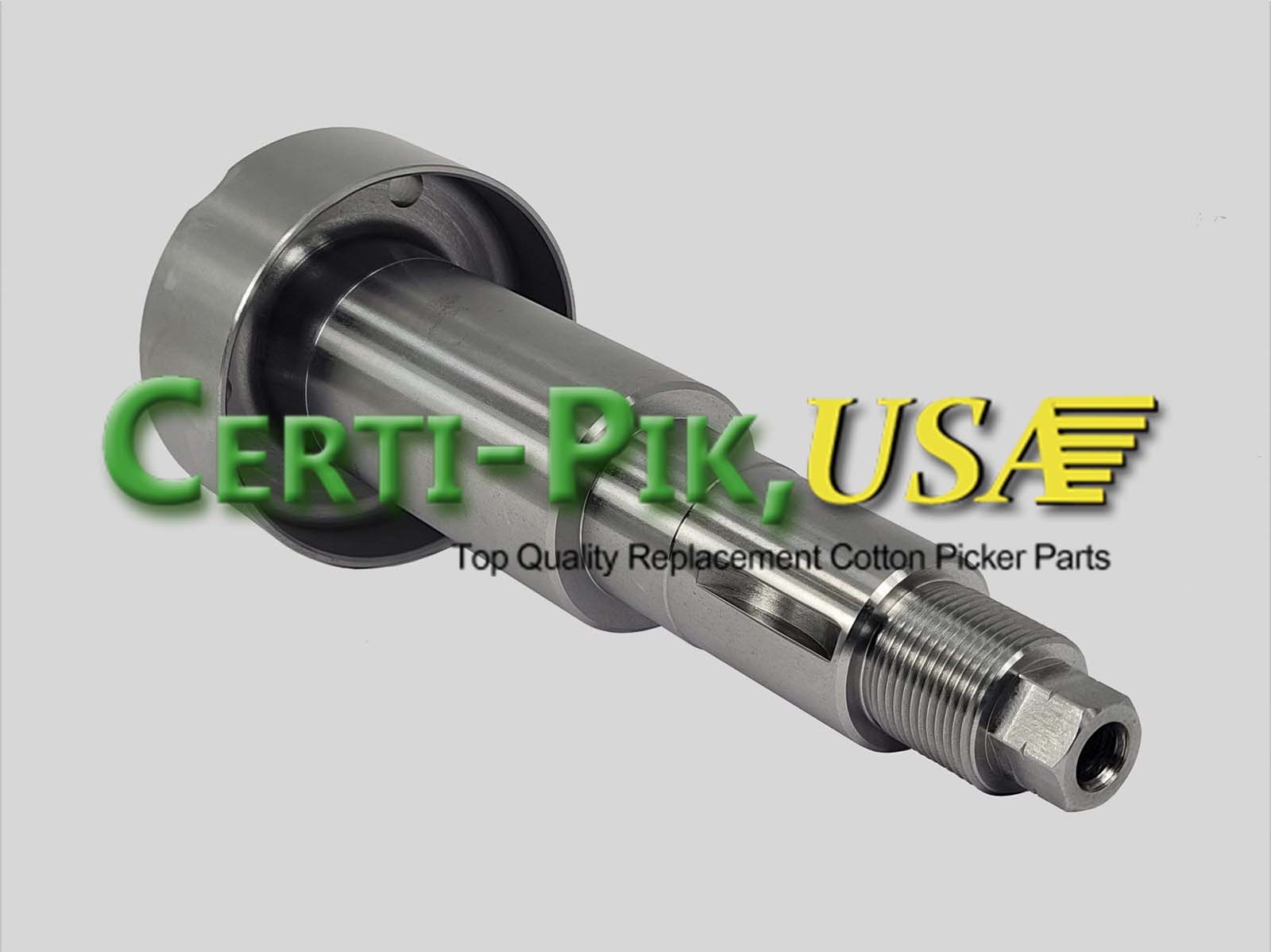 Description: DRIVE SHAFT – FINE DOFFER ADJUSTMENT – REPLACES #AKK13695 (F&R)

OEM Part: AKK35513

Section: Picking Unit System

John Deere Upper Doffer Adjustment Housing and Sprockets Assembly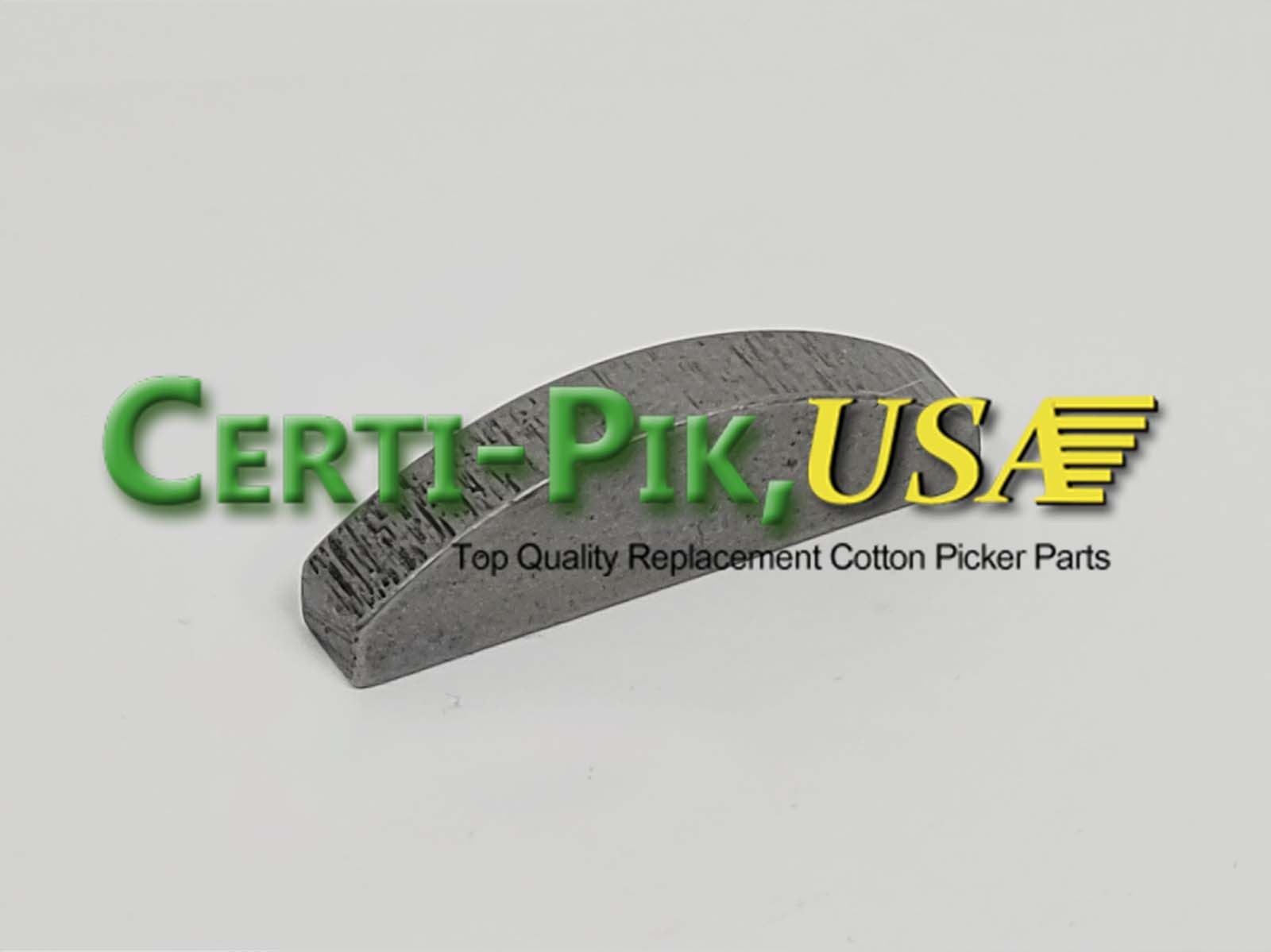 Description: SHAFT KEY – 1/4″ X 2-1/8″ – HARDENED

OEM Part: 26H103

Section: Picking Unit System

John Deere Upper Doffer Adjustment Housing and Sprockets Assembly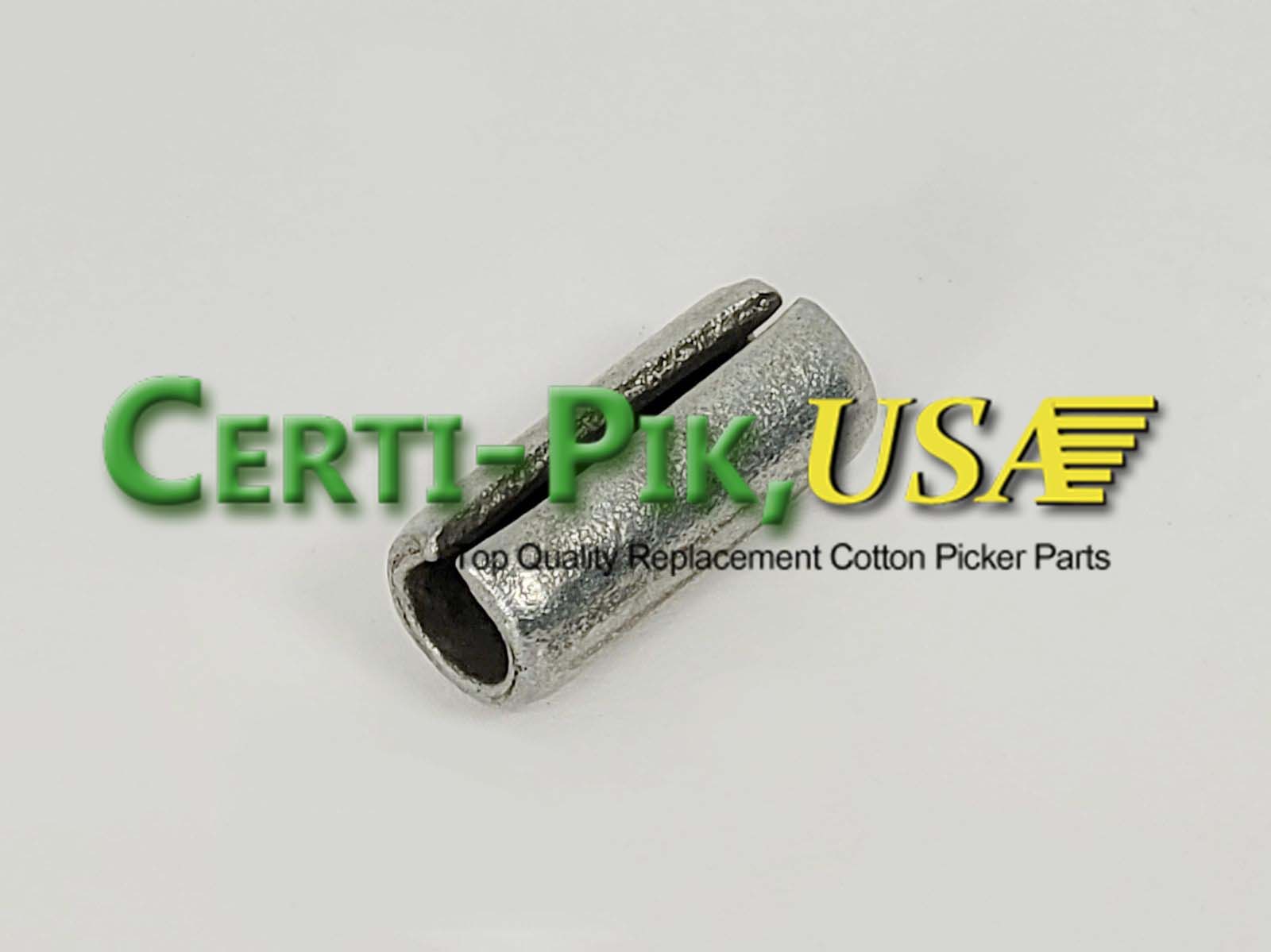 Description: SPRING PIN – 3/8″ X 7/8″

OEM Part: 34H347

Section: Picking Unit System

John Deere Upper Doffer Adjustment Housing and Sprockets Assembly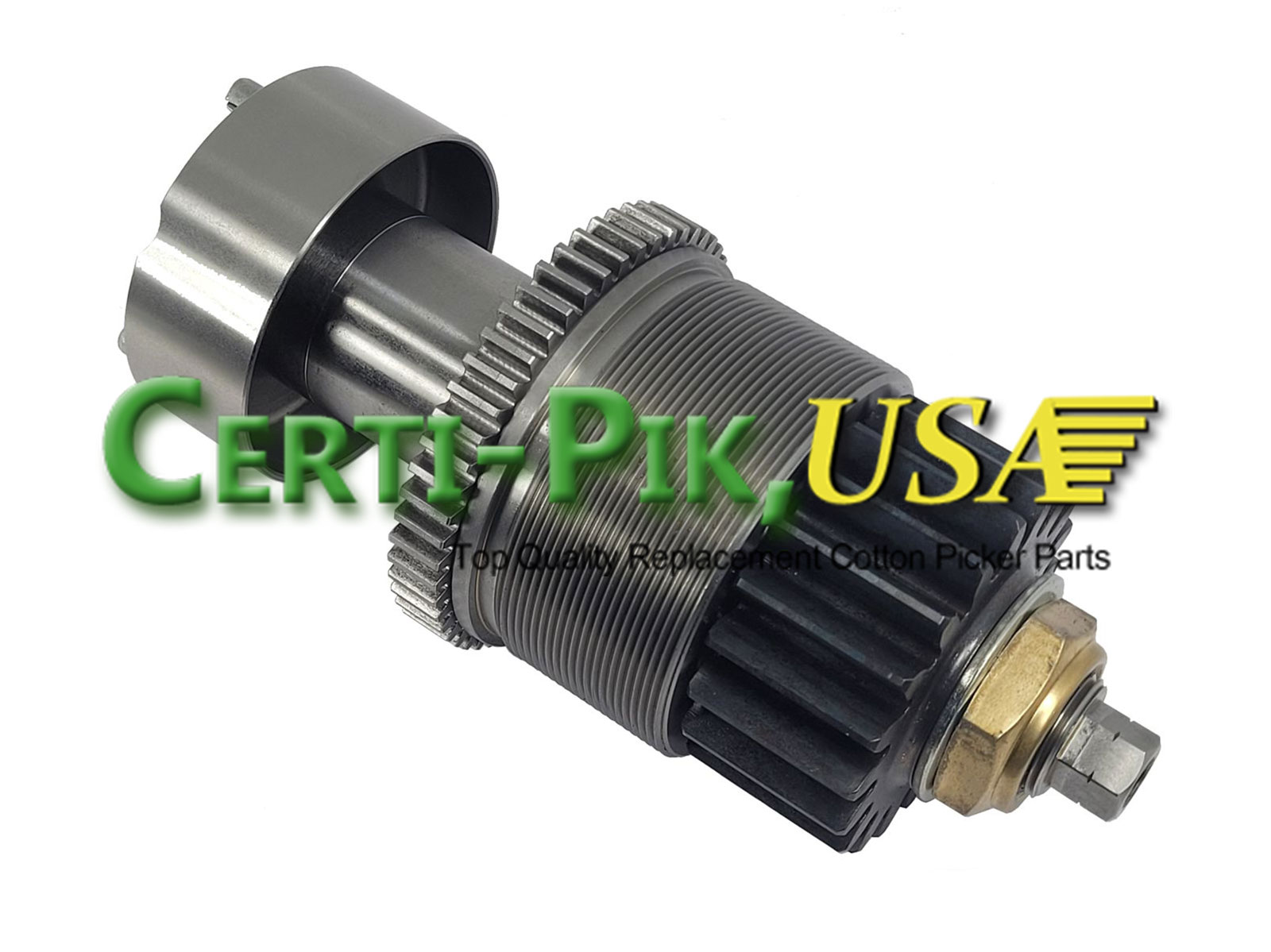 Description: ASSEMBLED DRIVE SHAFT – FINE DOFFER ADJUSTMENT, READY TO INSTALL – INCLUDES ITEMS #36-46'

OEM Part: 35513ASSY

Section:

John Deere Upper Doffer Adjustment Housing and Sprockets Assembly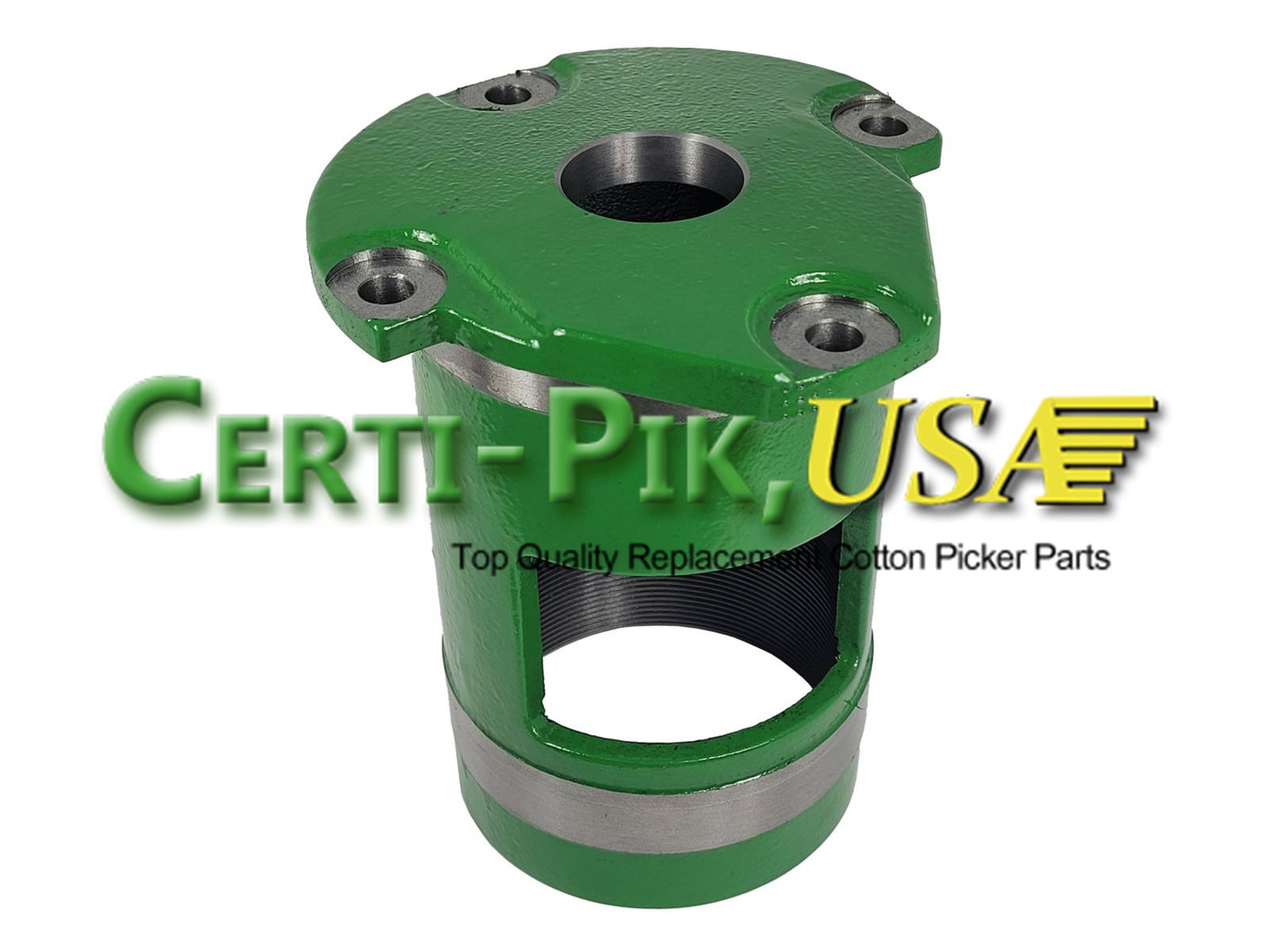 Description: HOUSING – FINE DOFFER ADJUSTMENT – (F&R)  – STEEL FOR INCREASED DURRABILITY : NOT POWDERED METAL

OEM Part: KK45200

Section: Picking Unit System

John Deere Upper Doffer Adjustment Housing and Sprockets Assembly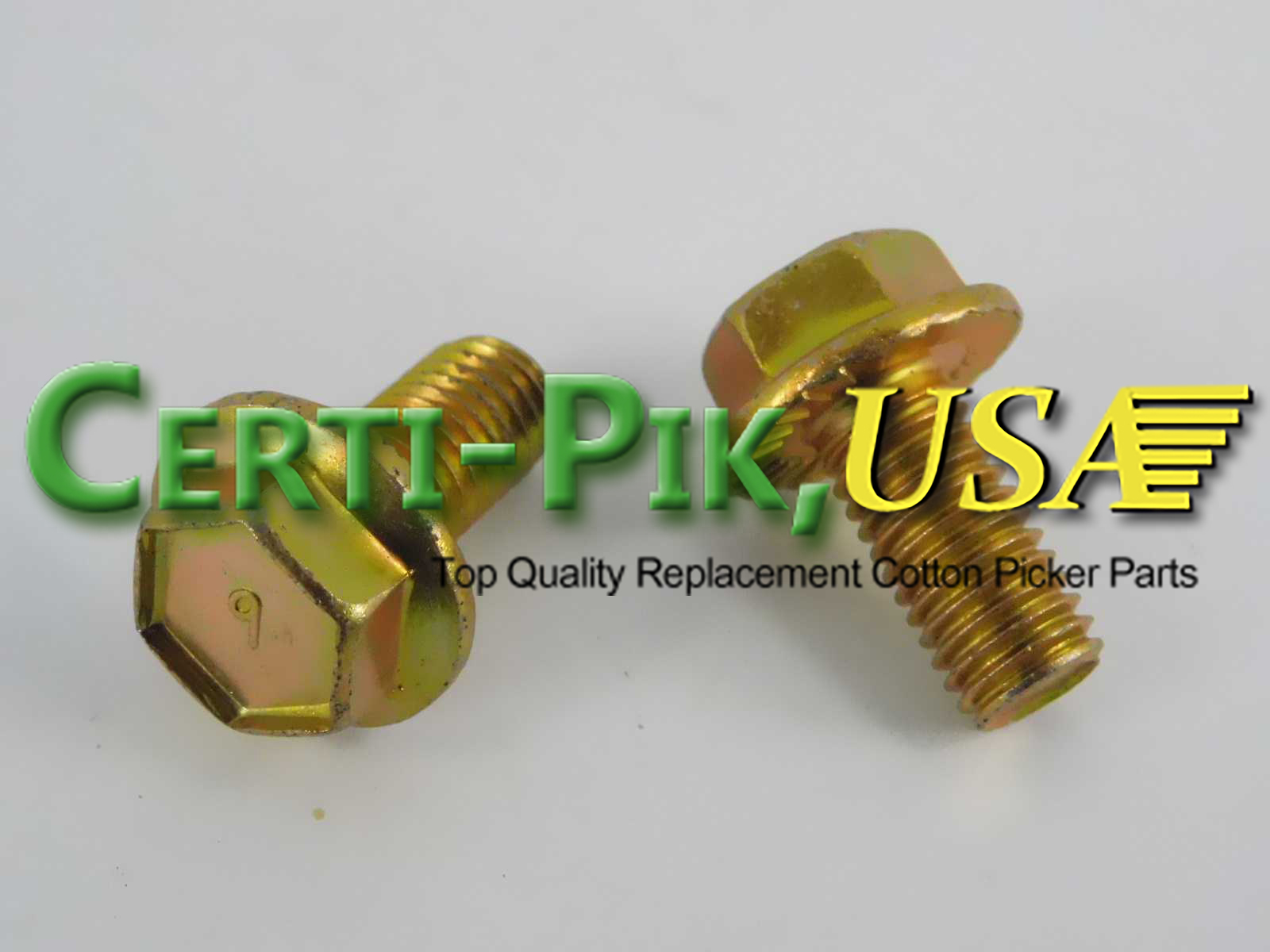 Description: BOLT – M10 X 20 – SERR HEX FLANGE – GD 8 – NOT THREAD FORMING

OEM Part: N275620

Section: Picking Unit Cabinet

John Deere 9976-CP690 Lower Cabinet, Posts, and Doors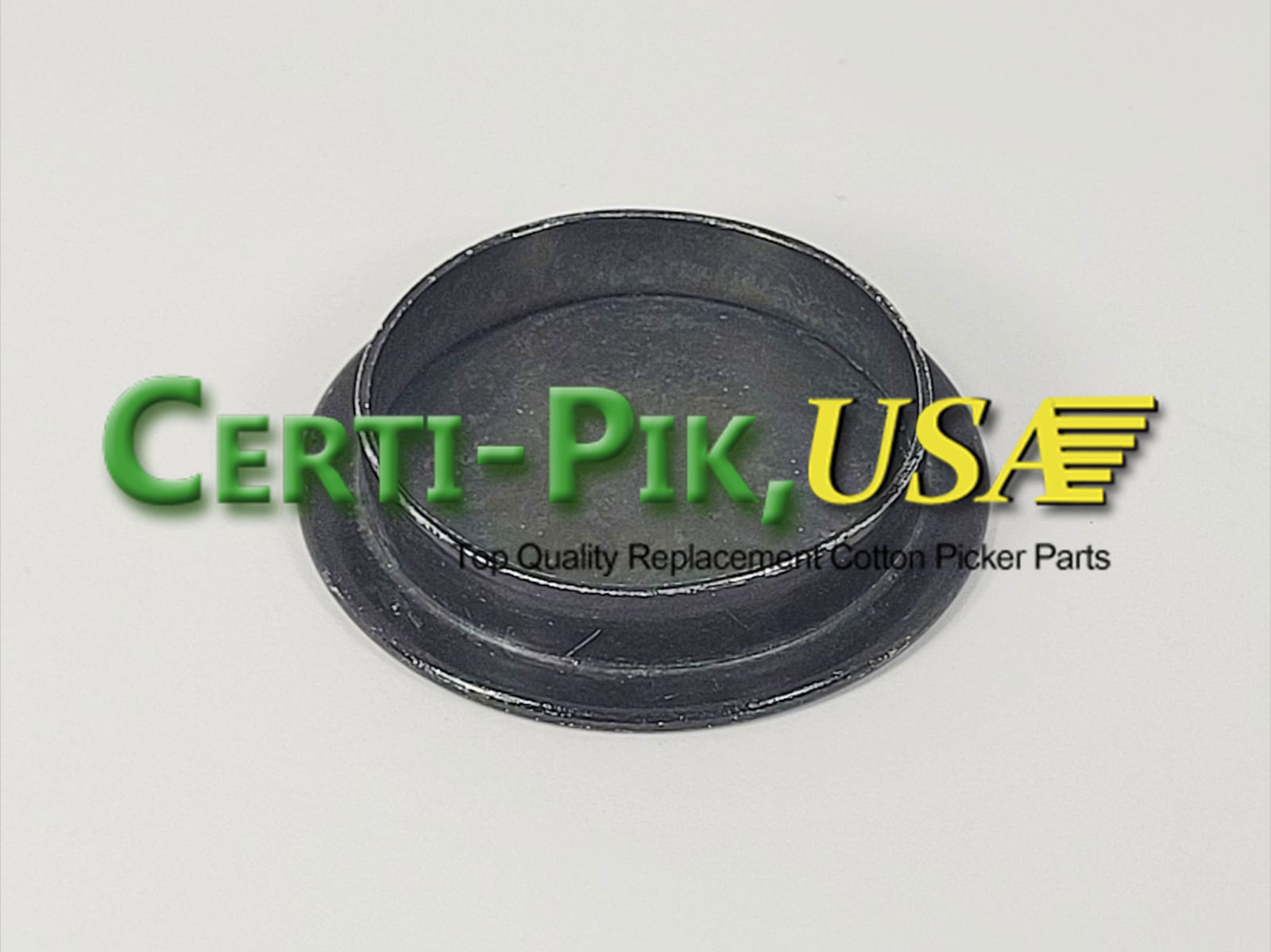 Description: BEARING CAP – FINE DOFFER ADJUSMENT HOUSING PLUG

OEM Part: A47217

Section: Picking Unit System

John Deere Upper Doffer Adjustment Housing and Sprockets Assembly



---
John Deere Doffer and Lower Housing Assembly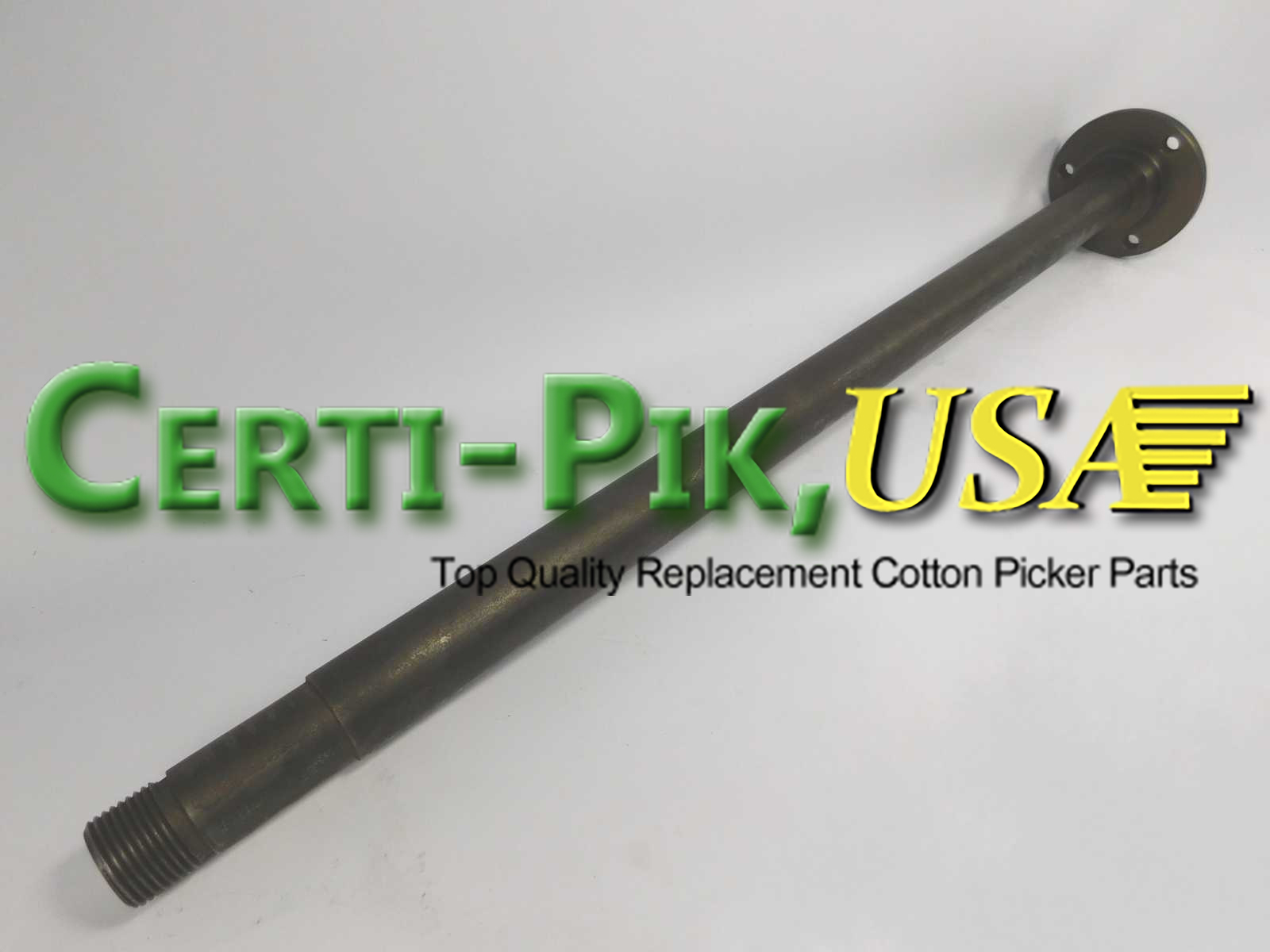 Description: DOFFER SHAFT – 14 SPINDLE

OEM Part: AN193262

Section: Picking Unit System

John Deere Doffer and Lower Housing Assembly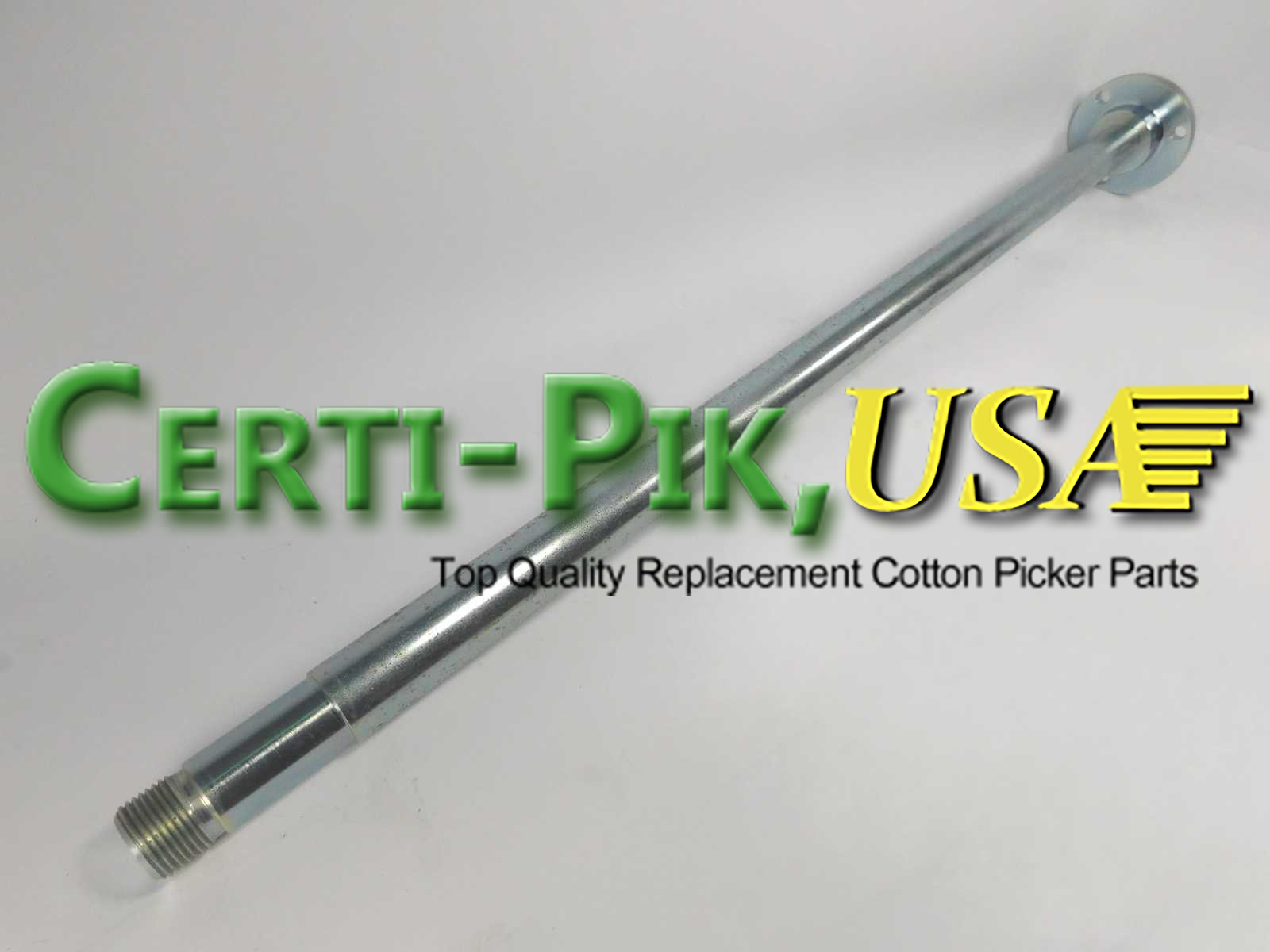 Description: DOFFER SHAFT – 18 SPINDLE

OEM Part: AN193323

Section: Picking Unit System

John Deere Doffer and Lower Housing Assembly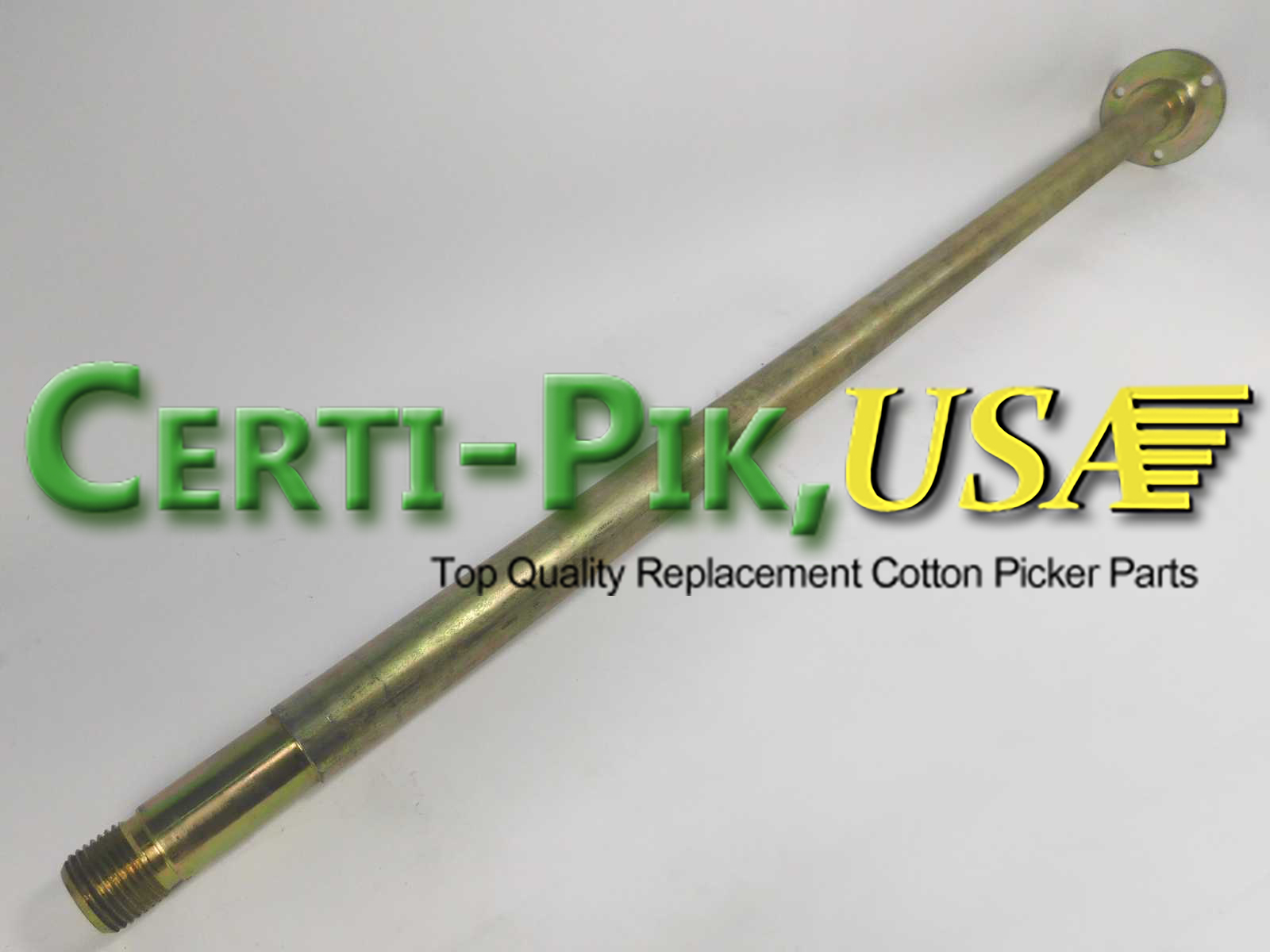 Description: USE #73701, OR #16193 – DOFFER SHAFT, 20 SPINDLE

OEM Part: AN193263

Section: Picking Unit System

John Deere Doffer and Lower Housing Assembly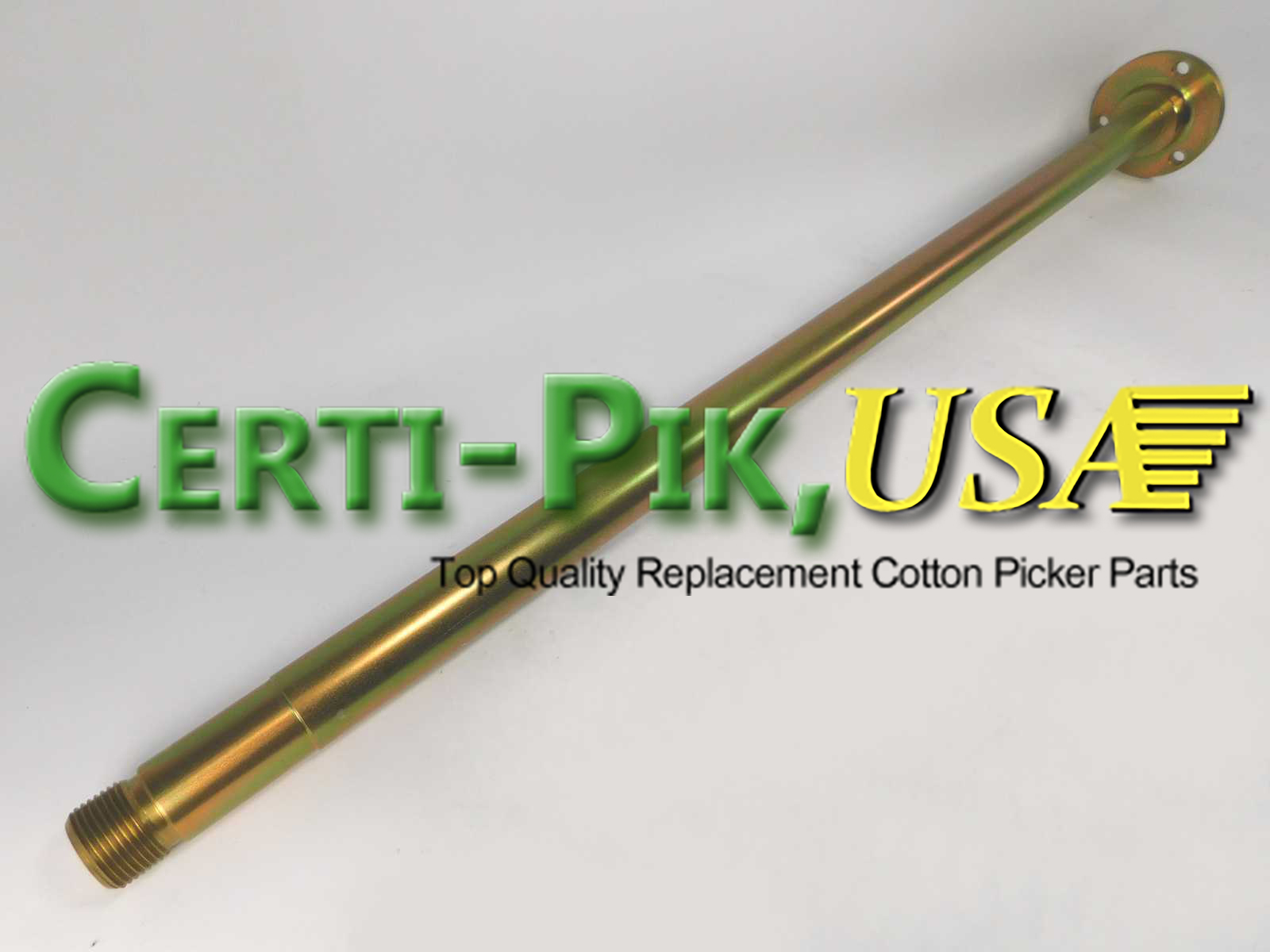 Description: DOFFER SHAFT – PRO-12 18 SPINDLE (9970-CP690 P12)

OEM Part: AN274506

Section: Picking Unit System

John Deere Doffer and Lower Housing Assembly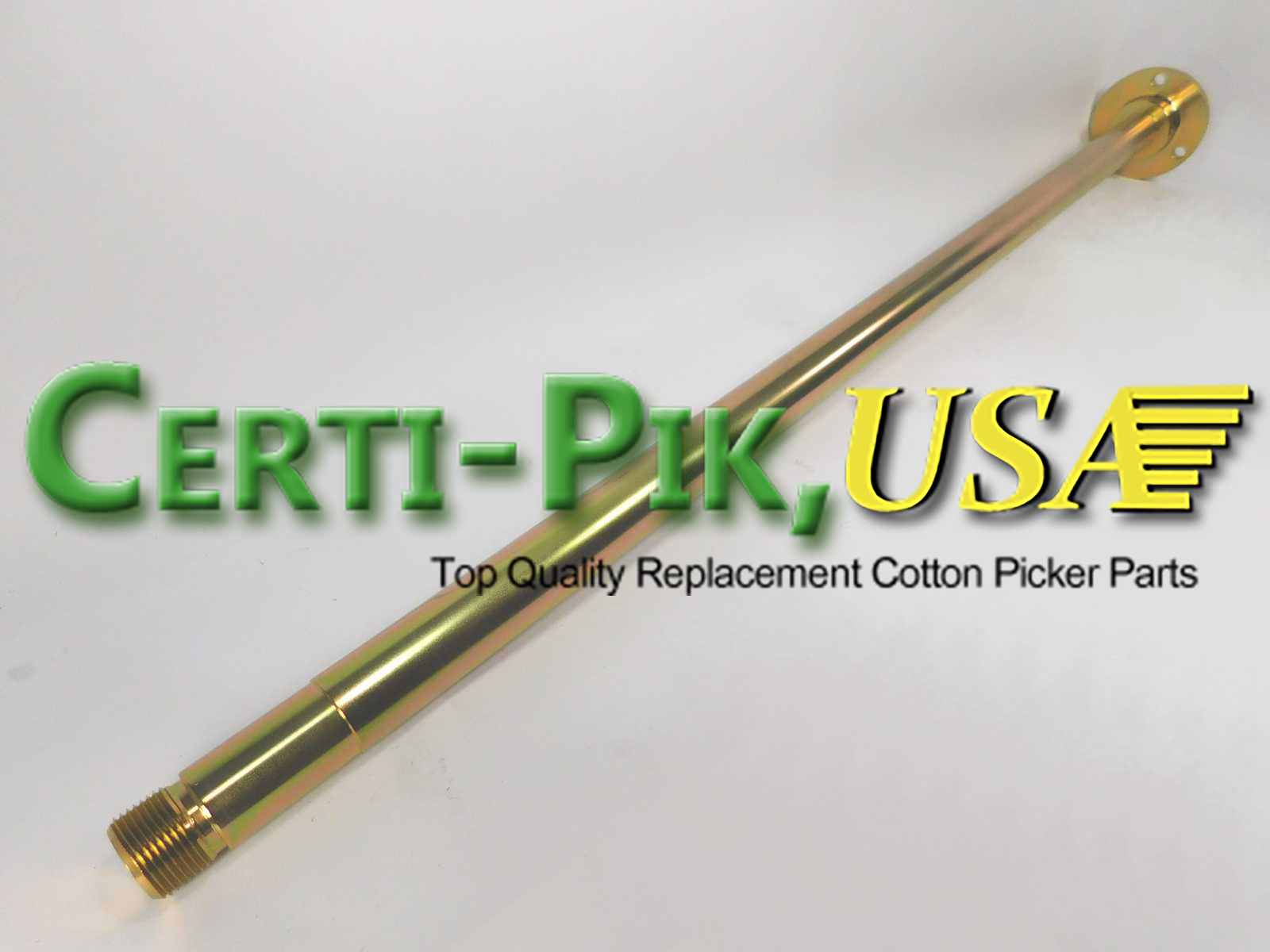 Description: DOFFER SHAFT – PRO-16 20 SPINDLE (9976-CP690 P12)

OEM Part: AN273701

Section: Picking Unit System

John Deere Doffer and Lower Housing Assembly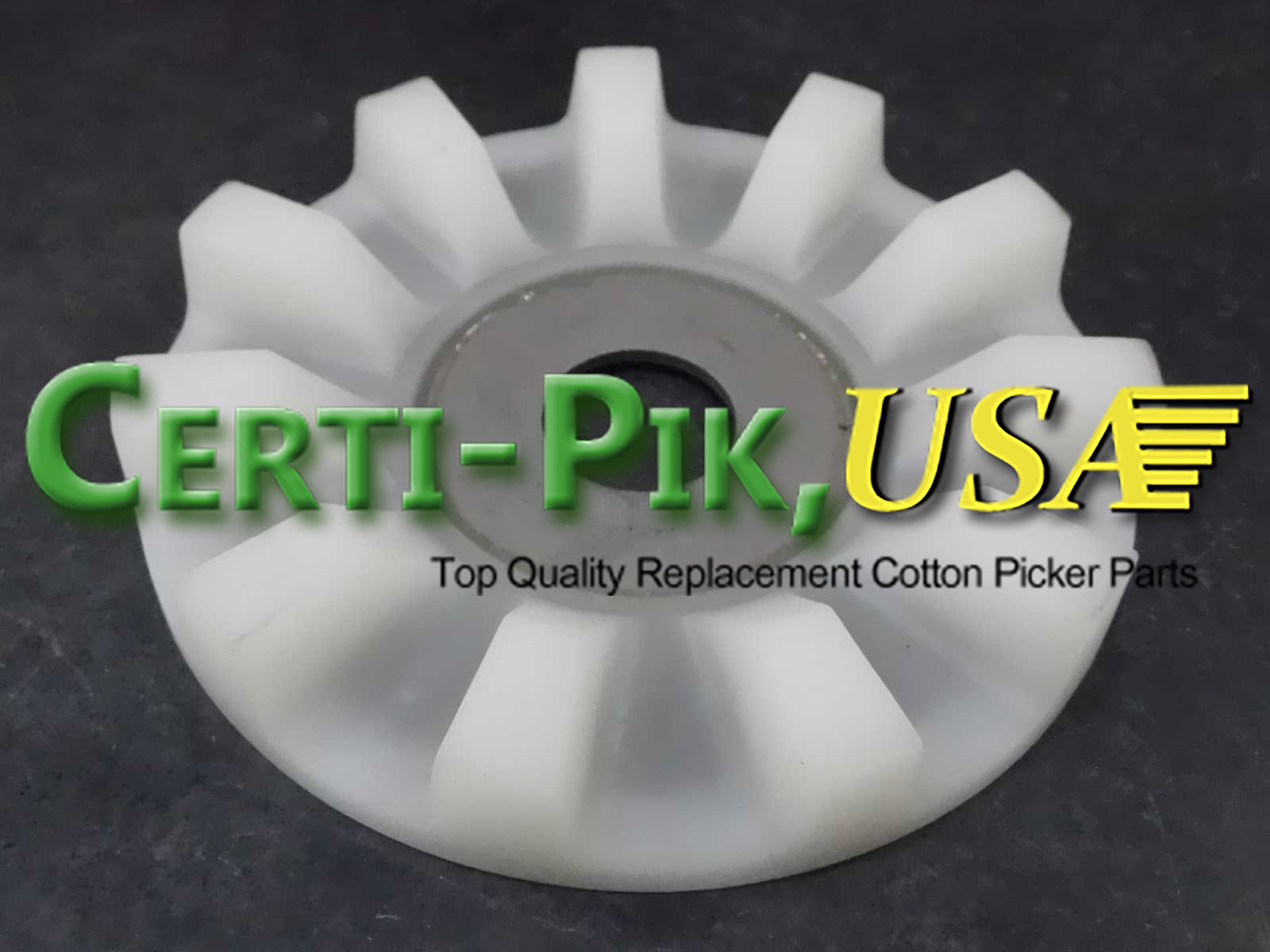 Description: DOFFER – PREMIUM URETHANE (9900-CP690 P12)

OEM Part: AN272152

Section: Picking Unit System

John Deere Doffer and Lower Housing Assembly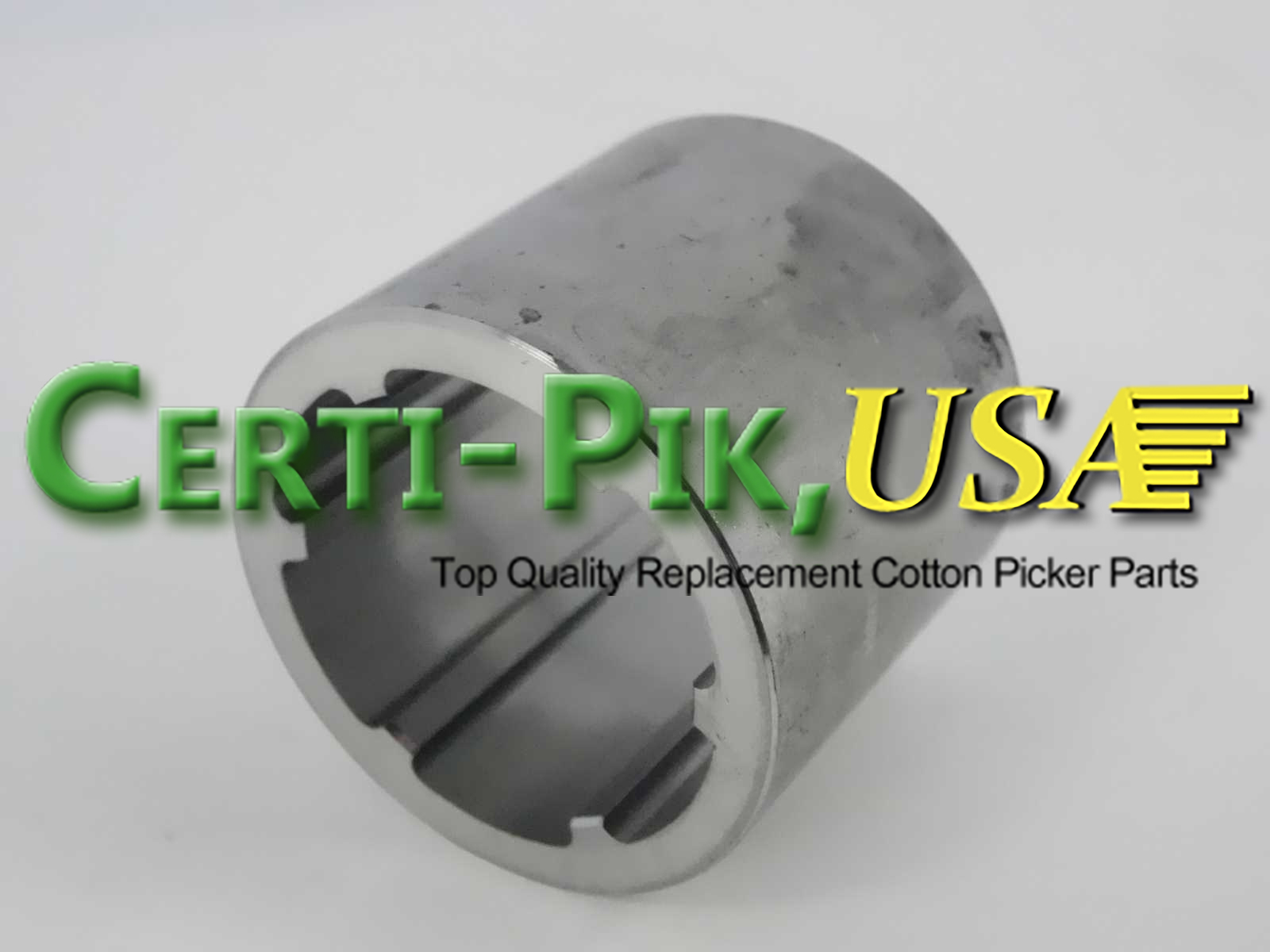 Description: DOFFER SPACER – LONG – SPLINED CENTER – HEAVY DUTY – (REPLACES N275381 & N197107) ( FITS ALL MODELS 9900-CP690 P12)

OEM Part: N275381

Section: Picking Unit System

John Deere Doffer and Lower Housing Assembly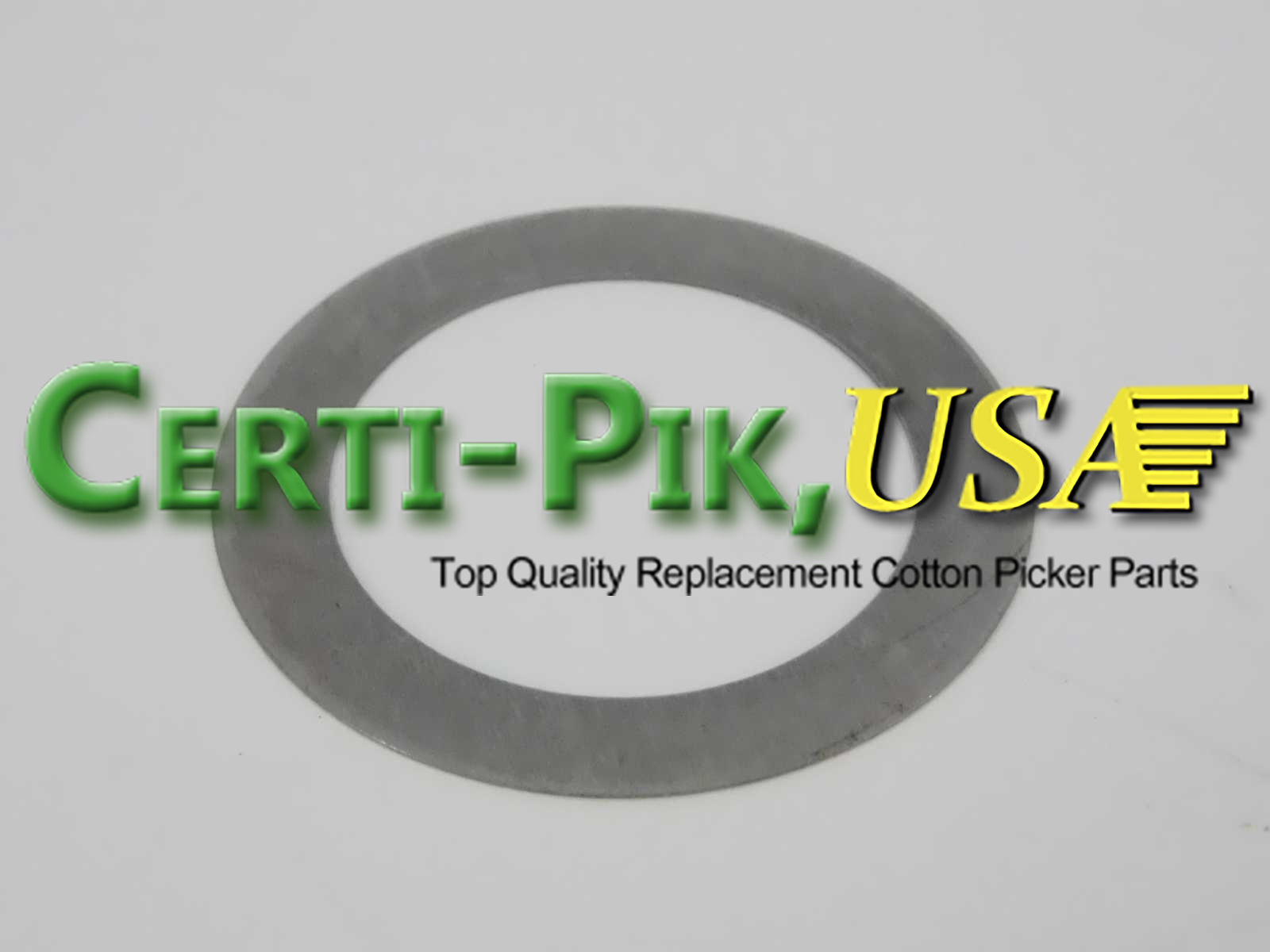 Description: SHIM – DOFFER, .010″ THICK – (9900-CP690 P12)

OEM Part: L3197N

Section: Picking Unit System

John Deere Doffer and Lower Housing Assembly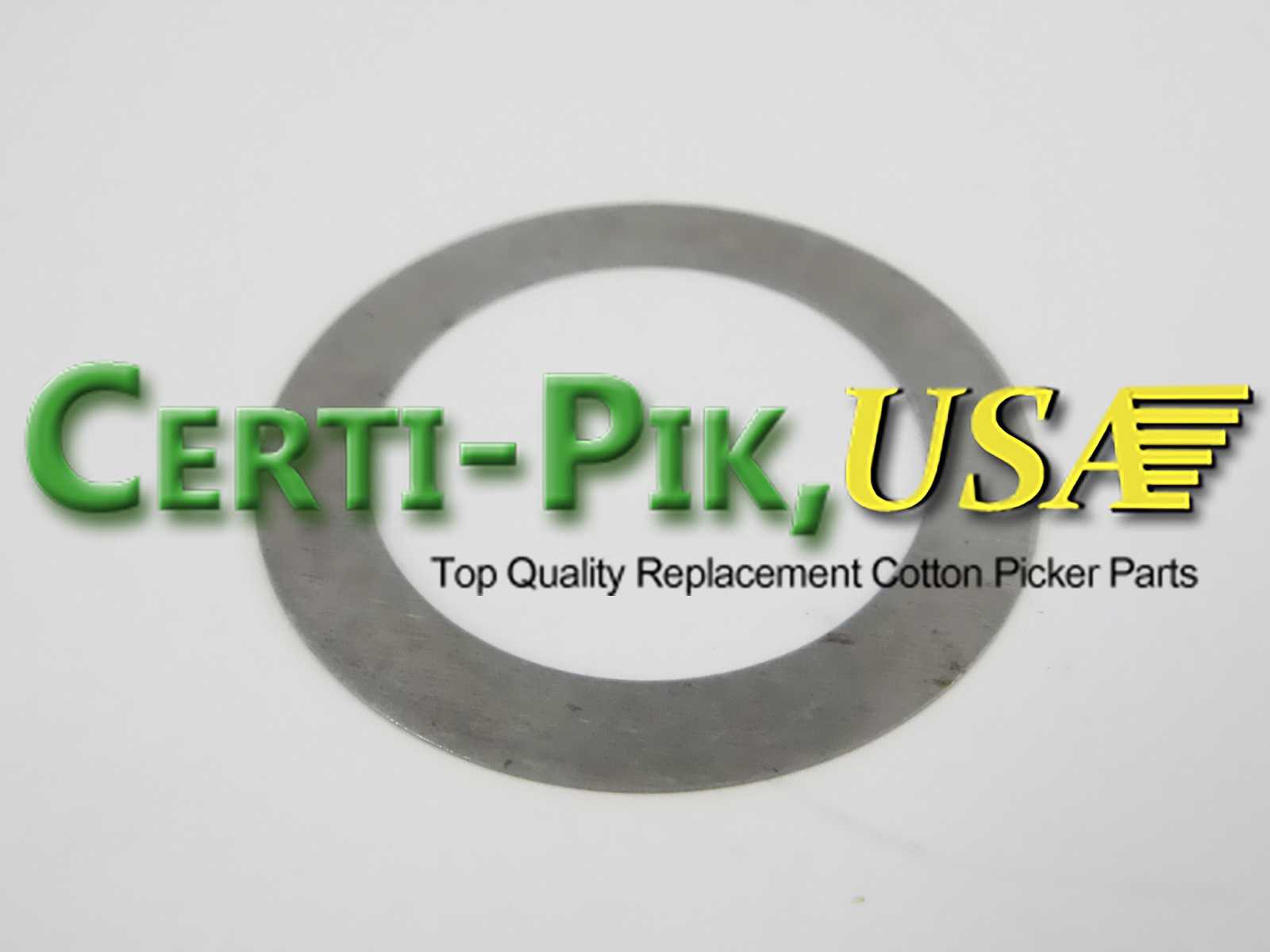 Description: SHIM – DOFFER – .020″ THICK

OEM Part: 03197P-20

Section: Picking Unit System

John Deere Doffer and Lower Housing Assembly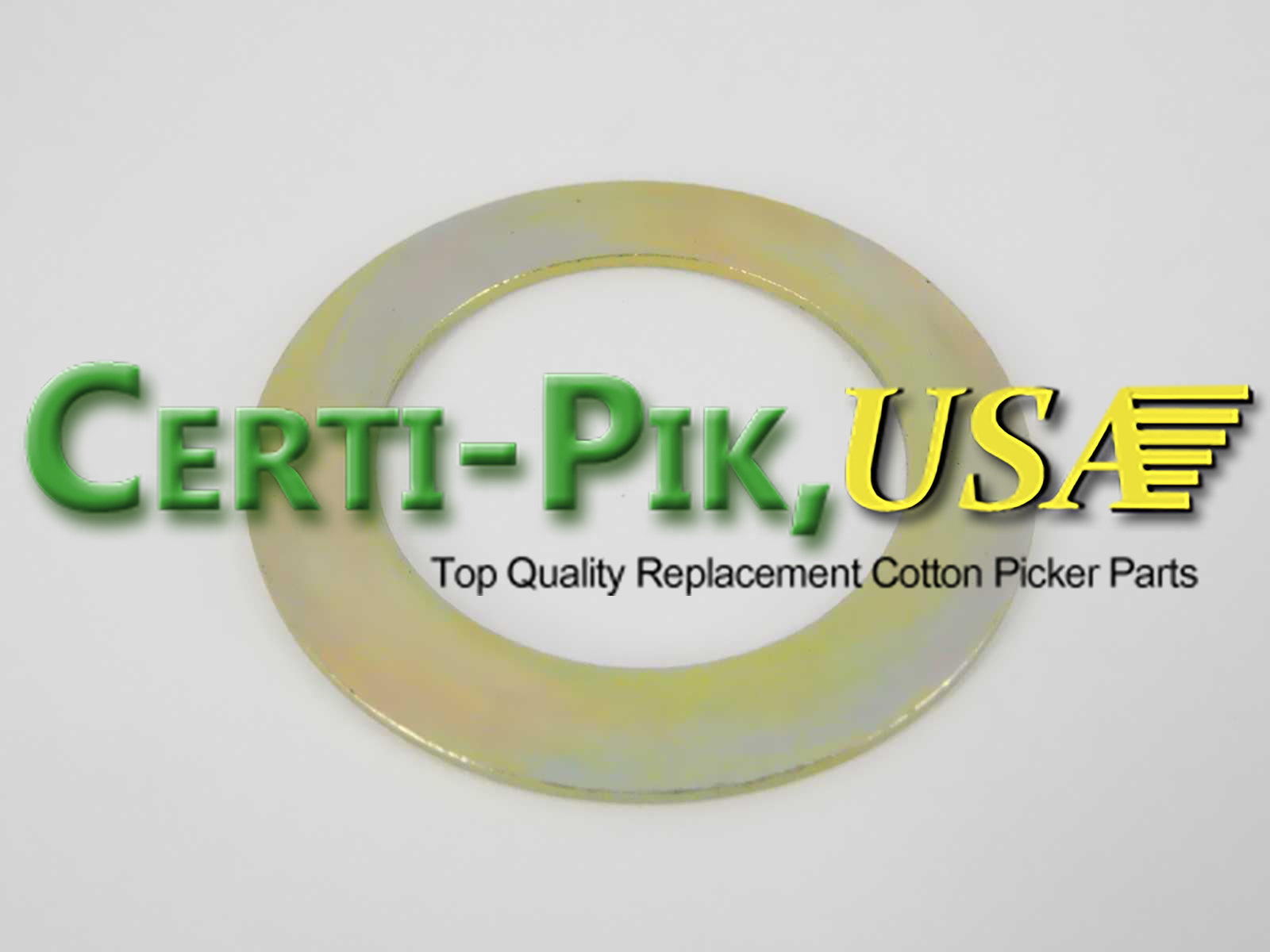 Description: WASHER – 1-17/64 X 1-7/8 X .048″ (9930-9996), NOT 9960-9965 IN-LINE

OEM Part: 24H1633

Section: Picking Unit System

John Deere Doffer and Lower Housing Assembly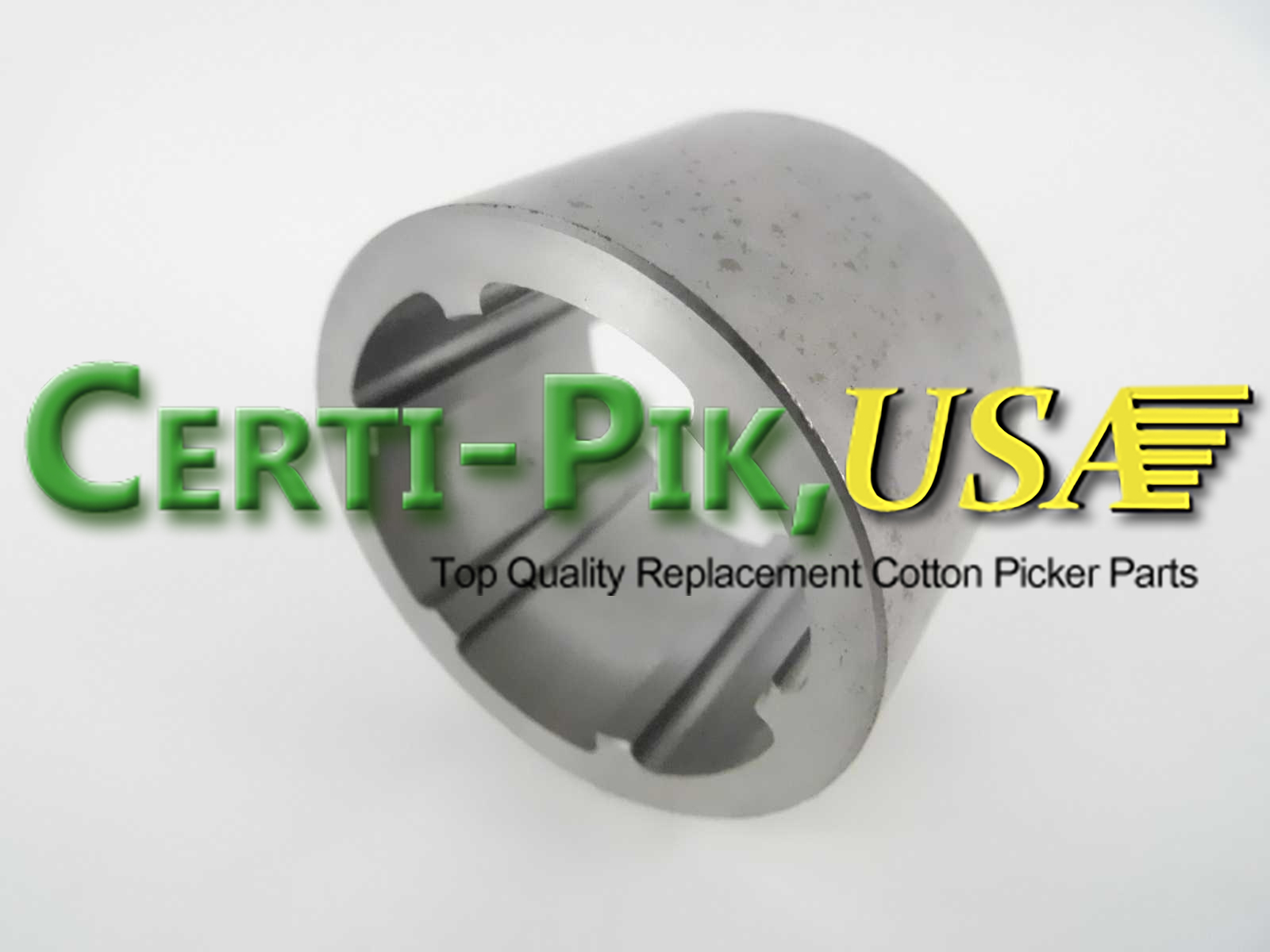 Description: SHORT DOFFER SPACER – SPLINED (REPLACES 06133P & 98746)

OEM Part: N380569

Section: Picking Unit System

John Deere Doffer and Lower Housing Assembly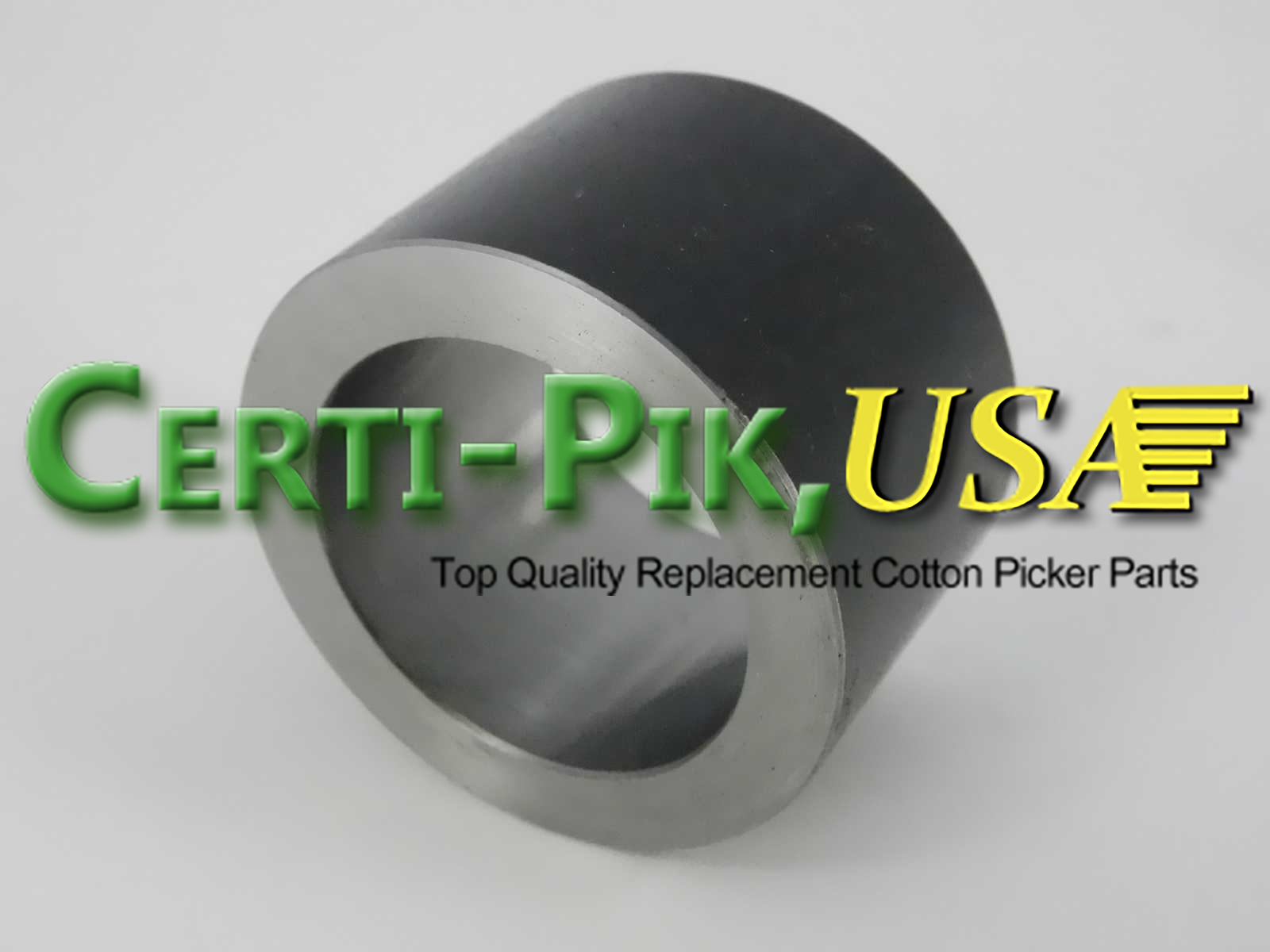 Description: SPACER – SHORT SPACER (9900-9996 W/ #01633P) : (#01633P NOT USED ON 9960 & 9965 IN-LINE)

OEM Part: N198746

Section: Picking Unit System

John Deere Doffer and Lower Housing Assembly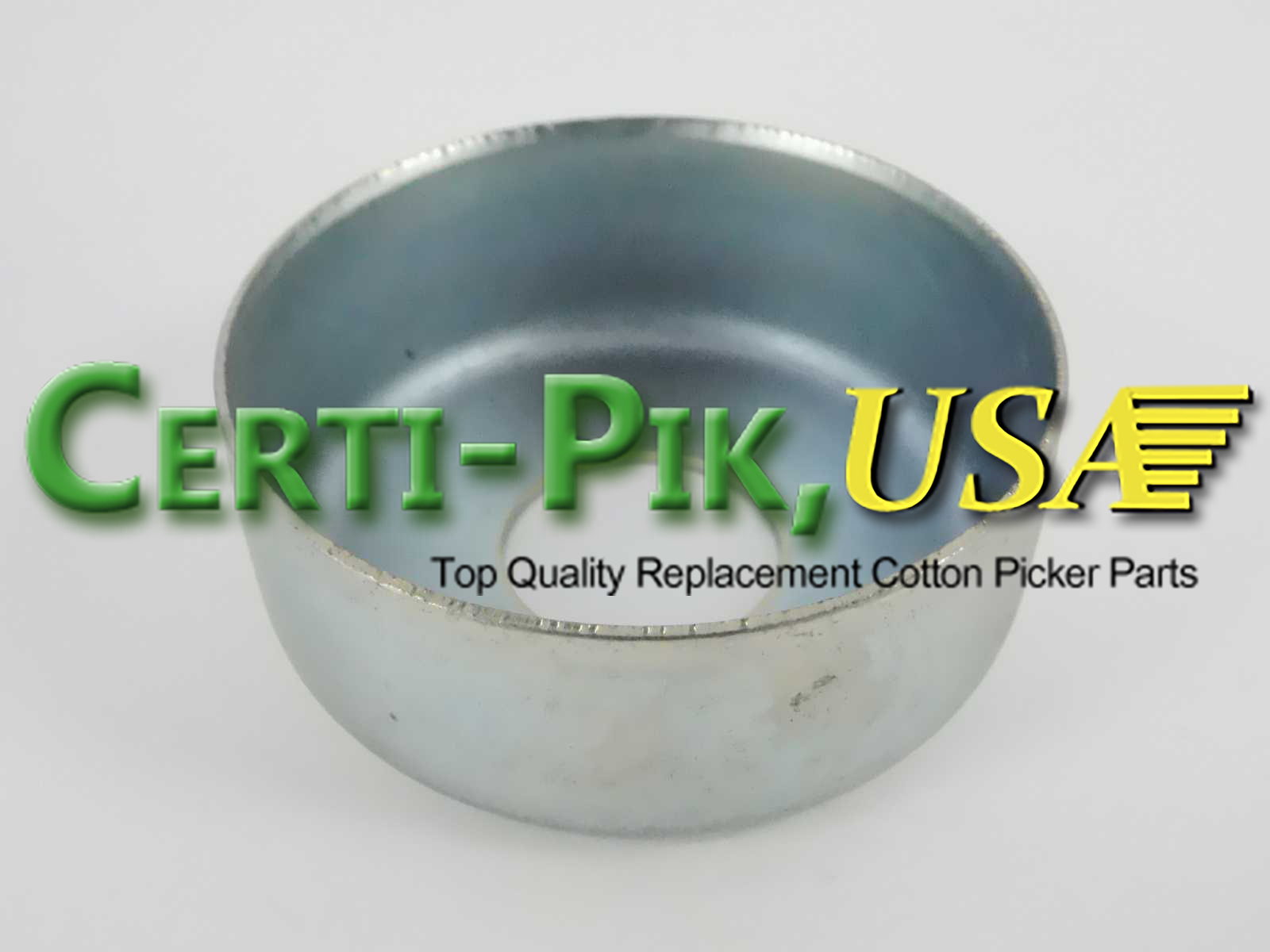 Description: DOFFER CAP – (9900-9965 CONV.& IN-ILNE)

OEM Part: N191302

Section: Picking Unit System

John Deere Doffer and Lower Housing Assembly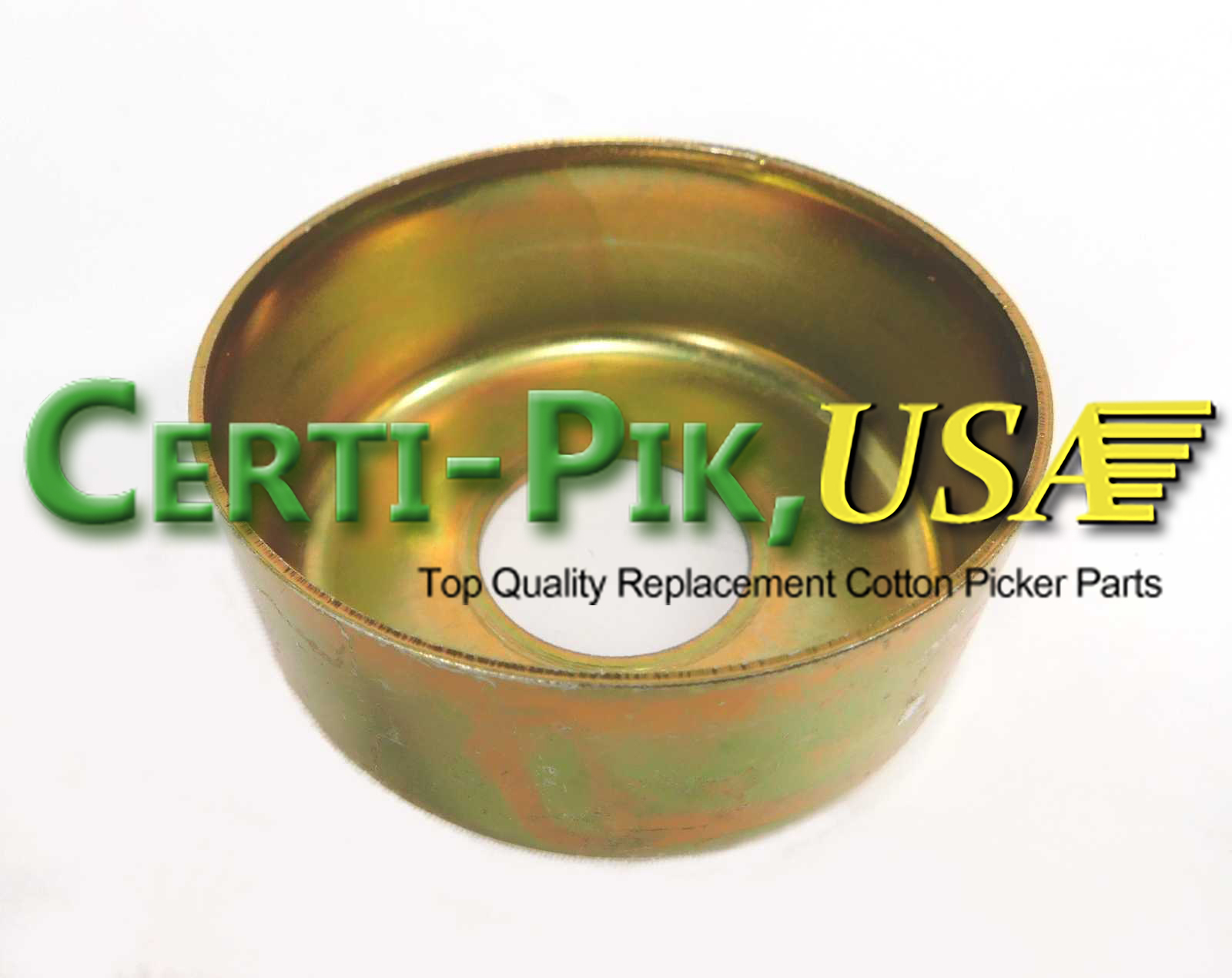 Description: DOFFER CAP – PRO (9970-CP770)

OEM Part: N275471

Section: Picking Unit System

John Deere Doffer and Lower Housing Assembly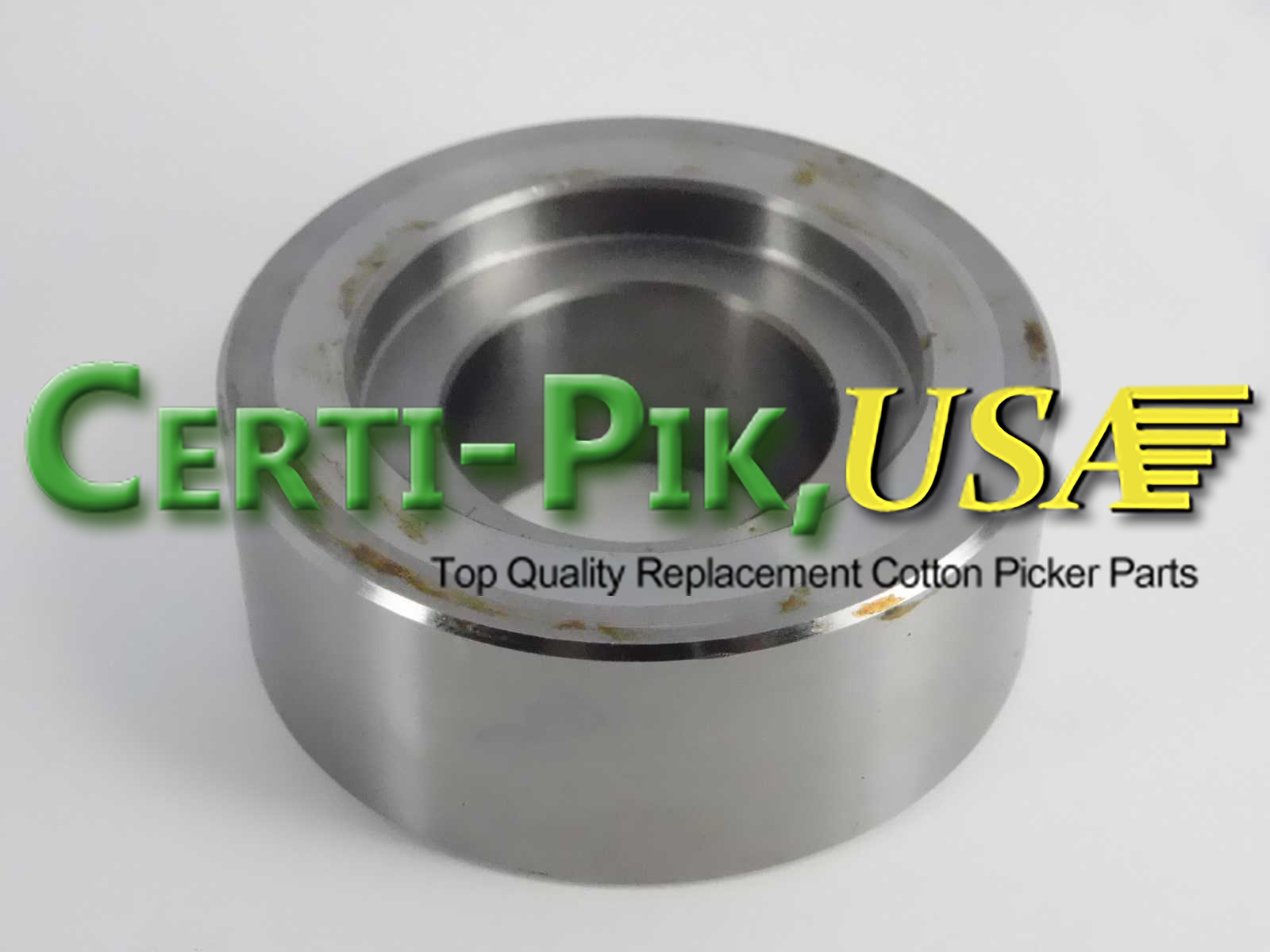 Description: SPACER – LOWER DOFFER BEARING SPACER, (9910-9965 CONV.)

OEM Part: N190913

Section: Picking Unit System

John Deere Doffer and Lower Housing Assembly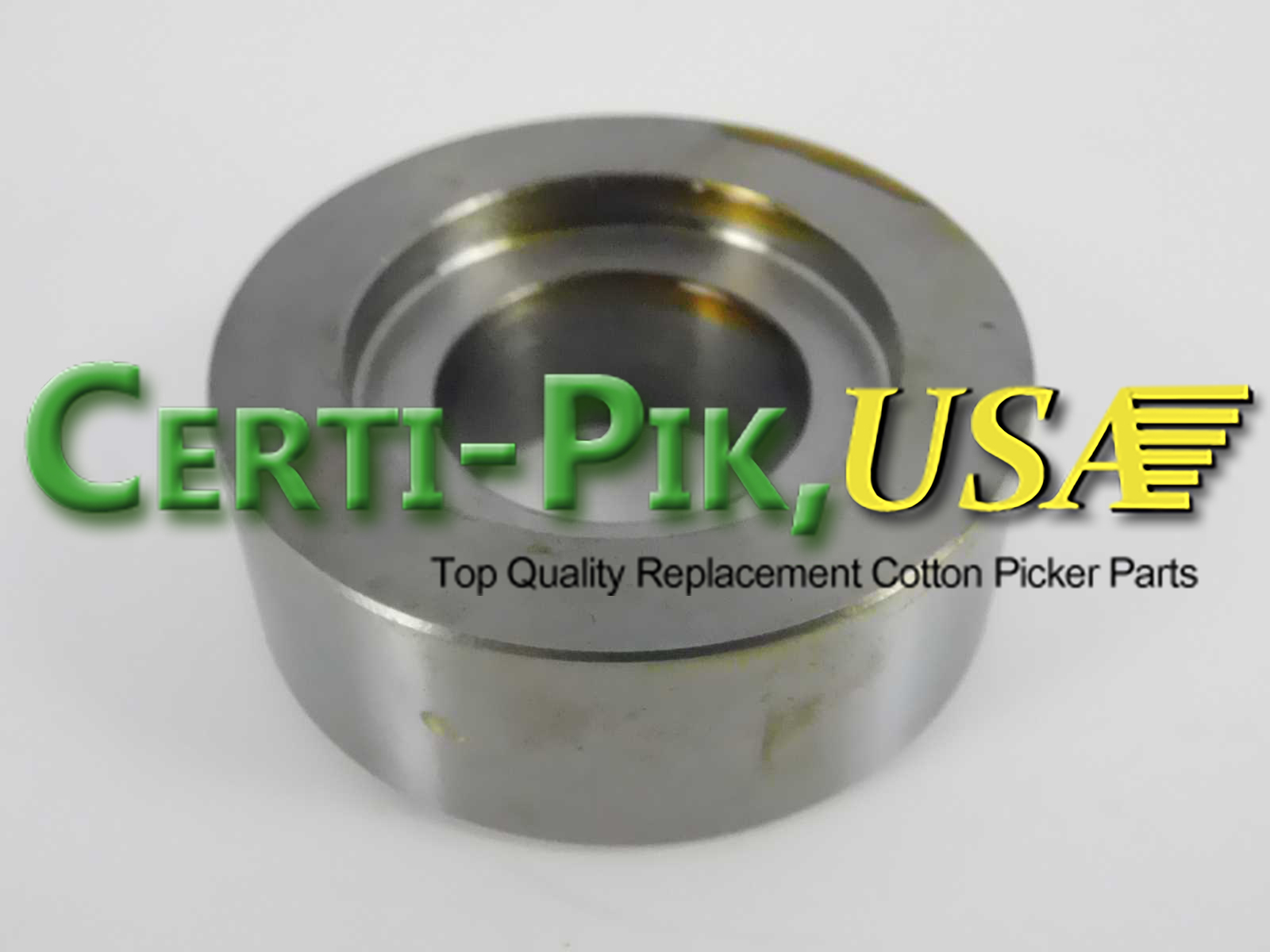 Description: SPACER – LOWER DOFFER BEARING SPACER, (9935-9965 IN-LINE)

OEM Part: N196834

Section: Picking Unit System

John Deere Doffer and Lower Housing Assembly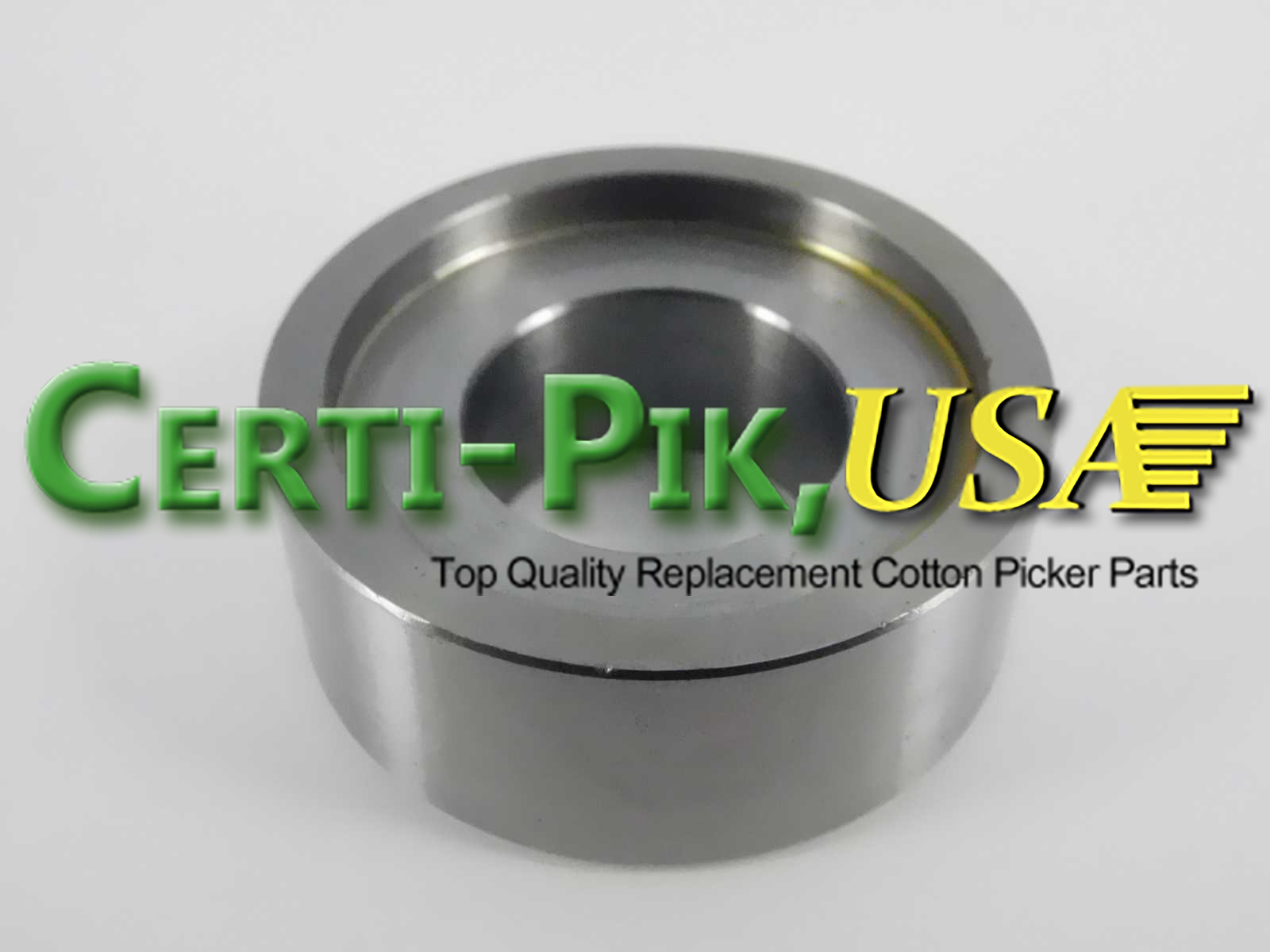 Description: SPACER – LOWER DOFFER BEARING SPACER, (PRO 9935-CP770) – REPLACES # N275350, & N371318

OEM Part: N410874

Section: Picking Unit System

John Deere Doffer and Lower Housing Assembly
Description: BALL BEARING – LOWER DOFFER ( 9900-9965 )

OEM Part: JD10123

Section: Picking Unit System

John Deere Doffer and Lower Housing Assembly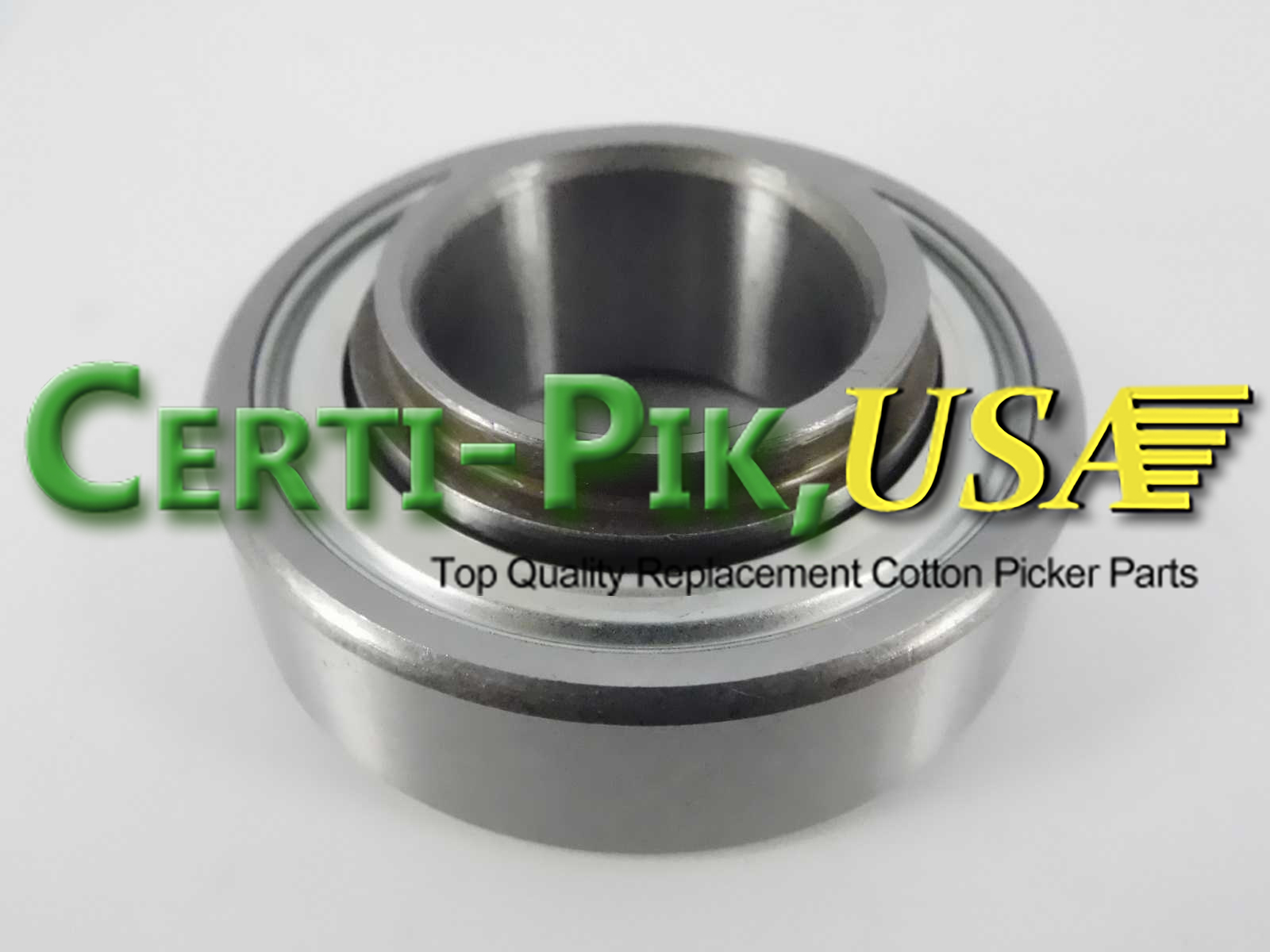 Description: BEARING – LOWER DOFFER -PRO- (9935, 9970-CP770)

OEM Part: AN275022

Section: Picking Unit System

John Deere Doffer and Lower Housing Assembly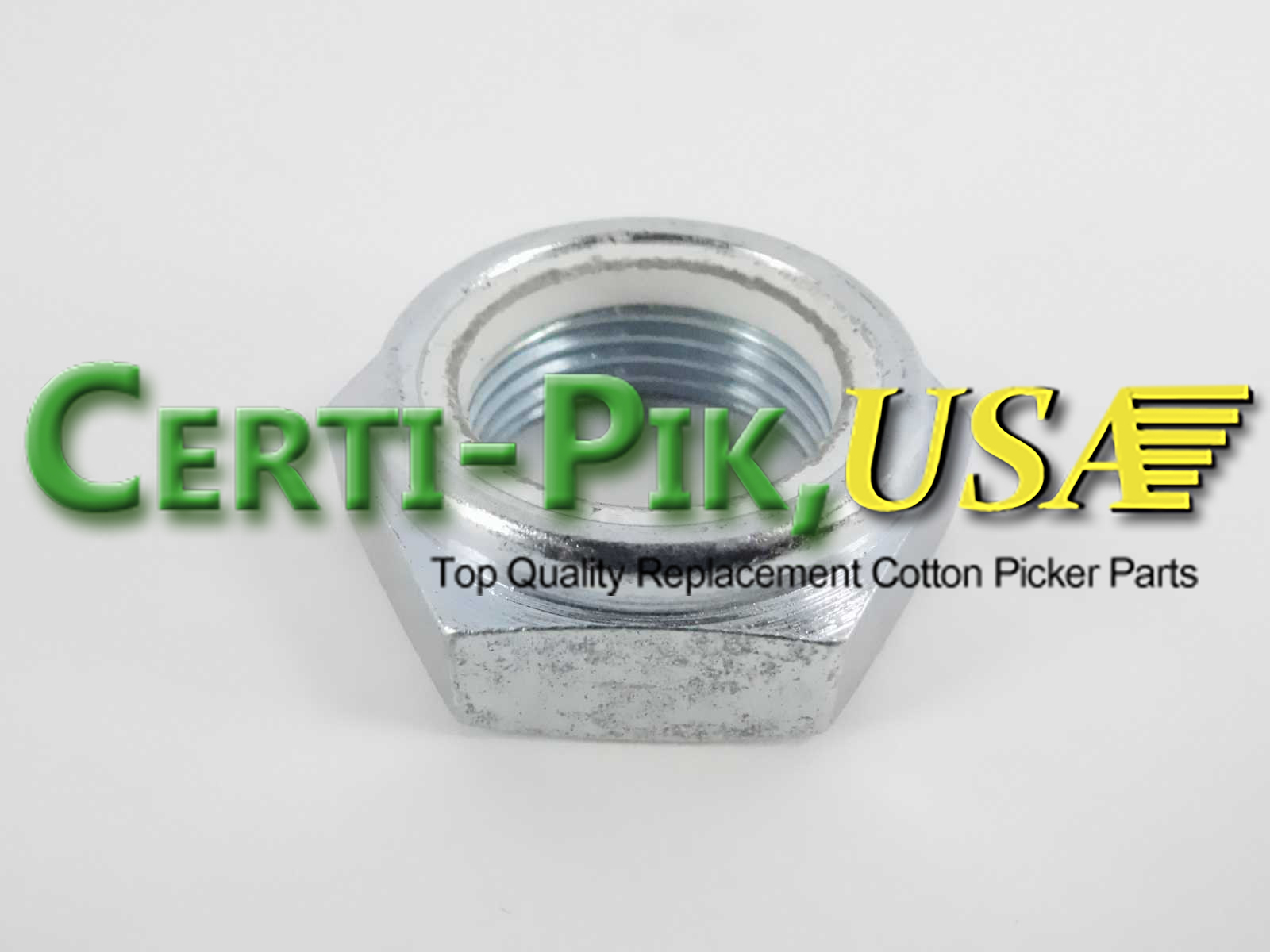 Description: NUT – 1-1/8 – NYLON LOCK (9900-9965)

OEM Part: H82619

Section: Picking Unit System

John Deere Doffer and Lower Housing Assembly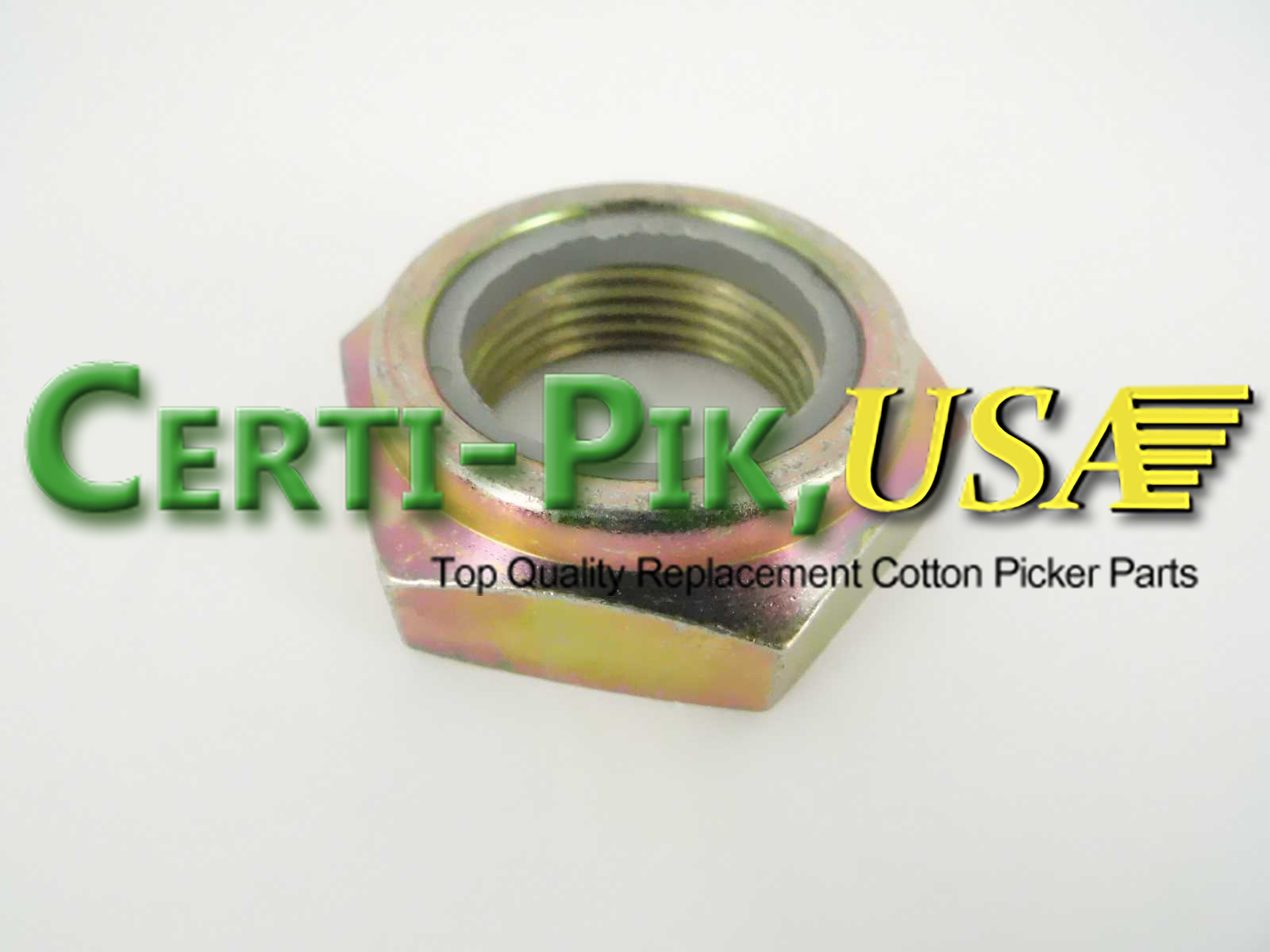 Description: PRO DOFFER NUT, M30 NYLON LOCK NUT (9935-CP690 P12)

OEM Part: N275038

Section: Picking Unit System

John Deere Doffer and Lower Housing Assembly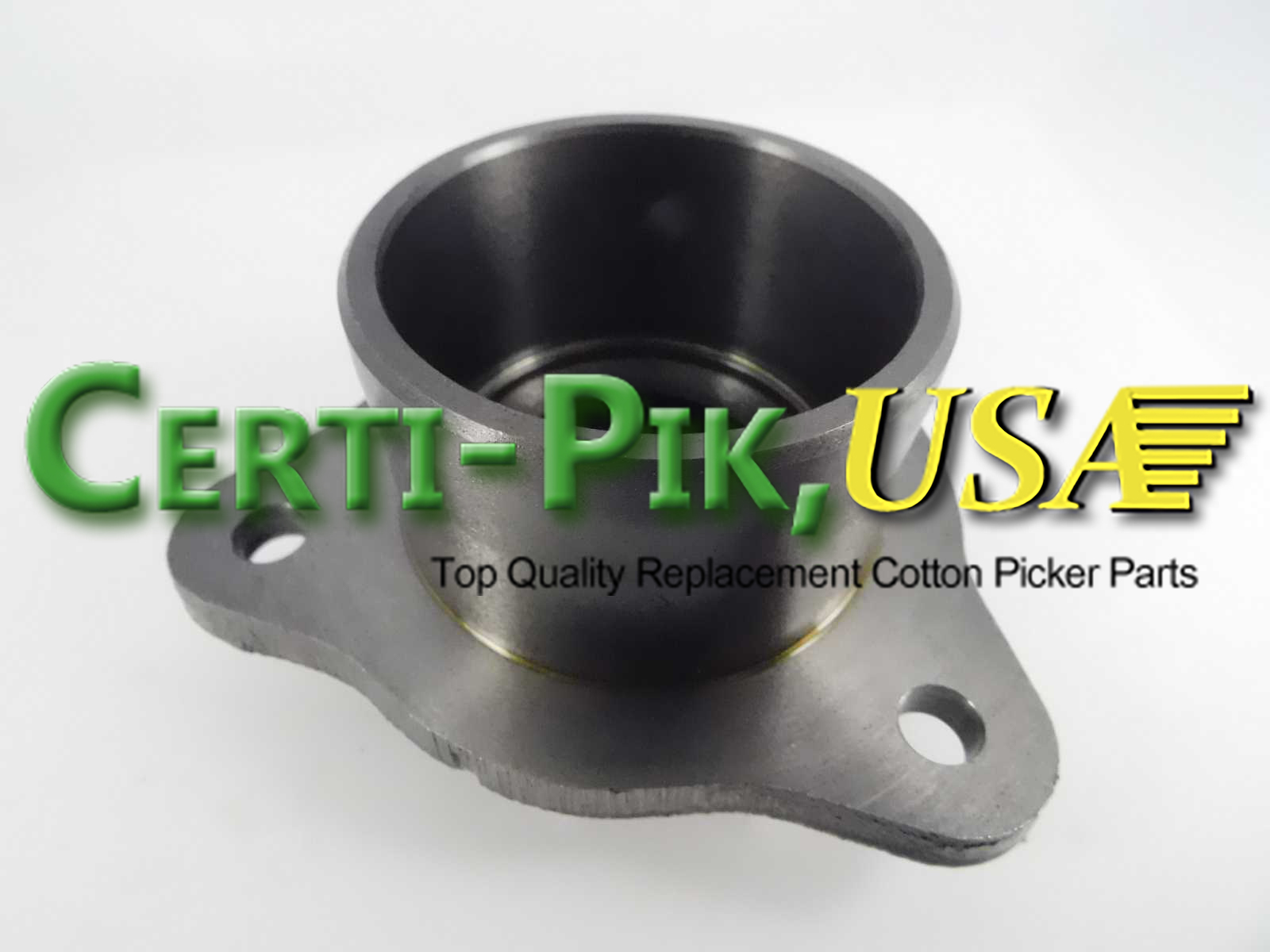 Description: LOWER DOFFER HOUSING (9900-CP770) INCLUDES 1x 1/8″ LUBE FITTING #07759P

OEM Part: AN273953

Section: Picking Unit System

John Deere Doffer and Lower Housing Assembly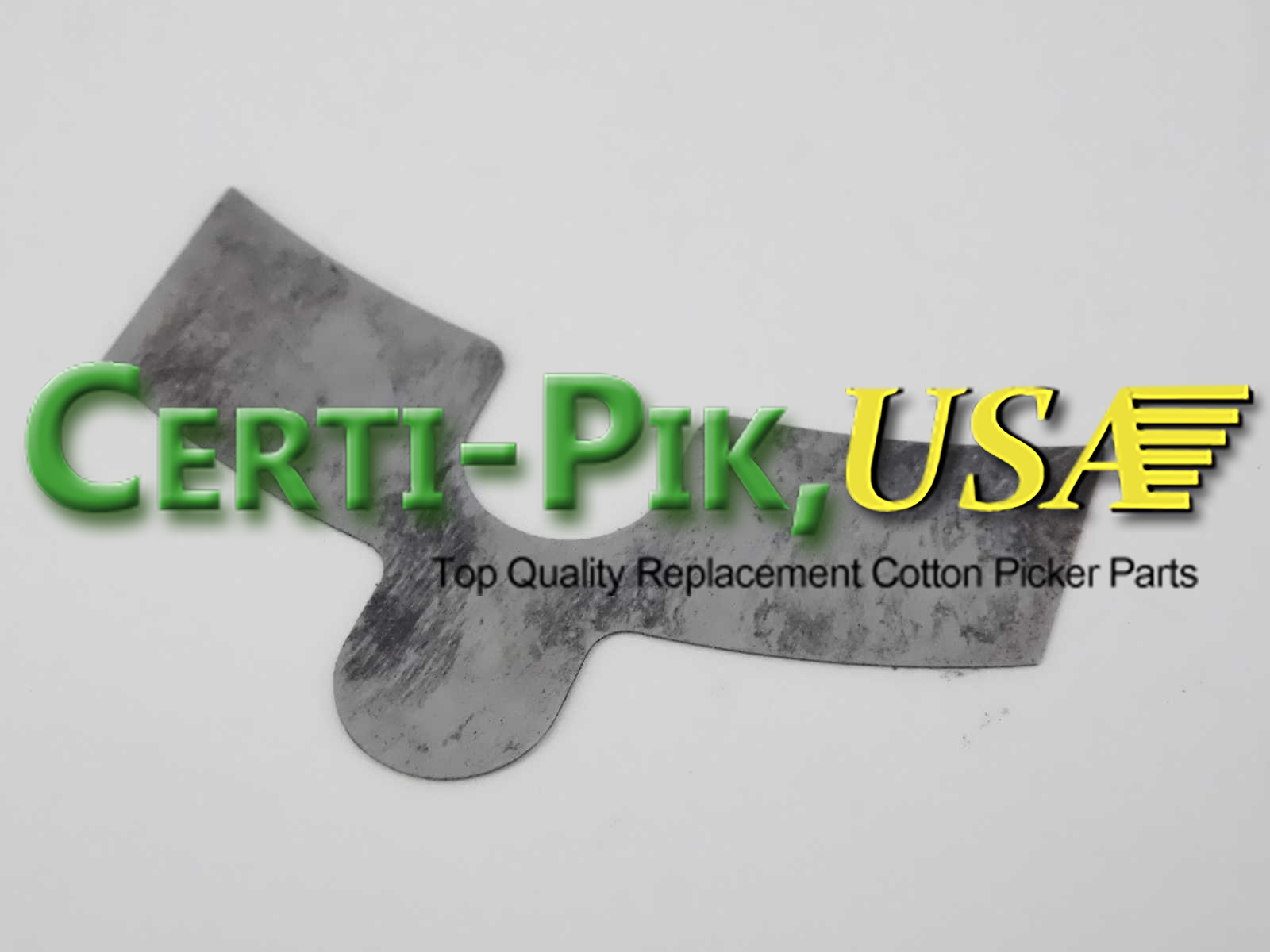 Description: SHIM – HOUSING – REPLACES PART # N34164 & N275931

OEM Part: N275931

Section: Picking Unit System

John Deere Doffer and Lower Housing Assembly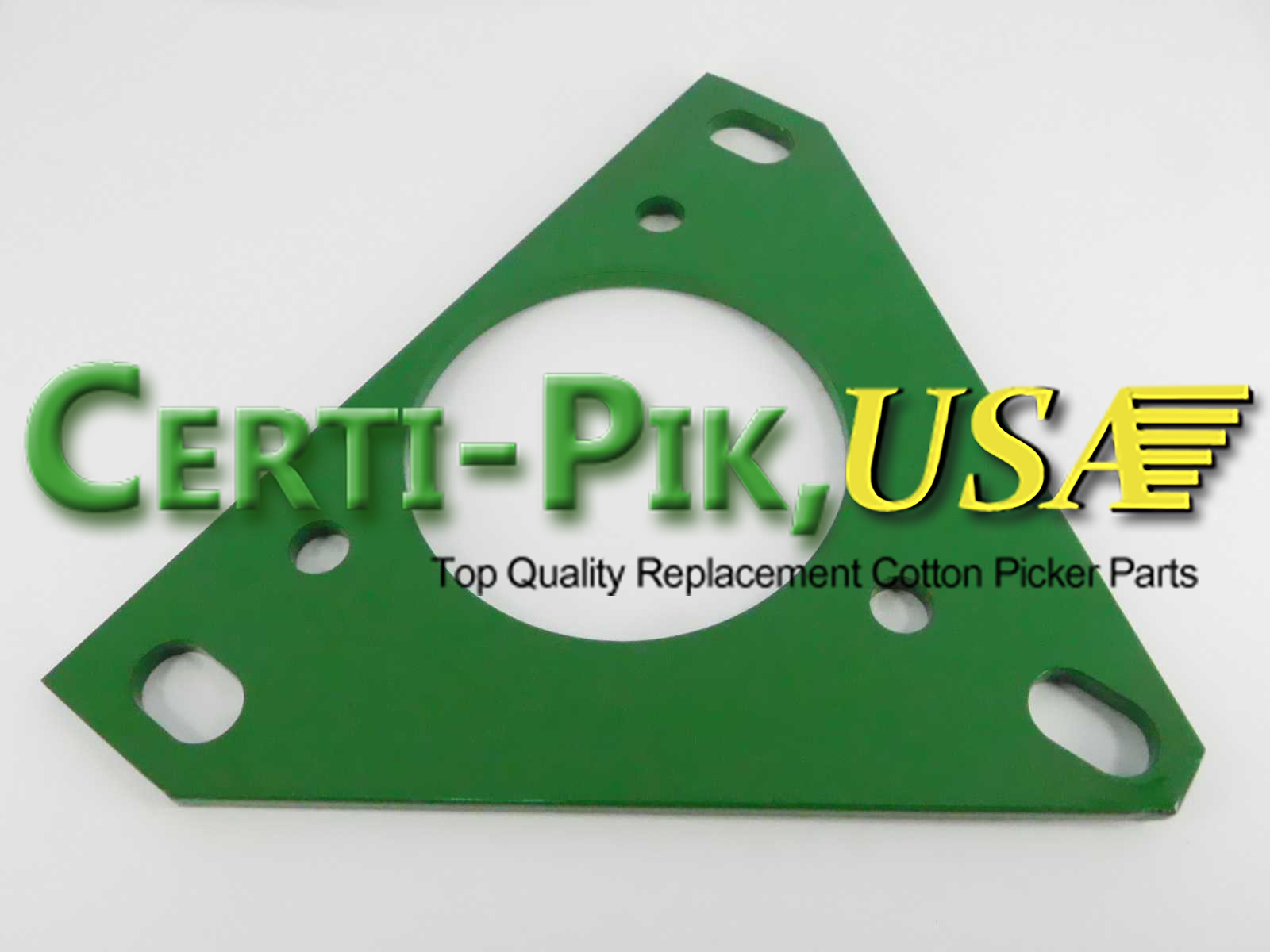 Description: PLATE – DOFFER BASE PLATE (9900-9965) (USE 3x #10124P & 3x #10215P) (ILL.)

OEM Part: N193795

Section: Picking Unit System

John Deere Doffer and Lower Housing Assembly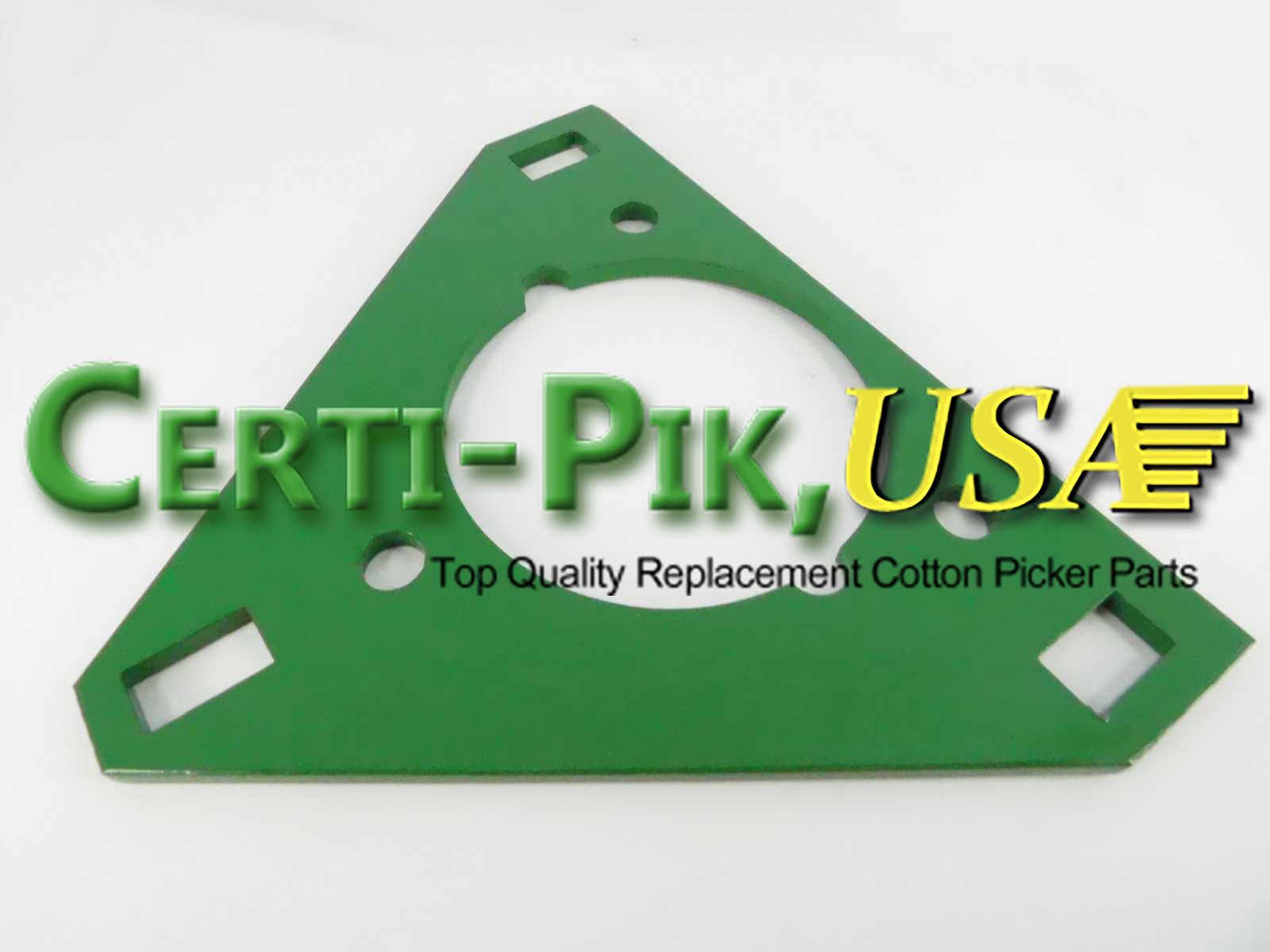 Description: DOFFER BASE PLATE – PRO (9935, 9970-CP770)

OEM Part: N276703

Section: Picking Unit System

John Deere Doffer and Lower Housing Assembly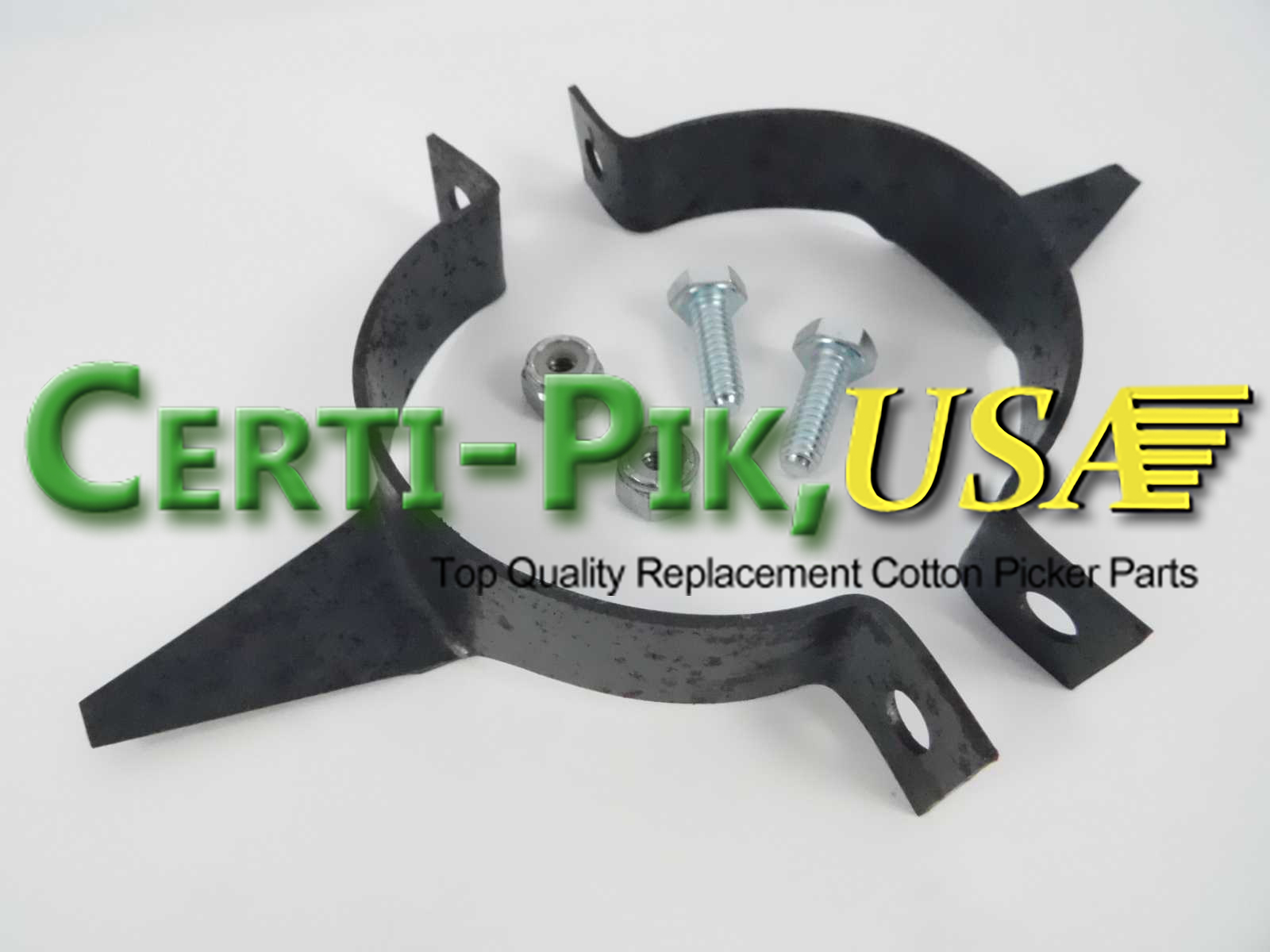 Description: VINE CUTTER – 2 PER DOFFER SHAFT (9900-CP690) (SOLD IN PAIRS ONLY) INCLUDES ATTACHING HARDWARE: 2x 14820PV – 1/4 X 3/4″ HEX BOLT & 2x 10217PV – 1/4″ LOCK NUT

OEM Part: N272482

Section: Picking Unit System

John Deere Doffer and Lower Housing Assembly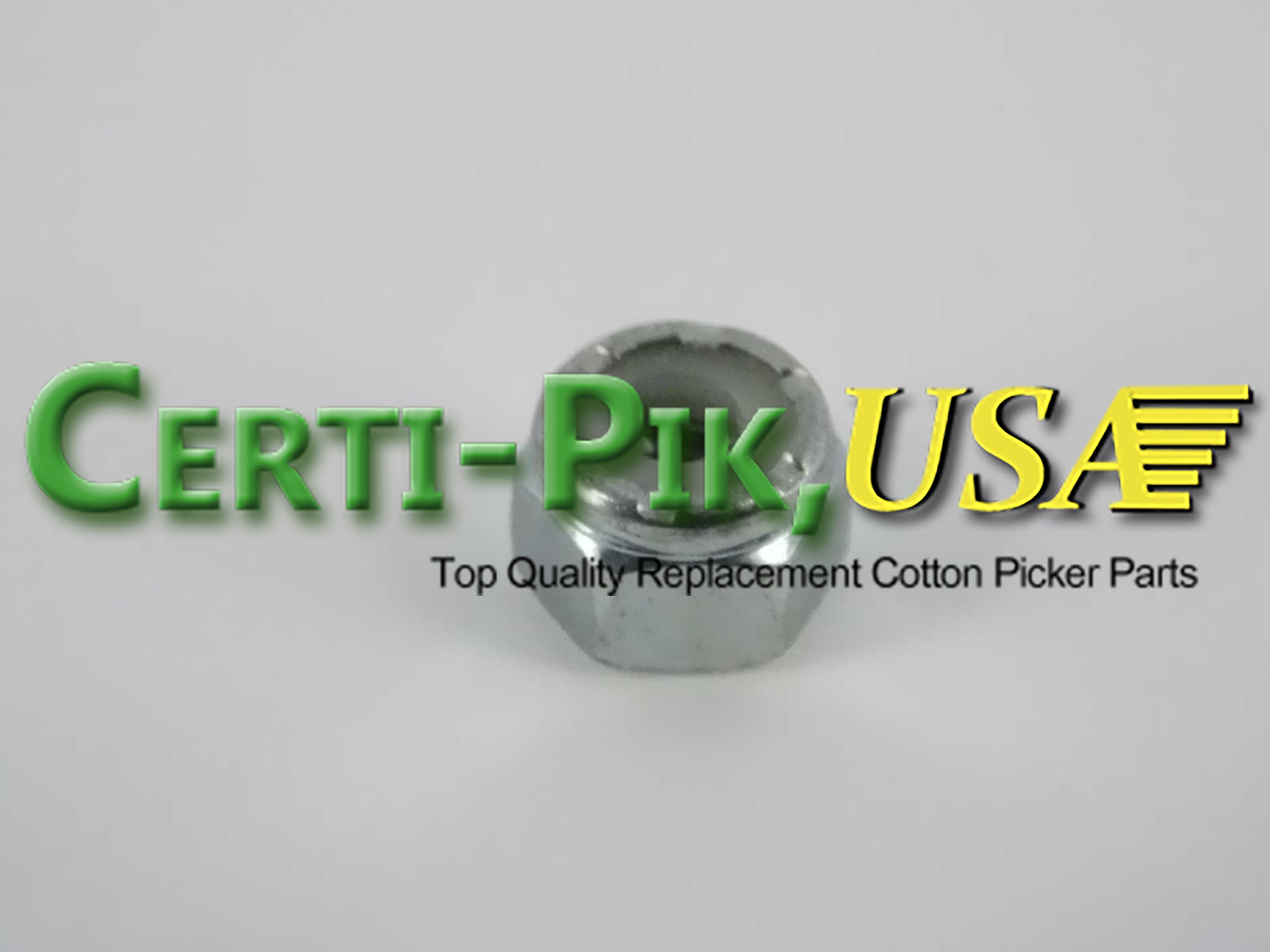 Description: NUT – 1/4 – NYLON LOCK (2 RQD.)

OEM Part: N10217

Section: Picking Unit System

John Deere Doffer and Lower Housing Assembly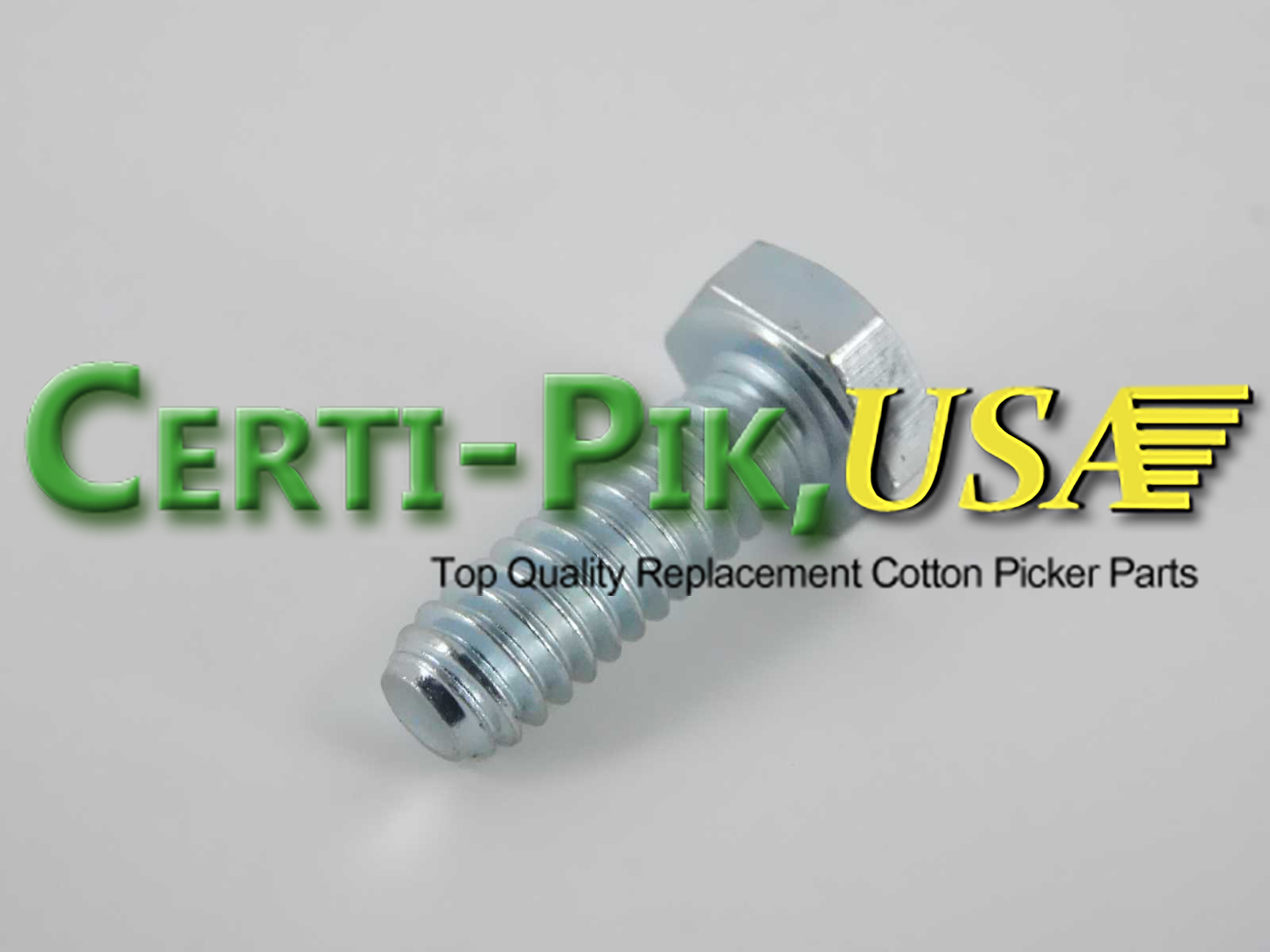 Description: BOLT – 1/4 X 3/4″ HEX BOLT (2 RQD.)

OEM Part: N14820

Section: Picking Unit System

John Deere Doffer and Lower Housing Assembly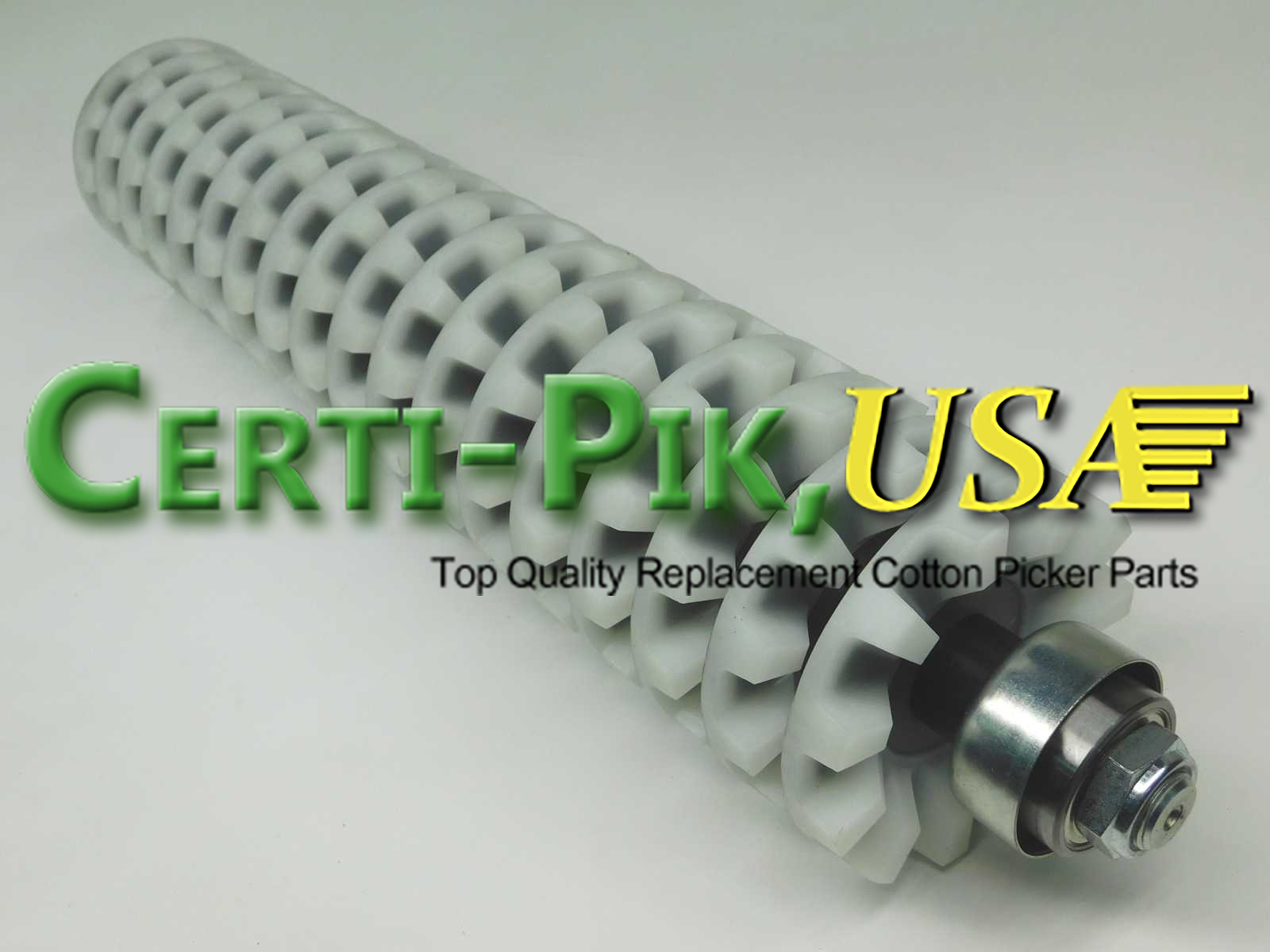 Description: COMPLETE 18 SPINDLE URETHANE DOFFER ASSEMBLY – (MODELS 9935, 9960 & 9965 IN-LINE ONLY) – (INCLUDES ITEMS 1-10, NOT 5) *GROUND AND READY TO INSTALL *

OEM Part: AN272224

Section: Picking Unit System

John Deere Doffer and Lower Housing Assembly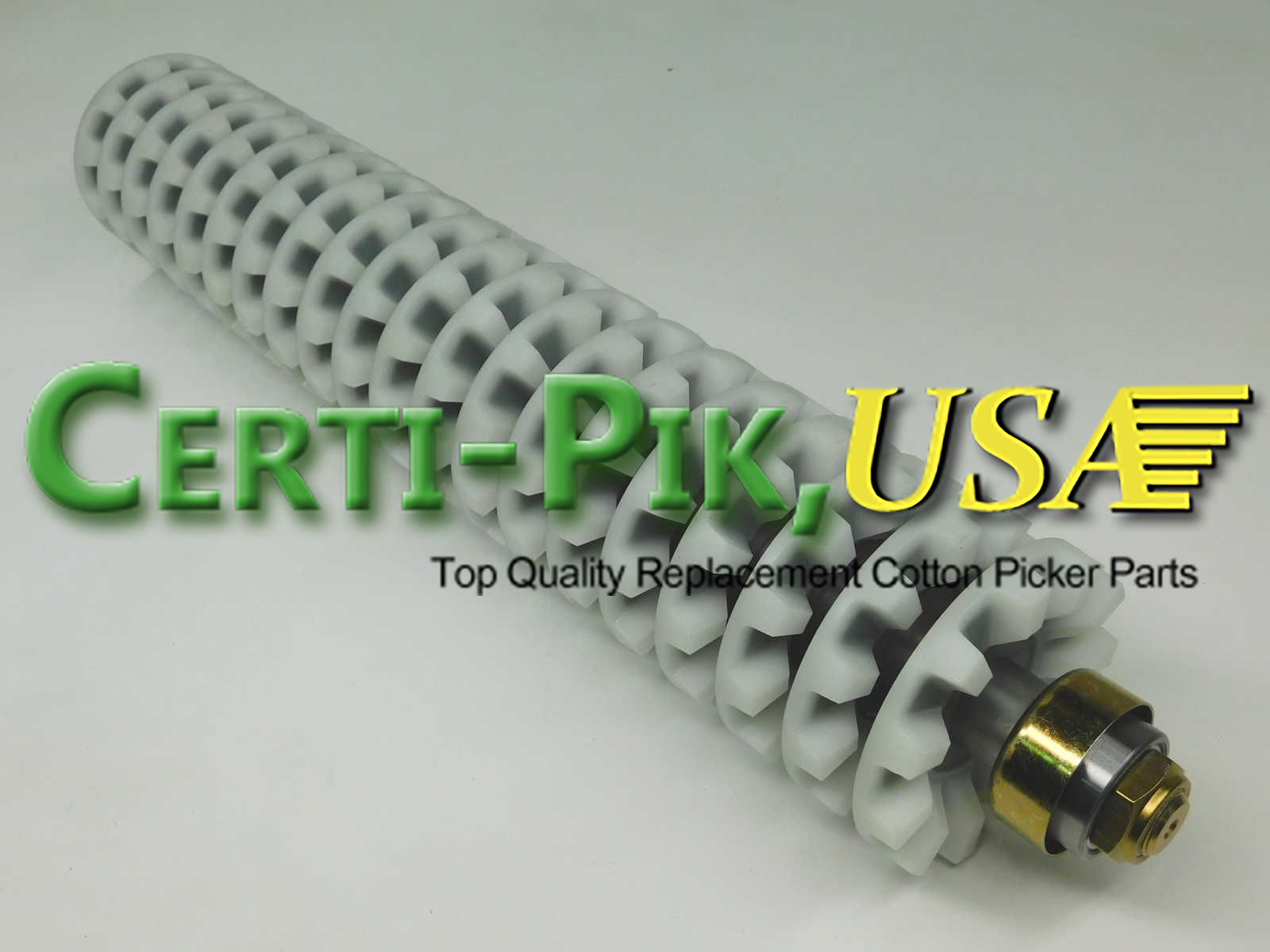 Description: (REPACED BY PART #73445, OR #17562) – COMPLETE 20 SPINDLE URETHANE DOFFER ASSEMBLY

OEM Part: AN272225

Section: Picking Unit System

John Deere Doffer and Lower Housing Assembly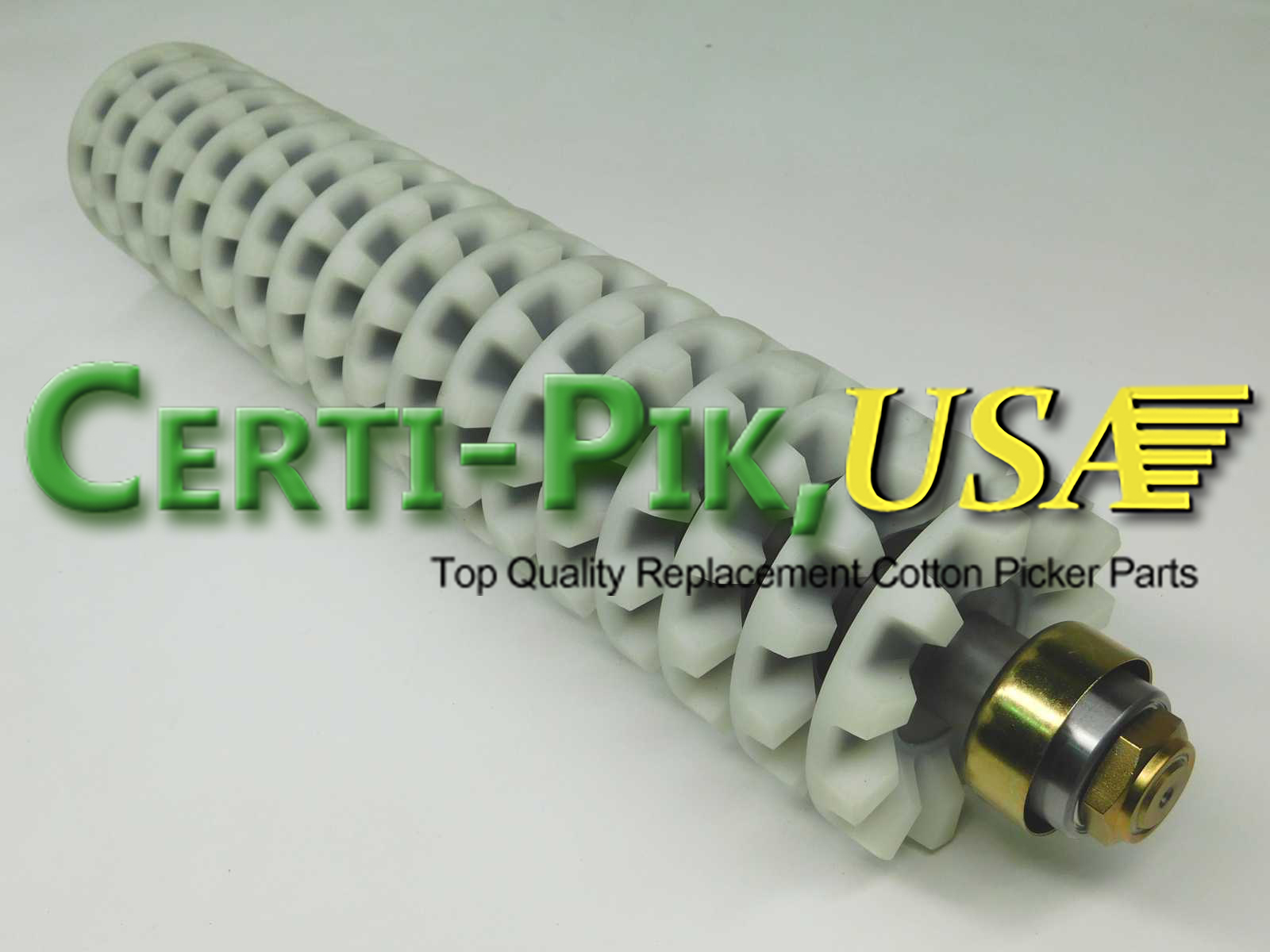 Description: COMPLETE 18 SPINDLE URETHANE DOFFER ASSEMBLY – (PRO 9970-CP690) – (INCLUDES ITEMS 1-10) * GROUND AND READY TO INSTALL *

OEM Part: AN274508

Section: Picking Unit System

John Deere Doffer and Lower Housing Assembly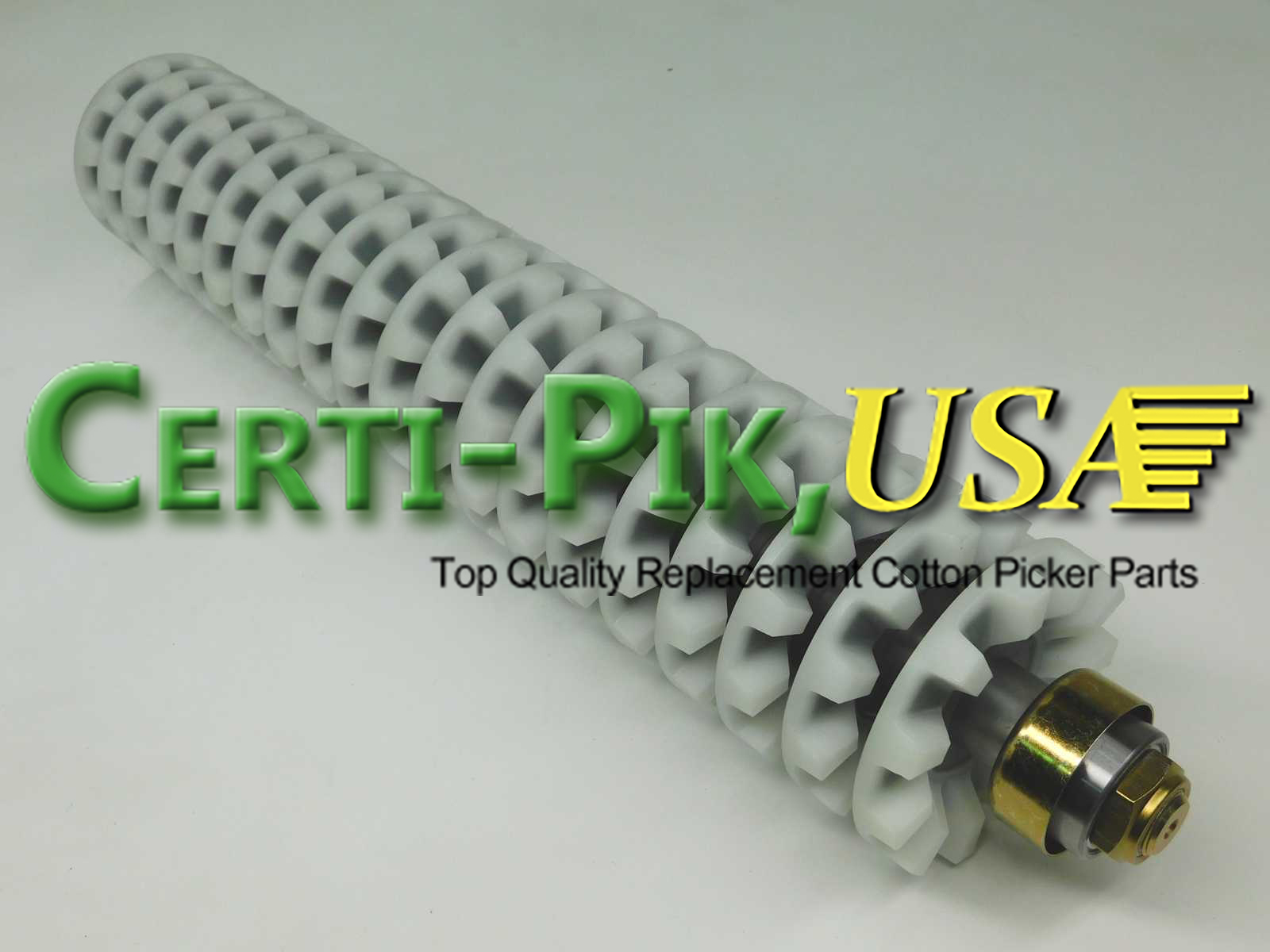 Description: COMPLETE 20 SPINDLE URETHANE DOFFER ASSEMBLY – (PRO 9976-7760) – (INCLUDES ITEMS 1-10) * GROUND AND READY TO INSTALL * FITS ALL 20 SPINDLE CONV. AND PRO MACHINES (NOT CP690 – W/ FINE ADJUSTMENT)

OEM Part: AN273445

Section: Picking Unit System

John Deere Doffer and Lower Housing Assembly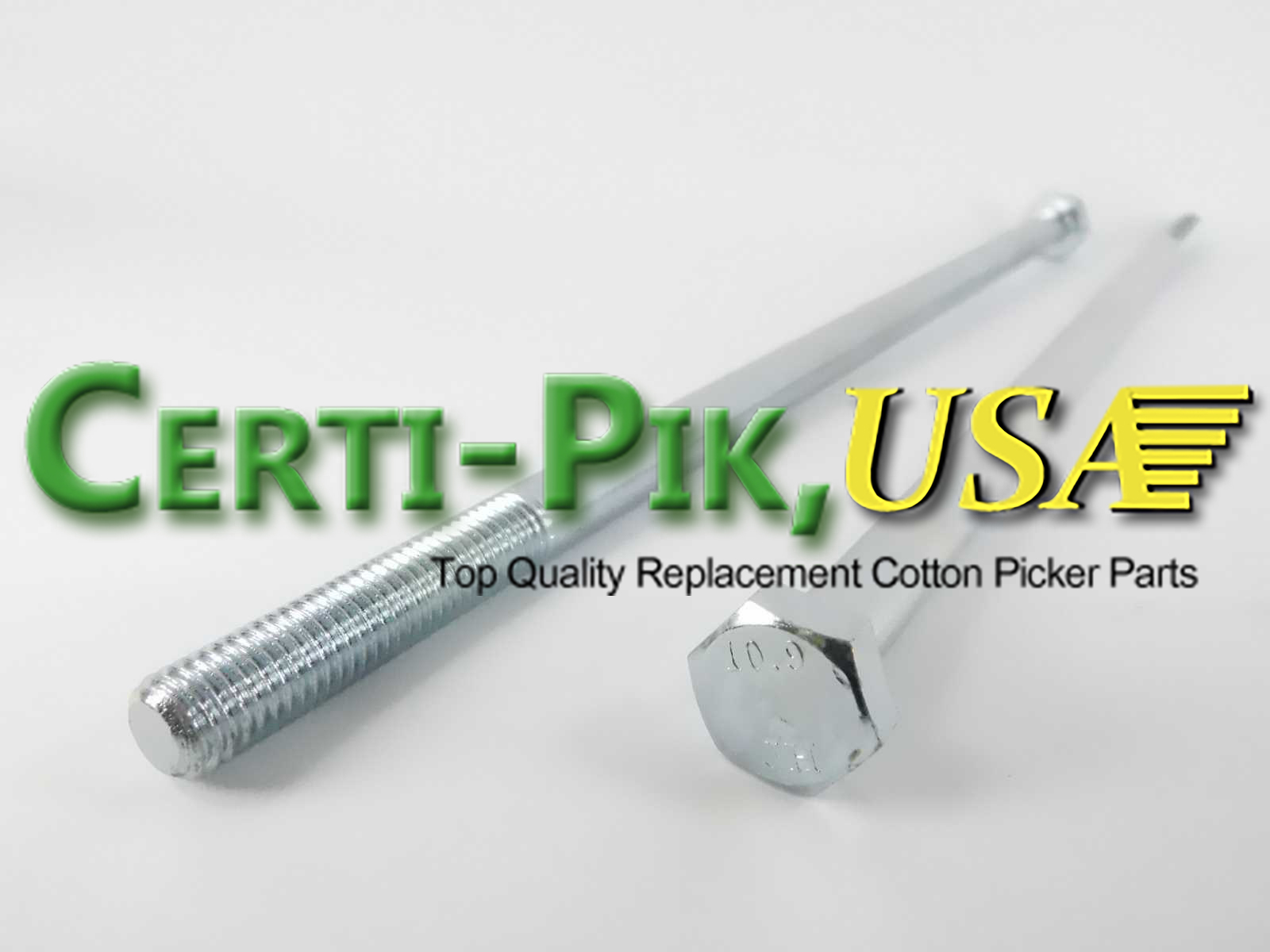 Description: BOLT – M10 X 280 HEX HEAD – CP690, CP770 PRO-16

OEM Part: 19M10545

Section: Picking Unit System

John Deere Doffer and Lower Housing Assembly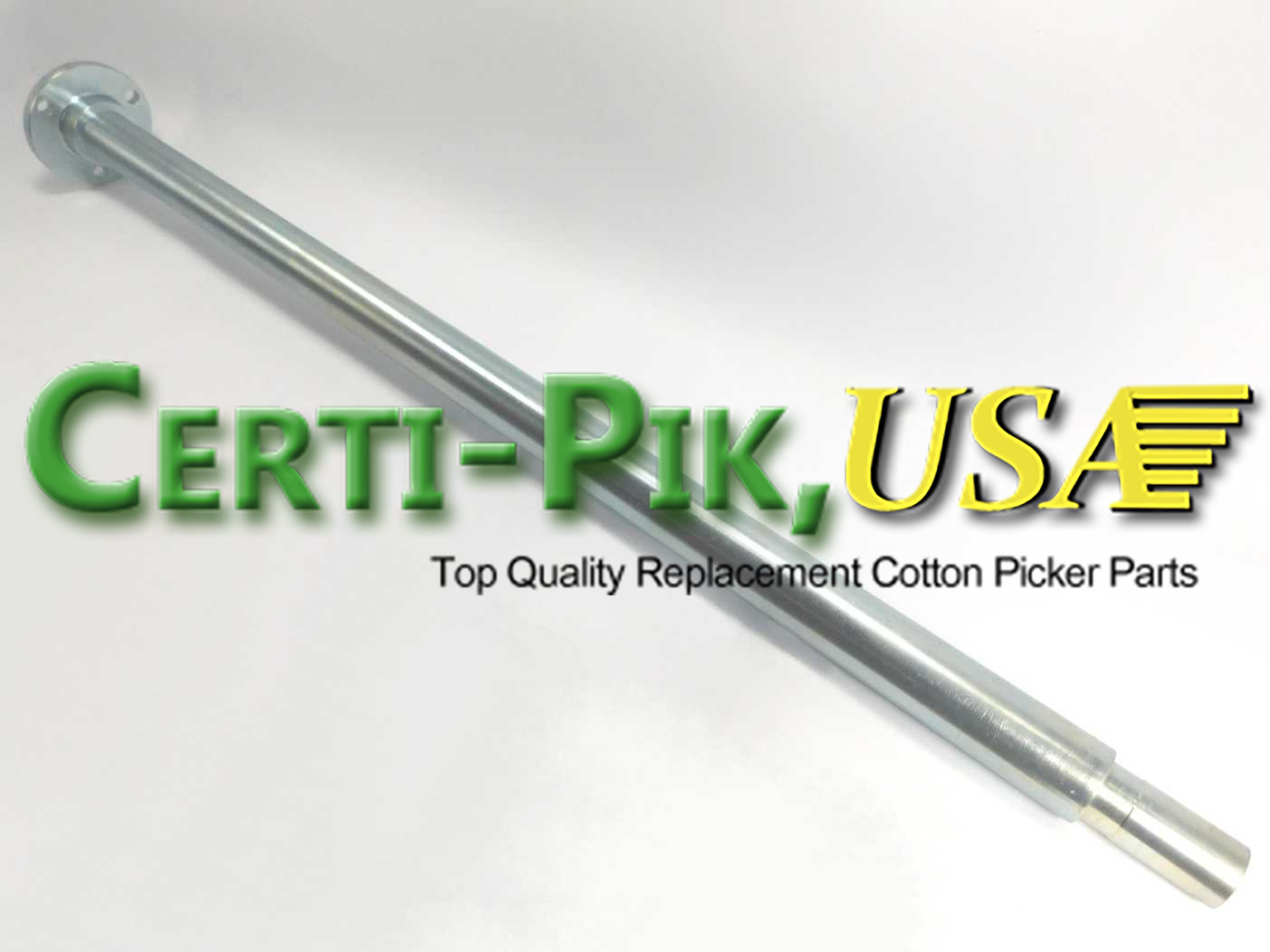 Description: DOFFER SHAFT – CP690, CP770 PRO16 – (LARGE DIA HOLLOW SHAFT) 20S

OEM Part: AKK16193

Section: Picking Unit System

John Deere Doffer and Lower Housing Assembly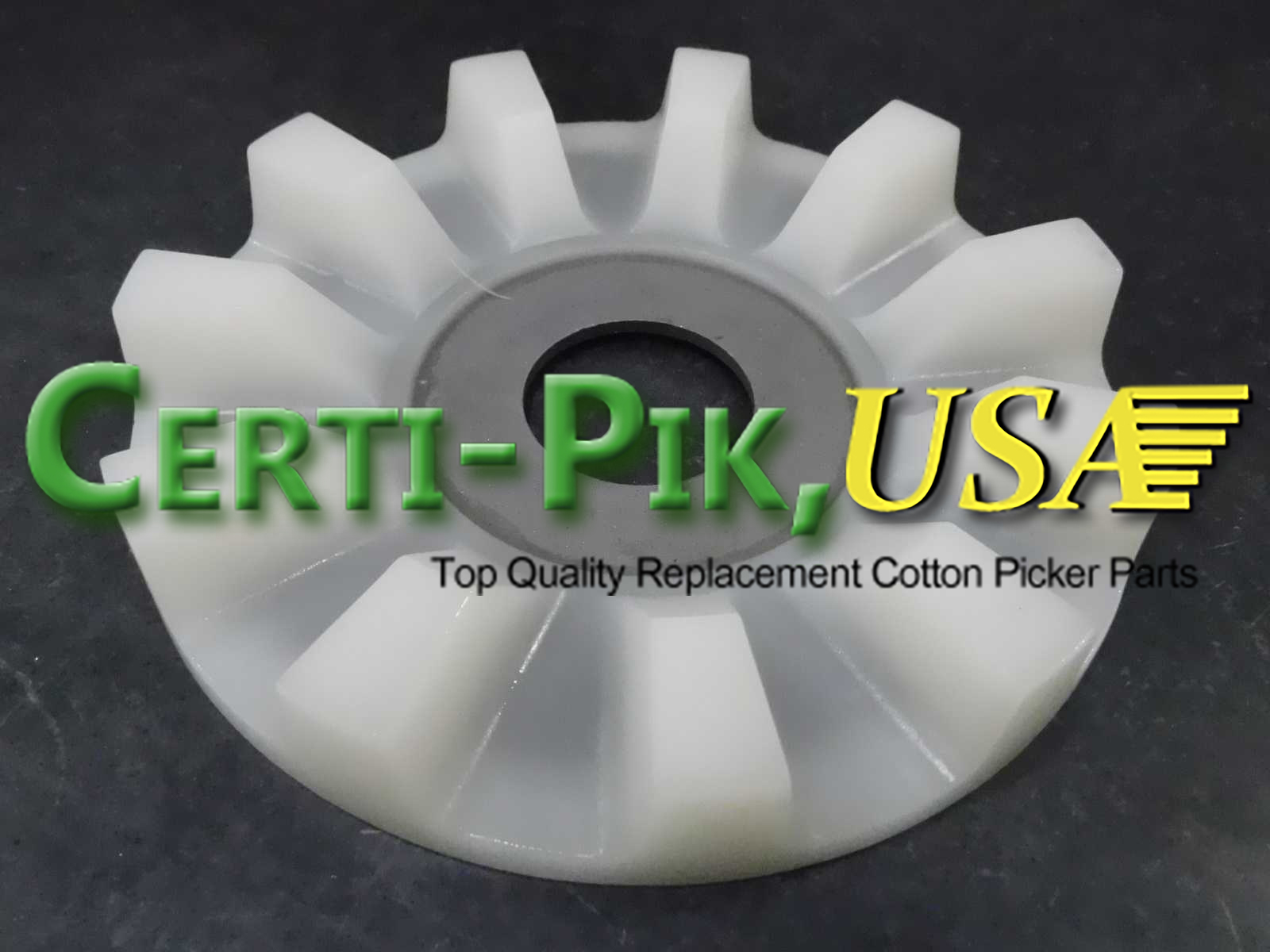 Description: DOFFER – PREMIUM URETHANE (PRO-16 LARGE HOLE – HIGH SPEED)

OEM Part: AN406038

Section: Picking Unit System

John Deere Doffer and Lower Housing Assembly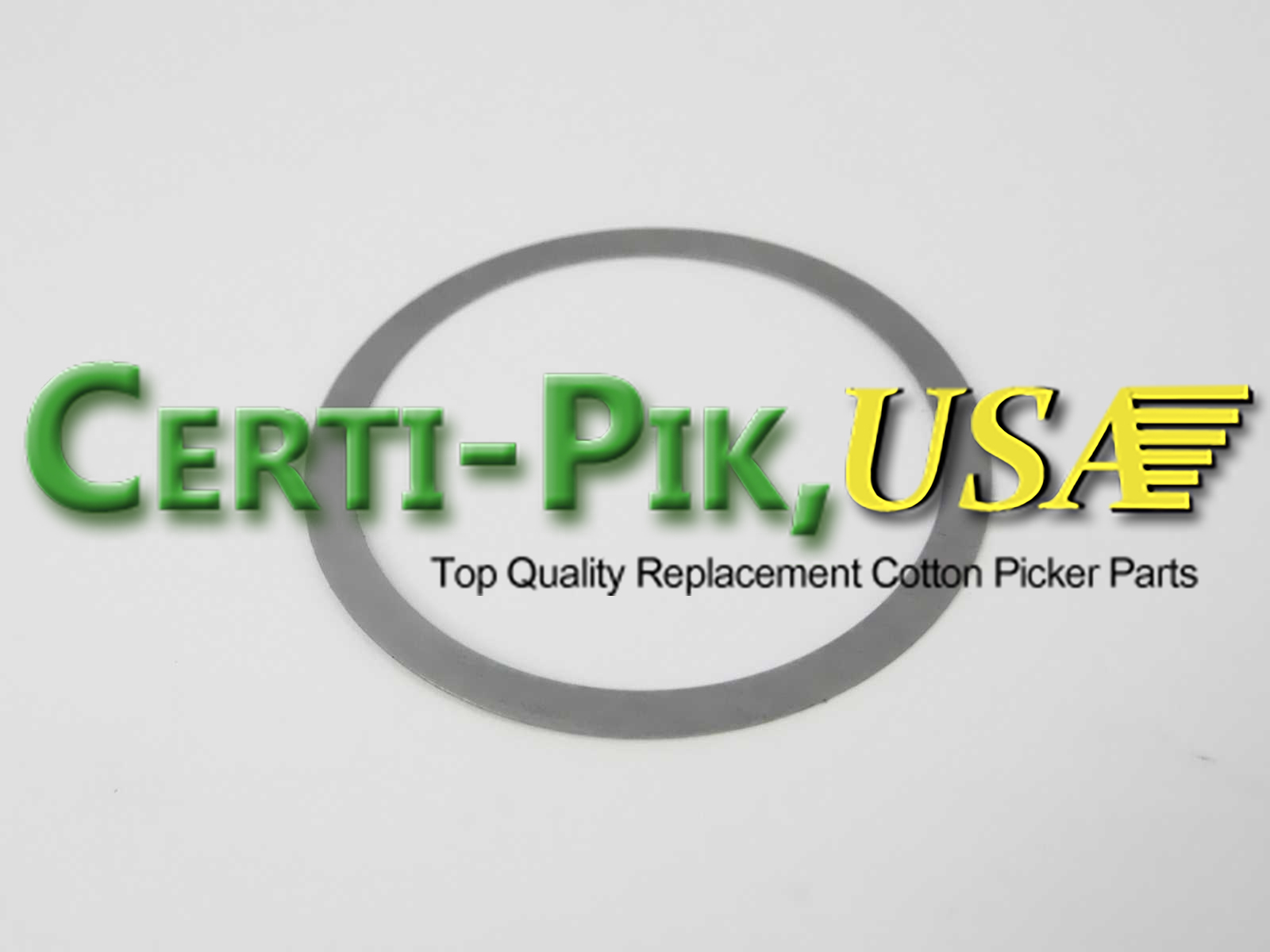 Description: DOFFER SHIM .010″ – CP690,CP770 PRO-16 – LARGE HOLE

OEM Part: N400789

Section: Picking Unit System

John Deere Doffer and Lower Housing Assembly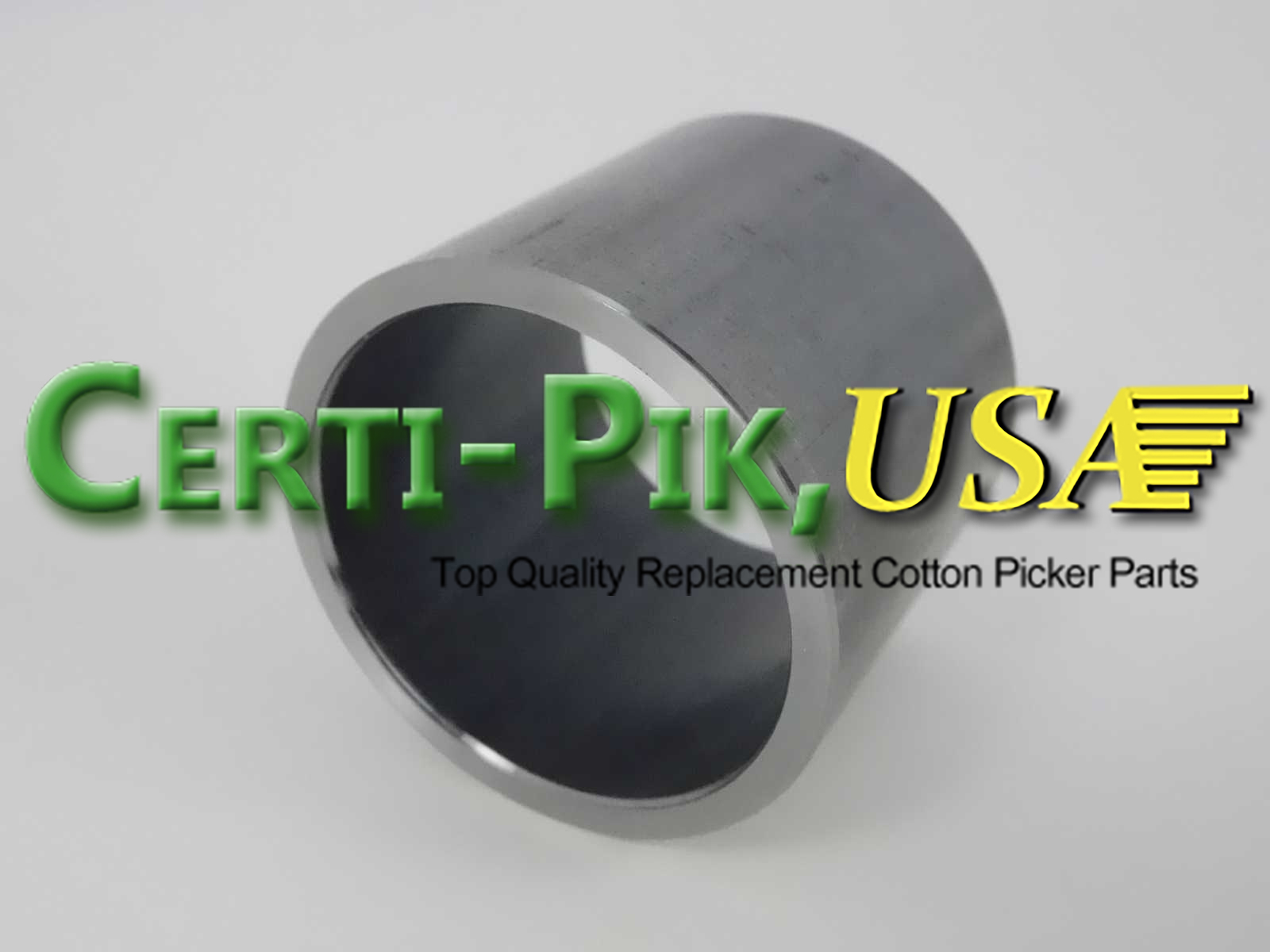 Description: DOFFER SPACER – LONG – CP690, CP770 PRO-16 – LARGE HOLE

OEM Part: KK15280

Section: Picking Unit System

John Deere Doffer and Lower Housing Assembly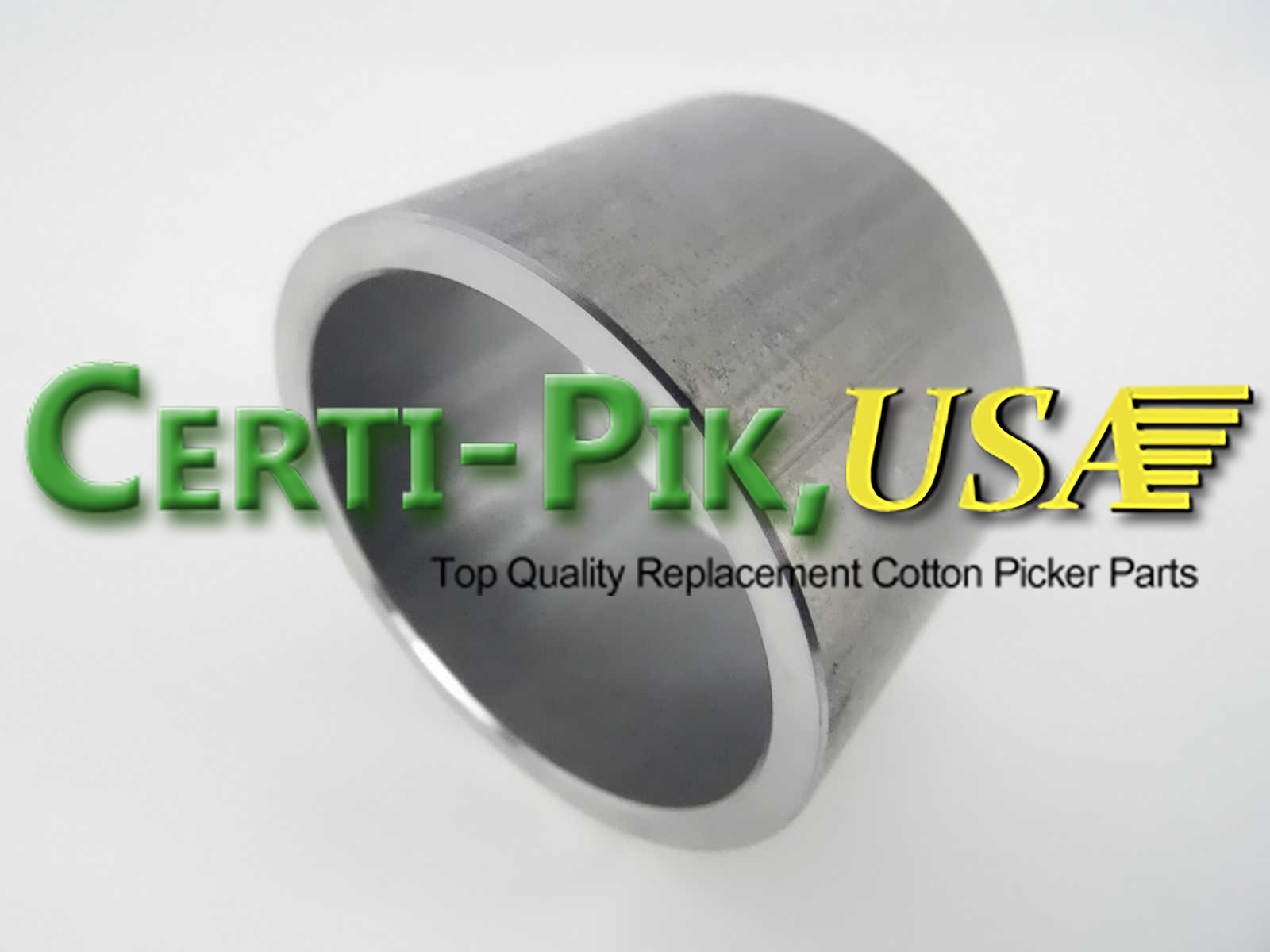 Description: DOFFER SPACER – SHORT – CP690, CP770 PRO-16 – LARGE HOLE

OEM Part: KK15281

Section: Picking Unit System

John Deere Doffer and Lower Housing Assembly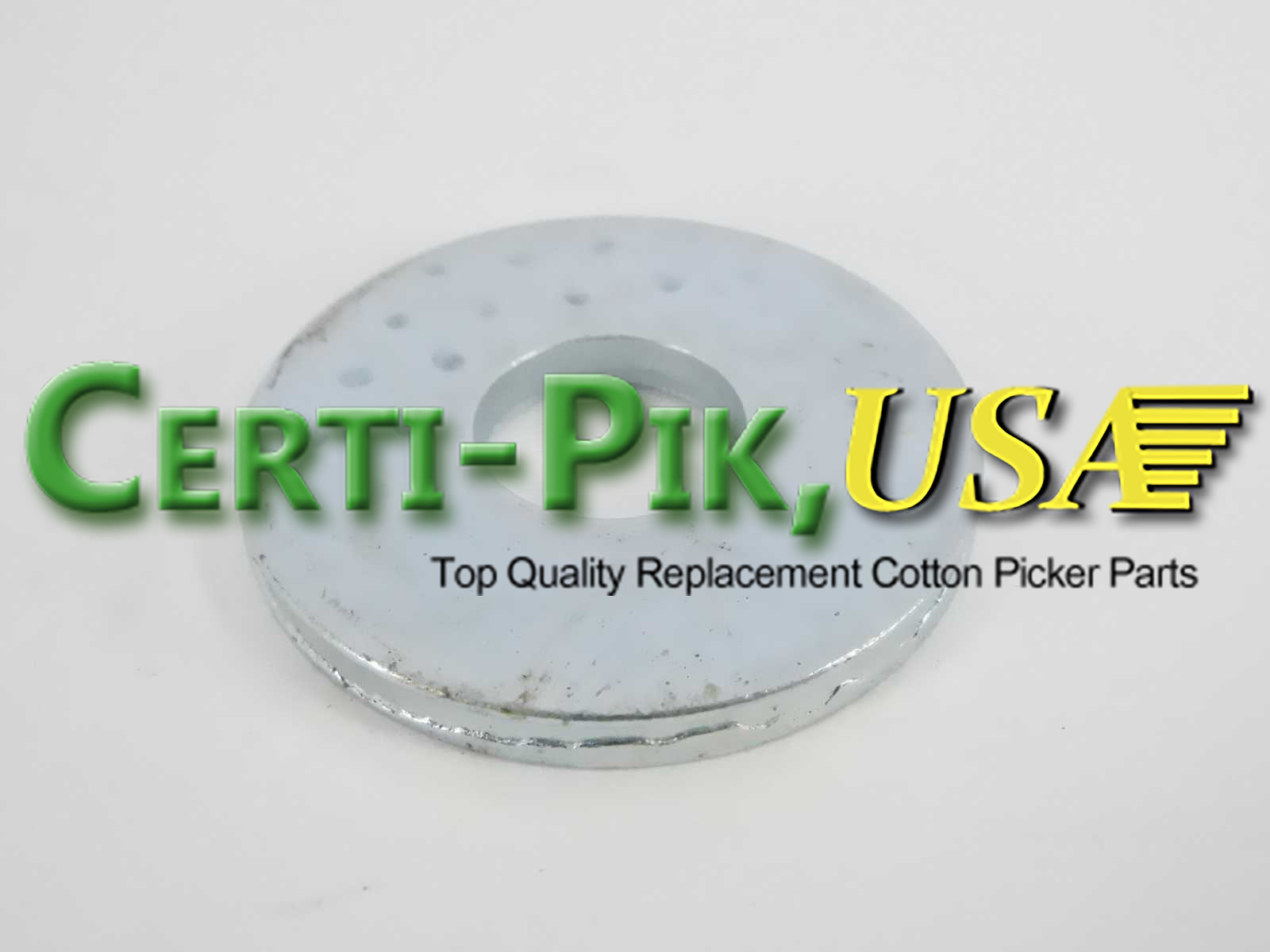 Description: WASHER – CP690, CP770 PRO-16

OEM Part: N134803

Section: Picking Unit System

John Deere Doffer and Lower Housing Assembly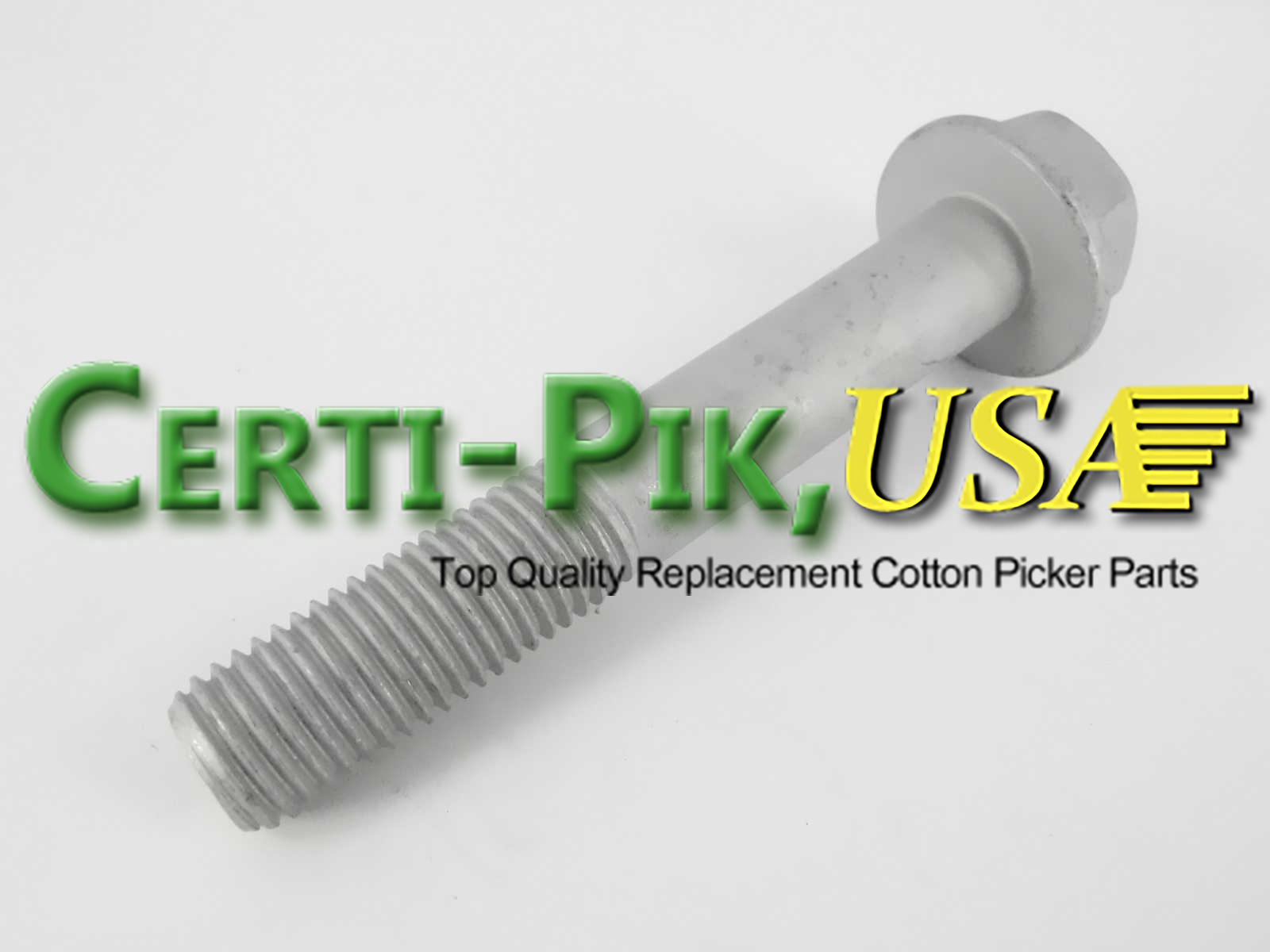 Description: BOLT – M16 X 100 – SMOOTH HEX FLANGE – CP690, CP770 PRO-16

OEM Part: 19M7828

Section: Picking Unit System

John Deere Doffer and Lower Housing Assembly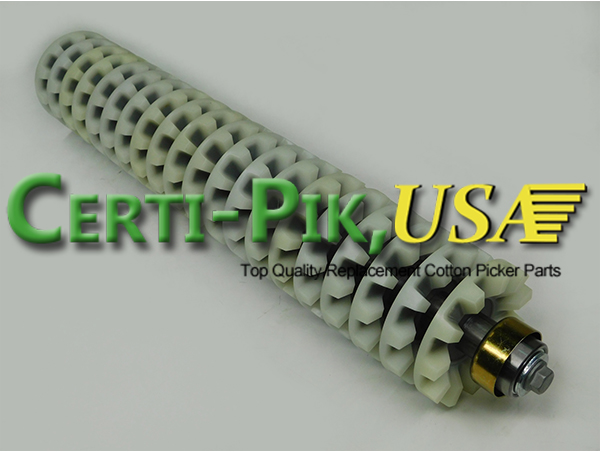 Description: DOFFER ASSEMBLY – CP690, CP770 PRO-16 BALER – 20S (HIGH SPEED) – FITS ALL 20 SPINDLE CONVENTIONAL AND PRO MACHINES

OEM Part: AKK17562

Section: Picking Unit System

John Deere Doffer and Lower Housing Assembly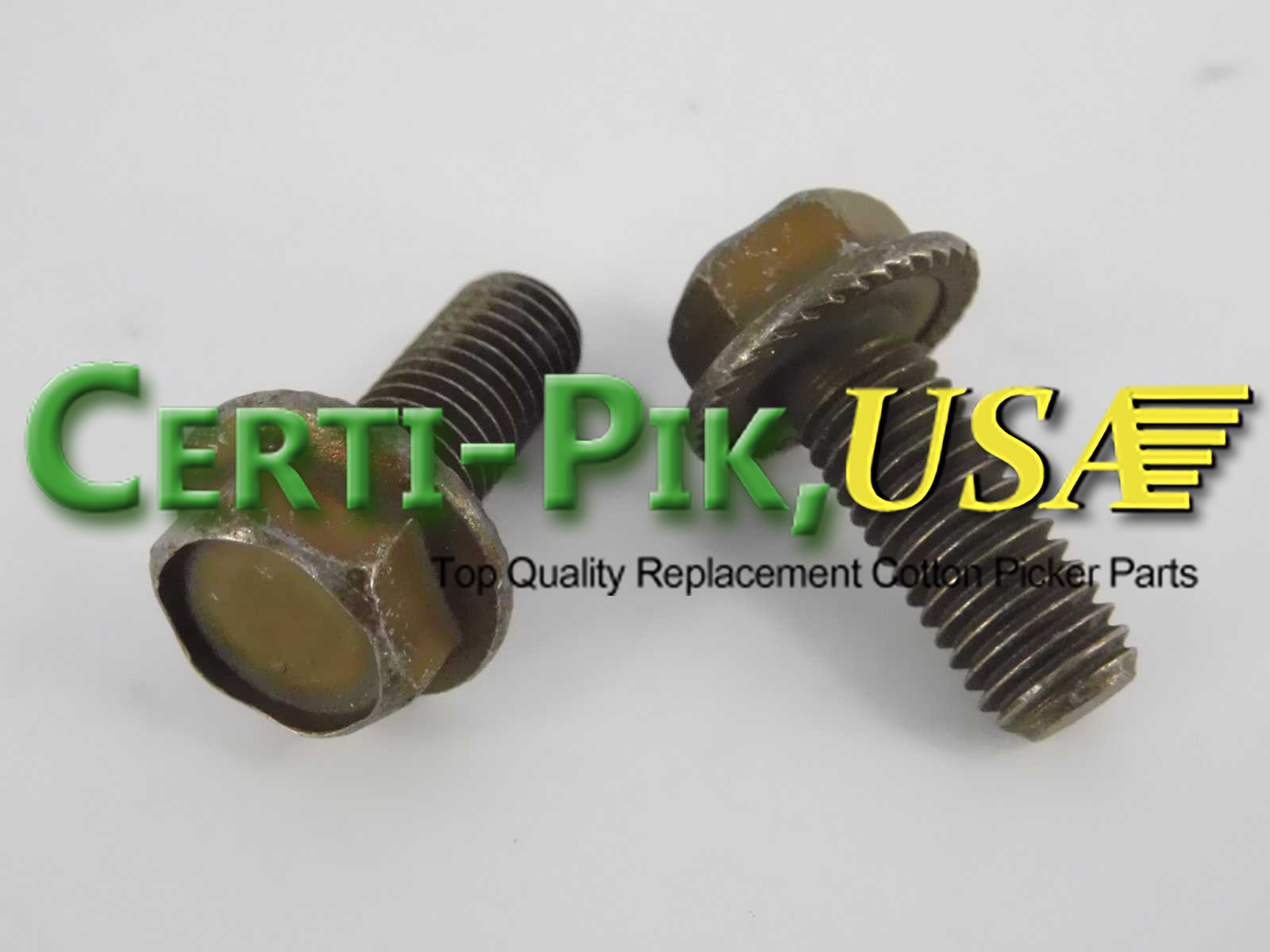 Description: BOLT – M10 X 25 – SERR HEX FLANGE

OEM Part: N275625P

Section: Picking Unit System

John Deere Doffer and Lower Housing Assembly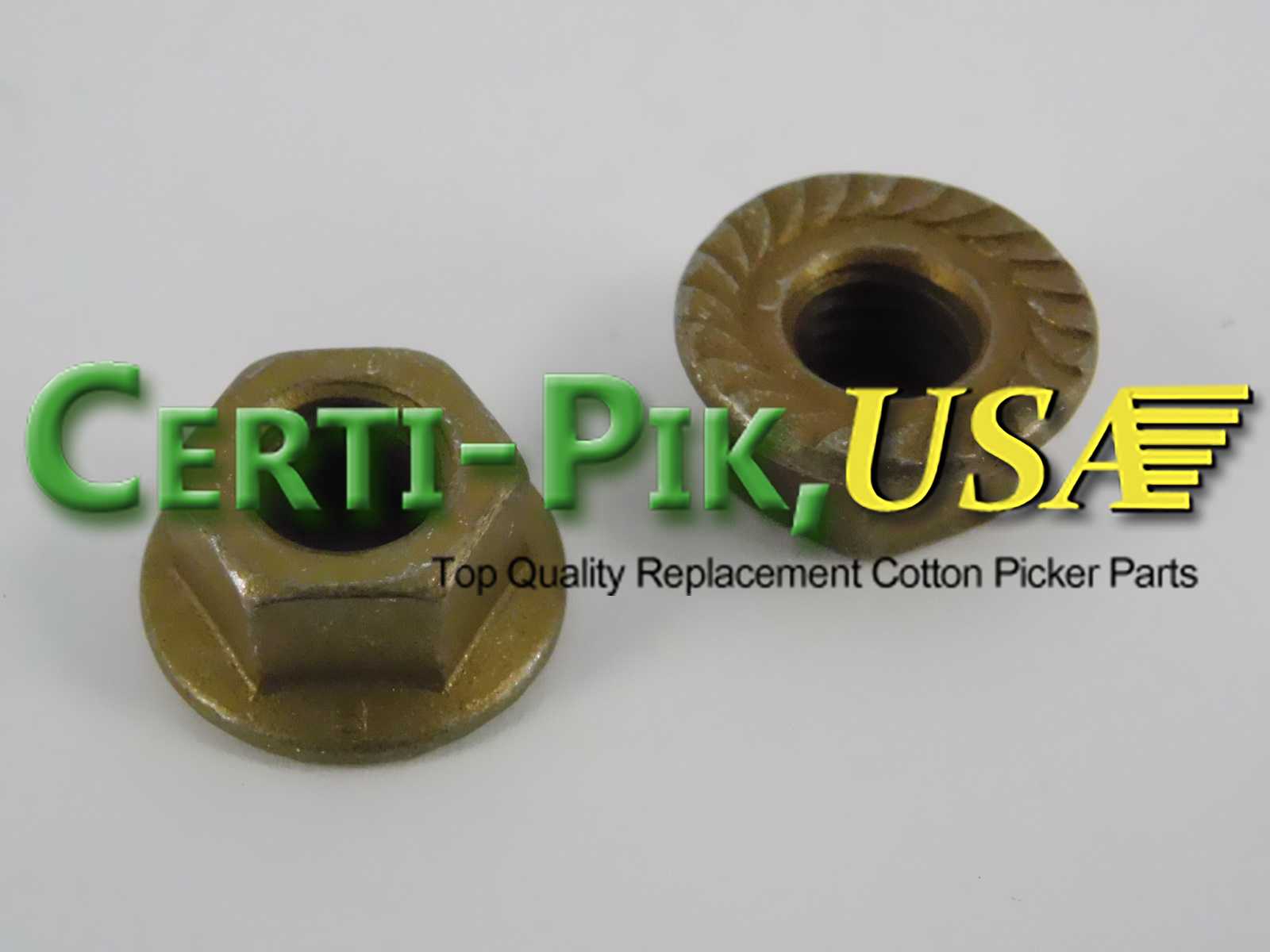 Description: NUT – M10 – SERR HEX FLANGE

OEM Part: E63526

Section: Picking Unit System

John Deere Doffer and Lower Housing Assembly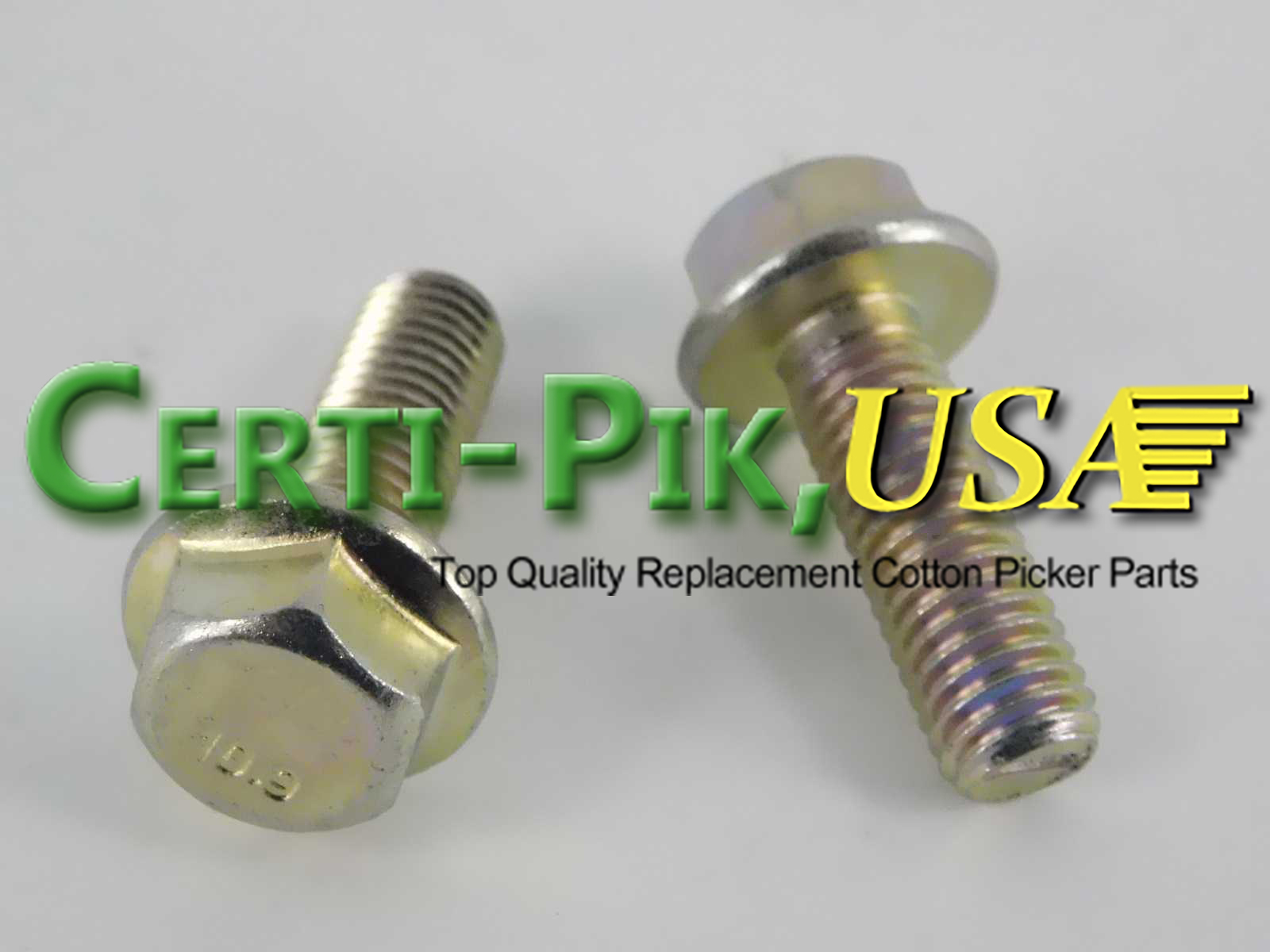 Description: BOLT – M10 X 30 – SMOOTH HEX FLANGE

OEM Part: 19M7786

Section: Picking Unit Cabinet

John Deere Doffer and Lower Housing Assembly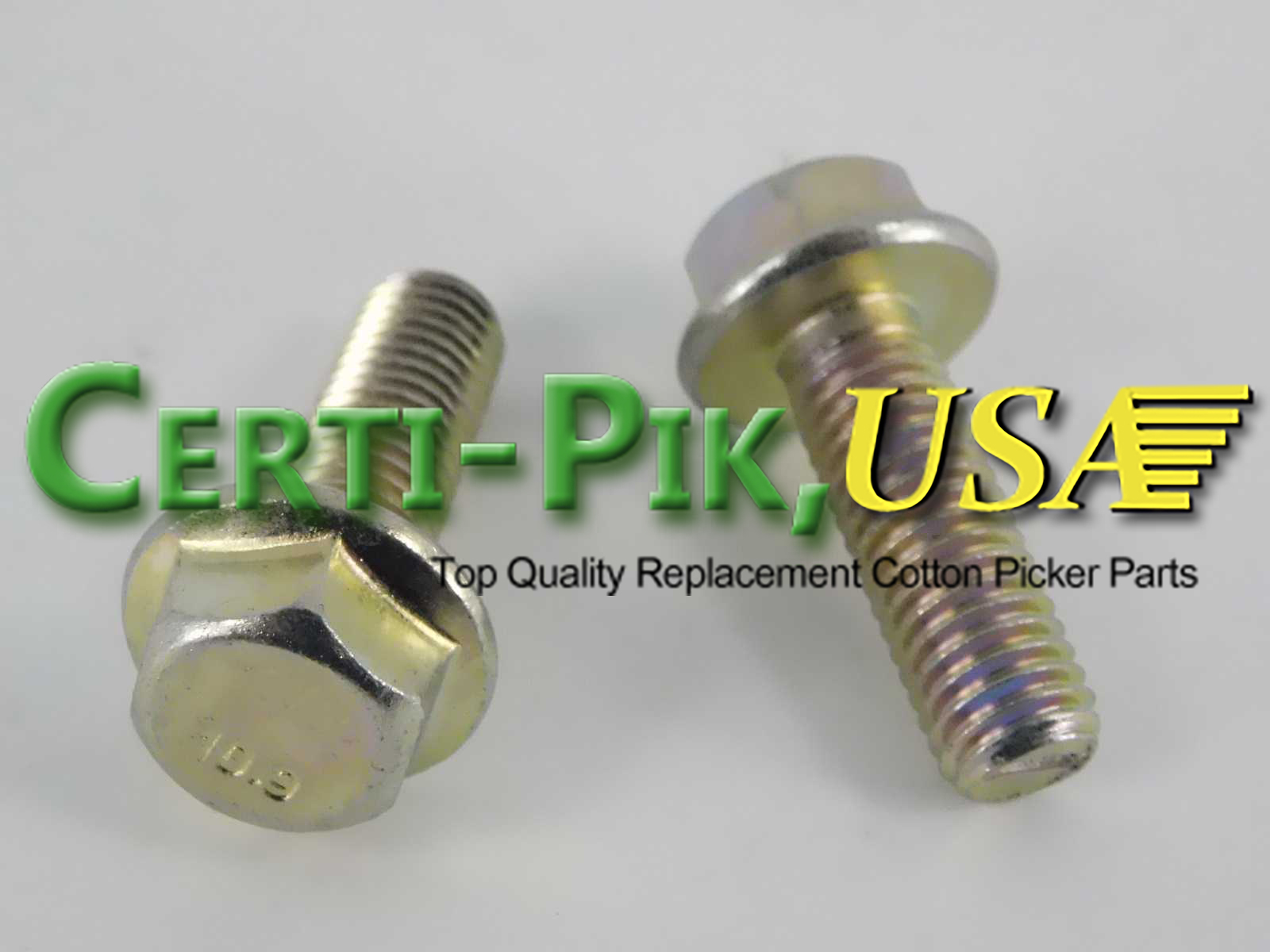 Description:BOLT – M10 X 30 – SMOOTH HEX FLANGE

OEM Part:19M7786

Section: Picking Unit System

John Deere Upper Doffer Adjustment Housing and Sprockets Assembly



---
John Deere Idler Gear Assembly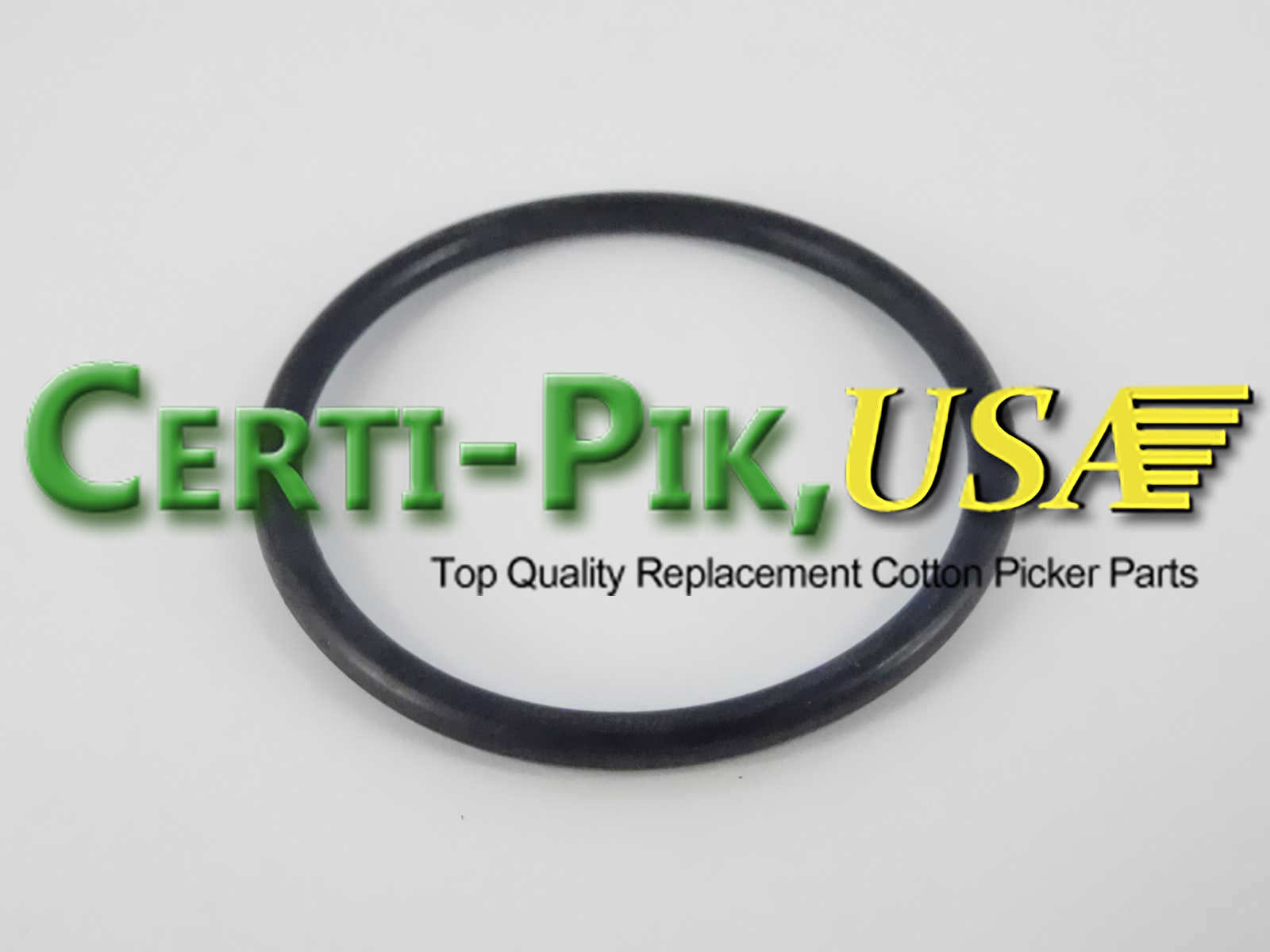 Description: O-RING – (9965) UPPER IDLER BRG

OEM Part: B3690R

Section: Picking Unit System

John Deere Idler Gear Assembly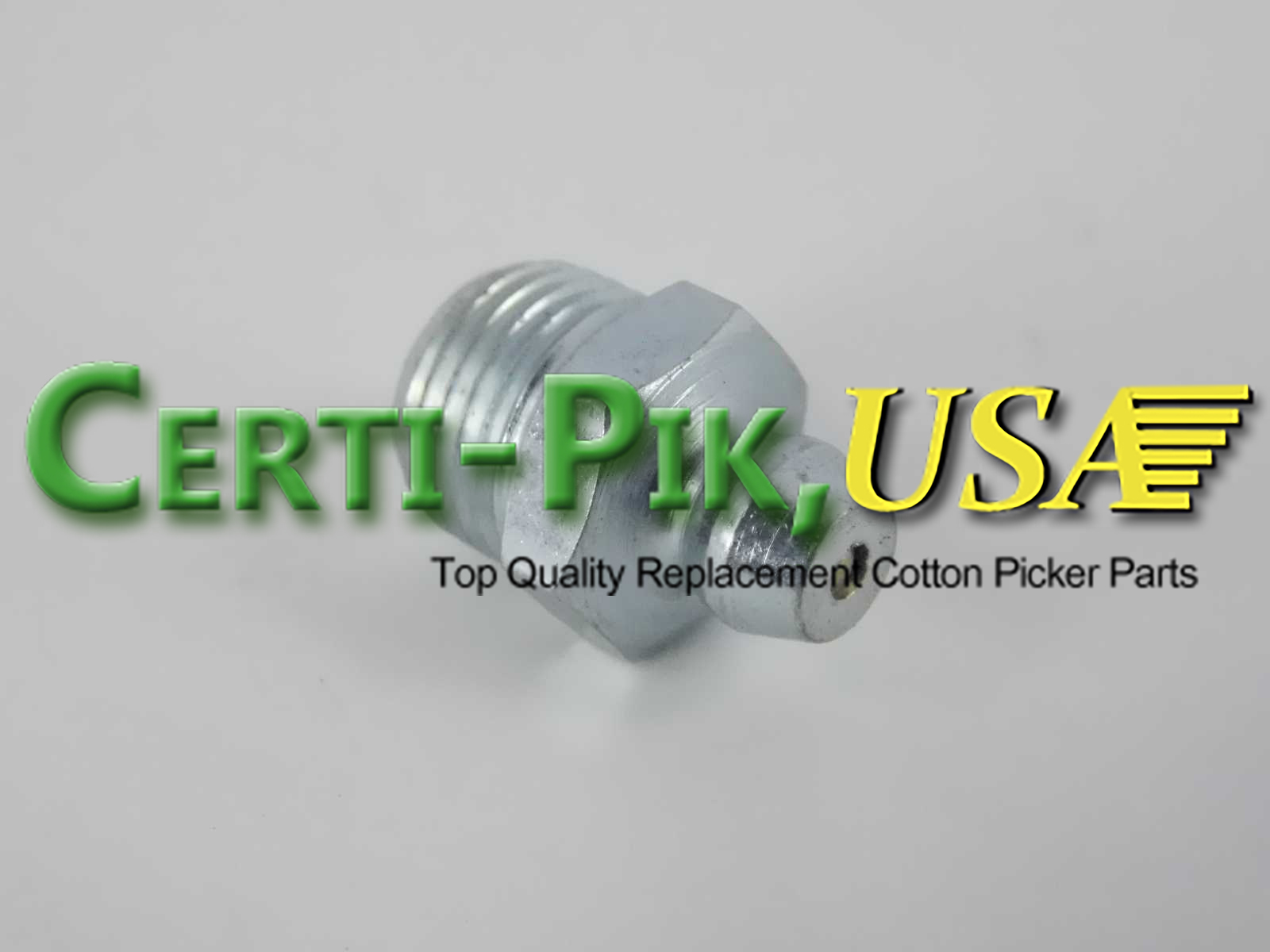 Description: LUBE FITTING – 1/8″

OEM Part: JD7759

Section: Picking Unit System

John Deere Idler Gear Assembly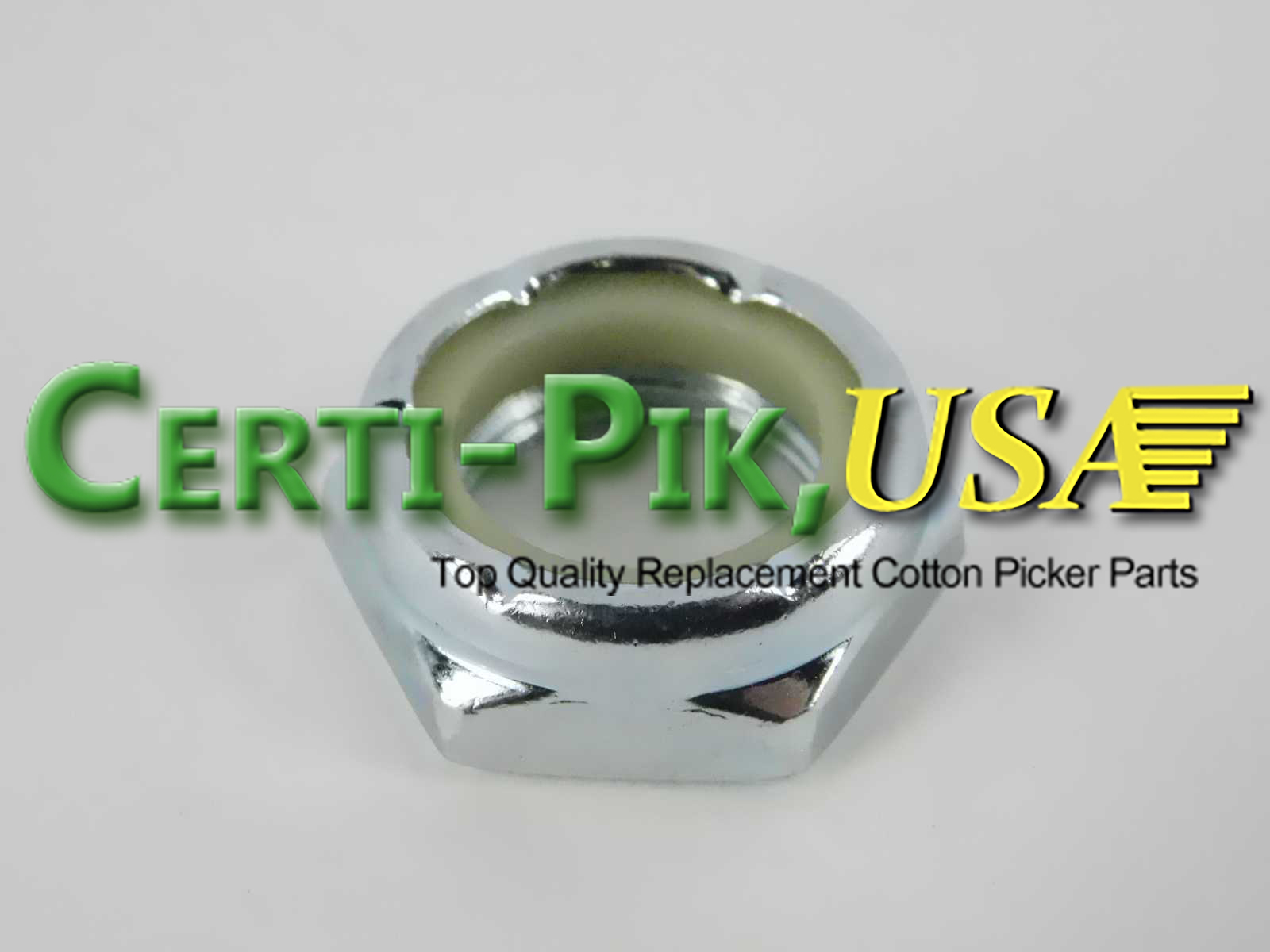 Description: NUT – 3/4 UNF – NYLON LOCK (ALL MODELS 9900-9965) REPLACES H34753

OEM Part: N101345

Section: Picking Unit System

John Deere Idler Gear Assembly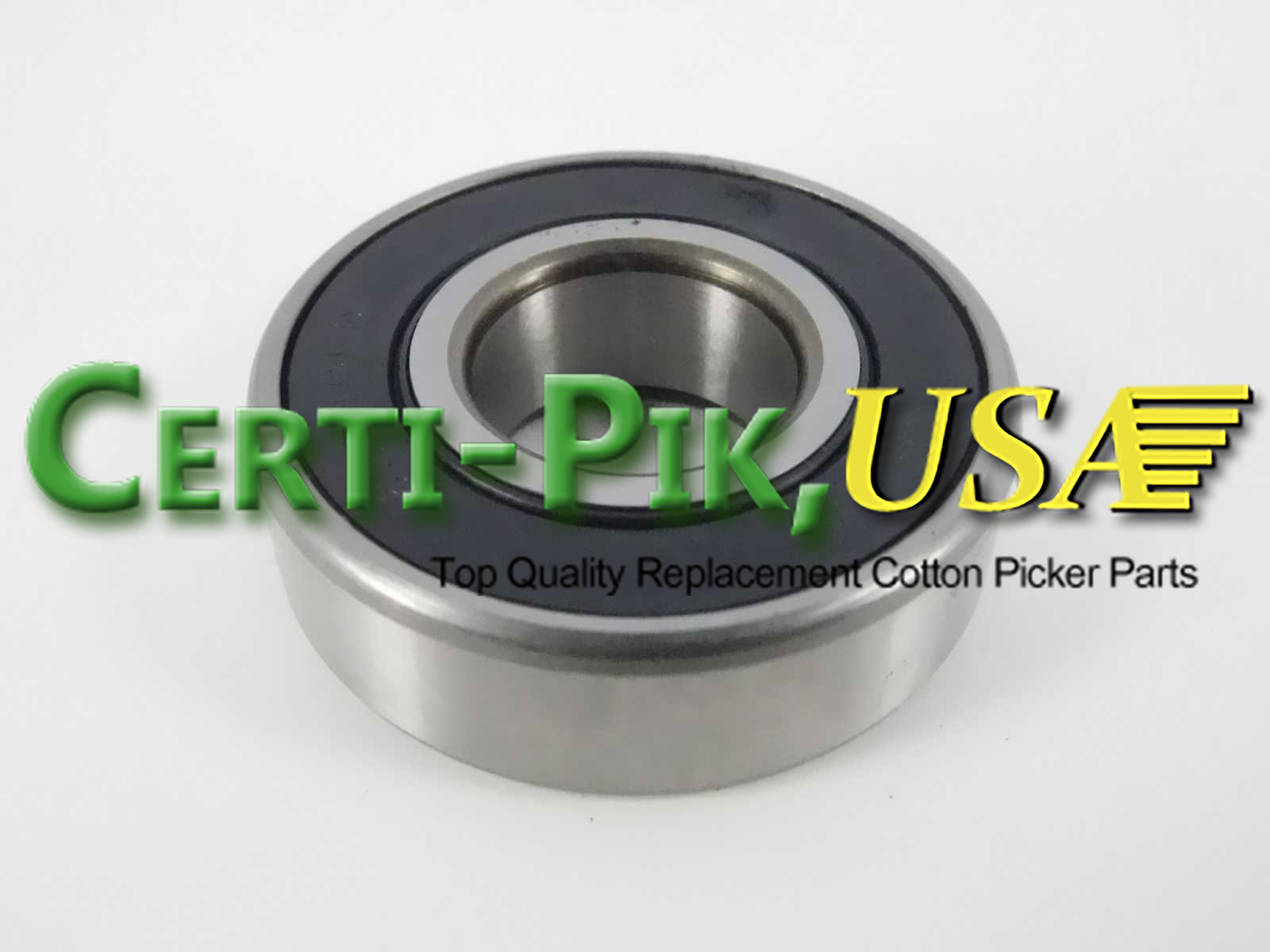 Description: BALL BEARING – TOP IDLER GEAR (9900-9965)

OEM Part: JD7142

Section: Picking Unit System

John Deere Idler Gear Assembly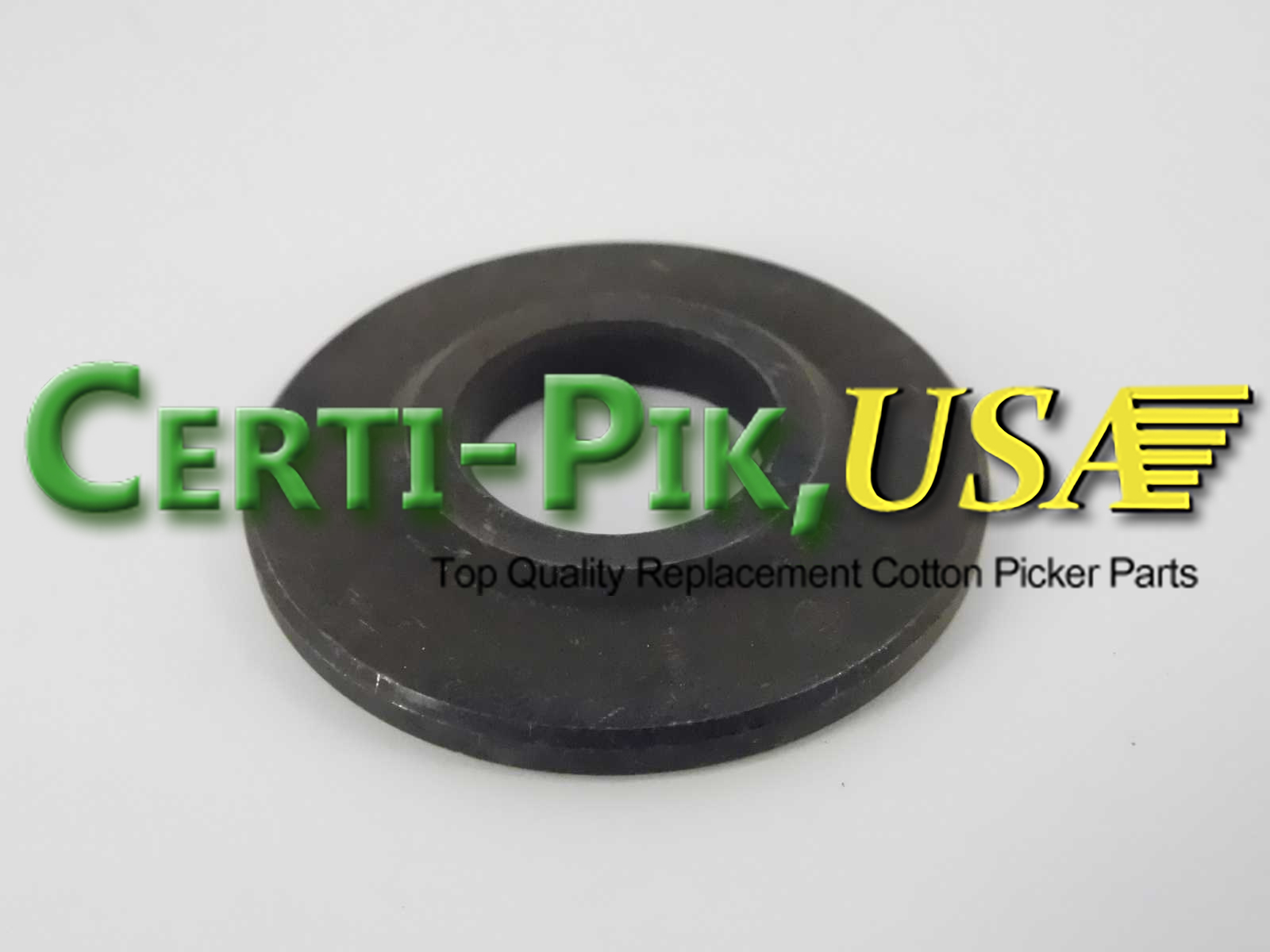 Description: WASHER – IDLER GEAR SPRING WASHER (9900-9965)

OEM Part: N110133

Section: Picking Unit System

John Deere Idler Gear Assembly
Description: SPRING – (.244 WIRE) 5 COIL (9900-CP770)

OEM Part: N131738

Section: Picking Unit System

John Deere Idler Gear Assembly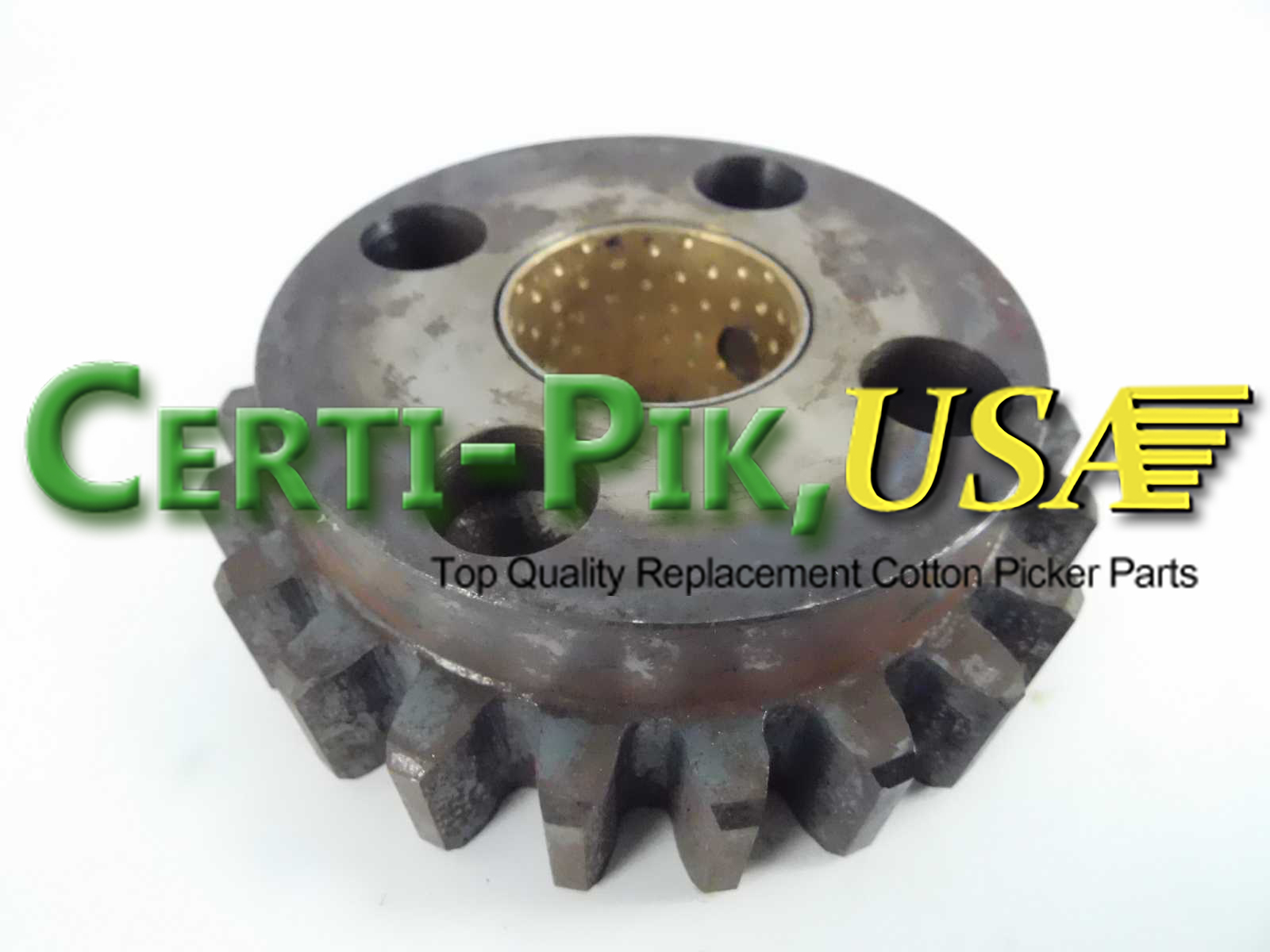 Description: SPUR GEAR – 23T, IDLER-GROUND DRIVE (9960) – INCLUDES #01713P BUSHING

OEM Part: AN193393

Section: Picking Unit System

John Deere Idler Gear Assembly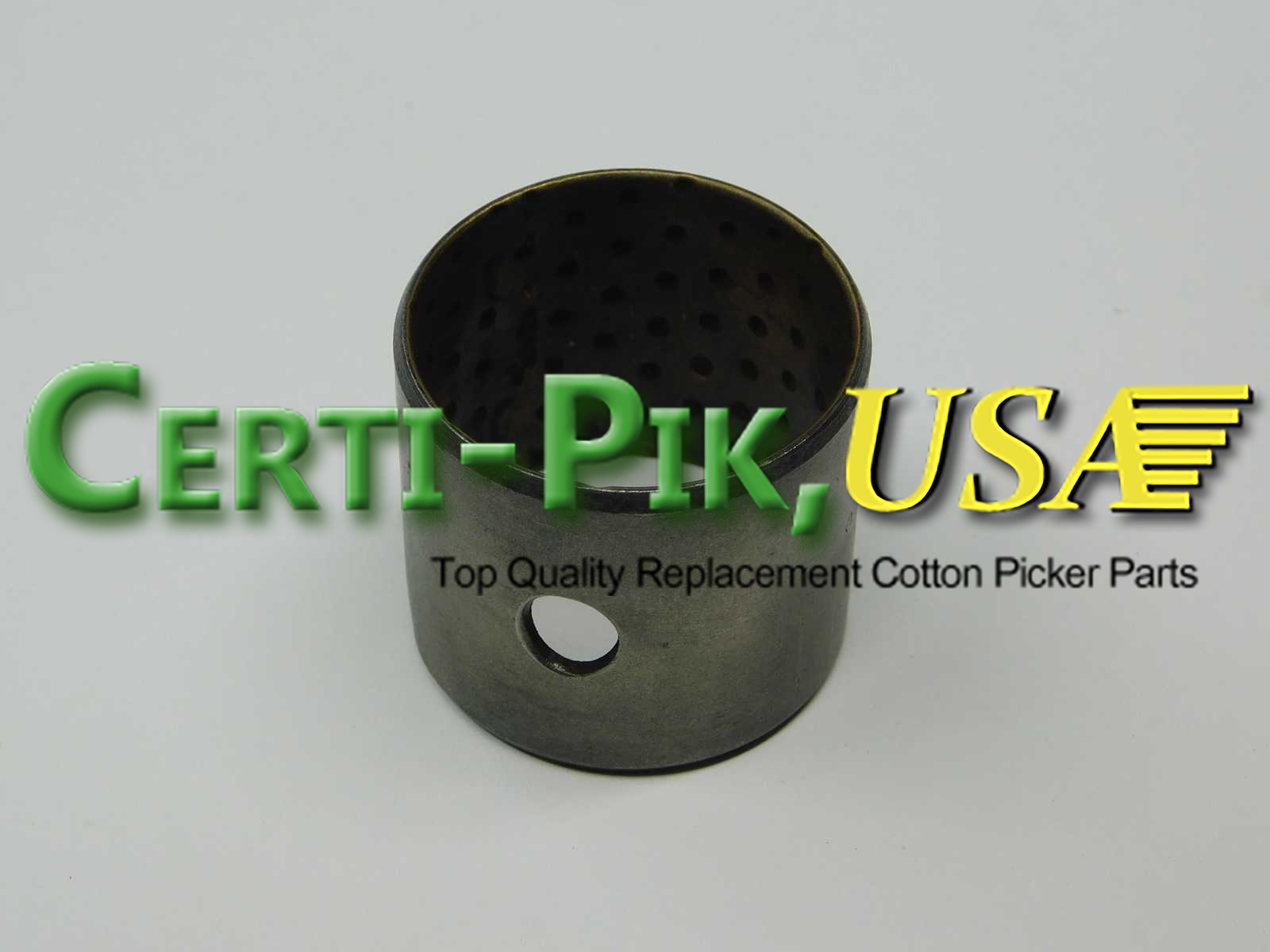 Description: BUSHING – (9900-9965)

OEM Part: L1713C

Section: Picking Unit System

John Deere Idler Gear Assembly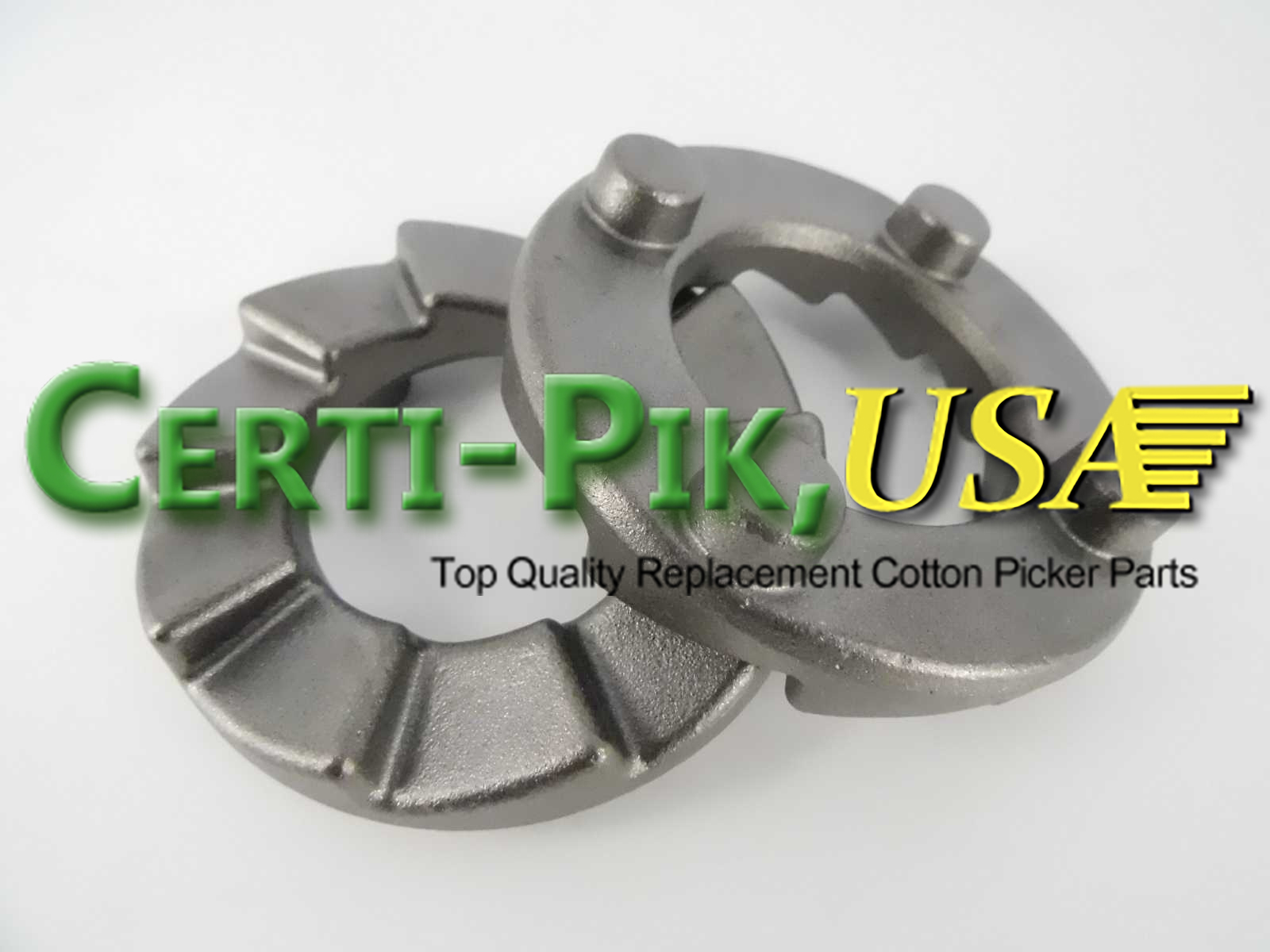 Description: SLIP CLUTCH – R.H.(SOLD IN PAIRS ONLY) (9900-CP770 IDLER GEAR APPLICATION)

OEM Part: N190954

Section: Picking Unit System

John Deere Idler Gear Assembly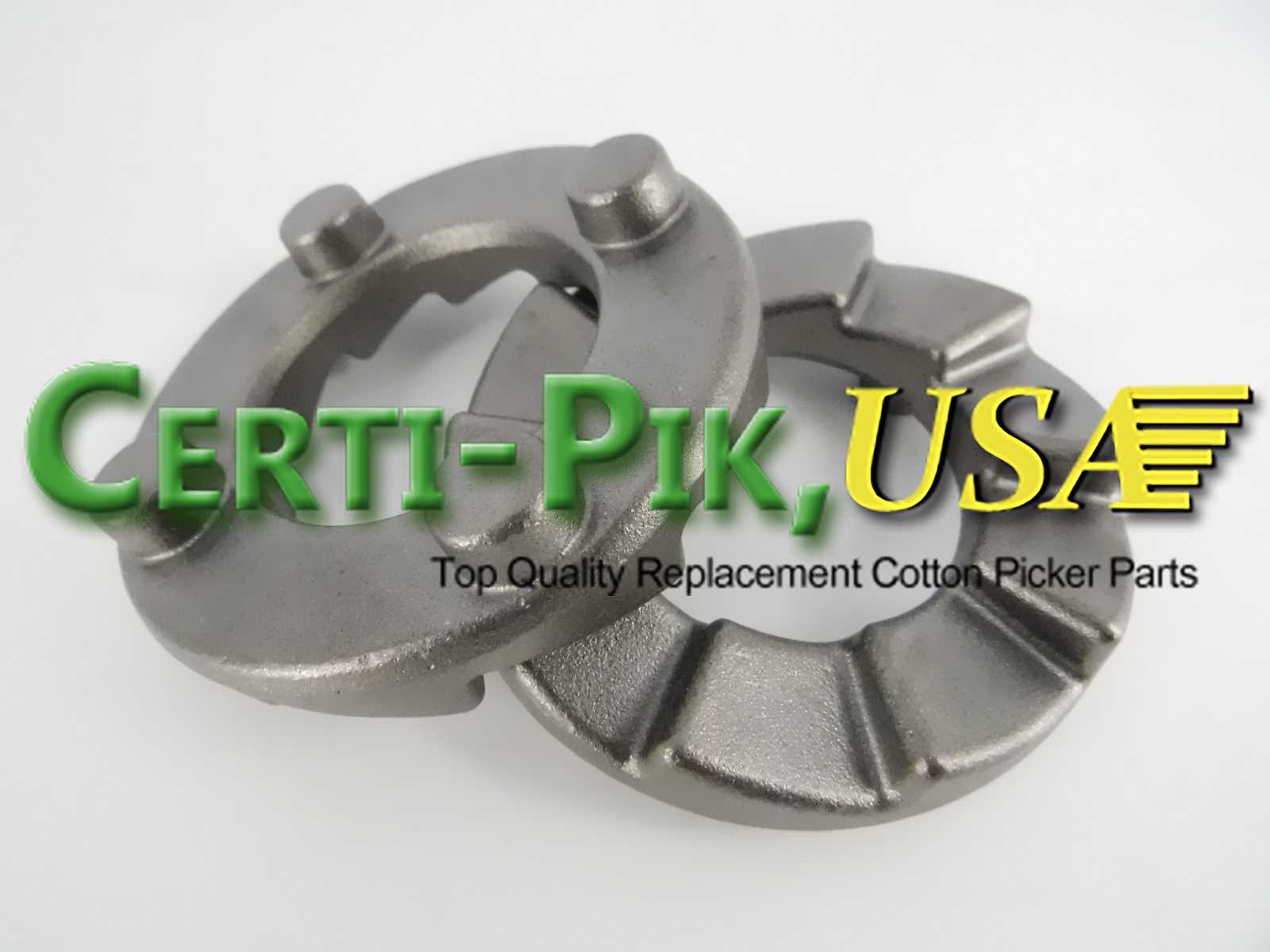 Description: SLIP CLUTCH – L.H. (SOLD IN PAIRS ONLY) (9910-9965 CONV. IDLER GEAR APPLICATION)

OEM Part: N190955

Section: Picking Unit System

John Deere Idler Gear Assembly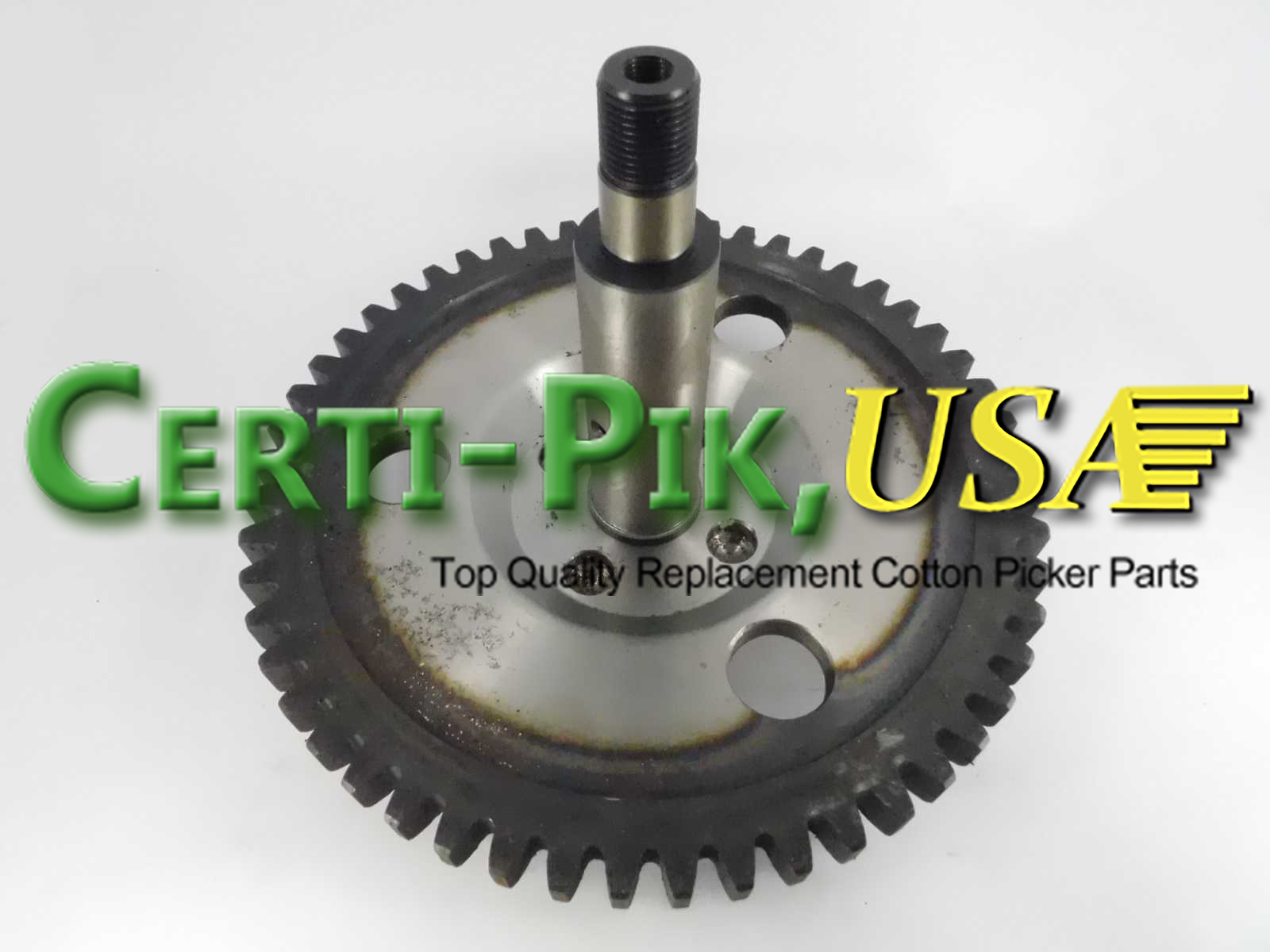 Description: GEAR – IDLER (9900-9950 CONV.)

OEM Part: AN110124

Section: Picking Unit System

John Deere Idler Gear Assembly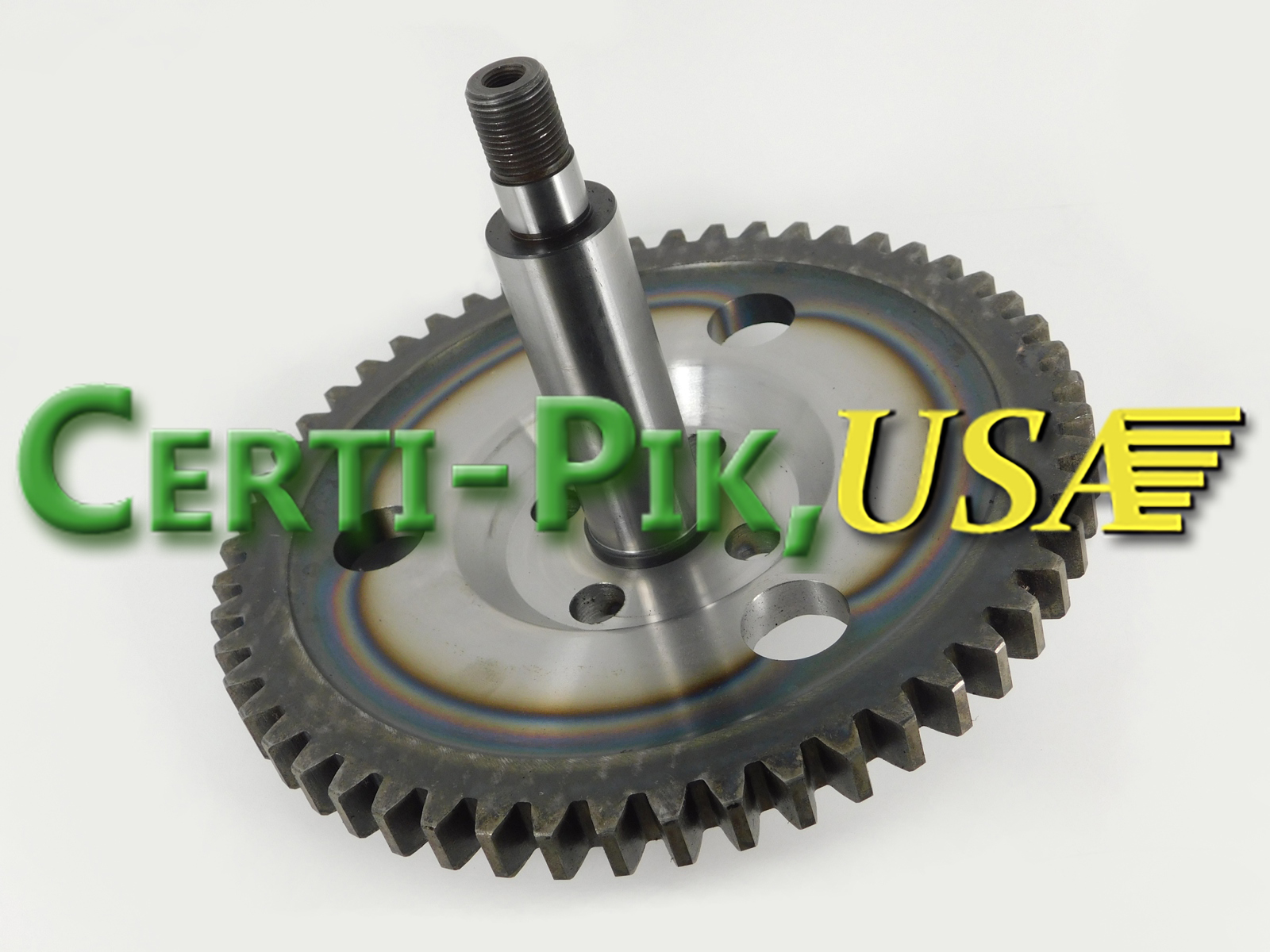 Description: GEAR – IDLER (9935, 9960-9965 IN-LINE)

OEM Part: AN272285

Section: Picking Unit System

John Deere Idler Gear Assembly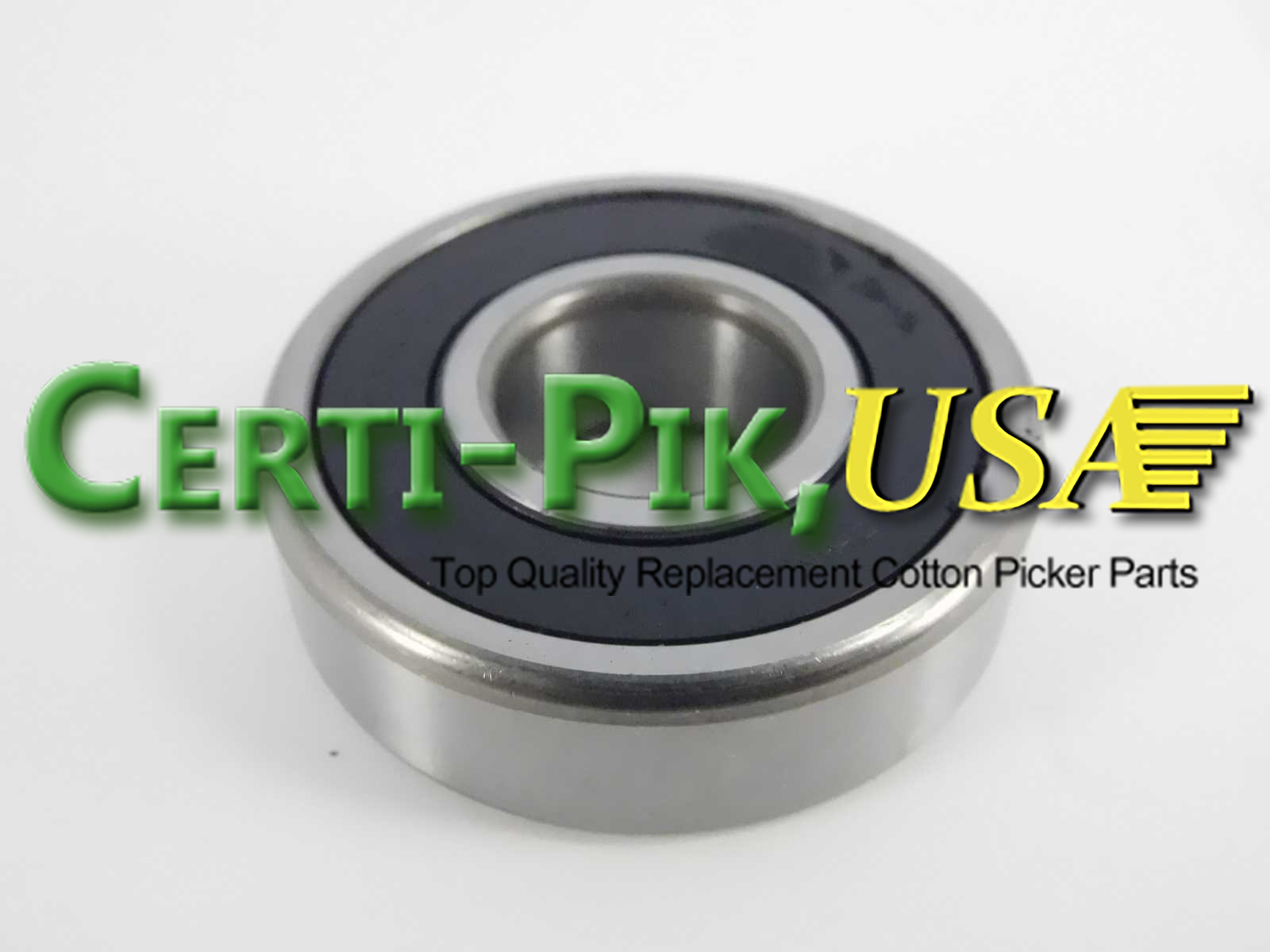 Description: BALL BEARING – BOTTOM IDLER GEAR (9900-9965)

OEM Part: JD9324

Section: Picking Unit System

John Deere Idler Gear Assembly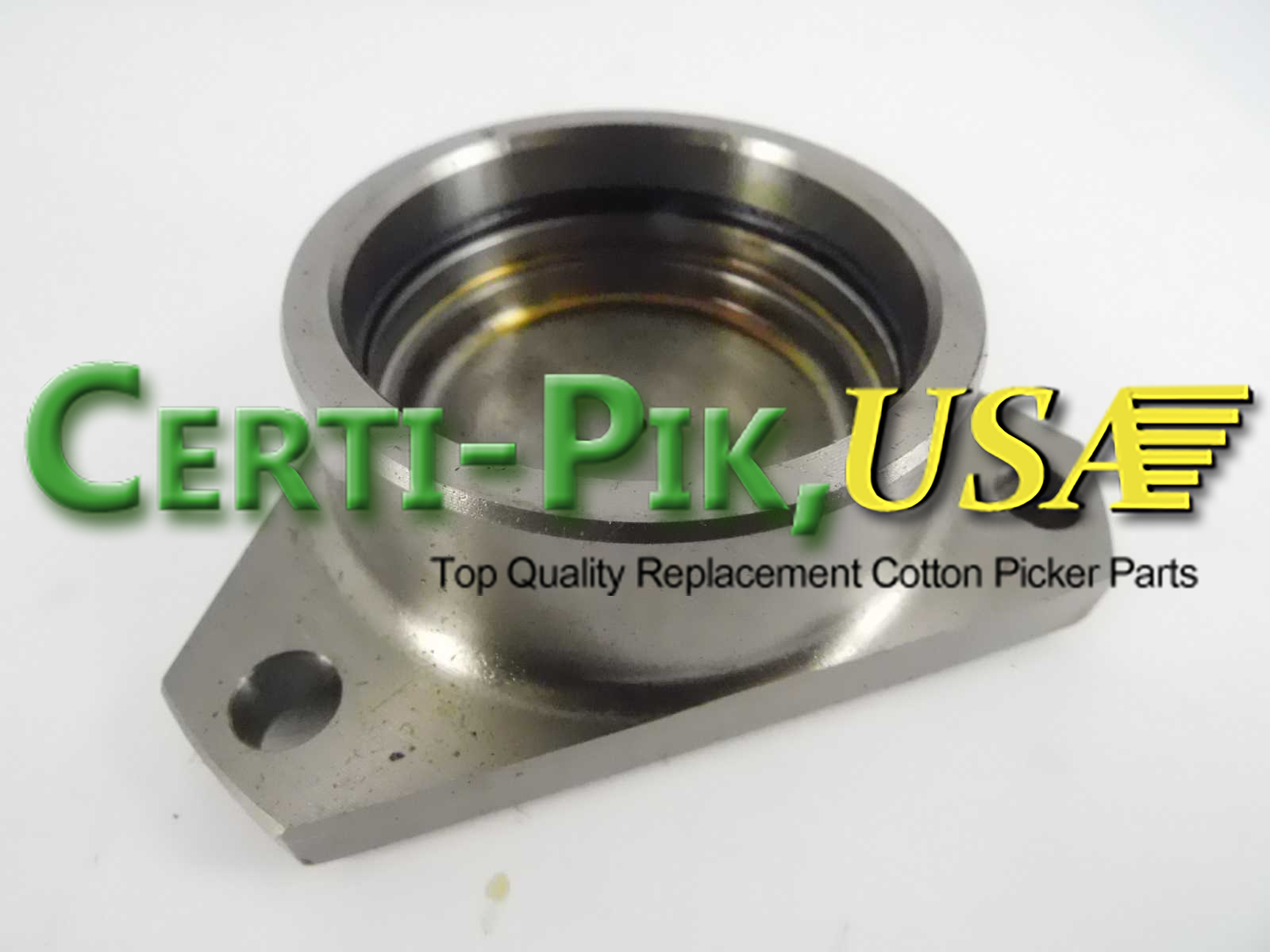 Description: STEEL HOUSING – LOWER IDLER GEAR (9960-9965 IN-LINE), MACHINED FROM STEEL, SUBS OEM ALUMINUM STYLE ( INCLUDES 1x #13: #40708P) (ILL.)

OEM Part: N199063

Section: Picking Unit System

John Deere Idler Gear Assembly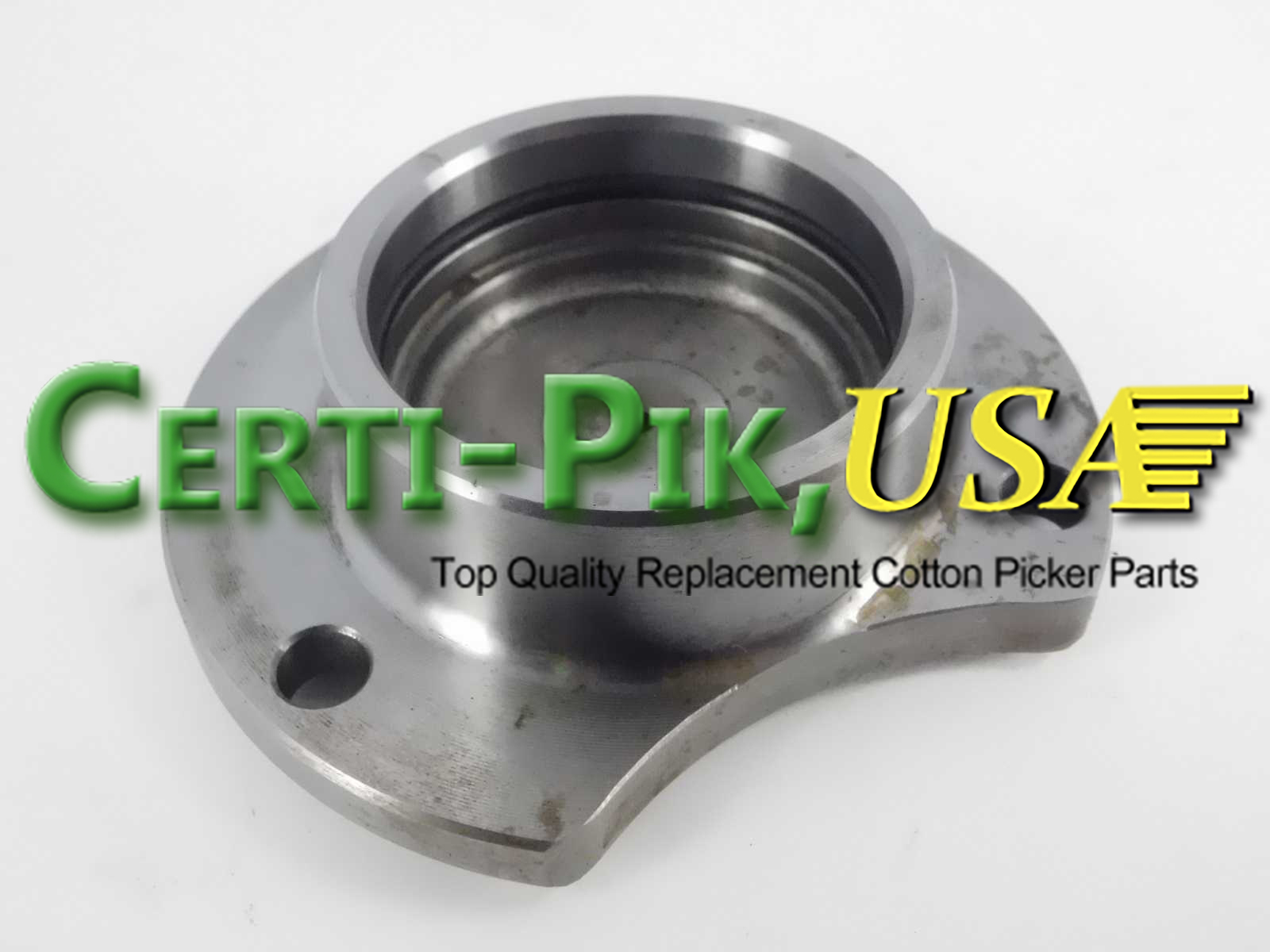 Description: HOUSING – LOWER IDLER GEAR (9900-9950 CONV.), MACHINED FROM STEEL

OEM Part: N110137

Section: Picking Unit System

John Deere Idler Gear Assembly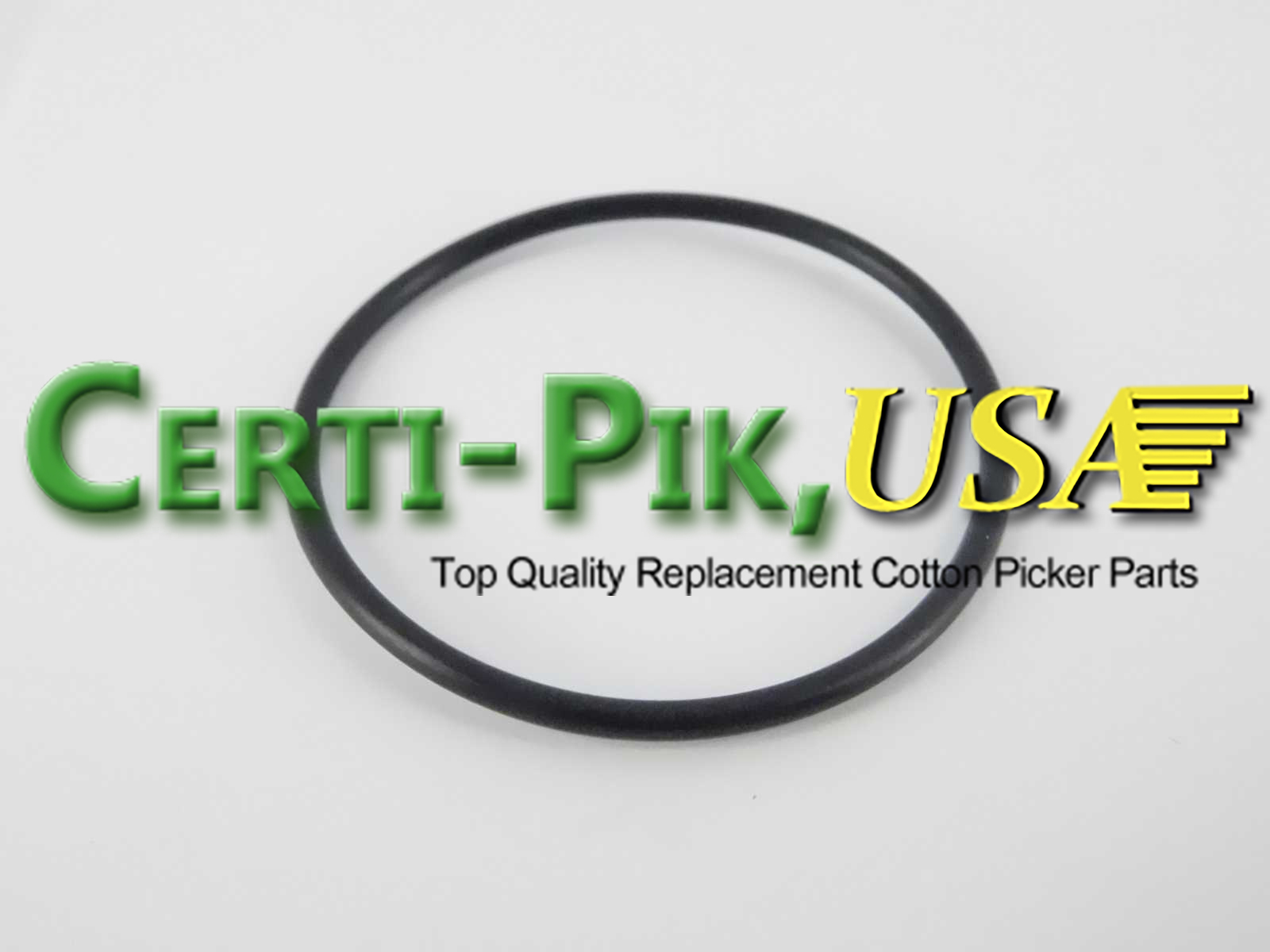 Description: O-RING – (LOWER HOUSING: 9960-65 IN-LINE, UPPER HOUSING: 9935-CP770 PRO)

OEM Part: U40708

Section: Picking Unit System

John Deere Idler Gear Assembly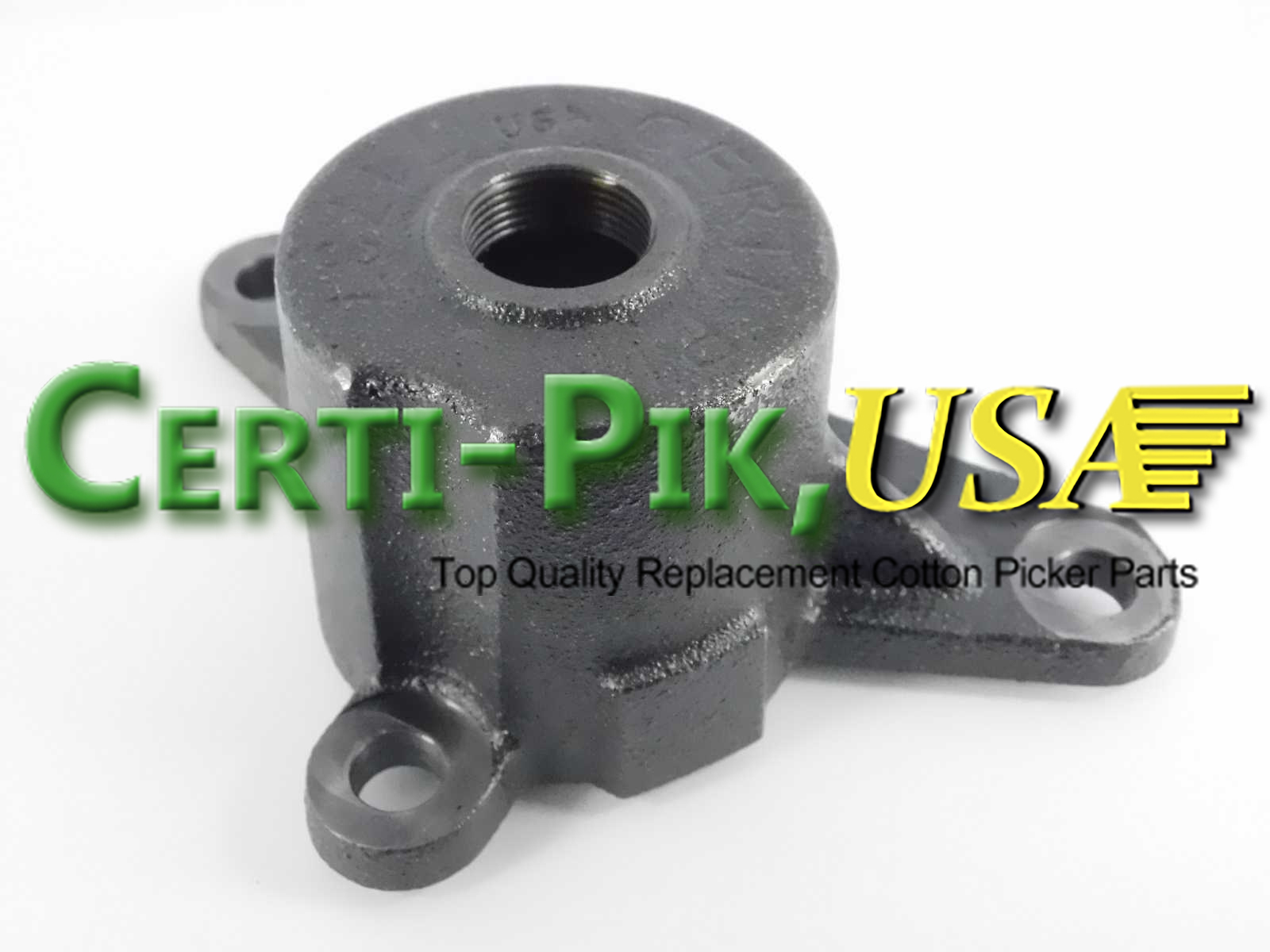 Description: STEEL HOUSING – UPPER IDLER (9935, 9970-CP770 PRO)

OEM Part: N371737

Section: Picking Unit System

John Deere Idler Gear Assembly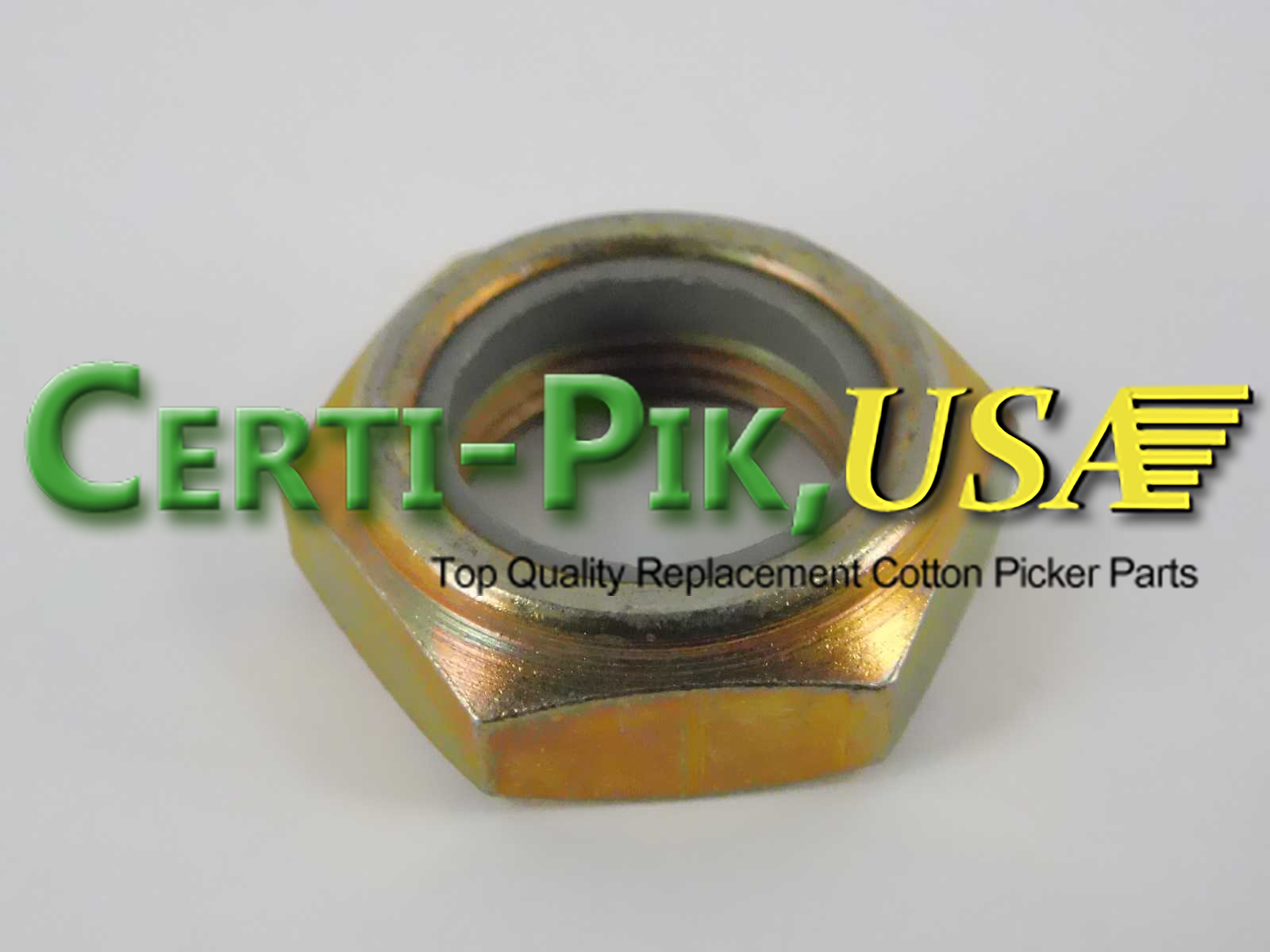 Description: NUT – M20 – NYLON LOCK (9935, 9970-CP770 PRO)

OEM Part: N275033

Section: Picking Unit System

John Deere Idler Gear Assembly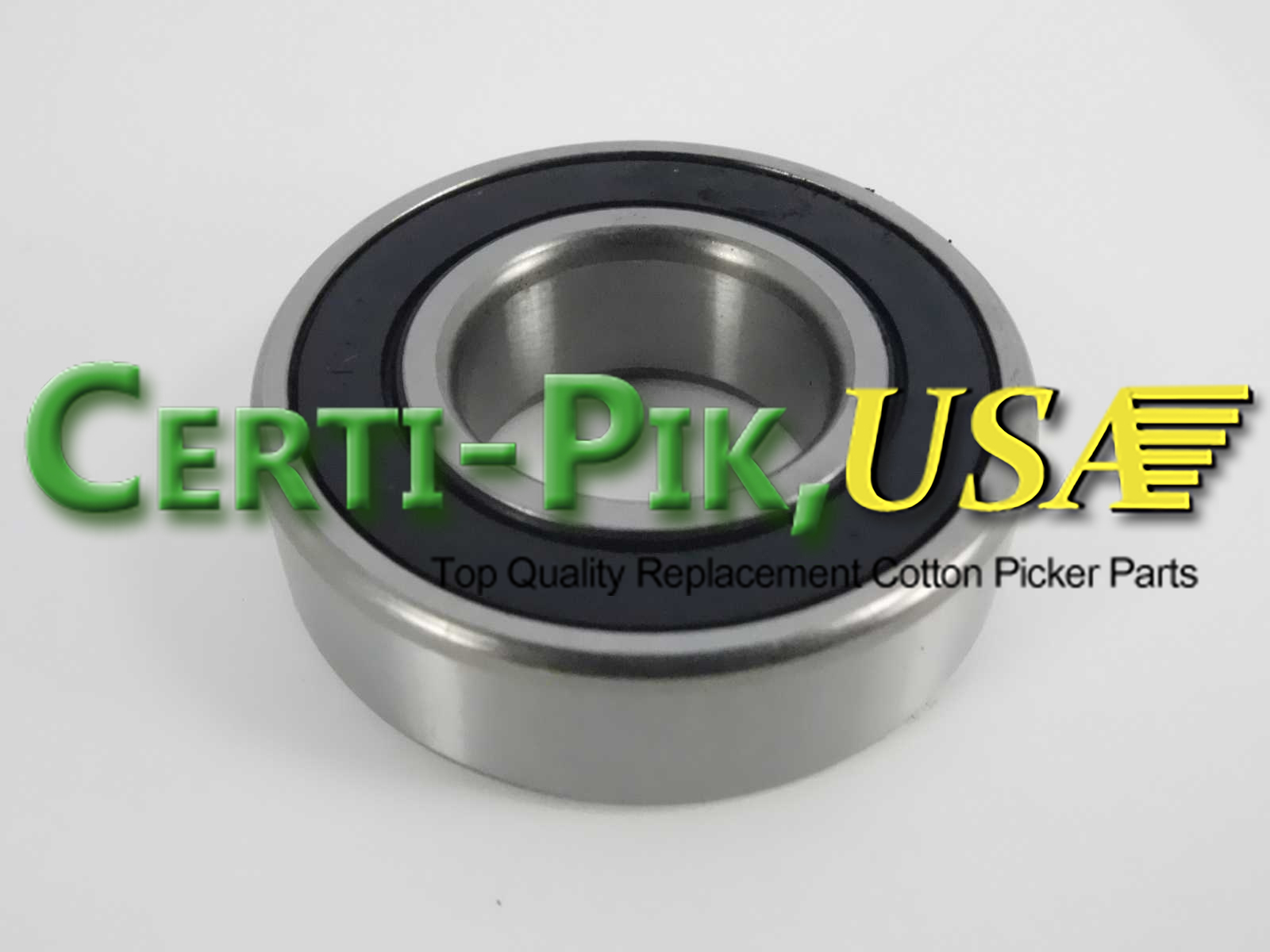 Description: BALL BEARING – UPPER IDLER (9935, 9970-CP770 PRO)

OEM Part: JD9321

Section: Picking Unit System

John Deere Idler Gear Assembly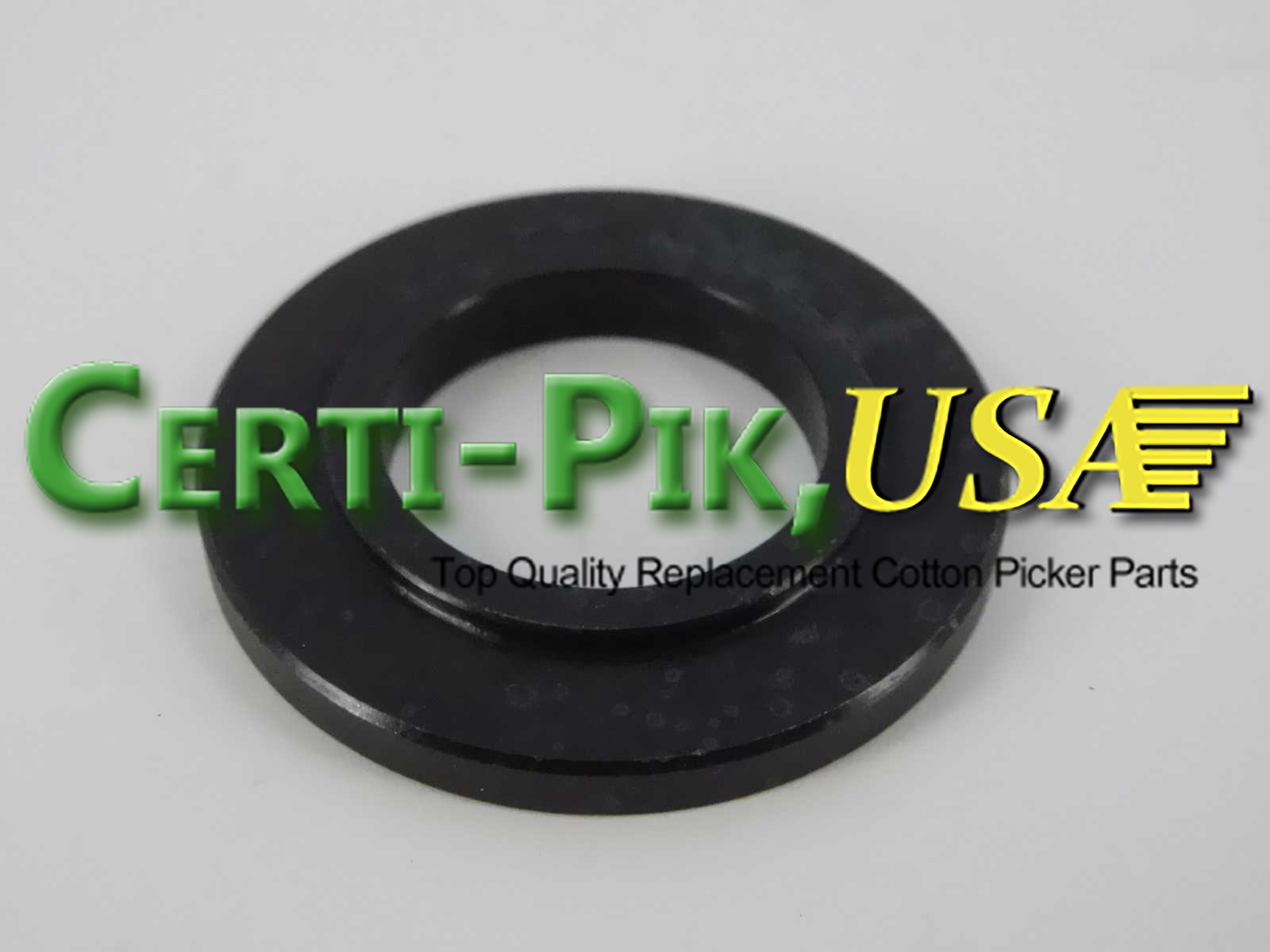 Description: WASHER – IDLER GEAR SPRING WASHER (9970-CP770 PRO)

OEM Part: N278401

Section: Picking Unit System

John Deere Idler Gear Assembly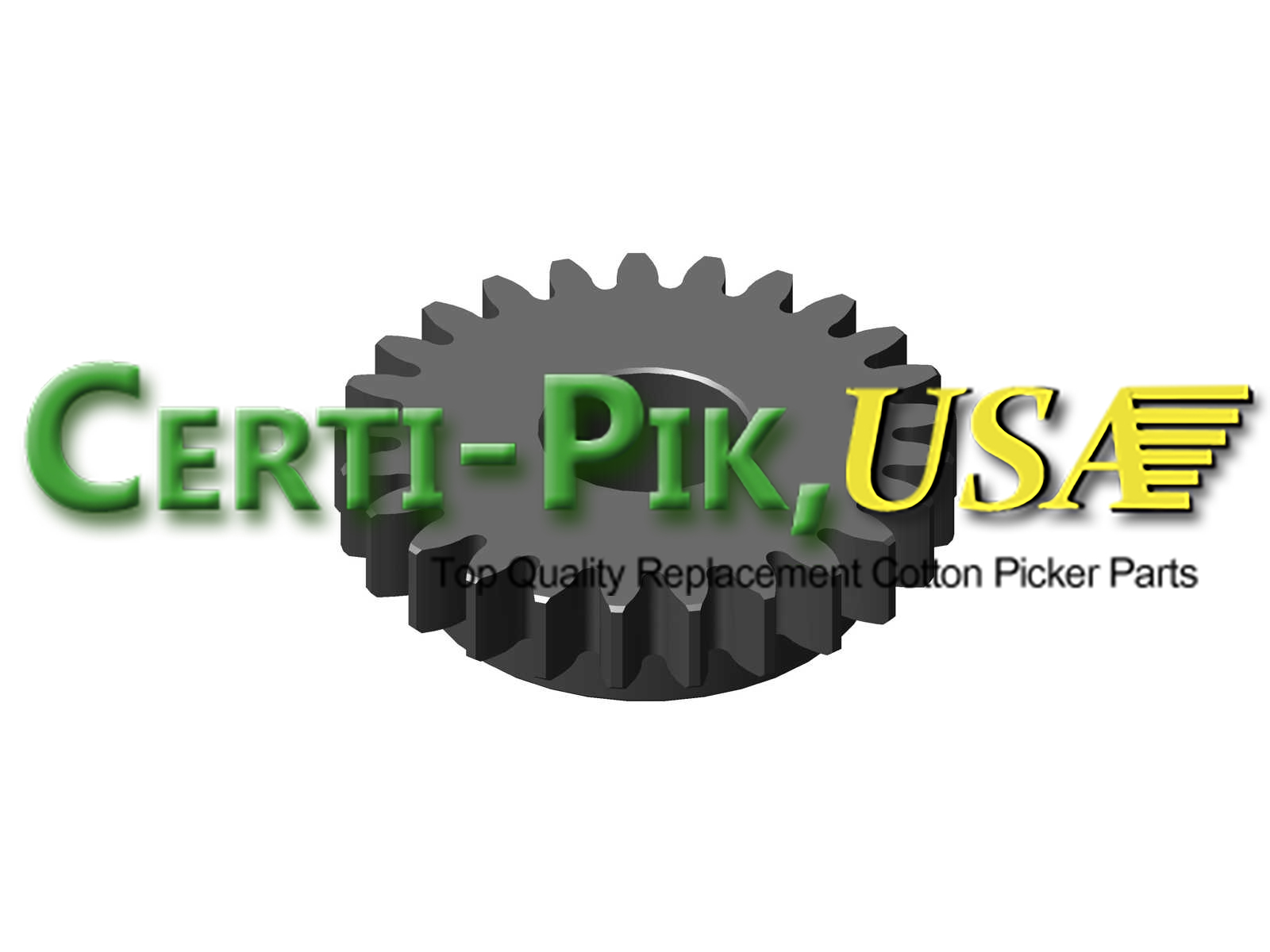 Description: SPUR GEAR – 25T, IDLER-GROUND DRIVE (9970-CP690 PRO)

OEM Part: AN273468

Section: Picking Unit System

John Deere Idler Gear Assembly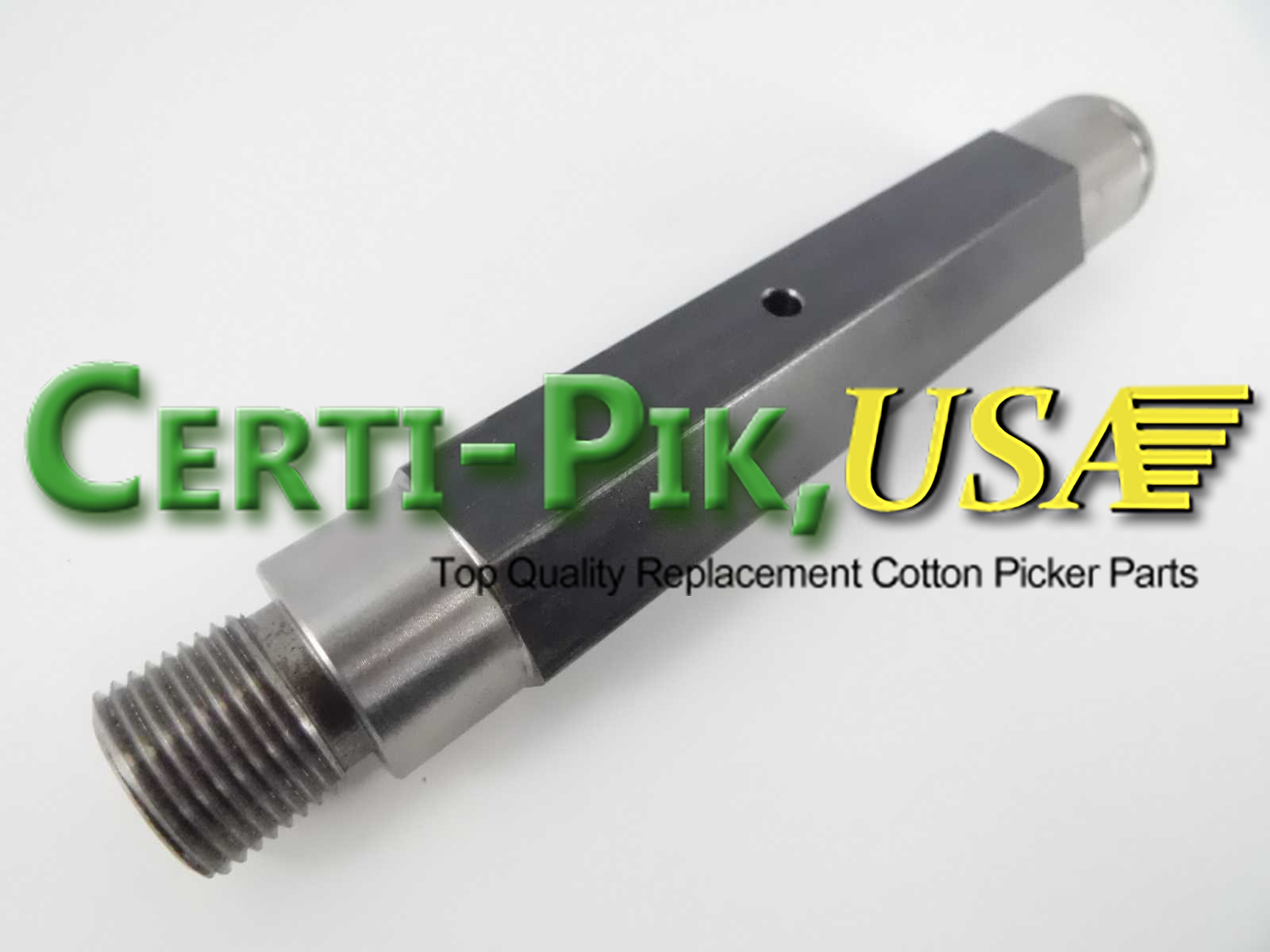 Description: DRIVE SHAFT – HEX – IDLER GEAR (9935, 9970-CP770 PRO)

OEM Part: N276291

Section: Picking Unit System

John Deere Idler Gear Assembly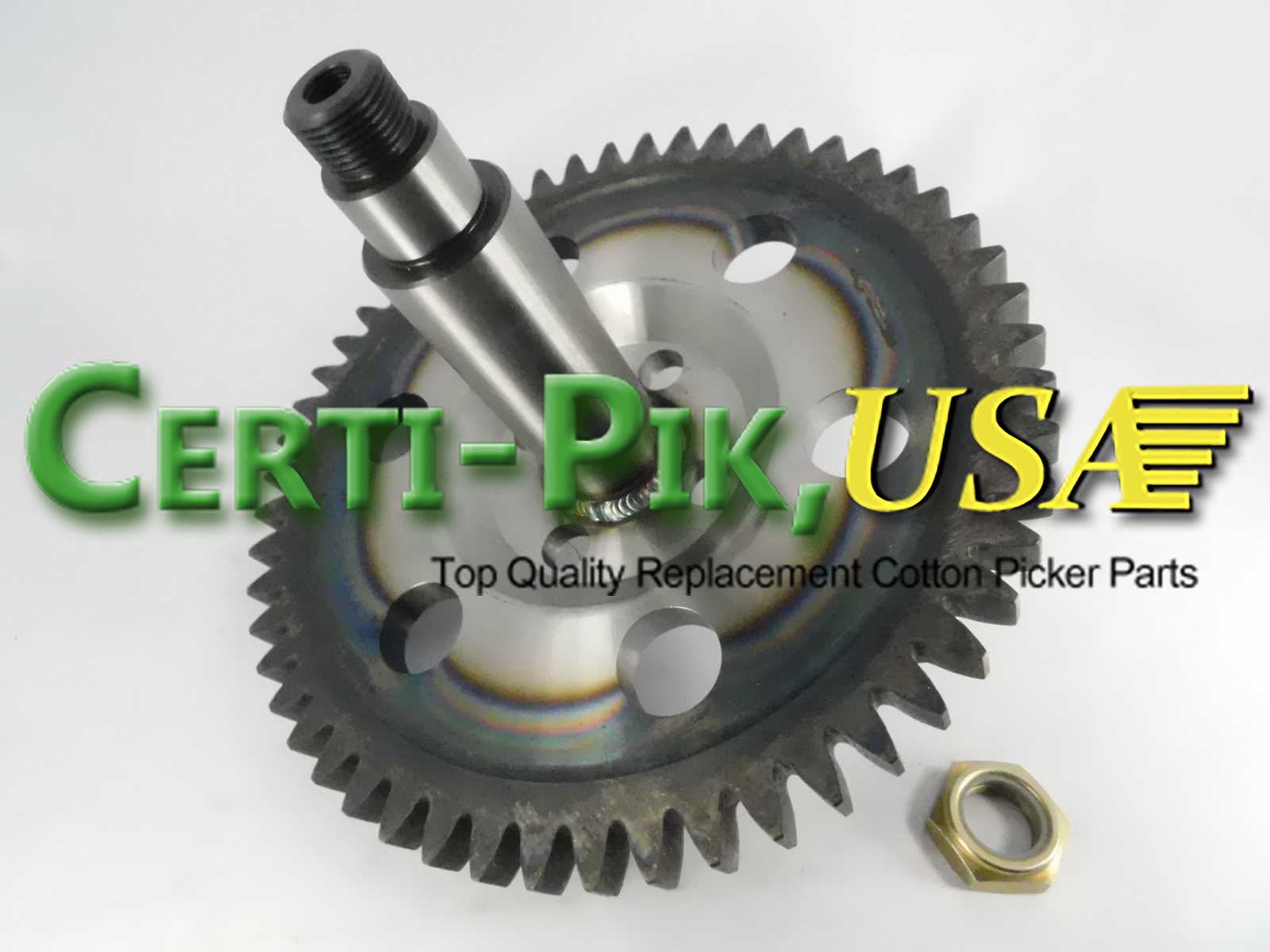 Description: GEAR – IDLER – 12 BAR, (9935, 9970-CP770 PRO) – (REPLACES OEM PARTS:#N274017, #N276291, & #N274013) INCLUDES 1x #75033P BOTTOM NUT

OEM Part: N274017

Section: Picking Unit System

John Deere Idler Gear Assembly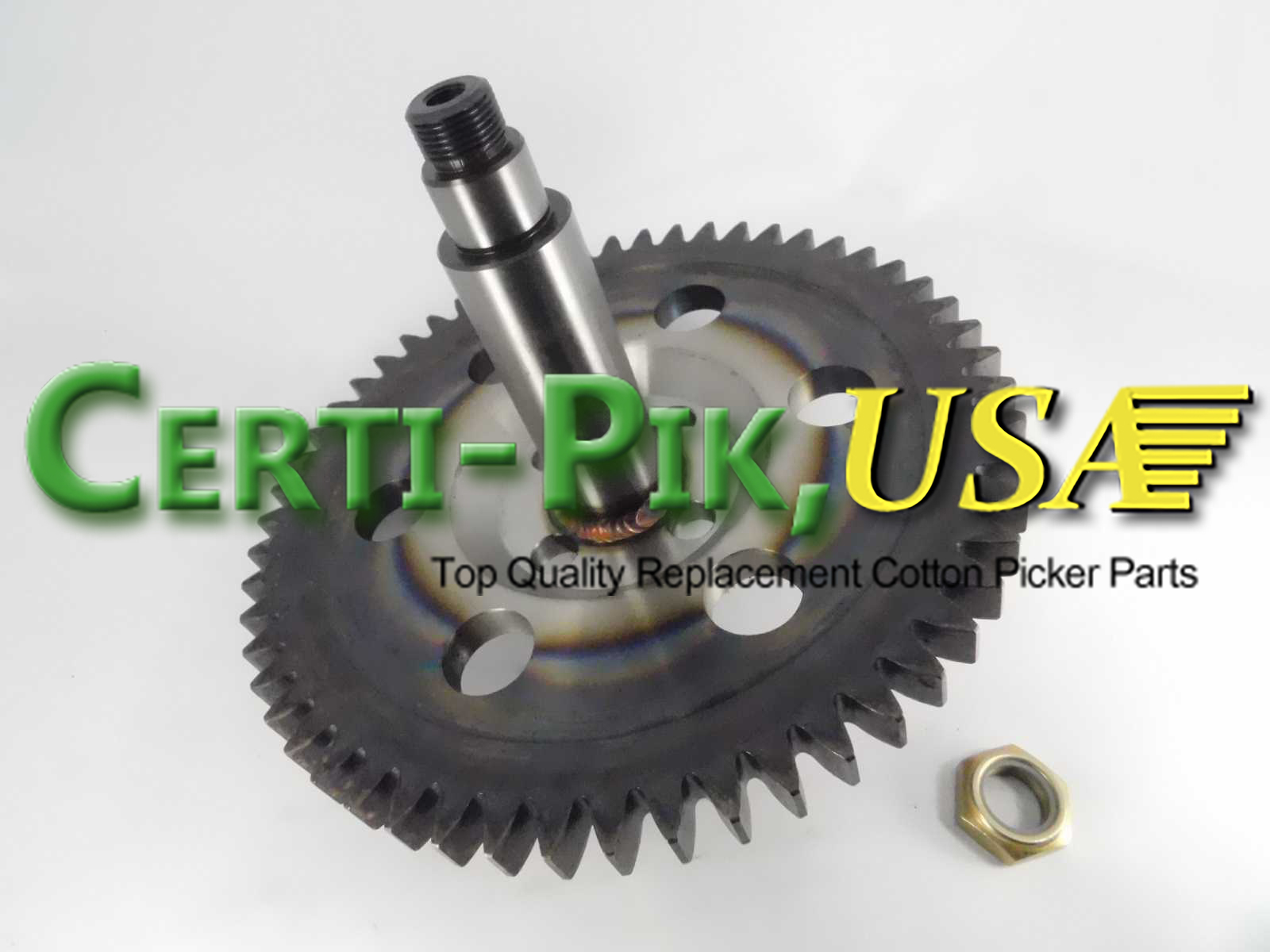 Description: GEAR – IDLER – 16 BAR, (9976-CP770) – (REPLACES OEM PARTS:#N274016, #N276291, & #N274013) INCLUDES 1x #75033P BOTTOM NUT

OEM Part: N274016

Section: Picking Unit System

John Deere Idler Gear Assembly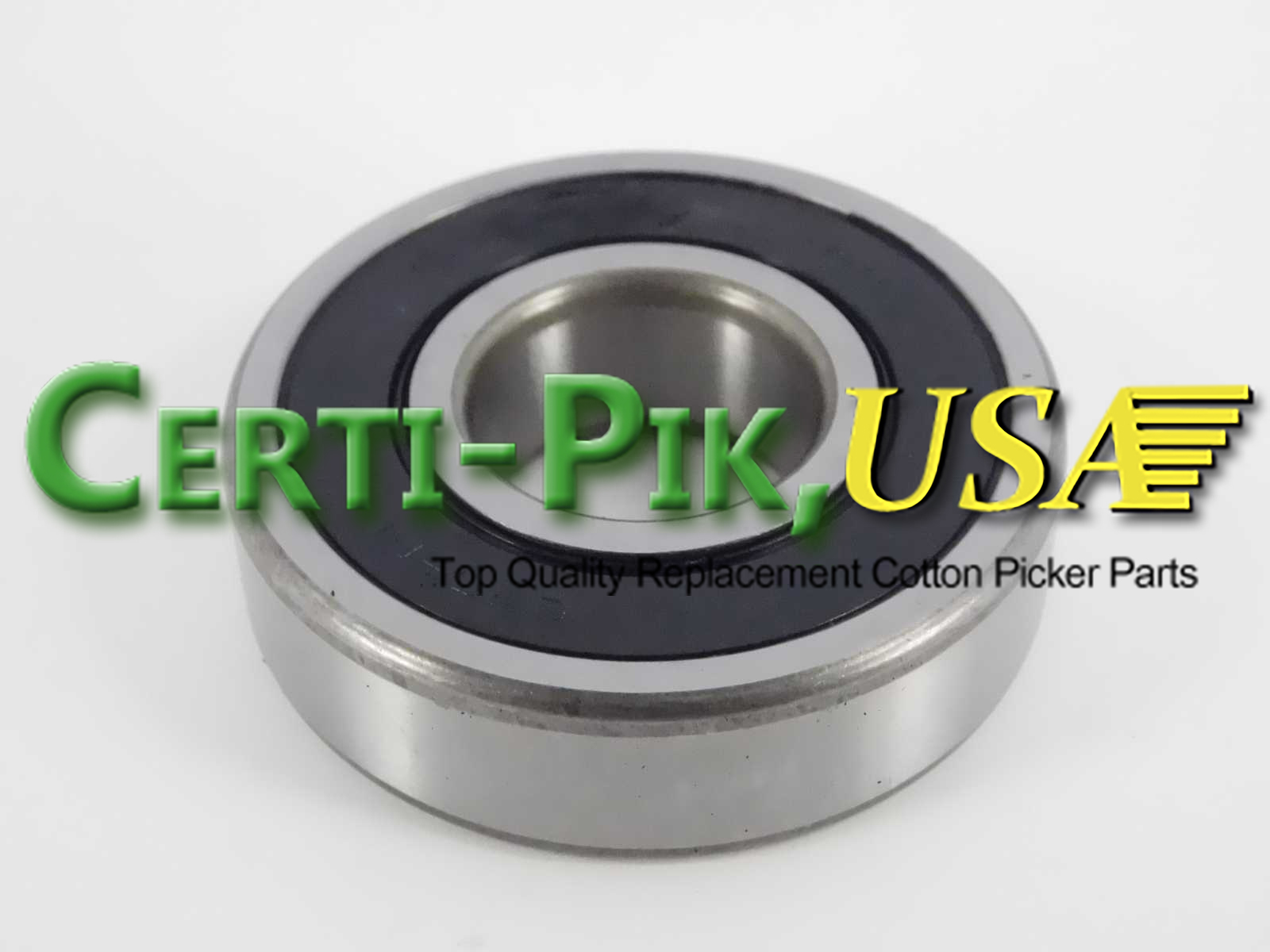 Description: BEARING – UPPER DOFFER (9900-CP770) / PRO LOWER IDLER

OEM Part: JD9467

Section: Picking Unit System

John Deere Idler Gear Assembly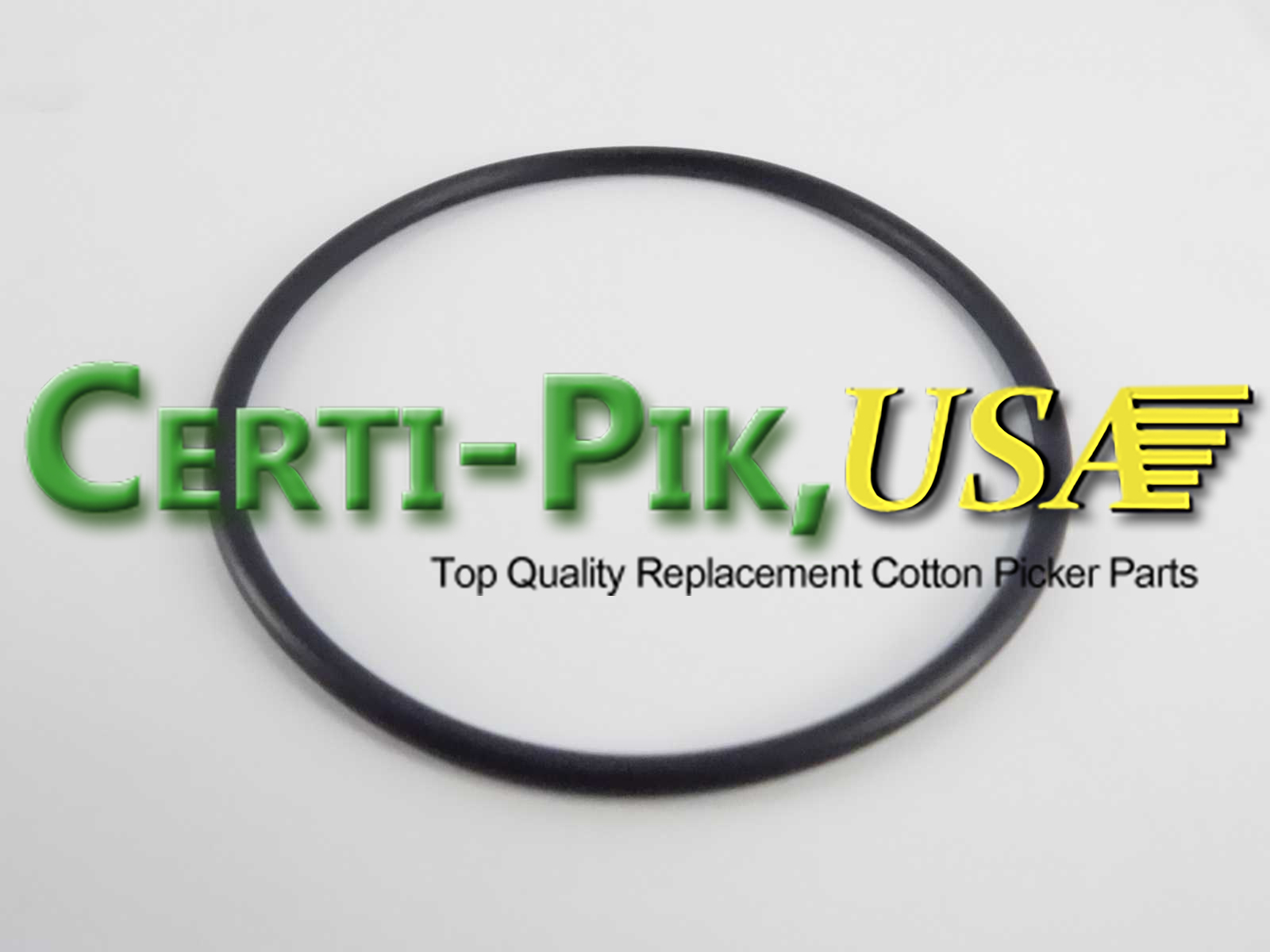 Description: O-RING – LOWER IDLER (9935, 9970-CP770 PRO)

OEM Part: M43518

Section: Picking Unit System

John Deere Idler Gear Assembly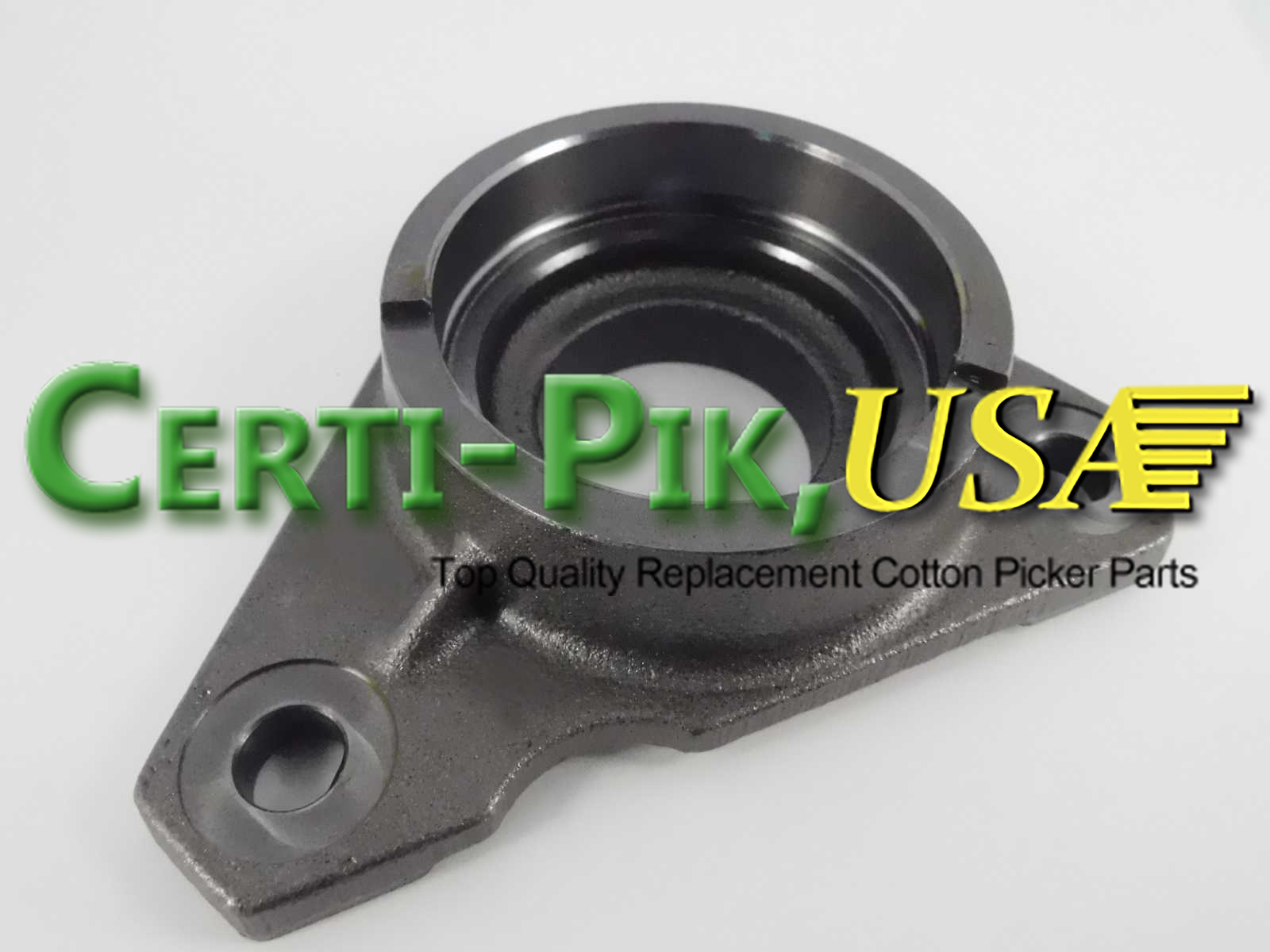 Description: STEEL HOUSING – LOWER IDLER (9935, 9970-CP770 PRO)

OEM Part: N371736

Section: Picking Unit System

John Deere Idler Gear Assembly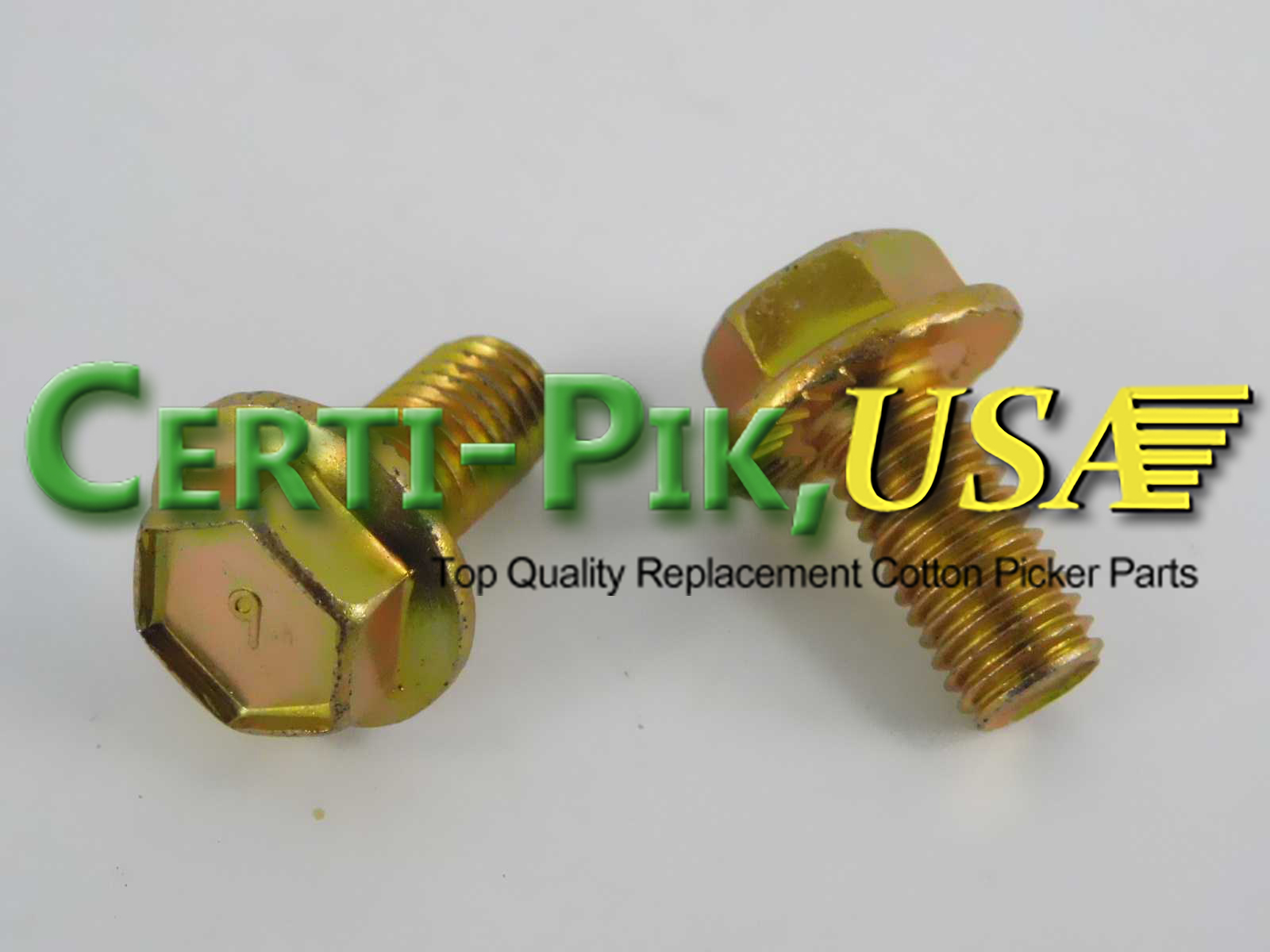 Description: BOLT – M10 X 20 – SERR HEX FLANGE – GD 8

OEM Part: N275620

Section: Picking Unit System

John Deere Idler Gear Assembly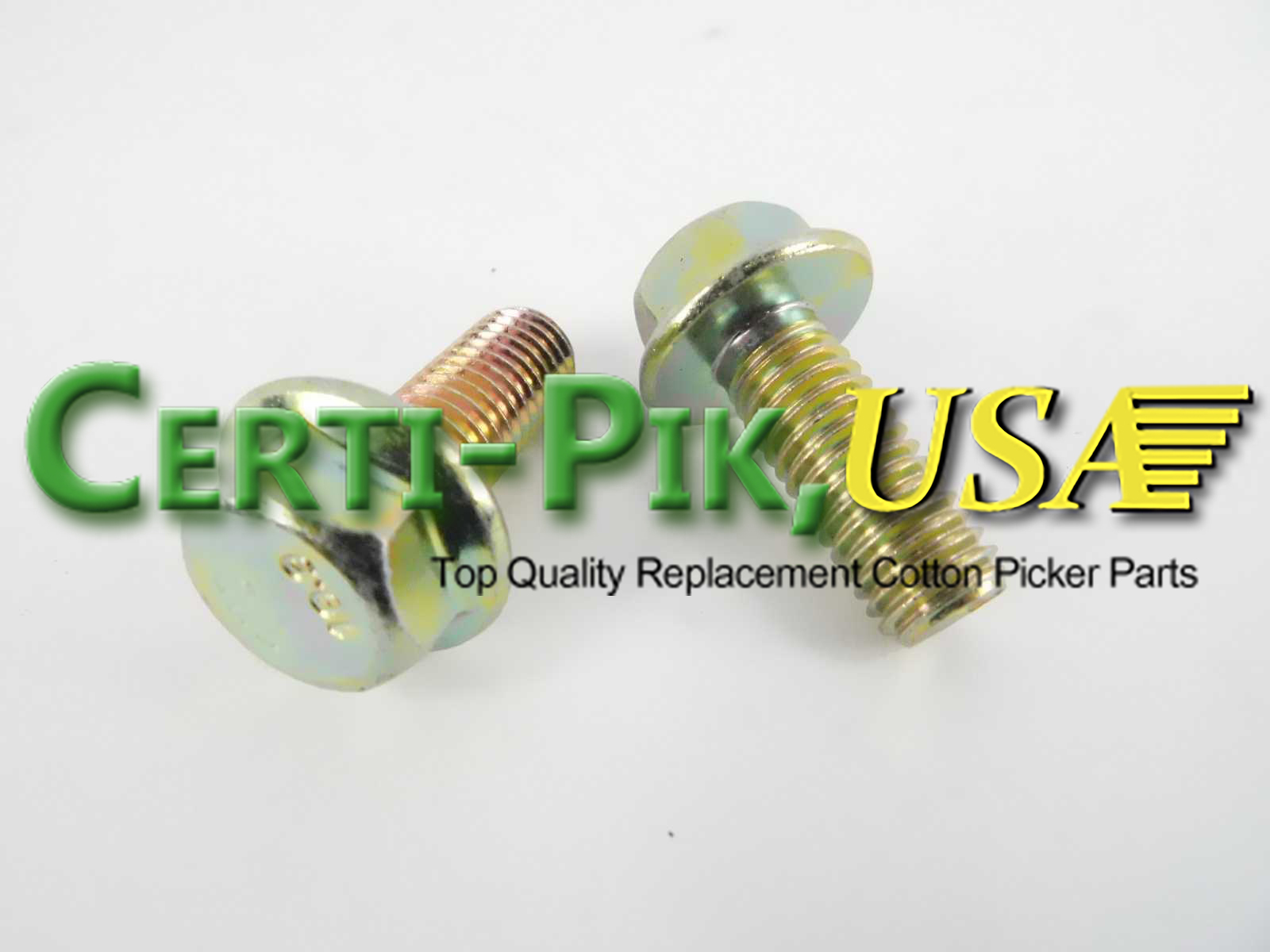 Description: M10 X 25 – SMOOTH HEX FLANGE

OEM Part: 19M7785

Section: Picking Unit System

John Deere Idler Gear Assembly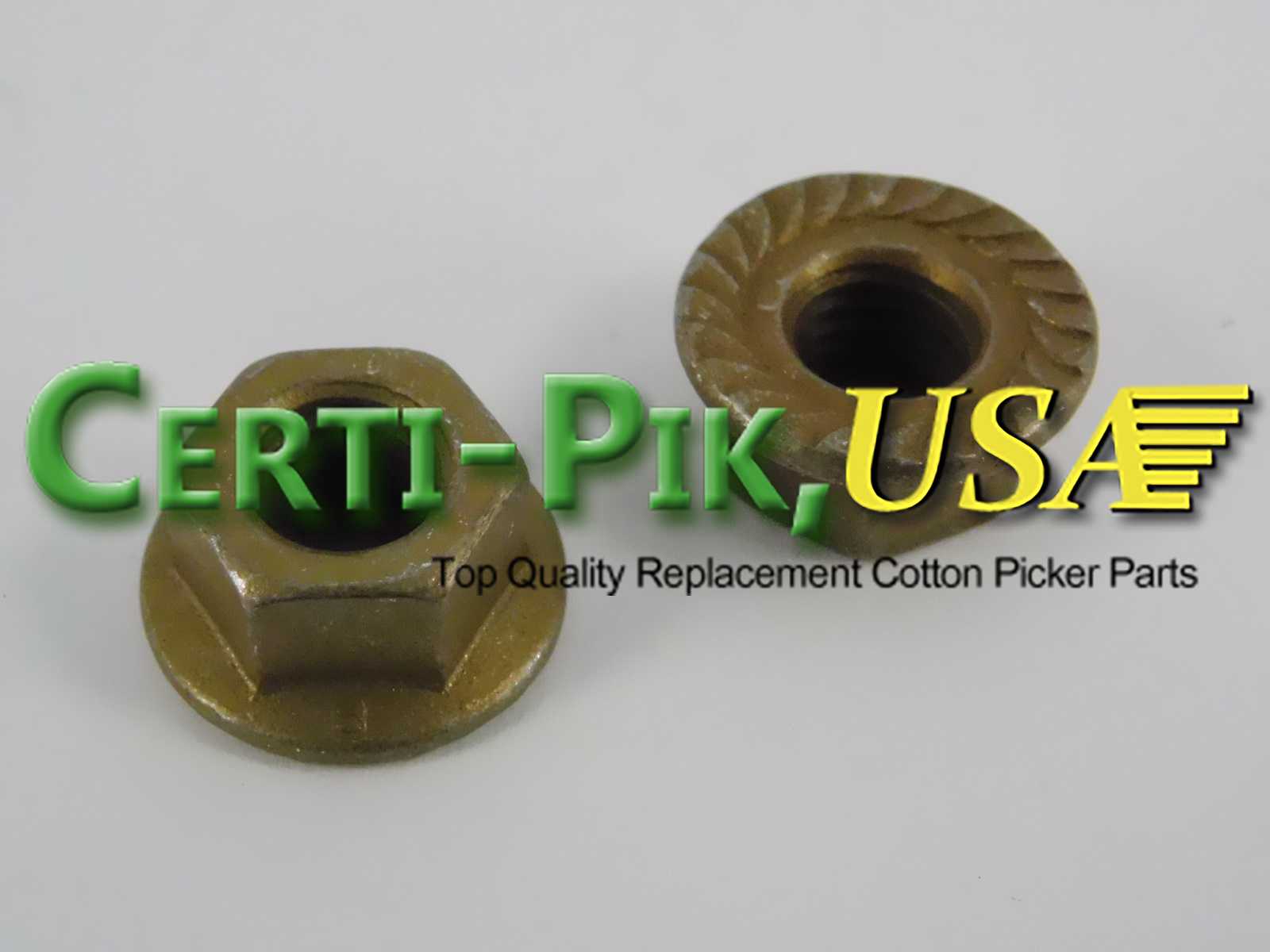 Description: NUT – M10 – SERR HEX FLANGE

OEM Part: E63526

Section: Picking Unit System

John Deere Idler Gear Assembly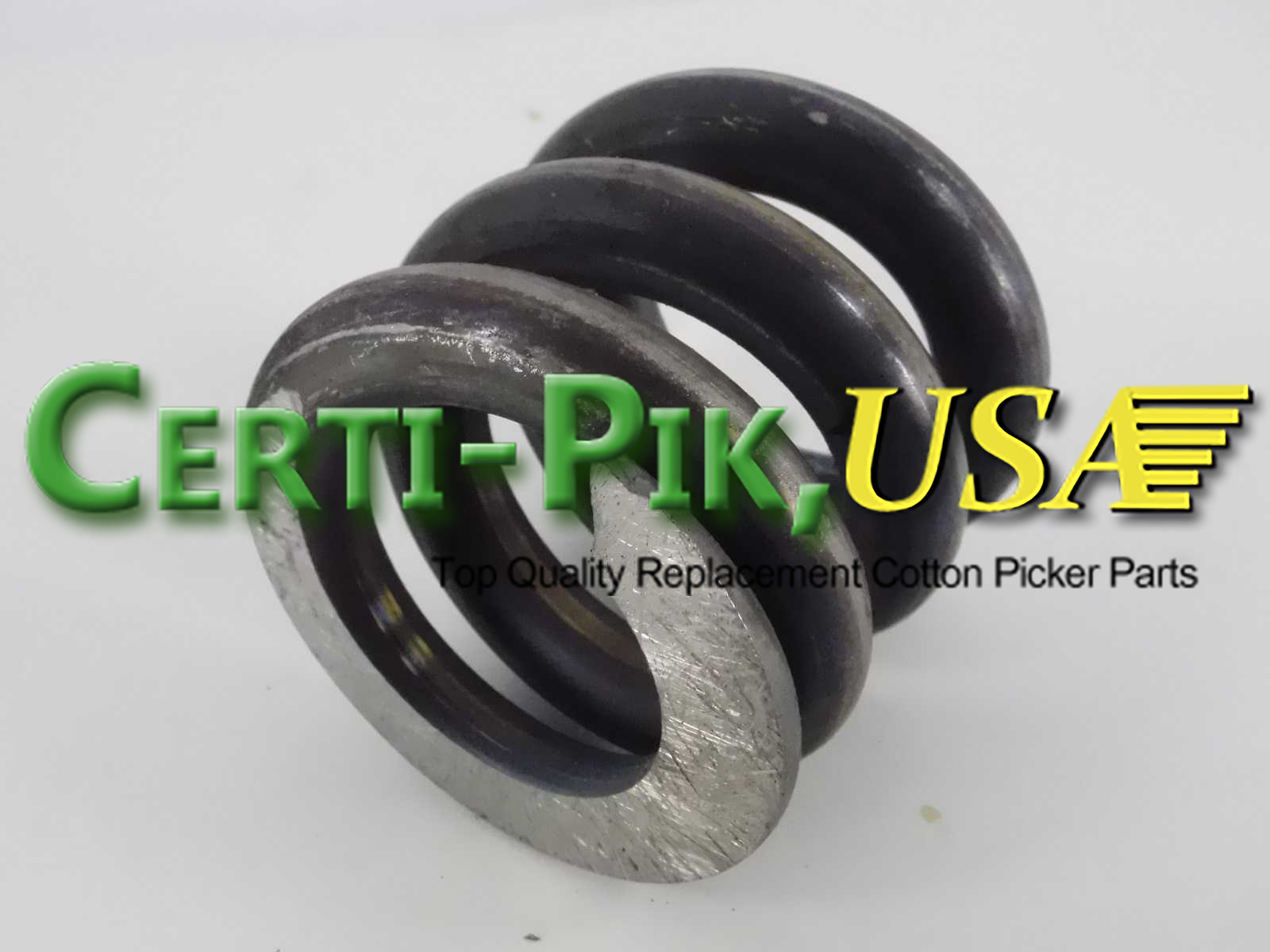 Description: SPRING – COMPRESSION – (.50 WIRE) 4 COIL – LOWER GEAR CASE HUB

OEM Part: N196960

Section: Picking Unit System

John Deere Idler Gear Assembly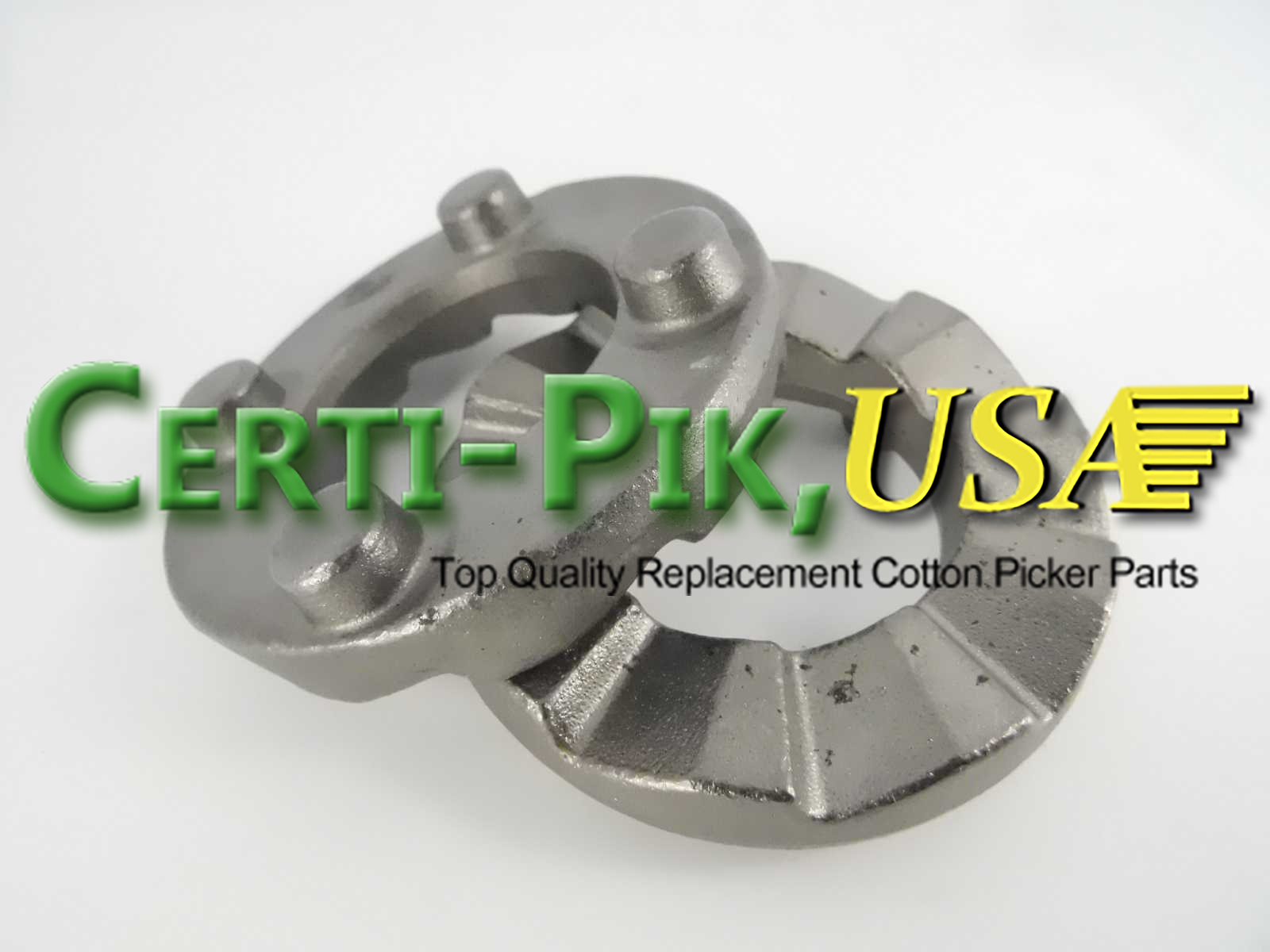 Description: JD – SLIP CLUTCH (SOLD IN PAIRS ONLY) LOWER GEAR CASE = ALL 9935, 9960 – CP770: CONV, IN-LINE & PRO UNITS, UNIT DRIVE = 9910 – 9950 , ( 2x 99180 = 1x AN274314 )

OEM Part: N199180

Section: Picking Unit System

John Deere Idler Gear Assembly



---
John Deere Drum Drive Gear Assembly
Description: RING – BEARING (9935, 9960-9965 IN-LINE)

OEM Part: N196507

Section: Picking Unit System

John Deere Drum Gear Assembly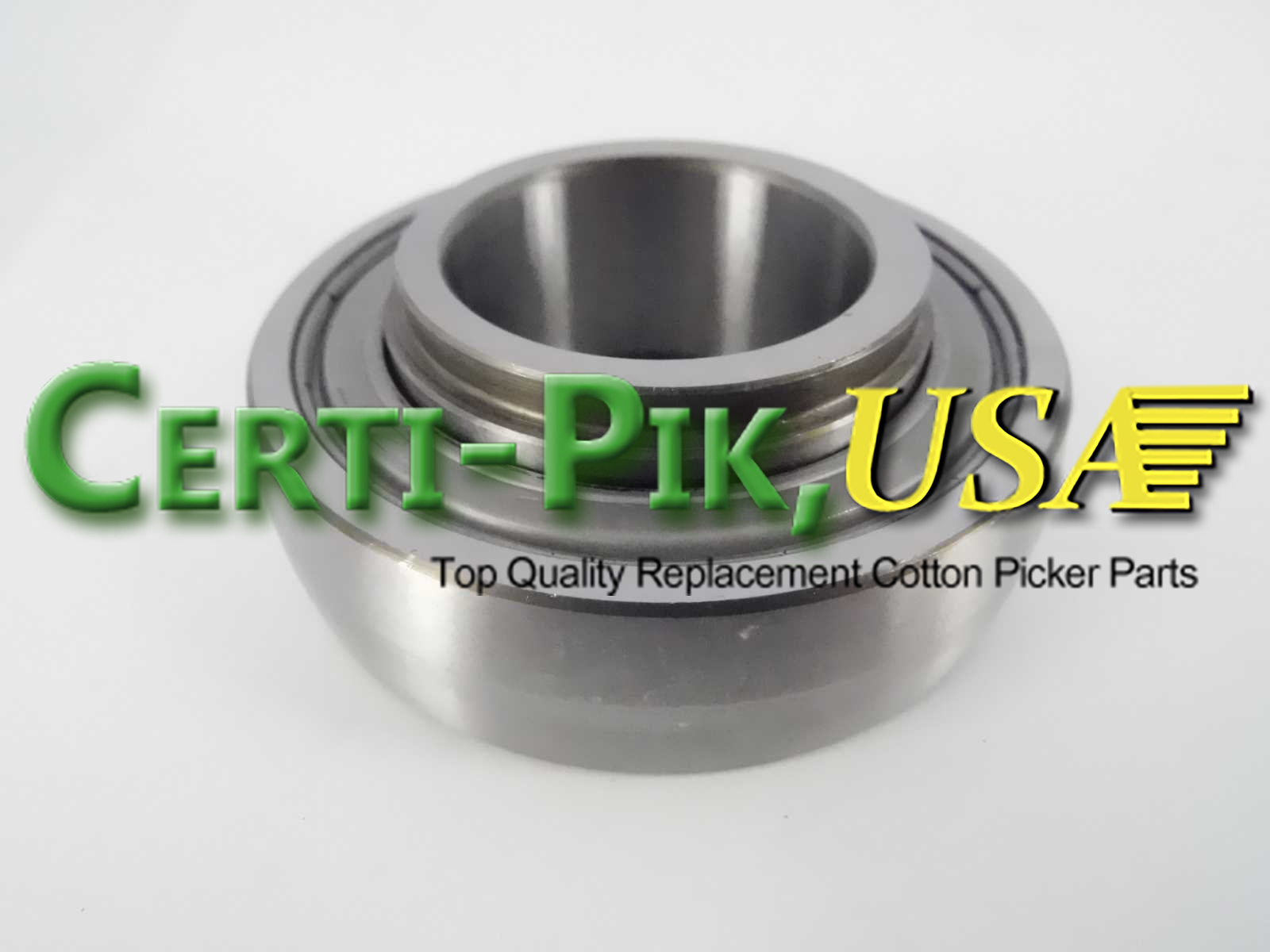 Description: BALL BEARING – UPPER DRUM COVER (IN-LINE & PRO MACHINES)

OEM Part: JD9209

Section: Picking Unit System

John Deere Drum Gear Assembly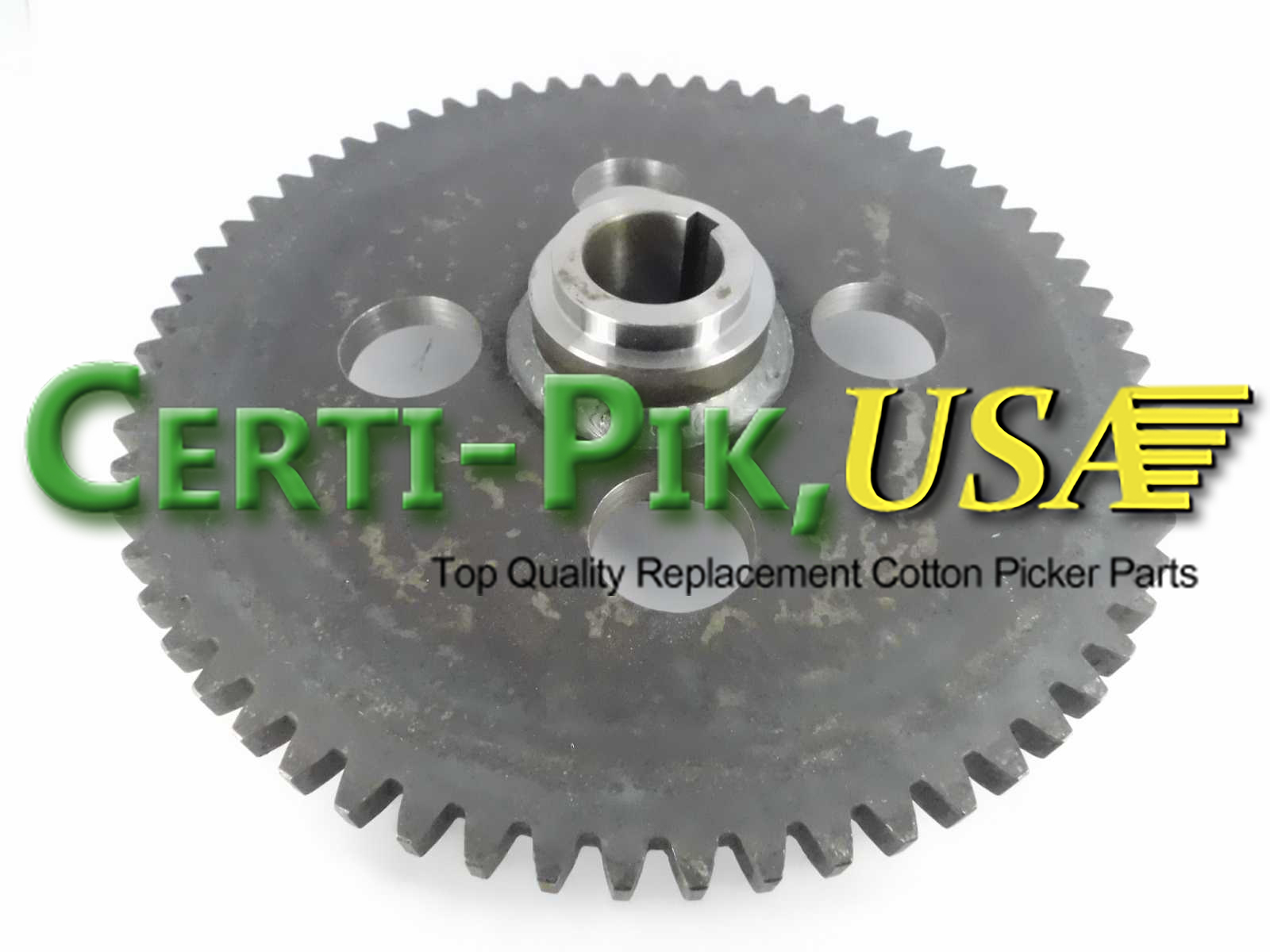 Description: SPUR GEAR – 64T DRUM-GROUND DRIVE, (9930, 9960)

OEM Part: AN194104

Section: Picking Unit System

John Deere Drum Gear Assembly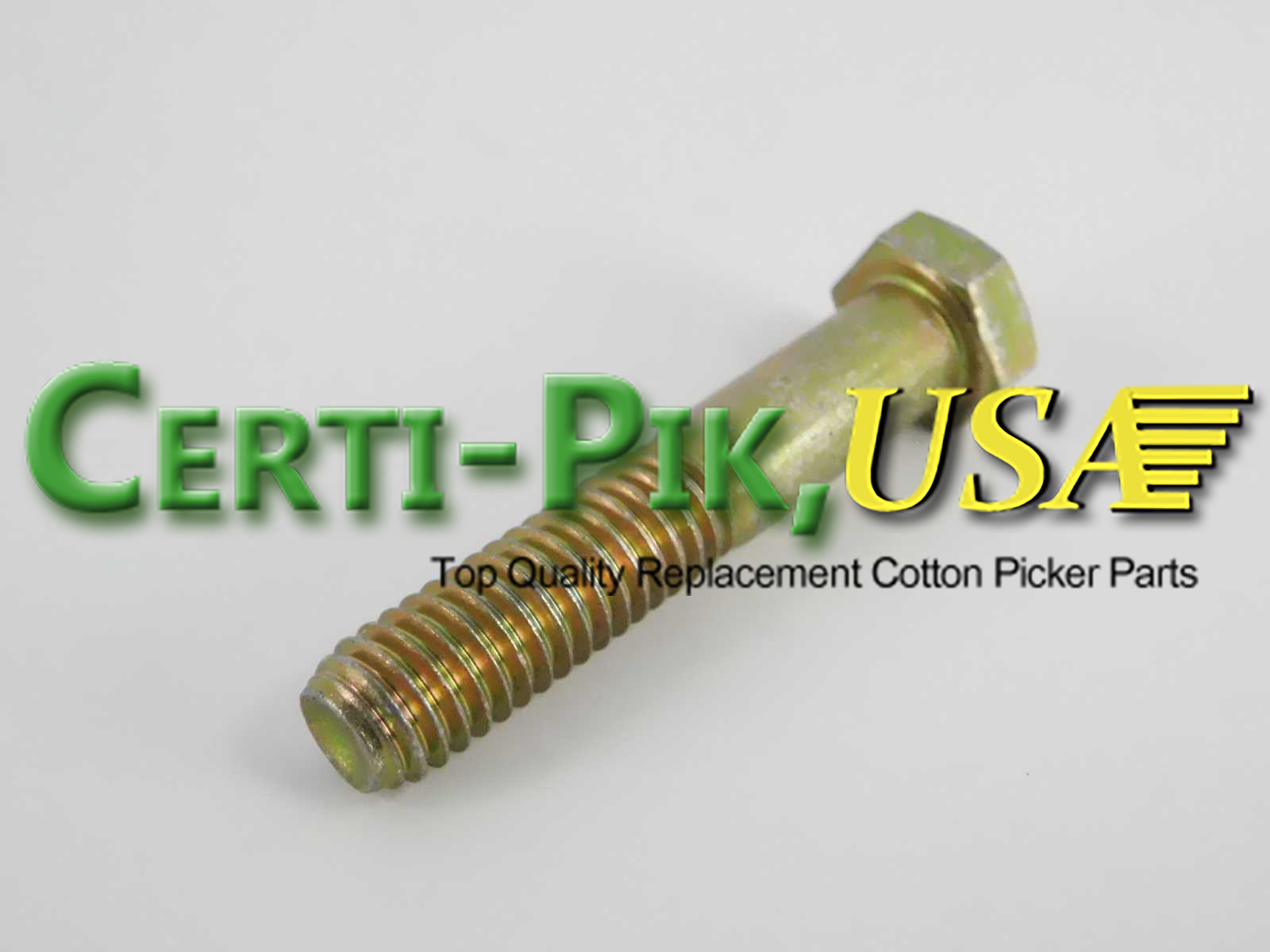 Description: BOLT – 3/8 X 2″ HEX HEAD

OEM Part: 19H3065

Section: Picking Unit System

John Deere Drum Gear Assembly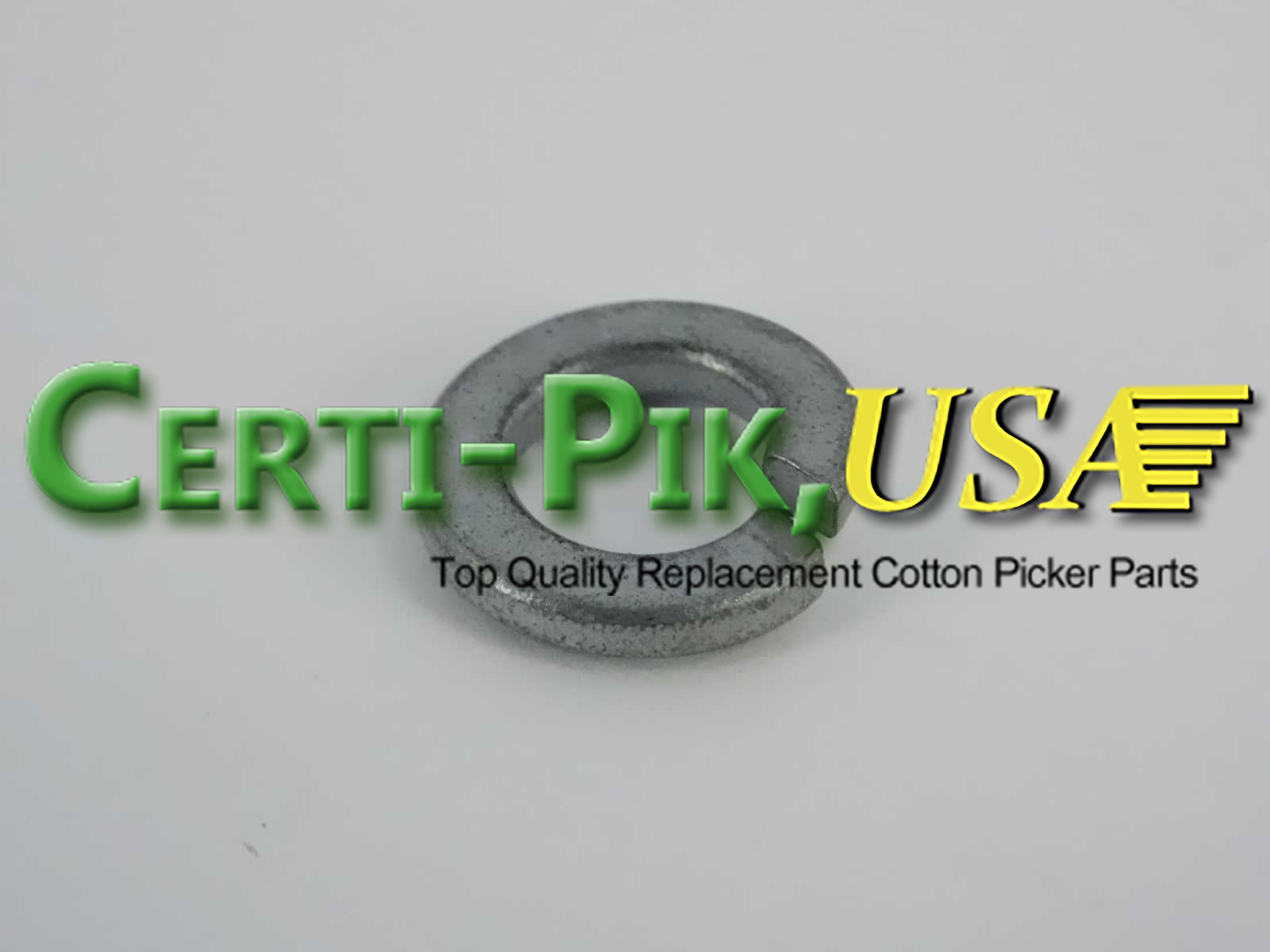 Description: WASHER – 3/8″ LOCK

OEM Part: 12H304

Section: Picking Unit System

John Deere Drum Gear Assembly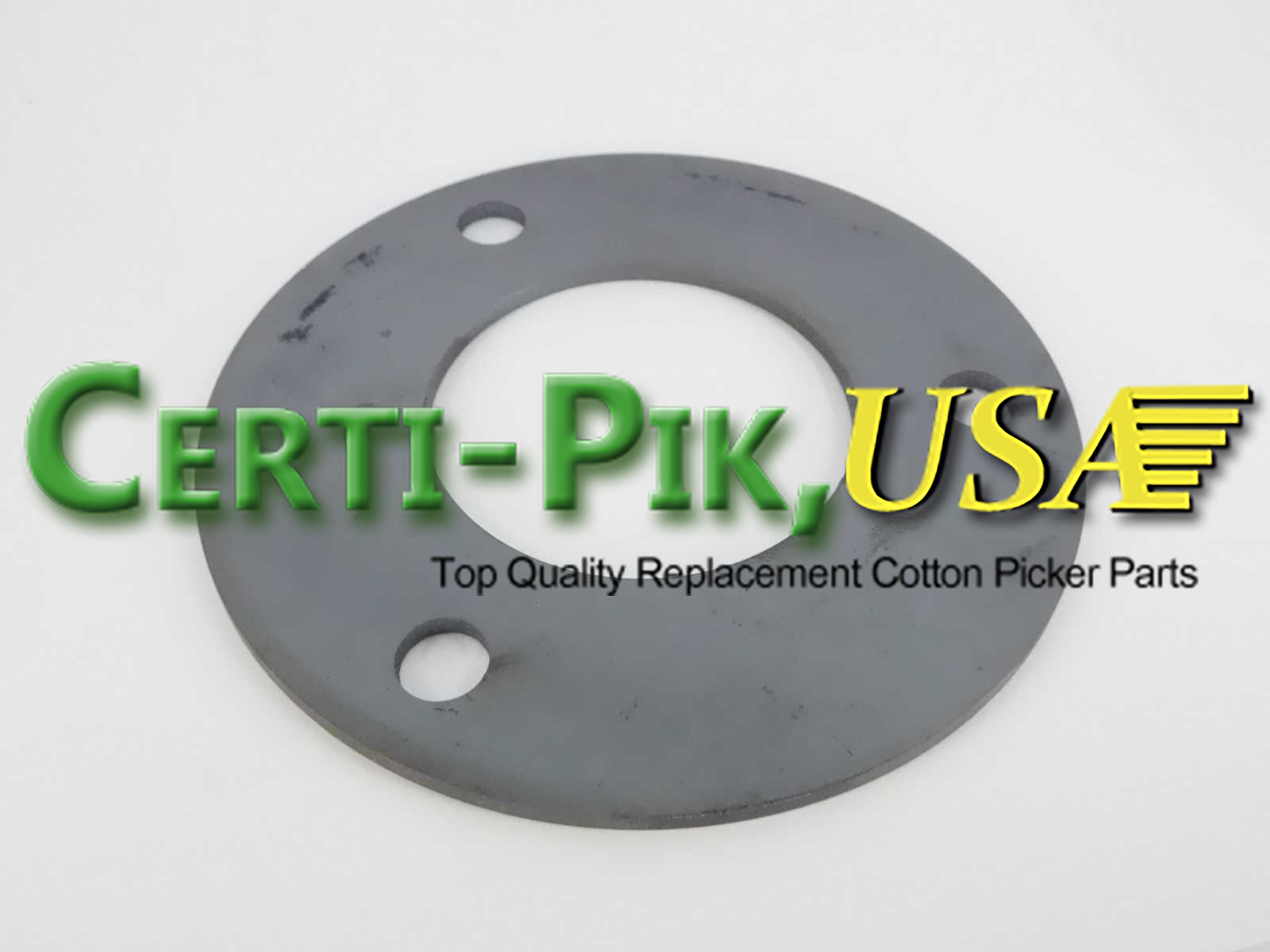 Description: WASHER

OEM Part: N196594

Section: Picking Unit System

John Deere Drum Gear Assembly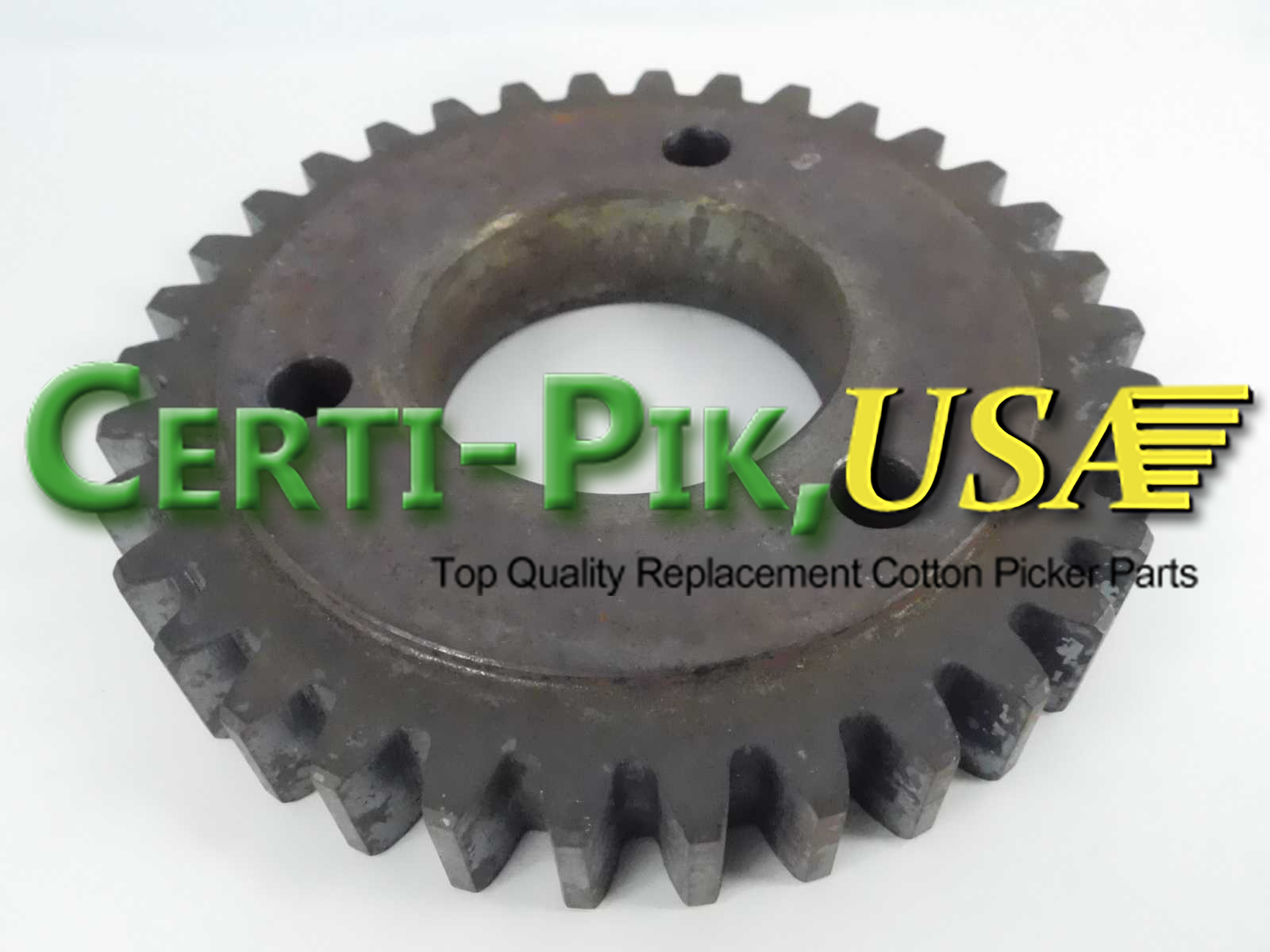 Description: SPUR GEAR – 34T, DRUM-SPINDLE DRIVE (9930, 9960-9965)

OEM Part: N199039

Section: Picking Unit System

John Deere Drum Gear Assembly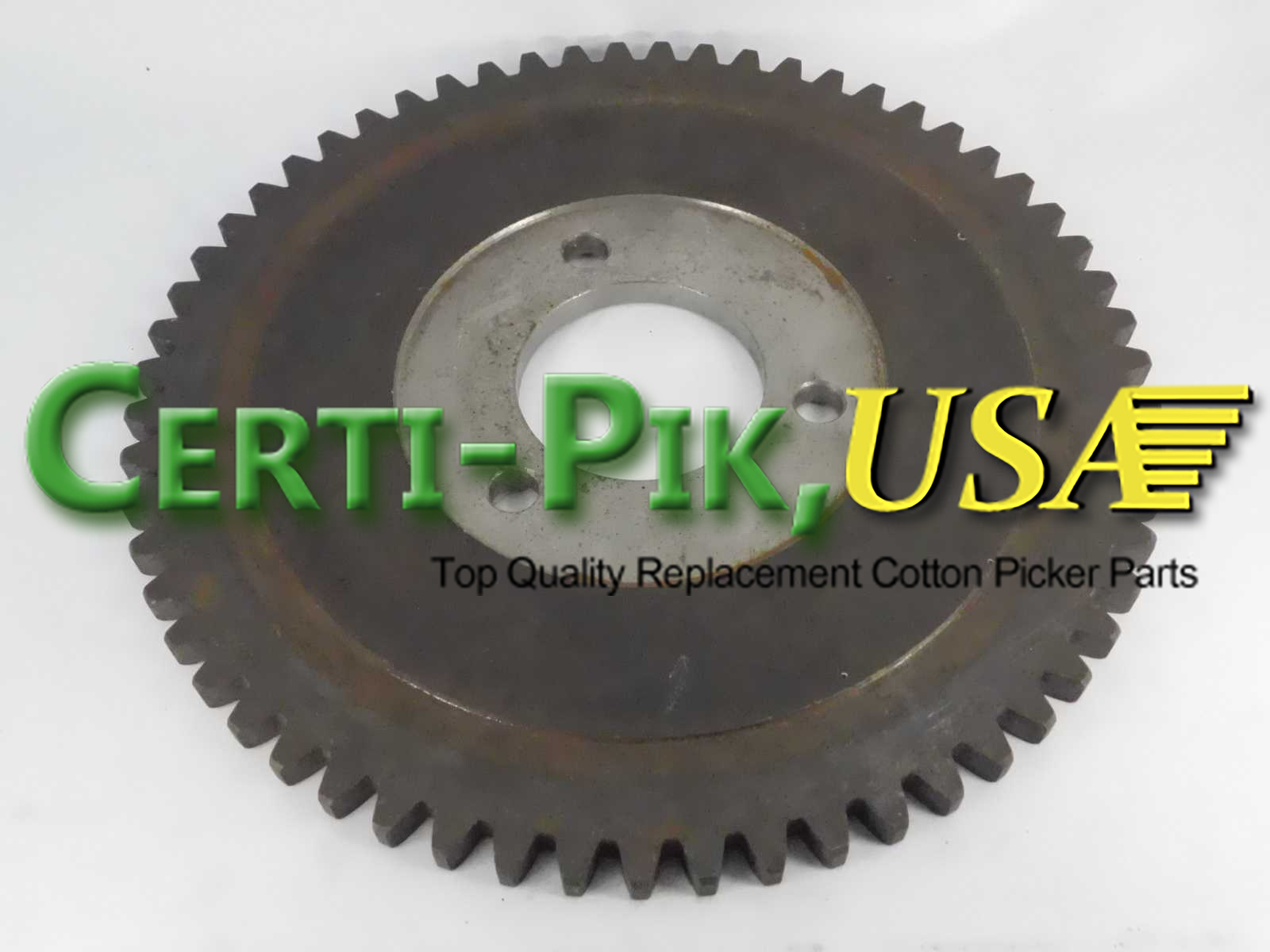 Description: SPUR GEAR – 59T, DRUM-DOFFER DRIVE, (9960)

OEM Part: N197457

Section: Picking Unit System

John Deere Drum Gear Assembly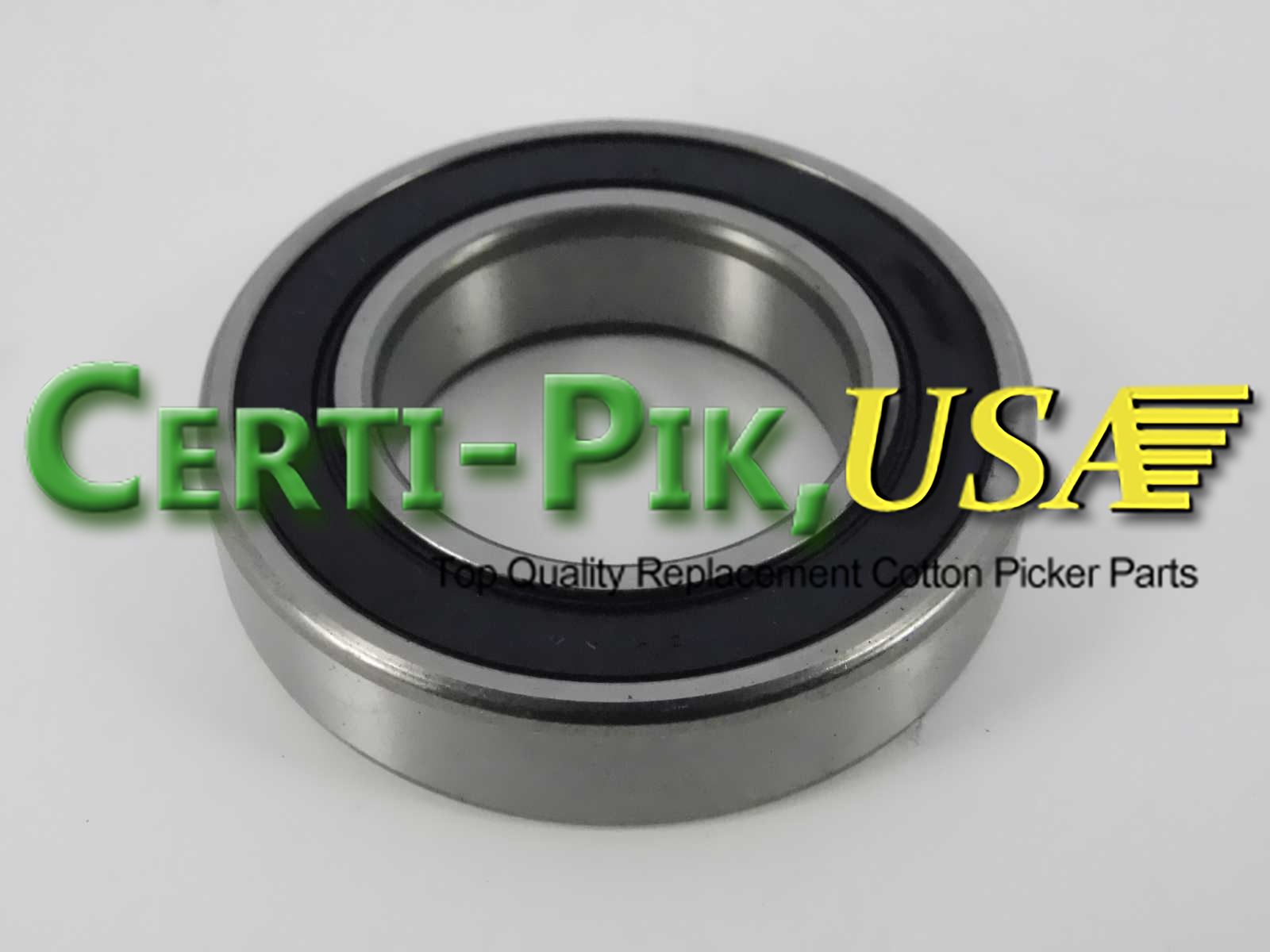 Description: BALL BEARING – UPPER DRUM DRIVE GEAR (9930-35, 9965-CP690)

OEM Part: JD9323

Section: Picking Unit System

John Deere Drum Gear Assembly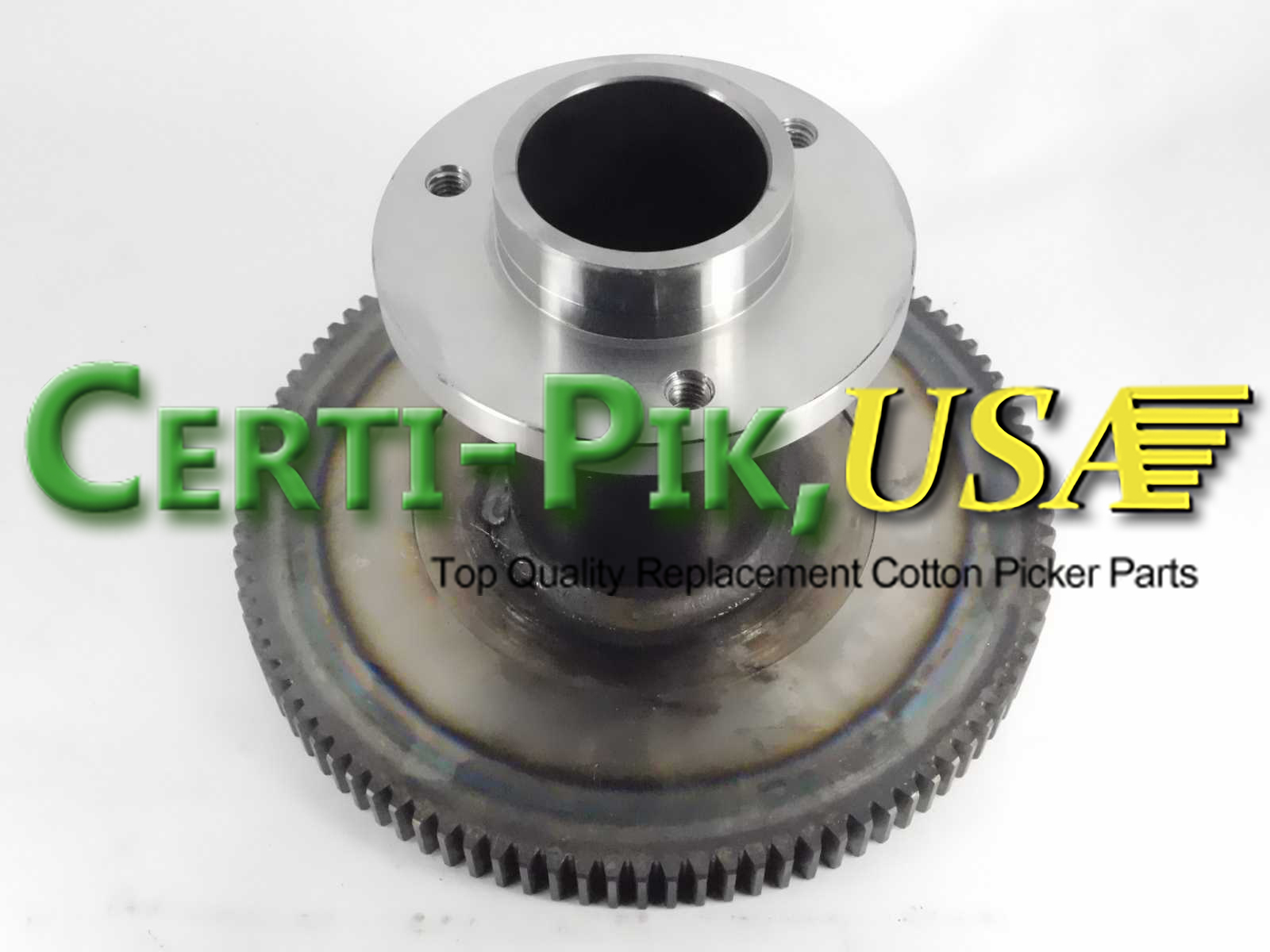 Description: SUN GEAR – (9935, 9960-9965 IN-LINE) 12 BAR WITH 11/16″ THICK CUPPED GEAR, INCLUDES 1x BEARING #09813P & 1x SEAL #01206P

OEM Part: AN272096

Section: Picking Unit System

John Deere Drum Gear Assembly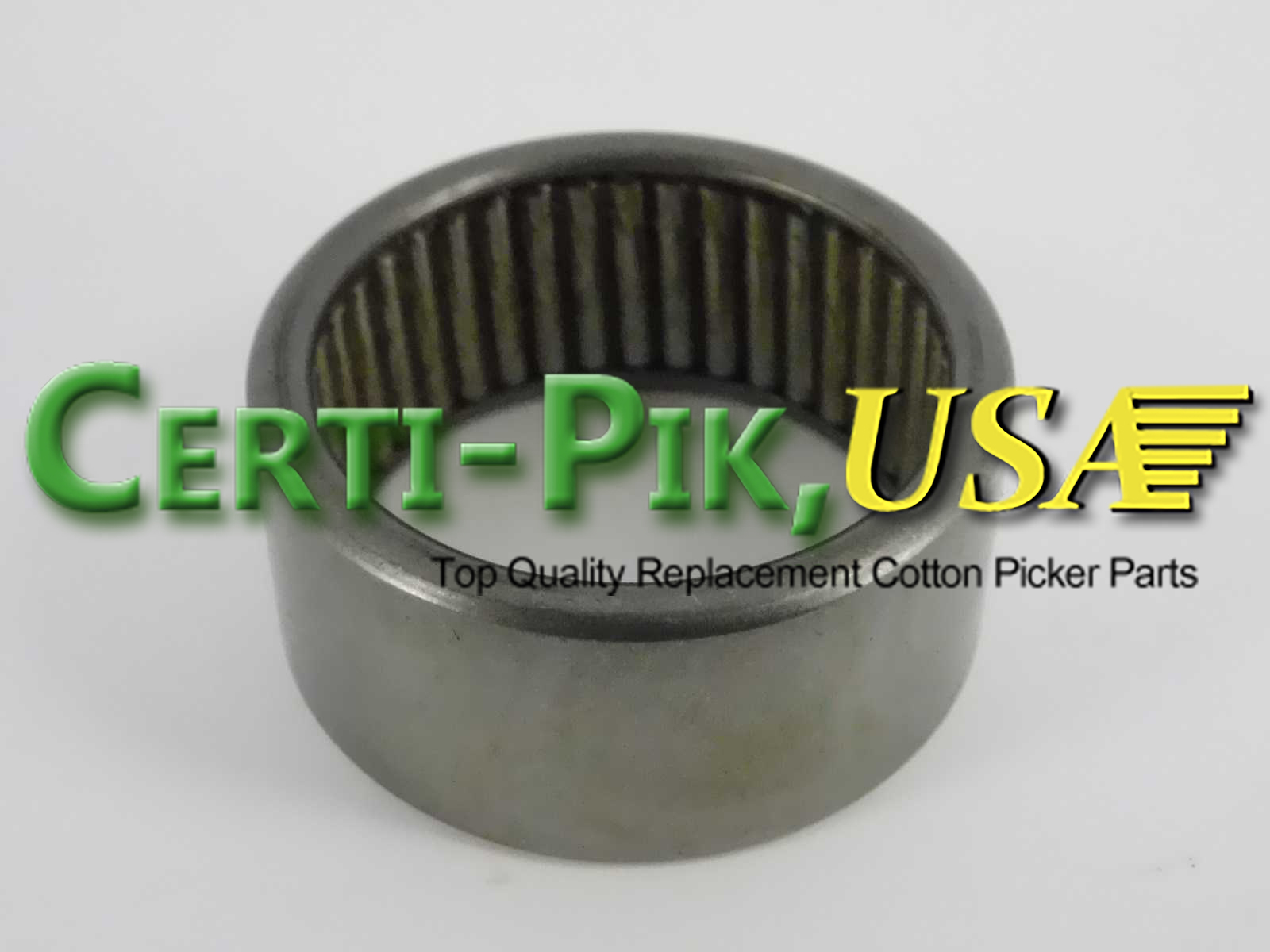 Description: NEEDLE BEARING – SUN GEAR

OEM Part: JD8823

Section: Picking Unit System

John Deere Drum Gear Assembly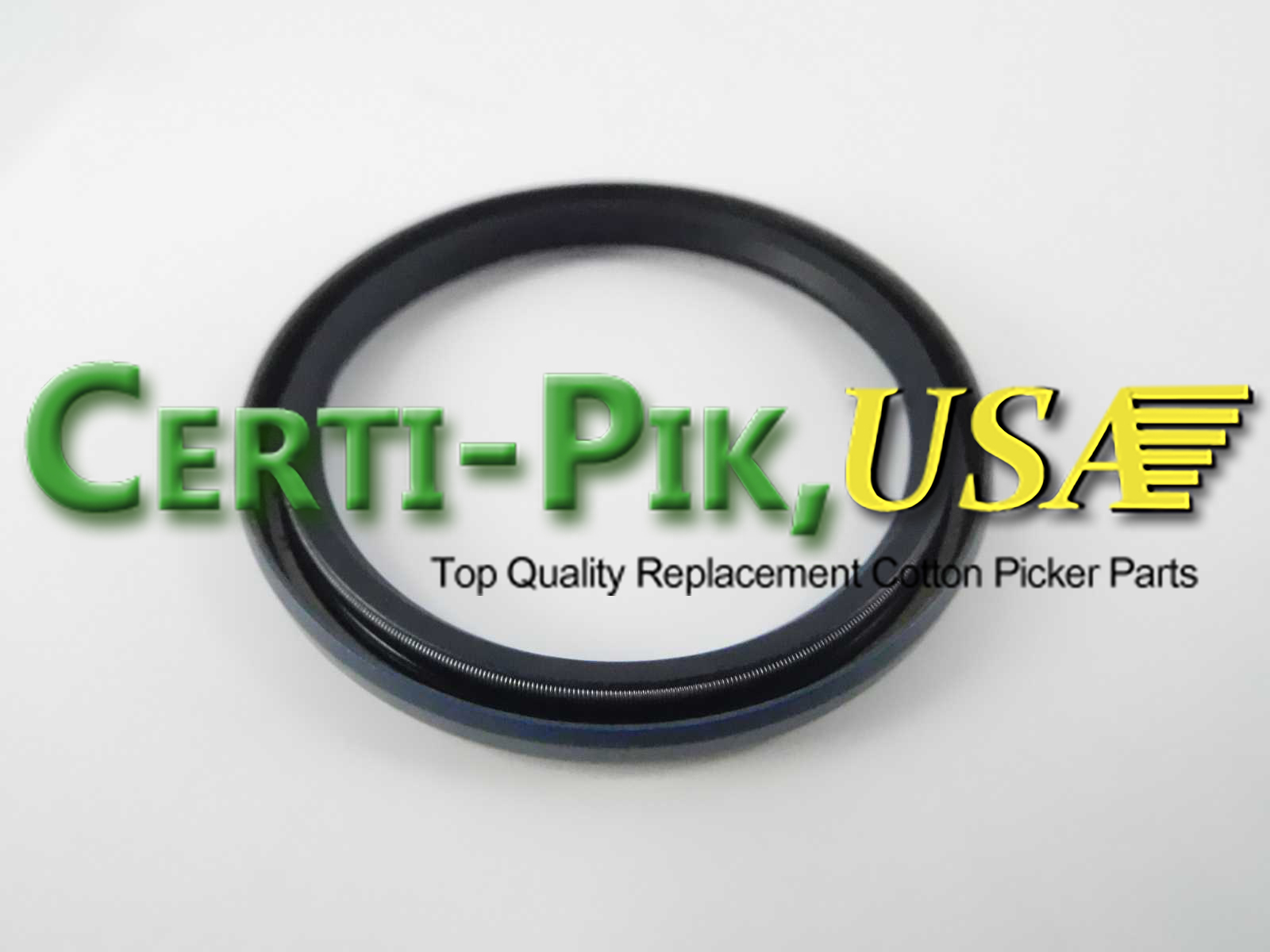 Description: SEAL – SUN GEAR (9900-9965)

OEM Part: L1206N

Section: Picking Unit System

John Deere Drum Gear Assembly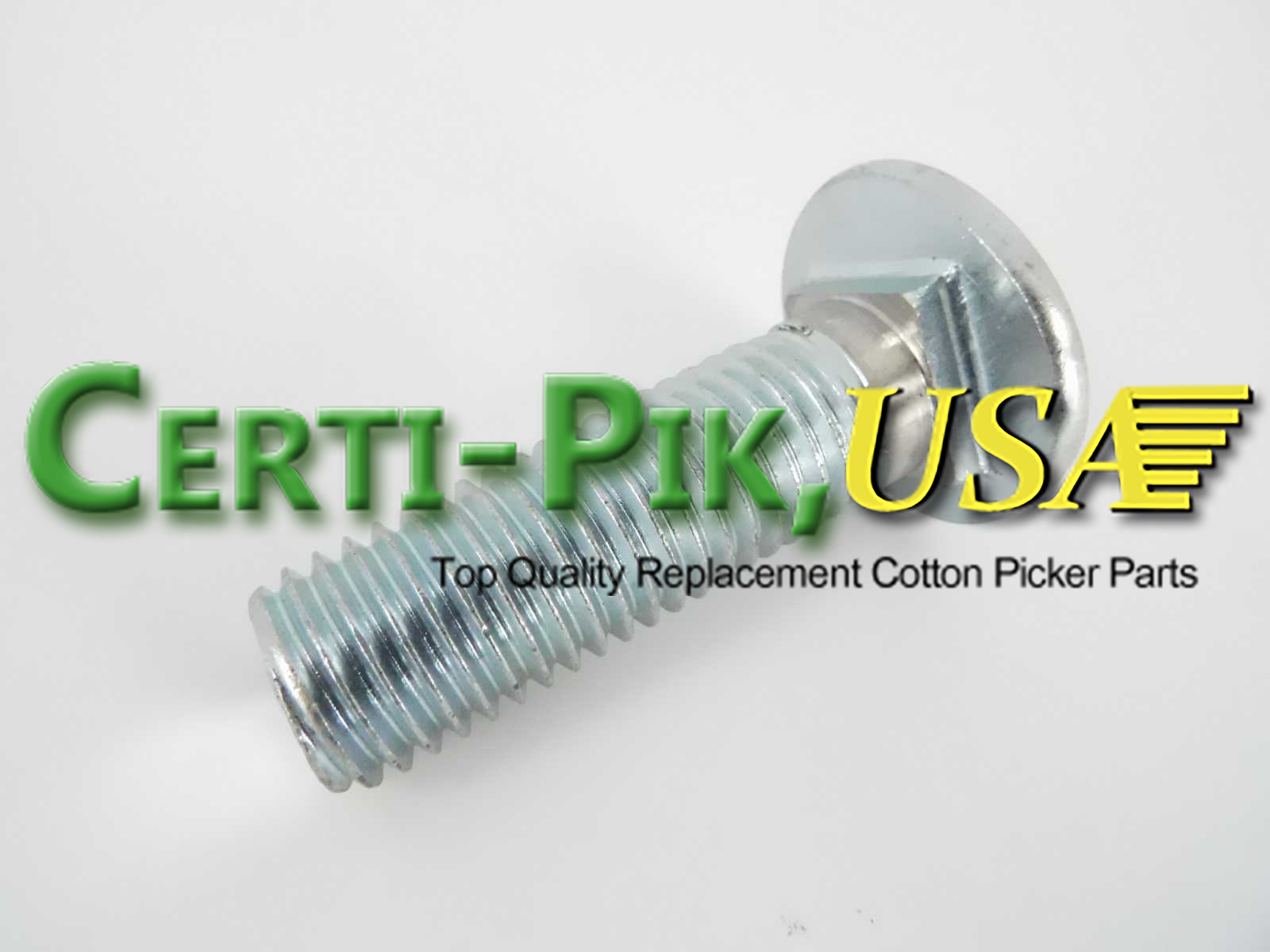 Description: BOLT – 3/4″ X 2-1/2″ CARRIAGE BOLT

OEM Part: 03H2339

Section: Picking Unit System

John Deere Drum Gear Assembly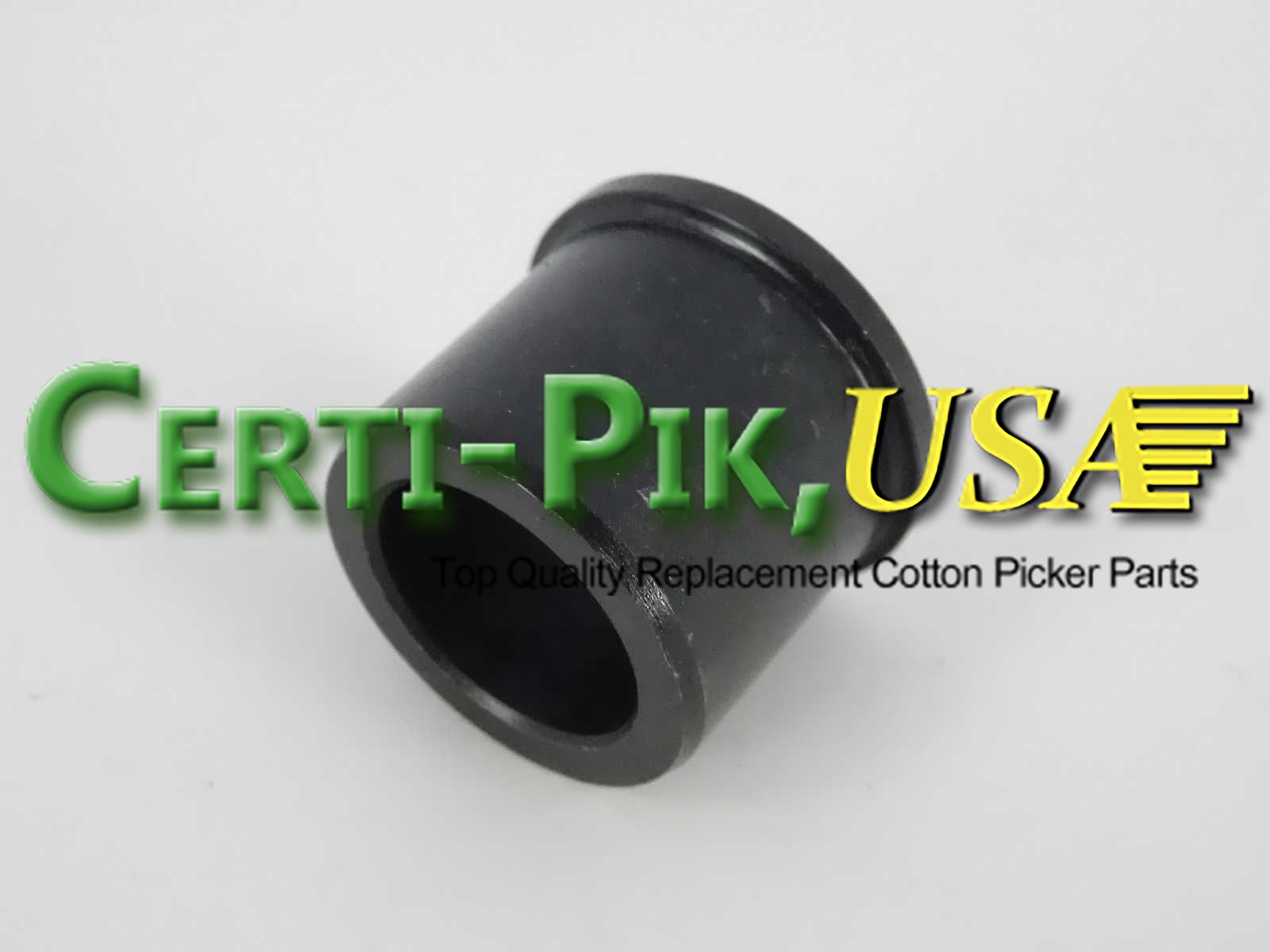 Description: SPACER – DOFFER DRIVE, (9935, 9960-9965 IN-LINE)

OEM Part: N195727

Section: Picking Unit System

John Deere Drum Gear Assembly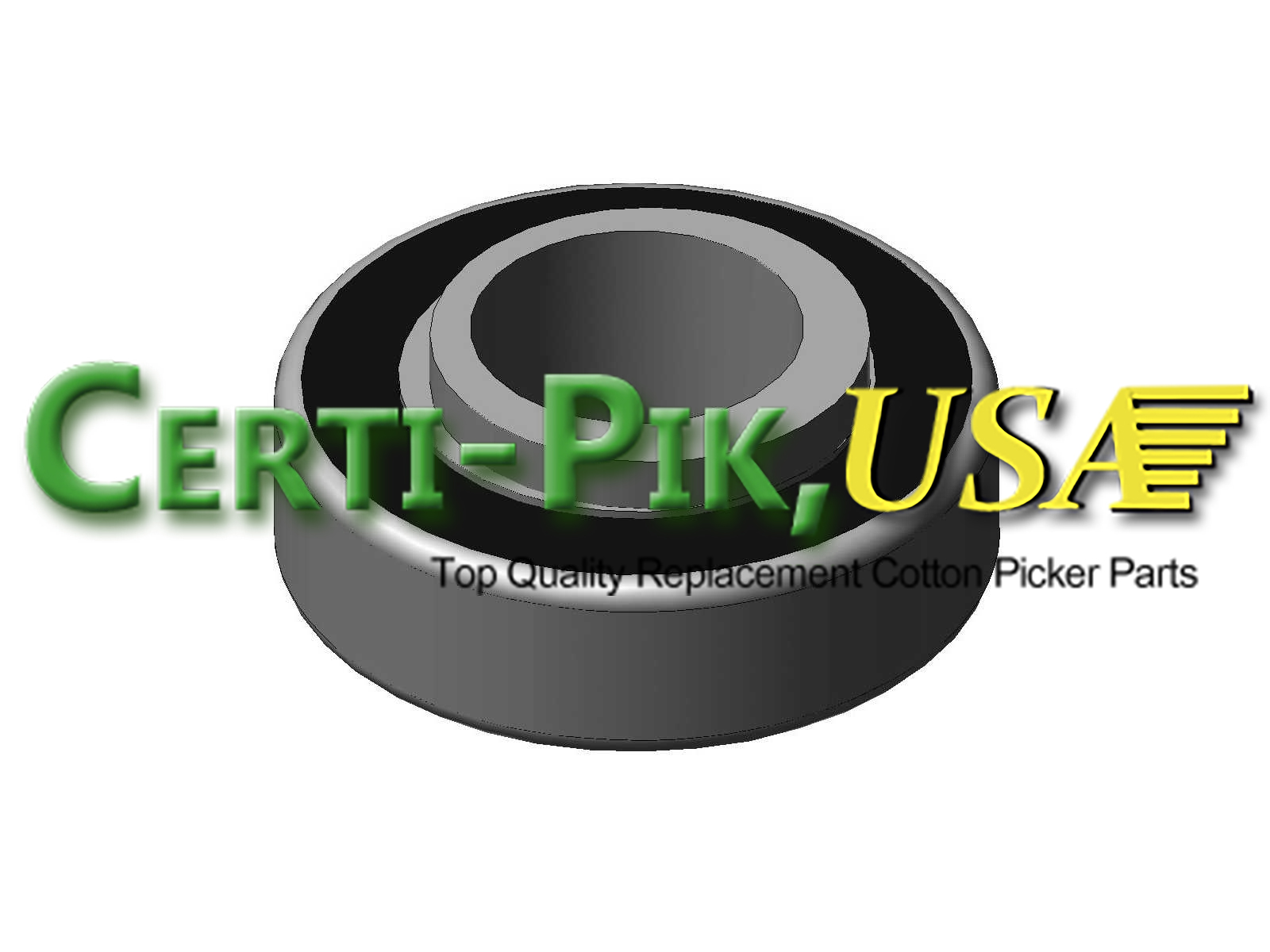 Description: BALL BEARING – DOFFER DRIVE (9935, 9960-9965 IN-LINE) – (CALL FOR AVAILABILITY)

OEM Part: JD8674

Section: Picking Unit System

John Deere Drum Gear Assembly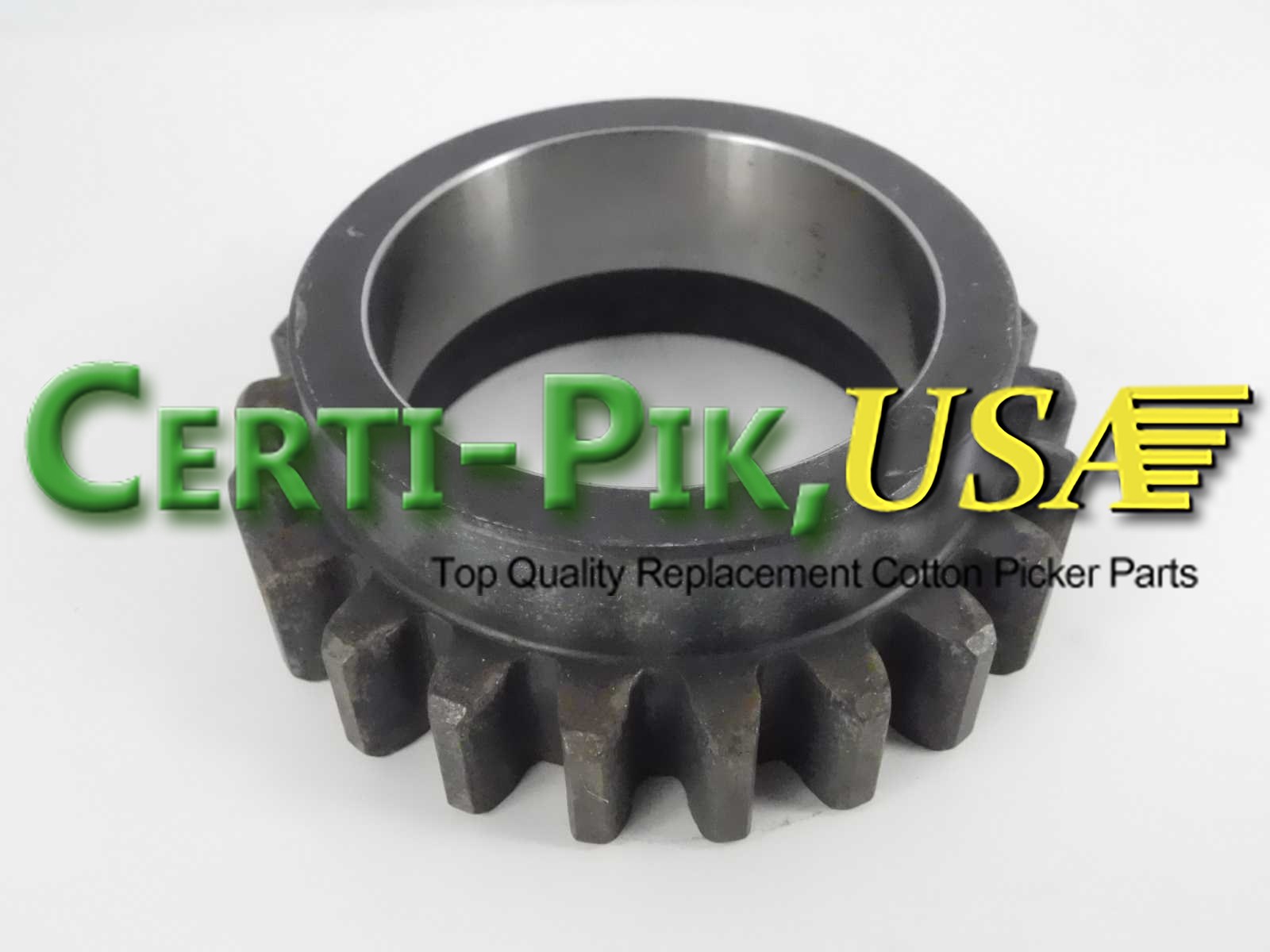 Description: SPUR GEAR – 22T, DOFFER DRIVE

OEM Part: N197052

Section: Picking Unit System

John Deere Drum Gear Assembly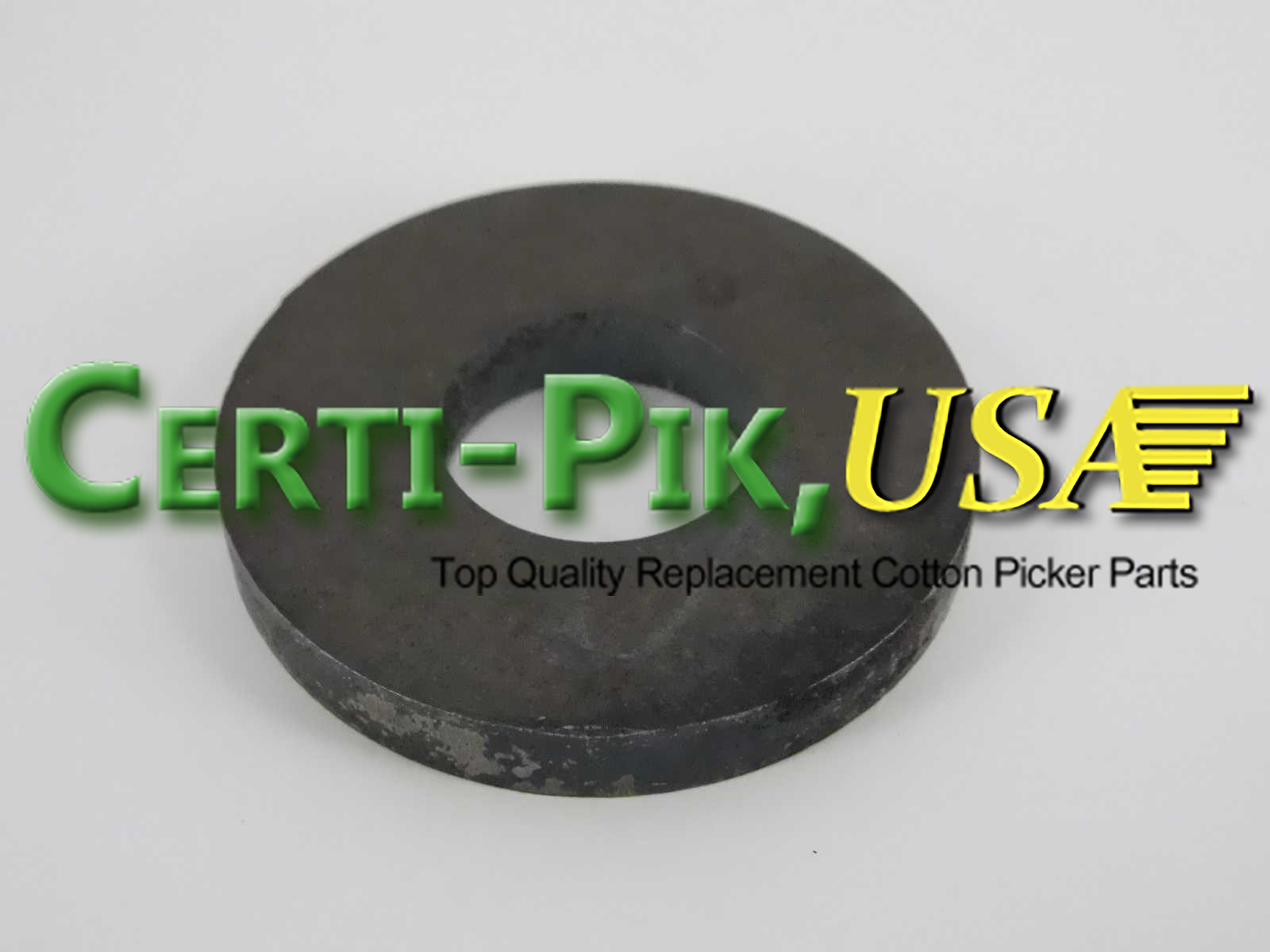 Description: WASHER – DOFFER DRIVE (9935, 9960-9965 IN-LINE)

OEM Part: 24H1402

Section: Picking Unit System

John Deere Drum Gear Assembly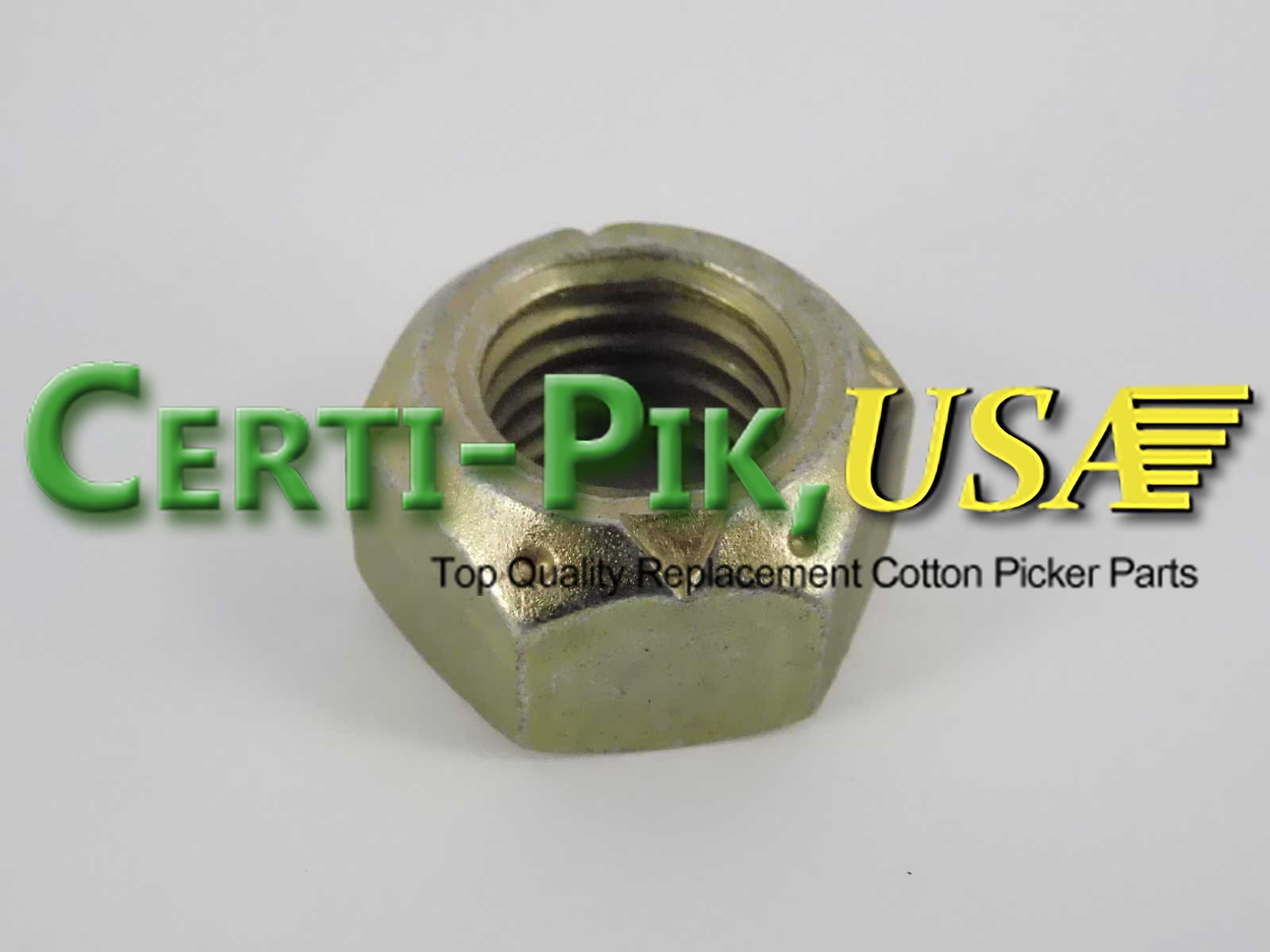 Description: NUT – 3/4″ – TOP LOCK – DOFFER DRIVE (9935, 9960-9965 IN-LINE)

OEM Part: K40016

Section: Picking Unit System

John Deere Drum Gear Assembly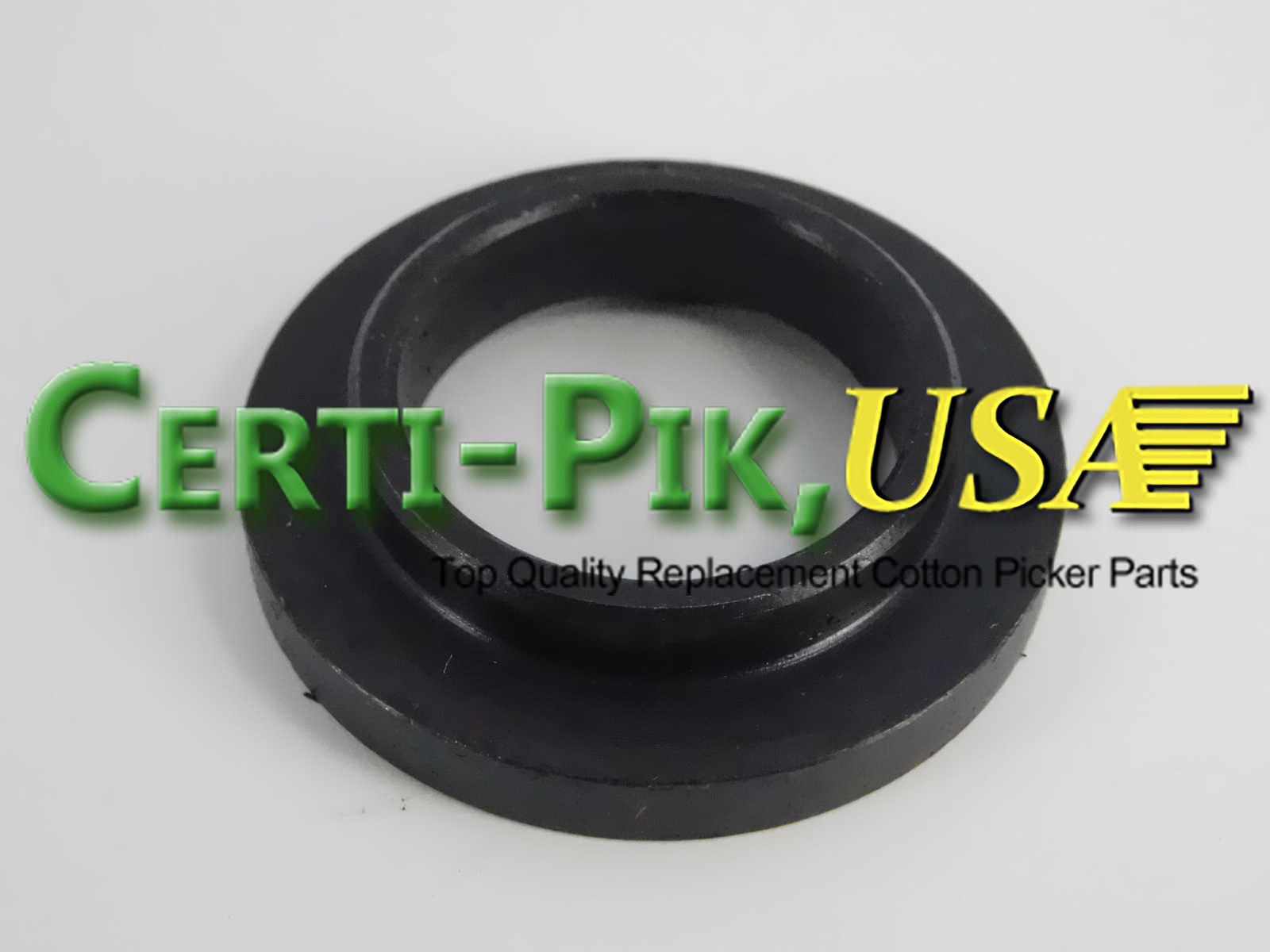 Description: BUSHING – (9900-9950 CONV.)

OEM Part: N115573

Section: Picking Unit System

John Deere Drum Gear Assembly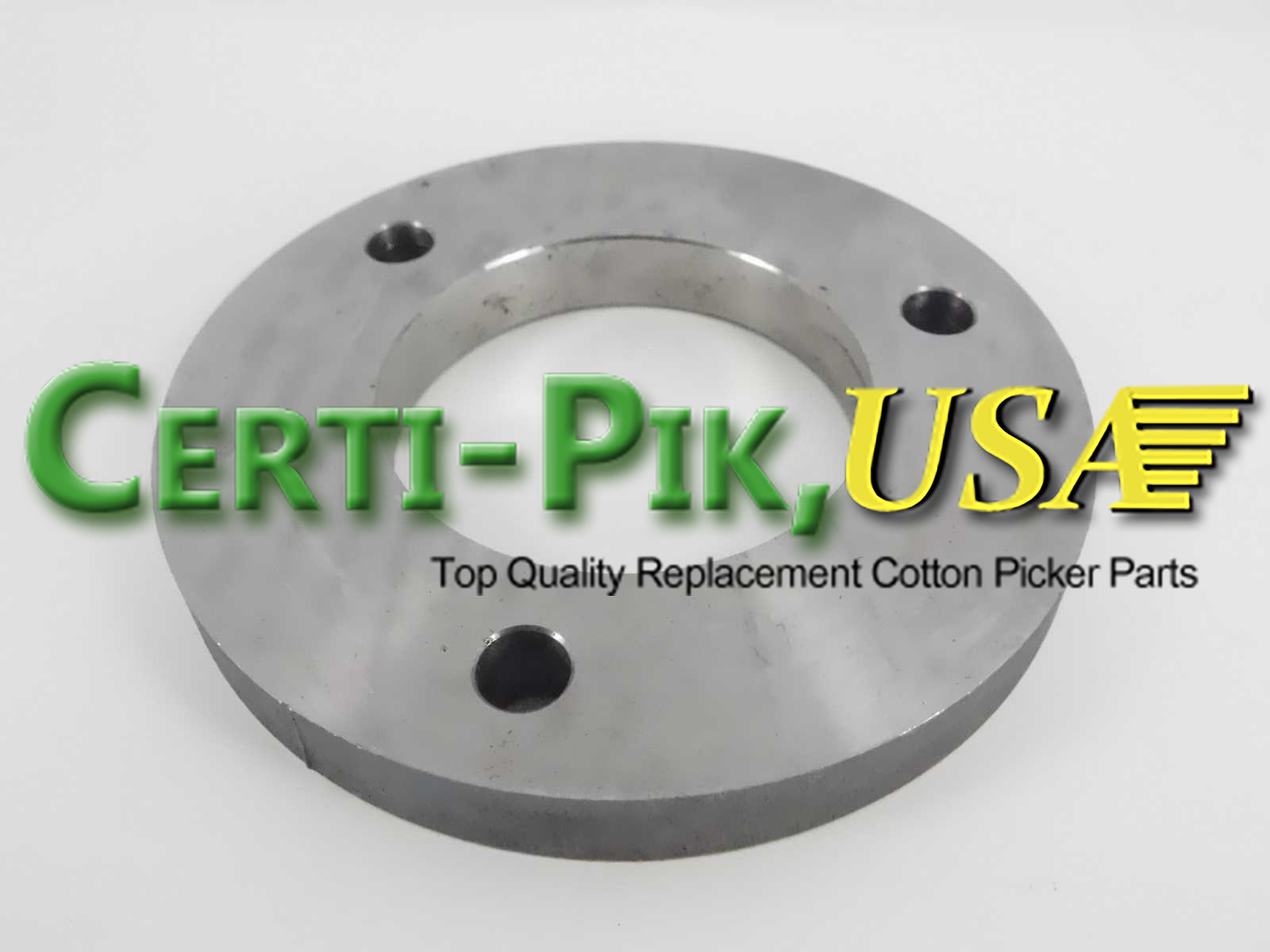 Description: SPACER – (9900-9950 CONV.)

OEM Part: N114173

Section: Picking Unit System

John Deere Drum Gear Assembly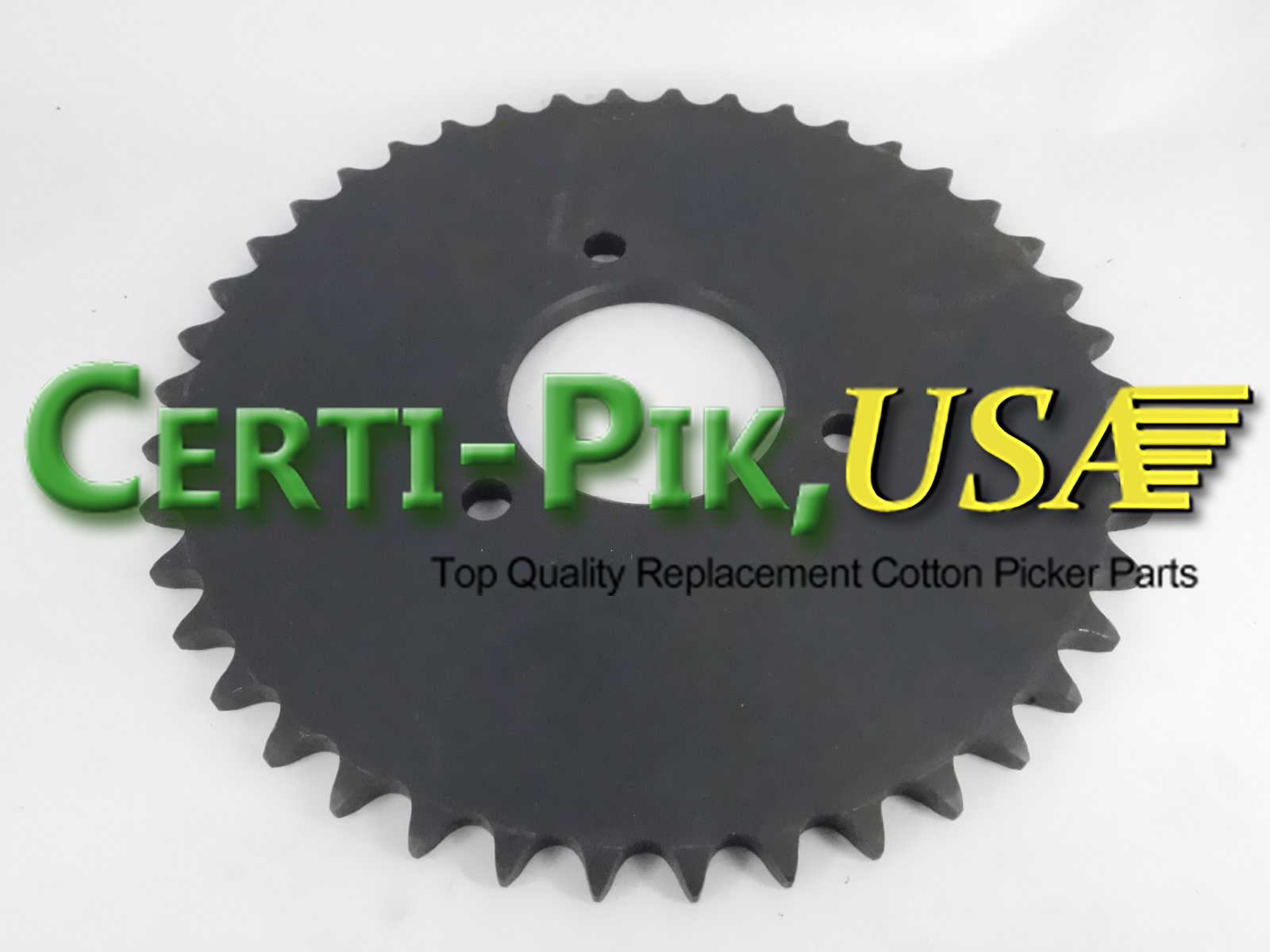 Description: SPROCKET – 42T, DRUM, CHAIN DOFFER-DRIVE, (9900-9950 CONV.)

OEM Part: N114175

Section: Picking Unit System

John Deere Drum Gear Assembly
Description: LINK CHAIN – DOFFER DRIVE, 62 LINKS, 12-BAR (9900-9965)

OEM Part: AN113170

Section: Picking Unit System

John Deere Drum Gear Assembly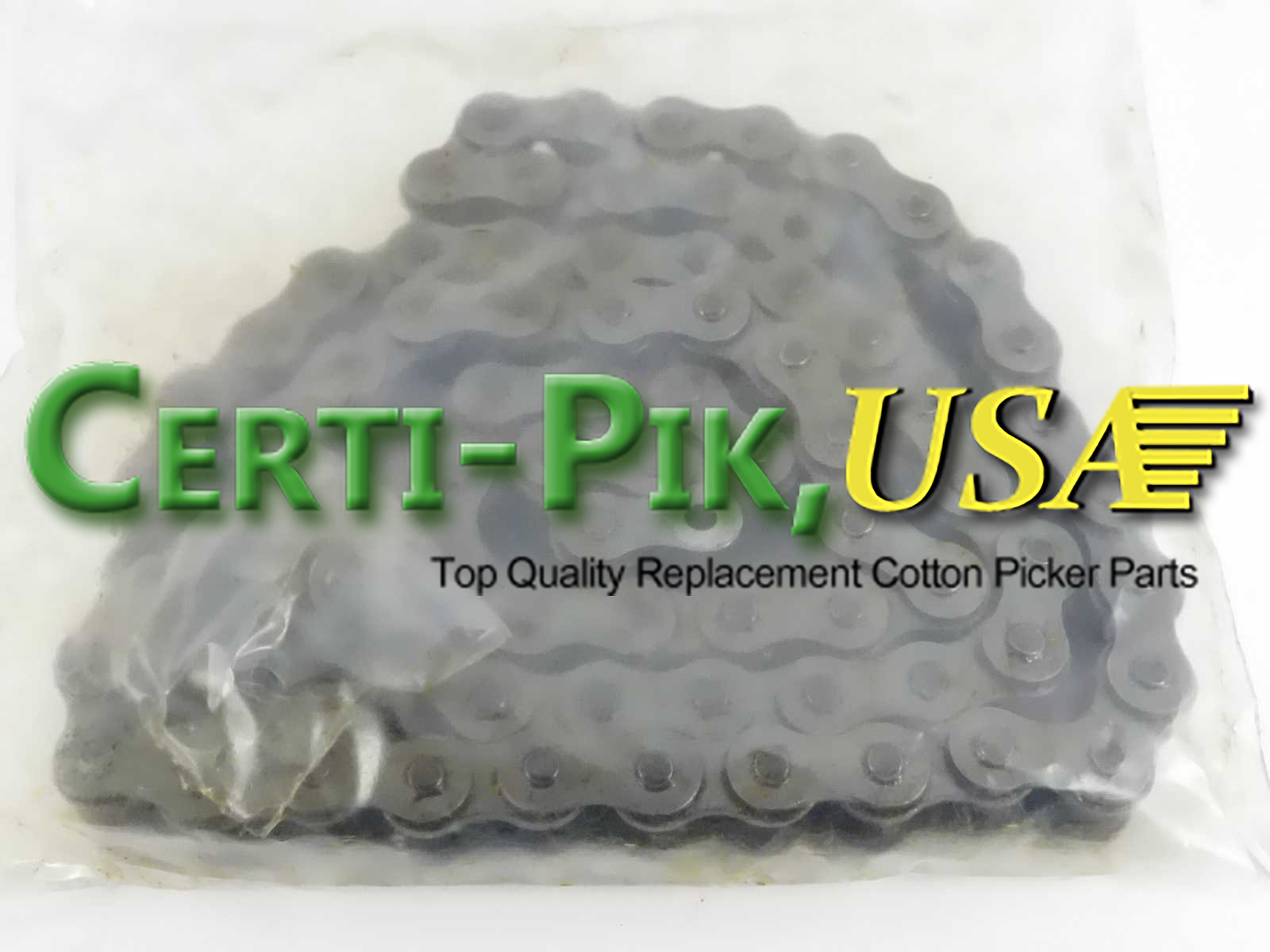 Description: LINK CHAIN – DOFFER DRIVE, 75 LINKS, 16-BAR (9900-9910)

OEM Part: AN113171

Section: Picking Unit System

John Deere Drum Gear Assembly
Description: SPROCKET – DOFFER DRIVE CHAIN TIGHTENER, CONV. UNITS (9900-9950 CONV.)

OEM Part: AN115321

Section: Picking Unit System

John Deere Drum Gear Assembly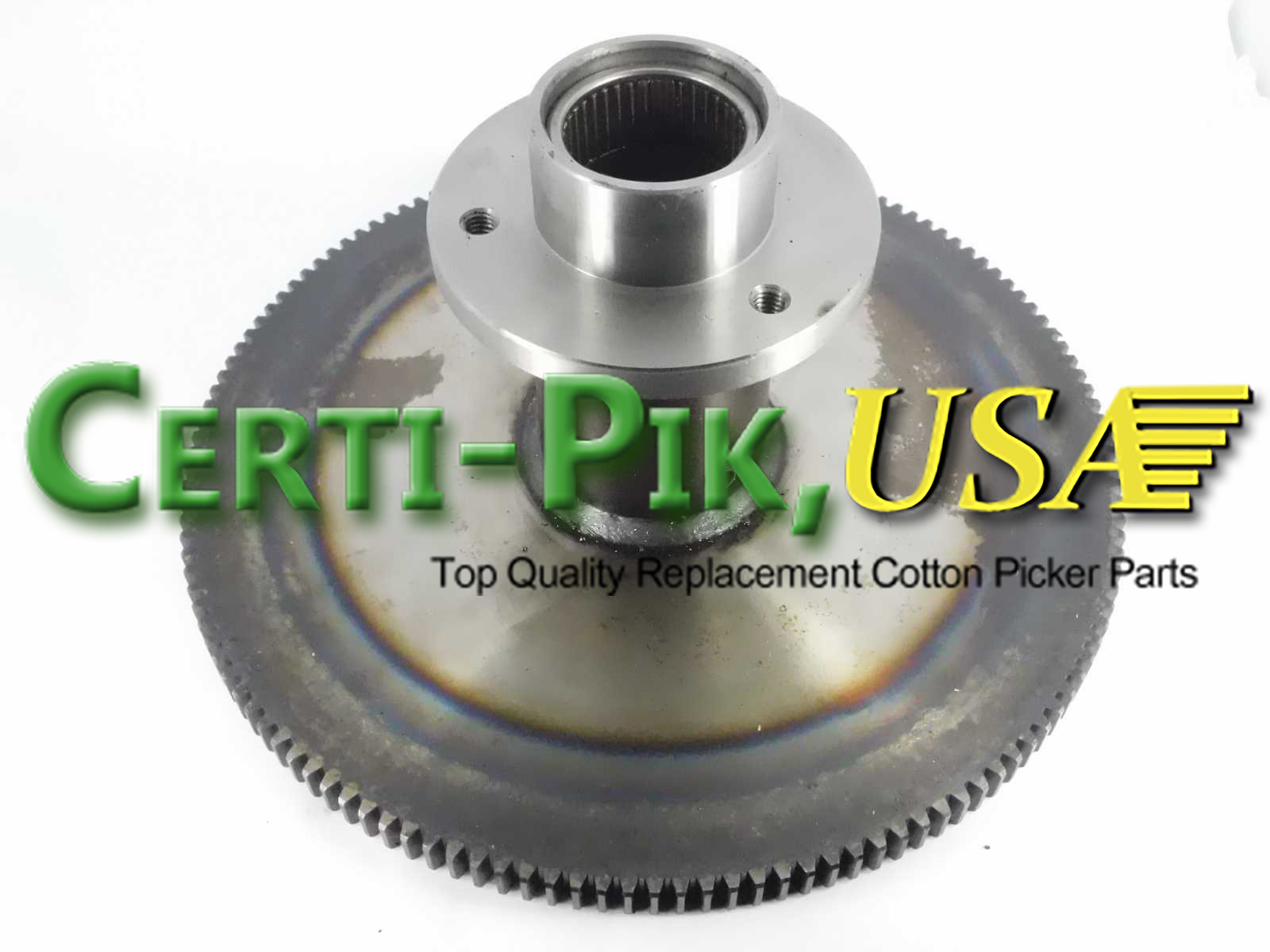 Description: SUN GEAR – ( 9900-9910 ) 16 BAR WITH 9/16″ THICK GEAR, 1/8″LUBE HOLE & FITTING 00558P, INCLUDES 2x BEARING #09813P & 1x SEAL #01206P

OEM Part: AN113616

Section: Picking Unit System

John Deere Drum Gear Assembly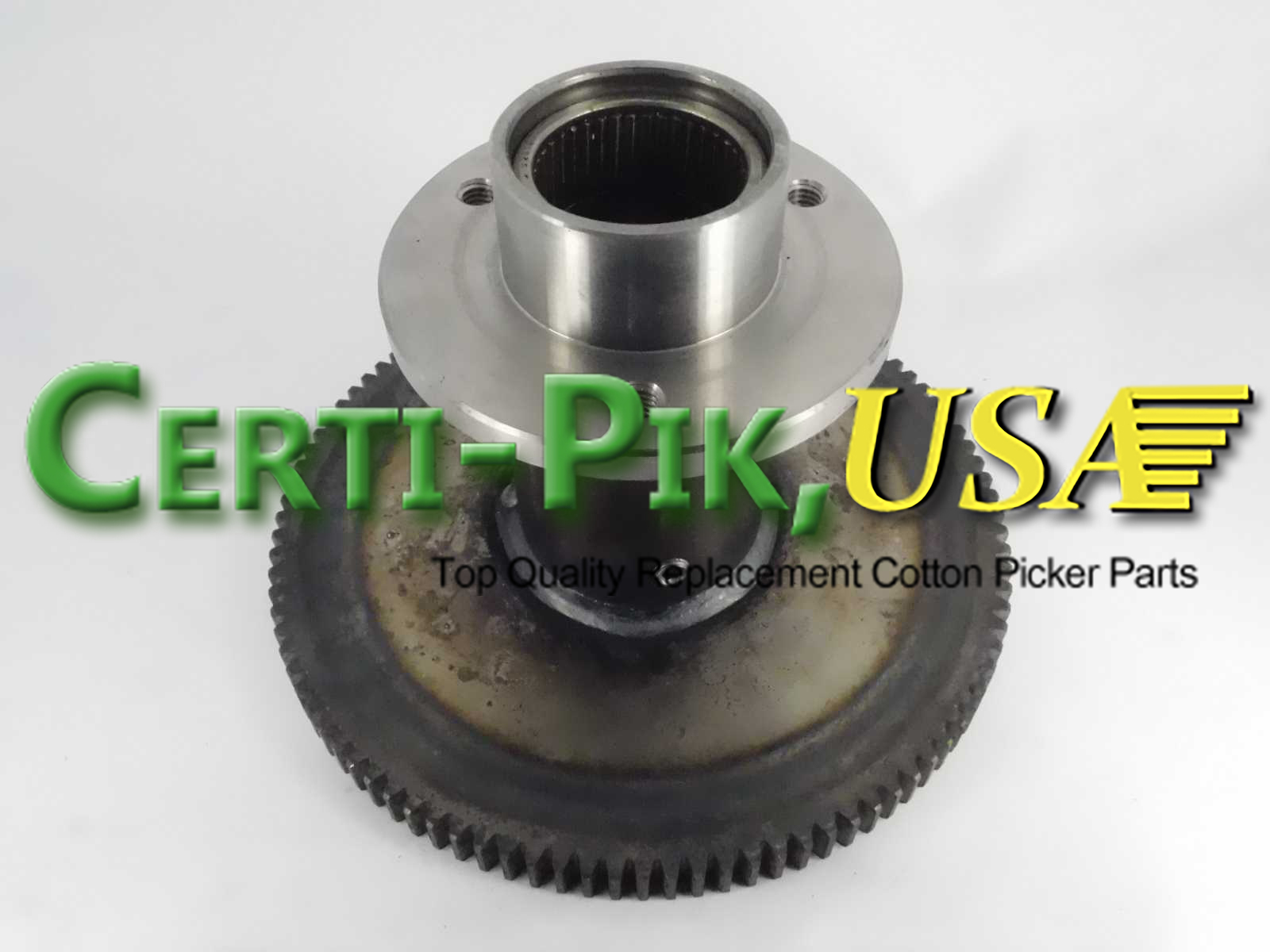 Description: SUN GEAR – ( 9900-9950 ) 12 BAR WITH 9/16″ THICK GEAR, 1/8″LUBE HOLE & FITTING 00558P, INCLUDES 2x BEARING #09813P & 1x SEAL #01206P

OEM Part: AN274460

Section: Picking Unit System

John Deere Drum Gear Assembly