Case IH Module Express Replacement Parts
Case / IH Replacement Belts – 1822 Thru CPX635
Finding quality replacement components for your cotton picker can be tough. When some of the components give in to wear and tear, you will want spare parts that will last for a long time and promote the proper functioning of your machine. As such, it would be important to work with a licensed dealership. Whether you are looking to buy the original manufacturer's replacement or aftermarket components, you will have to make sure that they are the ideal fit for your cotton picker model.
Aftermarket Case IH Replacement Parts
At Certi-Pik, USA, we stock a wide selection of quality aftermarket pieces to fit different cotton picker models from Case Company. All the components we sell are reliable and will help you get back to your harvesting operation in no time. Once you order from us, we will work hard to deliver what you need promptly to reduce downtime and revenue loss. With the wide range of prices in which replacement components are available, we aim to ensure that you access Case IH aftermarket pieces without spending too much.
Case IH Module Express Cotton Picker Aftermarket Parts
The Case IH Module Express is a powerful cotton harvester made to deliver maximum efficiency even in tough conditions. While we carry different components for many models of their cotton pickers, we also have components that are specifically made for the Module Express. Picking the right parts for your picker will not only keep the machine working optimally but also save you money in the long run. The replacement components we sell will ensure consistent performance and the durability of your equipment.
Module Express Aftermarket Parts for Sale
Emergencies happen when you least expect them. We make it possible for you to order essential components of your equipment to ensure minimal interruptions to your activities. Below are some of the Module Express aftermarket pieces we have available:
Extended Deep Dish Doors
The extended deep dish doors ensure that more cotton finds its way into their baskets, increasing the volume of cotton that is processed in the harvester, effectively reducing the time you spend in the fields. When this component wears out or malfunctions, the efficiency of your harvesting equipment will be compromised. We stock these doors as well as the various components that make them up to help you keep your machine in perfect working condition.
Picking Unit Cabinet
The picking unit cabinet of your Module Express has a great impact on the efficiency of your operations and your profitability. When any of the components of the picking unit cabinet fails, you will need to have it replaced as soon as possible to resume your harvesting operation. Whether you are looking for aftermarket parts for a rebuild of a major assembly or to replace worn-out components, you can count on us for quality pieces.
Picking Unit Systems
Before the start of the harvesting season, you should have your picking unit system inspected to confirm that all the components are in perfect condition. Replacing any worn-out parts will go a long way in ensuring a smooth and successful harvest. We stock aftermarket components such as sleeves, spindles, bushings, dust caps, and universal bars. These components can be shipped to you on the same day that we receive your order.
Water System
If you are to grow your cotton operation and prosper, you should choose water system aftermarket components that offer the dependability and lasting value. We make it easy for you to order top-quality aftermarket components such as moistener arms and pads. These are designed to deliver outstanding performance over the long term.
Air System
Problems with your Case IH air system will reduce your productivity and potentially lead to a total failure of your machine. An issue with the fan will affect the operations of the spindle, which will lower your harvesting production. We stock a wide range of the pieces you need to maintain your air system assemblies properly. These include side panels, side frame supports, wrap arounds, and baffles, among others.
Belts
The smooth operation of your cotton-harvesting equipment depends on strong and durable belts. Considering the high stresses that the belts are exposed to during the harvesting season, they can suffer damage while in use. Our aftermarket belts last long and provide great service so that your operations do not grind to a halt.
Miscellaneous Parts
We strive to provide convenient, one-stop ordering for all your Case IH Module Express aftermarket needs. There are a number of miscellaneous components that are critical to how your cotton harvester works. Regardless of the replacement piece you need, get in touch with us, and we will have it shipped to you in the shortest time possible. With the numerous aftermarket components available in the market today, working with a reliable dealer will ensure you buy a quality product. At Certi-Pik, USA, all our aftermarket components are manufactured primarily in the United States and are of high-quality. Whenever you need replacement parts for your Case IH Module Express, contact us for affordable products.
Case International Module Express Frequently Asked Questions
Case International IH has had a long-standing reputation for building the highest quality of farm equipment, including tractors and machinery used on cotton farms. Technology has improved over the years, and Case International IH has made it a point not just to keep up, but break out with new innovations. Here are a few common questions about a particular model, the What Pro Units are available for Usage on the Module Express, which is very popular among industrial, commercial, and even with smaller cotton farms who rely on efficient harvests each year.
How much HP does the engine have on the Module Express?
The Case International IH Module Express generates 400 horsepower via an 8.7-liter diesel engine. To put it in perspective, this amount of power is what is expected with an industrial cotton harvester, and is designed to provide the power you need to have consistent efficiency year after year when harvesting your cotton crops. It uses a 6-cylinder turbocharged diesel engine, which provides the balance of power and fuel efficiency cotton farmers need. More options include an engine built by Case or by Cummins, according to your personal preference.
What is the capacity of the Case-IH Module Express basket?
The Case International IH Module Express is available with either a basket or one of two modules. The basket is specified for 10,500 pounds, the modules can hold either 10,000 or 12,000 pounds. This provides for a volume of 1,000-1,400 cubic feet in a roughly 8x8x16 foot bin. This size is consistent with what other makes and models of cotton harvesters provide, and will not slow you down by forcing you to stop and unload at unexpected times. Just like every other aspect of this tractor, the basket or module attachment you choose is designed to meet the needs of farmers who have the utmost of expectations concerning the equipment they use, and you won't be disappointed with the Module Express.
What is the maximum bale weight of the Module Express?
The Case International IH Module Express produces bales of standard height and width yet half the length, so they are easy to manage on the farm and can still fit in a regular shipping container by placing two half bales in it. The weight of a standard bale is 500 pounds, so the bales produced by this machine are half sized at 250 pounds. Although these bales are considered half-length, they are consistent with industry standards because they do fit into the traditional system of transport and processing.
How many bales can the Case-IH Module Express wrap?
The Case International IH Module Express can wrap as many bales as you can harvest. It's designed to hold the cotton in either a module or basket while running a row, and drop off the harvest for pickup at the end of the row. It can keep harvesting and wrapping all day long until you're ready to come in for refueling and evening cleaning at the end of the day. It doesn't use either plastic or string, but instead wraps the cotton into a tension bale tight enough to hold itself together. From there, it can be separately tied or wrapped according to yours, or your purchasers, needs by using separate machinery.
How many row units does the Case-IH Module Express have?
Depending on the model, the Case International IH Module Express can have either 4 or 6 row units. They are designed to be spaced for narrow, wide, or medium rows between 30 and 40 inches apart. Height sensing is an automatic computerized system designed to give you the best yield efficiency during each harvest. By harvesting 4-6 rows at once, you'll be able to keep up with the production expected of commercial farms, and conduct the work at a speed which allows you to provide cotton to the needs of industrial level purchasers.
What pro units are available for usage on the Module Express?
Pro Units are a John Deere product, Case International IH makes the Module Express. The drum units for this model consist of two drums per row, one on each side. Each drum has 12 bars and 18 spindles associated with it. That's a total of 432 spindles per row unit to assure quick and efficient harvesting according to the expectations of commercial farmers who need to harvest as much as possible in a day, every day of harvest season.
How large is the Module Express fuel tank?
The Case International IH Module Express boasts a 200-gallon fuel tank, enough to run for a full day between refueling, so you don't have to come in from the fields before finishing a day's worth of work. It has different drive modes for different purposes, whether harvesting cotton, doing a second scrap run pick up any leftovers from a previous run, or driving between fields at over 16 miles per hour. Each mode is designed to get the most fuel efficiency and make sure the 200 gallons is going to be plenty for your everyday use.
How large is the water tank for the moistener system on the module express?
The water moistener system holds 365 gallons, enough to conduct a day's worth of work. The last thing we want is for you to run this machine without the proper cleaning we designed for it, so our engineers made sure you're not going to run out on a typical day in the field. Without the moistener system, the natural oils in the cotton will clog any machine, that's why it was so difficult to invent the first cotton gin. Case International IH provides an efficient cleaning system to keep spindles working all day without getting clogged up, so you can keep working. Keep in mind, the moistener system works during the day, before being parked at night the tractor is going to need a deeper cleaning to assure it's ready to be refilled and get back to work the next day.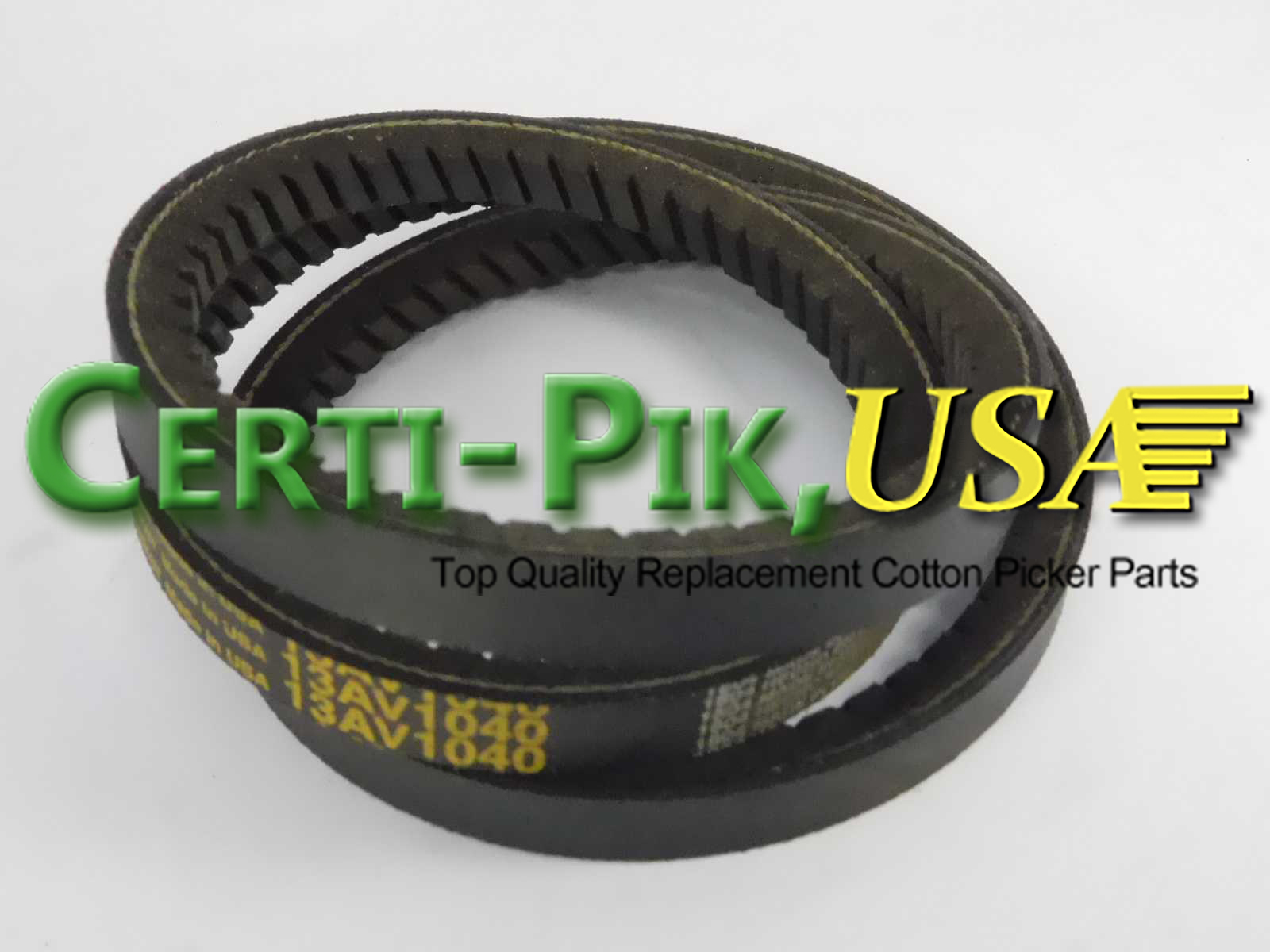 Description: A/C COMP. – (41.5″ BELT LENGTH) 1822 (S/N JJC0012691 & above) – 1844 (S/N JJC0002462 & above), 2022, 2044, 2055
OEM Part: 1250587C1
Section: Belts
Case / IH Replacement Belts – 1822 Thru 635 Mod Exp