Case IH Cam Track Parts
Case / IH Cam Tracks
It is absolutely essential for you to have your Cam tracks inspected periodically
They perform a crucial role in the overall operation of your cotton harvester and can have a serious impact on the profitability of your operation. The efficiency of your harvester's cotton pickling operation is dependent on the precise calibration of several moving parts within very small tolerances. Even a small amount of wear in the cam track assembly resulting from every day use, or dirt or debris build-up can end up costing you a lot of money.
The Cam Track Affects Vehicle Speed and Efficiency
Due to the cam track's critical effect on the high-speed rotation of the picker bar and the rearward spindle tip motion, it is one of the most critical components in the picking operation and will affect the vehicle's speed and efficiency. The cam track rotates the picker bar around the vertical axis to control the spindle tip speed, which in turn facilitates a higher drum speed.
Greater Efficiency with No Damage to Cotton Plants
If the cam is operating correctly, the harvester can pick cotton faster with no damage to the cotton plants. The cam track also orients the spindles as they rotate around the track. This ensures an optimum angle as the spindle passes by the pressure doors through the picking zone and then under the doffers and moistener pads.
It is vital that the motion of the spindles allows the cotton to be picked cleanly off the spindles, as they are doffed. Furthermore, the spindles are cleaned as they pass under the moistener pads, ensuring that the cotton is collected quickly and efficiently without binding or clogging the system.
It is vital, therefore, that your cam tracks are in good working order and correctly adjusted.
Should you require any assistance or advice on this vital component, we're just a phone call away.
You can contact us using
the following additional options
[email protected] | Fax: 1-712-752-8472 | Shopping Cart: You can place your order through the links on our website and we will confirm your order via email or get in contact with you to discuss any details that may be unclear. For your convenience, you can order your parts any time of the day or night.
Assembly Drawings – Part Numbers
Use the link below to quickly access the assembly drawing which you may need to identify part numbers.
18-Spindle Picker Bar Assembly Download
We have a full complement of replacement parts available, including picker bars, cam rollers, bearings, pins, bar journals, thrust washers, retaining rings, spindle assemblies, bottom bar bushings, pivots, and shims.
Ordering the Right Parts is Quick and Easy
It can be incredibly frustrating when opening a parts package, to find that you've been sent the incorrect part. Our job is to make it as easy as possible for you to order and receive the exact part or assembly you need to get your machinery fixed or serviced and back out where it belongs, making you money.
Please provide us with the following information when placing your order:
The model number of the machinery you're fixing
Certi-Pik part number or OEM part number
A description of the item
Comprehensive Inventory in Stock
We carry a comprehensive inventory to ensure that we can supply what you need in the shortest possible time. Our system to ensure that we don't run out of those important spares and components that you're going to need has been developed over many years in business. We can ship any components from our warehouse that you may require, at a moment's notice.
Comprehensive Cam Track Parts Available
We stock a full range of specialty items and sheet metal components for use in rebuilding cotton-harvesting equipment. As we fabricate replacement components for the top pickers in the industry, you have access to most everything that you could possibly need to get your machines back in the field. We supply front and rear cam tracks, supports, spring retainers, slotted spring pins, hex bolts, washers, etc.
Contact Us Now
If you have the time, browse the links to our very extensive list of parts that appear at the bottom of this page. Alternatively, you're welcome to give us a call at Certi-Pik USAon our toll-free number, 1-888-CERTIPIK (237-8474), and one of our staff will help you find what you need, right away. If you need to find a specific part and know exactly what you need right now click the link below for the detailed assembly drawing. Each part is labeled, making the selection of the items you need for rebuilding or servicing your picking units, quick and easy.
Case / IH Cam Tracks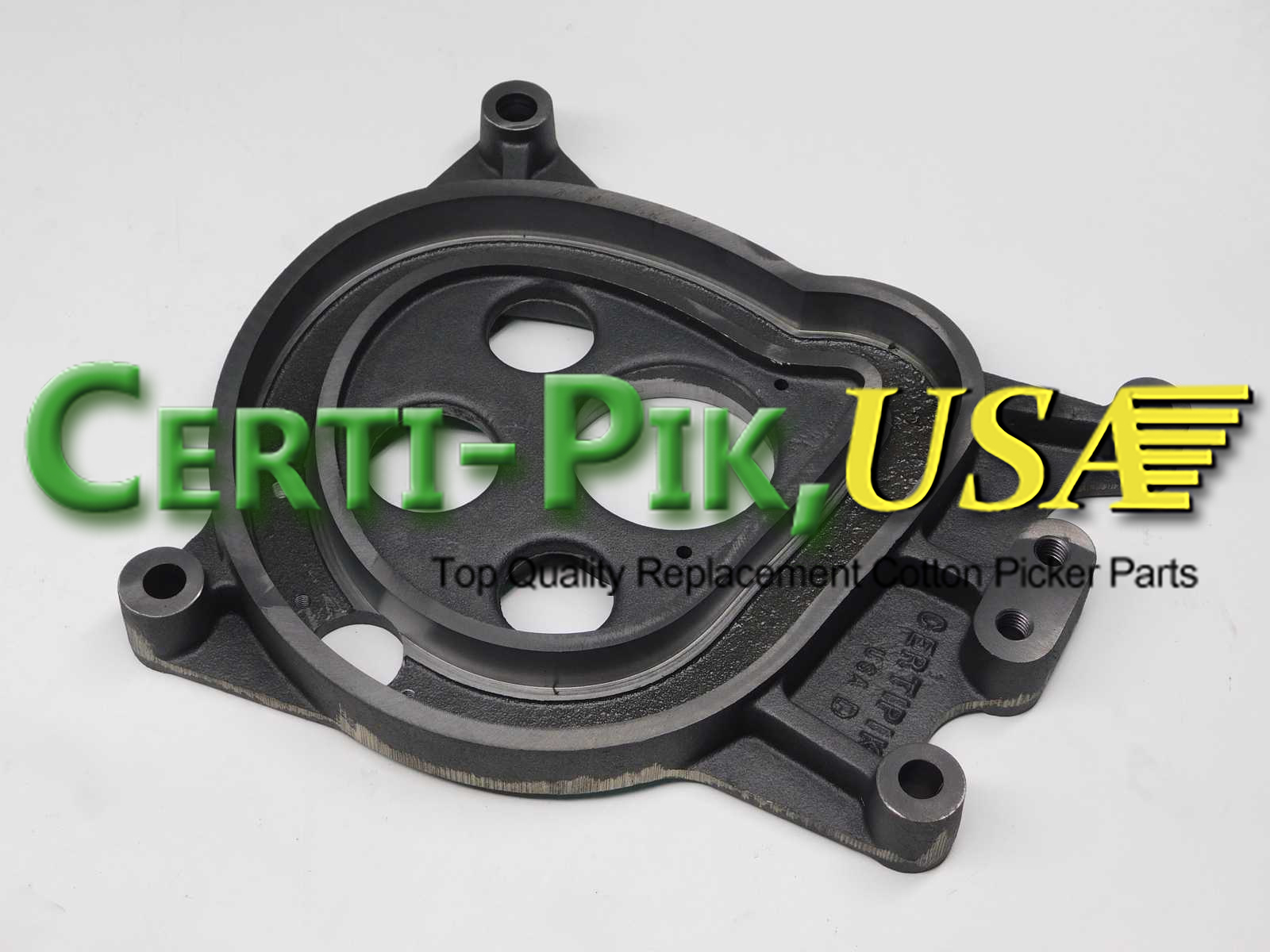 Description: CAM TRACK – R.H. – FRONT ( WITH ROLLER SERVICE HOLE ) FITS ALL 2000 SERIES – CPX 620-635 MACHINES (USES ITEMS 3-5 : SOLD SEPARATELY) REPLACES PART #1982351C1

OEM Part: 394253A1

Section: Picking Unit System

Case / IH Cam Tracks