Case IH Fan Parts
Case / IH Front Fan Assembly, 2555 (S.N.500) – 635
Case IH industrial cotton harvester parts are in high demand during the cotton-picking season. Unfortunately, it is at the peak of the season, and that is when components decide to fail. The Case IH front fan assembly is a major component of the air system. This page addresses models 2555 (S.N.500) – 635. Farmers needing replacement parts must ensure the part numbers match the parts they are purchasing. Some parts are slightly different, thus special attention should be paid to the part number when ordering.
Farmers and dealers gain confidence in knowing the aftermarket parts are ready and available to safeguard the operation and ready to order within minutes. The cotton picker parts referenced on this page are made available as assemblies or individually.
It is a relief for farmers who are in search of aftermarket parts. If a piece of a component breaks on the harvesting equipment, they only have to consider getting the broken piece and not the entire component. However, they can get the entire assembly if needed. Downtime is a horrible experience during the peak season of harvest. The sooner the farmer can get the part, the faster they can get their equipment up and running. It can cost a farmer hundreds of dollars daily for every day sitting idle.
The Air System
Farmers should devise a maintenance checklist to avoid potential breakdowns. These are some things they should look at closely during the maintenance run down:
Daily inspect and clean all parts, including the fan blade.
Immediately replace all worn parts.
Be on the lookout for any obstructions to airflow and operation.
Look for pieces that are shaking or vibrating and service, or replace them immediately.
OEM parts are the original parts manufactured by Case IH. However, they can be costly and sometimes hard to get quickly, especially regarding backorders. Farmers and dealers want always-available parts that are easy to keep in stock. Aftermarket parts are the answer to the high-cost issue and we strive to keep them in stock. They are made with high-quality materials and are reliable. Case IH parts for the front fan assembly 2555 (S.N.500) – 635 are shown here, with all 35 parts and three kits.
The air system keeps the cotton flowing smoothly through the cotton harvester into the basket. If debris or leftover cotton pieces cake up and clog the air system, it can cause extensive damage to the entire harvesting machine. It can choke out the machine and drive it to malfunction or not operate at total capacity. A tiny piece of debris in the wrong place or a small broken part can shut down the whole operation.
The Parts of the Case IH Front Fan Assembly 2555 (S.N.500) – 635
Rear Side Support, 4 Bolt Bearing – 1.75 Dia Shaft- (1/ Front Fan & 2/ Rear Fan)
New Style Fan Side Panel Larger Transition Notch
Plastic Baffle or Orifice
Wrap Around Housing Cover
Housing Cover Tension Bracket
Under Shroud Tension Bracket
Under Shroud Housing Cover
Front Side Support, 4 Bolt – 1.75 Dia Shaft – 1 On Front Fan – None On Rear
Cable Clip Clasp
Housing Spacer Pipe
Stud
1-3/4″ Bearing Assembly
Front Fan Shaft
3/8″ Square Key/ 2-3/8″ Length
New Style Fan Blade 1.75″ ID
1.75″ ID CNH Fan Shaft Spacer
1.75″ Fan Shaft Spacer .38″ Thickness
5/16 x 2-1/8 Woodruff Key
Fan Pulley
(3 Band) Fan Rotor Front Belt
Front Fan Kit (All Parts Not Assembled) Includes Bolt Kit #09030 and Parts 1-34
All Parts Assembled Front Fan Kit/ Includes Parts 1-34
Complete Bolt Kit for Front Case IH Fan Kit 2555-635
Nuts, Bolts, and Washers for Case IH Front Fan Assembly 2555 (S.N.500) – 635
1/4 Serr Hex Flange Nut
1/4 x 1/2″ Carriage Bolt
1/4 x 3/4″ Carriage Bolt
8-18 x 3/8″ Self Tap Screw
5/16 x 3/4″ Carriage Bolt
3/8 x 3″ Carriage Bolt
5/16 Serr Hex Flange Nut
3/8 Nylon Lock Nut
5/16 x 1-3/4″ Hex Head Bolt
5/16 Center Lock Nut
1/2-13 x 1-3/4″ Carriage Bolt
1/2 Serr Hex Flange Nut
2.50 x 1.78 x .06″ Washer
1.75 x .937 x .13 Hardened Washer
Certi-Pik, USA and the Dealers Working Together
The local dealers stock up their stores before harvesting season begins. They can get with Certi-Pik and order the parts they feel need to be on the shelf at all times. Dealers know what the farmers may need during the harvest season. When components malfunction or are about to break, farmers know they can rely on local dealers to have the parts ready quickly. The dealers that have the parts in stock help the farmers pick up the parts and repair the machines quickly to prevent too much loss in time.
If the parts needed are not in stock at the dealer's parts house, they can contact the Certi-Pik, USA warehouse to send it within one to two days. Compared to the OEM, the farmer can get the parts quicker, within one to three days versus three to five days in some situations where OEM parts become listed on backorder.
Farmers appreciate the dealer's services because they trust and know them. The dealers work to keep the farmers happy by keeping them in operation. It is a team process to keep the shelves stocked, and Certi-Pik is there to help the dealers have all the parts they need for retail.
Ordering from Certi-Pik, USA
Farmers and dealers can get the needed cotton harvesting parts through the Certi-Pik Customer Service website. They can also call in to order the Case IH Front Fan Assembly 2555 (S.N.500) – 635 components.
If it is too late for the shipment to go out, the parts will, in most cases, go out on the next shipping day. Our contact information is found on the Certi-Pik, USA website. For quicker service, it is best to have the part, the number, and all billing information ready. Please note: Prices are different when going through the dealers because they are paying wholesale and selling retail.
You can contact us using the following additional options:
Shopping Cart: You can place your order through the links on our website and we will confirm your order via email or get in contact with you to discuss any details that may be unclear. For your convenience, you can order your parts any time of the day or night.
Email: [email protected]
Fax: 1-712-752-8472
Case / IH Front Fan Assembly, 2555 (S.N.500) – 635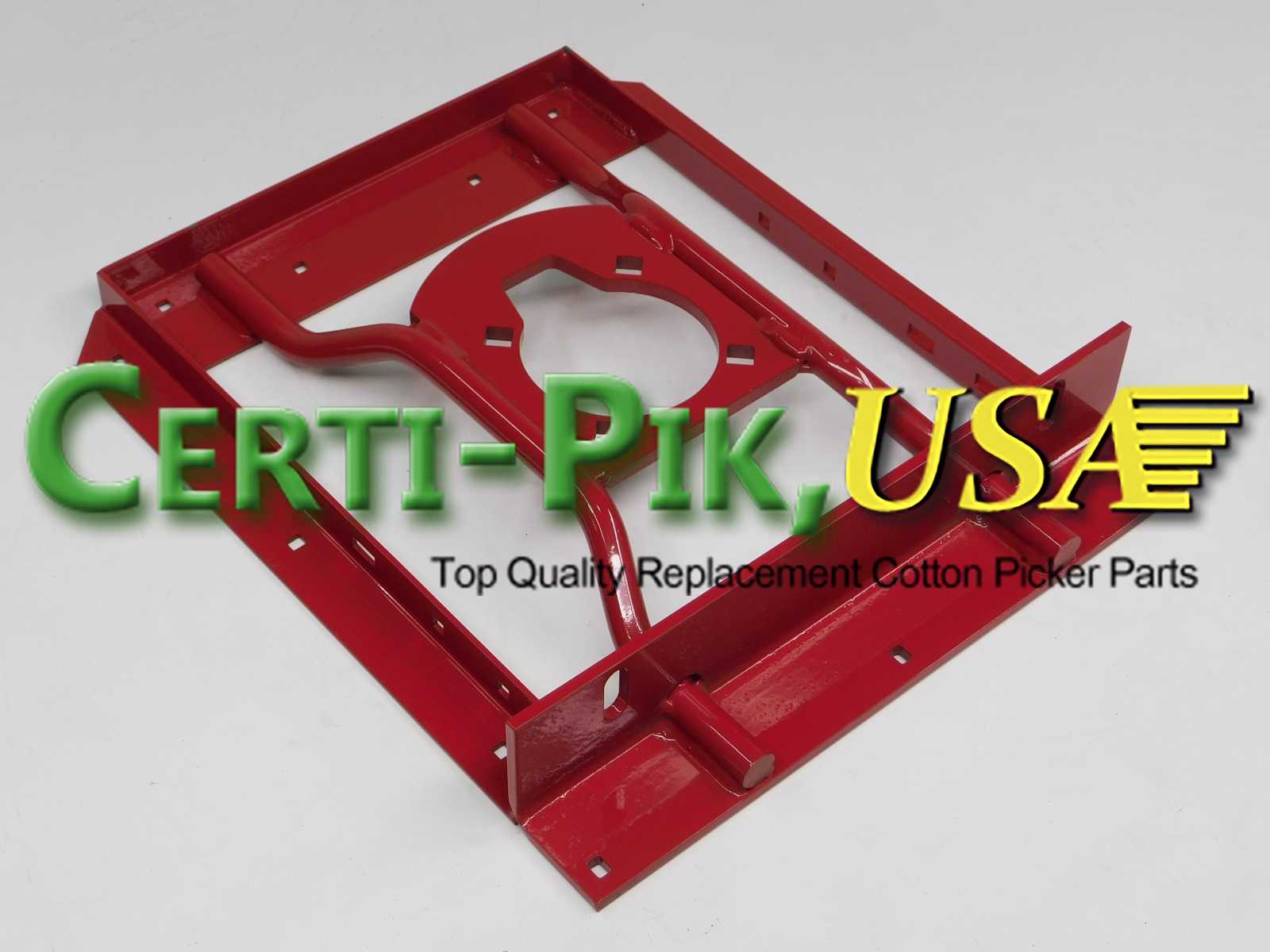 Description: SIDE SUPPORT 4-BOLT REAR – 1.75 DIA SHAFT – 1 ON FRONT FAN – 2 ON REAR FAN

OEM Part: 243038A2

Section: Air System

Case / IH Front Fan Assembly, 2555(S.N.500)-635 Mod Exp