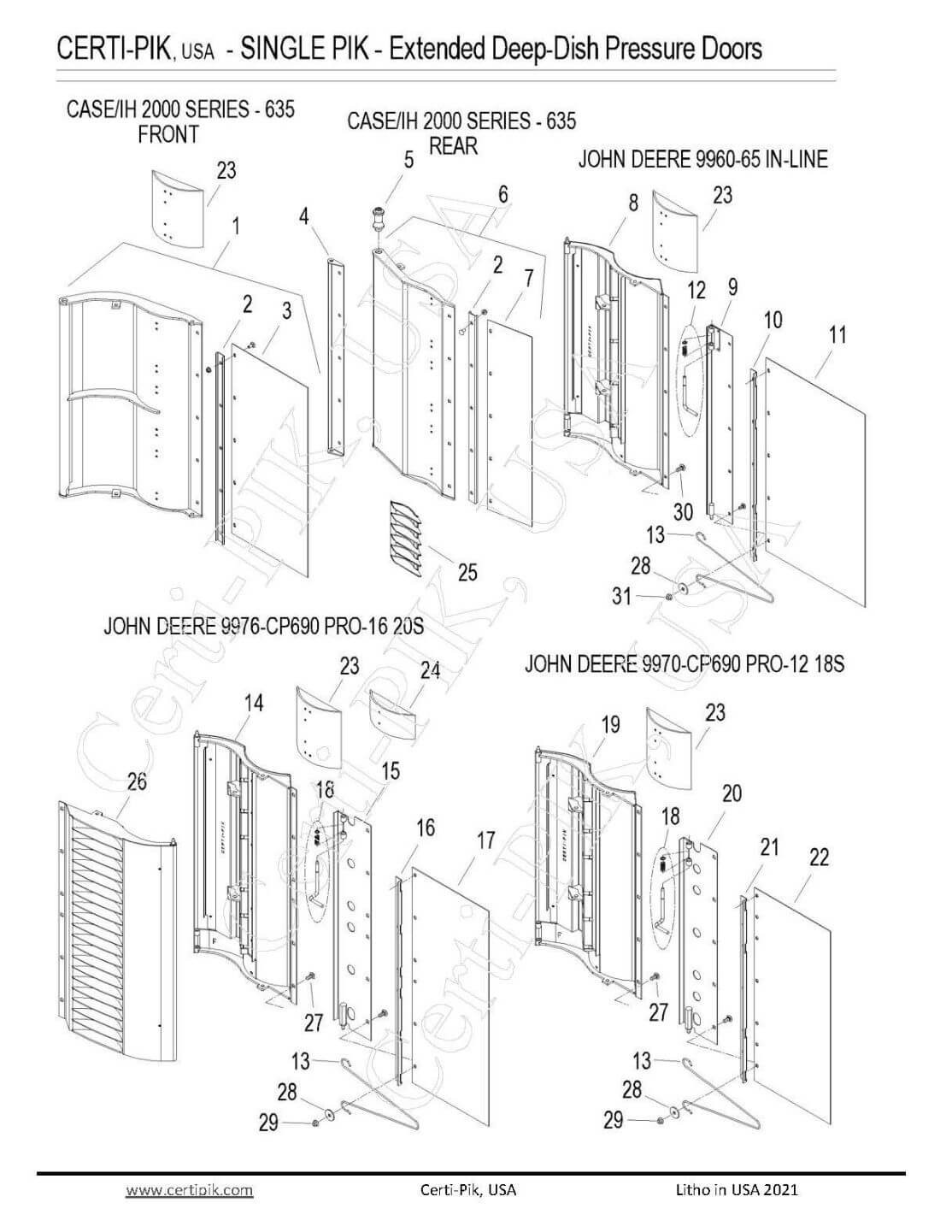 Certi-Pik, Usa Single Pik- Extended Deep-Dish Pressure Doors
CIH CTX Extended Deep Dish Doors
CIH extended deep dish doors help cotton harvesters put much more cotton in their baskets, in a shorter period of time, thus increasing efficiency and shortening the time you have to spend in the fields. Because they use specially designed scrapping plates, these doors are able to increase the volume of cotton which is processed internally in your harvester.
The special scrapping plates push cotton much further up on the spindle than do the traditional OEM scrapping plates, and they use more of the barbs on the spindle. Thus, more cotton is processed all at once than there would be if traditional scrapping plates were used, without the extended deep dish doors.
Components of Extended Deep Dish Doors
Like any other major assembly on a cotton harvester, individual components can wear out over time, and can become subject to failure if the situation is not detected in time. That's one excellent reason for inspecting your machinery periodically, so as to minimize the likelihood of components failure. When your machine goes down for any reason, you can't be productive, and cotton just sits in the field, where bad weather might interfere with its natural progression.
That makes it important for you to at least visually inspect the major components of the extended deep dish door assembly, so you don't have a problem that brings your operation to a halt. The first obvious component to check is the CTX ExtenDoor, these pressure plates should be checked for signs of wear. After that, you should check on all the bushings, extension clamps, pins, springs, scrapping plates, and spindles.
The failure of even the smallest part on a giant cotton harvester can either force a halt to your operation, or inhibit the smooth harvesting and good production which you're accustomed to. That's why a number of long-time professionals in the harvesting business routinely order some replacement components at the beginning of a harvesting season. Having these parts on hand when replacements are needed can save you some valuable time when your crop is waiting, and it can ensure that you spend the least amount of time possible in the fields.
If you're considering this yourself, we will be glad to work with you to get those critical parts expedited to you, so that you don't get a nasty surprise during harvesting season, and have to wait for replacement parts to arrive. Whenever you need any kind of aftermarket components or major assemblies for your Case IH machinery, the one place to contact right away is Certi-PIK USA.
Why Choose Certi-Pik, USA?
At Certi-Pik USA, quality and customer convenience are our priorities:
Easy ordering: To make ordering simple for you, you can get in touch with our team and send your order via email or fax. Feel free to place your CIH parts order at any time, around the clock, using our convenient and secure process. If you need guidance or have parts questions, call us for answers and we can also take your order on the call if you like.
Quality guarantee: We stand behind our products with a 90-day warranty against defects in manufacturing or materials. If on an extremely rare occasion you have a need to return a component, we inspect it and ship your replacement components free of charge, same day if humanly possible.
Fast shipment: When you order before noon, we ship products the same day if possible, and afternoon orders are shipped the next business day. We use UPS, choosing the service level needed to get the components to you on time (Ground, Next Day Air, 2nd Day Air, etc.)
Pay any way: Our flexible payment options help you manage your company budget with ease. Choose from bank wire transfer, Visa, MasterCard, Discover, American Express or COD (cash on delivery). Money orders are fine, too.
Get the CIH Water System Parts You Need! Our Experts Are Ready to Help
In order to provide convenient, one-stop ordering for all your cotton harvesting and aftermarket CIH water system needs, Certi-Pik, USA also sells a wide variety of specialized accessories and sheet metal parts for cotton-harvesting equipment rebuilds. Let the market leader in cotton harvester components provide every OEM-quality aftermarket component you need for your Case IH harvester. Contact Certi-Pik, USA online, or call (712) 752-8460 today.
---