Drumheads for John Deere
Premium Aftermarket Replacement Parts
Drumheads provide an essential function for any cotton harvester since it's the drum that is enabling the harvesting of cotton. The component that holds the bars and all the spindles is the drum, and the drumhead serves to enclose that whole unit. The high drum cotton pickers have bars that each hold 20 spindles, making the bar 20 spindles high. These are generally used to harvest taller cotton plants, slightly shorter plants use bars with 18 spindles. The earliest Cotton Harvesters used 14 spindle bars, and were known as 'low drum'. The low drum harvesters are obsolete and are possibly only found in museums.
As you might guess, the drums and drum heads are critical components for any cotton harvester, and if you have a problem with any of them, you probably won't be harvesting too much cotton any time soon. Some components to check within your drum heads are the rubber seals, bolts, and grease bushings. Each bar uses a U-cup seal and an O-ring seal. These should be checked periodically for wear as the picker bar sleeves oscillate within them when the arm, which is pressed onto the sleeve on top of the bar and locked into place by a key, is directed by the cam track. Drumhead bolts should be checked for tightness as they hold the Drumhead caps, and Pro bar journals in place. Grease bushings are used to direct grease into the bar journals on the Pro Machines. Picker bar sleeves and keys, cam rollers and cam tracks should also be checked for wear when servicing the Drumheads. The cam roller spins on top of the arm as it rides through the cam track making it necessary to check it for wear on the inside and outside of the roller.
Fortunately, Certi-Pik, USA stocks these drumheads, seals, sleeves, keys, bolts, grease bushings, bar journals, cam rollers, and cam tracks, so that you can quickly get a replacement sent to you, just by making a phone call or faxing us your order.
Buy Drumheads
When you need to buy drumheads or any parts for your harvester, the first place to turn to is Certi-Pik, USA. Our reliable replacement parts are the finest in the business, and you can count on them to hold up through hour after hour of harvesting in the fields. They also are compatible replacements for both equipment brands John Deere and Case/IH. When you're bringing in your cotton harvest, you don't want to be held up by broken parts that need replacing, and the best way to prevent that from happening is to use the best-made parts in the aftermarket business.
All our parts are made to the exact specifications of the most trusted machinery names in the cotton harvesting industry and our customers have relied on these parts for decades, because they perform reliably, day after day. You might be able to find cheaper drumheads somewhere on the foreign market, but then you'd be exposing your operation to greater risk for breakdowns and parts failures. When you're in this industry it's worth buying the best replacement parts in the country when it means that your harvesting operation can proceed from start to finish without interruption.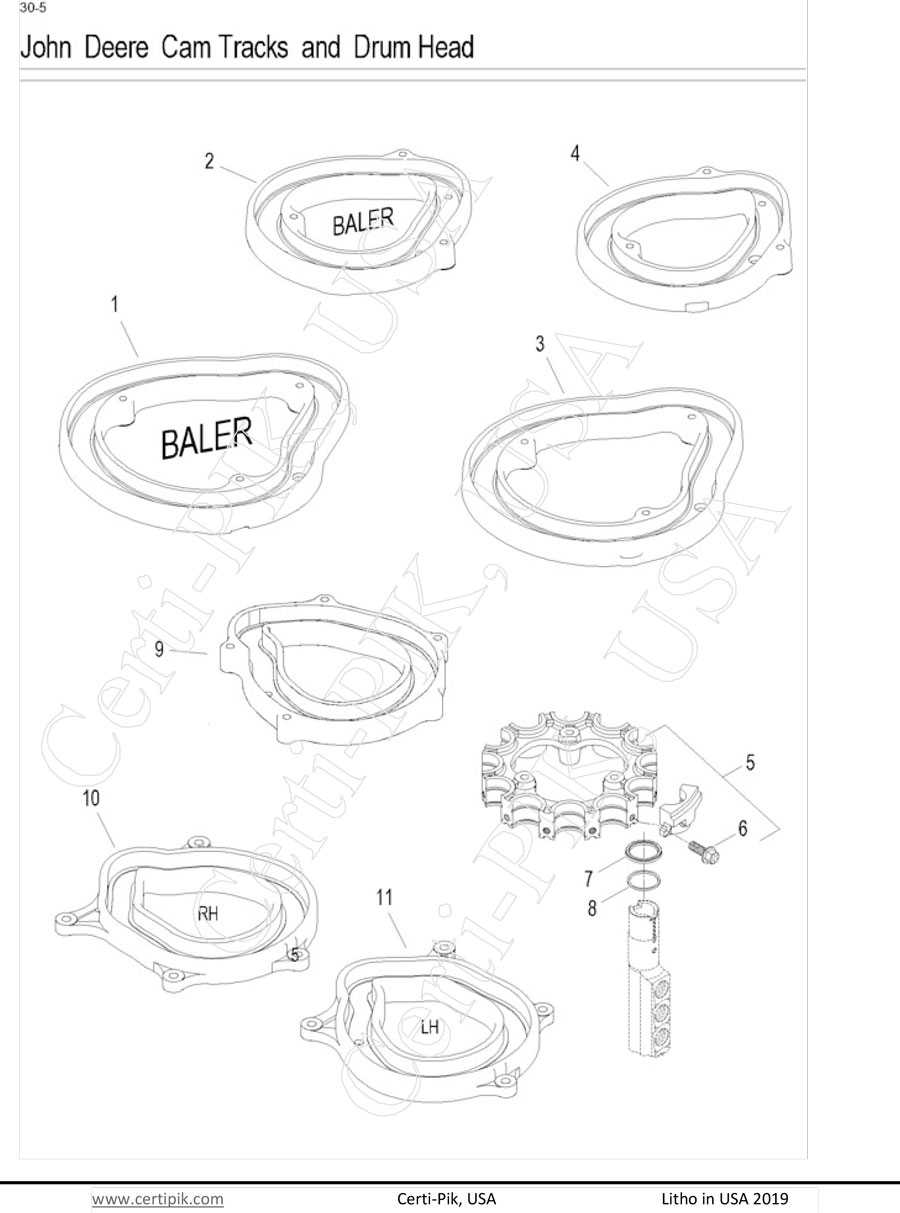 John Deere 9900-CP690 Cam Tracks and Drum Head
Why choose Certi-Pik, USA?
When you order your drumheads or other parts from us, we provide convenient payment options to quickly get your order to us. You can call us on the phone at 1-800-CERTIPIK, and tell us exactly what you need, or you can send us an email or fax with the product specifications if you prefer.
Payment's easy since we offer several payment methods to accommodate our customers and make it as convenient as possible for you. We can accept credit cards if you have Visa, MasterCard, Discover, or American Express, and we also accept a bank wire transfer if you prefer to pay that way. One final payment method we offer is cash on delivery (COD) if you would rather pay in cash via a Personal or Business Check when the merchandise arrives at your door.
Shipments are always handled as quickly as possible, in recognition of the fact that you are probably being held up, waiting on those drumheads in order to finish your work. When your order reaches us before noon, we try to have your shipment speeding on its way to you that same day, and when we get your order in the afternoon we do everything we can to get your merchandise shipped on the next business day. When it goes out, it will be on a reliable UPS Regular Ground Service truck, or Next Day Air, 2nd Day Air, or 3rd Day Select Service, whichever makes the most sense and will reach you the fastest.
Another reason why you should order from Certi-Pik, USA, is that a full 90-day warranty will cover any parts you order from us for any defects in workmanship or materials used for construction. Just send us the faulty part so we can inspect it and we'll see if you're eligible to have a replacement part sent to you, free of charge.
We also make ourselves available to you at our customer hotline, 1-800-CERTIPIK (237-8474), so you can track an order, place an order, or ask us anything at all about our products. Talk to us in person during our regular business hours, or leave a message if we are not in the office. We aim to please, and we'll be glad to handle any and all inquiries you may have about Certi-Pik, USA products or any of our company policies.
---