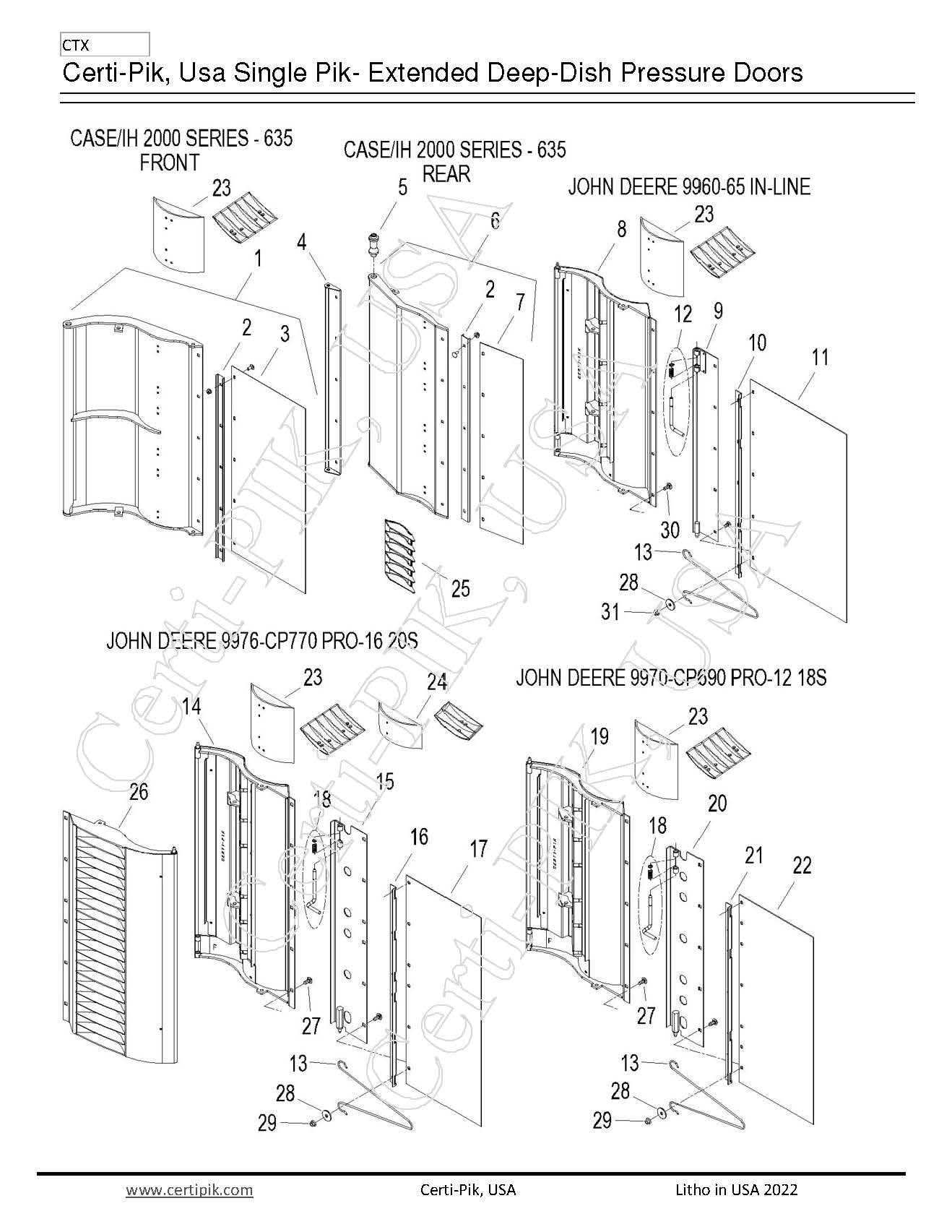 Certi-Pik, Usa Single Pik- Extended Deep-Dish Pressure Doors
JD CTX Extended Deep Dish Doors
If you've had trouble finding the components you need for your picking unit cabinets, save yourself the trouble of searching any further, and give us a call at Certi-Pik USA. We always have a The John Deere CTX Extended Deep Dish Doors are capable of harvesting more cotton and putting it in the basket, because of the longer and deeper picking zone, as well as the rigidity of the door. The CTX scrapping plates were designed specifically for these series of doors. These plates have the ability to push cotton a greater distance up the spindle due to the overall depth of the fins on the scrapping plates which allows for a greater amount of cotton to be captured, increasing your overall efficiency.
Ordering Extended Deep Dish Doors
Also available to customers who call in to have doors replaced on their John Deere Harvesters, various components are used with the doors including the OEM extensions: steel and plastic, clamps, pins, pin kits: which include the pin, spring and snap ring, hardware, and Certi-Pik's CTX scrapping plates. The scrapping plates are sold with attaching hardware. To be sure you're ordering the right parts for replacement, you should reference the part number itself to the service representative, so no errors are made, and so no valuable time is lost if the parts are ordered incorrectly which would require the correct parts to be shipped later.
When ordering the scrapping plates, there are two options that you will want to be aware of, the Top 2 Spindle CTX Scrapping Plate which is used on the top of the 20 spindle door, and the 5 Spindle CTX Scrapping Plate which has 3 used per door. Their part numbers respectively are 669970 and 669971. We also have available an all-steel door with welded in fins, which replaces the need to buy the aluminum scrapping plates. If you are concerned about the weight of your picking unit: the 20 spindle door with aluminum scrapping plates and the 20 spindle door with welded steel fins weigh approximately 38 pounds each.
Whether you are working on the front or rear of your picking unit, we have you covered. Again, when ordering any of these individual components, make sure to have either the Certi-Pik part number handy, or the OEM part number, so we can be sure of sending you exactly what you need the first time.
Why Choose Certi-Pik, USA?
At Certi-Pik USA, quality and customer convenience are our priorities:
Easy ordering: To make ordering simple for you, you can get in touch with our team and send your order via email or fax. Feel free to place your CIH parts order at any time, around the clock, using our convenient and secure process. If you need guidance or have parts questions, call us for answers and we can also take your order on the call if you like.
Quality guarantee: We stand behind our products with a 90-day warranty against defects in manufacturing or materials. If on an extremely rare occasion you have a need to return a component, we inspect it and ship your replacement components free of charge, same day if humanly possible.
Fast shipment: When you order before noon, we ship products the same day if possible, and afternoon orders are shipped the next business day. We use UPS, choosing the service level needed to get the components to you on time (Ground, Next Day Air, 2nd Day Air, etc.)
Pay any way: Our flexible payment options help you manage your company budget with ease. Choose from bank wire transfer, Visa, MasterCard, Discover, American Express or COD (cash on delivery). Money orders are fine, too.
Get the CIH Water System Parts You Need! Our Experts Are Ready to Help
In order to provide convenient, one-stop ordering for all your cotton harvesting and aftermarket CIH water system needs, Certi-Pik, USA also sells a wide variety of specialized accessories and sheet metal parts for cotton-harvesting equipment rebuilds. Let the market leader in cotton harvester components provide every OEM-quality aftermarket component you need for your Case IH harvester.
Contact Certi-Pik
, USA online, or call
(712) 752-8460
today.
---