CIH CTX Extended Deep Dish Doors Page
CIH extended deep dish doors help cotton harvesters put much more cotton in their baskets, in a shorter period of time, thus increasing efficiency and shortening the time you have to spend in the fields. Because they use specially designed scrapping plates, these doors are able to increase the volume of cotton which is processed internally in your harvester.
The special scrapping plates push cotton much further up on the spindle than do the traditional OEM scrapping plates, and they use more of the barbs on the spindle. Thus, more cotton is processed all at once than there would be if traditional scrapping plates were used, without the extended deep dish doors.
Components of Extended Deep Dish Doors
Like any other major assembly on a cotton harvester, individual components can wear out over time, and can become subject to failure if the situation is not detected in time. That's one excellent reason for inspecting your machinery periodically, so as to minimize the likelihood of parts failure. When your machine goes down for any reason, you can't be productive, and cotton just sits in the field, where bad weather might interfere with its natural progression.
That makes it important for you to at least visually inspect the major components of the extended deep dish door assembly, so you don't have a problem that brings your operation to a halt. The first obvious component to check is the CTX ExtenDoor, these pressure plates should be checked for signs of wear. After that, you should check on all the bushings, extension clamps, pins, springs, scrapping plates, and spindles.
The failure of even the smallest part on a giant cotton harvester can either force a halt to your operation, or inhibit the smooth harvesting and good production which you're accustomed to. That's why a number of long-time professionals in the harvesting business routinely order some replacement parts at the beginning of a harvesting season. Having these parts on hand when replacements are needed can save you some valuable time when your crop is waiting, and it can ensure that you spend the least amount of time possible in the fields.
If you're considering this yourself, we will be glad to work with you to get those critical parts expedited to you, so that you don't get a nasty surprise during harvesting season, and have to wait for replacement parts to arrive. Whenever you need any kind of aftermarket parts or major assemblies for your Case IH machinery, the one place to contact right away is Certi-PIK USA.
Where to Buy CIH Extended Deep Dish Doors
When you need to replace your Case IH extended deep dish doors, or if you have to replace any of the critical components which make up these doors, your best bet is to contact us at Certi-PIK USA. We always keep these components in stock, and you won't find a better price for these high-quality parts anywhere in the country. We have been one of the biggest dealers of Case IH aftermarket parts for quite a number of years now, and we have always provided the best quality at the most affordable prices.
Contact us today with any inquiries you might have, or to place an order. If we receive your order in the morning, we can have those important aftermarket parts shipped out to you that same afternoon, so your harvesting operation will not be held up waiting for parts. We have become the most trusted and reliable dealer of aftermarket high-quality cotton harvester parts in the country, and we are just waiting to prove that to you on your next order.
Replacement Extended Deep Dish Doors For Case IH Cotton Pickers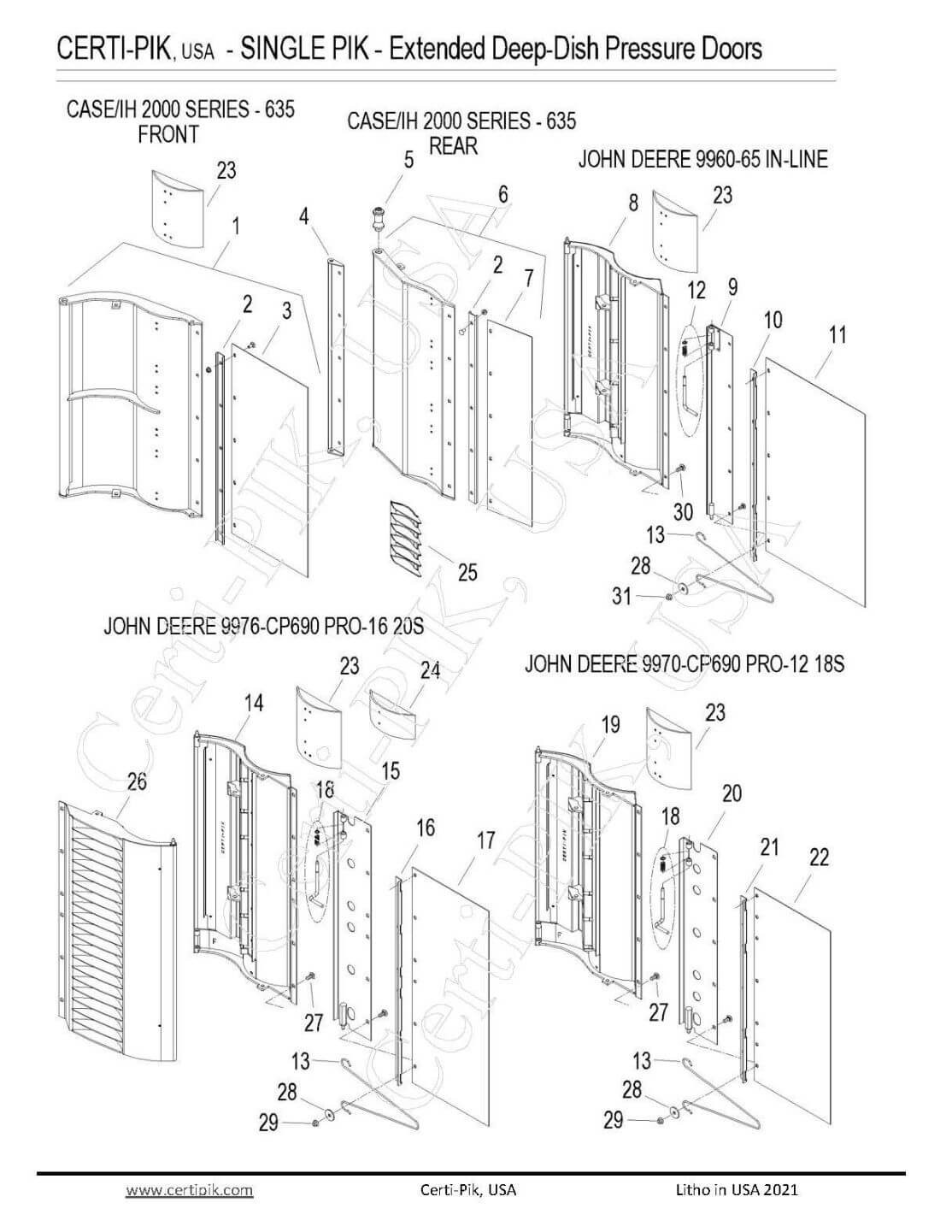 Certi-Pik, Usa Single Pik- Extended Deep-Dish Pressure Doors
Certi-Pik, Usa Single Pik- Extended Deep-Dish Pressure Doors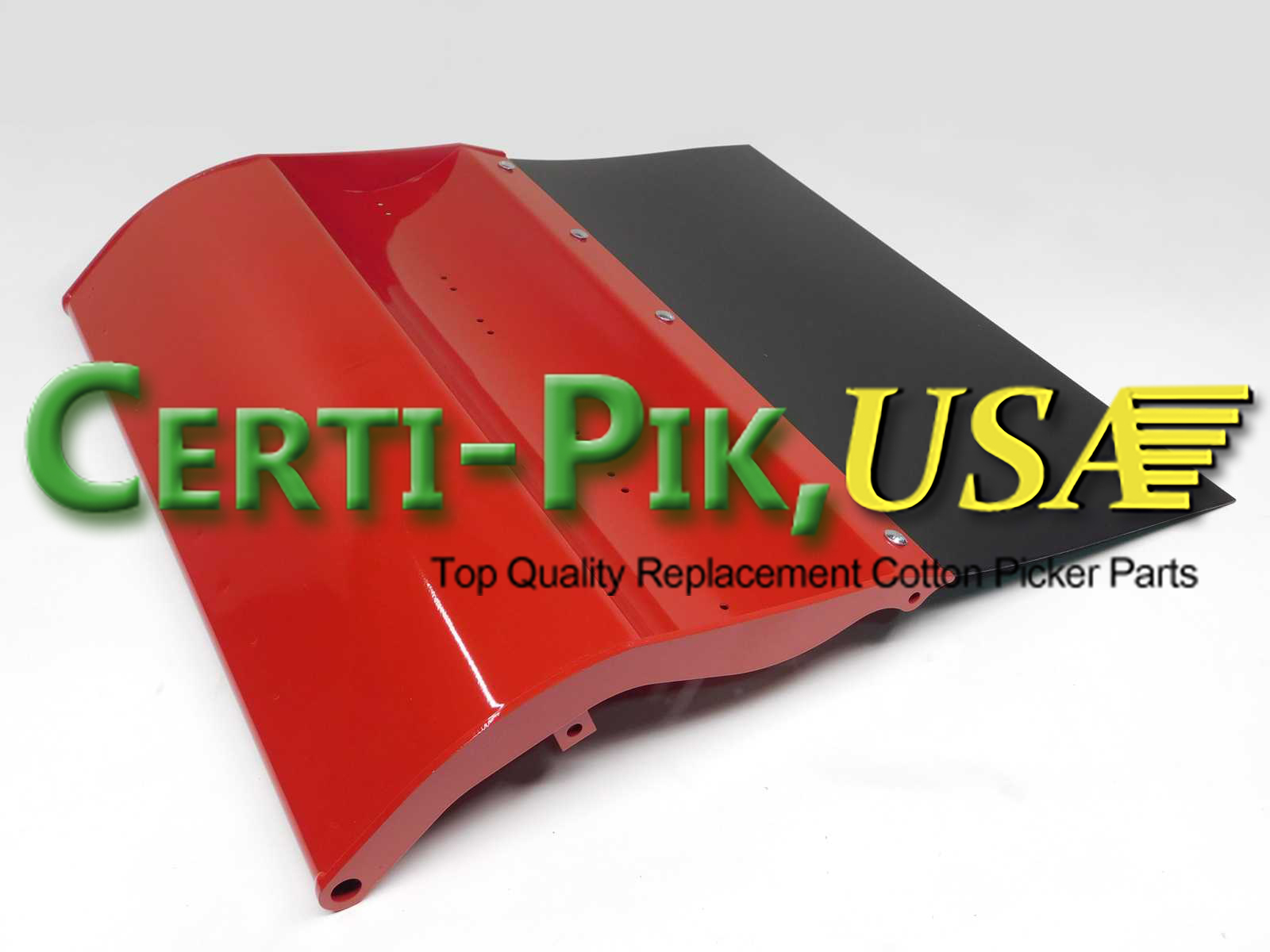 Description: Single Pik – CTX ExtenDoor – CASE/IH- R.H. FRONT GUIDE (SOLD WITH: CTX20CL, CTX20FE & HARDWARE: 5x 01540P & 5x 10213P) REP. ALL 2000 SER. THRU 635 M.E. OEM GUIDES (USES 3x #669970 S.P.) (ILLUSTRATED)
OEM Part: 87669791
Section: Picking Unit Cabinet
Certi-Pik, Usa Single Pik- Extended Deep-Dish Pressure Doors
---