Case-IH CTX Extended Deep Dish Doors
Cotton pickers are necessary machinery for cotton farmers to make the harvesting process more manageable. Cotton farmers should stay on high alert on new agriculture technology, which helps maintain productivity. At Certi-Pik, USA, we endeavor to provide the highest quality cotton picker parts in the market. If you're looking for parts for the Extended Deep Dish Doors on your Case IH Cotton Picker, we are your trusted sourcing partner.
What You Need to Know About your Extended Deep Dish Doors
The function of the extended deep-dish door is to allow for more efficient cotton collection by pulling more cotton into the baskets during regular operation. In addition to increasing efficiency, the extended deep-dish doors shorten the overall time spent on the cotton field. The CTX extended deep-dish doors are equipped with an improved design in the scrapping plates which, unlike the regular OEM scrapping plates, help increase the amount of cotton processed in your cotton picker.
For a smoother harvest, cotton farmers should regularly inspect their machinery for potential failures. Failures due to loose, missing, or worn-out parts can completely halt the harvesting process, which is unsuitable for your business. Farmers should replace worn-out parts from reputable companies licensed to sell products like Certi-Pik USA in order to receive high-quality, aftermarket parts for your Case IH cotton picker.
Parts For Your Extended Deep Dish Doors
Some of the parts that are prone to failure on the extended deep-dish doors include:
Pressure Plates: These should be inspected often by farmers as they will experience regular wear and tear from use, requiring replacement.
Spindles and Springs: These parts can easily experience damage over continued use.
Scrapping Plates: These pieces of equipment tend to become dull over time.
Extension Clamps and Bushing: These may break after several harvests.
Pins: These parts will become loose and ultimately break off with frequent use of the Case IH cotton picker.
Inspection, repair, replacement, and maintenance of the cotton picker doors helps owners stay on top of minor issues resolved to avoid significant problems in the future.
You need to get your cotton pickers running properly prior to the harvesting season to avoid any possibilities of delaying the harvest process. You can even pre-purchase the parts that require frequent replacement to have them at your disposal during harvest. This way, if there is a breakdown, the pieces are immediately accessible. Extended deep-dish door parts are available at Certi-Pik USA, ranging from bushings, spindles, extension clamps, scrapping plates, pins, and springs.
Contact Certi-Pik
Certi-Pik USA has genuine extended deep-dish door components, and we can have the parts shipped to you in no time. Our products come with a 90-day warranty in Case the product sent to you is faulty, and the replacement shipped to you for free. Certi-Pik USA has easy ordering, fast shipment and offers multiple ways to pay for the parts whether in Visa, money orders, cash on delivery, MasterCard, or Discover. Contact us today at (712) 752-8460 or fill out our online contact form.
Replacement Extended Deep Dish Doors For Case IH Cotton Pickers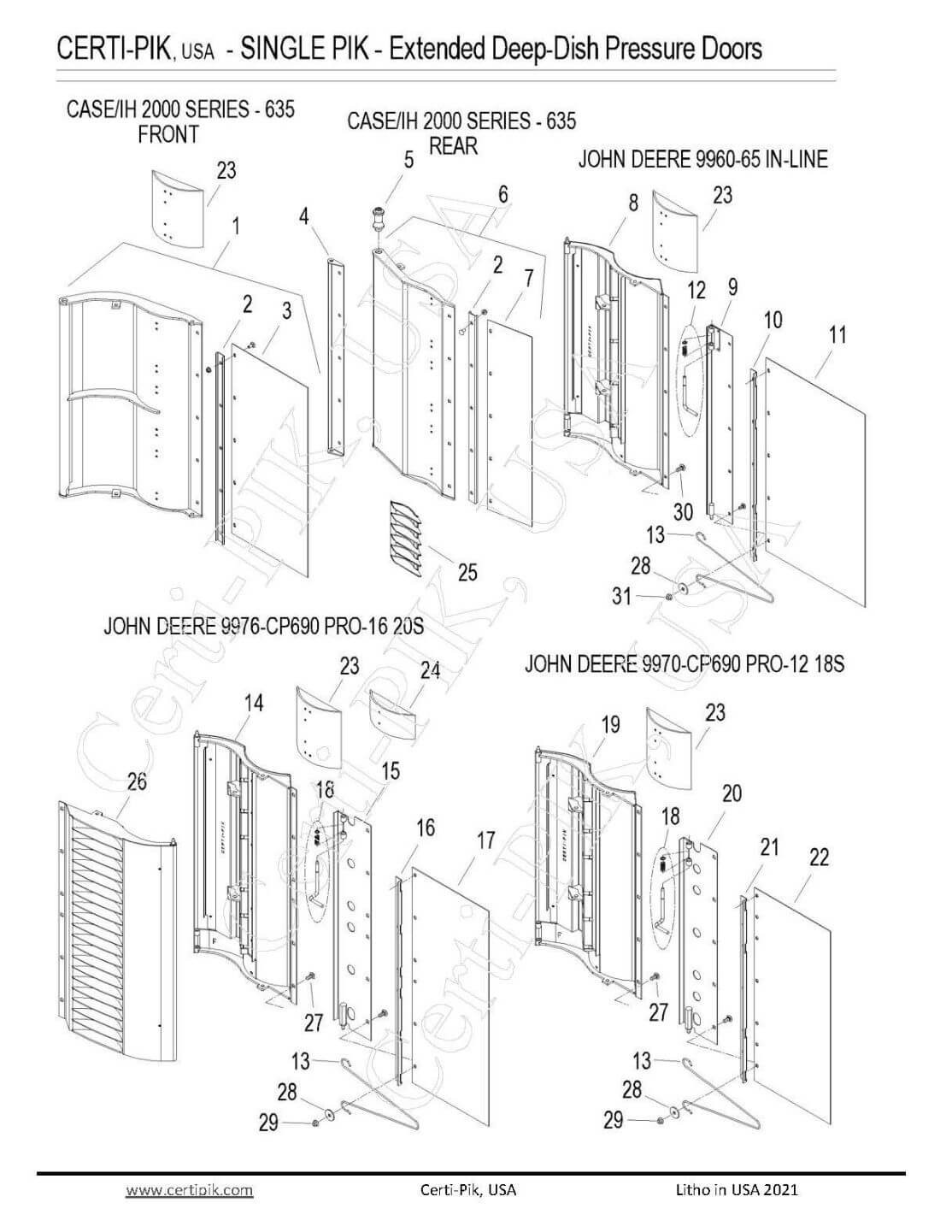 Certi-Pik, Usa Single Pik- Extended Deep-Dish Pressure Doors
Certi-Pik, Usa Single Pik- Extended Deep-Dish Pressure Doors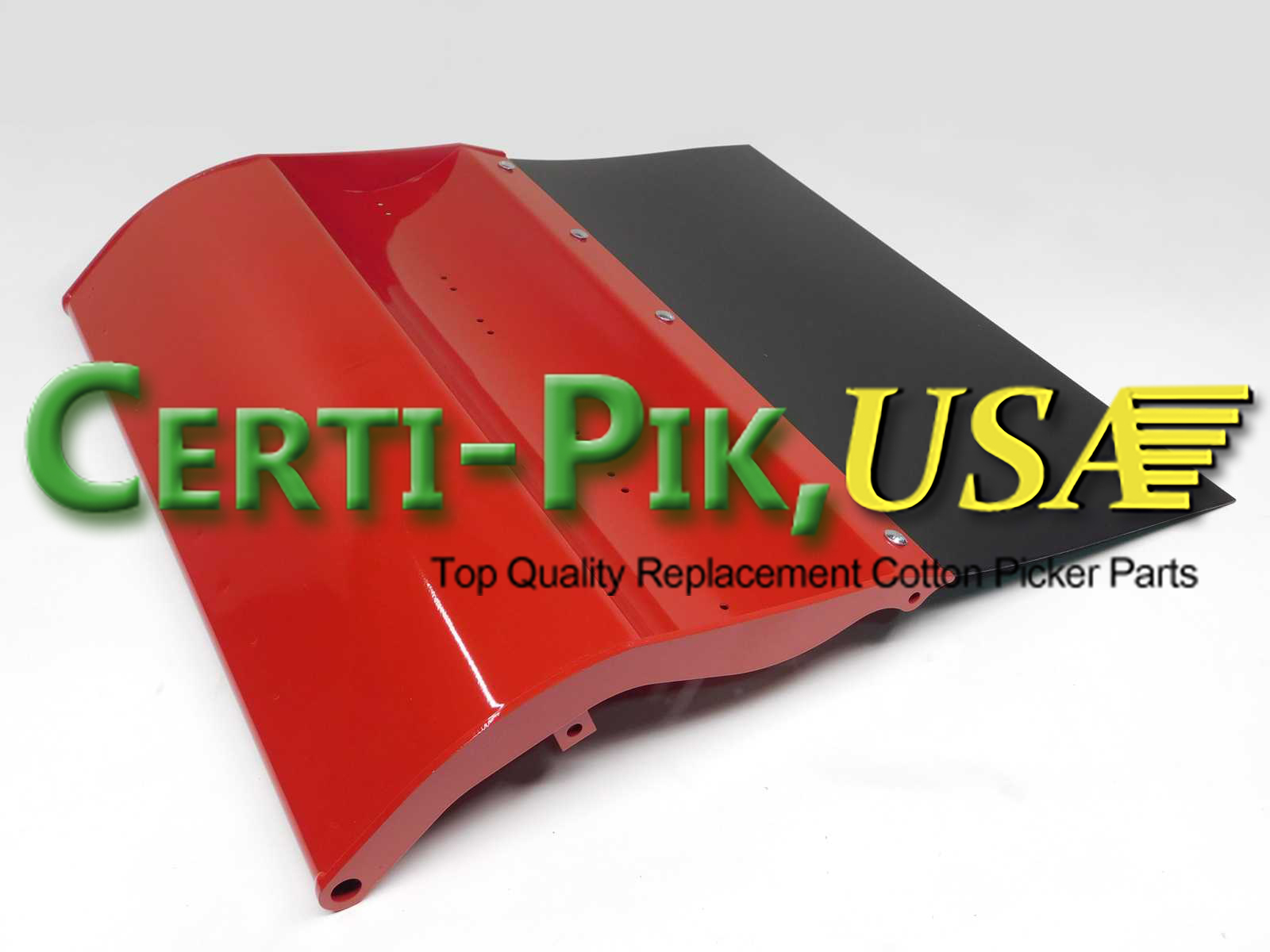 Description: Single Pik – CTX ExtenDoor – CASE/IH- R.H. FRONT GUIDE (SOLD WITH: CTX20CL, CTX20FE & HARDWARE: 5x 01540P & 5x 10213P) REP. ALL 2000 SER. THRU 635 M.E. OEM GUIDES (USES 3x #669970 S.P.) (ILLUSTRATED)
OEM Part: 87669791
Section: Picking Unit Cabinet
Certi-Pik, Usa Single Pik- Extended Deep-Dish Pressure Doors
---