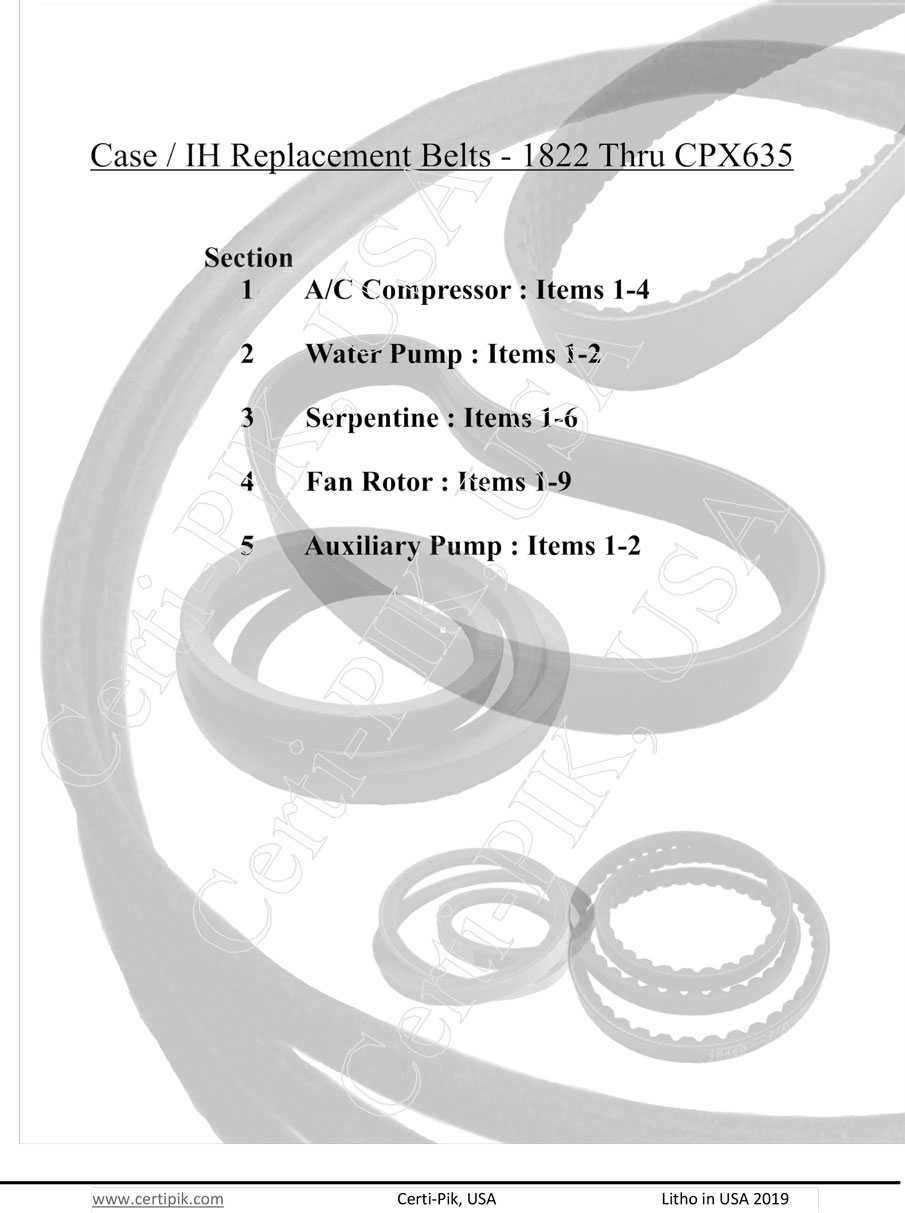 Case / IH Replacement Belts – 1822 Thru 635 Mod Exp
Case IH Belts
Case IH belts are products which are essential to the smooth operation of your cotton-harvesting equipment and that means you need top-notch replacement parts when they become worn or suffer any kind of damage during usage. Regular inspections should catch excessive wear and tear so that you'll be able to replace worn belts before they fail during operation, and periodic maintenance will help to extend their shelf lives so they last longer and provide greater service during the harvest season.
Component Parts of the Picking Unit System
At Certi-Pik USA, we can offer the highest quality aftermarket replacement parts for your Case IH belts, as well as all those parts related to the belt conveyance system. We stock aftermarket serpentine, fan rotor belts (middle, front, and rear), the fan rotor itself, engine fan drive assemblys, water pump systems belt options, the 41.5″ A/C Compressor belt, the 38.5″ A/C Compressor belt, and aftermarket auxiliary pump belts. For vintage Case IH belt systems, we carry compatible aftermarket belts for the following applications: A/C compressor belts, water pump systems, engine fan, generator and alternator (including the 47″, 49.5″, and the 54″ versions), fan rotors, the fan rotor countershaft, main drives, propulsion variable speed drives, drum drives, and aftermarket hydraulic pumps.
When you order any of these aftermarket parts or sub-assemblies from us, you can count on them being capable of withstanding the rigors of an intense harvesting season, so they won't let you down and bring your operation to a halt. We stand by our products as being the best available on the market, while also being the most affordable you can buy anywhere. You simply won't find better components anywhere in the country.
Place your order today using one of our several convenient payment methods, and your aftermarket parts will be on their way to you promptly so you won't be kept waiting. When ordering, make sure to use either our part number for the replacements or the OEM part number, so there are no mistakes made about the exact part you need. This can save time and avoid misunderstandings like having the wrong part shipped, which will result in a delay for getting the correct part on its way to you. Taking a little more time to get the order right will save time in the long run, because it ensures that we're all on the same page with the right components.
Even the top cotton harvesting machines being sold today will eventually experience some worn or failed parts, just by the nature of the intense harvesting season and the demands made upon the harvester. Knowing that your cotton-picking equipment will be subject to this natural wear and tear means you should conduct your own inspections before harvesting season and occasionally during the season as well. When you spot something that looks like it could develop into an issue, give us a call, and we can have replacement aftermarket components sent to your location that same day.
Why Choose Certi-Pik, USA?
At Certi-Pik USA, quality and customer convenience are our priorities:
Easy ordering: To make ordering simple for you, you can get in touch with our team and send your order via email or fax. Feel free to place your CIH parts order at any time, around the clock, using our convenient and secure process. If you need guidance or have parts questions, call us for answers and we can also take your order on the call if you like.
Quality guarantee: We stand behind our products with a 90-day warranty against defects in manufacturing or materials. If on an extremely rare occasion you have a need to return a component, we inspect it and ship your replacement components free of charge, same day if humanly possible.
Fast shipment: When you order before noon, we ship products the same day if possible, and afternoon orders are shipped the next business day. We use UPS, choosing the service level needed to get the components to you on time (Ground, Next Day Air, 2nd Day Air, etc.)
Pay any way: Our flexible payment options help you manage your company budget with ease. Choose from bank wire transfer, Visa, MasterCard, Discover, American Express or COD (cash on delivery). Money orders are fine, too.
Get the CIH Water System Parts You Need! Our Experts Are Ready to Help
In order to provide convenient, one-stop ordering for all your cotton harvesting and aftermarket CIH water system needs, Certi-Pik, USA also sells a wide variety of specialized accessories and sheet metal parts for cotton-harvesting equipment rebuilds. Let the market leader in cotton harvester components provide every OEM-quality aftermarket component you need for your Case IH harvester. Contact Certi-Pik, USA online, or call (712) 752-8460 today.
---