CIH Belts
Case IH belts are products which are essential to the smooth operation of your cotton-harvesting equipment and that means you need top-notch replacement parts when they become worn or suffer any kind of damage during usage. Regular inspections should catch excessive wear and tear so that you'll be able to replace worn belts before they fail during operation, and periodic maintenance will help to extend their shelf lives so they last longer and provide greater service during the harvest season.
Belts and related components
At Certi-Pik USA, we can offer the highest quality aftermarket replacement parts for your Case IH belts, as well as all those parts related to the belt conveyance system. We stock aftermarket serpentine belts, fan rotor belts (middle, front, and rear), the fan rotor itself, engine fan drive assembly belts, water pump systems belts, the 41.5″ A/C Compressor belt, the 38.5″ A/C Compressor belt, and aftermarket auxiliary pump belts. For vintage Case IH belt systems, we carry compatible aftermarket belts for the follwing applications: A/C compressor belts, water pump systems, engine fan, generator and alternator (including the 47″, 49.5″, and the 54″ versions), fan rotors, the fan rotor countershaft, main drives, propulsion variable speed drives, drum drives, and aftermarket hydraulic pumps.
When you order any of these aftermarket parts or sub-assemblies from us, you can count on them being capable of withstanding the rigors of an intense harvesting season, so they won't let you down and bring your operation to a halt. We stand by our products as being the best available on the market, while also being the most affordable you can buy anywhere. You simply won't find better parts anywhere in the country.
Place your order today using one of our several convenient payment methods, and your aftermarket parts will be on their way to you promptly so you won't be kept waiting. When ordering, make sure to use either our part number for the replacements or the OEM part number, so there are no mistakes made about the exact part you need. This can save time and avoid misunderstandings like having the wrong part shipped, which will result in a delay for getting the correct part on its way to you. Taking a little more time to get the order right will save time in the long run, because it ensures that we're all on the same page with the right parts.
Even the top cotton harvesting machines being sold today will eventually experience some worn or failed parts, just by the nature of the intense harvesting season and the demands made upon the harvester. Knowing that your cotton-picking equipment will be subject to this natural wear and tear means you should conduct your own inspections before harvesting season and occasionally during the season as well. When you spot something that looks like it could develop into an issue, give us a call, and we can have replacement aftermarket parts sent to your location that same day.
Why Choose Certi-Pik USA?
When you're ordering replacement parts for your cotton-harvesting machine, you need high-quality, reliable parts that you can count on to not break down during the high stresses they're exposed to during operation. You'll also want to place your order with a company that understands how time is money in the harvesting business, and that any downtime means losing money. We ship your orders out at the very earliest opportunity, often the same day that we receive your order. Contact us at Certi-Pik USA, so we can show you why we're the dealer of choice for so many of today's cotton-harvesting enterprises around the world.
Case IH Cotton Picker Belts
Please select your part from the following section assemblies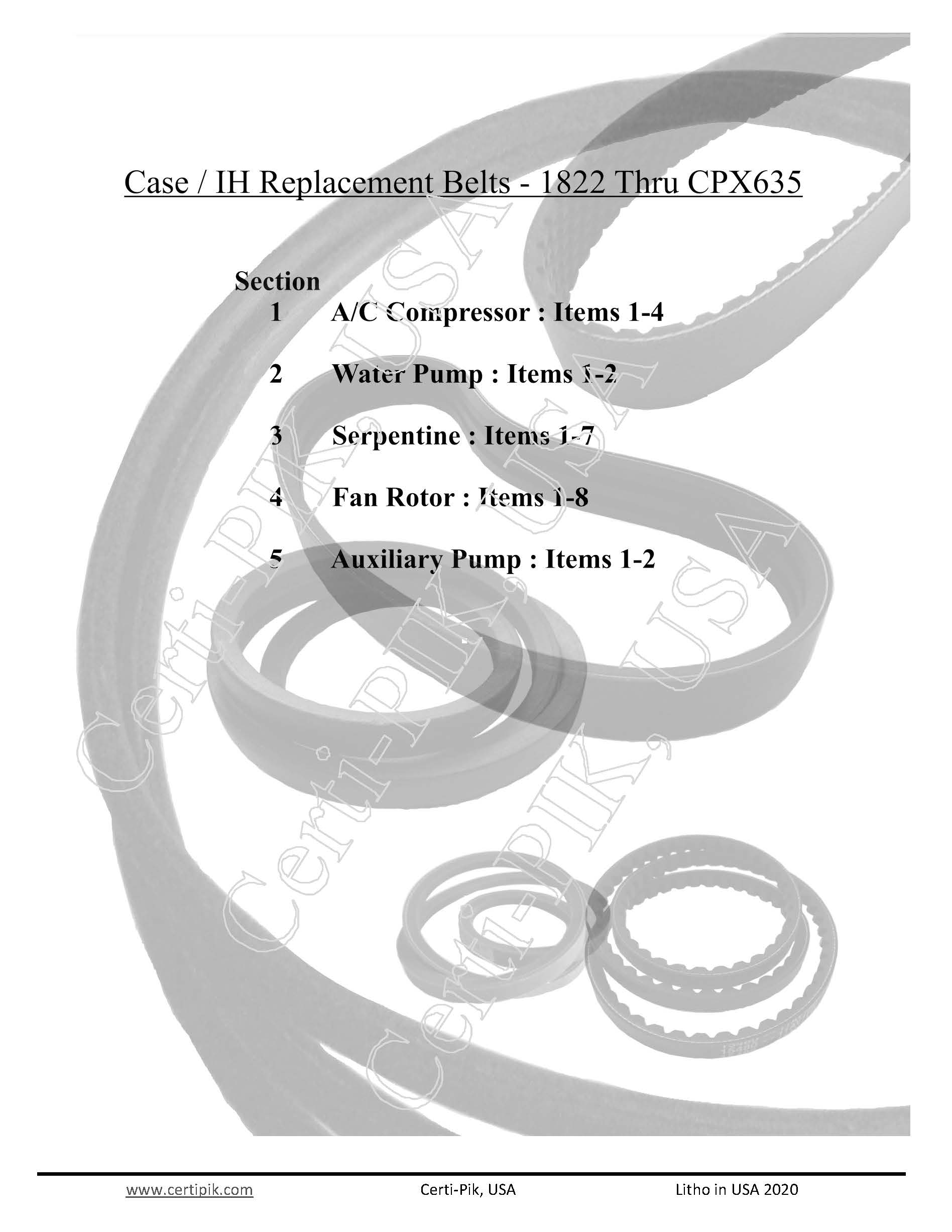 Case / IH Replacement Belts – 1822 Thru CPX635
Case / IH Replacement Belts – 1822 Thru CPX635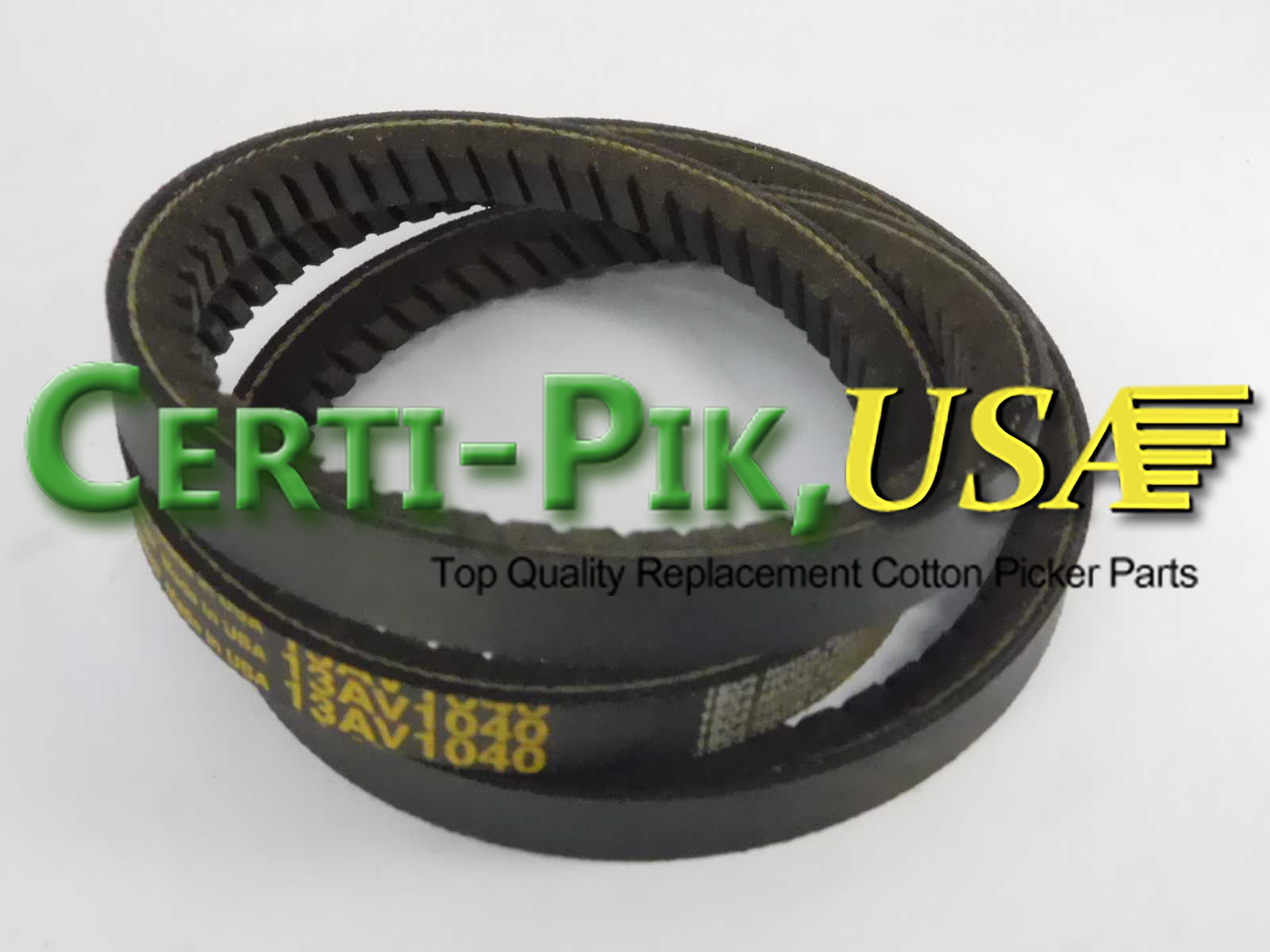 Description: A/C COMP. – (41.5″ BELT LENGTH) 1822 (S/N JJC0012691 & above) – 1844 (S/N JJC0002462 & above), 2022, 2044, 2055
OEM Part: 1250587C1
Section: Belts
Case / IH Replacement Belts – 1822 Thru 635 Mod Exp
---