Case IH Module Express FAQs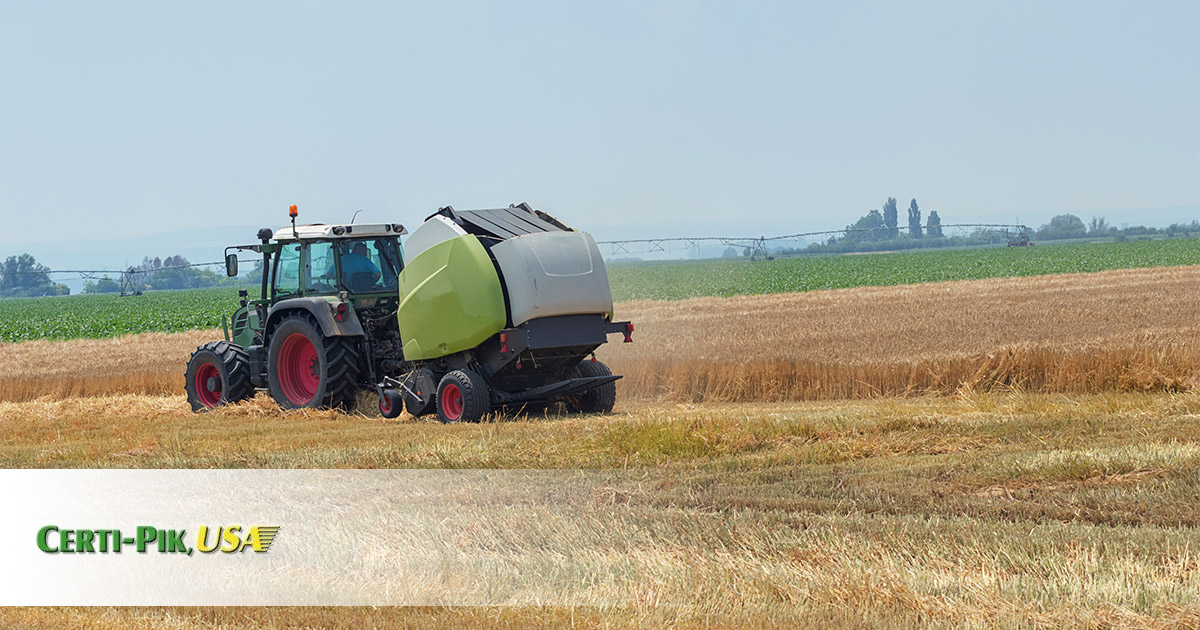 The Case IH Module Express is a high-performance cotton picker designed to help you streamline the harvest process while reducing equipment and labor investment. This machine picks cotton at great efficiency and builds beginner-friendly modules at the same time, effectively ensuring you spend less time in the fields. Despite the impressive features that the harvesting equipment offers, it is important to be sure it will meet your needs before investing in one. Here is some information to help you:
What are the Engine Specs?
The Case IH Module Express comes with an 8.7-liter, six-cylinder FPT engine. This powerful engine has a rated horsepower of 400 and capable of churning out to 415 horsepower. There is also a high output alternator that delivers 185 amps so that there is sufficient charge to power the different functions of the picker. The engine is paired with a three-range hydrostatic transmission and drive system. These two support a picking speed of 4.2 mph in first gear, a scrapping speed of 5.2 mph in second gear, and a transport speed of 16.5 mph.
What are the Harvesting Specs?
This cotton harvesting equipment features six-row units and automatic electronic height sensing. Each row-unit has two drums; one on each side of the row and 12 bars per drum. Further, there are 18 spindles per bar and 432 spindles per row unit, bringing the total to 2,592 spindles per machine. In addition, the equipment covers narrow row spacings at 30, 32, and 34 inches and wide row spacings at 36, 38, and 40 inches. All of these specifications ensure maximum efficiency when picking cotton.
How Much Does a Used Unit Cost?
While owning a harvester will offer great convenience, buying the equipment is a huge investment. If you do not have enough money to pay for a new one upfront, you can consider buying a used one. A used unit will cost anything from $120,000 to $425,000. The price will depend on factors like the year of manufacture, the machine's condition, separator hours, and engine hours.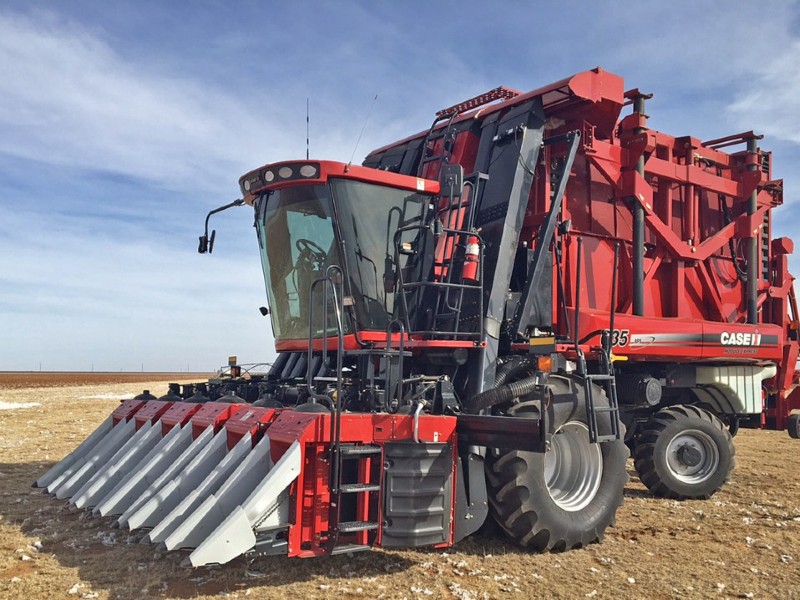 What's the Price of a Brand New One?
A brand new
Module Express
will be significantly more expensive than a used one, with prices starting at $500,000. While the price tag may be hefty, you will be sure that the model comes with the latest technology. Depending on the dealer you choose, you may also access financing at a friendly interest rate. The equipment will come with a warranty, allowing you to focus on your harvesting operation in the knowledge that you will enjoy dependable performance.
How Large is the Accumulator?
The six-row wide picker accumulator lets you pick more per hour, per day and per harvesting season. The high-volume accumulator makes it possible to process more material as it is being harvested. This not only helps you spend less time in the fields but also reduces your harvesting costs. The six rows of the accumulator can be in narrow spacings of 30, 32, and 34 inches or wide spacings of 36, 38, and 40 inches.
What's the Average Baler Amount Per Roll?
The rectangular bale has a volume of 1,024 cubic feet. It produces modules that measure 8 X 8 X 16 feet, each weighing between 4,000 and 10,000 pounds. The large modules are easy to load and transport to the sides of the field, a factor that makes work easier and reduces your labor costs. A single bale can produce between 2.5 and 6.5 standard cotton bales.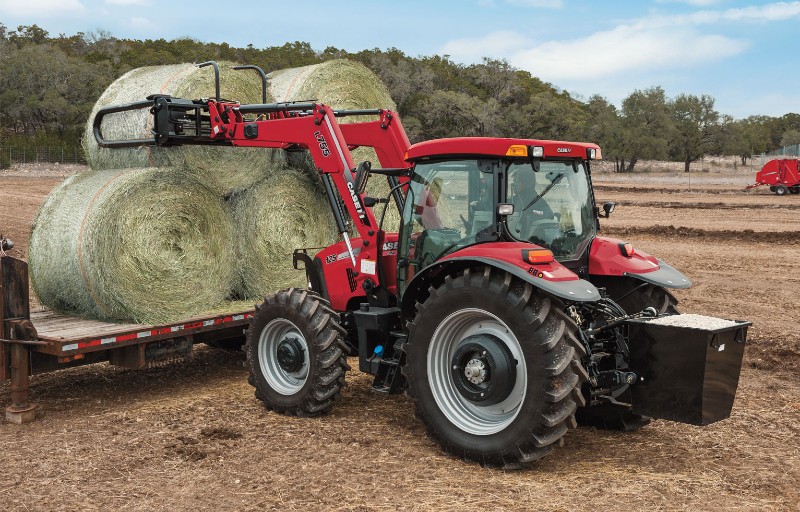 What Years are This Model Available in?
When you make the decision to buy this picker, you will have a number of options to choose from in terms of years of manufacture. The Case IH Module Express is available in models from 2011 to 2020. Each subsequent model has significant improvements over its predecessor, with the 2020 model offering the latest technology and features. However, subsequent models are also costlier than the previous ones. You will have to look at the model that fits your needs and budget.
Where Can I Buy Replacement Parts?
When you are looking for replacement components for damaged or worn-out components, you can choose either original equipment manufacturer (OEM) parts or aftermarket parts.
OEM Parts
When you buy OEM parts, you can be sure of quality and compatibility. OEM replacement parts can be purchased directly from the manufacturer, Case IH.
Aftermarket Parts
Provided you choose a reliable supplier,
aftermarket parts
will deliver the same quality as OEM parts at a fraction of the cost. Certi-Pik, USA, stocks a wide range of aftermarket parts for this picker.
How Much do Replacement Parts Cost?
Cost is an important consideration when it comes to buying replacement parts. Generally, the cost of replacement parts can reach into the thousands. However, this will depend on the specific components you are looking for. Whether you want to buy OEM or aftermarket parts, you should never compromise on quality in an attempt to save money. Quality parts will keep your machine functioning optimally and save you money in the long run.
Where Can I Buy a New Model?
A new model can be purchased through the company's licensed dealers. One of the benefits of buying from a dealer is that there will be minimal repairs, and the machine will come with a warranty. The dealership may also offer financing at friendly rates, making it easier for you to own the equipment. Simply visit the manufacturer's website, select your region, and begin building your new piece of equipment.
Where Can I Buy a Used Model?
Although used models will be cheaper, buying them requires that you do due diligence. With the huge investment that goes into purchasing the equipment, you will want to be sure that it is in good condition. This will help you avoid the costs and headaches associated with frequent repairs and breakdowns. Some of the authorized dealers may also sell used models. In addition, you can consider resale sites such as TractorHouse that are dedicated to this.
What is the Charge Per Acre?
Harvesting is one of the critical and costly operations when it comes to cotton production. When farmers are looking for harvesting equipment, they usually have the option to buy or hire the machines. Each of the options has its advantages and disadvantages. When comparing the cost of the two, you should use this formula:
Breakeven acres = Total annual harvest equipment fixed costs/ Custom rate/ acre – Variable cost/acre
Generally, a producer who owns harvesting equipment will have variable costs of $22.31 per acre. On the other hand, a farmer who hires a custom harvester will spend around $81.26 per acre. It is no wonder that most producers who can afford choose to buy the equipment.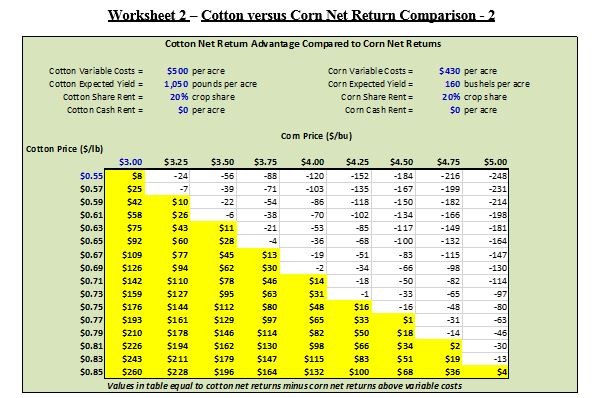 What is the Max Row Unit Sync Speed?
This is a machine that takes performance to a whole new level. With a maximum row-unit sync speed of 5.2 miles per hour, the picker allows you to harvest quickly without compromising picking efficiency. At this speed, the vehicle ground speed, bars, and spindles will be well-synchronized to ensure high performance and maximum output.
What's the Peak Horsepower?
This model features a powerful Case IH FPT 8.7-liter engine and three-range hydrostatic transmission. With these specifications, the picker has a peak engine horsepower of 400 hp. This power is enough not only to finish the harvesting process quickly but also to enable the machine to work under tough field conditions. All-day power lets you cover large fields in a relatively short period of time, effectively delivering impressive cost-per-acre harvest savings.
What is Case IH's Automatic Intelligent Auger Packing System?
This is an advanced system of
sensors and augers
in the bale-building chamber that moves material automatically while the bale is being compressed. The system delivers consistent, rectangular modules that endure exposure to the weather and can be ginned excellently. This system is designed to improve efficiency and save you time during the harvesting process, effectively making your operations seamless.
What are the Bale Dimensions?
Each of the rectangular modules that the machine creates measures 8 X 8 X 16 feet. The large size of the modules makes it possible to manage harvests from large fields. Since you will end up with fewer modules after harvesting, it will also be easy to load and transport material from different fields to a central location.
What is the Bale Weight?
Each of the modules that the machine creates weighs between 4,000 pounds and 10,000 pounds. Considering the power and efficiency of the harvesting equipment, this weight allows you to load and transport the harvested product conveniently. The modules also produce a reasonable number of standard bales.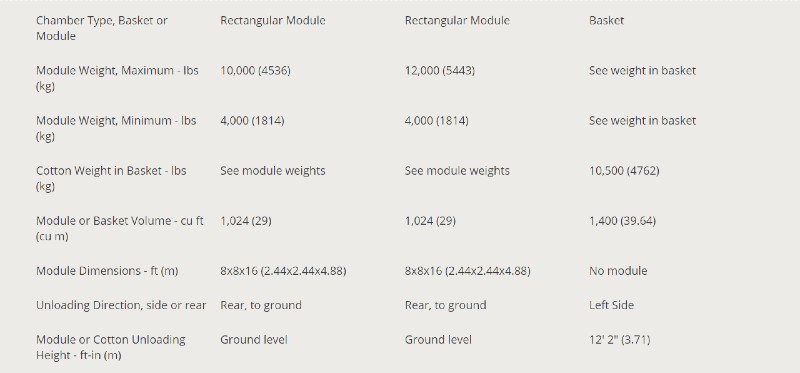 What are Extenda-Wear Plus Spindles?
Extenda-Wear Plus spindles have a superior barb pattern for increased picking efficiency and 90-micron chrome thickness that delivers maximum durability. This keeps the spindles working even under difficult conditions and allows you to harvest your field all day, day after day and season after season.
These spindles
are meant to save you time and enhance profitability.
How Many Barbs Does it Have?
The barb pattern on the Extenda-Wear Plus spindles features three rows of fourteen barbs. The first three barbs in every row are at a 30-degree angle to ensure picking efficiency and allow the material to move easily off the spindle when doffing. The last 11 barbs are at a 45-degree angle, a factor that further improves picking efficiency.
Is it Front or Rear-Wheel Drive?
This model has a 4WD system, meaning that all the four wheels are supplied with power from the transmission. Since the front wheels are also supplied with power, they help the rear ones in pulling the machine forward. This ensures that the rear wheels have better traction, leading to less spillage and improved performance. The 4WD system is one of the reasons why this model can work under difficult conditions.
Although the Module Express is a high-quality and durable picker, you will need to replace some of its components at one point or the other. In order to enjoy the same level of performance and reliability that you are used to, you should buy the right replacement parts for this specific model. At Certi-Pik, USA, we sell quality aftermarket parts at affordable prices. Contact us today to place your order.