Stalk Lifters for John Deere & Case IH
Premium Aftermarket Replacement Parts
A stalk lifter is attached to the front of a cotton harvester's picking unit. It serves the purpose of guiding the cotton plant's cotton bolls smoothly into the picking zone. It is comprised of 2 components that contact the Plant, a front and rear shield. The front and rear shields are designed in a slope starting from a point on the front, near the ground and increasing in height towards the picking unit. This ensures all of the the plant, whether near the ground or higher up, will be guided directly into the picking unit. The front shield, led by a steel gatherer point, rides over the ground via a height sensing shoe or skid plate that is used to help it glide smoothly along the ground while it maintains a consistent height. The rear shield is stationary, and is bolted to the picking unit as well as its own internal frame, and supports the front shield with a stalk lifter arm and chain as it conforms to changes in ground height.
While maintaining your stalk lifters, it is also important to pay attention to the wear on your stalk guides which are positioned inside of the lifters and further help to guide the plant into the picking unit. With the abrasive nature of a cotton plant, wear on these items is unavoidable. Whether you need one component or a stalk lifter bundle of parts, due long-term wear or an unforeseen collision resulting in damaging of components, we here at Certi-Pik, USA can help you with UV resistant plastic shields and wear resistant steel lifter parts.
Buying Stalk Lifters
Stalk lifters are comprised of many different components: some moving and some stationary. When a part becomes worn out or breaks during usage, you may only have to purchase that specific part to get the assembly functioning again. This means that it is important to be able to identify all the individual shoes, plates, bolts, and brackets that make up the stalk lifter assembly. This information is included in your owner's manual, so the text should be kept in a safe place where you won't lose it. Also, we at Certi-Pik, USA pride ourselves on our accurate drawings to help you in your selection. Look to our catalog in print or on-line for additional information.
You should also keep in mind that stalk lifters are built for both the left and right side, so if you need to order replacement parts for the complete assembly, it will be necessary for you to know which one must be replaced.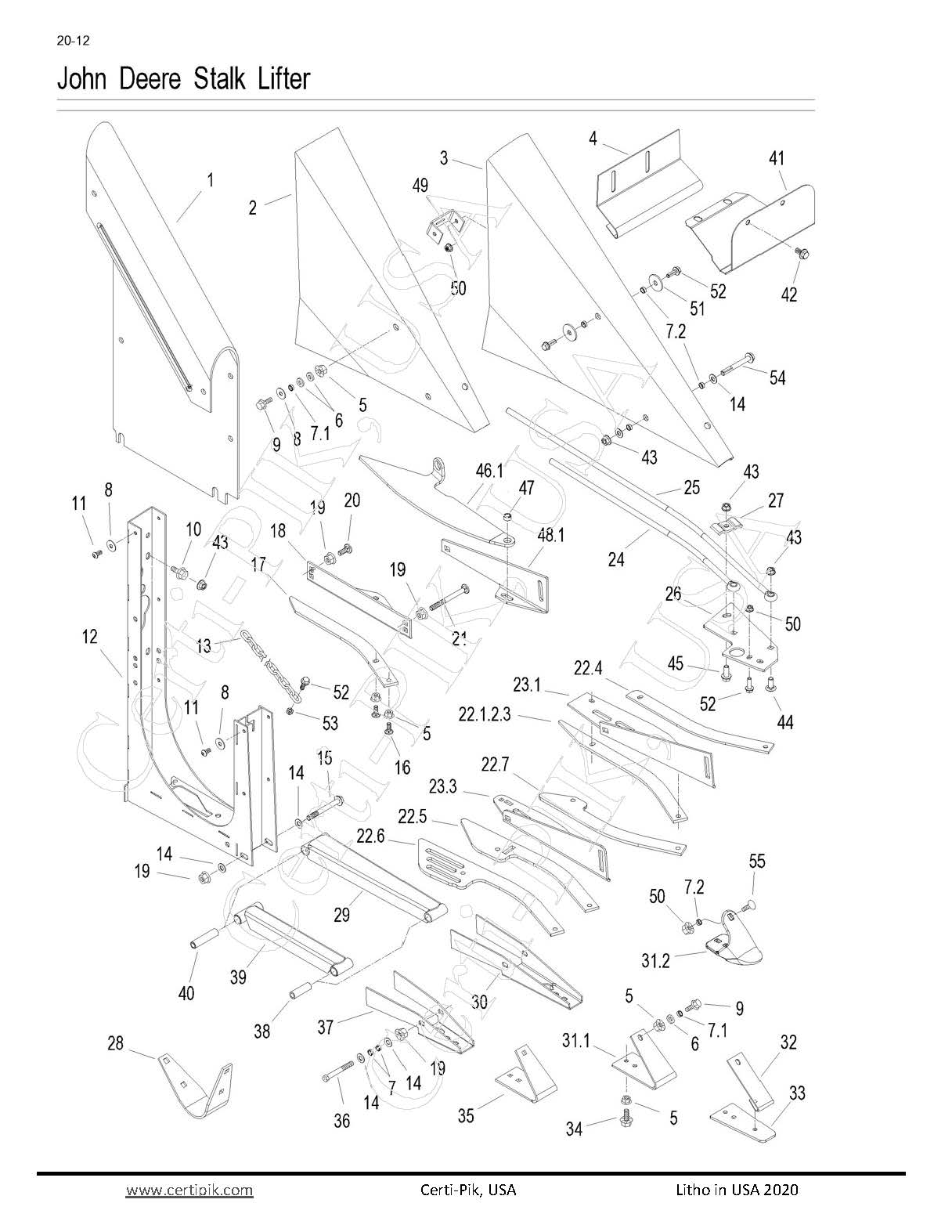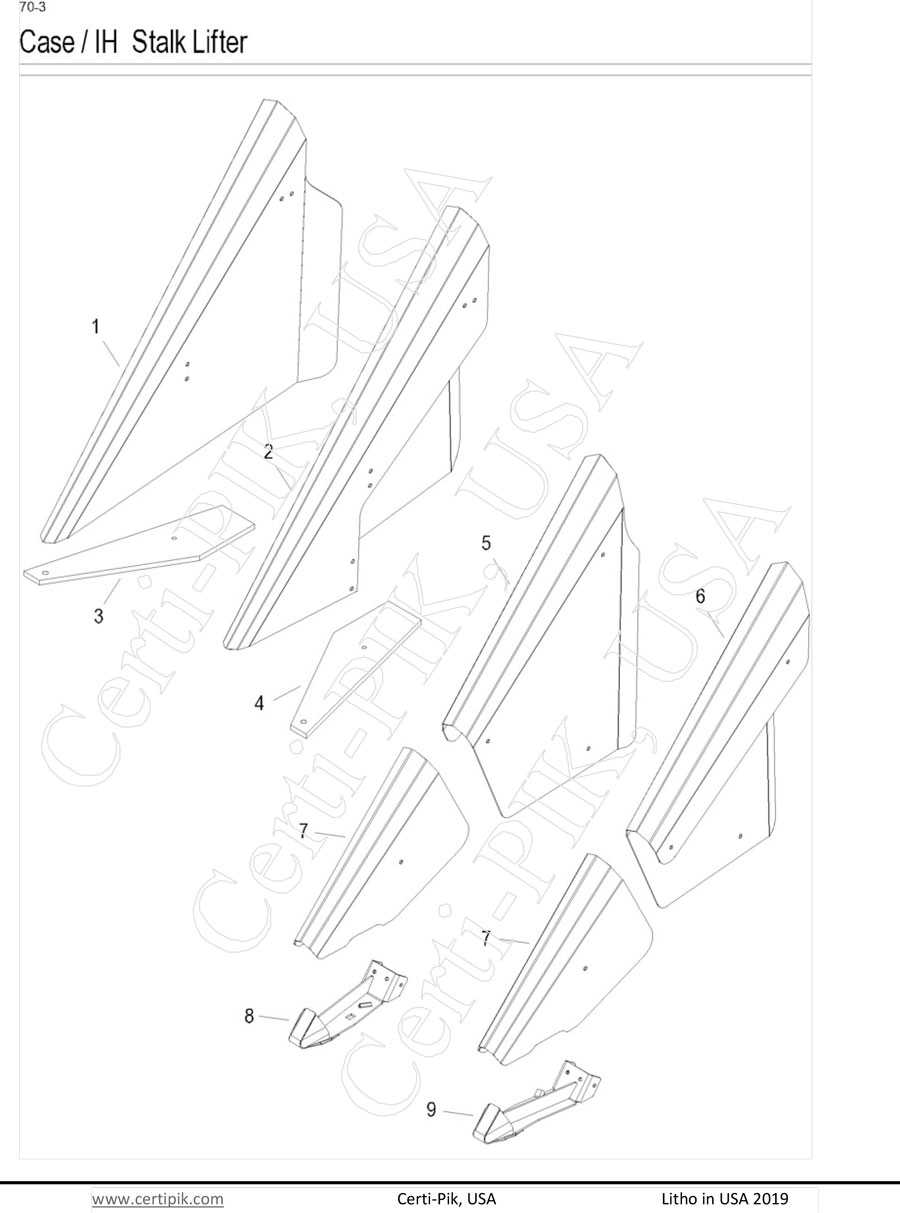 Case / IH Stalk Lifter
Why choose Certi-Pik, USA?
There are a number of reasons why you should choose Certi-Pik, USA as your vendor of choice when it comes to purchasing stalk lifters or any other replacement parts for your Cotton Harvester. Firstly, Certi-Pik, USA makes it very easy to place your order, providing three different methods for you to get in touch: you can call the company directly using 1-800-CERTIPIK (237-8474) and talk to a knowledgeable representative, you can fax your order, or you can email your request. The latter two methods are the preferred options for many owners, because the chance of confusing or mishearing a wrong part number is eliminated when you keep it in writing.
The company also makes it very easy for you to make payments on your orders, beginning with a cash payment if you happen to be visiting Hospers, Iowa. You can also pay using your Visa, MasterCard, Discover, or American Express card to enjoy the convenience of simply charging the amount directly and paying it off through your card provider. Bank wire transfers and money orders are also accepted if either of these methods happen to be the most convenient for you. One last payment method that is accepted by the company is cash on delivery (COD.)
Also worth noting is Certi-Pik's shipping policy, because every order is treated as a rush order and is shipped out the same day if we get your order before noon. Those orders coming in after the noon deadline will still be shipped out on the next business day, so you'll have the merchandise at the earliest possible time. The company makes use of the most reliable shipping agencies in the country, including UPS Regular Ground Service, Next Day Air, 2nd Day Air, and 3rd Day Select Service. Any bulk orders that exceed size or weight limitations imposed by UPS will be shipped via freight truck at the earliest possible date.
Finally, ordering from Certi-Pik, USA can be appealing because we provide a 90-day guarantee on all parts in relation to workmanship and any material defects that may be found after purchase. You will be entitled to a free replacement part if it turns out that either the workmanship or the materials are at fault and are the cause of the failure. All you have to do is call to request a Return Goods Authorization (RGA) number and return the faulty component to us in its original condition so that we can verify your claim, and the replacement will be sent out immediately.
Durability and efficiency are vital when managing or upgrading your equipment and Certi-Pik, USA strives to deliver on both every time. We only sell components that we would use ourselves, so we have no problem saying you will be satisfied with our stalk lifter components.
---