Cam Tracks for John Deere & Case IH
Premium Aftermarket Replacement Parts
Cam tracks perform a crucial role in the overall operation of a cotton picker, and that's why it's essential to have them inspected periodically. If a cam track should become fouled by dirt or debris, or if any part of the assembly becomes worn down, it can have a significant impact on the overall efficiency of your cotton-picking operation. While the same thing could be said for many other assemblies and individual components in a cotton picker, the cam tracks deserve some special attention because of their relationship with vehicle speed and efficiency.
The cam track arrangement is critical for reducing any kind of destructive or counterproductive effects that might be produced by high-speed drum rotation and rearward spindle tip motion through the picking zone. The cam is tasked with rotating the picker bar around its upright axis to modify the speed of the spindle tip, which then facilitates a higher drum speed. The spindle tip movement encourages a higher ground speed for the cotton picker with no corresponding efficiency loss and no damage to the cotton plants themselves. In addition to spindle tip speed, the cam track also orients the spindles as they rotate around the track to the optimum angle as the spindle passes under the doffers and moistener pads. This motion allows the cotton to be picked cleanly off the spindles as they are doffed, and the spindles to be cleaned as they pass under the moistener pads.
Buy Cam Tracks
We offer the finest cam tracks on the market today. When you need to purchase new cam tracks, drum heads, bolts, seals, or O-rings, the best place to make your purchases is with Certi-Pik USA. Any cam track that you buy from us will carry a 90-day manufacturer's warranty with it, so if there are any problems with workmanship or materials, you'll be entitled to a replacement, free of charge.
You need reliable cam tracks and other replacement parts to keep your cotton picker running at its best and performing optimally, so you should make a point of purchasing your cam tracks right here from us. Our parts fit both John Deere and Case/IH equipment brands. We have products available that fit the following John Deere applications: PRO 16 FRONT & REAR, PRO 12 FRONT & REAR, 12-BAR IN-LINE, and Right & Left Hand 12-BAR CONVENTIONAL Picking Units. These are designed to work with the various cotton harvester models including 7760-CP690 Balers, 9935-9996 PRO, 9960-9965 In-Line, and 9900-9950 Conventional.
Our cam tracks with roller service holes fit Case/IH RH FRONT models, and LH REAR models. Both fit all 2000 Series through CPX 620-635 machines. We also have available sold separately the supports, lock washers, and cap screws that are used to close up the cam track service hole. These cam tracks are among the very finest on the market today, and you can be confident that you are getting high value and affordable pricing.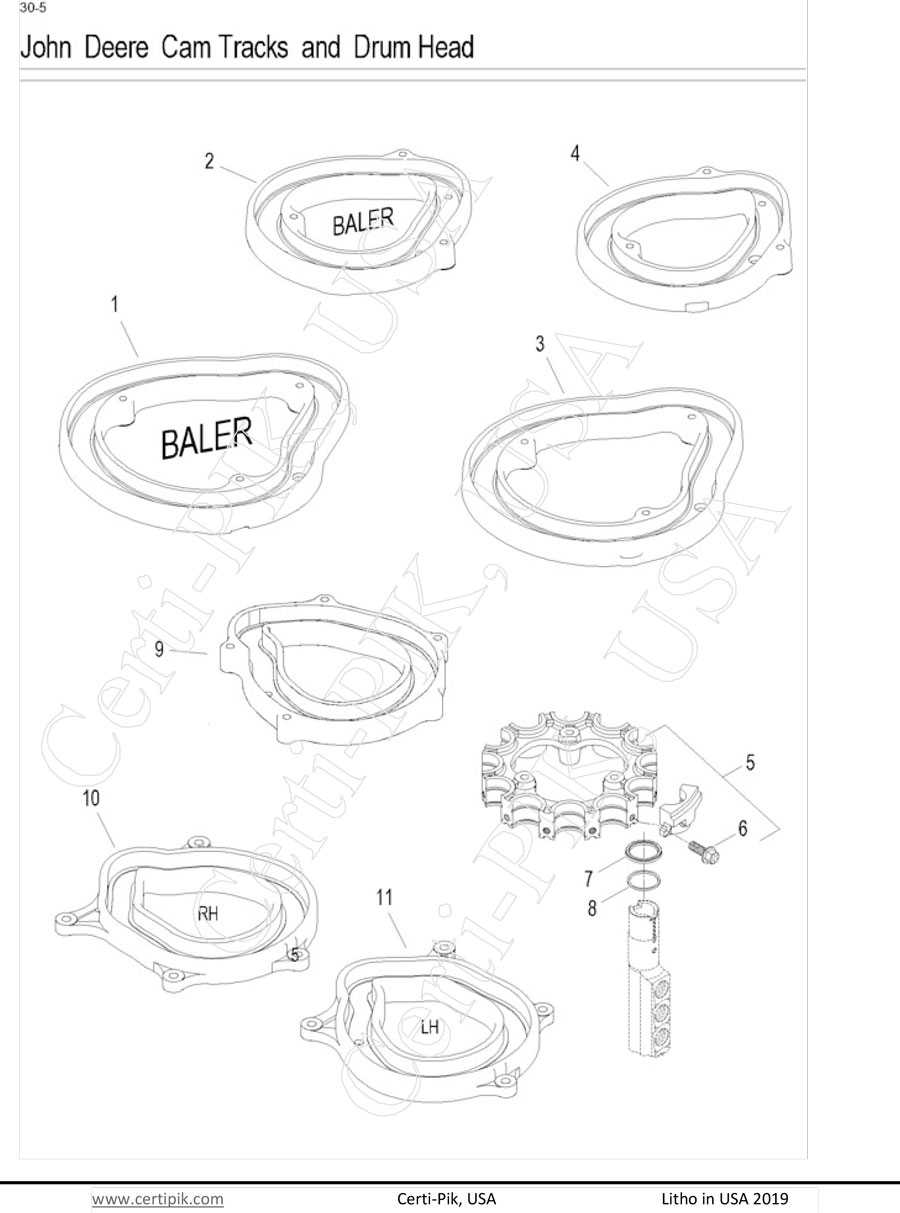 John Deere 9900-CP690 Cam Tracks and Drum Head
Trusted Product for Trusted Brands
One great reason to choose Certi-Pik, USA, for all your cotton picker replacement parts, is that you can count on receiving only the best-manufactured replacement parts available on the market today. All of our product offerings pair with top brands, like John Deere or Case/IH, two of the most trusted names in the business. You can count on receiving top-notch goods for your hard-earned money.
Easy Ordering
We also make it very easy to order and pay for our products. You can request any replacement part by simply faxing the product number and description to us, sending us that information in an email, or by calling us and letting one of our friendly service representatives guide you through the order process.
Convenient Payment Options
When you're ready to make a payment for your order, you can pay by bank wire transfer or by credit card. We accept Visa, MasterCard, Discover, and American Express. With all these options available to you, one of them is bound to be convenient for you. All these payment options are trusted and will make purchasing an easy experience for our customers.
Same or Next Day Shipping
Another reason our customers appreciate doing business with us is that we intentionally treat every single order as a rush order. That means that if you get your order to us by noon Monday through Friday (Exceptions exist on major U.S. holidays.) we'll have the order shipped out that same day. Even if you don't beat the noon deadline and your order comes in later in the afternoon, we'll do our best to have it shipped out to you by the next business day.
We are aware that when your cotton picker is non-operational and waiting for parts, that means lost revenue to you, so we do everything we can to ship your items as soon as possible.
Backed by a 90-Day Manufacturer's Warranty
We think you'll also love the fact that every part you order from us comes with a 90-day manufacturer's warranty, which means you may be eligible for a free replacement part if there are any defects due to materials or workmanship. All you have to do is return the defective part to us so that we can inspect it, and your replacement part will be sent out right away. Call us at 1-800-CERTIPIK (237-8474) for all your questions and orders.
---