Idler Gears for John Deere
Premium Aftermarket Replacement Parts
Idler gears typically serve the function of transmitting motion from one gear to another, since the idler gear would be placed between two gears. It doesn't really change the output speed, but it does alter the direction of turning and its function is to ensure that the two gears have the same rotation. Since the idler gear rotates in the opposite direction of the driver gear and the follower gear rotates in the opposite direction as the idler, the follower and driver gears are rotating in the same direction.
The idler gear assembly for a cotton harvester is comprised of many parts, including ball bearings, bushings, nuts, O-rings, spur gears, clutches, driveshafts, washers, and springs. Failure of any of these components will throw off the operation of the idler gear which will impact your harvesting operation.
Fortunately, the idler gear assemblies stocked by Certi-Pik, USA are compatible with industry's most reliable and trusted equipment companies, John Deere and Case/IH, which means you can count on high performance and consistency.
Buy Idler Gears
We want all our customers to experience the reliability and performance that is provided by excellence of manufacturing methods because our own reputation is at stake. If customers purchased inferior cotton picker parts from us, we would not have been in business for as long as we have been, and customers would take their business elsewhere. Thanks to the American institution of John Deere and the 100+ years of experience of Case/IH, we can feel confident that every replacement part we sell has been made with quality in mind, and that it will serve the customer well.
We hope you'll remember Certi-Pik, USA, first when it comes time to ordering the idler gear assembly components you need, or any other part for that matter because we strive to provide the best products and the best customer service in the business. Right from the moment you first talk with one of our cheerful and knowledgeable representatives, we hope you'll feel that you're part of our extended family.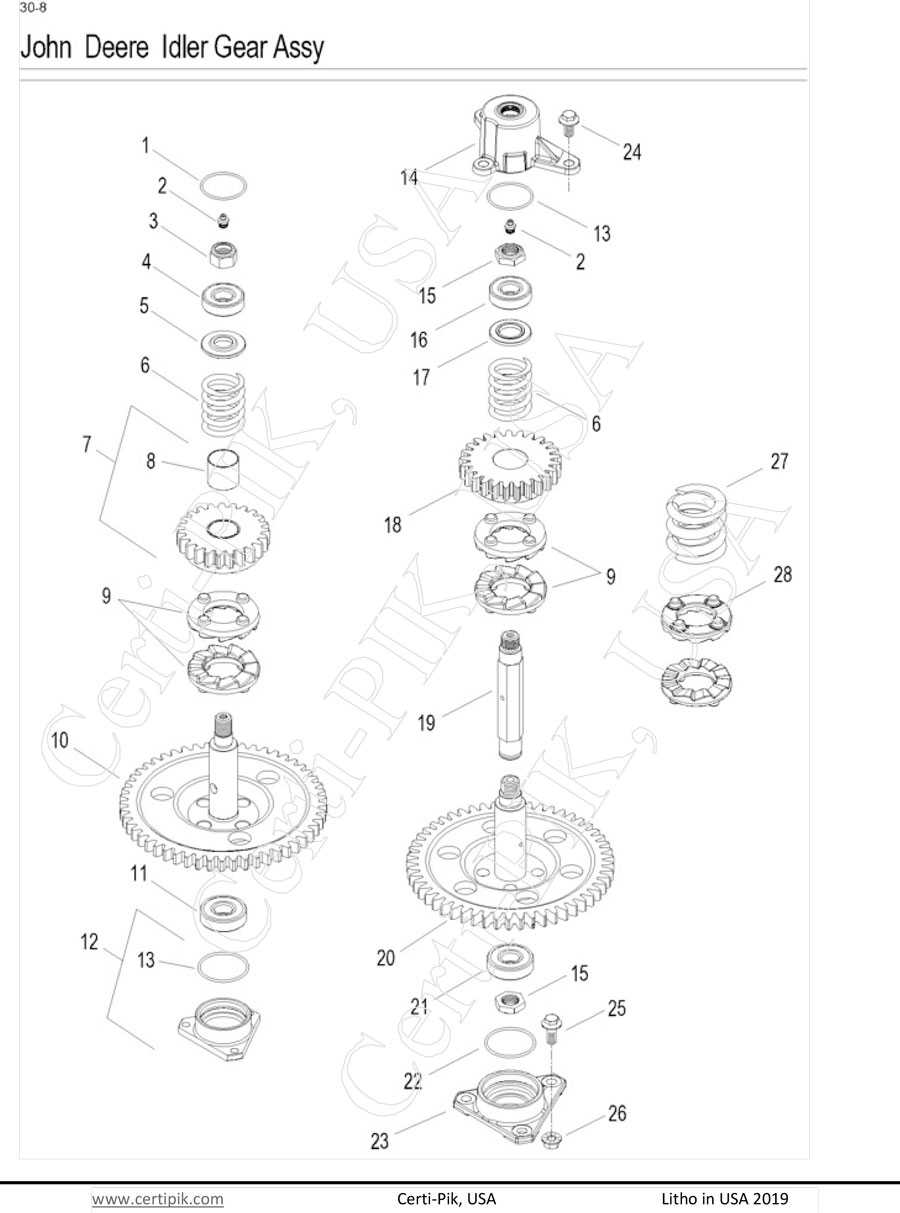 John Deere Idler Gear Assembly
Why choose Certi-Pik, USA?
There are many reasons why you should choose to do business with Certi-Pik, USA, for instance, if it should ever be necessary to return a piece of merchandise because it's the wrong part for your equipment, we always handle the return as quickly and efficiently as possible. We provide you with a Return Goods Authorization (RGA) number that you include with the returned item when shipping it back to us. As long as the merchandise is new and in good condition, the appropriate credit will be issued and you'll be able to purchase the correct product.
When you first place an order, we make it easy by providing three different methods of ordering. The easiest way to ensure we've received your order is to call us at 1-800-CERTIPIK (237-8474) and provide us with the information we need in order to fulfill the order. You can also either send us a fax or email with all the product specifications and order details.
When it comes to payment, we also accept a number of different methods. We can accept Visa, MasterCard, Discover, and American Express as forms of card payment. If you prefer to send us a money order as payment for your merchandise, that's fine as well. We also accept a bank wire transfer if that's more convenient for you. One last payment method we can work with is cash on delivery (COD) if you would rather manage your transactions that way.
Another advantage of placing your order with our company is that you can count on fast shipping, so it won't hold up your harvesting operation. When you place your order by noon on any business day, we do our best to have it shipped out that same day to any location in the continental United States. If your order comes in later in the afternoon, we do everything we can to send it out the very next business day. When we ship goods, we make sure to use a reliable transport system by working with UPS. Your packages will arrive either by UPS Regular Ground Service, Next Day Air, 2nd Day Air, or 3rd Day Select Service. We also work with other LTL carriers if one has a better service or rate to your location. We diligently pursue the best shipping options for you at the lowest cost possible.
---