Suction Doors for John Deere & Case IH
Premium Aftermarket Replacement Parts
Cotton Harvester's Picking Units are complemented by clean, smooth suction doors. If you find your cotton hanging up, or your suction is down due to leaking, rusted, or worn through components in your air suction system, know that we carry a comprehensive variety of OEM sheet metal suction doors and transitions. As skip-row planting has grown in popularity, we have responded to your needs, and also carry suction doors in about any configuration you may be trying to achieve. Look for the doors labeled '-SR' in our catalog. These doors are custom made, directing the flow of cotton in the opposite direction of OEM doors, in order to allow you an almost unlimited variety of suction doors available for whatever row spacing you might be trying to achieve.
Professional cotton pickers these days have a wide variety of suction door configurations due to the ever increasing size of machines and number of rows being picked at one time. Due to the large variety available, we would suggest you visit our online shop and browse the suction door section. We carry 6 different OEM Pro Suction Doors varying in size and orientation to work around whatever row spacing that you are working with.
The 9960-9965 machines, or In-Line cotton harvesters, also have doors unique to their picking unit designs. We carry 4 varieties of OEM style doors for these models. If you are looking to convert a 38 inch row machine to a 36 inch row machine, look to us for the answers. Previously, a customer of ours looked to us for help, calling for assistance with this specific need, and now we offer this almost forgotten Row 1 variation for all our customers. You can now get this door off of the shelf without having to build or modify your own.
We also carry 8 varieties for the older conventional machines. When John Deere transitioned from Left and Right conventional Picking units to the In-Line and Pro machines, the older, conventional, wider picking units have become few and far between these days. However, if you have a need for replacement parts for an older piece of equipment, know that we will still be glad to try to help. While we carry a limited supply of the older suction doors, feel free to give us a call us at 1-800-CERTIPIK (237-8474) for availability.
Buying Suction Doors
At Certi-Pik USA, we stock these component parts and proudly manufacture them in-house, so whether you need the suction doors themselves, or individual posts, bolts, pins, latches, nuts, or transitions, we likely have them available and ready to ship right away! As always, be sure to include the correct part number when placing your order so that the possibility of mistakes (and your downtime) is kept to a minimum. We want to help you get back to work as soon as possible! If there is any confusion on what parts to order, give one of our friendly customer service representatives a call, and we'll help you source the right cotton harvester parts in no time!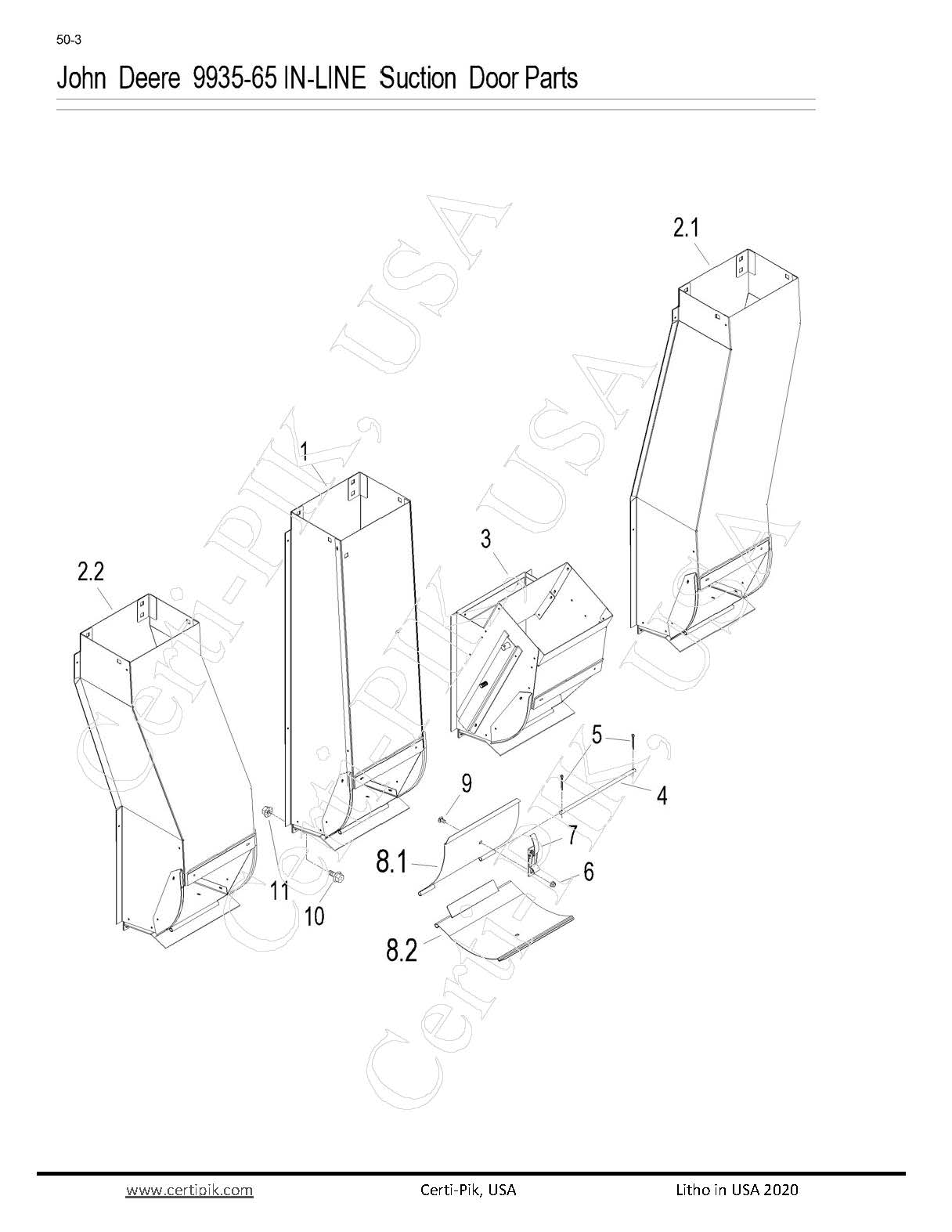 John Deere 9935-65 In-Line Suction Door Parts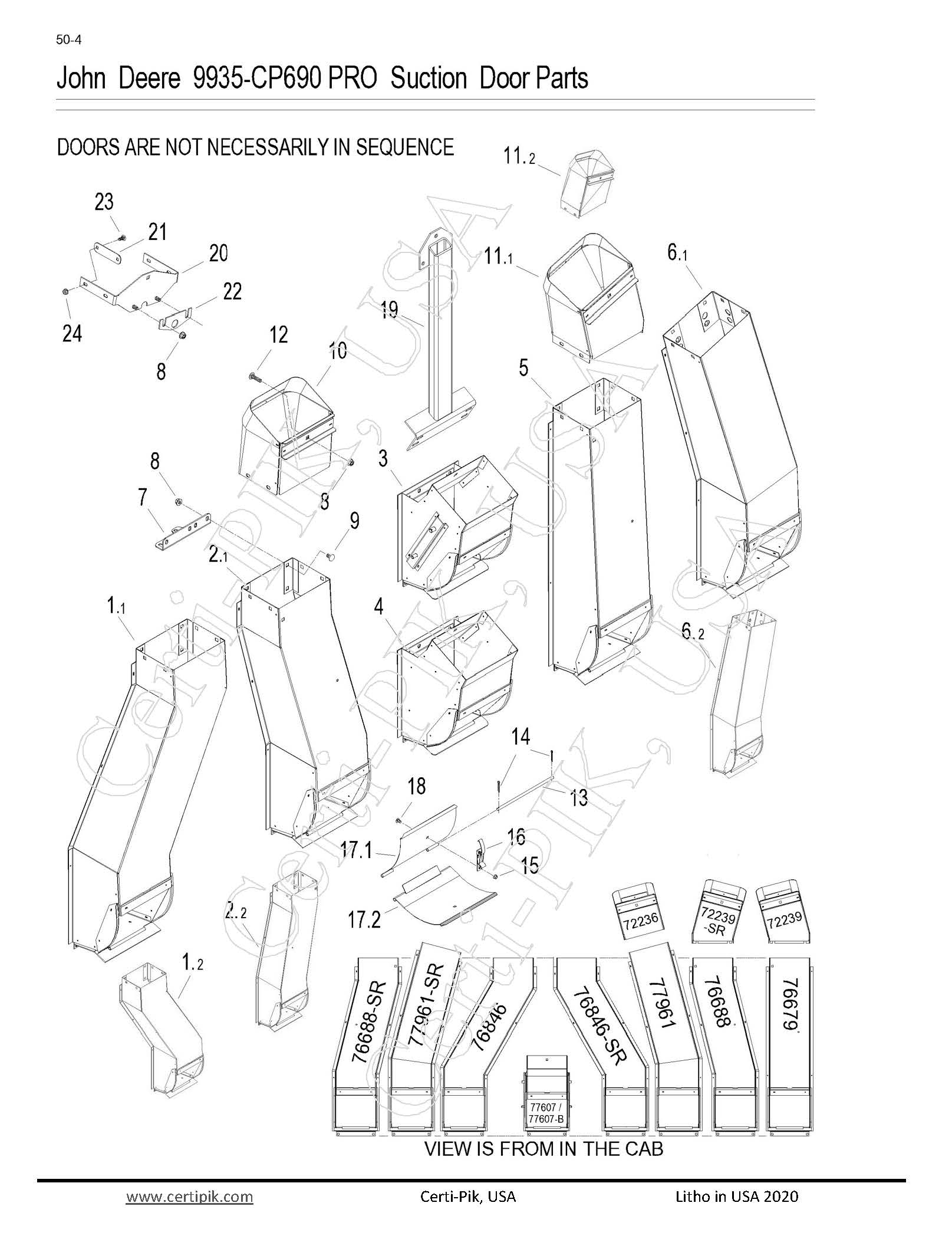 John Deere 9935-CP690 Pro Suction Door Parts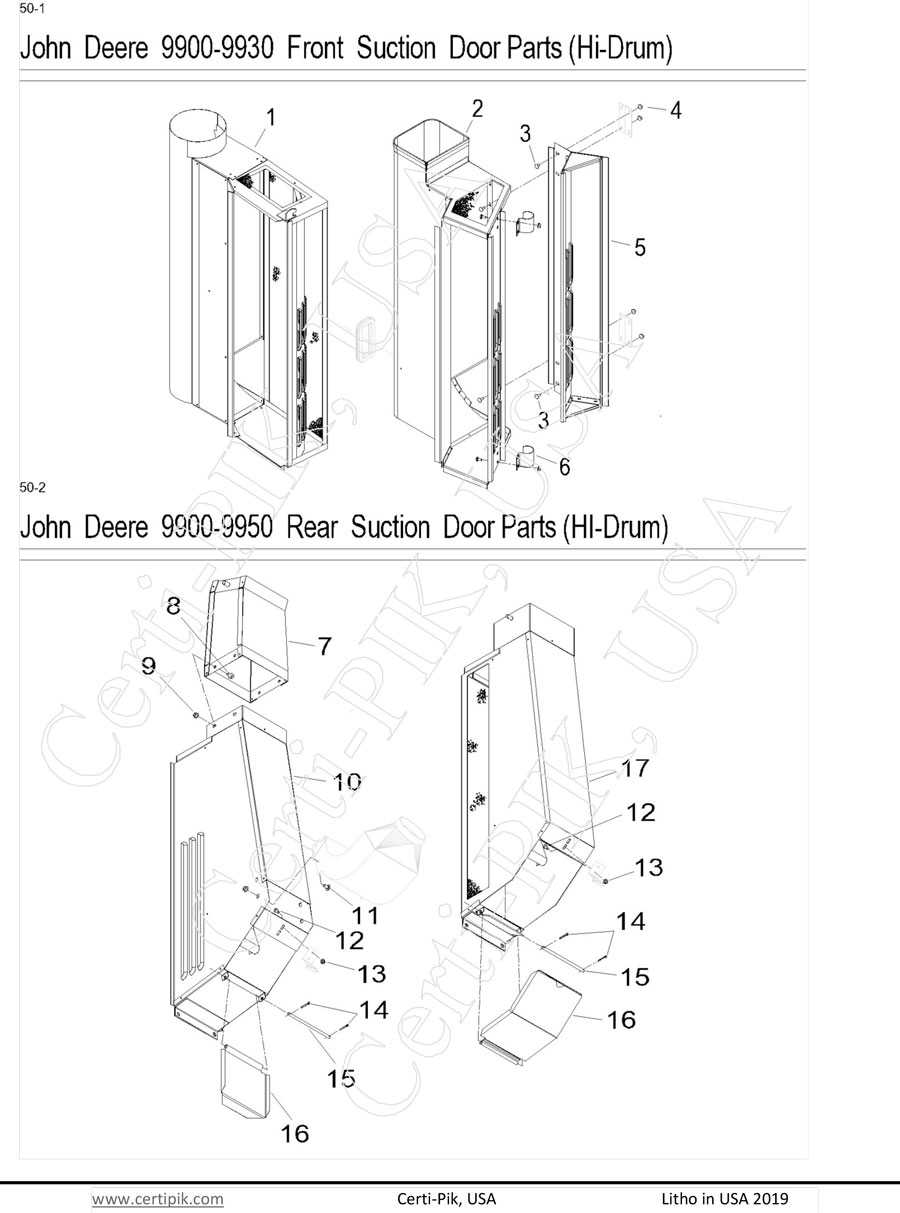 John Deere Front & Rear Suction Door Parts (Hi Drum)
Why choose Certi-Pik, USA?
One of the first things you love about our company is that we treat every single order as though it's a rush order, because we realize you may be experiencing downtime while you're waiting for those parts to be delivered. We understand how important it is for cotton harvesting to be done as quickly as possible, so you can move on to the next big task on your agenda.
That's why whenever we receive an order up to noon time, we can have it shipped out to you that same day, using UPS Regular Ground Service. When we receive your order sometime during the afternoon, we still make every effort to ship it as fast as possible, and that means it will probably go out on the very next business day. If you wish your shipment to be delivered by some method other than our regular UPS service, you can alert us to that fact when you place your order. Some customers have their own freight delivery service which they have confidence in, and we can certainly work with those arrangements, as long as we're aware of them.
We also make it very easy for you to contact us, whether it's during your initial order placement, or during a later update. You can call our customer service line at 1-888-237-8474. We also accept orders via fax or email so long as you clearly identify the part numbers that you are requesting. If your merchandise is not in stock, we will back-order it and ship it to you at the moment it becomes available.
Certi-Pik, USA also strives to make payment easy for you, so we accept several different forms of payment. Cash is acceptable, as is cash on delivery (COD). We also accept major credit cards, including Visa, MasterCard, Discover, and American Express, along with money orders and bank wire transfers. Whatever form of payment that is most convenient for you is something that we can probably accept!
Whatever your preferences may be during (and even after) the ordering process, we want to make sure that you get your order as soon as possible, so that you can get your equipment – suction door or otherwise – back up and running in no time. The team at Certi-Pik, USA strives for something more than one-time orders: long-term customer relationships and lifelong business partners, which can be invaluable for both parties in a transaction. If we can simplify the maintenance and repair process for you, we want to help!
---