John Deere Cotton Picker 7760 FAQ's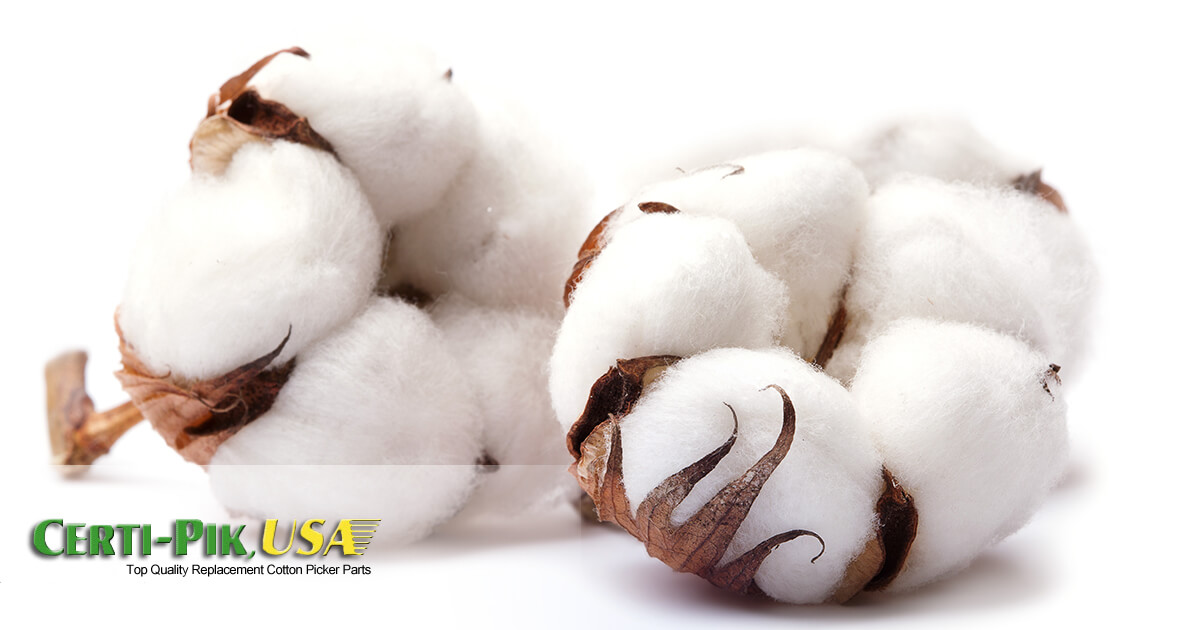 John Deere is known as one of the most famous tractor companies who set the standard for farm equipment, both in terms of how the job gets done and quality of available machinery. They are most commonly known for providing industrial farm equipment, in addition to meeting a homeowner's residential needs. The John Deere Cotton Picker model 7760 meets all the standards the company is known for. It's a heavy piece of equipment designed specifically for the rigors of cotton farming.
There are a few common questions people ask, and rightfully so, to determine whether the machine is going to serve the needs of their farm:
How Much HP Does the Engine Have on the CP 7760?
The CP 7760 provides 560 horsepower with a 13.5-liter turbocharged engine. This amount of power is distributed through a four-speed transmission with either two-wheel or four-wheel drive configurations. Such a configuration has proven itself to be more than adequate for cotton farming use in most regular situations, and there are means of upgrading for extraordinary conditions.
What is the Capacity of the CP 7760's Basket?
The basket is sized for production-based cotton farming and can handle around 2.8 tons of cotton. There are intermediate and full-sized baskets available, and extensions if needed to increase the volume of cotton the machine can transport. This is one of the most modern machines available and was designed with the needs of large-scale commercial farmers in mind while remaining dexterous and agile enough to remain useful on smaller farms which need maximum efficiency from their equipment.
What is the Maximum Module Weight of the CP 7760?
The average weight of a round module of cotton rolled off the harvester is 2.8 tons or 5600 lbs. The John Deere CP 7760 is overbuilt to easily handle the standard module weights or go over when needed. The machine actually has different modes in which it conducts the harvest, transport the crop, gate, and cradle the harvest, and finally wrap the load. The mode is set by the operator as they need to conduct each of the steps throughout the day.
How Many Round Modules Can the CP 7760 Wrap?
The unit is designed to pick and have enough wrap to wrap 120 round modules of cotton before re-stocking the magazine. Each module can be up to 90 inches in diameter by 96 inches wide which is about one fourth smaller in weight than a conventional module which measures 7.5 feet wide, 32 feet long, and around 11 feet high, but can be more desirable as it can maintain about half as much moisture, and can be much more cost effective to get to the gin.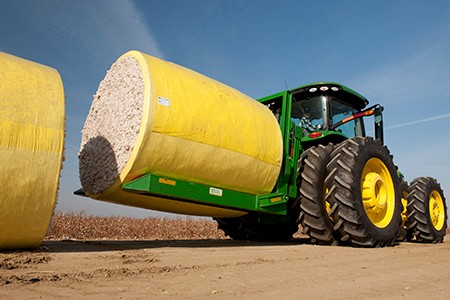 How Many Row Units Does the CP 7760 Have?
The John Deere 7760 is designed to work with 6 rows of cotton. There are adjustments to account for different spacing between rows which can be from as little as 15 inches apart or up to 40 inches. Each row unit uses a 560-spindle system to pick the material while being constantly cleaned by the onboard moistener system.
What Pro Units are available for Usage on the Cotton Picker 7760?
The 7760 is compatible with either the PRO-16 or the PRO-12 VariRow System Picking Units. The final decision depends on the geographic location and therefore the breed of cotton intended to be grown and harvested. It's always important to keep an open mind when purchasing new farm equipment, as technology has changed and what one person grew up with may not always be the best part for today's equipment, so definitely discuss the situation with a dealer before determining which option to go with.
How Large is the Fuel Tank on the CP 7760?
The fuel tank holds 350 U.S. Gallons, or 1325 liters. The sheer amount of diesel it holds is relevant to mpg, which isn't really a factor with this type of machine. To put it in usable terms, it's consistent with what farmers expect based on other equipment and even similar pickers built by the competition. It's impossible to predict local terrain conditions or how much fuel individual operators are going to use, other than you can plan on the fuel lasting as long or longer than you might expect based on experience with other machinery which conducts cotton harvesting.
How Large is the Water Tank for the Moistener System on the CP 7760?
The water tank for the moistener system holds 360 U.S. Gallons. Traditionally the tank used oil-based cleaner for the picker's spindles, the modern standard has moved towards using a specifically designated soap with water. The 360-gallon tank is typically enough for a day's worth of operation. The moistener system keep the machine running through the day, but just like other equipment used when harvesting cotton, the spindles are going to require a full cleaning each evening after the work is finished. A fully self-cleaning picker has yet to be invented, the fact is cotton harvesting equipment requires lots of lubrication and so can be messy to operate, so there's no simple way around having to clean equipment after use.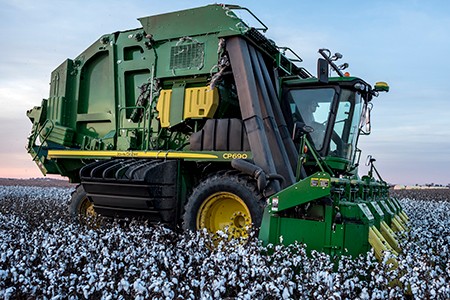 Contact Us at Certi-Pik, USA, for Quality Replacement Parts for You Cotton Harvesting Equipment
At Certi-Pik, we specialize in selling aftermarket parts for farm equipment, cotton harvester parts to be specific. You'll find our representatives to be knowledgeable and experienced, prepared to meet your needs. If you already know what part you need, we're here to get it ordered and shipped to you, if you aren't sure, we can discuss your equipment's failure and symptoms to help determine what the problem might be.
We're available via direct phone call or through email at our website, whichever method you prefer. We understand how downtime affects both small and commercial farmers, especially during the planting and harvesting seasons, and therefore make it a point to provide service as quickly as possible on all orders. If your equipment is having trouble, we'll do everything possible to get you back up and running, so you can continue to do the valuable job you provide to our country.