JD Water System
The spindle moistening system in a John Deere cotton harvester is primarily tasked with constantly supplying a cleaning solution on to the spindles, so as to eliminate undesirable resins and gummy substances that can accumulate from the cotton plants. This helps to keep the spindles rotating quickly, and makes them much easier to doff. The cleaning solution is capable of removing all residue while seed cotton is wiping the spindle, in much the same way that a dishcloth is able to wash plates.
In order to make sure that your moistening system is ready for a solid day's work, you should clean off any accumulated residue from prior work sessions, especially at the bottom of the tank, and then flush the tank out before starting a picking operation. Each day, the sediment bowl and the strainers should also be cleaned, so at least you can start out with them being free of debris.
Next, you should fill your tank approximately 80% full of clean water, before adding the correct amount of spindle cleaning solution, which is usually around two ounces per gallon of water. After that, you can finish filling the tank with water. If you have time the day before a picking operation is to begin, it would be a good idea to premix a large quantity of the spindle cleaning solution, so that you can decrease the time necessary for filling the tank.
If you don't have a proprietary spindle cleaning solution available, any mild dishwashing detergent will probably be sufficient to get the job done. If you choose dishwashing detergent, bear in mind that it could wash away needed grease or lubricants. A proprietary solution will protect your harvester better from environmental corrosion. Make sure to adjust the moisture pad, so that the pads have their fins touching the spindles, just as they move below the pad. While your cotton harvester is in operation, it's a good idea to remove any accumulated debris, especially cockleburs and dirty seed cotton, from the entire zone around the moisture pad. It's not necessary to remove all lint residues, because a small limited amount can actually be beneficial in distributing the cleaning solution around to all the spindles.
Ordering Moistener System Parts
The moistening system on your John Deere cotton harvester is just as critical as a number of other important assemblies, so it's vital that you make sure you have no worn-out components in your moistening system, ensuring you can effectively deliver the cleaning solution that will keep your spindles operating at their best.
To ensure that you order the right components for your moistening system, you can either supply the OEM part number to our company representative, or you can give us the Certi-Pik part number, and we'll be able to identify the precise item you're looking for. Then we will be able to quickly access our inventory and find whatever items you may need.
Whether it's moistener pads, replacement arms, moistener columns, channels, nuts, screws, bushings, bolts, supports, moistening doors, clips, angles, bushings, spacers, or distributor plates, we will be sure to have it on hand in our inventory, so it can be quickly shipped to you. When you don't have to wait days on end for critical parts to arrive, your cotton harvesting operation doesn't have to come to a screeching halt, and you can get your machines out in the field to bring in that cotton.
We also make sure to keep on hand on the other components typically comprising a moistener system such as the tubing which is needed, the strainers, hose fittings, nozzle tips, caps, moistener covers, and all the other parts which are necessary to keep your moistening system operational. You can order whatever parts you need with confidence from us, knowing that we'll have a high-quality component being shipped out to you at the very earliest opportunity, so you won't be held up.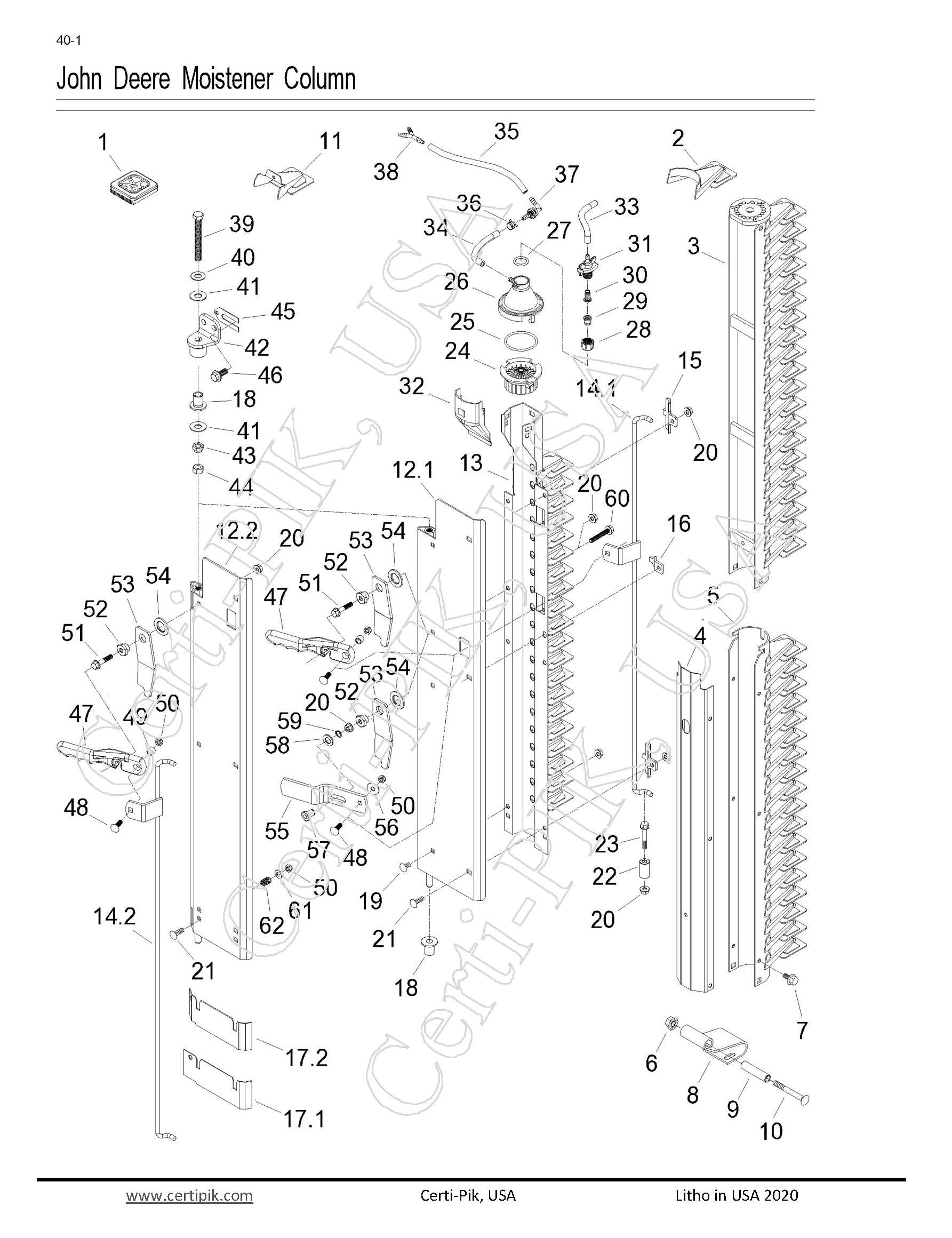 John Deere Moistener Column
John Deere Moistener Column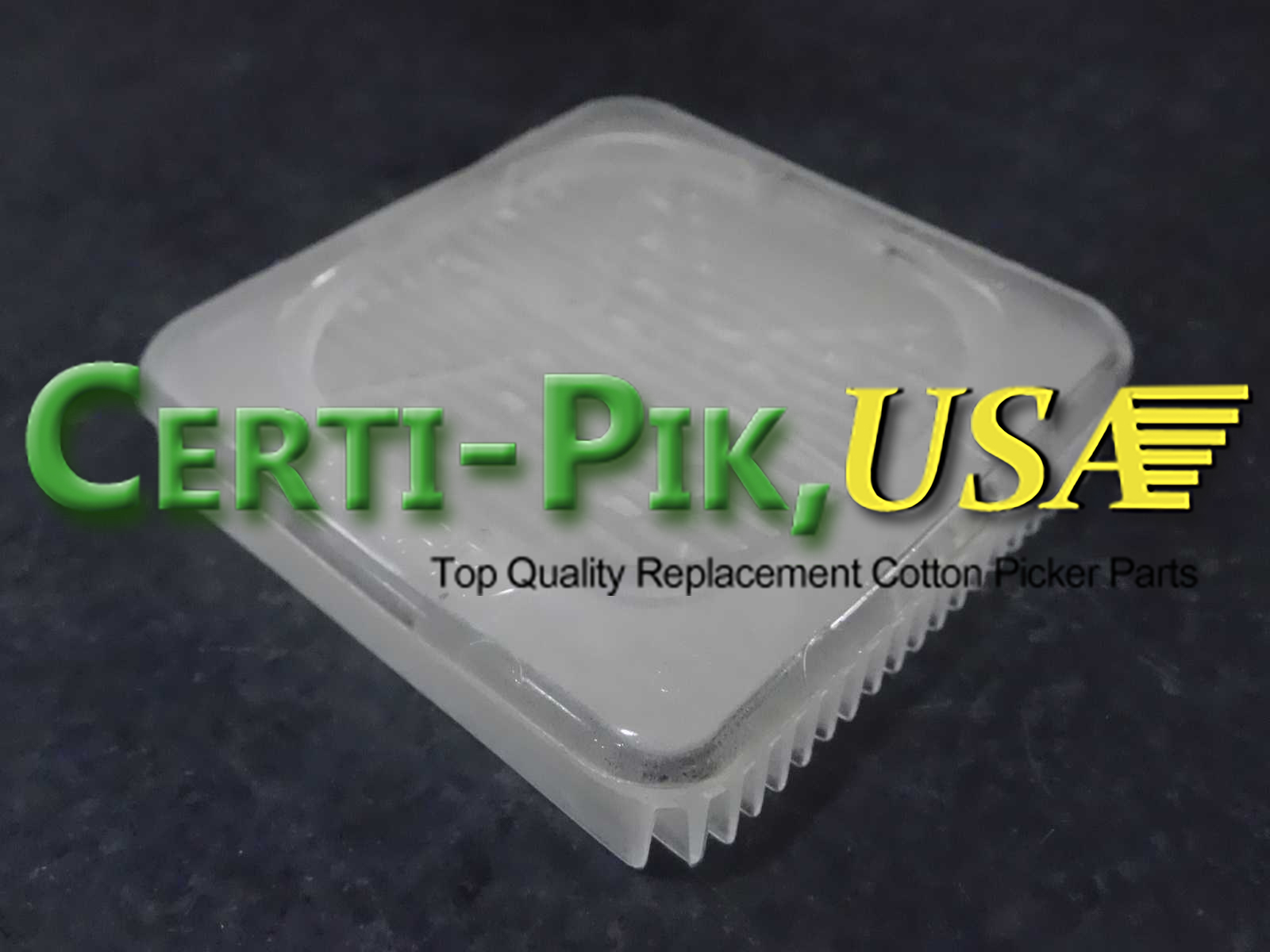 Description: MOISTENER PAD – PREMIUM URETHANE (9900-CP690)
OEM Part: N275607
Section: Water System
John Deere Moistener Column
---
Why Choose Certi-Pik, USA?
At Certi-Pik USA, quality and customer convenience are our priorities:
Easy ordering: To make ordering simple for you, you can get in touch with our team and send your order via email or fax. Feel free to place your CIH parts order at any time, around the clock, using our convenient and secure process. If you need guidance or have parts questions, call us for answers and we can also take your order on the call if you like.
Quality guarantee: We stand behind our products with a 90-day warranty against defects in manufacturing or materials. If on an extremely rare occasion you have a need to return a component, we inspect it and ship your replacement parts free of charge, same day if humanly possible.
Fast shipment: When you order before noon, we ship products the same day if possible, and afternoon orders are shipped the next business day. We use UPS, choosing the service level needed to get the parts to you on time (Ground, Next Day Air, 2nd Day Air, etc.)
Pay any way: Our flexible payment options help you manage your company budget with ease. Choose from bank wire transfer, Visa, MasterCard, Discover, American Express or COD (cash on delivery). Money orders are fine, too.
Get the CIH Water System Parts You Need! Our Experts Are Ready to Help
In order to provide convenient, one-stop ordering for all your cotton harvesting and aftermarket CIH water system needs, Certi-Pik, USA also sells a wide variety of specialized accessories and sheet metal parts for cotton-harvesting equipment rebuilds.
Let the market leader in cotton harvester parts provide every OEM-quality aftermarket component you need for your Case IH harvester. Contact Certi-Pik, USA online, or call (712) 752-8460 today.