JD Belts
There are a couple points to be aware of when you're ordering replacement belts for your John Deere cotton harvesting machine. First of all of course, you will want to order the exact right belt which you need, because the belts on a harvesting machine serve many different purposes, which means they're sized differently and will only work for the function which they were intended.
It's essential that you get the specific belt that is needed for your machine, because it will require the correct number of teeth, and the right pitch length, top width, and thickness, to function as intended in your cotton harvester. You can be sure you're ordering the right part by providing Certi-Pik USA with the part number by which we identify the belt, or the OEM manufacturer part number which will also clearly identify the component.
All belts that we provide to our customers have high tensile strength, so as to sustain the shock loads that are always in play on cotton harvesting machines. They are made of the strongest rubber material, providing excellent fatigue resistance, and longer service life, so they don't need to be changed out quite so often.
You'll still have to maintain a watchful eye over all the belts on your John Deere harvesting machine, simply because frequent usage or not properly maintained equipment will eventually wear out even the best quality belts. However, all belts which we sell are maintenance-free, and have a high resistance to oil, heat, and ozone which they are exposed to, so you can count on them providing the longest period of service.
Ordering Belts and Related Items for Your Cotton Harvester
In addition to stocking all the specific belts needed to make your John Deere cotton harvester function smoothly and efficiently, we also stock all the related items which your system belts work in tandem with. Whenever you need such components as the serpentine belt, the fan rotor, hydraulic pump, lube pump, rotary screen drive, unit drive, round module builder, moistener column water pump, A/C compressor, engine fan, or fan/alternator, you will be able to order them directly from Certi-Pik USA, and get the very best replacement parts sent to you quickly.
We understand that if you have a worn-out belt in your cotton harvester, or any other critical component for that matter, that it may halt your operation while you're waiting for a replacement part to be shipped. That's why we expedite all orders, and ship them out the same afternoon that we receive a call from you.
We also use the most expeditious shipping methods, so as to ensure there are no delays, and that you receive the parts at the earliest opportunity, so you can get back in the field. In the years that we have been in business, we have established a reputation as the most reliable supplier of high quality John Deere parts for cotton harvesting equipment.
We take great pride in the fact that our customers rely on us so heavily, and that they have full confidence in us when ordering replacement parts. Contact us as soon as you become aware of the need for any kind of replacement parts to your machinery, and we'll do our best to expedite delivery of whatever products you need quickly.
Since 1988, the major players in the cotton harvesting industry have made us their number one source for all high-quality replacement parts and accessories for their harvesting equipment. We are grateful for your patronage, and we strive every day to earn your trust and your confidence. Our aim is to be your go-to supplier whenever you simply must have a high-quality harvesting machine component, and you need it immediately.
John Deere Cotton Picker Belts
Please select your part from the following section assemblies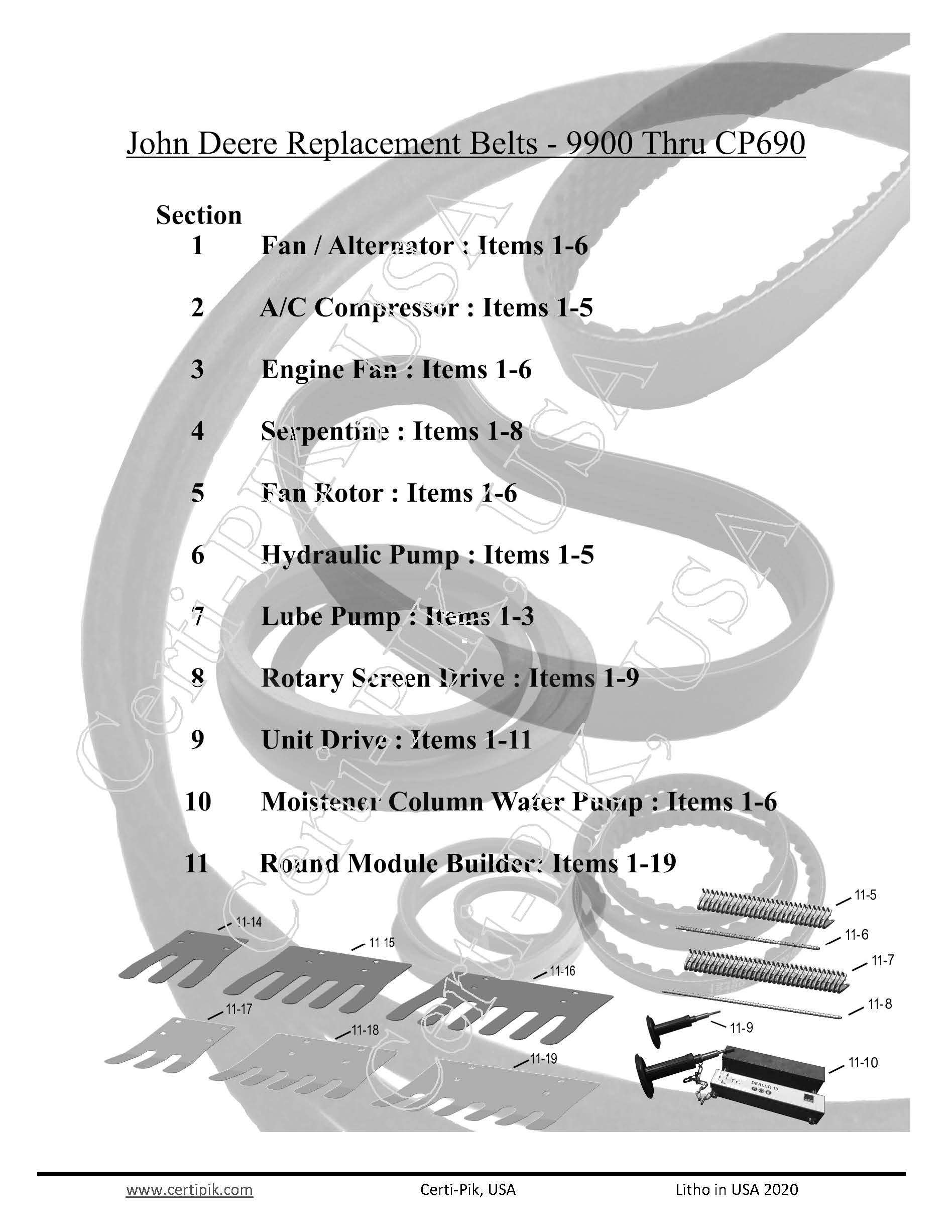 John Deere Replacement Belts – 9900 Thru CP690
John Deere Replacement Belts – 9900 Thru CP690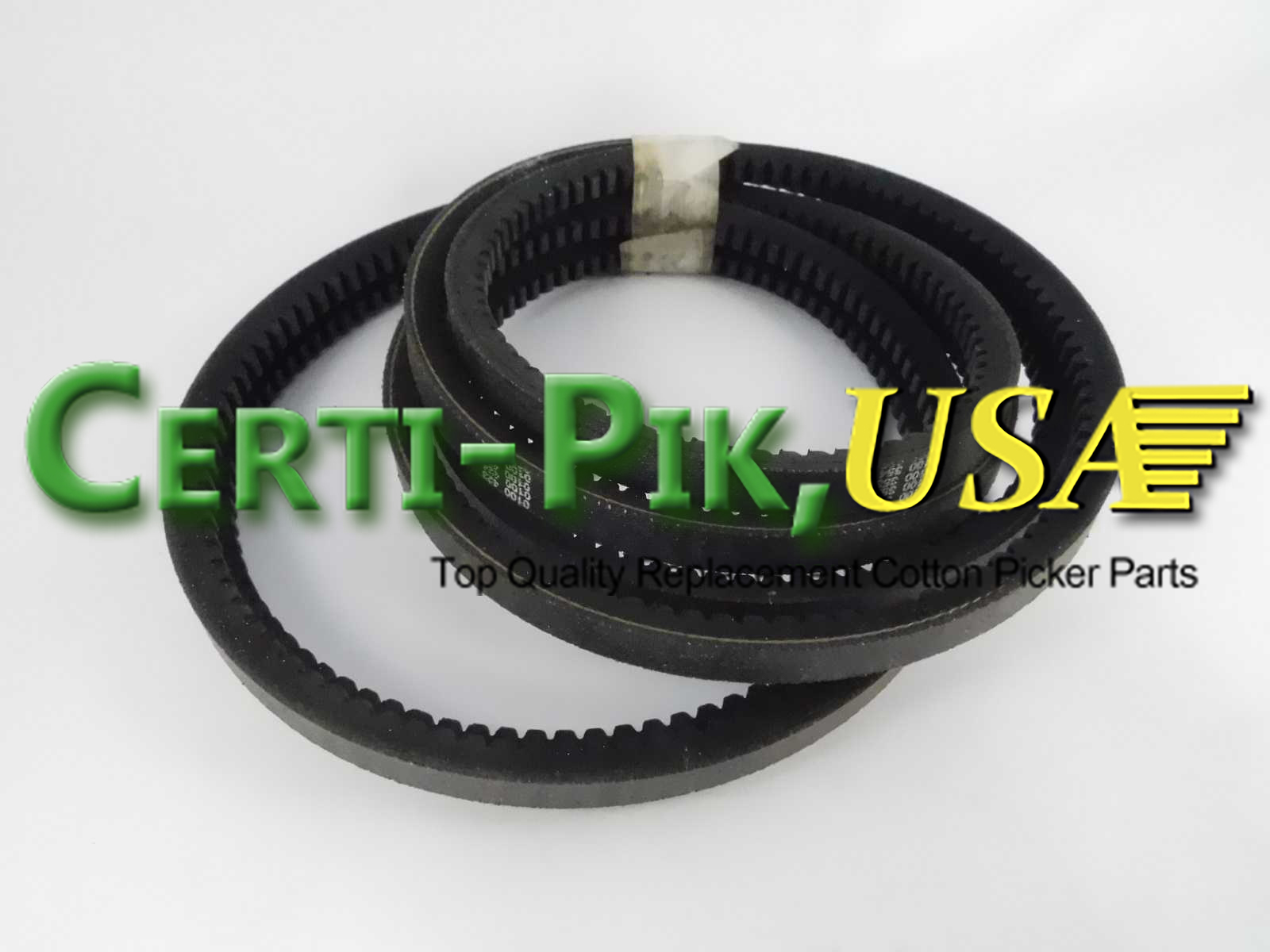 Description: FAN/ALT./EWP – 9900 – 2 V-Belts – L57.250 IN – W.380 IN – T.312 IN
OEM Part: AT23317
Section: Belts
John Deere Replacement Belts – 9900 Thru CP690
---