Grid Bars for John Deere & Case IH
Premium Aftermarket Replacement Parts
Grid bars are components that are used in the John Deere cotton harvester cabinet assemblies. They are used in all models ranging from series 9900 thru CP690. There are 2 styles of front grid bars available, and there are three different types of rear grid bars.
On the older Conventional & In-line Picking Units, the Front Grid bars used on the 16 or 12 bar drum is the part number N116513.
Of the rear Grid bars used on the older Conventional & In-line Picking Units on the 12 bar rear drum, The first rear grid bar is part number is N116514, falling in the range of 9900 through 9910. The second of these is part number N190662, and it is used on the models of 9920 through 9950.
The newest varieties of Grid Bars we supply are for the Pro picking units, models they fit on range from the older 9935 Pro machines to the newer CP690 Balers. The Front part number is N277542, and the rear is N277543.
If you are uncertain which type of grid bar you need for your specific type of cotton harvester, call us at 1-800-CERTIPIK, and we'll be glad to walk you through the process of nailing that down.
Buy Grid Bars
If your grid bars are wore thin from heavy usage, it's a good idea to replace them with high-quality parts that you can buy from us at Certi-Pik, USA. We have only the finest parts in stock because we understand how important it is to our customers to be out in the field, bringing in the harvest, rather than sitting in the shop, waiting for parts. When harvesting time is upon you, it's time to work hard and reap the benefits of all the time and effort you've invested in growing this year's crop.
Buying with confidence is something that every cotton harvester needs to do because getting your crop in on time is very important to your livelihood. We recognize that fact at Certi-Pik, USA, and that's why we make every effort to provide our loyal customers with only the best and most reliable parts on the market. All of our parts will be of the highest quality and will perform up to OEM manufacturers' standards, and that's why you can have confidence in buying all your parts from us.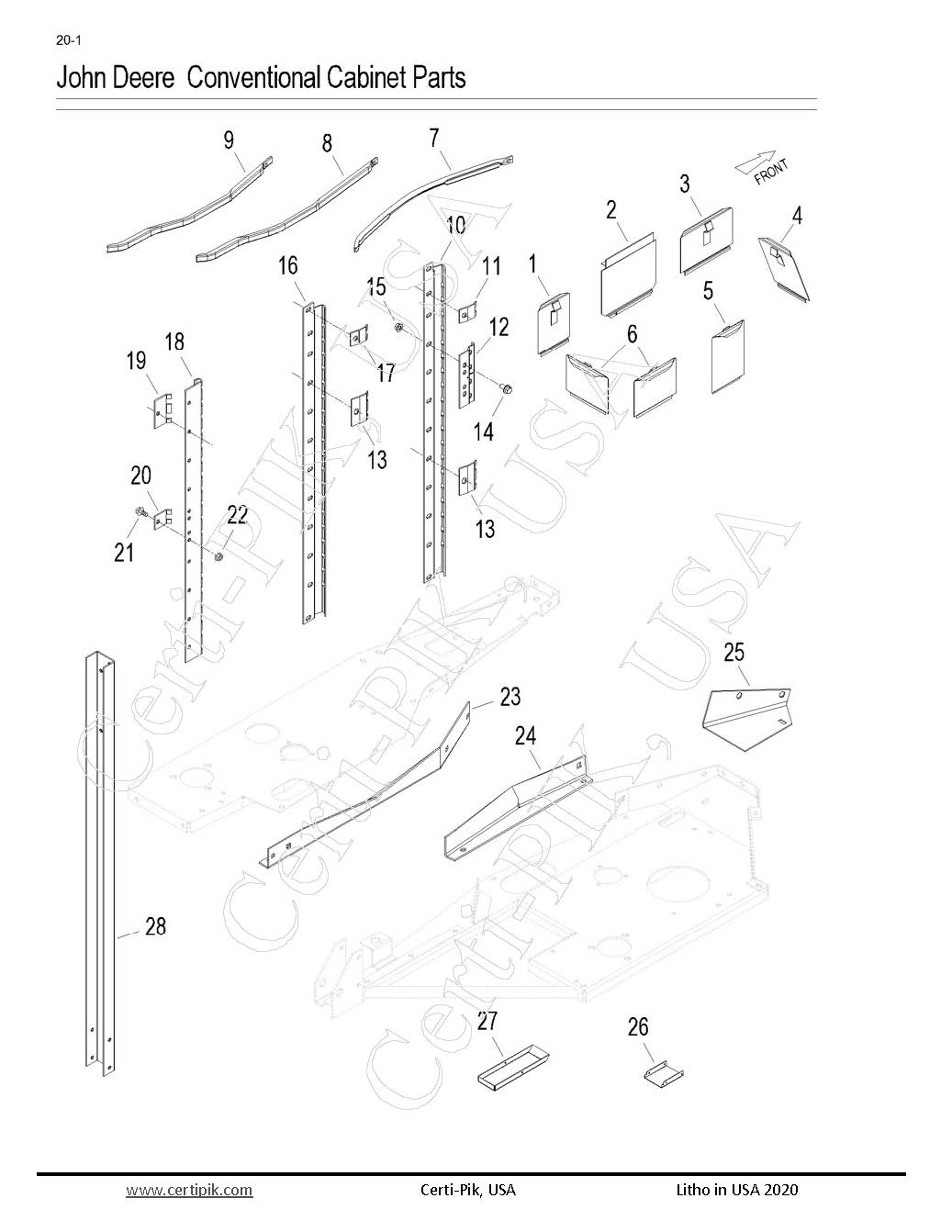 John Deere Conventional Cabinet Parts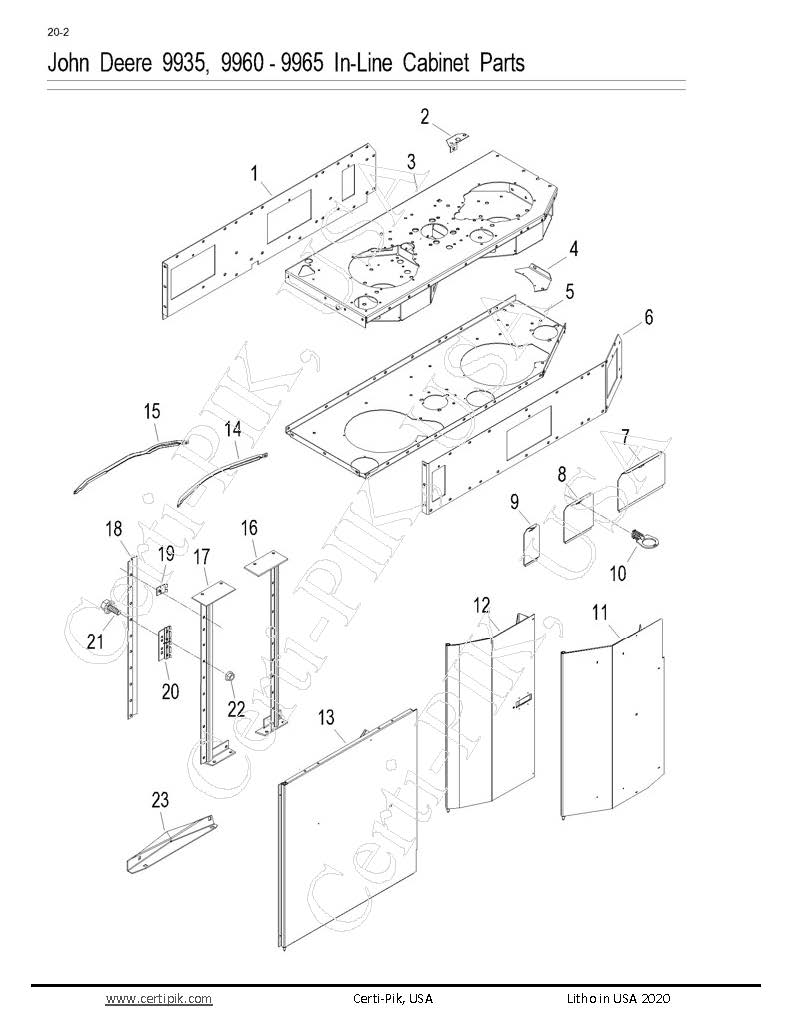 John Deere 9935, 9960-9965 In-Line Cabinet Parts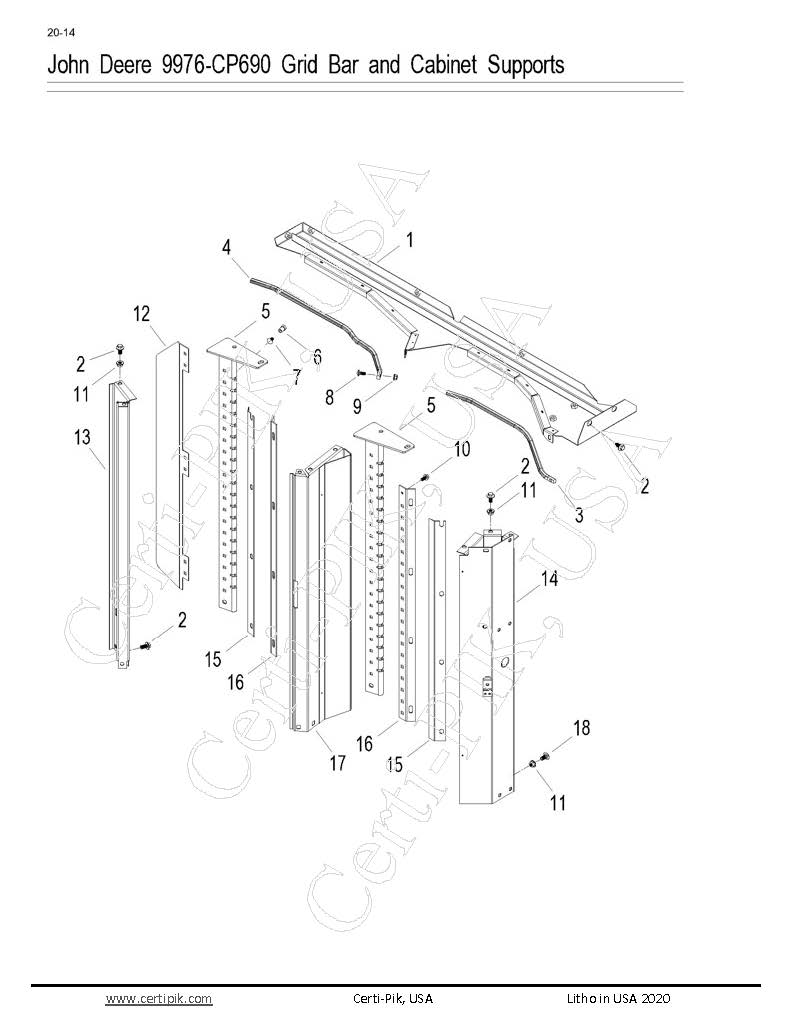 John Deere 9976-CP690 Grid Bar and Cabinet Supports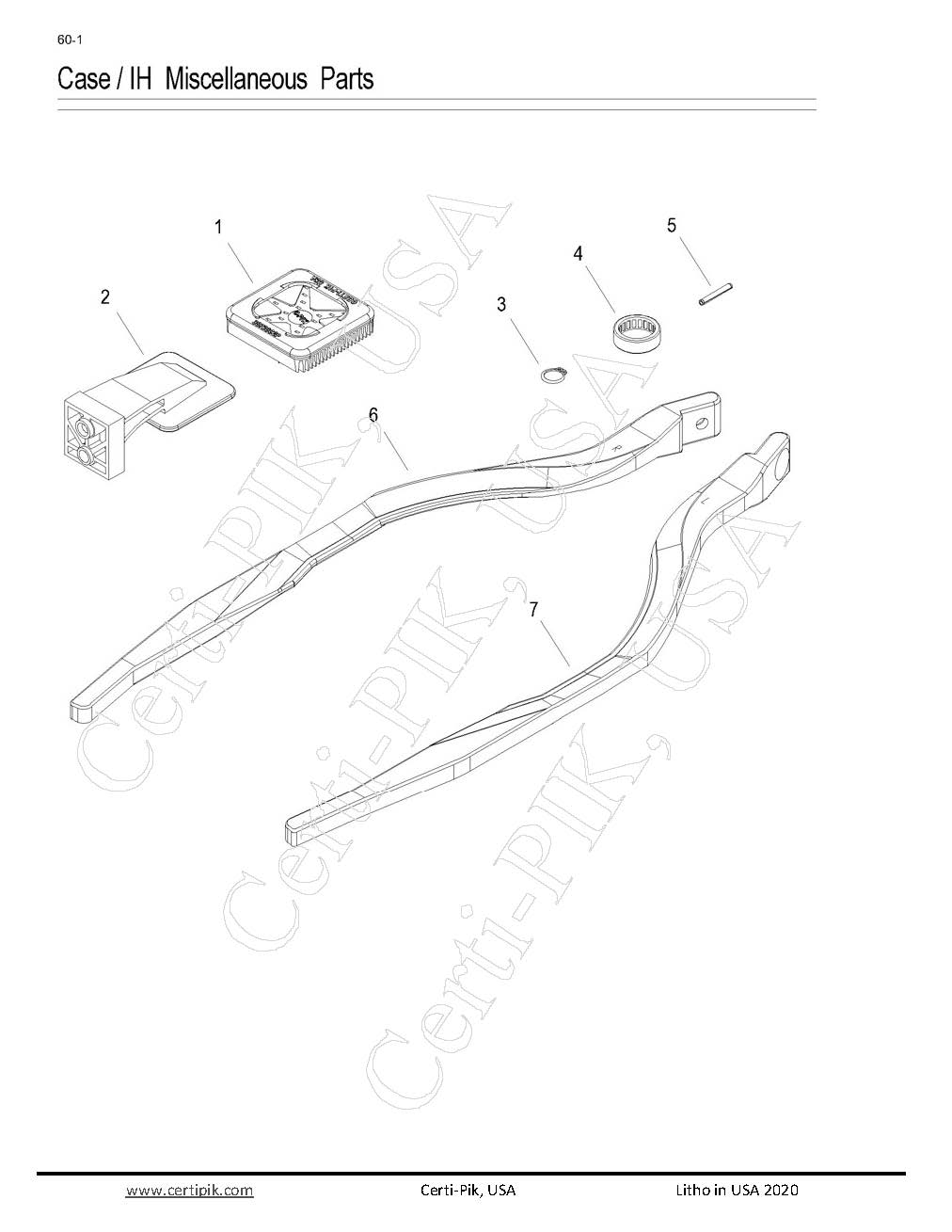 Case /IH Miscellaneous Parts
Why choose Certi-Pik, USA?
It goes without saying that you would prefer to choose a reliable vendor to purchase your cotton harvester parts from so you can be sure of the quality of the products you buy. With Certi-Pik, USA, you can be confident that you're getting only the best available products on the market, because our parts have stood the test of time. Our customers can assure you that our parts stand up to the most reliable and reputable agricultural manufacturers in the world.
If you ever do find anything wrong with a part you've purchased from us, you're covered by a manufacturer's warranty, which extends a full 90 days after purchase, and covers any defect in workmanship or in materials used. Simply return the merchandise to us so we can inspect it, and if it is found to be faulty, you'll get a replacement shipped out to you, absolutely free of charge. We don't think you'll ever need to use this warranty, but it's a comfort to have it there, waiting for you just in case.
Shipping is another reason you'll love doing business with Certi-Pik, USA. If you can place your order with us by noon Monday through Friday, we'll usually be able to get your order shipped out that same day so that you won't suffer any extended downtime with your machinery. Even if we get the order in the afternoon, we can have it on its way to you on the very next business day, so you needn't worry about any prolonged wait period. We ship by UPS Regular Ground Service, Next Day Air, 2nd Day Air, and 3rd Day Select Service, so you can count on getting the most efficient delivery of your merchandise, as well as to receive it in excellent condition.
We make it easy for you to place an order and easy for you to pay for it as well. You can place your order in any one of three different methods: calling us up on the telephone, emailing us your order selections, or faxing your choices to us. In all cases, the order-taking process will be fast, accurate, and efficient, so that merchandise can be on its way as soon as possible. Payment methods include cash, cash on delivery (COD), bank wire transfer, money order, or credit card. We accept Visa, MasterCard, Discover, or American Express, so if you have any of these, we'll be glad to take your credit card order.
Nothing could be easier to place an order, or to talk to us about any inquiries you may have than to use our dedicated phone line, which we maintain for ordering, tracking, and customer service. Call us at 1-800-CERTIPIK (237-8474) for all your questions and orders.
---