Moistener Pads/Columns for John Deere
Premium Aftermarket Replacement Parts
Moistener pads should be checked frequently for wear, so you don't experience any surprises during a harvesting operation. When excessive wear is detected on your pads, you can get by until new pads can be ordered, simply by adjusting your moistener columns vertically. If moistener pads are situated too low, premature wear will develop, and if the pads are situated too high poor cleaning will be the likely result. This is because there won't be enough fluid on the spindles, and there won't be adequate scrubbing by the moistener pads.
To have your moistener pads and moistener columns in ideal position, the moistener columns should be adjusted so that all fins of each of the moistener pads just barely touch the spindles. This means that as the spindle just begins to pass under the fins of your moistener pads, all those fins should flex in a noticeable manner.
When you install new moistener pads, the fins which are situated closest to the dust collar may flex a bit more than the fins which are closer to the spindle tip. In any case, your moistener pads and columns are intended to work together, so when you need one or the other, it's generally best to order both of them at once, so you can be sure that they are at the same level of wear, and will continue to work well together.
As with many of our products we offer, here at Certi-Pik, USA we value our customers' concerns, and continually try to improve the products used in the industry. In 2005 we strengthened John Deere's Pro moistener column, which ultimately resolved the problem of moistener column failure due to the column bending. Acute consideration was taken with the top section to ensure the column maintained flexibility while installing the distributor plate. The arm on the column was also strengthened to decrease bending. Another improvement was Certi-Pik's proprietary moistener pad lube distribution star pattern, which is located on the top inside of the moistener pad. This is available on both the John Deere and Case IH pads, and will more evenly distribute the spindle cleaning solution, allowing for better cleaning and picking. If you remember the narrow latch rod clips, know that we again heard your concerns, and designed the wider clip which is now also supplied by John Deere.
Buying Moistener Pads/Columns
When you're buying moistener pads or moistener columns from Certi-Pik, USA, you will be purchasing parts made in the USA. We are consistently striving to be the leading manufacturer of aftermarket cotton harvester parts in the country. We offer parts for both John Deere and Case/IH equipment, and will be glad to ship you what you need. We look forward to working with you to gain your trust and respect.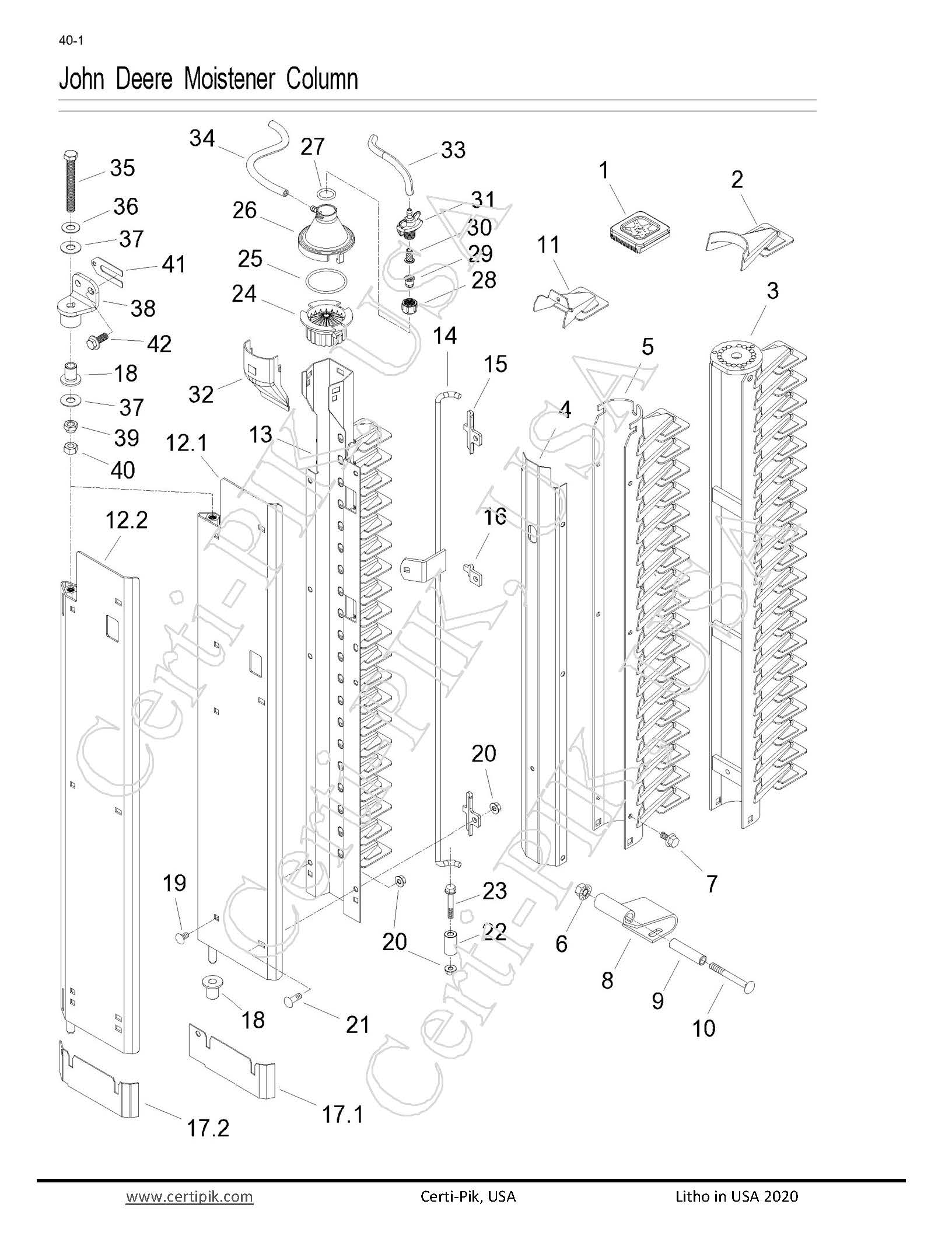 John Deere Moistener Column
Why choose Certi-Pik, USA?
We do our best to provide as many reasons as possible for you to choose us over any other provider in the market, because we want above all, to foster long-term relationships with our customers that will go beyond a one-time sale. We understand the value of a reliable, single-source vendor that you can turn to regularly, and our company does whatever it can to ensure that our team and our products are that constant for you.
Ease of ordering is our first big priority at Certi-Pik, USA: simply give us a call at 1-800-CERTIPIK (237-8474) to request your parts, or sent it to us via fax or email if you want to be sure about proper inventory codes, and wish to have a saved copy.
We do everything that we can to ensure that the correct parts are shipped to you and that they arrive undamaged, but should anything go wrong with your order, we do have a return policy. We make this easy for you: give us a call at the same phone number as above and request a Return Goods Authorization (RGA) to get a reference number for your return. Your parts must be returned to us freight prepaid, and the RGA number must be clearly visible on the outside of your package with a copy of the original invoice included inside. All returns must be in new condition and must have been purchased from our company within 30 days. All returns must be inspected by our personnel for any damage so that we can confirm an appropriate credit is warranted in any given case.
Speedy delivery is also a point of pride for Certi-Pik, USA. No matter how we receive your order, as long as we have it by noon Monday through Friday, we should be able to ship your parts out by that afternoon. If your order is received after the noon cutoff, we'll do our best to get your order out by the next business day. Because we recognize how important it is for cotton harvesters to get the work done when the weather is favorable, we do everything we can to avoid having you go through downtime due to a wait on replacement parts.
Because of this, we use the most reliable shipping methods available to deliver your parts: UPS Regular Ground Service in most cases to ensure prompt delivery. If you need to track your shipment, you can call the same customer service number provided above to get an update, or you can request the UPS tracking number and look it up yourself online.
For all of these reasons, we hope that working with Certi-Pik, USA proves a convenient and dependable choice for you. Our job is to take your job seriously! Moistener pads and columns see enough regular wear and tear to require only occasional maintenance at best, or constant replacement at worst, so choose reliability and save yourself the time and money!
---