Case IH Cotton Picker Air Systems
Getting the best replacement parts for your picker is essential. These parts include cotton picker air system parts. At Certi-Pik, we are a top supplier of these components. We have excellent parts for Case IH Cotton Picker air systems, and will ensure your cotton picker performs optimally.
We are Better Business Bureau accredited and certified by the Federation of Independent Business. Our team of experienced and knowledgeable individuals ensures that our customers receive the cotton picker air system parts that they need.
Case IH Air System
Your air system is crucial in preventing choke problems within your harvester. It is therefore essential that your fan and air system are working correctly. Wear and tear is one of the primary ways that your system gets damaged. It is, therefore, essential that you regularly inspect your fans and air system and replace worn-out parts.
If you have lint build-up in your fan, you need to clean it immediately, or replace it if necessary. Lint build-up on your blower can increase the occurrence of choke problems, less air flow, vibration, cracking, and catastrophic fan assembly failure. If your fan is not working optimally, you may also have problems with your picking spindles. These can result in reduced performance during harvesting.
That is because your cotton harvester's conveyor duct relies on the fan to push the cotton into the containment area from the picking unit. A damaged fan and air system will lead to clogging in the ductwork and picking unit. If you notice wear and damage signs on your fan or air system, you should replace it immediately with one of our parts for the Case IH fan systems.
Air System Components
We stock a wide variety of cotton picker air system components you can use for your air system. You can order these parts from Certi-Pik USA at any time. We have a wide variety of the spare parts you need, ranging from side panels, keys, pulleys, baffles belts, among others. It's vital to carry out regular maintenance inspections on your cotton picker air system.
If some parts are worn out or damaged, you need to replace them to ensure that the machine works correctly. Check out our catalog that includes air system parts that we ship to you when you order.
Case/IH Front Fan Assembly, 1822-2555 (S.N.499)
If you are looking for a Case IH Front fan Assembly, we offer three options. Kit 1 is a complete front fan kit unassembled, Kit 2 a fully assembled front fan kit, and Kit 3 a Bolt kit. You can also purchase individual parts to replace damaged components of your air system. We also have an image catalog that you can use to identify the parts you need for your front fan assembly.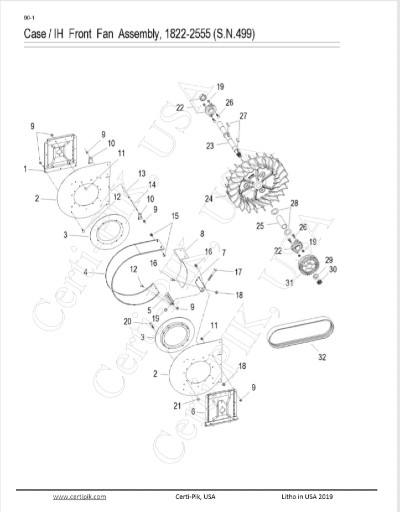 Case /IH Rear Fan Assembly, 1822-2555 (S.N.499)
If the rear fan assembly is not working, you need to replace it. You can also replace parts of the rear fan assembly. There is a picture catalog available you can use to choose the components you are looking for. If you need the entire fan assembly, you can choose to buy an assembled or unassembled one.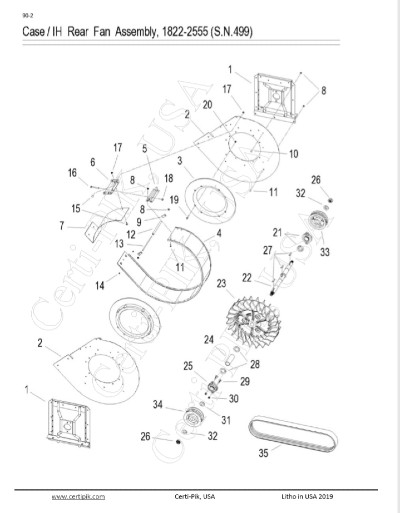 Case / IH Front or Rear Fan Assembly, 2555(S.N.500)-635 Mod Exp
There are three Kits available if you are looking for this fan assembly. You can choose to buy them assembled or unassembled. There are also individual components available, including  parts for the housing assembly, inner blade, and shaft assembly, pulleys, and bolt kits. You can talk to a member of our team to get help when placing your order.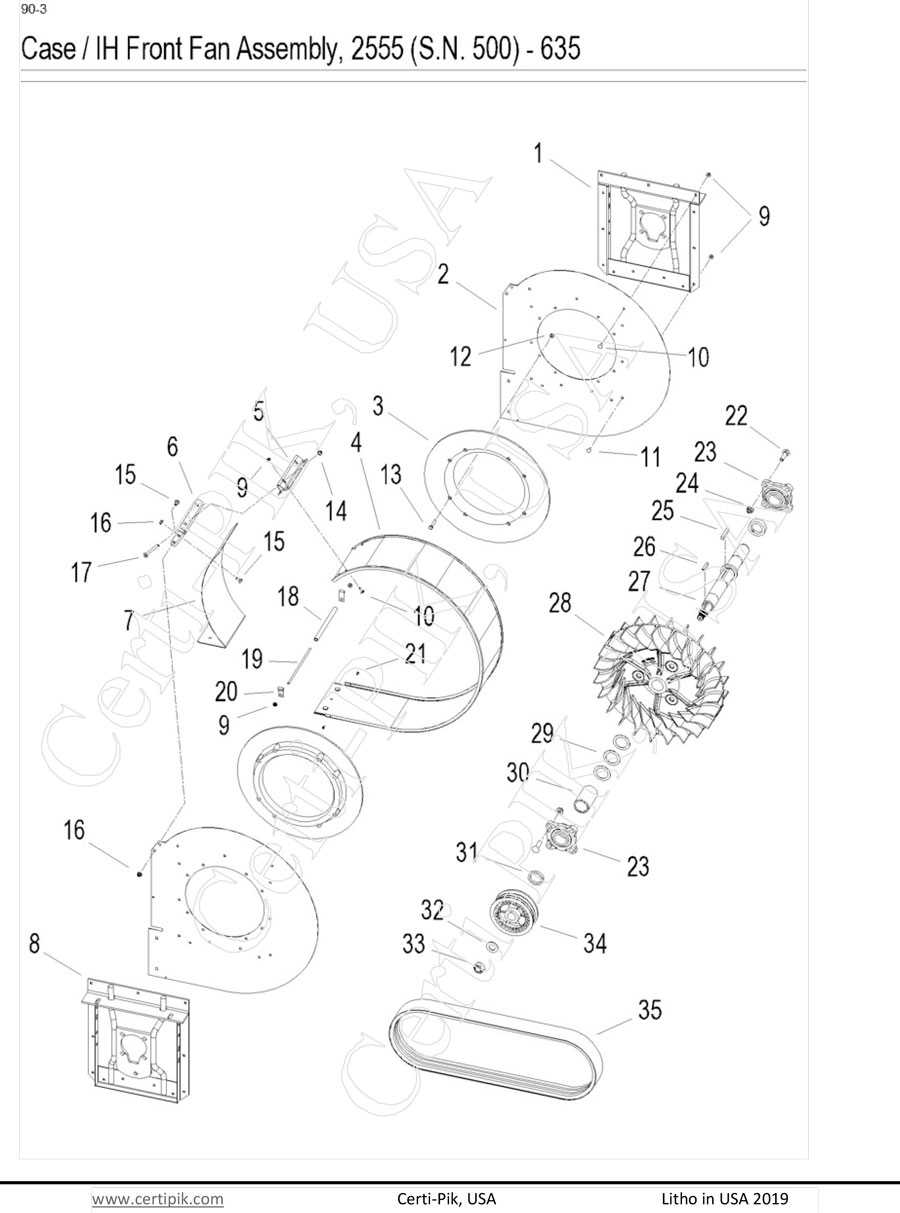 Case / IH Front Fan Assembly, 2555(S.N.500)-635 Mod Exp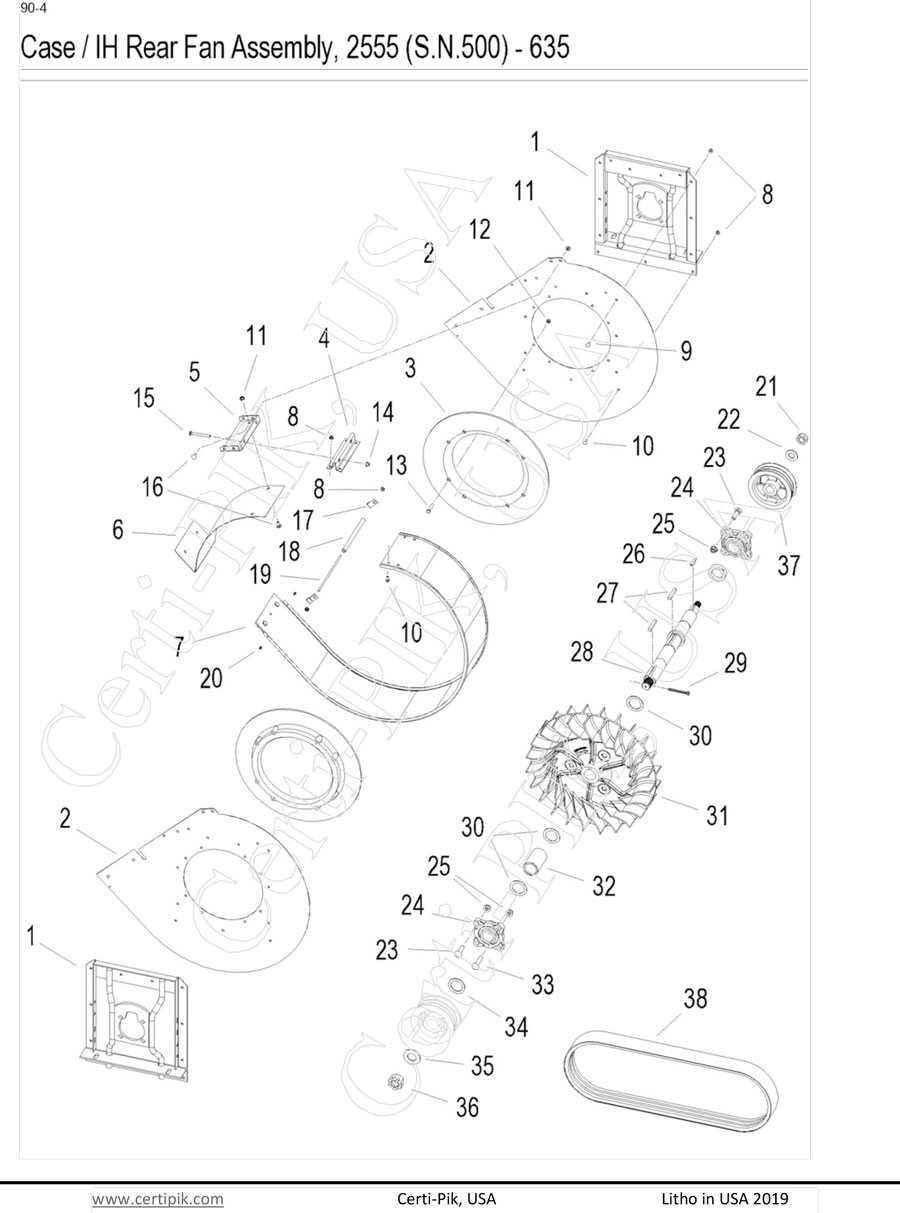 Case / IH Rear Fan Assembly, 2555(S.N.500)-635 Mod Exp
Components of the Air System
Whether you need one-off replacement components for your air system, or whether you're rebuilding an entire assembly, we'll have the aftermarket parts you need in stock at Certi-Pik USA. At just about any time during harvest season, you can count on us having in stock virtually all the components needed to properly maintain your air system's front and rear assemblies including: side frame supports, side panels, baffles, wrap arounds, brackets, nuts, clasps, bolts, pipes, studs, nuts, fan blades, bearings, shafts, washers, keys, pulleys, and belts. You can either give us the OEM part number, or our own part number when identifying the specific components you need, so there will be no mistakes on which aftermarket parts you are ordering.
Why You Should Buy from Certi-Pik USA
Here are some of the reasons you should buy your parts from Certi-Pik USA.
It is easy to make an order through email, fax, or a phone call
90-day warranty on all our products.
 We offer fast shipment.
 Many payment methods including Visa, MasterCard cash on delivery, etc.
At Certi-Pik USA, we have a wide range of cotton picker air system parts and assemblies. If you want to learn or make an order, send us an e-mail online or call us at (712) 752-8460.
---