Spindle Nuts & Assemblies for John Deere & Case IH
Premium Aftermarket Replacement Parts
Spindle Assemblies are instrumental in the function of your cotton picker. At Certi-Pik we strive to provide the best quality available so your harvester picks to the fullest of its potential. We provide all the components for your Spindle Assemblies. Items in the assembly include: the Spindle, Spindle Bushings, Nuts and Dust Collars. We offer the items assembled, or in individual units so you can decide which options are best for you. Whether you like the ease of installing a preassembled Spindle Assembly or the challenge of intricately piecing together your own we are here to provide you the parts you need.
Our spindle nuts are manufacture to have strong threads, and tight tolerances to ensure they fit correctly, giving you the gear clearances you need when assembling your Picker Bar. In the event that you want a looser tolerance we also supply Spindle Nut shims so you can adjust your Spindle Assemblies to your desired backlash. Our nuts also are produced with double durable yellow electro plating, so they last as long as possible in the harsh abrasive picking environment that you know so well.
If you are interested in the Bushings we also have those available, flanged and straight. Built of durable bronze powdered metal offering you the wear characteristics and long life you expect.
To finish off the assembly we also can provide you with the dust cap. Whether you are rebuilding old assemblies or putting together new ones, rest assured these will fit your application.
The chrome finish on our Double Chrome spindles is in a class of its own above other spindles, because the chrome surface is preconditioned so that the chrome adheres to the spindle better and will outlast all other spindles on the market today. They will stay moderately sharp season after season without losing the aggressive edge on the barb.
As in most instances with all our parts, as it is with these Assembly parts, we at Certi-Pik offer these for both John Deere and Case/IH Pickers. Old and new pickers are not a problem for us, give us a call and let us show you how we can help.
Buy Spindle Nuts
When you need to purchase spindle nuts, either as replacement parts or to have on hand as extras, the place to buy them from is a vendor whom you can trust for high quality and excellent performance, and that's Certi-Pik, USA. We proudly make almost all our products right here in the U.S.
We are an independent aftermarket manufacturer, making replacement parts for well known tractor brands and other picking machinery. Spindle nuts have the ability to make your expensive machinery work the way it's supposed to or not because they help ensure other parts stay in place. That's why Certi-Perk, USA provides durable spindle nuts for your operation, so you're up and running the way you need to be and when you need to be.
Case / IH 18 Spindle Picker Bar Assy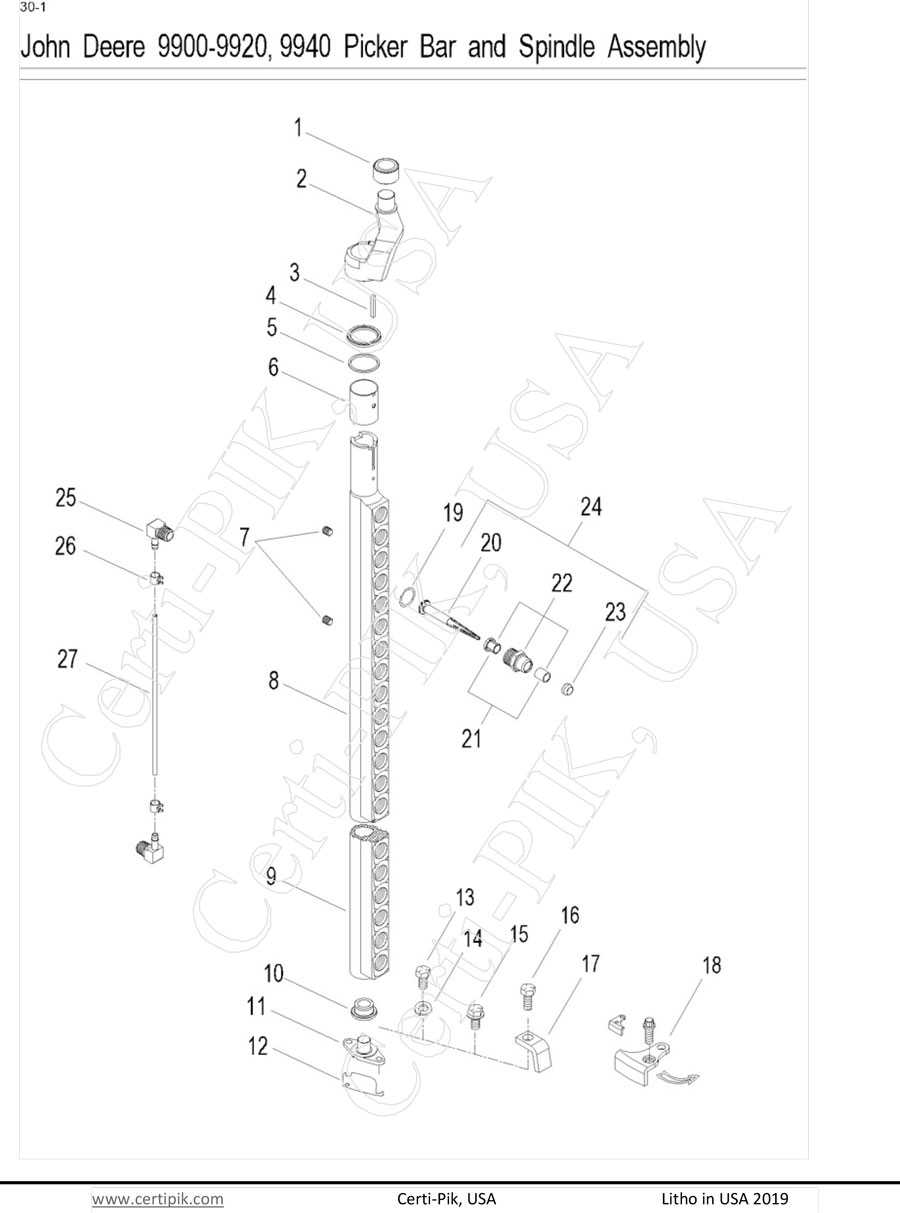 John Deere 9900-9920, 9940 Picker Bar and Spindle Assembly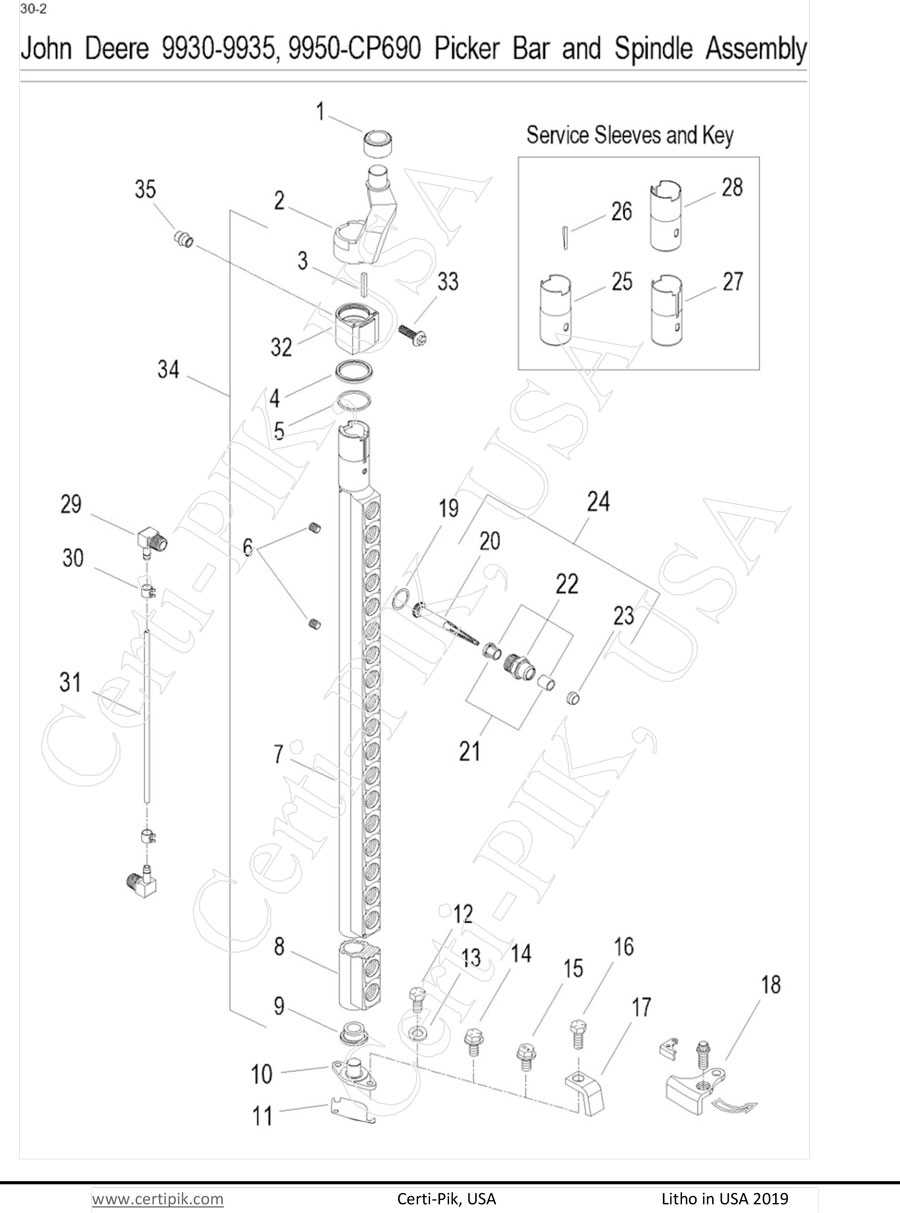 John Deere 9930-9935, 9950-CP690 Picker Bar and Spindle Assembly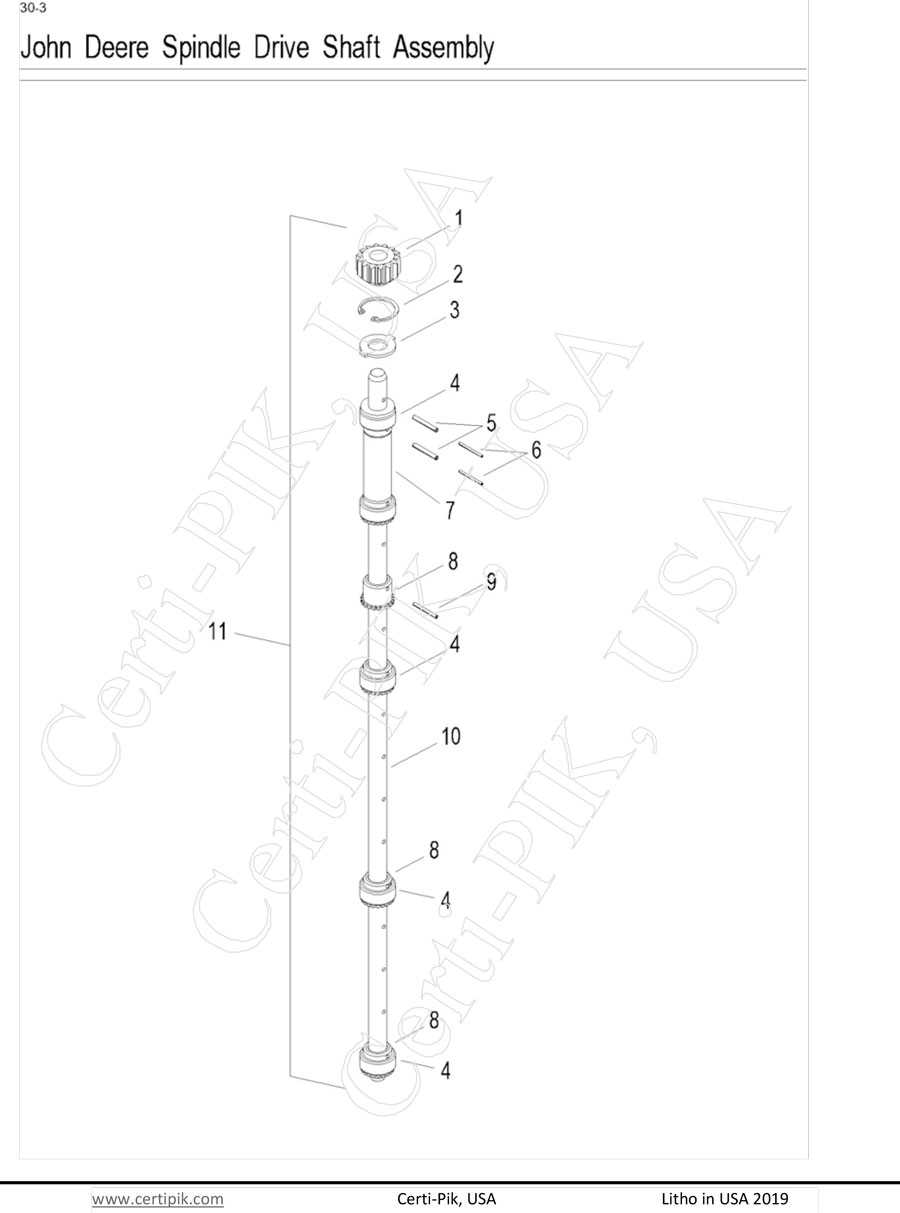 John Deere Spindle Drive Shaft Assembly
Why choose Certi-Pik, USA?
We think that there are several reasons why you should choose us over the competition, starting with our unmatched shipping policy. When you place an order with us before noon, we will be sure to have it sent out the same day to any location in the continental USA. We will make every effort to ship out orders placed after noon on the day they were placed, however if not, they will usually go out the next business as inventories will allow.
Most cotton picker parts are shipped using UPS Regular Ground Service, Next Day Air, 2nd Day Air, or 3rd Day Select Service, to ensure the fastest delivery times possible. Also, if you're able to plan ahead and place a large order we can offer more reasonable LTL freight Options. If you have a question about the status of your UPS or LTL shipment, you can call us to receive tracking information that will pinpoint its location. You can also call us to place an order to expedite its fulfillment, or you can fax the order to us. For your convenience, you can also submit orders via email. We require the model number of the machine you are working on to help ensure better accuracy in the ordering process along with specific part numbers and descriptions.
Payments can be conveniently made since we accept several different forms of payment for your orders. We accept credit cards such as Visa, MasterCard, Discover, and American Express. If you prefer, you can pay by cash, money order, or by bank wire transfer. Another popular possibility that we can arrange is paying by Cash on Delivery (COD).  By providing several different payment methods, we endeavor to make it easier for all our customers to choose their preferred method.
If it should ever become necessary to make a return of goods to us, our Return Policy will help you manage that with no hassles at all. All you have to do is call us to get a Return Goods Authorization (RGA) number, and then return the merchandise to us by pre-paid freight, with the RGA number visible on the exterior of the package. The original invoice or packing slip should be included inside as well. All returns need to be in 'new' condition and must have been purchased from us within the past 30 days.
Finally, ordering from Certi-Pik, USA, is definitely to your advantage because all our merchandise is offered with a full 90-day manufacturer's warranty on materials and workmanship. If any defects in these two areas are discovered, we will determine if you are entitled to a free replacement part without any hassle. All you need do is return the faulty part to us so that it can be inspected, and we'll have a new replacement part on its way to you promptly.
With all these reasons to buy from Certi-Pik, USA, we hope you'll remember our company name when it comes time to place your next order.
Nothing could be easier to place an order, or to talk to us about any inquiries you may have than to use our dedicated phone line, which we maintain for ordering, tracking, and customer service. Call us at 1-800-CERTIPIK (237-8474) for all your questions and orders.
---