Aluminum Picker Bars for John Deere & Case IH
Premium Aftermarket Replacement Parts
The aluminum picker bar has undergone some change over time. Originating as a steel housing, it was quickly replaced by aluminum, which has drastically reduced its weight. As aluminum has less wear resistance, it was soon apparent that a steel sleeve would be needed on the top of the bar neck in order to reduce wear. Also around that time, the top of the bar, where the transition from the area holding the spindle assemblies to the round neck occurs, was strengthened with the inception of the 'Swept-Neck' bar. This removed a sharp machined corner stress point, allowing for a much longer life out of the bar and reducing cracking. Over time some additional changes have been made to the lubrication of the bar assemblies, but in spite of these enhancements the physical appearance has been largely unchanged.
The aluminum picker bar assembly used on cotton harvesters performs a vital role in the harvesting action, so it has to be working correctly in order for your machine to be effective, and harvesting the cotton as intended. There are a good number of replacement parts used in the aluminum picker bar assembly, so if you're having a problem with just one of its components, you can order just that one piece so long as you have the correct part number. We have parts available in any quantity you need, so no matter how small or large your requirement, we will be glad to help you out.
In some cases, a complete kit can be sent to you for assembling the picker bar yourself, and everything that is needed for complete assembly will be provided for you. This includes the bar, drive shaft, bearing sleeve, gears, bearings, pins, thrust washer, retaining ring, spindle assemblies, key, bottom bar bushing, and seals. All the components of the aluminum picker bar assembly are made only of high-quality parts, so you can expect long life from your assembly, assuming it is maintained correctly and not abused. Be sure to maintain the proper level of grease as the lack of lubrication will cause the assembly to seize up and fail.
Buying Aluminum Picker Bars
When you buy aluminum picker bars from Certi-Pik, USA, you can buy with confidence, knowing that our products have been used all over the world since 1988. We maintain the philosophy that we want to be the 'go-to' people, so we stock the old and new varieties of picker bars from the older, non-sleeved varieties to the newer pro models. Whatever you need, please let us forge a lasting and time-honored relationship with you.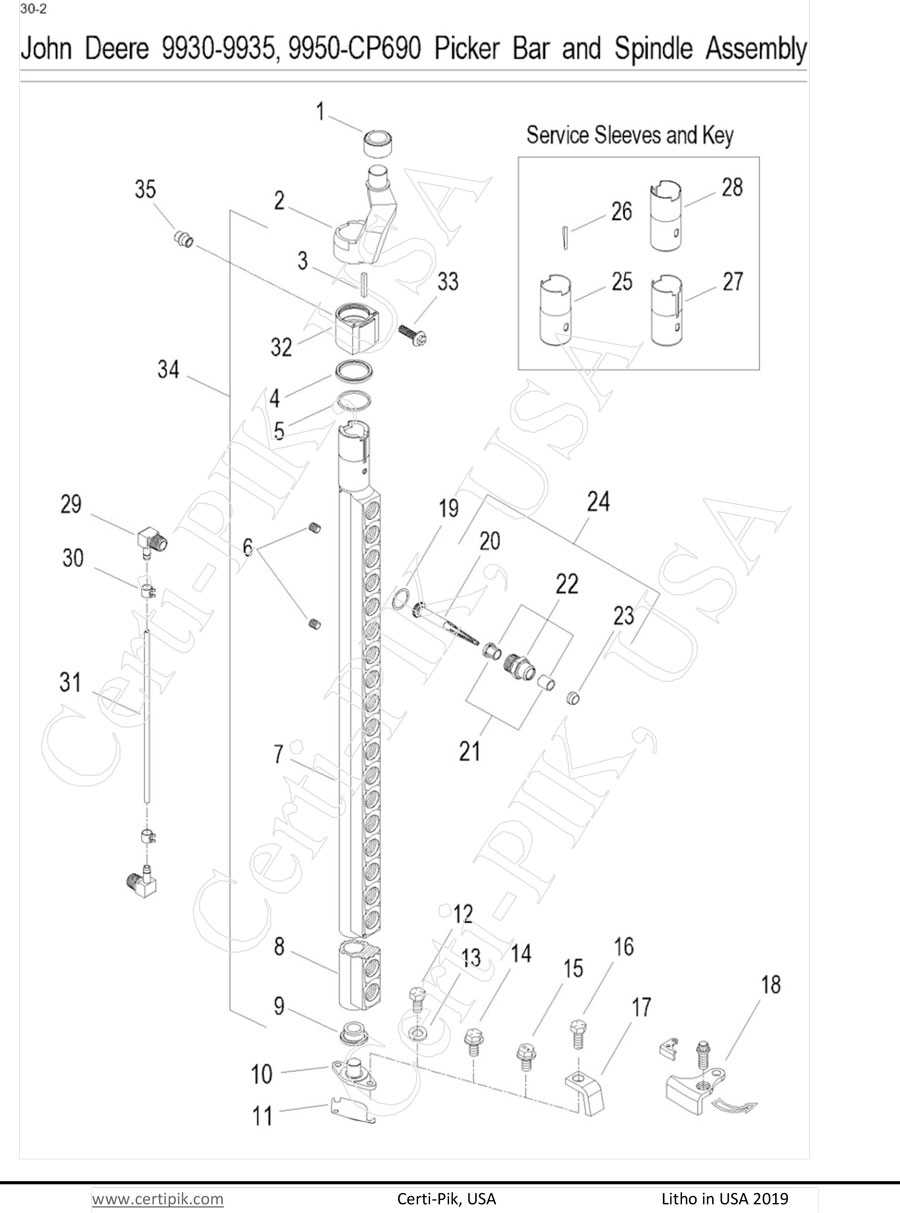 John Deere 9930-9935, 9950-CP690 Picker Bar and Spindle Assembly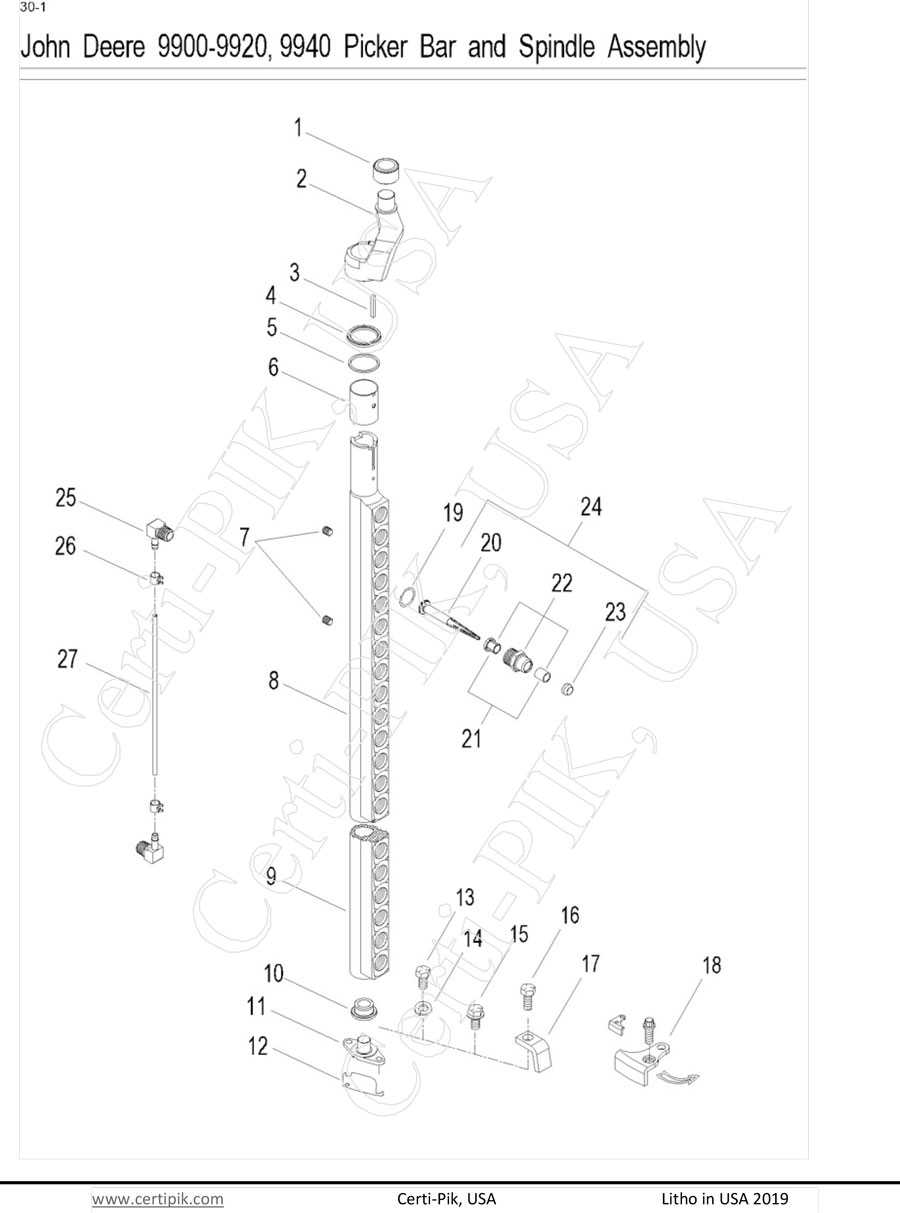 John Deere 9900-9920, 9940 Picker Bar and Spindle Assembly
Case / IH 18 Spindle Picker Bar Assy
Why choose Certi-Pik, USA?
Our customers tell us that there are many reasons why they prefer working with us over any other parts provider, and we want to ensure that this trust is well-founded now, and in the years to come. When it comes to your livelihood and keeping it running smoothly, we know how invaluable a trustworthy source for repairs and new parts can be, particularly when time is of the essence.
One such reason is the 90-day manufacturer's warranty that we include with all workmanship and materials to ensure that you never get stuck with a bad part, or waste a financial investment. All you have to do is return the defective part to us for inspection and verification, and a replacement part will be sent to you at the earliest possible date.
You can expect the same great customer service should you receive any damaged parts or find your order incomplete due to a backorder. Whenever damages occur, you simply need to give us a call at 1-800-CERTIPIK (237-8474), and retain the defective order so that it can be confirmed. And when a merchandise return is necessary, you can get in touch with us via the same phone number and obtain a Return Goods Authorization (RGA), which we can use as a reference number to get your return squared away and processed. All returned parts must be sent to us, with the RGA number being easily identifiable on the external part of the package, and the original packing slip or invoice included inside. Any returned goods must be in new condition, other than their defect, and must have been purchased from our company within the last 30 days, so that we can authorize the merchandise return. Once we receive the returned goods, we'll conduct a physical inspection to make sure a return is warranted, and then a credit will be issued to you.
Whenever you place your next order, you will have three different ways of ordering through us. You can give us a call to order any parts you need directly, or you can fax or email us with your requested part numbers. Should we receive your order before noon Monday through Friday, we should be able to ship it out that same day via UPS Regular Ground Service. If your order reaches us sometime during the afternoon, we can have it on its way to you on the very next business day. In either case, we want you to get your parts as soon as possible! If you prefer to use your own freight carrier for shipping, we can accommodate that as well, so long as you let us know during our initial contact. By using a fast and reliable shipping service, we can help our customers minimize their downtimes and make sure that they get back into the field as quickly as possible.
So whether you need an entire aluminum picker bar assembly, or just one small piece of it, let us help you out! We will make sure you're back to work in no time at all, with as little hassle and time lost as we can manage.
---